Because bears are getting so smart these days, some national parks don't allow you access if you don't have a carry bag that can be hanged on a tree, nor a transparent bear can. So even though you'll have to carry some extra weight, it's better to be safe than sorry and get the best bear canister on the market. If you cook and store your food properly, bears won't be tempted to get inside your camp. Besides, it's better to break away the association of people equals food altogether.
See also: How to Avoid Wild Animal Attacks: Surviving Outdoors
The first thing you can do is cook as far away from the campsite as you can, about 200 yards, and do that downwind. It's wise to eat everything you cook unless you're able to deposit the remaining food in a sealed container that doesn't let the smell get out. Some of these products are reviewed below.
The washing and drying of the dishes should also be done 200 yards away from camp, the water should be dumped in a sump, and your trash and food should be securely deposited in zip-locks. Even if you have a bear canister with you, it's still wise to put your food in zip-locks before. Don't forget to place the canister about 40 yards from your camp, on an even terrain so it can't roll away if some animal comes snooping around.
Our Top Picks
| Name | Weight | Material | Trip Length | Price |
| --- | --- | --- | --- | --- |
| Lighter1 Big Daddy Bear Canister | 3.8 Pounds | Polycarbonate | 7 Days | Shop Here |
| BearVault Bear Canister | 2.1 – 2.9 Pounds | Polycarbonate | 4-7 Days | Shop Here |
| Udap Bear Canister | 2.4 Pounds | Polymer blend manufacturing | 3 Days | Shop Here |
| Frontiersman Bear Canister | 2.9 Pounds | Hard plastic | 3 Days | Shop Here |
| Counter Assault Bear Keg | 1 Pound | Proprietary polymer blend | 7 Days | Shop Here |
| Backpackers Bear Canister | 2.17 Pounds | ABS polymer | 6 Days | Shop Here |
Things to consider before buying
It's been said that most hikers hate bear canisters because they're hard to pack and difficult to carry. But if you're doing a lot of backpacking in places where they're mandatory, you can't wiggle your way out of taking one with you. But don't just get any product, take the following features into account:
Size
Getting the right size for this sort of canister isn't easy. Some of them are large, so they can accommodate more food, but that means you won't have too much room in your backpack for anything else. Smaller ones are great for carrying on solo backpacking trips, but that means you'll only be gone for a few nights.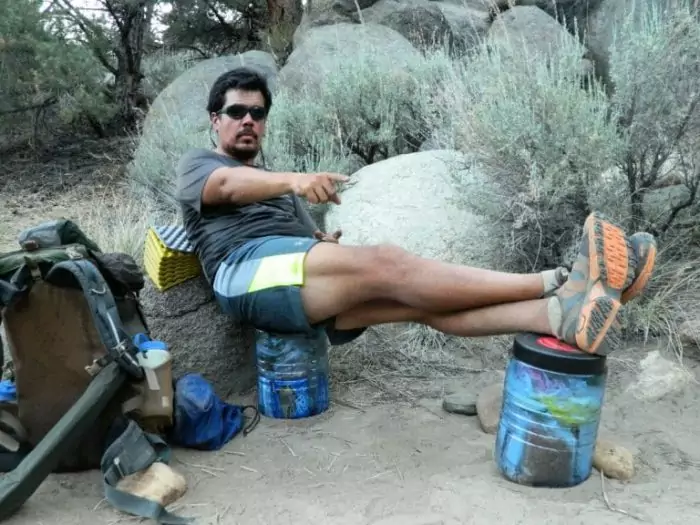 The compromise between volume and food can easily be solved if you learn how to pack more compactly and get food that's rich in calories. It also helps if you're not packing more food than you need, or if you can restock on your way. Check out our top list of the best lightweight and energy-packed food to bring to camp.
Weight
Weight is pretty important too because you need to get something that's sturdy enough on the one hand, but that's easy to carry on the other hand. So you have another compromise here regarding the strength and durability of the materials versus the overall weight you'll be carrying.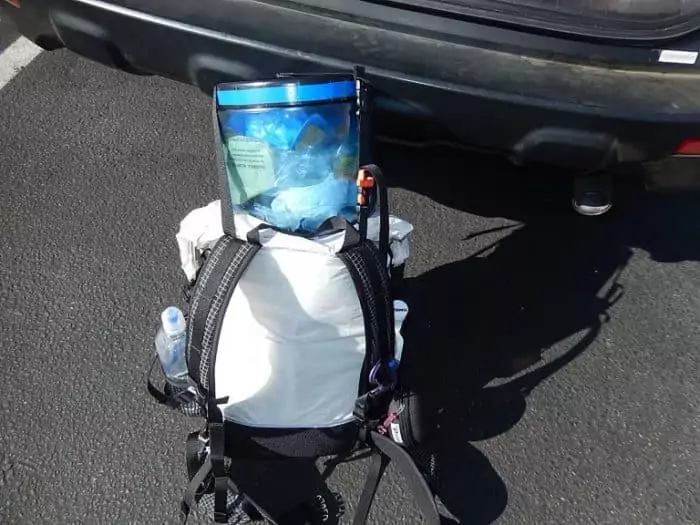 That's because strong materials happen to weigh more. The hard plastic and polymers are heavier, but you can get a canister made from carbon fiber to weigh less. Carbon is a strong material too, but the products made from it are more expensive.
Design
Apart from the strong materials and quality craftsmanship involved in the making of a reliable product, you'll need a canister that can't easily be opened by a bear. So look for round edges and overall smoothness so a bear can't get a good grip on it.
Sturdy locks that keep the lid in place are a definite plus since a bear can't get past them. Make sure you're able to easily open the lid, though. Some canisters require additional tools such as a knife, screwdriver or a coin to get the job done.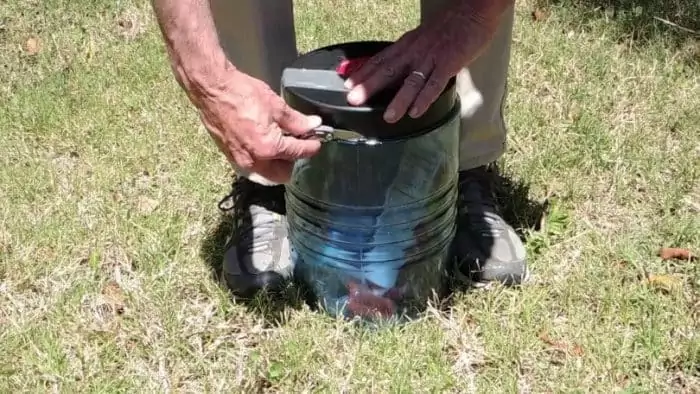 A see-through model is sometimes appreciated by people who want to know what food they have left. Other people prefer to get a compact color since bears have gotten so smart they can even see inside cans.
Hiding ability
Make sure you can easily hide the canister away from your camp, so the bears can't get to it. It's better to get a canister with an earth-toned, black color that doesn't attract attention. The other side of the coin here is that you won't be able to see it at nighttime. However, this issue can easily be solved with some glow-in-the-dark tape.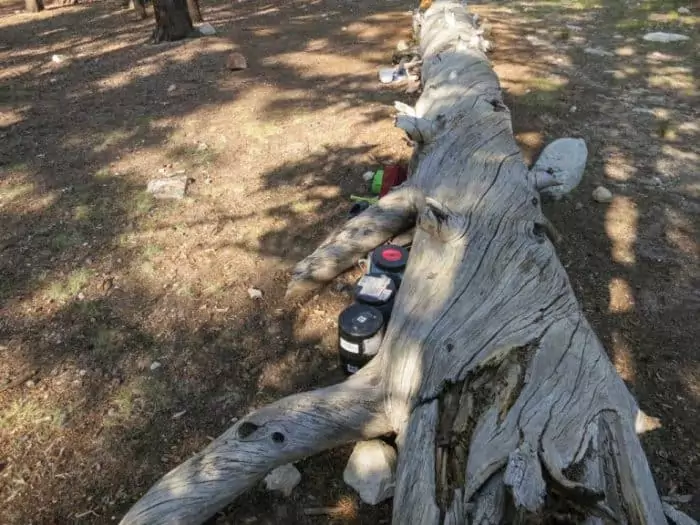 You can also pick a model that has the option of being hanged in a tree. That way you have an extra solution to keep your food safe from various wildlife, not to mention a way to carry the canister on the outside of your backpack.
Best products on today's market
Without further ado, the products we strongly recommend.
Lighter1 Big Daddy Bear Canister
DIMENSIONS: 14.7 x 9.3 x 9 inches
SPECIFICATIONS: Polycarbonate; roomy; transparent; 10.5 liters capacity; includes canister, pot with a lid and handle; Interagency Grizzly Bear Committee approved
BEST USE: 7 days hike
This 3.9 stars and canister is great for hiking purposes because it's both roomy and light. It's manufactured from polycarbonate, and some users complain that it's a bit expensive for a plastic container, but there are some benefits impossible to ignore. For one, its components weigh very little: the canister is just 2 pounds 4 ounces, the pot is 6 ounces and the handle is 1 ounce.
Besides, the pan holds 0.85 liters, and the overall capacity of Lighter1 Big Daddy Bear Canister is 10.5 liters, meaning approximately 650 cubic inches. That should hold you for about seven days, depending on how much food you're bringing and if you're using this alone. If you're sharing with another person, it will probably last you three days.
We love the fact that all the included components are detachable and fit one into the other as that saves a lot of space. However, if you want to use this as a bear canister, you should use both the pot and the handle that goes at the top. We like how this provides so much internal support to the canister, but it's also an important factor to the locking system. The pot can be used as a lid no matter the size of your canister.
Apart from the portability factor, we appreciate the user experience focus, considering it's transparent so you can see all your food inside. Plus, it has a number of approvals so you can use it on different trails, including thru hikes or camping in National Parks.
The downsides of this otherwise great product include the somewhat flimsy electrical wire nuts used for keeping the screws in place. If that happens to you, you can easily solve it by twisting them back on. The pan isn't non-stick, so you can't use it for too many cooking experiments, just boiling water or maybe using it as a plate. Apart from these two things, it's still a good bear canister because it does its job, keeps bears away from your food.
PROS:
Roomy
Light
Portable
Focus on user experience
CONS
:
Flimsy electrical wire nuts
The pan is sticky
It's somewhat expensive
RELATED:  There is also a set of trowels that's frequently bought with this product The Tentlab Deuce of Spades Trowel. We recommend this for digging holes and protecting your canister better.
BearVault Bear Canister
DIMENSIONS: 440 – 700 cubic inches
SPECIFICATIONS: Polycarbonate; transparent; fast open-and-close; wide mouth; portable
BEST USE: 4-7 days hike
The BearVault Bear Canister has two different dimensions, depending on the size you'll choose: either 440 cubic inches or 700 cubic inches. Both models are light and compact, but the smaller model is lighter and cheaper. So if size, portability, and price are deciding factors, get the smaller option. No matter which size you'll get, you can rest assured it's a resistant product since it's made from polycarbonate and that helps it withstand impacts very well.
We like that the canisters are transparent, so you can see what food you have inside and plan your next meal accordingly. The user-experience factor is complemented by a nice open-and-close system that's easily done without using tools. It can be a bit difficult to open when it's really cold outside, but a knife under the lid does the trick. Plus, the mouth opening is very wide, which gives you fast access to the food inside.
We love how portable this product is. Even if you choose the bigger option that can hold your week's worth of food, you can still strap it on the exterior of your backpack, provided it has the necessary straps.  Besides, even this big option is a bit lighter than other similar products and able to compete with canisters manufactured from carbon-fiber.
PROS:
Compact
Light
Resistant
Portable
CONS
:
Difficulty opening when cold
Not as good as a carbon-fiber canister
Udap Bear Canister
DIMENSIONS: 8 x 10 inches
SPECIFICATIONS: Polymer blend manufacturing; somewhat narrow mouth opening; requires coin for opening; extra case can be used for attaching on vehicle; can be hanged on trees; use as stool/ platform; black
BEST USE: 3 days hike
This 4.4 stars canister is one of the smaller items in its category, targeted at helping you pack three days' worth of food. The first thing we like about the Udap Bear Canister is the quality construction. The tough design has been thoroughly tested, meaning you're able to use it no matter the environment, the weather or the on-field accidents.
Since it's manufactured from a polymer blend that can withstand any bear attack, you can figure out it's pretty resistant. Plus, it's a medium size that works well for a short trip that can be prolonged to about four nights if you're not a gourmand.
As a downside, its mouth opening isn't very wide, so you need to carefully plan the food items you'll be taking with you. Another disadvantage is that it's a bit on the heavy side, but that's a small price to pay for a rugged item such as this one. Also, consider you need a coin to open its lid with, sometimes not even a multi-tool or a knife can help you do this.
On the other hand, we like that if you lay it on its side in your backpack, you'll still have a lot of room for other pieces of equipment. If you get the extra case, you'll be able to secure it to your car or motorcycle, which is great portability-wise.
Its heavier build can be converted into an advantage, seeing as it's sturdy enough to be used either as a stool for you, or a platform for an outdoor cooking stove. It has a handle in the middle that helps you hang it in a tree nearby the camp with some cord, to really make sure no animals can get it.
PROS:
Tough build
Leaves room inside backpack
Can be used as a stool
Can be used as a platform for cooking
CONS
:
Small
Narrow mouth opening
Heavy
Can only be opened with a coin
Black – can't see it when dark
RELATED: UDAP also retails an efficient Bear Spray in case your camp gets raided by a bear or if you meet one on the trail.
Frontiersman Bear Canister
DIMENSIONS: 8.5 x 8.5 x 10 inches
SPECIFICATIONS: US Forest Service approval; strong build; 3 stainless steel locks; requires coin/ screwdriver for opening; smooth sides; round edges; 432 cubic inches
BEST USE: 3 days hike
The Frontiersman Bear Canister is one of the products we recommend considering it has the approval of the US Forest Service. That way, you can rest assured it meets the necessary conditions to use it in different National Parks inside the US borders, and store your food in a bear-proof way.
The things that make it bear-resistant are its strong construction, as well as its ability to drastically reduce the smells that might attract bears to your food. There are also three locks made from stainless steel that hold the lid tight, so it can't be opened by bears. You may even have some troubles opening it unless you have a coin or a multi-tool with you. Plus, it has smooth sides and its edges are round, so it will slip right out of the bear's paws if they try to grab it.
The 432 cubic inches capacity helps you store about three days' worth of food, and its 35 ounces of weight when empty render it a bit heavy. That can become a disadvantage when you're backpacking because you need some room in your pack for other equipment, and especially when you're going alone and unable to share the load.
However, that's a meek price to pay considering it's so rough. Plus, you don't have to get it up a tree or anything seeing as it can withstand any bear or critter attack. You just have to hide it about 40 yards away from where you're camping, and both you and your food will be safe.
PROS:
Strong construction
Reduces smells
Tightly sealed lock
Smooth sides and round edges
CONS
:
Small
Heavy
Can only be opened with a coin
RELATED: Frontiersman also retails a Bear Safe Carrying Case, which we recommend it because it's rally resistant, and helps with portability.
Counter Assault Bear Keg
DIMENSIONS: 14.13 x 9.5 x 9.5 inches
SPECIFICATIONS: Interagency Grizzly Bear Committee approved; yellow; proprietary polymer blend; stainless steel locks; accessory carry pack available; 716 cubic inches
BEST USE: 7 days hike
This 5 stars keg is definitely one of the lightest items we've reviewed so far, and that's great considering you need something as lightweight as possible when you're backpacking. Besides, it can also fit quite a lot of food, considering it has a 716 cubic inches capacity. That's bound to hold you for about a week if you can pack your food in a compact manner.
Even more, the Counter Assault Bear Keg is approved by the Interagency Grizzly Bear Committee since it meets all its standards in place. In fact, there are a few requirements it even exceeds, so you know it's a durable, robust product. That makes it mandatory in various US national parks, and even in a few national forests, so you might actually be required to have a Counter Assault canister with you.
Some users say that it can even withstand a tank running it over, that's how rugged it is. And that's probably because of its proprietary polymer blend, that's meant to withstand hard impacts as well as bear attacks. The stainless steel locks are light and easy to open by people, but they're a nuisance for bears, so that's definitely a perk.
The design is great too, it's round and doesn't have any edges so a bear can't get a grip on it even if it smells the food inside. It's yellow, so if you get a hunger pang at night, you're able to spot it easily and grab yourself a snack. The only downside is that it isn't transparent, so you won't see what food you have left.
When it comes to portability, it fits nicely inside the backpack, but you can also get the P-14 carry pack if you're interested in that.
PROS:
Very light
Has a lot of room
Mandatory in some national parks
Robust design
Backpackers Bear Canister
DIMENSIONS: 12 x 8.8 inches
SPECIFICATIONS: Smooth surface; ABS polymer; plastic bag liner on cache; 614 cubic inches; can be used as a stool; multi-tool required for opening
BEST USE: 6 days hike
This 4.5 stars canister is great for keeping wildlife at bay and away from your food. The manufacturer even states bear are discouraged to further rummage through the camp if you have the Backpackers Bear Canister with you, so that's great.
We like that at night storage doesn't involve the need of tieing it to a tree. You just have to hide it about 40 yards away from the camp, and even if the bear smells its contents, it won't be able to open it. That's because of its smooth surface, but the plastic bag liner on the cache will control any odors that might escape. Just be careful not to place it somewhere it can roll away downhill in the case of a bear attack.
Its 614 cubic inches capacity makes it great for a six day's trip into the wilderness. That means you can fit 10 2-person packets of dry food, or even more if you're a compact packer. Or you can fit a small mess kit and a mini camping stove inside it, and you'll still have room for four days' worth of food if you're going alone.
The 2.1 pounds weight isn't the lightest on the market, and it certainly adds to the weight of your backpack. But it's resistant and tall enough to even be used as a stool, so that's a plus. And it certainly meets its purpose of protecting your food, even you need a multi-tool to open it, so a bear certainly can't get inside.
PROS:
Doesn't have to be tied
Smooth surface
Odor control
Can be used as stool
Wrap Up
With all that said, we gave you some bear canister reviews of grade A products. These are especially recommended for people who plan hiking trips with various lengths between three to seven days in National Parks throughout the US. So tell us, what keg caught your eyes and why? Have you tried some of these products before? What would you recommend other people? The comments are right below.
You can even make your own food container. See our easy to make bear canister to help you save money.
Some of the links in this post are affiliate links. This means that if you click on one of these links and make a purchase, I earn a small commission at no extra cost to you. Also, as an Amazon Affiliate, I earn from qualifying purchases. If the information in this post has been helpful, please consider purchasing through one of the links in this article. Thank you.