Camping doesn't have to be all Paleolithic style, since – let's face it – we actually do live in a world where we can take advantage of all the technological progress which has definitely made all our lives easier, and for which our cavemen ancestors would kill for.
[the_ad_placement id="in-text-1-type-a"]
So why not use the best camping gadgets when you're outdoors? They can enhance your whole experience, allow you a plus of comfort, all the while making your trip more enjoyable. That's why we've reviewed a number of impressive items we think you might need, giving you a detailed description of everything you need to know about them below. But first let's see how to actually choose your gadgets.
How do you choose your camping gadgets?
The details you need to take into account when choosing your gadgets can make your planning a lot easier. The last thing you'd want is end up in the wilderness with a bunch of stuff you don't actually need, all the while missing the things that might make your life easier. See our piece on cool and useful camping gear to take on your next trip for more details.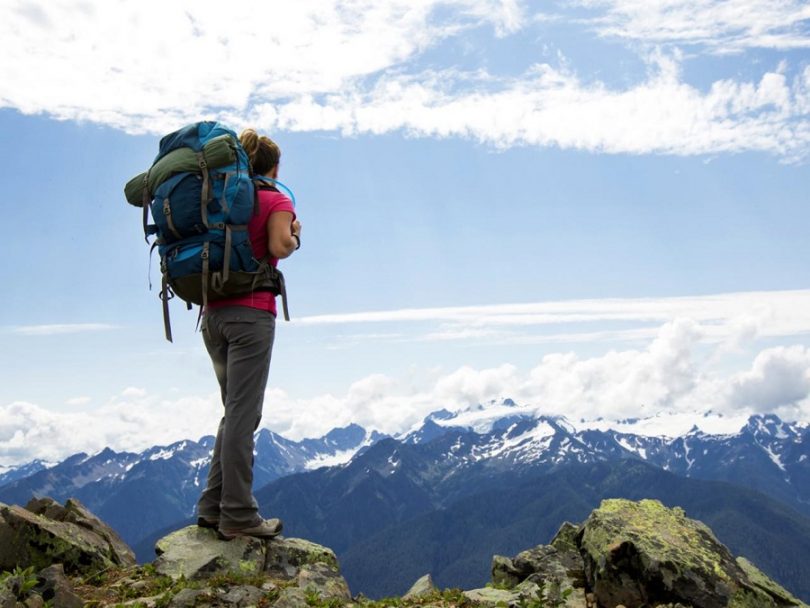 So what you need to think about is:
Where you're going
Depending on your camping spot or other trip details, you should know which item comes handy and which doesn't. As such, a portable solar shower can prove itself quite useless if you're going somewhere rainy, dark or outright cold.
Besides, you should also take into account the duration of your trip, because most gadgets come in different sizes – so if you're taking a shorter trip you can save some money and buy the smaller version.
Portability
Thinking about the dimensions of your backpack, as well as whether you're going to be walking long distances without your car can give you a hint of what you'll be able to take with you. Granted, gadgets are the epitome of technological innovation, but if you can't carry them easily, they may inconvenience you more than help you.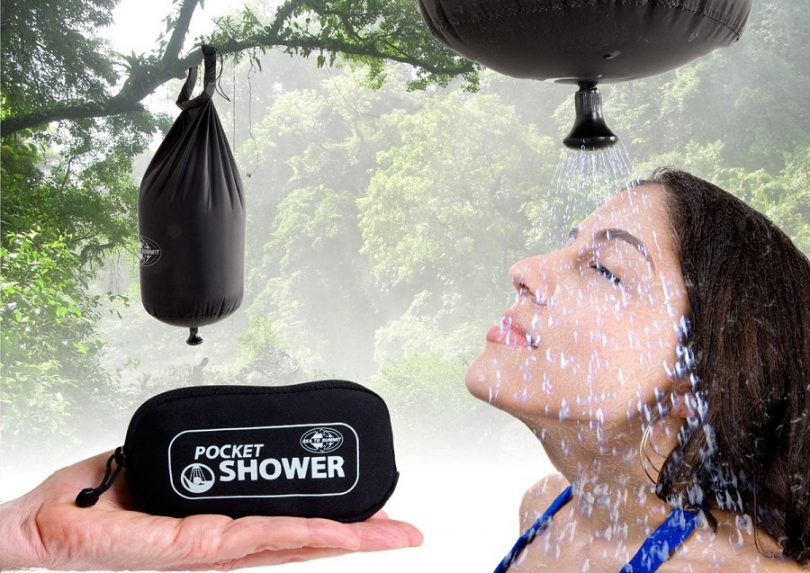 Therefore, take into account things like product dimensions and total weight, in addition to certain features – like maybe a pouch – that enhance your items' of choice portability. Take a look at our piece on how to choose the best portable solar generator to help you with more choices.
Durability
Choosing only the best brands on the market, which have more positive than negative reviews, brands which are trustworthy and have a good reputation is the way to go, even if that means paying a few extra dollars. However, the extra fee you're paying is for things like craftsmanship, quality and materials, so in fact you're saving money in the long run.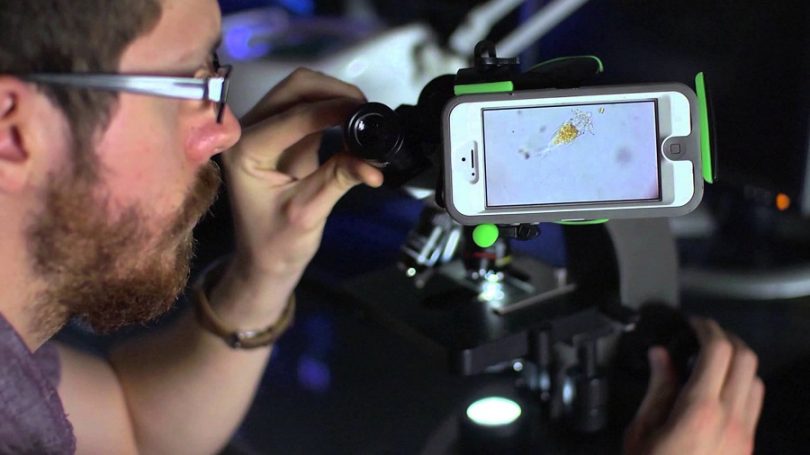 Buying something that can easily damage means a lot of small investments over and over, which in fact means spending more.
Versatility
A gadget isn't just a simple piece of equipment, but something which has many purposes and can prove a great support in a lot of areas. So be sure to take into account the multi-functionality of your item, as well as the multiple features it has, which should be easy to use and make your gadget practical.
Many gadgets can be used indoors as well as outdoors, so think about the investment you're making.
What are the best items on the market?
Etón SCORPION Digital radio
At $69.95, this is one of the coolest gadgets you can have on your camping trip, seeing as it's a great multi-function radio, but it can also charge smartphones. And we all know that smartphones have a lot of indispensable apps which make your life easier when you're outdoors, but they can't help if they don't have enough battery.
Another great perk that comes with this item is that it incorporates a bright LED flashlight, so if you forget yours home or if you don't have any spare batteries, you can use the radio as a flashlight. Its crank and solar back-up power options are immensely useful when it comes to operating it properly, so you don't have to worry about that. The solar panel charges the internal battery, while the crank charging option takes care of charging the battery of your smartphone.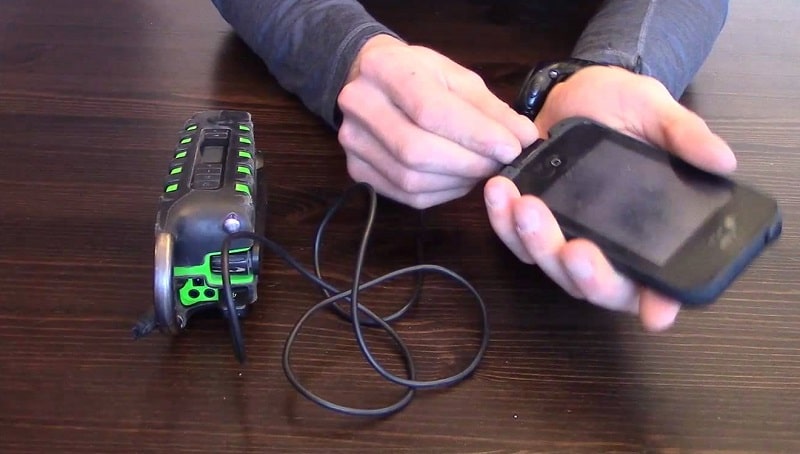 Even if you have your smartphone along with you, the NOAA weather band alerts this item features are a good way to keep you informed about what you can expect weather-wise, and how you can better plan your daily trips. You even get a carabineer in case you lose one of your own. However, that doesn't mean this gadget can't fully uphold its original purpose, which is being a radio that works both on the AM and FM frequencies.
That being said, the Etón SCORPION Digital radio is a must-have for camping, but it's a great addition to your at-home gear as well.
Like this amazing product? Then you can check its price on Amazon.
Powertraveller Power Monkey Extreme Solar Charger
This portable solar charger is an $179.95 item that can charge electronic devices of both 5V and 12V. It's renowned for its durability, and you get the benefit of a trustworthy brand such as Powermonkey, which is an award-winning manufacturer.
Again, losing the battery of your iPhone or smartphone when you need it the most can be a real pain, especially if you're outdoors with small chance of getting near a wall socket any time soon. That's why using such a powerful massive 9000mAH lithium polymer battery can become a real asset.
You'll be able to recharge your iPhone or smartphone up to 6 times, while your iPad, tablet or SLR camera batteries can be recharged 2 times. Of course, there are other items you can recharge provided they use 5V or 12V batteries, such as headlamps, GPS or portable DVD players. And you can charge all these items simultaneously to save time.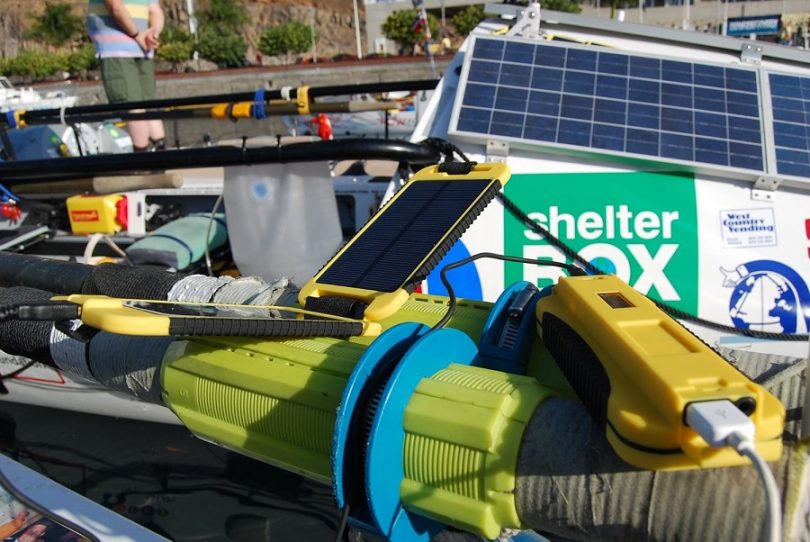 The gadget has an included solar panel which can be used to recharge the battery unit in less than 22 hours, if the light conditions are good. Besides this, you can directly use the solar panel for charging the 5V devices. Not to mention that it has such an amazing design – it allows for maximum portability since it can be folded into a clam-shell shape which doesn't take too much space at all.
Therefore you can easily attach it to your backpack or tent using the Velcro strap that comes along with it, and you don't even have to worry about rain since it's waterproof for 30 minutes up to 1 meter, as well as shock-resistant in case you knock it off.
At just 1 pound heavy and with measurements of 7 x 4 x 2.2 inches when it's folded, this gadget can certainly be put on your essentials list, whether you're going away for a weekend or a month.
If you think that this product could be useful for you, then you can purchase it on Amazon.
High Sierra Classic 2 Series Wave 70 Hydration Pack
Since running out of water when you're out hiking can be really dangerous, you need something to make sure that doesn't happen. The $24 High Sierra Wave can be exactly what you need, since it's a great water carrier, made entirely from polyester. That means it has a basic design, but the material makes it pretty sturdy and also lightweight. It weighs just a pound in itself, and has the ability to hold 2 liters of water or any other liquid, which adds another 4 pounds approximately.
But the greatest advantage is that it can keep water cold for you, even if you're out in the sun for a few hours. You don't need to drink stale, warm water from a plastic bottle when you can have this gadget along with you. At its pretty decent price, it's of great quality and you're making a good investment.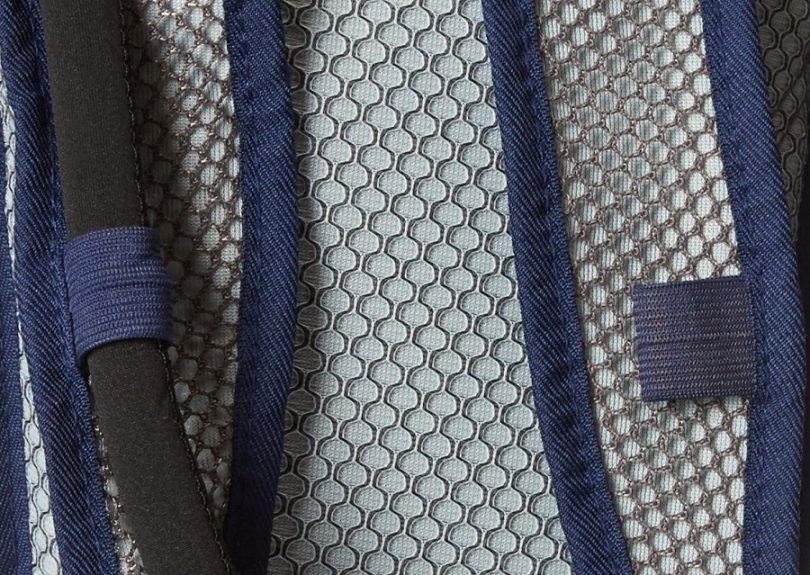 Carrying it around on your back is pretty comfortable. Its slim profile makes it convenient and easy to reach. It won't bother you when you're hiking or out running, because it won't bounce too much on your back. Even if you drop it by accident or hit it against something, you needn't worry about damaging it since it's quite resistant, unlike a regular water bottle.
Most positive reviews of this item focus on how light and comfortable it feels when carrying it, mainly because it has wide, sturdy straps. Besides this, the mouth piece releases water fairly easily, with just one light bite, while the featured reservoir has a wide enough opening to refill it whenever you need, without being afraid that it will leak.
If you need more reasons to buy this item, remember that it has a useful side-pocket to put your smartphone in, while the colors it comes in are pretty fashionable, and can be matched with most outfits.
If you think that this product could be useful for you, then you can buy it here.
Sea to Summit Kitchen Sink
The perfect portable camp sink for a long camping trip, this item costs just $29.95 if you're going for the 20 liters option. Of course, for a lower price you can choose the 5 liter size which you can even use as a dog bowl if you're taking your pet along with you, or the 10 liter size if you're not going with a larger group.
[the_ad_placement id="in-text-2-type-a"]
Whichever option you may choose, you should know that the sink is made out of nylon, and has a unique design with stainless steel stiffening ring that doesn't let the sink collapse onto itself when it's full. Besides this, its stability is accentuated by the fact that its base is broader than the top part in a sort of conical shape which prevents it from tipping when you're using it.
Speaking of which, you can use both hot or cold water and detergent, since it has fully taped seams, and you can handle it pretty simply with its wide webbing carry handles. When you're not using it, you can place it inside or outside your backpack, as it comes with a very handy storage pouch of its own.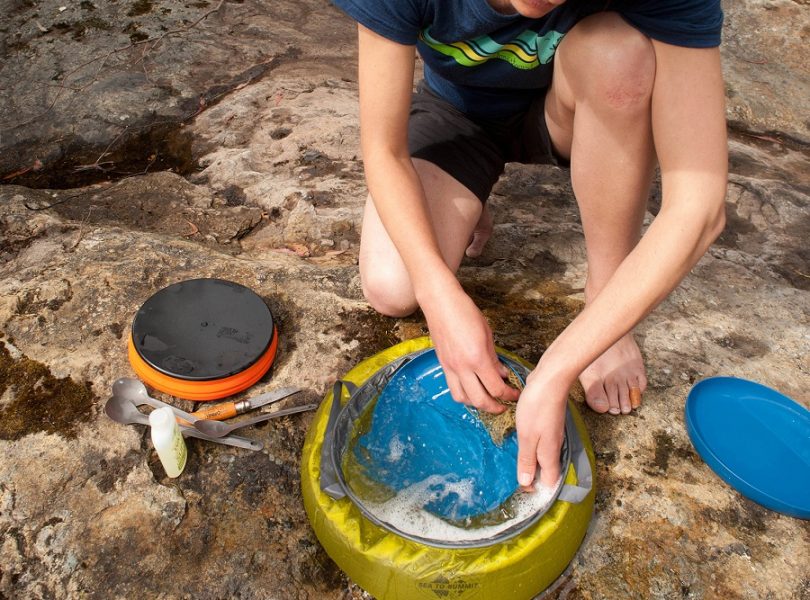 So why do you need it for? Its amazing functionality and versatility can assist you with a number of essential camping stuff, such as:
Water purification.
Cooking.
Washing dishes.
Personal bathing.
At a weight of merely 8.8 ounces and with small dimensions of 7 x 9 x 3 inches, this portable sink can indeed prove valuable for most backcountry expeditions. However, remember that it works better when it's completely full, so you have to have enough water with you – maybe if you're camping near a river. That's because it's soft-sided and the water you pour inside it makes it more stable, if it fills at least half the sink. Knowing this can help you choose the size you want, considering your group's needs, the length of your trip and the water supply you have.
All in all, its portability, low price and versatility turn this item into a useful gadget for camping.
Like this product? Then you can buy it on Amazon.
Sea to Summit Pocket Shower
This pocket shower costs just $32.95 and has a capacity of 10 liters, making it rather spacious, meanwhile being very compact and light when you're not using it, seeing as it can zip itself into a pouch which measures just 3 x 6 inches and weighs under 5 ounces total.
So if you're outdoors for longer than a day or two, or if you're going somewhere very hot and humid, you might want to consider a portable shower that gives you the benefit of cleaning yourself up before settling in for the night. This item allows you to have a 9 minute shower if the shower head is fully open, but you can certainly use it for a longer time if you don't open it fully.
Speaking of the shower head, the way in which it's designed makes it perfect for equal spray dispersion, since it has graduated apertures. That will make your showering experience better, especially if you're taking into account the simple twist mechanism it employs for flow adjustment and for turning the shower on or off.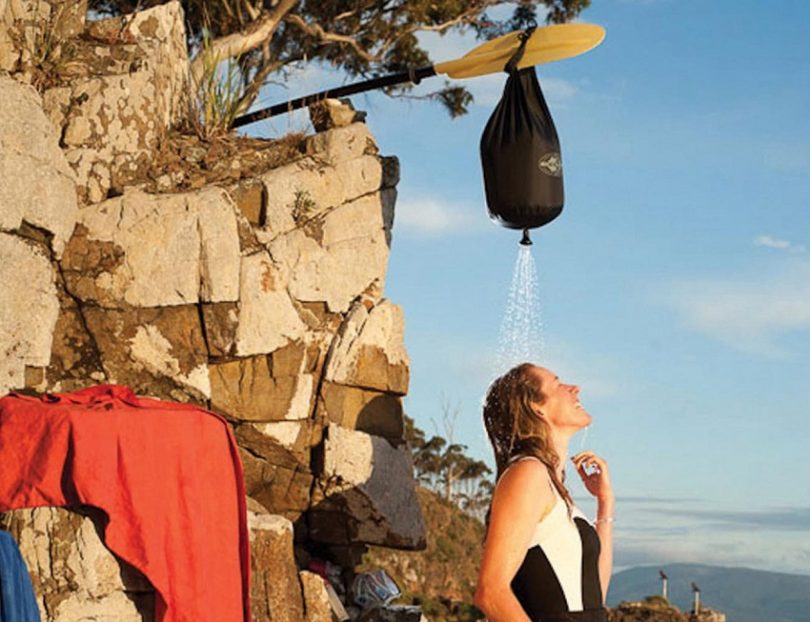 Besides, if you're thinking that there's not much versatility for this portable shower and you don't need it unless you're going away for longer or in warmer weather, you're wrong: it can also be used as a regular dry sack to carry your clothes or your sleeping bag inside, as well as carrying the water you need from a nearby river to your camp.
Moreover, the quality of the craftsmanship and the materials used is pretty obvious, knowing that it's made of heat-resistant waterproof fabric and roll-top closure – all characteristic of an indispensable camping item.
If you think that this product could be useful for you, then you can buy it on Amazon.
The BioLite KettleCharge 10 Watt Generator
This $130 item is something you can use both when you're at home or in the great outdoors, as it gives you off-grid power as well as portable water in just a few minutes. It's not a solar panel, but a generator, which means that it doesn't depend on solar light to function and charge your USB devices when you need them, even at nighttime. Plus, at 10W it works pretty fast, close to the speed of a wall socket.
If you're more interested in how it works, you should know that it employs a developed version of BioLite core thermoelectric technology to make electricity from boiled water. As such, it can work on a vast array of stoves, which makes it the ideal individual generator for camping needs. You just need to fill it, heat the water and then charge the devices you have.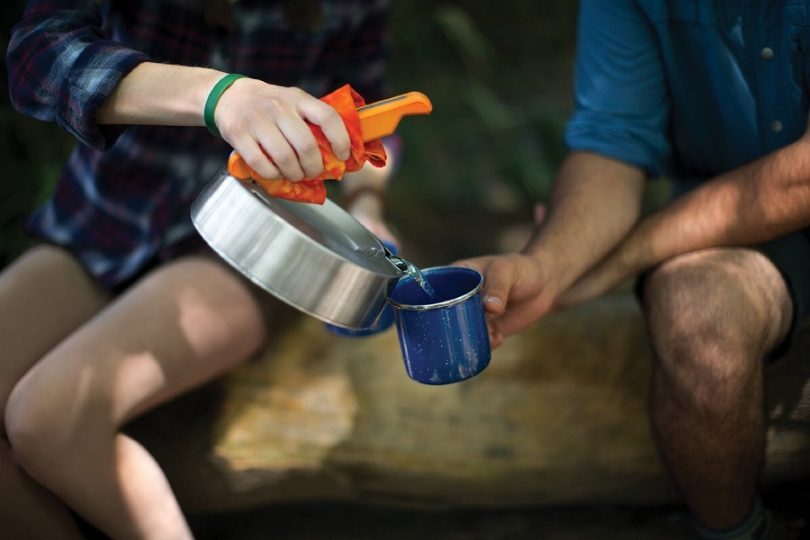 Apart from its 10W power, this gadget has a smart LED dashboard, which gives instant feedback on heat and charging for optimal use. It even makes an audible alert sound if the unit has gotten too hot, which is another important perk. It can be used on gas ranges, backpacking stoves and of course the BioLite Camp Stove, while its 750ml stainless steel kettle can be used to boil water for cooking, drinking and cleaning, making sure that its battery stores the power that can be used later on.
With product dimensions of just 7.3 x 7.3 x 2.9 inches and a weight of 2 pounds, this item checks the characteristics of portability and lightweight, making it very easy to carry in your backpack.
Like this amazing product? Then you can check the current deal for it on Amazon.
Carson HookUpz Universal Smart Phone Optics Digiscoping Adapter
What makes a great camping trip is the memories you get to share with your friends. And what better way to do that than with the HookUpz Adapter, which offers you a means of taking great pictures and videos you can enjoy over the years, by connecting the optics you have to your smartphone, and utilize your camera apps. Reviewers say it's a perfect phone to telescope mount, since it's fairly easy to use, it's durable and has a great carrying case.
The only issue you might have is that it's not compatible with just every device, and it won't fit Riflescopes and Phablets Like the Samsung Note I, II, III, IV, iPhone 6 Plus, Nokia Lumia 920 and Nokia Lumia 1520.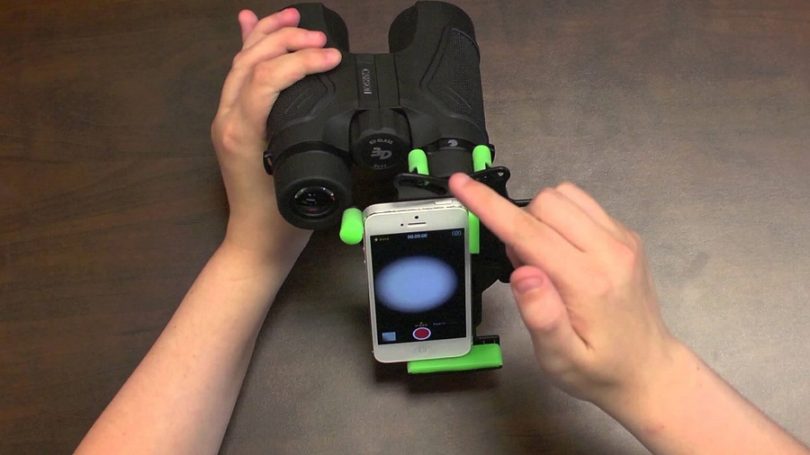 It does work great with both binoculars and monoculars, as well as different types of "scopes" like spotting scopes, telescopes and microscopes. Additionally, it works with almost all types of smartphones including all Samsung Galaxy models, a couple of HTC products, a few Motorola items, and almost all iPhone models. However, if you have a device that isn't listed here and you're interested in the HookUpz Adapter, make sure to contact the manufacturer.
You won't regret buying it, since it has a variety of features which makes it amazing for taking pictures and videos as well as carrying it around, such as:
Self centering.
Quick release clamps and grips.
Accurate alignment levers.
Improved spring tension.
Storage case.
Carabineer clip.
Lens spacer.
That being said, if you're tired of positioning your phone next to your binoculars in just the right way to take the perfect photo – which you may not succeed – you can save yourself the headaches and get this awesome device, that really gets its money's worth.
If you like this product you can find and purchase it on Amazon.
Wildtek Waterproof iPhone 6 Case
This $34.99 case is perfect for protecting your iPhone 6 from water damage. It offers you a rather robust means of protection since it's completely waterproof, snow-proof, dustproof, shockproof and anti-scratch. That being said, it has the IP68 accreditation for being waterproof, making the case submersible under water of 2 meters.
In these conditions, if you forget your iPhone 6 in your pants' pocket while going in a nearby river for a quick swim or if you're having an impromptu snow fight, you can count on this Wildtek case to do its job and protect your phone. Besides, we all know that camping poses some risks – you may fall or drop your phone – which can be harder to handle by the last minute technological innovations you carry along, such as an iPhone. Keeping it safely stored inside a good case can make the difference and prevent the damage.
Besides, you don't have to take your iPhone 6 out of the case when you need to use it, as the case provides the benefits of full functionality and easy access. You can therefore rest assured that everything from the touch ID and touchscreen, to the headphone jack, speakers, and cameras work great even when your iPhone is inside the case, making its use very sure and readily accessible.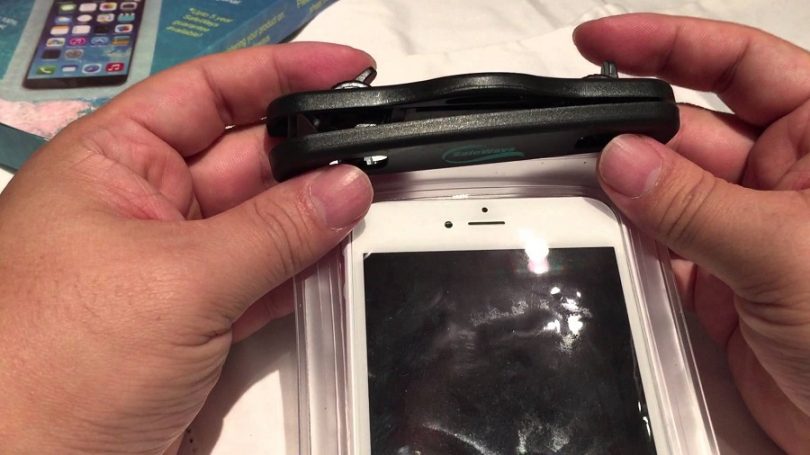 You don't need to worry even if you want to take pictures: this item's ultra-clear optical glass will protect your iPhone's camera, allowing you to capture high-quality photos no matter how rough the weather conditions may be. The crystal clear clarity promised by the Wildtek case materializes through its built-in screen protector which will save your camera lens from scratches and dings, without messing with the definition of the pictures you take.
When it comes to the sound clarity, this case has enhanced audio which won't muffle the sound and spoil your audio experience, but will let you enjoy a sound as clear as when the iPhone is out of the case.
[the_ad_placement id="in-text-3-type-a"]
To sum up the great boons entailed by this terrific case, you will also get a lifelong warranty in case something goes wrong with the case, providing you more assurance in the quality, durability and functionality of this product.
Like this amazing product? Then you can check its price here.
In conclusion, you shouldn't neglect how gadgets can make your life easier and your trip pleasanter when you're out camping. Be sure to take into account all the factors we've listed above on how to choose your items, and you'll be able to enjoy the great outdoors by relying on the help of modern technology.
Don't forget that camping is going back to nature. See our article on basic things to bring camping to help you be a minimalist.
Some of the links in this post are affiliate links. This means that if you click on one of these links and make a purchase, I earn a small commission at no extra cost to you. Also, as an Amazon Affiliate, I earn from qualifying purchases. If the information in this post has been helpful, please consider purchasing through one of the links in this article. Thank you.