Sometimes the space your vehicle provides just isn't enough. Whether your dilemma is camping gear, skis, food, or clothes, not having sufficient room in your car can be a stressful situation.
There are many ways to remedy this space problem, but short of purchasing a bigger vehicle, probably the safest and most reliable would be to utilize the best car top carrier.
Car top storage options come in various shapes, sizes, and types. Each individual car top carrier has its strengths. That being said, knowing which one to buy will largely revolve around what you intend to use it for and your vehicle.
And before you can make that purchase here are a few things that you have to consider when in the market for a car top carrier.
Choosing A Car Top Carrier
There are a number of considerations you will have to think about when picking out a car top carrier. Here are a few of them.
Soft Bag or Hard Carrier?
Common car top carrying options can either come in soft bag-like containers or hard roof boxes. Both have their strengths and weaknesses. Let's start with the soft bag.
The soft bag is largely cheaper. That is a factor that will largely factor into the purchase of folks working on smaller budgets or aren't really looking to use a car top carrier all that often.
Another great thing of soft bag carriers is the fact that they store away quite easily and are largely compact as well. It's also possible to utilize these without a roof rack.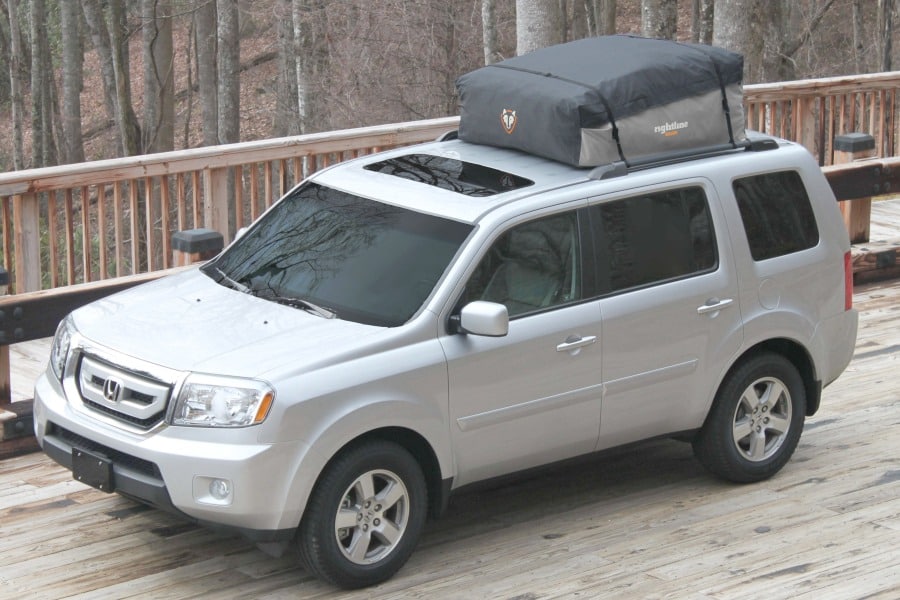 They are much lower in terms of overall ruggedness versus hard carriers. They are neither as sturdy nor as weather resistant as their hard counterparts. Their soft shapes are also not aerodynamically sound. This potentially has the effect of having a mini-parachute stuck on your car, increasing drag and affecting your fuel efficiency in the long run.
Hard carriers on the other hand, are pricier. But that's largely due to the added benefits they provide. Hard shelled top carriers are shaped aerodynamically. This means that they will have no adverse effect on the car's run.
They are also meant to be weather resistant, these will protect your stuff rain or shine for months on end. These are also much easier to load and unload because of their structure.
Shape
The shape of a top carrier should factor into your purchase decision as well. This is, of course, assuming that you've decided to go with a hard carrier. The shape and by extension size, has an effect on the additional drag your car will experience due to installation.
Though this isn't set in stone, it is largely observed that smaller and more compact roof carriers are less likely to create road noise. Smaller roof carriers are also attributed to the lessened production of drag.
A piece of advice with regard to this will probably be to choose the size and shape of a carrier that just fits your needs.
Size
Roof boxes sizes are gauged by their volume capacity (same as bags). They come within the range of 10-21+ cubic feet. The dimensions (length and width) will factor in largely when you intend to put in long and/or wide gear such as surfboards, skis, wakeboards etc.
Weight-bearing capacity
Individual roof cases don't usually weigh much. What you will be concerned with is going to be their load capacity.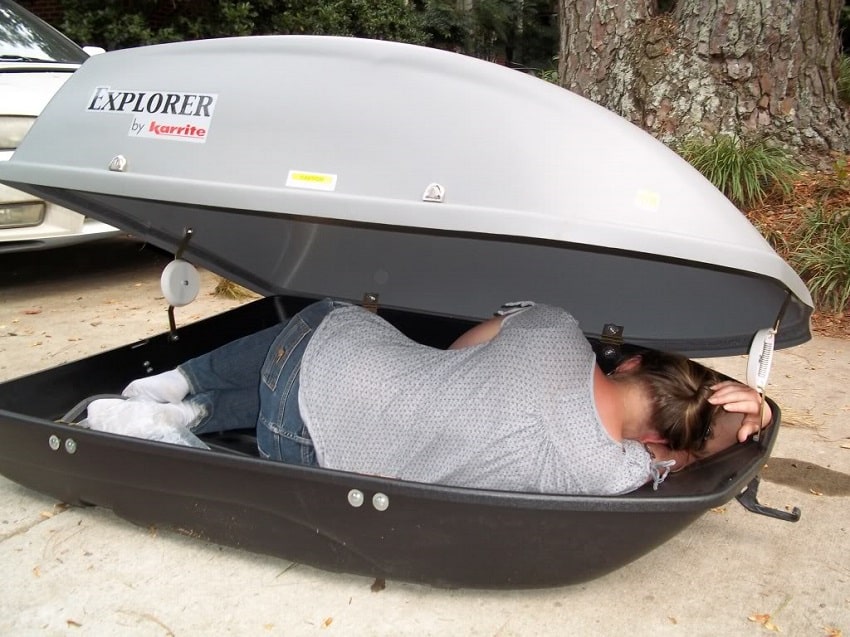 Roof boxes are rated for maximum weight which they can carry. So if you're going to be carrying heavy items within your box, you had best check its specs beforehand. Otherwise, you run the risk of damaging your box, and voiding the warranty.
Additional Features
To maximize your utility on your purchase, you should also consider the other features of the carrier. Can it open from both sides?
Is it easy to open even when using just one hand? Also, ease of installation should be considered as well. You don't want to end up frustrated every time you remove and install the box.
Your vehicle
Some boxes are too big for smaller vehicles. If you drive a compact car, then you might want to double check getting those massive boxes. If you drive a pretty big truck, you might want to think about how high is a safe height? Investing in a bug out vehicle? See our article on how to choose the best bug out vehicles to survive.
A box or bag that's too high might snag on a branch or low-hanging garage door in your residence or neighborhood.
Roof Rack
If you have a roof rack pre-installed on your vehicle or are still thinking about making a purchase, you will want to be sure that the box or bag you purchase will work well with those cross-bars. Not all products are made with universal locking in mind.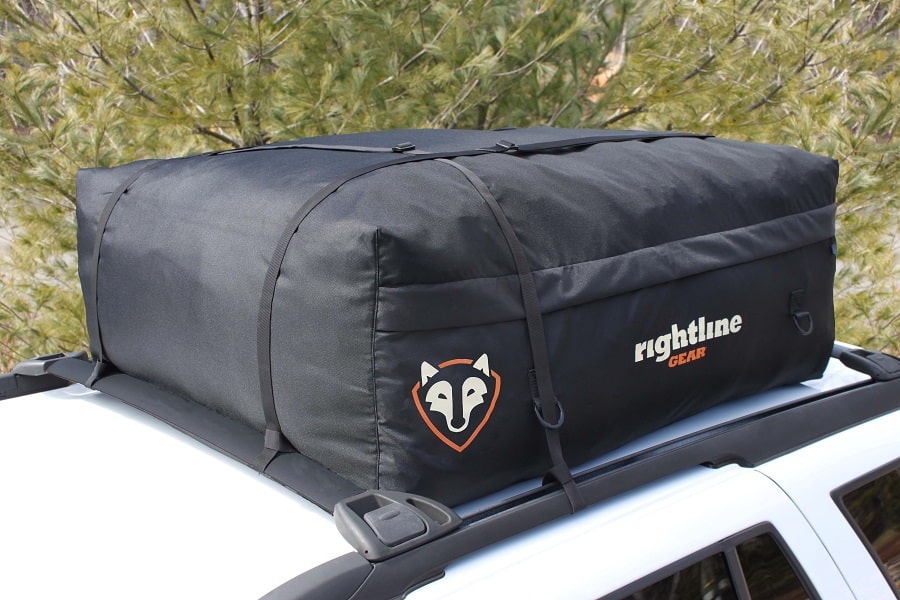 You definitely don't want to wind up with a mismatch. The best roof cargo box in the world won't be of any worth if you can't install it properly. Save yourself the trip back to your store. Inspect your rack and box ahead of time.
These are only a few of the considerations we would recommend you take. That being said, here are reviews of some great roof storage options for your vehicle.
Top Products Reviews
Thule Sonic Medium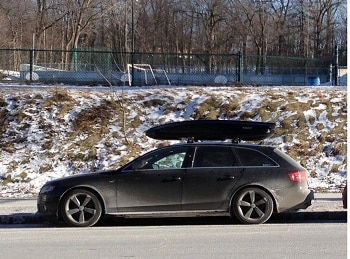 Weight: 38 lbs
Dimensions: 16 in x 34 in
Volume Capacity: 22,457 cu in
Type: Hard
Description: The Thule Sonic Medium is a great medium-sized, rugged hard roof top case. It features an AeroNose design which provides the box with sufficient aerodynamics to effectively cut noise and decrease drag.
The rear-end of the carrier is built with a rear-angled design. This aids in providing optimal clearance. The box features dual-side openings for access on either side of the vehicle.
The box also features an over-sized key system on both sides, making for great ergonomics and easy use.
The box's construction provides a high-quality, weatherproof storage option that will keep your gear dry. Installation is also a breeze on the Thule Sonic, making it ideal for removing and putting it back on your vehicle.
And while it provides a great user experience, there have been reports of Thule hard cases getting blown apart by strong winds. Though these are not a norm, and accidents do occur on practically all carrier models.
Other than that, the Thule Sonic is a great choice for your hard-case needs.
Inno Shadow 16Cft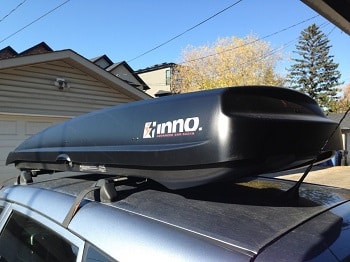 Weight: 42lbs
Dimensions: 78.7 x 31.9 x 13.4 I n
Storage Capacity: 16 cu ft.
Type: Hard
Description: The Inno Shadow 16 a great stylish, sleek, low-profile, car top carrier. It features a spacious 16 cu ft. of storage space, perfect for outdoor sports. The construction of the Inno shadow allows it to cut through the air and create minimal noise while driving.
Because of its low-profile, it can be used without problem on taller vehicles. It features one of the lowest profiles in the market.
In terms of its assembly, the Inno Shadow takes some doing. It isn't as easy to install as other models. It makes use of several hooks to attach it to roof crossbars. These aren't pre-assembled. You will have to put these hooks together prior to use.
Also, once you've managed to mount it onto your rack, there is a need for you to cut up weather stripping to be able to fill the hook's slots. These will fit in nicely with your vehicle. The concern is, however, if you intend to use the box for a separate vehicle, the striping measurement might be off.
In terms of use the Inno Shadow also takes a bit of work to open and shut, for most it will require a two-handed effort to get it open or to get it shut.
No problems with regard to it staying shut. The key also stays inside for as long as you haven't closed the carrier. That's a pretty good safety mechanism preventing you from driving off with the case open.
Overall, the Inno Shadow 16 isn't the easiest to use nor the easiest to install. However, its features, durability, and aerodynamic properties easily compensate for this making it a quality purchase.
Rhino Rack Master Fit Cargo Box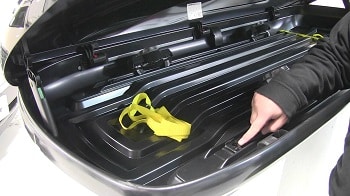 Weight: 45lbs
Dimensions: 85 x 39 x 18 inches
Storage Capacity: 19.4 cubic feet
Type: Hard
Description: As its brand name suggests, the Rhino Rack Master Fit Cargo Box is quite the beast. The large 19.4 cubic feet of storage space make it quite sizable. This makes it a bit difficult to use with smaller vehicles.
In terms of mounting, this does very well. It includes pre-assembled mounting pieces right with the box, making installation a breeze. The materials of the mounting equipment give the impression of sturdiness.
With regard to use, it isn't the easiest to use. The lid is a bit floppy, couple this with the large size, closing it can be a chore because the latches won't always line up. This leads to the possibility of having part of your box unlocked, a potentially dangerous situation.
The closing and opening mechanism doesn't require the use of a handle or button. Due to its large size, the Rhino Rack master might be unwieldy for smaller vehicles and can have a negative effect on the handling of a smaller car.
If you are in need of a large carrier and have a large vehicle, the Rhino Rack Master Fit is definitely a great choice.
Keeper Waterproof Rooftop Cargo Bag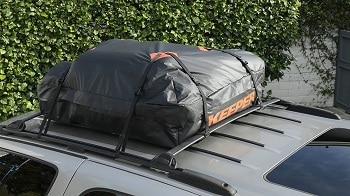 Weight: 5.2 lbs
Dimensions: 44 x 34 x 17 inches
Storage Capacity: 15 cu ft
Type: Soft
Description: The Keeper Waterproof Rooftop Cargo Bag is a cheaper car top storage option that is perfect for people who don't want the extra storage on their vehicle all the time as well as those on a tight budget.
The material stands up to wear quite well. It provides a decent 15 cu ft of space for gear. It is also largely water-resistant. When installed properly it can and should be able to protect gear from heavy rain while traveling at highway speeds.
At 5.2 lbs it's incredibly light and packs away nice and easy. It takes up very little space when not in use and is easy to tie down and remove from the roof of a vehicle.
It performs very well for its price. It also does have its disadvantages.
For one thing, breaking into the bag is a pretty simple affair. So for extended trips, it will most probably be necessary to take it down and unpack it nightly. It also has a bit of an effect on your gas mileage, though noise is minimal.
Yakima RocketBox Pro 14 Cargo Box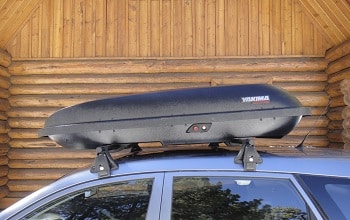 Weight: 53 lbs
Dimensions: 34 x 17 x 75in
Storage Capacity: 14 cu ft
Type: Hard
Description: The Yakima RocketBox Pro 14 is a convenient and easy to use hard carrier option, great for small to medium-sized vehicles. It can pack six snowboards or 6 pairs of skis along smaller bags with its 14 cubic feet storage capacity.
It is generally easy to install on universal rail systems. The box shouldn't take longer than 25-30 minutes to assemble and install the first time around. It features dual side openings for easy access to gear from either side of your vehicle.
It also offers decent security as it requires the box to be properly closed before the key can be withdrawn. One of the great benefits of this type of hard carrier is the fact that it's also tougher to break open, allowing you to leave it outside with less fear of your stuff getting ransacked.
As with most other offerings on this lift the Rocketbox pro has a negative effect on gas mileage, albeit a small one. The Yakima Rocketbox Pro 14 is still definitely, a very competitive product.
Whispbar WB700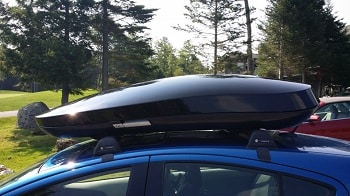 Weight: 32.78lbs
Dimensions: 32 x 14 x 70 in
Storage Capacity: 10.8 cu ft
Type: Hard
Description: The Whispbar WB700 is a sleek and stylish roof storage option with great overall functionality, engineered specifically for compact vehicles.
It features Accucor dual layer technology providing a higher level of stiffness and decreased drag further improving its aerodynamic quality. The glossy black automotive finish of the box gives it a more refined look.
The sleekness and small size do come with drawbacks. At 6 feet in length, it can store skis that are up to 61 inches long.
However, it can only accommodate 10.8 cubic feet of space. This doesn't add up to much if stacked up against the competition. Also, given its smaller space, it is more expensive when set alongside other market offerings.
However, overall it functions great as a hard top carrier and if your storage needs are small and style factors into your purchase decision, the Whispbar is definitely a plausible choice.
Thule Sonic XXL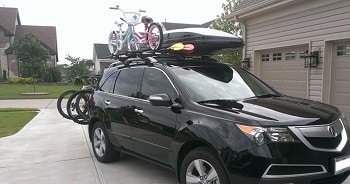 Weight: 47 lbs
Dimensions: 100.5 x 37.5 x 17 in
Storage Capacity: 22 cu ft
Type: Hard
Description: The Thule Sonic XXL is a behemoth of a top carrier, perfect for use with larger vehicles and for folks with large storage needs. At 100.5 x 37.5in  the Sonic XXL provides a great deal of storage space, 22 cubic feet worth.
That's the most out of all the carriers on this list. It has a load capacity of 110 lbs.
It boasts Thule's Aeronose Design aiding in drag and noise reduction. The rear-angled base plus its expanded mounting points end up maximizing hatch clearance and trunk space. Thule's Acutight mounting system also clicks as you reach an optimal point securing your box to the rack, providing added peace of mind.
It also provides an oversized key locking system that requires a properly closed box before a key can be taken (quite smoothly though). This helps make certain that the box is closed prior to moving.
It can be opened on both sides, for easy access to stored items. The box is also quite rigid. It isn't at all floppy in the way other roof boxes are. Though care has to be taken to not overstock the front portion as this has had many customers frustrated with the wind pushing the lips of the case slightly open.
Overall, it's great for heavy use on bigger vehicles.
Yakima SkyBox 16 Carbonite Cargo Box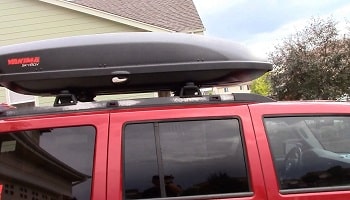 Weight: 47 lbs
Dimensions: 81 x 36 x 15 in
Storage Space: 16 cubic feet
Type: Hard
Description: The Yakima Skybox 16 is a versatile mid-sized car roof storage box. Providing a 16 cu ft storage space puts it in the middle of the pack. Still, it's a sizable amount of space which will be enough for most folks. It can easily haul gear for three people, maybe four if traveling light.
The box is built with internal stiffeners providing added durability and a better experience when opening and closing. Its tapered design reduces hatch interference and easier closing.
In terms of installation, the Yakima Skybox offers a great deal of ease. No additional assembly and no tools required for the installation. It's a simple matter of following instructions. Though for smaller users it might be a bit of a challenge to install alone.
In addition, it is built with 80% recycled materials, making it an environmentally friendly product. It offers double sided access as well so grabbing gear from either side of the vehicle isn't a concern. The inside though doesn't come with a rubberized surface, hence gear might move around a bit.
Overall it's a great cargo box, that can easily go toe to toe with other top of the line car carriers.
Carry On
Those are some of the car top carriers on the market today. To figure out which one is for you, remember that you have to take into consideration your vehicle type, this will factor into the limits of what you can install into your vehicle.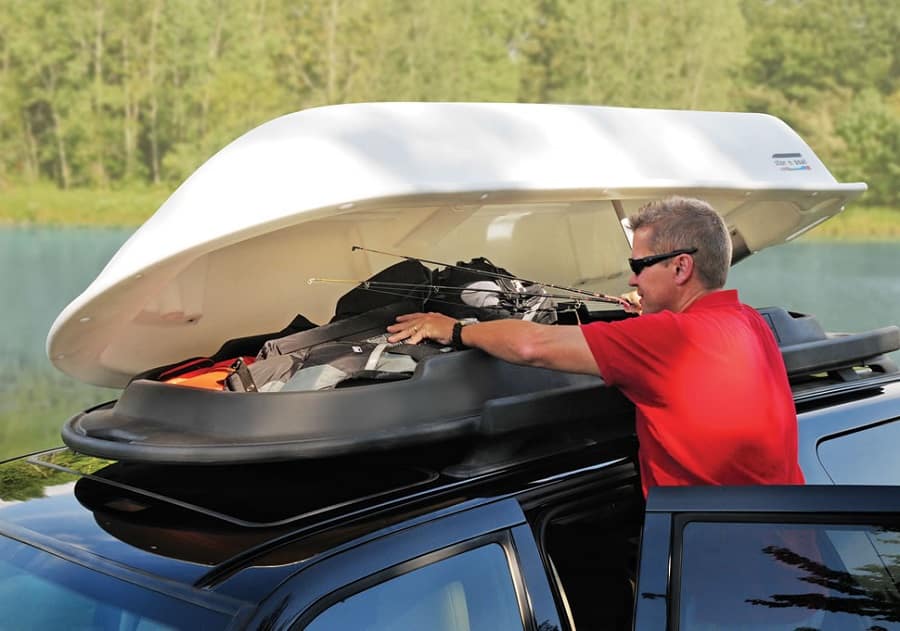 After this, you'll want to think about your needs, length will really factor in for skis and overall capacity if you intend to pack a lot of gear. Once you've got a firm idea of what you need, making the choice should be a simple affair.
Check out our article on basic essentials for car camping to keep you in the loop, it's an excellent reading piece.
Some of the links in this post are affiliate links. This means that if you click on one of these links and make a purchase, I earn a small commission at no extra cost to you. Also, as an Amazon Affiliate, I earn from qualifying purchases. If the information in this post has been helpful, please consider purchasing through one of the links in this article. Thank you.