Car camping isn't just an all-American pastime-it's also one of the best ways to put your survival skills to the test. When camping, you can hone your bug-out bags, get used to sleeping outside, and practice foraging for food.
With just a few changes, you can convert your vehicle into a safe, secure shelter that travels with you wherever you go, and you don't need to "break the bank!"
Why Car Camp?
With so many high-tech tents and campers, car camping has become less popular. However, car camping has many benefits over sleeping in a tent or pulling a trailer.
Security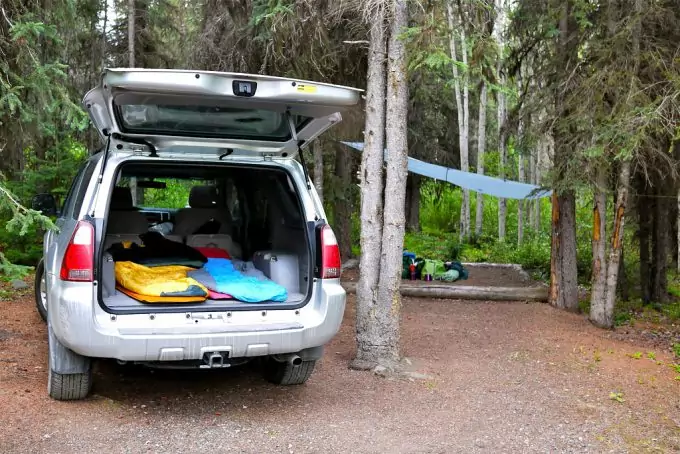 Car camping offers you more security than a standard tent. While a nylon shelter may keep the wind and rain out, it won't do much to keep animals or intruders at bay. A car with steel doors and a shatterproof windshield offers better protection.
Security is also a factor to consider if you're camping in popular areas or spending the night at a rest stop. Camping in a car will offer greater security from other humans than many camping trailers, including locking doors and a theft alarm.
Portability
This is an obvious benefit. Spending the night in your car allows you to haul a lot more gear. Lawn chairs, sun shades, barbecues, and more – bring it all!
Then, set up beds in the cargo area after you have packed away your camp into plastic totes. I have several of these – three for longer-term items and one for same-day items.
One note on staying organized. If everything has a place, you can move much more quickly. Keeping things put away when not being used also offers that much less for thieves to take.
Temperature Control
One benefit of camping in a car is temperature control. This is especially beneficial in the winter when you can turn on the heat if it is brutally cold. This can be the difference between life and death in some instances.
Saving Money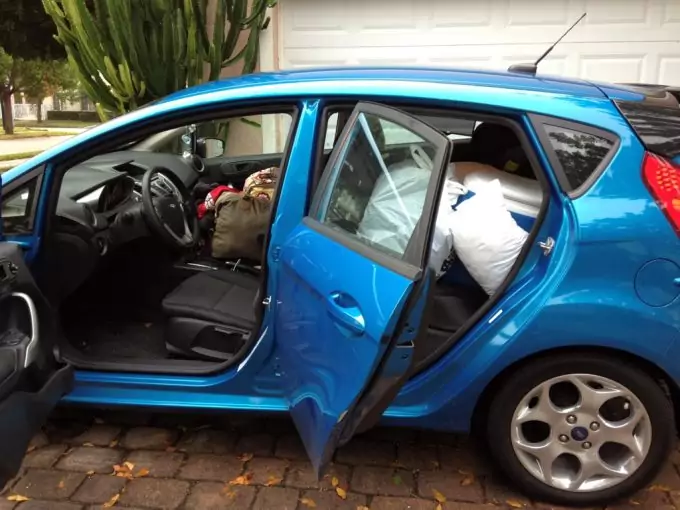 During Covid, I've done a lot of hiking and backpacking closer to home, and I have been surprised at the number of people I have seen car camping in small remote parking areas and dispersed camping areas.
Car camping is much more economical than staying in a motel or hotel, especially if you only want a quick bed for the night. Even car camping in a campground with amenities like showers and power is often half the cost of a hotel.
If you plan to sleep in your car, make sure you pick a safe and legal location. There are several options for car camping, but wherever you park, make sure to lock your doors and, in some cases, park in a well-lit area.
Rest stops are convenient but not always safe and can be noisy.
Big Box stores will often allow cars and RV's to use their parking lots (Wal-Mart, Cabella, etc.) Check online as locations may vary.
Dispersed Camping is free on public lands for 7-21 days and often in beautiful locations.
State Park campgrounds are usually very reasonable.
Car camping has a lot of advantages. It may not be the most spacious arrangement, but it's certainly the most convenient.
If you decide you need a little more space, you don't need to spend a fortune on a tent. Kelty makes a great car camping tent that is not only reasonably priced but is going to last you for years.
You can also look at some of my other car camping tent reviews if you want more space.
The Best Vehicles for Car Camping
Not every car is built for car camping, especially for more than one person. However, some cars were made for the journey and the destination.
Honestly, most any SUV will work for car camping, but I have some favorites.
Chevrolet Suburban – Roomy
Toyota Tacoma – Rugged and dependable
Subaru Forrester – Economical, roomy
If you are going to park your car at a trailhead and then backpack, give some thought to what you choose. You don't want to be a target for thieves, but you also want to make sure your vehicle is reliable and will start when you return.
Car Camping Gear: Basic Essentials
Now that you've figured out which car you're going to be camping in, you'll want to make sure it's well-stocked with the necessary supplies. There are several primary items to pack that will ensure you'll have a safe and enjoyable experience.
Sleeping Pad or Air Mattress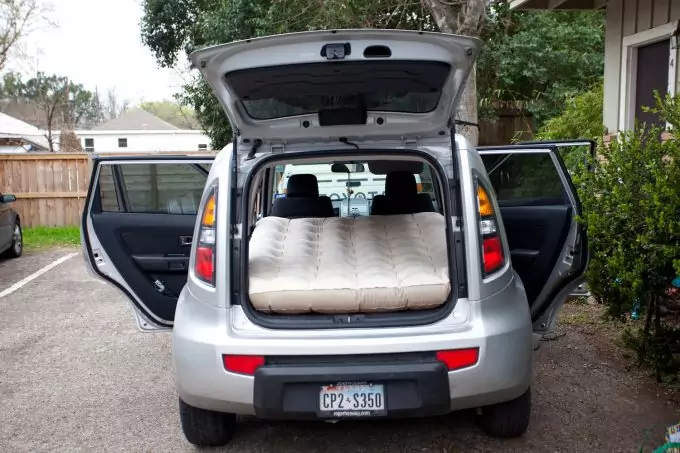 Even if you have the room for a plush air mattress, they can be a PIA when car camping. They will take up the entire back half of the car, and you will probably have to carry an air pump or compressor to inflate them.
If you are determined to get a mattress, you can look at these reviews, but if you want something more practical and almost as comfortable, consider an air pad.
There are a lot of good air pads on the market, but if you want to balance budget and quality, check out the Lightspeed pads. The 3-inch Lightspeed Pad is going to keep you warm down into chilly temps and is durable and comfortable.
Sleeping Bags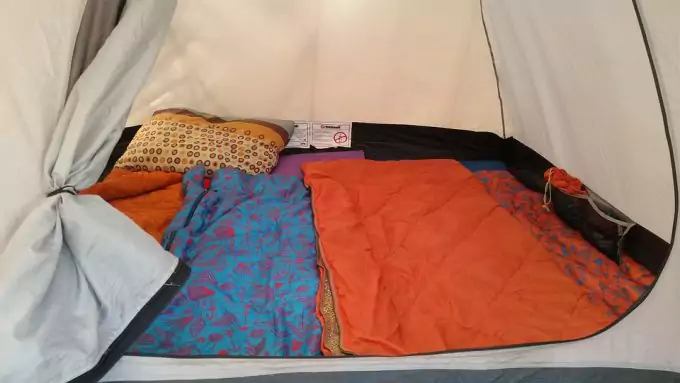 There are a lot of good-quality bags, and I would get a rectangular bag for the added warmth. If you want a little romance, make sure they zip together. I wouldn't worry about weight since you won't be carrying the sleeping bag far.
Kelty makes good quality sleeping bags at a reasonable price and so does The North Face.
Remember the "Rating Rule" that I always follow. Assume the temperature always varies by 10 degrees and if you choose a 30 degree sleeping bag, it is probably going to keep you warm down to 40.
I like the Thermalite Reactor liner because I've used it and I know I'll get at least 10 degrees of warmth, but you can also just use an inexpensive blanket since you are in your car.
You can also check out this article on Best Sleeping Bags for Camping if you want to take a look at some other choices.
Lights
Many lights used for camping should not be used in a car – kerosene lanterns, butane, propane, etc., but other good choices are portable and easy.
I'm a big fan of Luci lights by MPowerd, for a few of reasons.
They are a small start-up making good products
Low impact lights with a conscience
Fun Products
I still need to do the review on mine. My personal favorite is their Pro Series Lantern. One charge lasts 50 hours, and I can charge it with a plug or solar panel. Oh, and it also charges my phone!
Luci Pro Series Light
At 6.1 ounces this small solar/rechargeable light is good for 50 hours. With 150 lumens and the ability to charge my phone – there are so many possibilities!
There are a lot of different LED options, but I often find myself thinking, what if there was no power due to an EMP or I finally ran out of batteries? Solar always springs to mind since it's easy and quiet.
Car camping is actually fun though, and a great first step for those just beginning to experience the outdoors. Don't take it too seriously.
If not an emergency, have fun with it and create a little ambiance while you're at it!
Power Inverter
If you have not heard of power inverters, they are one of the unsung heroes of car camping and lengthy road trips!
Power inverters can plug into your cigarette lighter or attach to your car battery, converting your car's DC current to AC current for all of your electronics.
Inverters are great for camping and road-tripping and are an excellent component of your vehicle's bug-out kit.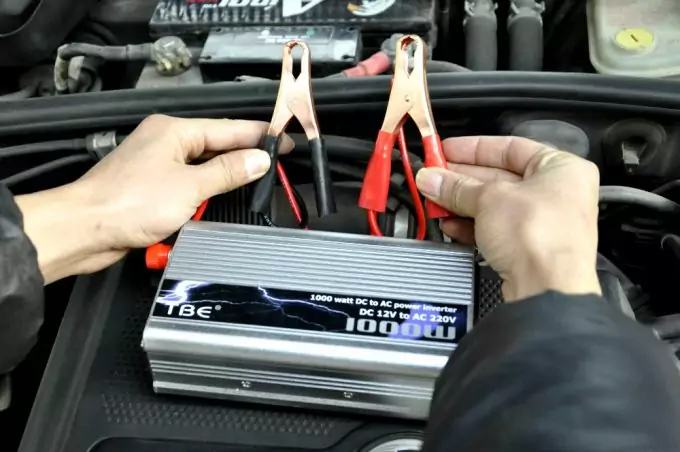 Being able to plug in my coffee maker or work on my laptop in the car is a big advantage for me, and the kids love to watch movies, but a couple of things to keep in mind include the type of inverter you get.
Modified vs Pure Sine
Inverters provide different types of AC. There is Modified that will run most small appliances and tools, and there is Pure Sine which provides a more pure electrical current for ALL devices (similar to what you get in your home).
For my laptop, phone, etc. I only use Pure Sine. These inverters are a little more expensive, but I'm not risking my electronics.
Below are a few popular inverters that work well. Some attach to your car's battery and others plug into your cigarette lighter.
You can also get larger inverters, 3000W, 4000W, etc., for you RV, boat, home, etc.
Amazon product
Truck Bed Tent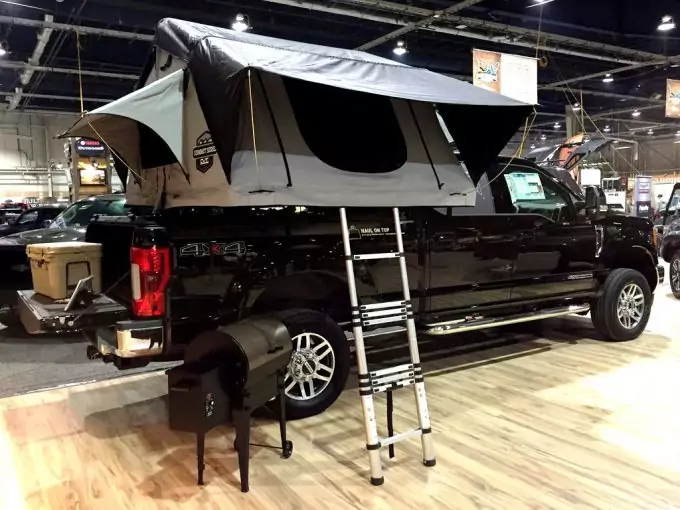 If you drive a truck, there a number of options for a truck bed tent. A few of these are pretty durable, and some are even considered rain proof.
The truck bed tent I prefer, and that won't break the bank, is the strongNapier Sportz/strong. This tent is for two people and intended for short bed trucks with cabs. I like the fact that it is weatherproof and has a large awning.
Truck bed tents come in many sizes so make sure you check before you purchase.
Safety Precautions
While camping out in your car can be fun and safe, there are some risks. Take a few precautions to keep yourself and your family safe.
Avoid camping on the side of the road. In many places this is actually illegal, and it is definitely a hazard to you and other drivers.
Lock your doors. Don't be an easy target. Crack your windows just enough to provide ventilation.
Seal up your food in bear country. Bears have an incredible sense of smell and have been known to rip apart even locked vehicles.
Do not cook in your car – ever. Cars are covered and full of polyester and chemicals.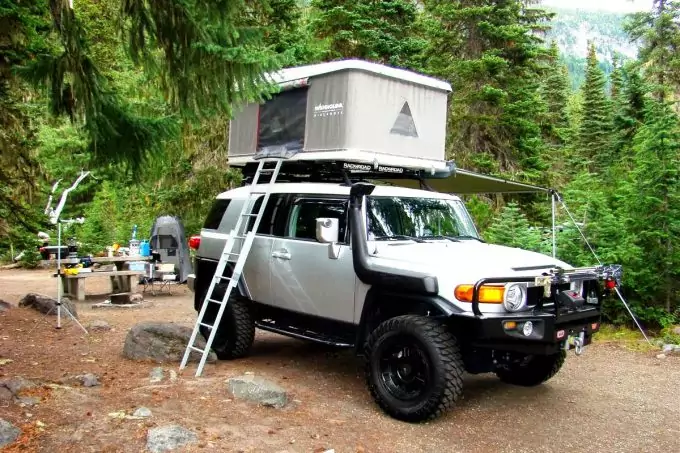 Additional Precautions
Make sure you can leave from where you parked, in any type of weather. Don't park at the bottom of a steep hill or where water and mud may accumulate.
Don't pull off the road on moist or snow-covered ground. It will soften as it warms the next morning.
Bring personal protection. You should always have a way to defend yourself and your family.
Keep a weapon that you can use in close quarters close at hand.
Car Camping Checklist
Primary Essentials List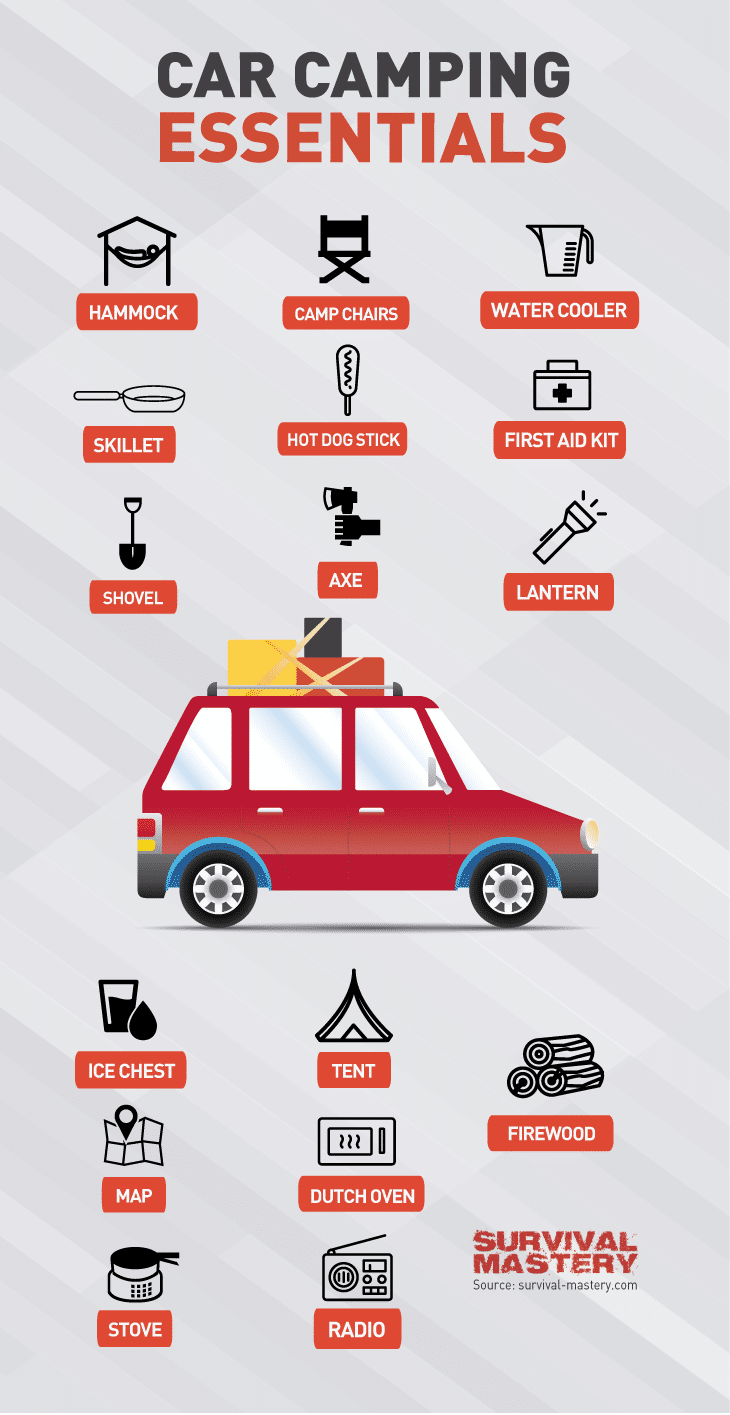 Car Camping – Final Thoughts
Whether you're spending the night in your car on a cross-country road trip, heading into the secluded backcountry, or taking the kids to see Yellowstone in the back of your Suburban, you can turn the close quarters of a vehicle into a safe, fun, portable camp.
Some of the links in this post are affiliate links. This means that if you click on one of these links and make a purchase, I earn a small commission at no extra cost to you. Also, as an Amazon Affiliate, I earn from qualifying purchases. If the information in this post has been helpful, please consider purchasing through one of the links in this article. Thank you.