Snowshoeing is the ultimate sport for the new winter enthusiasts, looking to get outside, enjoy the snow, and not spend a fortune. While most winter sports will set you back a pretty penny snowshoeing is relatively cheap, requires little additional gear, and can be incredibly easy, or difficult depending on your physical needs.
See also: How to Make Snowshoes: A Fun DIY Project for The Survivalist in You
Whether you are trudging up a mountain or taking a nice stroll by the lake, walking and hiking in the snow becomes enjoyable with snowshoes strapped to your feet. For someone buying snowshoes for the first time, they can be a little tricky to pick out.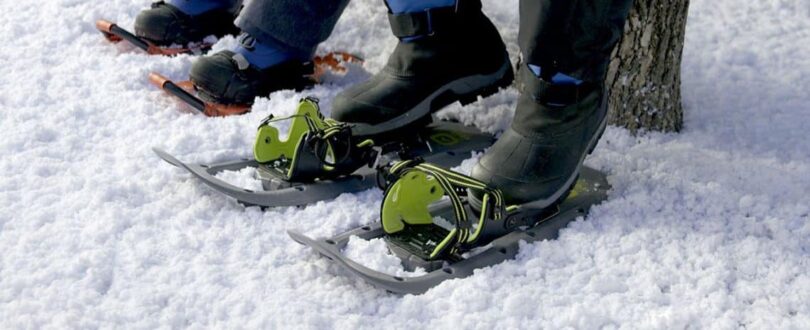 In this article, we are going to show you how to choose snowshoes when bets to utilize them, and a few tips that will have you playing in the snow in no time.
How does a snowshoe work?
As winter descends on the mountains, some of your favorite spring and summer hiking trails may be covered in fresh snow. Rather than waiting indoors for the season to pass, many straps on snowshoes and hit the trails. This inexpensive and easy to learn winter sport can get you up some of your trickier mountains, and even ascend up hard pack snow.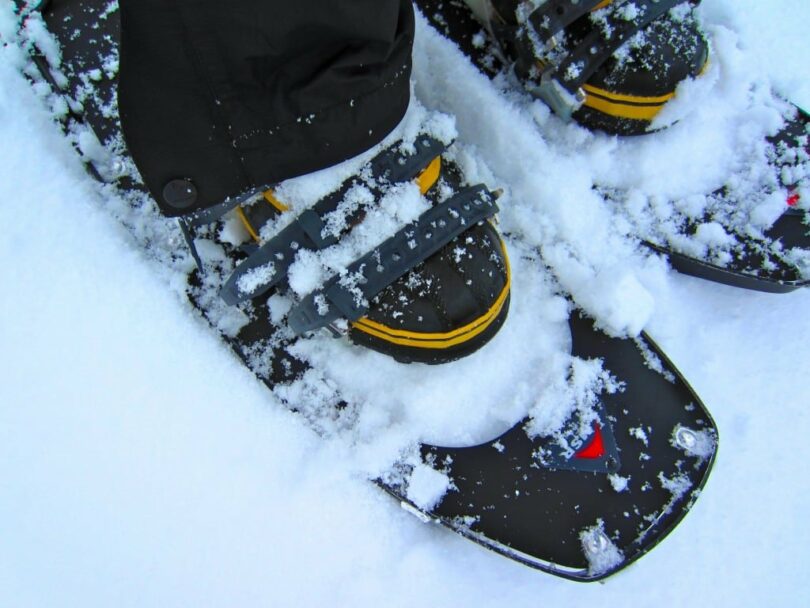 Are you an avid lover of running for fitness and sport? Luckily you are not limited in the snow to running, some snowshoes allow you to run your favorite trail year round. If you are asking yourself how these big, yet simple, contraptions work, the answer is actually straightforward.
The large shoe straps onto your boots or running shoes, and creates flotation, which is when your weight is evenly distributed over the large boot. These shoes then allow you to glide on top of the snow rather than sink into the icy terrain.
With just a regular shoe on a lot more body weight is concentrated in just a few inches, meaning that you sink low into the snow. The art of snowshoeing has been around for hundreds of years, keeping people up above the snow for easier snow terrain trekking.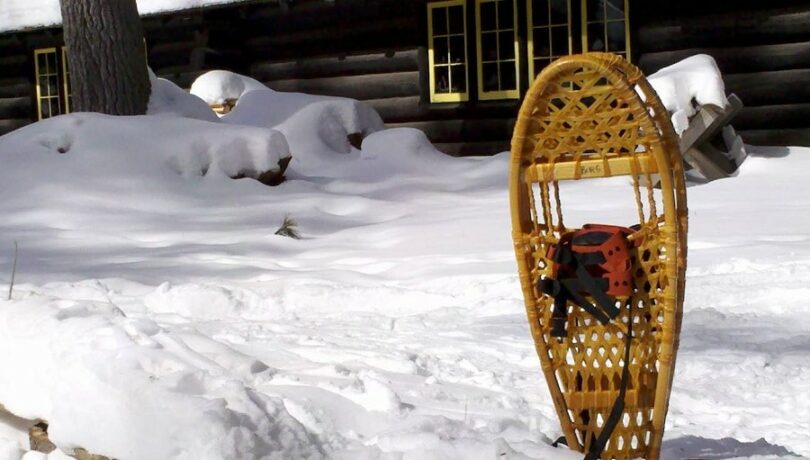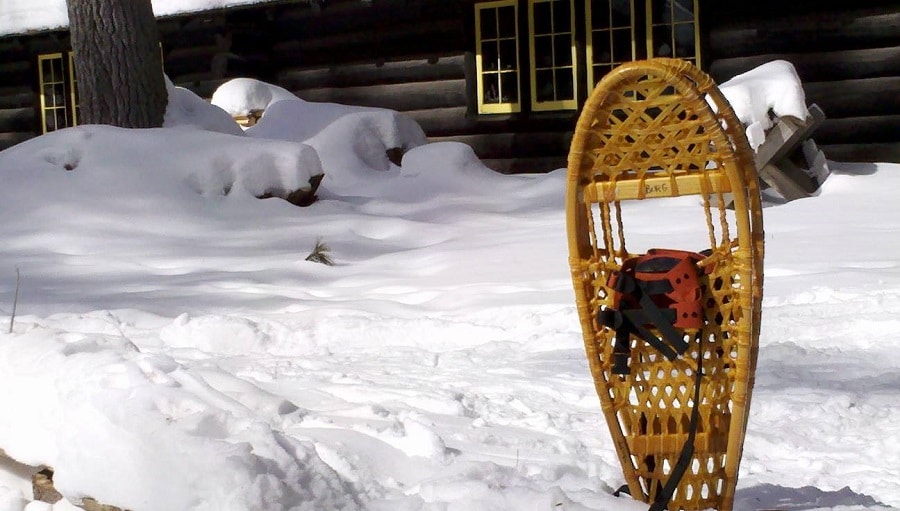 They come in a few different fashions, and nowadays they have been fitted down to relatively sleek attachments. Snowshoes depend on a large surface area, good traction to keep you from sliding around, and strong bindings to keep you from losing your shoe in the snow!
The Three Types of Snowshoes
Much like most winter sports, there is a range of snowshoes to pick from that offer different specialized features. For the snowshoe, you will need to choose between Recreational, Backcountry, and Running.
Type of Shoe
Terrain/When to Use
Features
Recreation
Flatland, or gentle hills

Ideal for beginners

This snowshoe tends to be lightweight, simple to use and learn and has sturdy webbing bindings.
Backcountry
Icy and steep mountains, or heavy packed snow
These shoes will feature aggressive crampons to firmly plant your steps in the icy snow. You are more likely to find grips along the edges and bindings that are meant for large snow boots
Running
Flat or small hills, heavily used trails that are packed down
Identifiable with their smaller shape, they feature narrow edges and less aggressive spikes. For runners, they simulate a more natural stride and are not good in areas where floatation control is necessary.
Bindings, Traction, and Frames
When you go to buy your first pair of snowshoes, you may find an overwhelming option of frames, styles, and bindings to choose from. Ultimately it will be up to how much you are willing to spend, and what you plan on using the snow shoes for.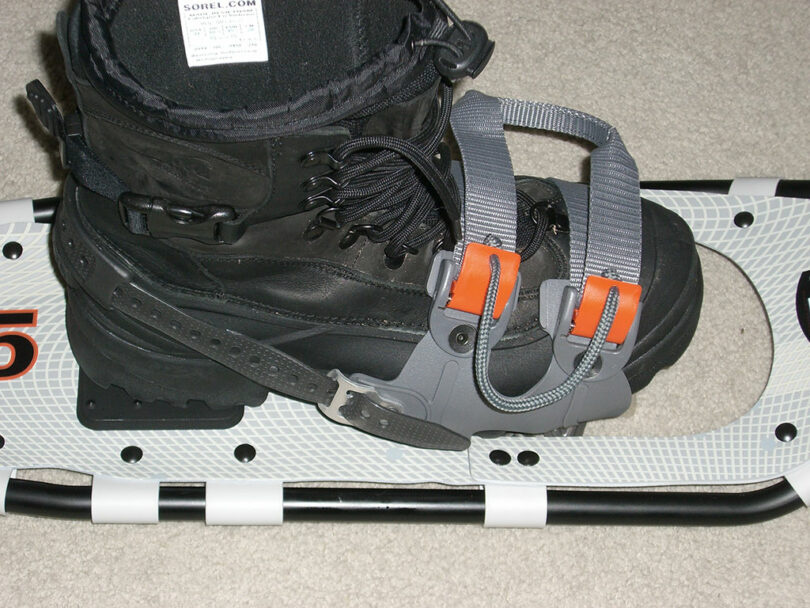 As we mentioned before, you are going to want the snowshoe to have a larger and sturdy frame, with decent bindings to keep you strapped in and continuing up the mountain.
Bindings
The two most common type of binding you can purchase is the rotating bindings, also known as floating bindings, and fixed bindings. A floating binding, allows you to walk more naturally and gives you more support when traversing mountains.
The bindings 'float' by having the point of attachment pivot about 90 degrees, sometimes more. As you walk along the end of the snowshoe falls down, like a flip-flop, giving you a more natural feeling and helping your legs from cramping or fatiguing.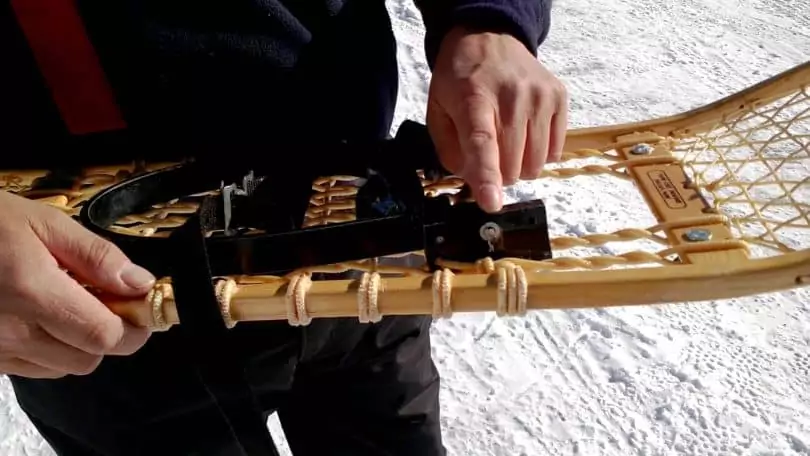 The downside to a floating binding is when you are traversing a trail that requires you to 'leg up' or climb over fallen debris or back up.
The second type of binding, the fixed binding, is attached with super heavy duty rubber or even neoprene bands which grip the tail, or end, of the snowshoe. Forcing the back up with you in every step.
While this type of snowshoe will fatigue your legs faster, and kick up snow onto your pants, they tend to be less expensive and more durable. Stepping over fallen trees or backing around corners will also be easier for you.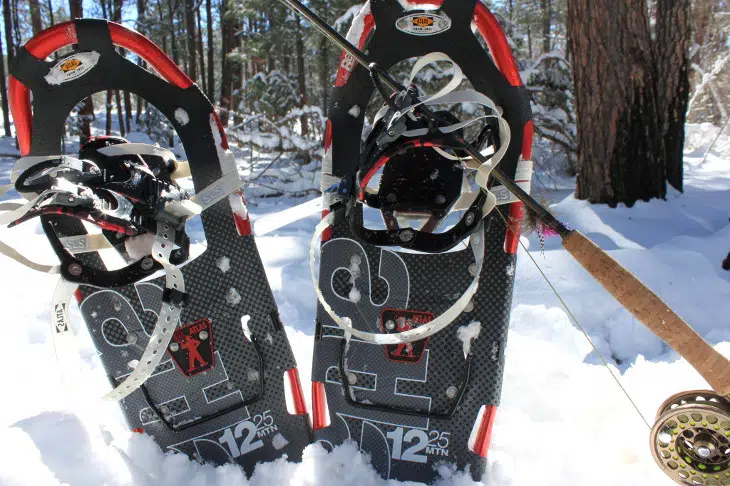 Both types of bindings also come in several styles, you can choose from:
Nylon Webbing: these lightweight and adjustable straps are more for the beginner snowshoes as they are not very supportive, and unfortunately stretchy when wet.
Rubber Straps: The rubber straps, also made out of polyurethane, is the most common strap for a snowshoe. Even the coldest and wettest weather, the strap will remain sturdy and not stretch out.
Boa Closures: This new and unique binding gives the snowshoe two main things: ease and security. It wraps around the entire snowshoe to keep you and your boots locked in place. The downside is that it is constantly exposed to hard ice and could be damaged over time.
Ratchet Straps: Finally, the ratchet strap gives the wearer a lot of adjustability and ease when traveling. They are easy to fix when trekking along the mountain and are similar to that of a snowboarder's binding.
Traction
When you go to select your snowshoes, you are going to want to look for a few features that will provide you much-needed traction for your hike. While your body will provide some traction, the weight holding you steady against the snow, your snowshoe will be providing you more support.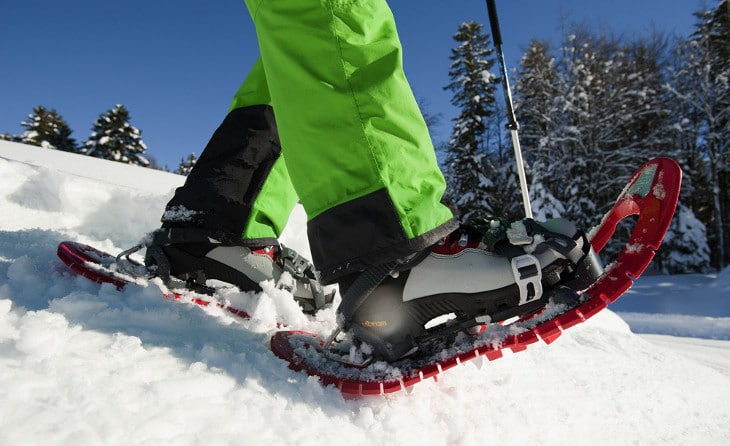 Depending on the type of snowshoe you buy, you will have an aggressive tooth like edge more akin to the crampon. For flat terrain and recreational purposes, the spikes on the frame will be less aggressive and more ideal for easy hikes with very little ascent.
Underneath the bindings, you will find toe crampons or cleats. These come in a v like formation and help provide you traction as you ascend up hills to keep you from slipping. There is also slide rails that provide you traction and support laterally to keep you from slipping on the snow as you cross over slopes on both flat and steep hikes.
Perhaps the sturdiest traction on the snow show is the braking bars, which are also located underneath, and allow you to have plenty of forward traction and keep you from backsliding on steep ascents. The last thing to look for on your snowshoe is the heel lift, sometimes referred to as the climbing bar.
It sits on top of the snowshoe, but underneath your boot, and prevents strain or damage to your Achilles tendon on uphill sections. Once flipped up your steps will feel more like walking up steps rather than crawling up a mountain, but your calves will ultimately thank you.
Frames
After selection the right traction and bindings for you snowshoe adventure, you are going to want to pick a good frame to the snowshoe. The common snowshoe is going to be a thin tube aluminum frame, styled with flexible decking. This is great for the recreational snowshoe adventure, where traction isn't the first priority.
However, many rental places will be providing the plastic decking, which is lightweight and stiff. While these snowshoes master the art of being light and packable, they are not ideal for areas where you are worried about gliding or floating will hiking.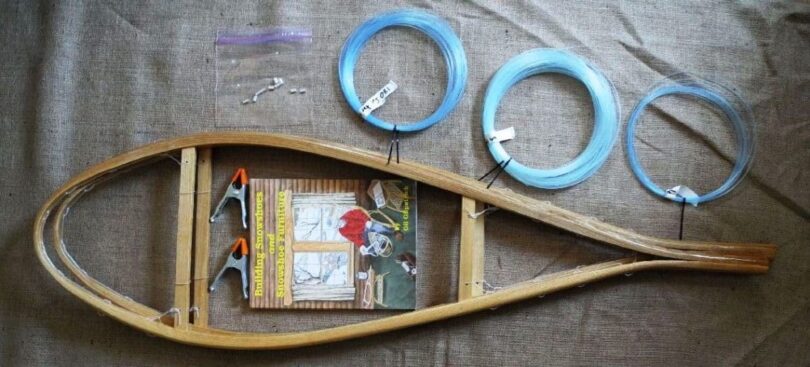 There are some hybrids between the two frames which look to offer a lightweight yet stable show shoe, but they are not as common in the snowshoeing world.
Your final option is for the heavy duty snowshoe adventure, if you are looking to head up to icy slick mountain trails, look for the flat stock frame. It is heavy, with a metal frame, rubber decking, and intense sharp edges for sturdy traction. When you are looking to do an icy climb, this is going to be the frame for you.
How to Pick the Right Size
For the first time snowshoe adventure, picking the right size can be just as important as picking the right snowshoe. Sizing is based on gender, age, and load. Load refers to both your weight and the gear you plan on traveling with.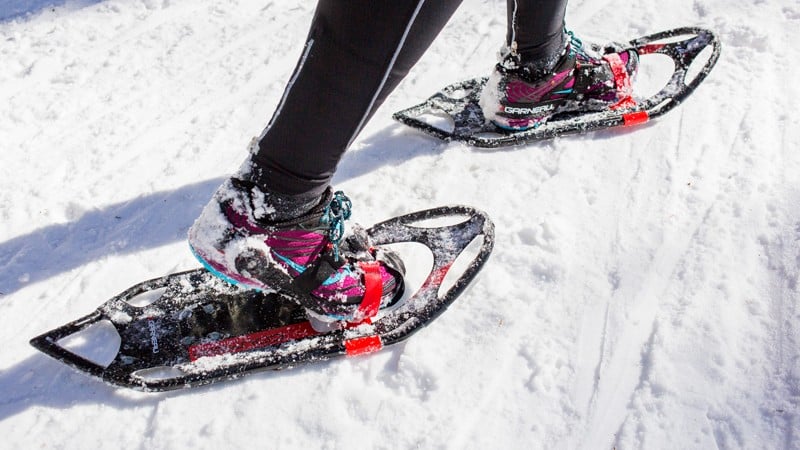 The larger the load, the larger the snowshoe, the snowshoe needs to be large enough to equally disperse the weight to prevent you from slipping or sinking into the snow. Some snowshoe sizes can also be determined by the type of snow conditions that you are adventuring in.
If you are headed up into fresh powder, you will want larger snowshoes to keep you from sinking into all the fluffy snow. If it is more packed, or steep, you are going to want to find snowshoes that are also compact, to allow optimal movement and versatility. Do check out our piece on how to choose the right snowshoes for your use.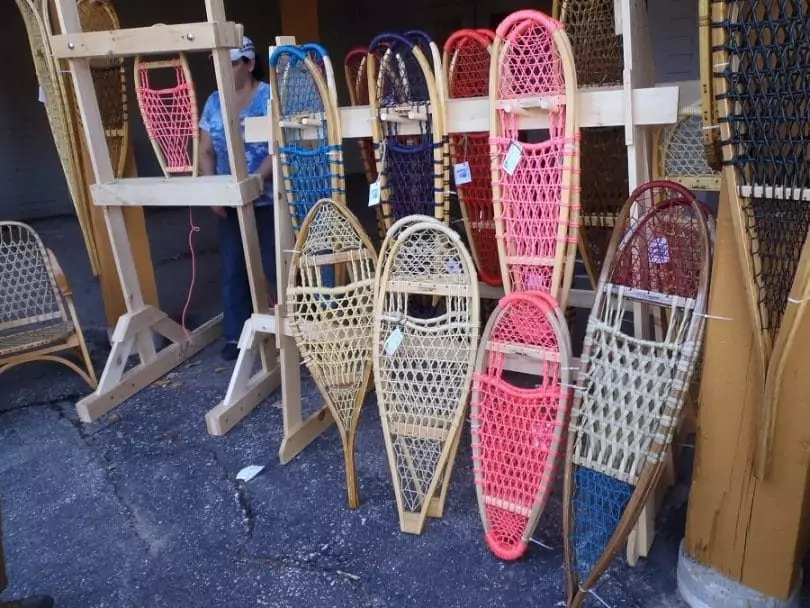 When you go to your outdoor gear store, you are going to want to look for the snowshoes that are the smallest possible to accommodate your needs based on your load and your terrain. Unnecessarily large snowshoes will only tire your legs out quickly, and make it difficult to move around up on the mountain.
Accessories to Consider
Now that you have picked the perfect snowshoe to fit your travels, there are a few more accessories to consider to make your trip more comfortable and safe. In this section, we will cover a few must-haves, and some tips on what to wear for your first snowshoe travel.
Poles
If you are worried about your balance or supporting a large load on your back than looking into adjustable trekking poles may be ideal. They support your muscles as you work your way up the mountain, and then assist you on the descent in providing balance and stability.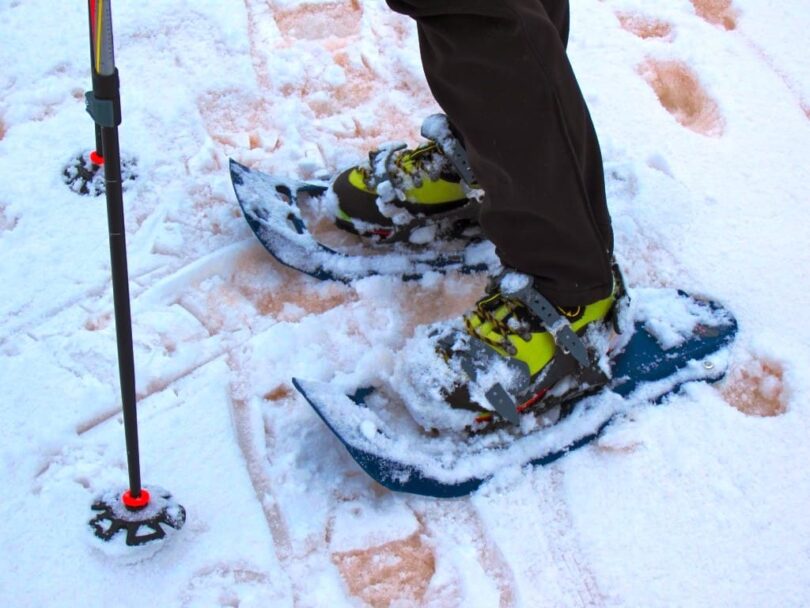 You can feel free to use ski poles as well for longer trips, as long as they provide support for your weight and are appropriate for the terrain on the trail.
Footwear
While you can wear your runners or regular boots with most snowshoes, we recommend purchasing snowshoes. Your feet will get wet, even as you are gliding on top of the snow.
Having warm boots that are adequately insulated with waterproof sealants will not only be the difference between a comfortable hike and a disaster but will also keep you from getting hypothermia for long cold treks. Some snowshoes, especially the backcountry ones, will require you to wear a sturdy snowshoe or a bulky hiking boot.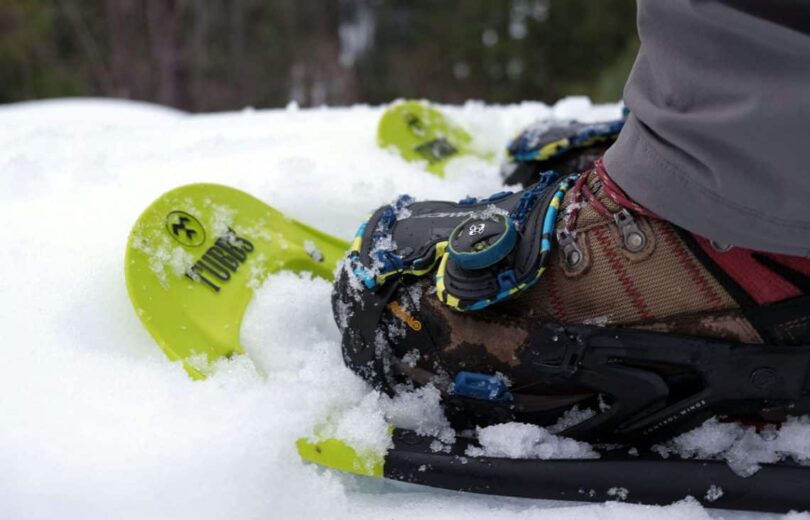 For the running snowshoe, you can wear your trainers, but we suggest waterproof trail running gaiters to prevent your legs and ankles from getting drenched.
Appropriate Layering and Outwear
Snowshoeing should be treated with the same level of layering and preparation as any outdoor support, especially when you snowshoe in the middle of winter. Having many sweat-wicking layers, with a sturdy hard-shell outer layer will keep you from freezing, or becoming drenched.
Layering isn't just for your pants and shirts, layer your socks as well with either wool or a synthetic substitute to keep your feet warm and dry in hearty hikes. Like any arduous outdoor activity, having easy shed layers will help you stay warm, without overheating.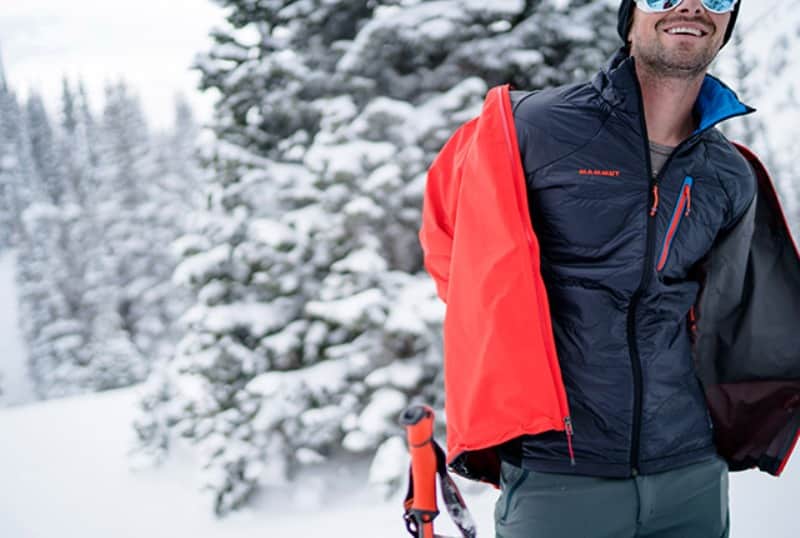 Try to get as much waterproof gear on as possible to protect your legs, feet, and back from getting drenched and cold. Finally, remember to have hats, goggles, and gloves so that you will be prepared regardless of the weather you encounter out on the trail.
Tips for the First Snowshoe Adventure
Snowshoeing is a relatively easy sport to learn and doesn't require a large background in extreme hiking or backpacking. That being said, for the first time snowshoe adventure, we have a few tips to help you out.
Strapping in is the first and most important step on your snowshoe. First, check to see if your snowshoes have specific feet they bind to so that you start out on the right foot. Place the ball of your foot in first and then adjust your heel in comfortably.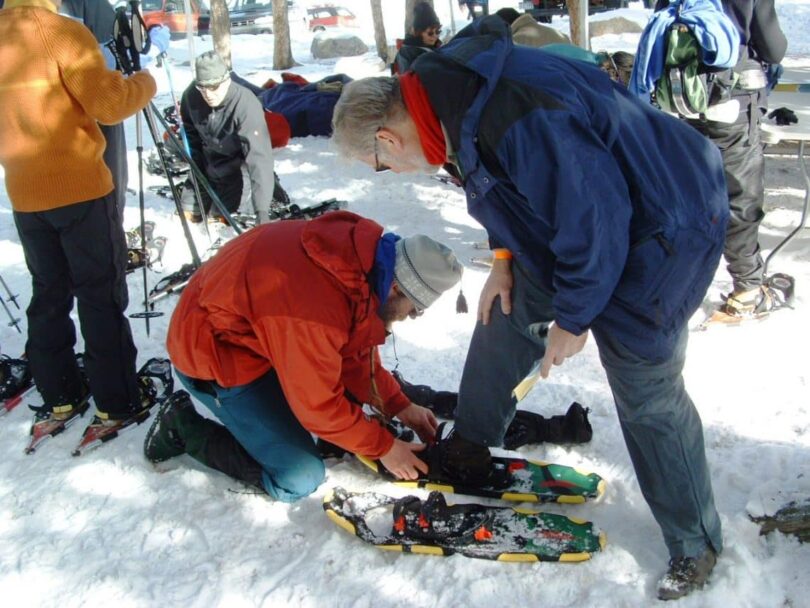 Depending on the type of snowshoe you have you will most likely start with a front strap, and then strap on your heels and instep. You want to snowshoes to be snug, but don't over tighten them to the point where they become uncomfortable.
They may loosen as you hike along, so feel free to adjust as you hike! For your first few steps look for packed snow to allow you to get a feel of how to walk in snowshoes with limited danger of falling down. Walk like you normally would, and try not to put too much pressure on the front of your foot.
In more aggressive snowshoes, like heavy duty backcountry snowshoes, you are going to want to be careful if you fall or slide down. Like crampons, you can cut yourself on the sharp spikes. It can be a bit difficult to get back up when you fall down in snowshoes.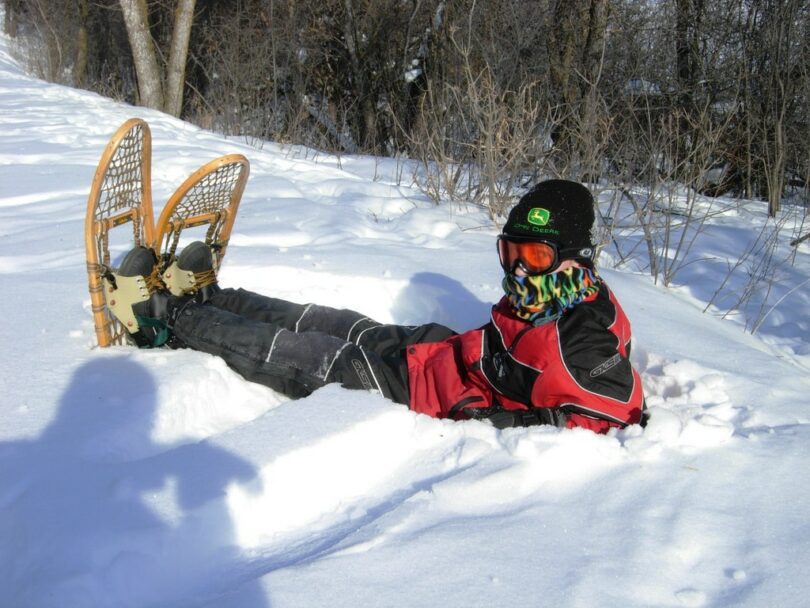 If you do encounter a fall, try to angle yourself towards your back or side, then roll your body to your knees point upward, if you are on a slope. If you have poles, use them to brace yourself, and take a step up, just watch for sharp crampons!
Our last tip has to do with snowshoe etiquette. In many snowshoeing trails, you will be sharing the road with cross country or trail skiers. When possible, make your own trail rather than walking in their tracks. It is very difficult for cross-country skiers to establish uphill tracks, so just be courteous and either step over or walk around!
They are noted by two large parallel lines in the snow, and normally populated by backcountry skiers. Remember that skiers always have the right away, but especially in descents!
Winter Sport Ready
Now that you know how to choose snowshoes, you are ready for your winter adventures! Whether you are headed up a steep mountain, running on a snowy trail, or taking a leisurely stroll, snowshoeing offers an excellent entry level for outdoor winter sports.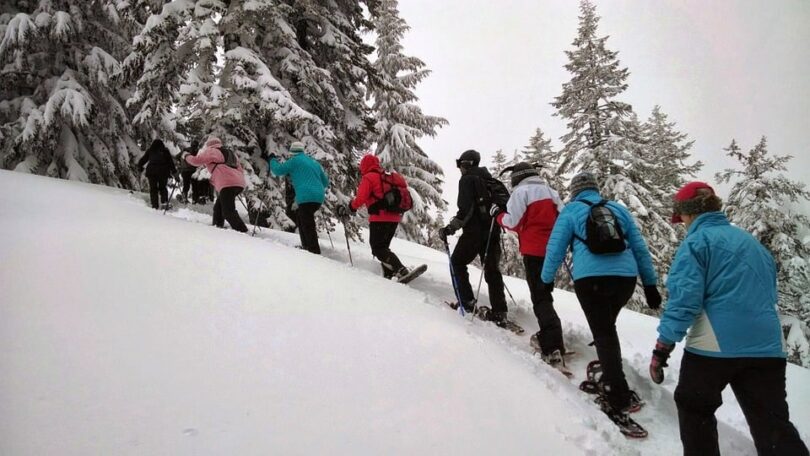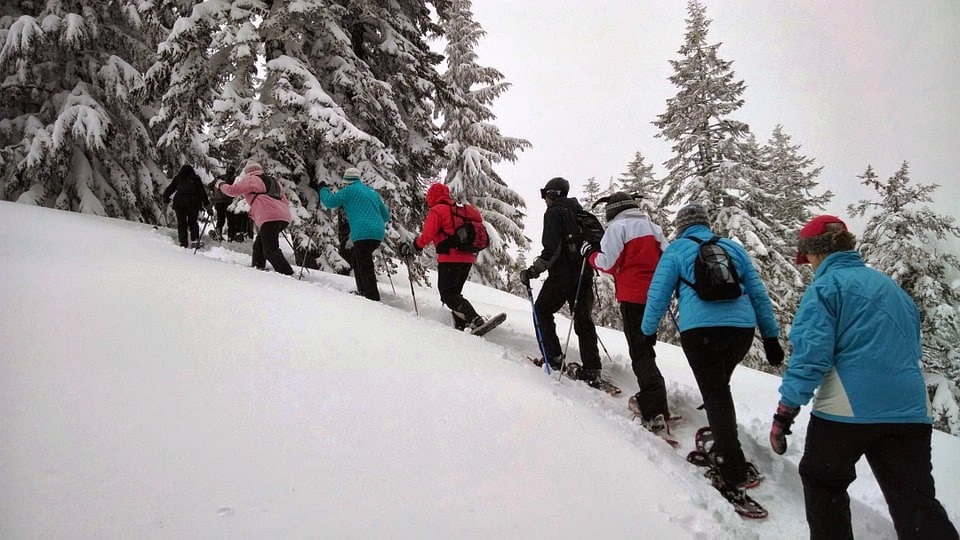 Dressing appropriately, and having sturdy footwear will keep you warm and safe for all trail conditions, and make the experience that much more enjoyable. As you learn to snowshoe, walking in the big shoes will become second nature and you will be less likely to fall on descents.
Like all good adventures, practice makes perfect, and having the right gear can make all the difference. Have we missed a deciding factor in choosing snowshoes? Or do you have a favorite snowshoe brand? Let us know in the comments below!
Check out our piece on the top snowshoes for beginners guaranteed to keep you safe.
Some of the links in this post are affiliate links. This means that if you click on one of these links and make a purchase, I earn a small commission at no extra cost to you. Also, as an Amazon Affiliate, I earn from qualifying purchases. If the information in this post has been helpful, please consider purchasing through one of the links in this article. Thank you.