Flashlights have been around for years and, over time, we have seen some fantastic technological advancement. The first flashlights were rather primitive in design. They were made up of "D" batteries lined up front to back inside a paper tube with a light bulb and brass reflector located at the end. The carbon-filament bulbs and dry cell batteries made these early models expensive and sales weren't quite as high as they are today.
[the_ad_placement id="in-text-1-type-a"]
Thankfully, by the early 1920s, there were several models available on the market from hand-held flashlights to lantern style lights. There were even compact flashlights that were small enough to fit in your pocket and large searchlight style lamps used for lighting over longer distances.
Making a choice might seem impossible; however, the following information will make it that much easier to find the best LED flashlight to suit your needs.
Different types of flashlights
When the lights go out at home or when you are out in the woods, you will need some kind of light to help you find your way. The common utility flashlight is the kind that you would find in your average tool box.
They consist of a single bulb, a plastic case, and they are known for being cheap but not all that reliable. They aren't too bright, and they consume far too much battery power.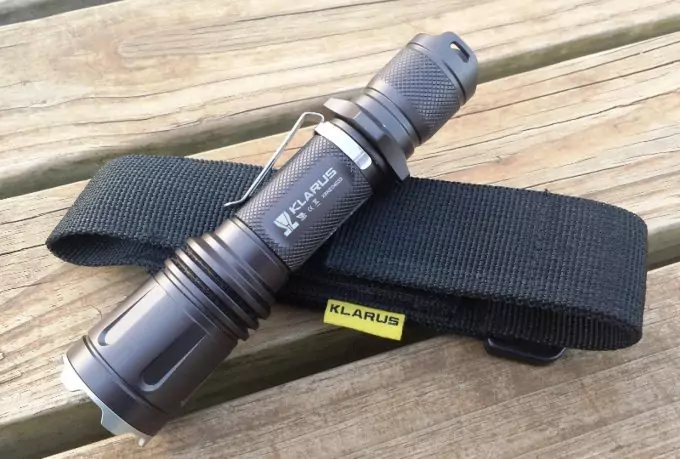 Heavy duty flashlights are somewhat better; they are made from more durable materials but can still break if dropped. The battery consumption of these flashlights is better than regular utility varieties, and the light is brighter too.
Work varieties often use Xenon lights which are great in terms of brightness, but this does tend to compromise battery life. They are tougher than many other types of flashlights but not completely indestructible of course.
Tactical varieties often offer multiple functions include low light, high light, and even flashing sequences.
Apart from the design differences, there are also bulb differences and you can choose between Xenon, Halogen, HID and LED bulbs. Each has their pros and cons that should be fully considered.
While one might be brighter than the other, things like bulb life and battery consumption all need to be kept in mind. These factors are the difference between cheap and cost effective. Spending a bit more today could help you save in the future.
What are LED lights?
LED stands for light-emitting diode. They are notably small and were first used back in 1962. The first uses for these lights included remote controls and similar devices. They were often used as indicator lights, and they were first only available in red.
Today, the initial technology used for these lights has come a long way, and they are now available in various colours. White is obviously the most popular when it comes to sources of light. However, we are seeing so many more uses for colourful variations including children's toys and games, home lighting (including cabinet lighting), signage, entertainment and many more
LED technology has been around for quite some time already and, although there might still be some minor concerns, research and constant improvements are being made to improve this light source. Initially devices used single LEDs but, today, we see them grouped together and used in a kind of cluster form to provide increased amounts of light.
As time goes by, we see more and more people choosing LED over other light sources and this trend will likely continue considering the many advantages of this technology. Check out the links on emergency home lighting design that can you use.
Advantages of LED lights
There are many advantages to choosing LED over any other kind of light. Firstly, they are known to emit a higher amount of lumens than incandescent varieties. They are highly efficient, and they are also extremely small and compact. LEDs are known to illuminate really quickly. LEDs can be dimmed quite easily, and they are known for emitting a very low amount of heat. Think about how hot a regular light is to the touch after being on for just a few minutes and how unnecessary that heat is when you have a low heat alternative.
They are also likely to dim over time rather than fail suddenly. They also have a longer life and are known to last up to 50,000 hours before they start to fade. When compared to 15,000 hours offered by fluorescent tubes. This speaks both to reliability as well as cost effectiveness.
They are also far more resistant to shocks due to the fact that they are far more solid. So, unlike other products, LEDs can handle a bit more of a beating which makes them perfect for outdoor use and circumstances that leave little room for gentle handling.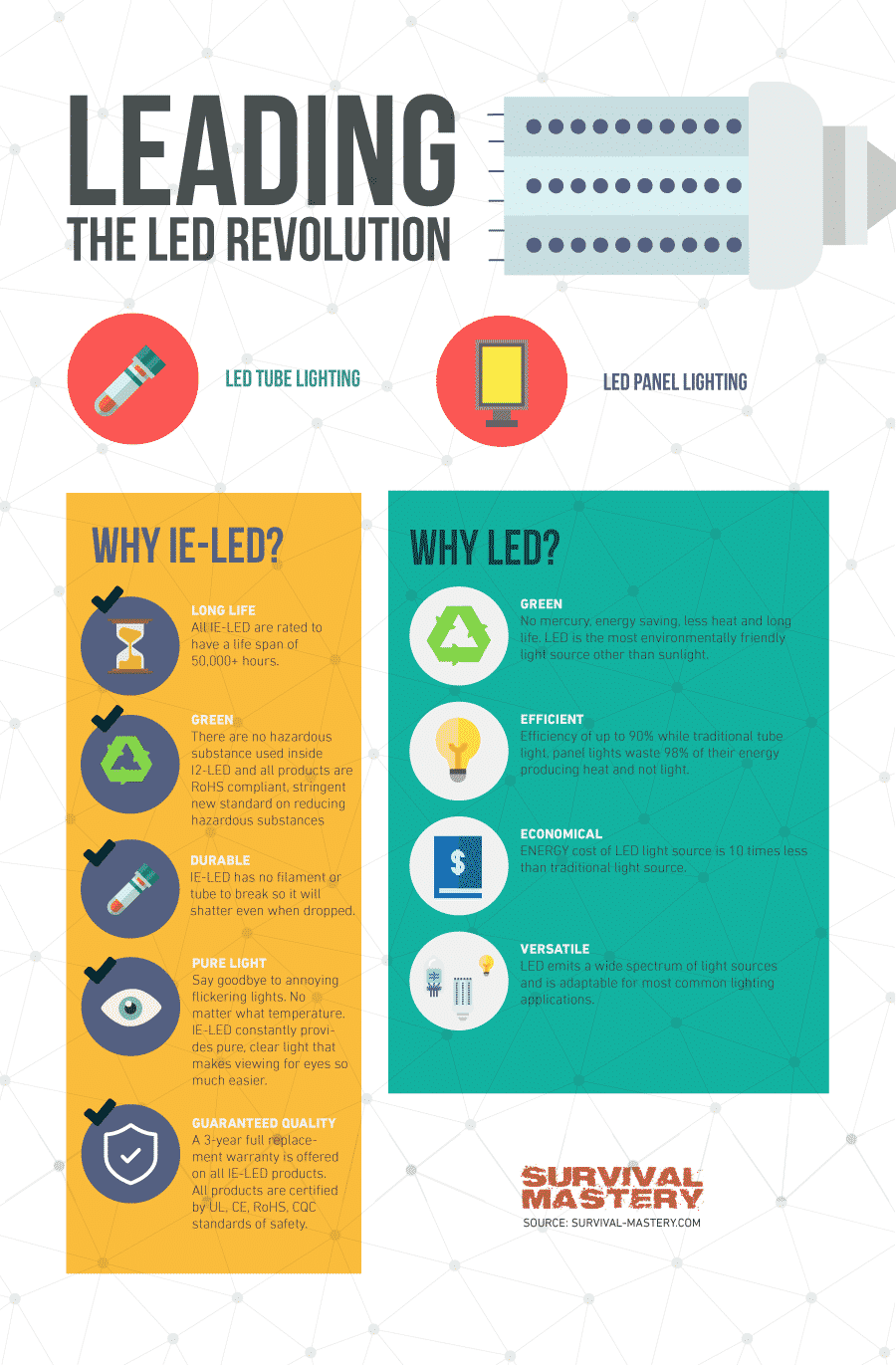 While some lights require the use of some kind of reflective material to really focus the light in a specific direction, with LEDs, this won't be a problem. Larger packages of these lights make use of technology called total internal reflection, or TIR for short.
Disadvantages of LED lights
When picking out the perfect form of lighting, it's only realistic that you consider some possible disadvantages of LEDs. Firstly, the initial price is notably higher than other options but, since they last longer, it could be the most cost-effective of all.
High temperatures could cause the lights to overheat while cold temperatures can also affect functionality. That said, some products have been designed to withstand temperatures from as low as -40 to as high as 100 degrees Celsius. Who knows, this could become standard in the near future.
When using these kinds of lights, you might notice that certain colours are not properly perceived. Red is the most obvious of all. While this might cause concern for those considering installing LED lights in their home, it's not worrying to those who simply seek a light in the dark forest or when the power goes out.
If, however, you are performing more precise tasks that require a clear light source, you might need to look into another option.
Concerns regarding eye safety have been raised. Some experts say that blue and cool-white varieties pose risks to eye safety. They are also believed to attract more insects than other forms of lighting, and this could have an impact on the user as well as the environment.
Choosing the best flashlight
UltraFire 7w 300lm Mini Cree led flashlight
This is one of the cheap options at less than $10. It is known for its skid-proof and waterproof design as well as an impressive maximum output of 300 lumens. The focus range is adjustable, and a clip makes it easier to carry. Manufacturers recommend this product for such activities as climbing, camping, hunting, and cycling.
There are a few concerns regarding the reliability of this particular product, but it has received many praises for its tough external structure. At such a low price, some flaws are to be expected. It is also important to remember that, even if a product is advertised as waterproof, it's not usually a good idea to intentionally drop it in water.
It's also important to understand that water resistance is not the same as waterproof. Regardless of how waterproof an item may be, if it is left under water for a prolonged amount of time, it increases the chances of water penetrating the device.
If you like this product you can find and check its price here.
Dorcy waterproof LED flashlight
This product is also in the price range of $10 and is recommended for residential and commercial use. It is both waterproof and is impressively buoyant. It offers 55 lumens of output, and the attached clip makes it easy to secure to your belt or pack. The manufacturer even offers a 1-year limited warranty.
The rubber design makes it comfortable and slip resistant. The rubber also absorbs shocks should it accidentally escape your grasp. It is lightweight and praised for lasting long even on regular AA batteries.
This product can illuminate a large area which makes it great for the outdoors. Concerns have been raised regarding the lack of current control. This results in the lights burning out faster than they should. There have also been some disagreements regarding just how waterproof this product really is.
If you like this product you can find and purchase it on Amazon.
LE Adjustable Focus CREE LED flashlight
This product retails for less than $20, and manufacturers state that it offers such features as brightness for 1400m, adjustable beam focus, and is shock resistant. It uses three AAA batteries, and the housing is made from heavy duty aluminium that stands up against fading and scratching.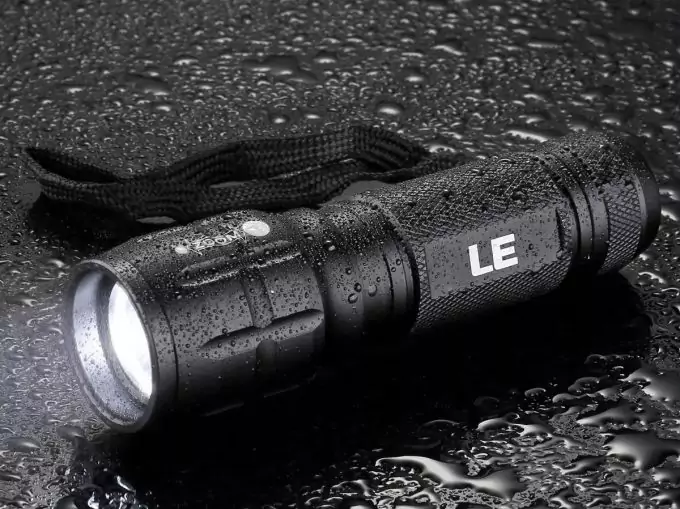 This product is known for its impressively long battery life. However, there have been some concerns about the reliability of the buttons and the lack of current control. Without current control, the lights burn out faster, and this causes the product to fail.
Of course, given the price, this is not the kind of flashlight that you would expect to hang on to for decades to come, but it will get the job done without costing you a fortune.
If you like this product you can find and buy it on Amazon.
Dorcy 41-4241 Weather Resistant LED flashlight
This product is also priced at about $10 and houses 6 strong LED bulbs. It is made from durable materials and fitted with rubber O-rings that prevent moisture from getting inside. The manufacturer markets this product for outdoor use and includes a 1-year limited warranty for added peace of mind.
[the_ad_placement id="in-text-2-type-a"]
It should be noted that there have been numerous mentions of the solar panels not being connected to the batteries.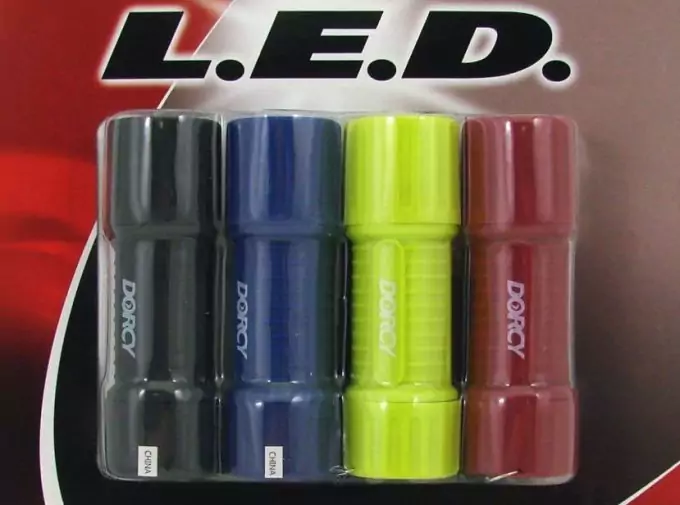 Without being connected, they obviously won't be able to charge the batteries. On the plus side, it is a compact source of light, and they are really cheap.
If you like this product you can find and buy it here.
Coast HP1 Focusing 220 Lumen LED flashlight
This $10 product boasts an output of 220 lumens and, when using a Li-Ion battery, can provide light for more than an hour. It is both water and impact resistant as well as lightweight. The aluminium casing is both lightweight and rust resistant. A removable metal clip is included, but there is not lens cover.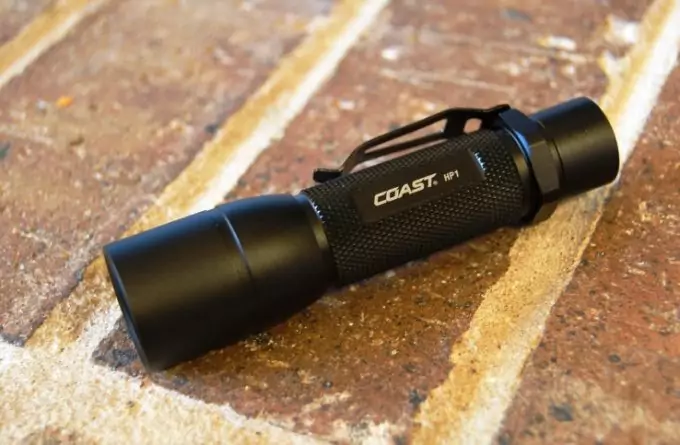 The design is quite attractive and compact. There have been some remarks regarding durability but, again, this is a cheaper option, so some faults are to be expected.
If you like this product you can find and check its price on Amazon.
Refun 2000 Lumen
This is an impressive product at less than $30, and it offers several advantages. Some of the pros include the protective feature (reverse polarity) that prevents the lights from burning out if the battery is installed incorrectly.
The focus is adjustable which makes it versatile. It offers several modes including an SOS signal and high, low, and medium settings. This model is water resistant and skid-proof which is why manufacturers recommend it for climbing camping, cycling, and other outdoor activities.
The lights have an impressive expected lifespan of 100,000 hours. According to customer feedback, this product is praised for its durability but the claims that it offers 2000 lumens are often disputed.
If you like this product you can find and buy it here.
Pack of 4, BYBlight
The entire pack of four flashlights is just $16 which possibly makes it one of the cheapest options of all. These compact products operate in three modes (high, low, and strobe), and they are made from quality aluminium alloy. The manufacturer also offers a 100% satisfaction guarantee.
Some of the main advantages of choosing this product includes low battery consumption, bright illumination, compact and ergonomic design, durability, and it even comes with a pocket clip. This is a good option for families planning a camping trip or similar outdoor activity and would like an affordable light for each family member.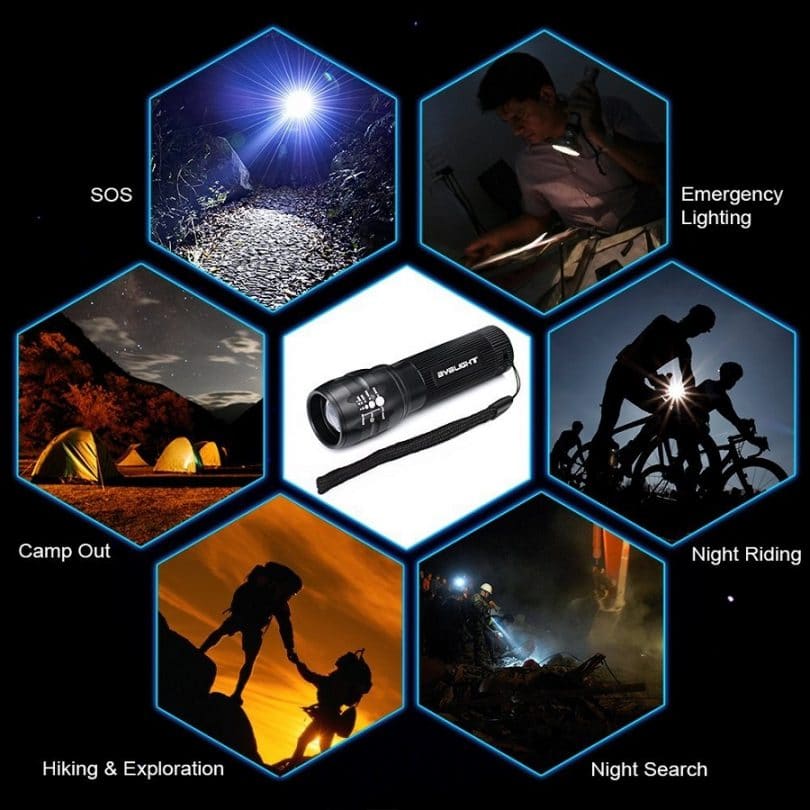 On the downside, replacing the batteries can be tricky since the flashlight might be tough to open.
If you like this product you can find and buy it on Amazon.
AYL 3-in-1 LED
At approximately $20, this product is slightly higher priced but still not the most expensive on the market. The manufacturer markets them as being weather resistant thanks to the anodized aluminium body. It is lightweight, versatile, and the LEDs last for over 100,000 hours.
Some of the main benefits include its military-grade design, the fact that it is really easy to use, and the clever magnetic base. Some possible disadvantages include the brightness issue. It offers plenty of hours of illumination, but the bulbs might not be as bright as one would hope.
If you like this product you can find and purchase it on Amazon.
MagLite ST3D016 3-D Cell LED Flashlight
This product is valued around the $30 mark. It boasts an attractive aluminium alloy case and features including water resistance, shock resistance, power efficiency, durability, and reliability.
Some of the main advantages include impressive brightness, the inclusion of a spare bulb in the cap should you break the LED module. The light reaches as far as two to three blocks away and the solid design makes it highly durable.
Customers can even purchase an additional accessory, if they choose, called "Bust a Cap". This device attaches to the rear end of the flashlight and can be used to break a car window in the event of an emergency.
Some of the possible disadvantages include dark spots within the beam, a general lack of impressive brightness, and the fact that the light is not quite as clear and white as it should be. It also has a way of "dying" without warning when the batteries run low so users will need to keep spare ones on hand at all times.
If you like this product you can find and check its price here.
Vizeri Focusing tactical flashlight
This is an impressive product that retails for less than $40. It is made with military-grade aluminium and is covered by a Lifetime Manufacturer Warranty. These products offer a wonderfully powerful light source without consuming too much battery power or producing excessive heat. It can handle being submersed in water as deep as 3 feet, and the precise zoom focus stays where you want it.
It is compact and often chosen by those in such professions as law enforcement, the military, firefighters, as well as hunters, photographers, and anyone who enjoys the outdoors. There are many accessories available for this product including bike fittings and belt holsters.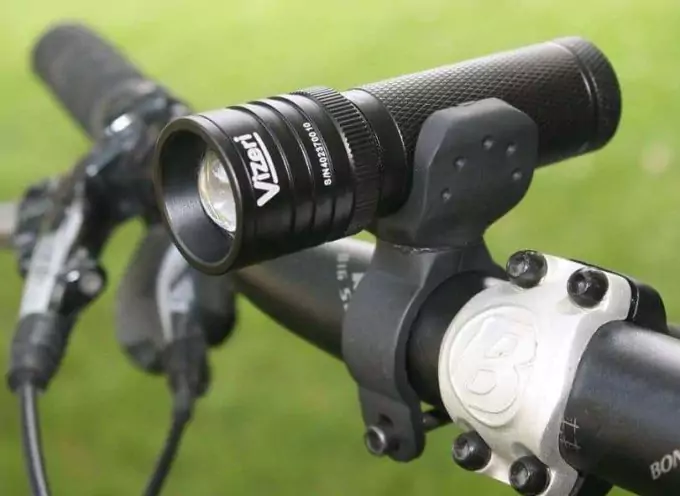 It is waterproof which is a real plus should it happen to get wet. For the most part, customer response has been positive. The only possible issues have been with reliability, and these are more expensive than some of the really cheap products on the market.
If you like this product you can find and check its price on Amazon.
SOLARAY PRO ZX-1 Professional Series flashlight kit
At approximately $60, this is most certainly not the cheapest option available. That said, quality often comes at a higher price, and this should be kept in mind. It is praised for its long run-time, energy efficiency, bright light, tactical design, water resistance, multiple light modes, striking bevel for self-defense and a disrupter defense strobe.
It is recommended for various activities including walking, camping, fishing, hiking, and so on. It is also compact, and this kit has everything you need and more. Some potential cons include the way the focus can be bumped out of place and the lack of an external charger port. Instead, you need to replace the batteries rather than charge it up.
If you like this product you can find and buy it on Amazon.
Ultra Stream Led Predator hunting kit
This is a real all-in-one kit for the hunting enthusiast. It includes interchangeable red and green LED modules and a full scope mounting kit, AC and car charger. It also offers visibility of more than 300 yards as well as battery life of more than 2 hours.
This kit is perfect for long range hunting and is made from military grade materials. It is both waterproof and impact proof. It does retail for a higher price, at over $160, but there's no substitute for quality.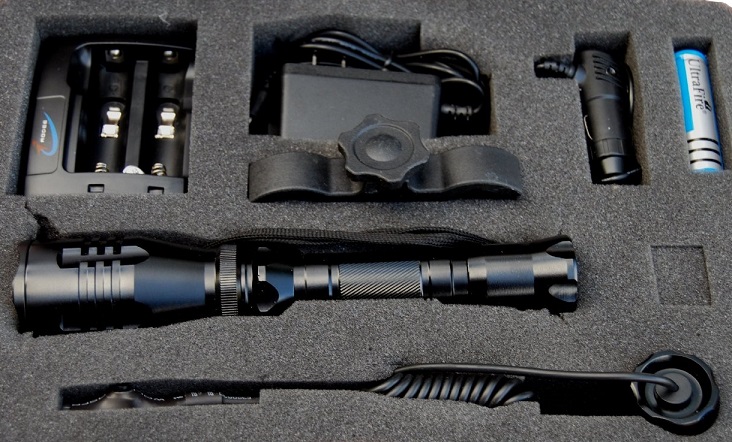 Reliability has been raised as a potential issue, but it should be mentioned that this product is backed by a 1-year warranty for added peace of mind.
If you like this product you can find and buy it here.
Understanding Lumen ratings
Flashlights are classified according to several criteria. One of them is the lumen rating – different ratings making them suitable for different uses. A rating between 1 and 20 lumens is typical among compact, keychain lights. They can really help you find a keyhole, and they are suitable for close range use.
[the_ad_placement id="in-text-3-type-a"]
In a bind, you can use these kinds of small flashlights to find your way around the house during a power cut. Lumen ratings from 30 to 100 are often used for general purpose flashlights. These are often used during vehicle repairs, general household use and for lighting a trail hike or walk through a cave.
Tactical flashlights have a lumen rating of at least 100, and they are often mounted to weapons. Those with more than 200 lumens are often used for bicycle headlights.  Those that exceed 1000 lumens are associated with high-powered uses. This makes them excellent for search and rescue operations and sports like caving and diving.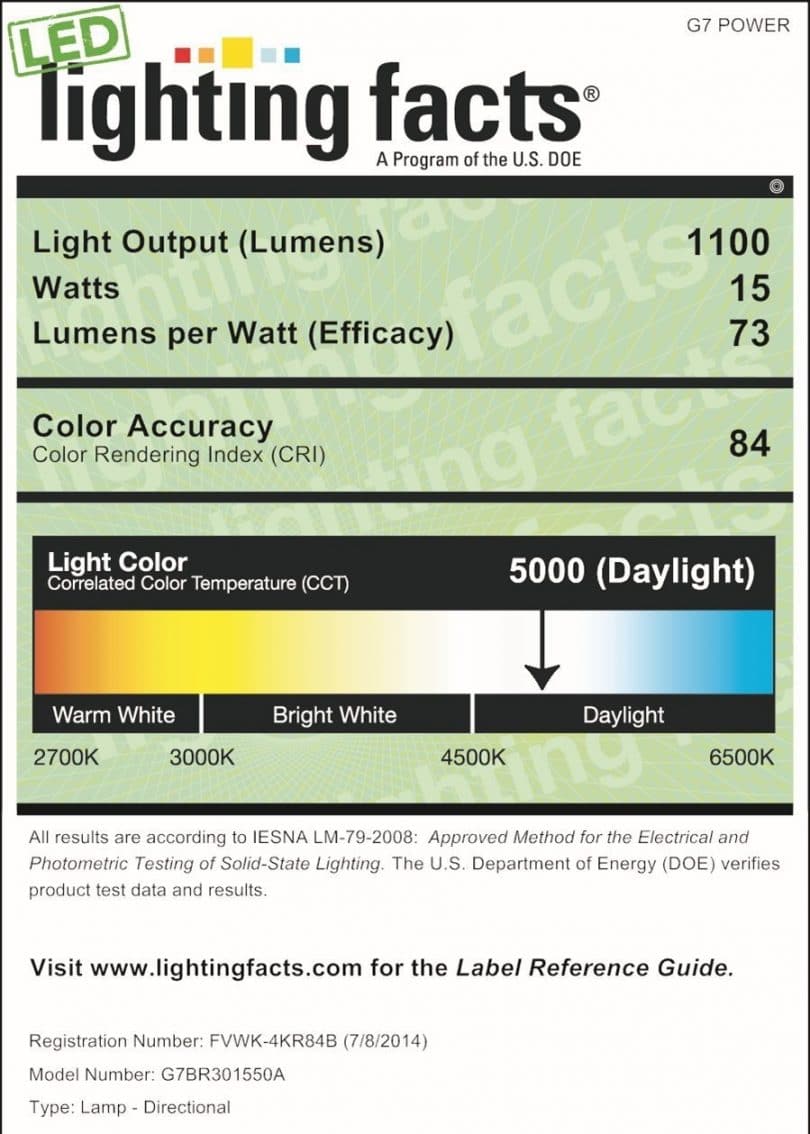 The higher the lumen rating the more powerful the light and the greater the battery consumption. Higher lumen ratings also mean that the bulbs will burn out at a more rapid rate which also makes the product less cost effective. For the best tactical flashlight to find your way in the dark, check out our article on this topic.
Great in any home
Whether you enjoy outdoor activities like camping and hiking, or you simply want to be prepared in the event of an unexpected emergency, it is important that you have at least one reliable source of light available. There are few things more annoying than fumbling around in the dark in search of candles and matches or a lighter. Not to mention the inconvenience of trying to hold a burning candle while tending to issues like fuse box troubles.
Likewise, when you go camping, you will need a light that you can depend on. Forests and areas that are far from civilisation are known for becoming particularly dark at night which poses a potential safety risk. Your trusty flashlight, however, will help you make your way along even the trickiest of trails and safely back to camp. They are also handy forms of lighting in your tent at night.
Read the reviews of the best rechargeable flashlights you can use in any situation.
Some of the links in this post are affiliate links. This means that if you click on one of these links and make a purchase, I earn a small commission at no extra cost to you. Also, as an Amazon Affiliate, I earn from qualifying purchases. If the information in this post has been helpful, please consider purchasing through one of the links in this article. Thank you.