If you are looking for the best rechargeable flashlight there are some factors you need to consider during your search. Such factors include the type of lighting the flashlight offers, the run time and battery size, and the overall size and portability of the light in question.
[the_ad_placement id="in-text-1-type-a"]
Of course, price will definitely be a consideration when it comes to comparing flashlights, but you will also need to consider the specific uses you will need the flashlight for as well so you can determine the right features to look for during your search.
Flashlights and LED lighting
Today there are many different flashlight bulbs, some of which last longer than others do. The majority of the best flashlights on the market actually have LED bulbs or light emitting diodes. The LED bulbs are preferred because of their longevity as they can literally last up to 100,000 hours of run time. The LED bulb is ideal in situations where short range, soft lighting is ideal. What is nice about the LED lighting options is you do not have to worry or even give any thought to the periodic replacement of the bulbs. See our piece on how to choose the best LED flashlight for your guidance.
The flashlights with LED bulbs are not as powerful in terms of the light they emit when compared to flashlights using incandescent bulbs, but the longevity of LEDs is a highly desirable feature. LED lights are best for close up viewing because of the easy soft glow they offer.
Some flashlights with rechargeable features have colored LEDs. The colored lighting is a particularly common choice among hunters. Red LEDs are easy on a person's eyes, and you can use green lighting to spook different game. The blue light LEDs are used for tracking blood from an animal that has been struck. Meanwhile, some hunters prefer to stick with white light LEDs and some carry handheld flashlights while others like lighting from headlights worn as a band on the head.
How to select a flashlight
The rechargeable flashlights on the market can be as little as $10.00 or as much as a few hundred dollars, depending on the make, model, and features you are getting. The more expensive flashlights will often offer better light, better rechargeable batteries, and important features like waterproof and skid proof designs. As you check out the various flashlights available, there are a number of features you will want to look at and consider. Take into consideration the following:
How many modes of lighting does the flashlight have?
Are there any special lighting modes like SOS?
How rugged is the flashlight?
Is it skid proof?
Is it waterproof or water resistant? Waterproof means you can submerge the flashlight in water, but water resistant means it will resist water up to a certain point only.
What kind of battery does the flashlight have and is it included or do you have to buy the battery/batteries separately?
Is there a product warranty?
How durable is the construction of the unit?
What are the costs of the flashlight?
How big is the flashlight? Is it easily portable?
Is it impact resistant?
How far does the beam travel?
How bright is the flashlight?
What is the beam type of the flashlight?
The rechargeable flashlights on the market today have different beam types, each of which will serve you well in different scenarios. Let's look at the three types of beam types in greater depth.
Flashlight beams
Fixed:  A flashlight with a fixed beam is also identified as a unit with a flood light. The fixed beam is one beam with a single width. The width is wide and broad, making it ideal for lighting up the outdoors and for use walking in the dark. A fixed beam flashlight is excellent for outdoor activities at night, like camping or hunting in the dark, early morning hours.
Focused: A focused beam is also called a spot beam. This type of beam is somewhat compact or condensed. It is meant for lighting up something at a considerable distance from the light. This type of beam is ideal for fast activities or for route finding activities.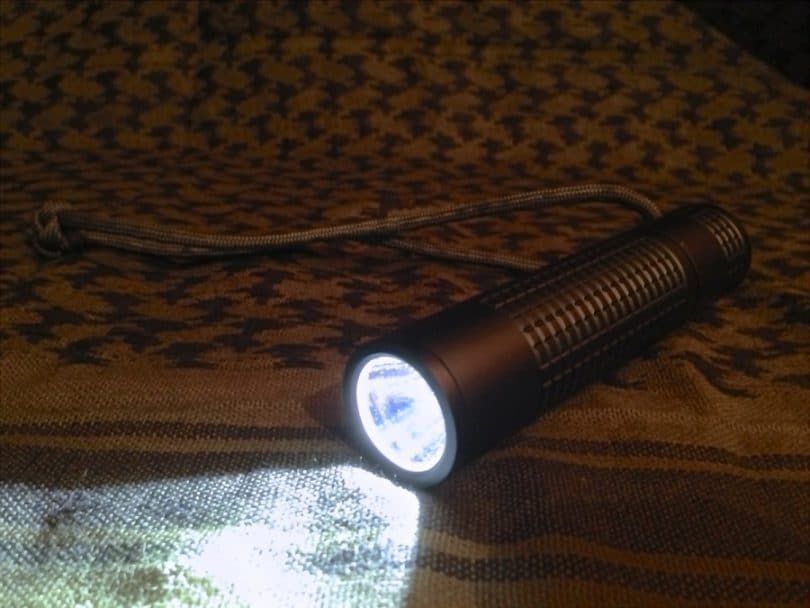 Adjustable: These flashlights are excellent for all uses because you can adjust the beam to be focused/spot or flood/fixed. The ability to switch back and forth makes the flashlight with an adjustable beam perfect for every situation.
SOS mode: Some of the rechargeable flashlights today have SOS mode where the light beam will substitute for Morse code dots and dashes. The light can be turned to SOS Mode in order to signal for help in a survival situation. See also our guide on choosing the best survival flashlight, it's a must-read for everyone.
Strobe light:  Some rechargeable flashlights are equipped with a strobe mode that acts exactly like a flashing strobe light. These types of flashlights are typically tactical and the strobe lighting can be used for the purposes of self-defense. You can use the light to disorient an attacker and give you the upper hand in a survival situation.
How much light?
The brightness of rechargeable flashlights is measured in lumens. Different lumens ratings are ideal for different situations and uses. Consider the following ranges when looking for the best rechargeable flashlight for your needs:
LUMENS
IDEAL USES
10 to 20

Up close tasks
Looking for things up to 100 meters away

20 to 150

Distances up to 120 meters
Basic household and outdoor uses

160 to 200

Seeing distances up to 250 meters
General use
Camping
Hiking
Household use
Tactical tasks
Security

200 to 500

Sailing
Fishing
Climbing
Hiking
Hunting
Work
Tactical tasks

600 to 1000

Industrial uses
Fishing
Caving
Hunting
Hiking
Camping
Beams up light up to 300 meters

1000 and greater

Outdoor lighting only
Search and rescue
Hunting
Large property recreational activities

https://survival-mastery.com/reviews/best-survival-flashlight.html

https://survival-mastery.com/reviews/best-led-flashlight.html
Additional beam settings on flashlights determine how much light is cast on a specific area. As mentioned earlier, there are flashing modes, SOS lighting modes, and strobe modes, all of which serve different purposes. Most flashlights are, at minimum, equipped with a low and high brightness levels, and some have mid-range and turbo brightness levels as well. Some flashlights also pencil beams suitable for honing in a specific area, object, or distance. Do read our tips on what features to look for in the best flashlight to help you.
Flashlight parts
The basic flashlight is made of a number of parts that, when put together, can be used to offer you a portable source of light. People seldom give any thought to the parts of a flashlight, but understanding them allows you to look for the precise features you will desire in a rechargeable flashlight.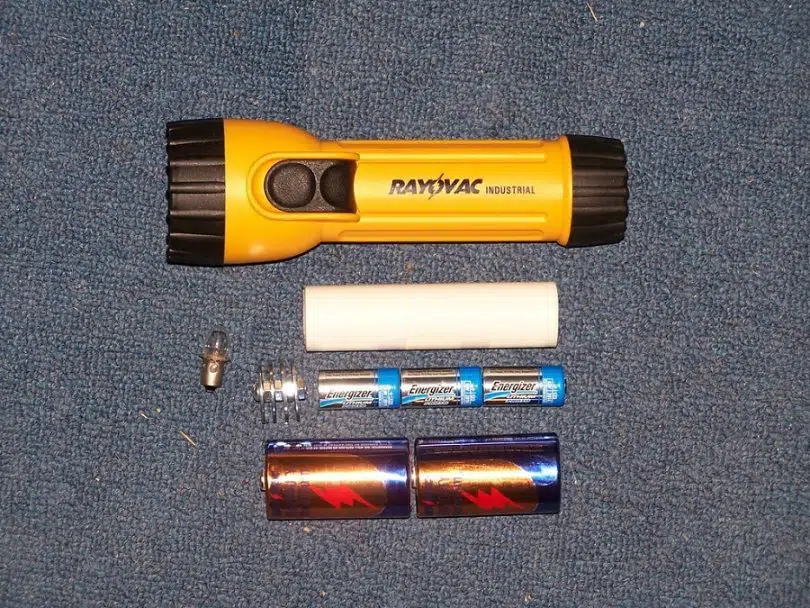 When you know what features you require, you can then narrow down the best rechargeable flash options to find the perfect selection for your needs. Below are the different flashlight parts and options:
| | |
| --- | --- |
| PART | OPTION |
| Case | This is the exterior tube that makes up the flashlight's body. You can get a case with special patterns on its surface. The patterns allow you to maintain a better grip on the device. Meanwhile, less expensive models feature durable plastic casings. |
| Contacts | The contacts are located inside the flashlight. They are often crafted of brass or copper, and make up the connection between the switch, flashlight lamp, and the batteries. |
| Switch | The switch is what interrupts or starts the flow of electricity so the flashlight will work. Some switches can be pushed more than once to active different flashlight modes. |
| Reflector | Is a piece of plastic featuring a layer of aluminum that reflects the light from the flashlight and directs it outward. |
| Lamp | The source of light, which is usually LEDs or incandescent bulbs. |
| Lens | A piece of transparent plastic that protects the lamp. |
| Batteries | What powers the flashlight. The rechargeable batteries have different charge times and lifespans. |
Flashlight switches
Flashlights come with different switches, and the location of the switches is based on the brand and model. The switch is what is used to start and interrupt the source of electricity inside the flashlight. When powered on, the switch is moved to a position that allows the circuit inside the flashlight to complete.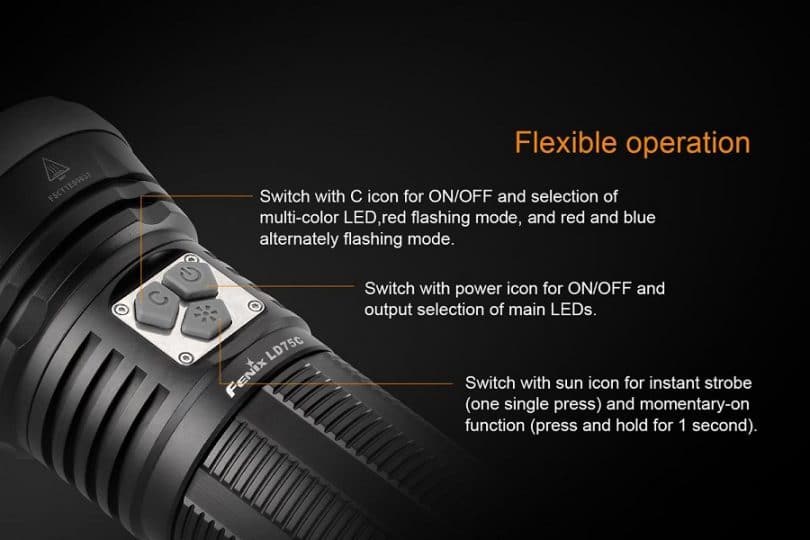 When powered off the switch moves so that it causes a break in the circuit that powers the flashlight. Some switches have multiple positions to accommodate the various light modes the flashlight offers. Below are the most common types of flashlight switches:
| | |
| --- | --- |
| TYPE OF SWITCH | DESCRIPTION |
| Tail Click |  The button is located at the base of the flashlight. This is an ideal flashlight if you are looking for a single-handed operation unit. The switch can be turned on by accident however, which may run down battery life without the user realizing it immediately. |
| Twist Top | The twist top flashlight requires the user to grip the lens and holder and twist it one way to power on and the opposite way to power off. This type of switch is often found on keychain flashlights. The flashlight requires the use of both hands to operate. |
| Side Click | The button is along the side of the flashlight's casing. You have to either push the button in to make the flashlight work, or slide a rectangular button forward to power on the device. Rarely comes on by itself. |
Supernova Guardian 1300TL Professional Series
Some of the best flashlights on the market today can prove to be on the pricey side, but they also offer you top of the line features and functionality. The Supernova Guardian 1300TL Professional Series rechargeable flashlight is priced between $70.00 and $180.00 depending upon where you buy it. The upper level rechargeable flashlight comes with a 100% satisfaction guarantee. It outputs 1300 lumens and it has five operating modes including SOS, strobe, low, medium, and full.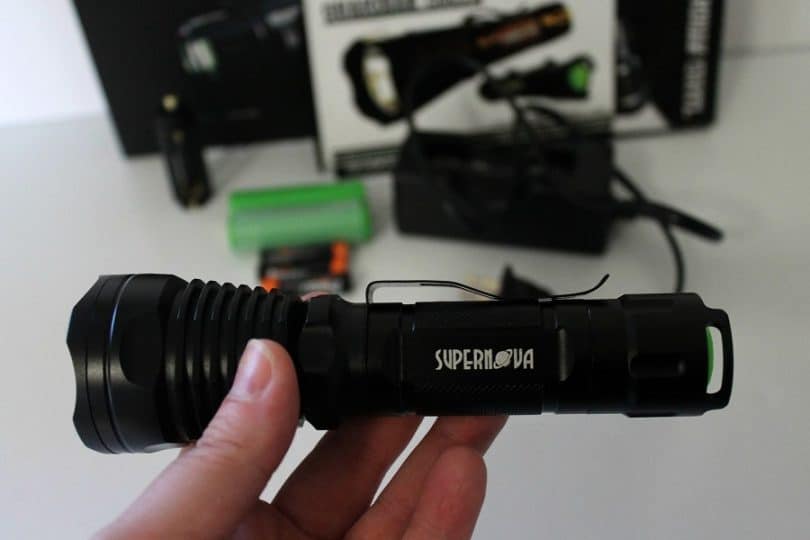 Because the flashlight has SOS lighting, it is great for survival situations, and the strobe mode makes it ideal for self-defense. The flashlight is also fitted with a strike bezel. Additional highlights include:
1300 Lumens for ultra bright light and instantly lighting up a darkened room.
Tempered glass lens for LED light protection.
Scratch resistant exterior aluminum alloy casing featuring a textured surface for added grip
Limited lifetime warranty to ensure buyer and user confidence.
No hassle return policy should there be any issues related to manufacture defects.
The Supernova Guardian 1300TL Professional Series flashlight comes with three triple A batteries, a waterproof case, and an aluminum alloy exterior. It also comes with a charger and two lithium 18650 batteries.
[the_ad_placement id="in-text-2-type-a"]
The flashlight with run five to six hours before it requires a recharge. The extra triple A batteries supply you with an extra resource if you need to charge the flashlight and you require immediate use of the light.
If you like this product you can find and check its price here.
The Stanley FL5W10 Rechargeable Spotlight
The Stanley FL5W10 Rechargeable Spotlight is a high quality, popular waterproof unit priced between $37.00 and $50.00, depending on where you buy it. What makes this unit one of the best rechargeable flashlight selections on the market today is that you can actually submerge the flashlight in up to six feet of water.
The Stanley FL5W10 floats in the water and it will point upward when it does so. It has up to 520 lumens, it is about 50 percent smaller than the average spotlight, and it has a 14-hour runtime. The flashlight measures about 6" x 3" x 6.8", and it is sold with a nonstandard rechargeable battery.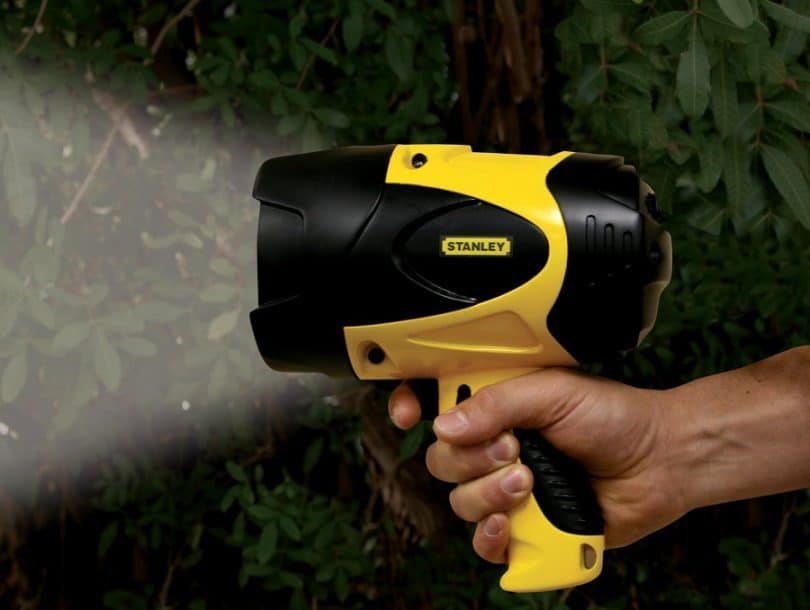 Additional highlights of this flashlight include:
A Three trigger mode of off, low, and high
Rubber bezel
Waterproof end cap
Charges with AC and DC chargers
Battery charger LED indicator
LED Bulb
Ergonomically designed grip handle
Nickel metal hydride rechargeable battery pack
Recharges up to five hours maximum
If you like this product you can find and purchase it on Amazon.
Refun rechargeable flashlight
The Refun Rechargeable Flashlight is another unit among the best rechargeable flashlight options for sale today. This flashlight is great for outdoor use, camping, and it has an array of features that make it useful in a variety of situations. The unit has a 100,000-hour lifespan, and it is made of high quality aluminum alloy. The exterior is durable and it only weighs 130 grams in all. The size of the flashlight is 130mm x 38mm x 22mm. The flashlight can be powered by three AAA batteries or a single 18650 3.6v3/7v battery.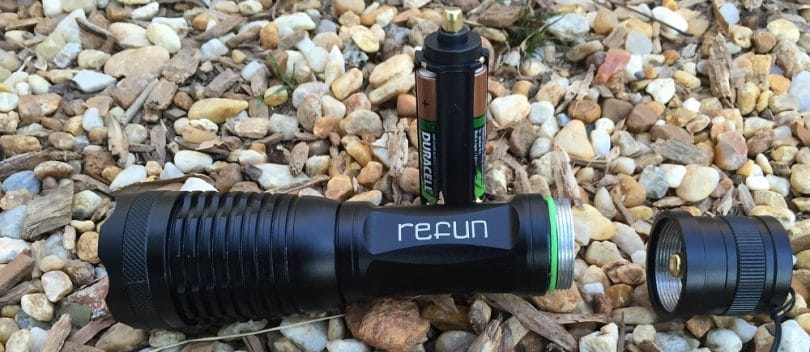 Additional features of the Refun flashlight include:
Five modes including SOS, Strobe, Low, Medium, and High
Water resistant properties
Adjustable focus options
Skid proof exterior
Reverse polarity protection so LED lights do not burn out
The battery of the Refun flashlight is one 18650 4000mah lithium battery with a charge time between five and seven hours. The unit comes with a charger that has a green light that comes on when the flashlight is finished charging and a red light when the unit is in the process of charging.
If you like this product you can find and buy it on Amazon.
CVLIFE 800 Lumens CREE XM-L T6
The CVLIFE 800 Lumens CREE XM-L  T6 LED Flashlight is crafted out of durable aluminum alloy and its equipped with an 800 lumen super bright light. The beam focus on the CVLIFE 800 Lumens CREE XM-L T6 is adjustable. This flashlight is one of the best rechargeable flashlight options on the market because it is good for long time daily use. The CVLIFE 800 Lumens CREE XM-L T6 is waterproof, skid-proof, and you will not lose your grip on it, even if it is raining outside and the outer casing is wet.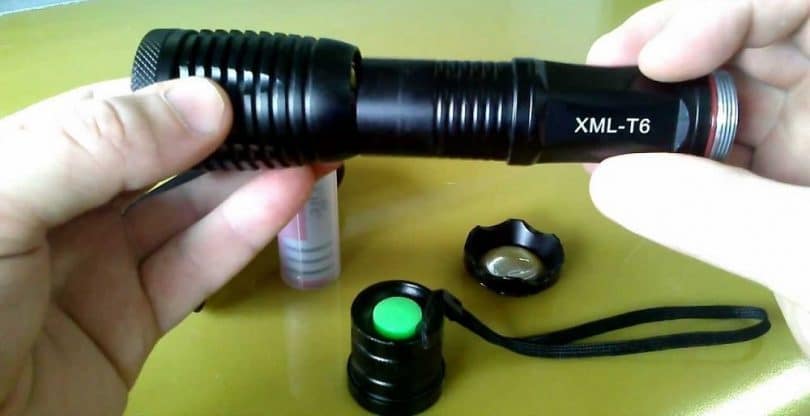 The flashlight measures about 6.7" and weighs about 6.9 pounds. Like the solar ray, the CVLIFE 800 Lumens CREE XM-L T6 comes with five different switch modes including:
SOS
Strobe
Low
Middle
High
The CVLIFE 800 Lumens CREE XM-L T6 comes with a rechargeable 18650-2200mAh 3.7V battery that takes three to five hours to charge. When you get the flashlight, you will have to remove a small piece of plastic positioned between the battery and the battery connectors. The torch head allows you to change the focus on the flashlight.
You can use it for its flood or spot lighting. To change light modes all you have to do is press the button. The flashlight has a blinding effect and should therefore not be pointed at anyone's eyes directly. To preserve the life of the battery, the unit should be charged before the entire charge is gone.
If you like this product you can find and buy it here.
Energizer Weatheready rechargeable flashlight
When it comes to affordability and the best rechargeable flashlight on the market, the Energizer Weatheready rechargeable flashlight is one of the most inexpensive options on today's market. With a price tag that falls well below $20, the Energizer Weatheready rechargeable flashlight is a unit that should be in every household.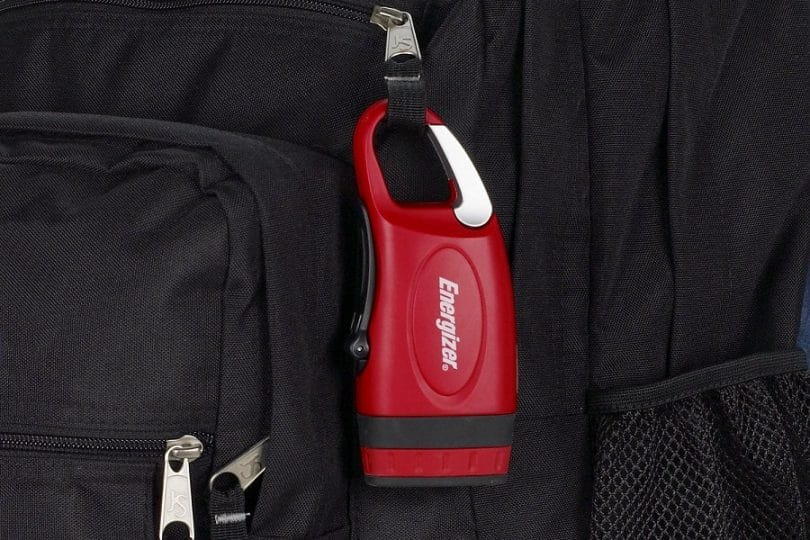 This flashlight offers terrific illumination from three white, bright LEDs. The unit comes with a carbiner clip so you can remove the light and hang it if you desire. This flashlight's batteries get Kinetic energy from a crank. The LED will last a lifetime with the unit so you never have to worry about replacing the bulbs.
The unit will give you three minutes of light for every one minute you spend cranking the flashlight. Additional features associated with the Energizer Weatheready Rechargeable Flashlight include:
No alkaline batteries needed
A beam distance of 26 meters
7 lumens light output
Crank operates clockwise and counterclockwise
Push button switch operation
Exceptional for outdoor and preparedness use
Attractive red and black durable case
Comes with a one year limited warranty
Ultra lightweight for portability – weighs 3.92 ounces
Width is 5.3 inches
Depth is 2.2 inches.
If you like this product you can find and check its price on Amazon.
The Solaray Pro ZX-1
The Solaray Pro ZX-1 is a professional model flashlight sold as a kit. This tactical unit has a durable construction, zoom lens, and is powered by a rechargeable lithium-ion battery. The Solaray Pro comes with a striking bezel that can be used when self-defense is necessary. The flashlight is water resistant, and it features five light modes. The light from the Solaray is bright and comes from a Super Silicon Carbide single die LED chip.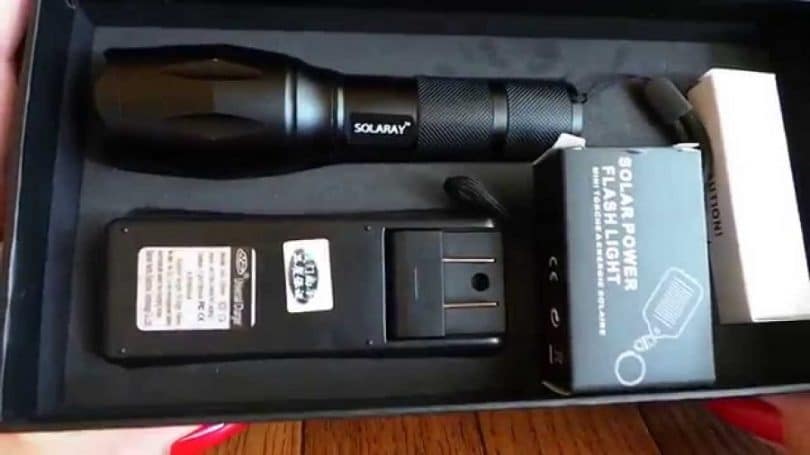 The superior brightness of the flashlight will illuminate and entire darkened room. The flashlight has a maximum 1200 lumen, and you can use the light to zoom in on objects at a distance. The five lighting modes of the flashlight include:
High
Medium
Low
SOS emergency signal
Bright tactical intruder strobe
The Solaray Pro ZX-1 is one of the best rechargeable flashlight options on the market because of its ability to offer wide coverage (flood) and throw coverage (lighting at a distance). The rechargeable battery that comes with the unit can be recharged up to 500 times.
[the_ad_placement id="in-text-3-type-a"]
The flashlight has an aluminum structure, high quality lens, and it is the perfect size for serving as a portable flashlight. The Solaray Pro ZX-1 weighs about five ounces. The rechargeable flashlight measures about 6" x 1" x 1.5" in all. The bulb light of the flashlight is about 10,000 hours. The unit is priced between $60.00 and $80.00, depending on where you buy the flashlight.
If you like this product you can find and check its price here.
In conclusion
When it comes time to shop around for the best rechargeable flashlight, you will find plenty of options in terms of flashlight brands and styles. You will want to choose a flashlight that has a long lasting rechargeable battery life, an equally long lasting bulb life, and a durable construction.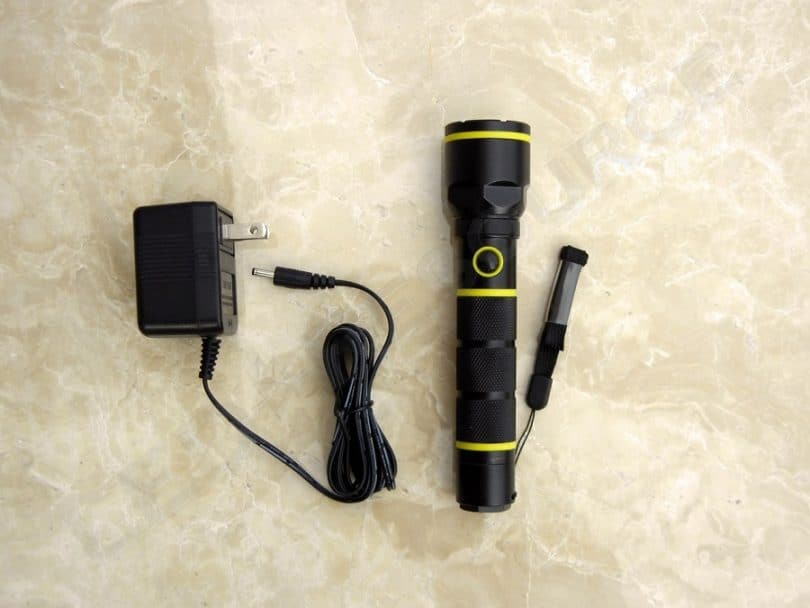 As you compare rechargeable flashlights, you will need to consider how you will use the flashlight the most. In determining its use, you can then decide what extra features you will want from the flashlight you buy.
Finally, after finding the flashlights that have all the features you will require, that is when it comes time to compare prices so you can find an affordable option for your needs. Check out our review of the best tactical flashlights to give you more choices.
Some of the links in this post are affiliate links. This means that if you click on one of these links and make a purchase, I earn a small commission at no extra cost to you. Also, as an Amazon Affiliate, I earn from qualifying purchases. If the information in this post has been helpful, please consider purchasing through one of the links in this article. Thank you.