When you are on the go in cold weather you are going to want to have a decent bedding and liners to keep you warm and happy. Even ultralight enthusiasts bring along liners to enhance their mummy styled sleeping bags. They provide warmth and cleanliness.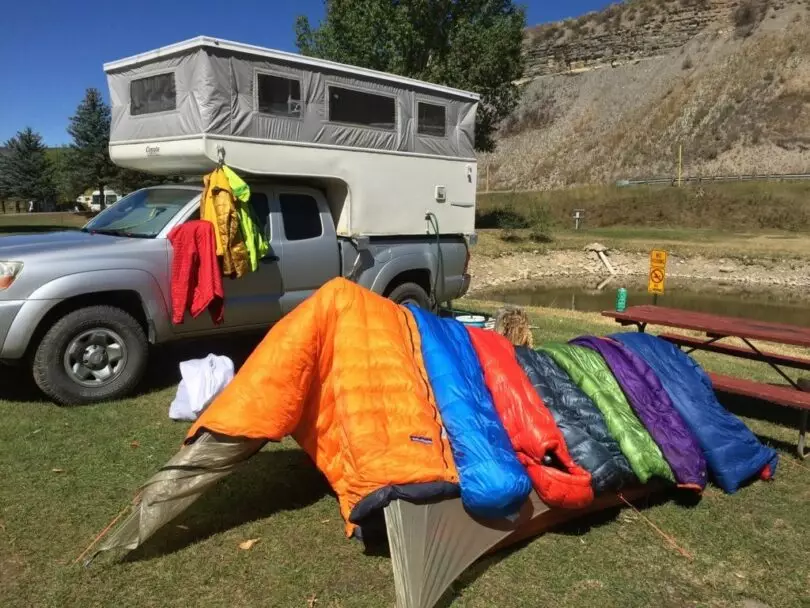 For specialty bags, cleaning and maintaining them can often be difficult.Having a liner prevents your body oils, dirt, and sweat from damaging the bag. The less you launder your bag, the longer it will last. You don't have to be an extreme backpacker to enjoy a liner in your sleeping bag.
Travelers' who are staying hostels will often use liners to avoid bed bugs, especially when they are traveling for extended periods. A quick look online will show you hundreds of options, and choosing one will depend on your budget, the sleeping bag you own, and a few features.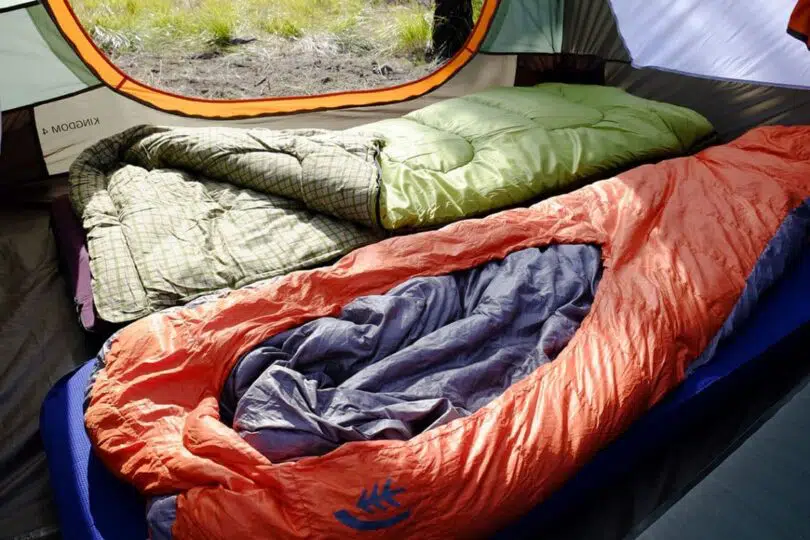 In this article, we will break down how to buy the best sleeping bag liner, and provide you with a few options to start your search!
Types of Liners
The first thing you want to do when determining which liner you will purchase is figure out what material is best for you. There are quite a few options that offer different advantages including warmth, durability, weight, and water resistance. We've listed the most popular material types below to help you choose.
Silk
This material offers you a lightweight alternative but tends to be pretty expensive. With a silk fabric liner, you will an absorbent and breathable liner, which means that warm and cold weather can be easily handled with this insert.
Cotton
Perhaps the cheapest of the materials this durable fabric will give you a warm cozy bed, but if you are planning on making it an ultralight trip, skip on this option. Most cotton inserts are made for casual camping and are durable enough to last the season with your whole family.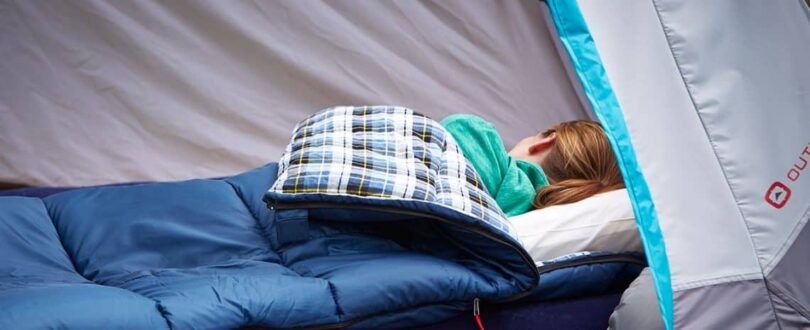 Like any cotton products, they are not as water resistant and can get an odd smell if not cleaned properly.
Fleece
For most backpackers, fleece is the optimal decision. While it is a bit heavier, it is a lot warmer and wicks away moisture quickly. If you are going to snow, rain, or humid climates, the fleece or microfleece liner is going to be your best bet. It dries quickly and comes in a variety of weight.
On average this will be a heavier alternative, but for the warmth and durability, it might be worth a heavier backpack.
Synthetic
For those allergic to the classic fleece option, the breathable and warm synthetic liners can be the perfect companion to your sleeping set up. If you find that you are often tossing and turning while you sleep you can also enjoy these liners as they tend to stretch more while you sleep.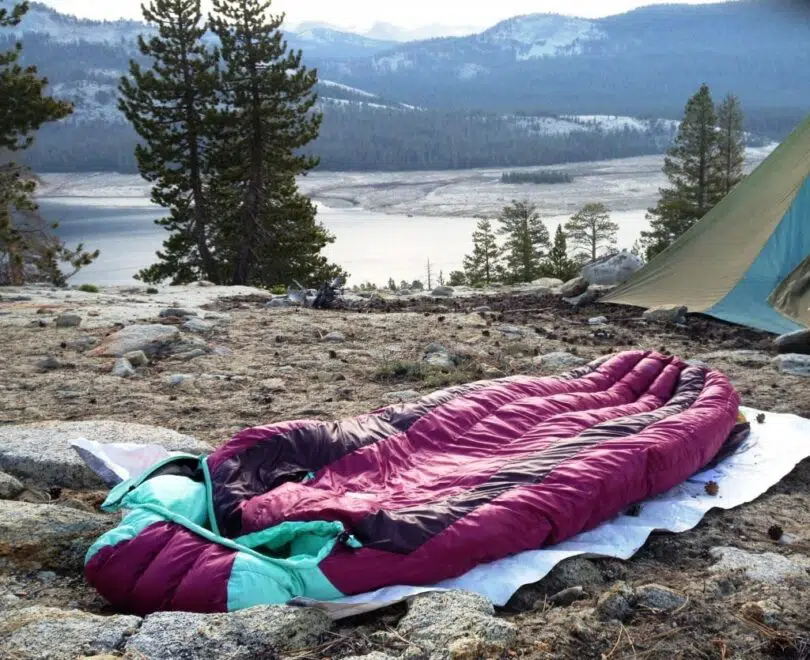 This mean that you won't feel trapped, even in a smaller liner. The synthetics are a little more expensive and not quite as durable.
Insulated
The insulated fabric is meant to be the warmest, increasing your bag up to an additional 25 degrees Fahrenheit. This is a great alternative for the ultralight backpacker who travels to cold and wet locations, with a lightweight sleeping bag.
It's fast drying, 50% faster than your average cotton liner and can be packed tight, though it is on the more expensive spectrum it is worth the value.
Bug Protection
Not unlike a bed, or a mattress pad cover, some liners can have built-in protection from many of the bugs that you encounter on the trail or in a hostel. If you are truly concerned about bugs, then paying a higher price for a liner with built-in protection may be worth it.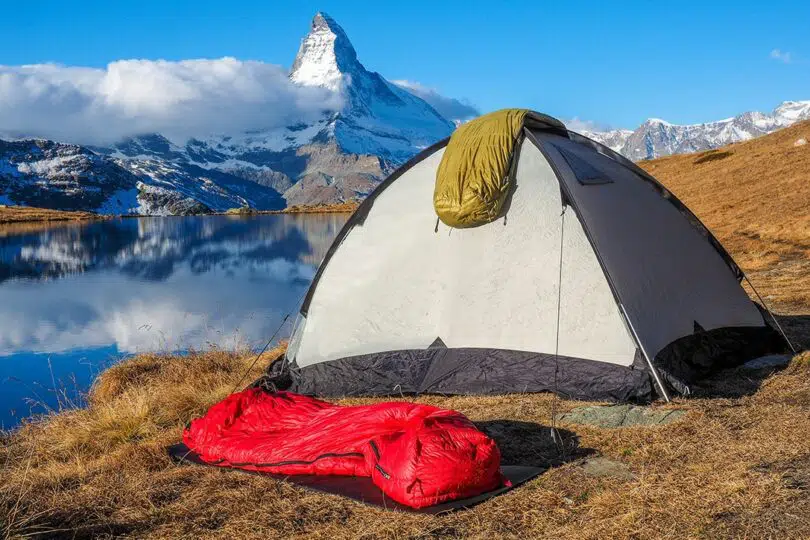 You can normally find these liners in a multitude of fabrics but are most common for synthetic fabrics.
As we said, the first step for picking a liner is determining the type of material that you would like to use depending on your trip. If you are going ultralight then spending a bit more for light and durable will keep your back from buckling under your backpacking bag.
See also: Best Camping Air Mattress: Ensuring You A Comfortable Sleep Outdoors
If you believe you will find yourself in a less than clean hostel, than purchasing liners with bug protection and easy cleaning strategies will be your priority. Regardless, you will want to make sure that you pick a liner appropriate for your bag. There are mummy bags, large rectangular bags, and even pods, check the size and shape before you purchase.
Clean and Protected
As we mentioned before perhaps one of the most important part of having a liner is to protect your original investment, the sleeping bag. These bags are meant for low temperatures and long trips are going to cost you a pretty penny. You will want to protect your investment by having a durable liner that keeps it clean and safe on the inside.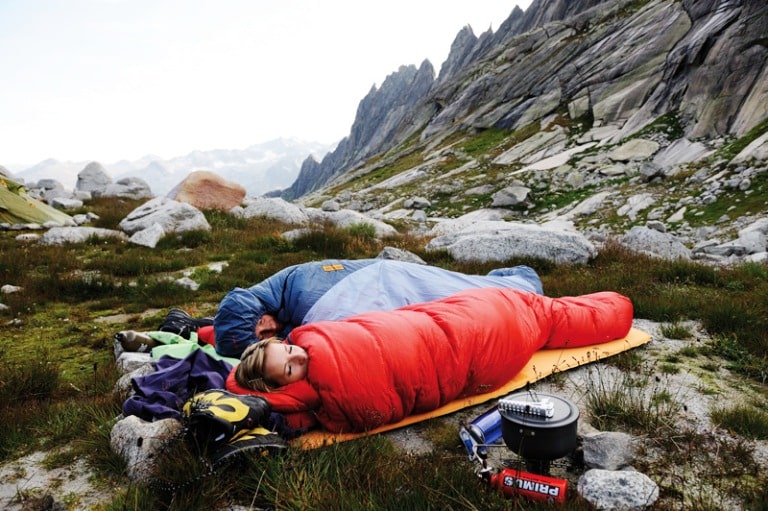 Throwing your sleeping bag in the washer and dryer can have dangerous effects on the bag, including holes, burns, and the fabric's durability deteriorating. With a liner, this is not the same concern, they can be tossed in quickly and even dried. As long as you avoid using any fabric softeners your liner will be as good as new after a quick wash.
One of the hardest things to remove from a sleeping bag is fine particles, so if you are going to a location with sand or fine dirt, then pack a liner along to keep the grains from slipping into the bottom of the bag. Not only is it uncomfortable to sleep in, but the grains can scratch up your bag over time.
These liners are also excellent when you want to stay protected during a hot night. Rather than jumping into your bag, you can use the liner like a fitted sheet to cuddle up in on hot summer nights.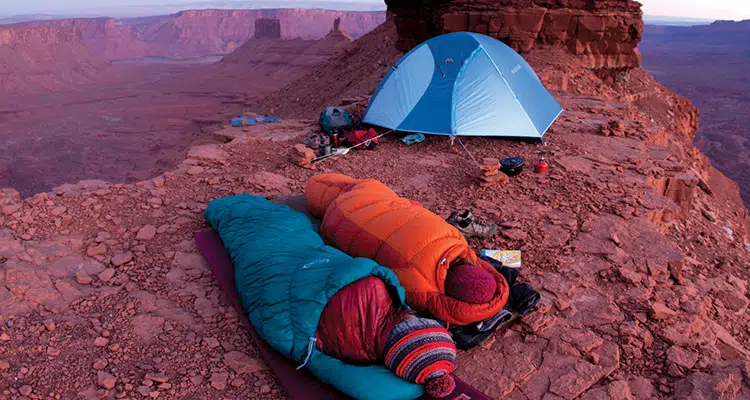 The real downside that most people find with liners is that some restless sleepers will get tangled up in them, synthetic liners do stretch a fair bit, so you will have more wiggle room. Test out a liner in your favorite outdoor store to see if its right for you.
A few options for you
Now that you have figured out your preferred material, and the size and shape of your sleeping bag, you are ready to purchase the best product on the market. Make sure to find one that will add warmth, comfort, and durability to your trip, as a liner can last you almost as long as your bag when properly taken care of!
Sea to Summit Thermolite Liner
Packed Dimension: 2 x 3 x 5 inches
Specific Features: The liner is made out of 110g/m2 Thermolite and features its own Ultra-Sil stuff sack.  It is a mummy shaped bag with a built in box foot and features its own draw cord hood with a lock.
Best use: Camping, hiking, and backpacking.
The Sea to Summit Thermolite Liner is not only ultra light, it is also incredibly small, making it an easy add-on for a serious backpacker. The Thermolite construction adds up to 25 degrees Fahrenheit and is a synthetic fabric. Making it both warm and allergen proof.
Reviewers suggest that this is a clever and well-insulated way to trap in heat, especially for those who sleep cold. Like most synthetic fabric, it stretches with you, so a restless and cold sleeper can really enjoy this liner. While it is a durable and lightweight liner, note that the fabric will be thinner than you may expect.
Because it is a synthetic fabric, it is lighter and thinner, with a specific feel to it. Try to feel and test out a synthetic liner before you buy to make sure that you are comfortable in this style.
Dimples Excel Sleeping Bag Liner
Dimensions: 86 x 41 inches
Packed Dimensions: 2.7 x 6.3 inches
Specific Features: Dimples created an ultralight bag made out of satin without sacrificing it's machine washable qualities. Easy to clean and use, this liner is also larger than most liners optimizing your sleep space.
Best use: Warm weather camping.
While this Dimples Excel Sleeping Bag Liner will not add any warmth to your bag, it will add a lot of luxury. The satin fabric gives you a high-quality silk sheet feel, even when you are out in the woods. If you are headed out into hot and humid weather than this liner will either be the perfect insert, or you can use it on its own, weather permitting.
It cleans easily, protects you from any oils or dirt you track in, and has been consistently comfortable for customers. If you have never felt satin before, make sure to give this fabric a quick feel before purchasing, while some love the luxury sensation others complain that it is slippery and hard to move around in.
In addition, the largeness that this insert offers is difficult for those in small bags, as it is difficult to maneuver around once you get into your setup.
Also check out our piece on the best compression sacks for sleeping bags to give you more options.
Swecatch sleeping bag liner
Dimensions: 43 x 86 inches
Packed Dimensions: 6 x 8 inches
Specific Features: This liner has two unique features: a pillow pocket on the top and a side entrance with a Velcro closing. It is made entirely out of polyester and is larger than the average liner for extra space.
Best use: Warm weather camping.
This Swecatch sleeping bag liner offers more space for campers who are large and tall, giving you the ability to stretch out, even in cramped accommodations. Because it is made with polyester, it is easy to clean, soft to the touch, and won't slip around as much as silk or satin.
The side opening allows you to slip in and out easily, and the pillow pocket helps keep everything in place as you toss and turn in the night. This liner is definitely meant to extend your comfort, but not the warmth. The feel to it is that of a bed liner, but thinner to save you weight and space.
While it is very roomy and doesn't add any heat, the fabric itself is not very breathable, so in humid weather, this may not be ideal.
Sea To Summit Silk Travel Liner
Dimensions: 5 x 3 x 3 inches
Specific Features: The high-quality ripstop silk liner includes special stretches made out of polyester on each side of the liner. It can add up to 10 degrees Fahrenheit and is machine washable.
Best use: Camping, backpacking, and staying in hostels.
This Sea To Summit Silk Travel Liner goes above and beyond for those who struggle to get into tight liners, or simply like to shift around in their sleep. Rather than having zippers or Velcro along the side that can sometimes dig into your skin or come undone, Sea to Summit installed stretchy side panels.
You can pull on the sides of the liner to slide in without worrying about any excess damage to the liner. It packs light and small, fits a mummy bag or rectangular shape, and has been rated well for durability. It has a hostel rating on it, meaning it will keep you clean and protected while you bunk up with other people.
The Friendly Swede Sleeping Bag Liner
Dimensions: 41 x 86 inches
Packed Dimensions: 6x 8 inches
Specific Features: This liner features extra space in both width and length, is made from polyester material and has a side opening. The side opening closes with Velcro to keep you in the liner while you sleep and the whole liner fits into an included small stuff sack.
Best use: Camping, traveling, and backpacking.
The Friendly Swede Sleeping Bag Liner acts more like a bed sheet, it is both soft to touch and easy to clean, but don't expect any additional warmth. Reviewers love this liner when they intend to travel in warm climates or are staying in multiple hostels over the trip.
Having a side Velcro opening is also a big selling point, if you have to slip out of both the liner and the bag at night, you want it to be easy. Having a side opening will allow you to get in and out with minimal disruption. It is made from polyester, so it won't be as moisture wicking as a silk liner, but it is a breathable lightweight fabric.
Cocoon Silk MummyLiner
Dimensions: 4 x 8 x 8 inches
Specific Features: This is an incredibly lightweight ripstop silk liner that is both machines washable and quick dry. It will add a little over five degrees Fahrenheit to your overall temperature rating and provides sturdy insulation.
Best use: Backpacking and camping.
This particular Cocoon Silk MummyLiner is going to give you comfort and warmth on your next outdoor adventure because it is both a mummy bag liner and made of silk, you are going to be well insulated and truly cocooned. It features a silk hood that slips into the hood of your mummy bag and can be packed down just as small.
One complaint that is often received about this liner and other mummy liners is that there is no side entrance. This means you will need to shimmy your way into both the liner and pack in order to use it.
Osage River Microfiber Sleeping Bag Liner
Dimensions: 70 x 31 inches
Packed Dimensions: 12 x 7 inches
Specific Features: The Osage River liner is made of micro fleece to add warmth and comfort. It features a side zipper for easy use and comes with its own small storage bag.
Best use: Camping or lounging.
This Osage River Microfiber Sleeping Bag Liner is more of a classic liner, it is both warm and soft and easy to bring along. Rather than acting as a sheet, it is a blanket for the inside of your sleeping set up. Its side zipper makes it easy to get in and out of, and it unzips all the way to spread out.
What we don't love about the microfiber fleece liner are its weight and size. It doesn't pack down small, so for backpacking, it is not as good as some of the alternatives. However, for car camping or warming up around the house, this is an excellent liner and blanket.
Agemore Sleeping Bag Liner
Dimensions: 71 x 30 inches
Specific Features: The liner can add up to fifty-five degrees to your overall temperature rating, is made with microfiber fleece for easy cleaning and comfort and can be fully unzipped along the side. If you buy two, you can zip them together to make one large liner or blanket.
Best use: Casual camping, car camping, or lounging.
The relatively inexpensive Agemore Sleeping Bag Liner is perfect for the car camper who is traveling towards cold weather. It is both incredibly warm and soft, customers absolutely love that it can fully unzip to be a blanket, and then even zip together with other liners to increase the size.
For family trips, this is great for snuggling up and is easily washed if mud or dirt is tracked in. Note that this liner is not meant to be rolled up tightly, and will probably not fit in an average backpacking bag that is loaded to go on a trip.
ALPS Mountaineering Sleeping Bag Liner
Dimensions: 33 x 80 inches
Specific Features: The liner comes in two different options: poly cotton or microfiber, both with separating side zippers. It is designed for rectangular shaped bags and provides a light layer for summer camping. You can place both versions into a washer and dryer.
Best use: Warm weather camping.
This ALPS Mountaineering Sleeping Bag Liner is meant for summer camping in warm weather when you want only a light layer in your bag. It feels like a bed sheet and cleans like one as well, making it is easy to wash after a big trip.
On the poly cotton version of this liner, there is a large seam about a third of the way up that some people find uncomfortable while sleeping, other than that, the liner acts as a fine lightweight protectant.
TETON Sports Sleeping Bag Liner
Dimensions: 87 x 36 inches
Specific Features: This large liner features an upper side opening with Velcro safety straps to hold it closed. It can add up to ten degrees Fahrenheit to your total temperature rating and is made out of a soft polyester material.
Best use: Warm weather camping
The TETON Sports Sleeping Bag Liner is both soft and durable with a little extra length for tall campers and backpackers. They can add a little extra warmth and have a top entrance, but with a small opening on the side that you can fold down for easier access.
What people do not like is the Velcro that is located at the top of the bag. When you Velcro it down to keep yourself in the liner, it scratches your neck or face. Other than that it is lightweight, compacts small, and is made from soft fabric.
Buy the Best
The right liner can be tricky to find, you will need to factor in where you are going, the weather outside at night, and how much room you would like in the liner itself. You will also want to give the fabrics a feel to make sure that you will be comfortable while you camp.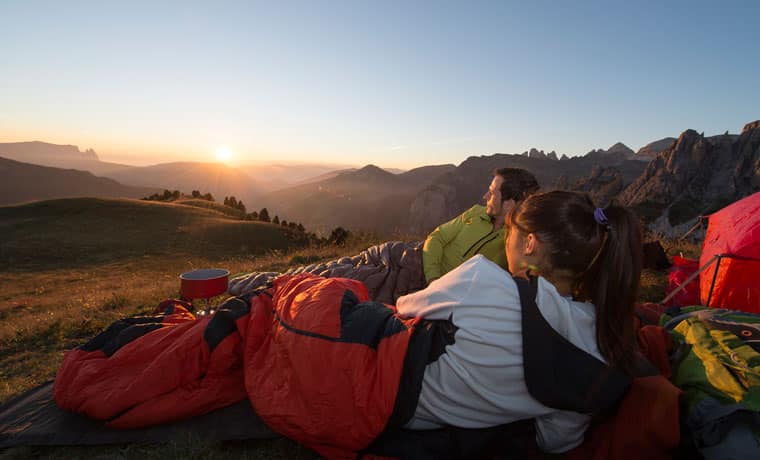 A good liner will keep you at the right temperature, keep your expensive sleeping bag safe, and can be used on its own on a hot night. Have we missed your favorite sleeping bag liner? Let us know in the comments below!
Do check out our reviews of the top recommended camping gear to make your adventure truly amazing!
Some of the links in this post are affiliate links. This means that if you click on one of these links and make a purchase, I earn a small commission at no extra cost to you. Also, as an Amazon Affiliate, I earn from qualifying purchases. If the information in this post has been helpful, please consider purchasing through one of the links in this article. Thank you.