Whenever you're outdoors and the sun is shining bright, you need to protect yourself from its dangerous UV rays. These don't just take their toll on your skin, but also on your eyes, and can irreversibly damage your retina in case of overexposure.
That's why the smart thing to do is choose the best sun hat you can find to make sure that doesn't happen to you. Also check out the benefits of layers clothing to protect you when you're outdoors.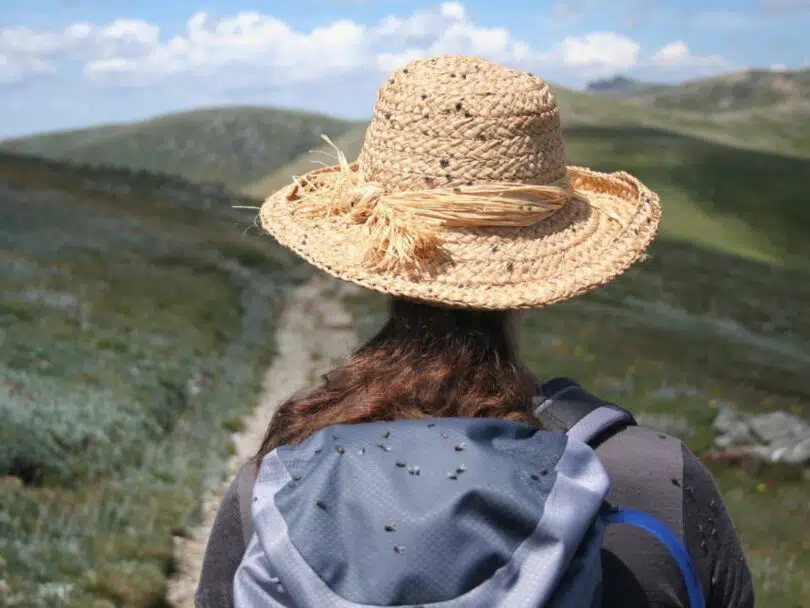 Besides, these hats can even protect your neck and shoulders if they have wider brims.You can find some of the coolest items on the market right here in this article, after a few helpful tips on how to make sure you get your money's worth.
How to choose
Getting your money's worth entails picking a sun hat after considering the following attributes and corresponding questions:
Appropriate UV protection factor. Does it offer a high UPF factor of at least 30 to shield you from dangerous sunrays that might even lead to cancer? b.A UPF of 50+ is even better.
Are the brims large enough to keep your eyes, neck, and shoulders safe from sunburns?
Chin cord. Can you adjust the size for a perfect fit and make sure your hat won't just fly off when it's really windy outside?
Is the color appropriate to repel te sunlight? Does it offer good camouflage?
Materials used. Are the materials used qualitative enough to ensure a comfortable wear? Do they offer good ventilation and moisture wicking?
Travel-friendly. Can you fold it and pack it neatly in your backpack? Does it fit in your pocket for a quick, easy reach?
Can you remove and attach parts to the hat to make it better for certain occasions and weather conditions? Is it easily customizable?
Is the hat light enough so it doesn't bother you when wearing it for longer?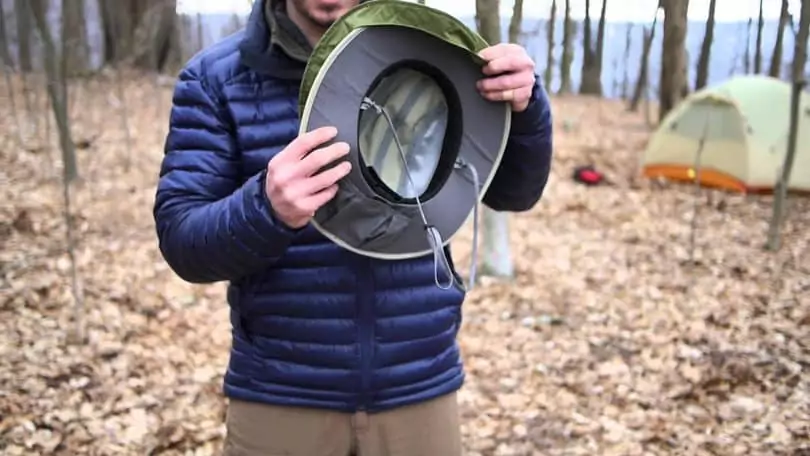 If the answer to most of these questions is yes, then you've got yourself a keeper!
Top 10 great hats
Getting the best hat for sun protection isn't as straightforward as it may seem. You can follow the advice listed above and still get the wrong thing if you don't take the time to research what the market has to offer. So browse our list of products, see if maybe there's something that catches your eye.
Outdoor Research Sun Runner Cap
Dimensions: 6 x 10 x 6 inches
Specifications: Khaki; Small to X-large; 100% nylon; removable sun skirt; removable chin cord; 30+ UPF; TransAction headband; mesh panels
Best use: Running
Outdoor Research Sun Runner Cap can be found in a price range of $24.95 – $139.80, depending on the model you'll choose.
With sizes ranging from Small to X-large, and different colors to accommodate all tastes, this cap has a fit as expected percentage of 89% thanks to its cinch-strap. That's pretty high considering how picky some people are, and it's a great insurance that you'll buy something good.
Being manufactured wholly from nylon, you'll get the advantage of this moisture-wicking material. Unlike cotton, for instance, nylon lets your skin breathe since it doesn't absorb water. So even if you do sweat, your skin will still be able to breathe. Plus, nylon is a light fabric that will protect your head without you feeling you even have a hat on.
Besides the Supplex nylon, the design is amazing because it's convertible. Featuring a sun skirt that can easily be removed, you can convert this into a simple ball cap. Or, you can choose to wear the sun skirt for extra protection when the weather is really hot because when your neck is shaded, you can withstand heat better.
And if it's way too windy outside, there's a chin cord you can put on to make sure your hat doesn't just fly off.
We also love that it has a UPF protection of 30+, making sure you can wear it without getting any sunburns. The TransAction headband is really comfortable too since it manages unwanted sweat, and the side panels are made from mesh, meaning they'll help ventilate your head better which is great at high temperatures.
lethmik Camouflage Sun Hat
Dimensions: 15 x 14 x 3.9 inches
Specification: One-size; beige; polyester fiber cotton; 50+ UPF; hasp brim; wind rope; foldable
Best use: Fishing
This lethmik Camouflage Sun Hat is a one-size hat that comes in beige, making it very appropriate for hunting or fishing trips when you need camouflage. Besides, a light color like that will protect you even further from the sun rays since it doesn't absorb heat.
The manufacturing also helps in that regard, since it's wholly made from polyester fiber cotton, getting the best of both worlds.
So the polyester fabric will help with the moisture-wicking part, while the cotton will help keep your head cool. Besides, they both weigh very little, explaining why you'll get a really lightweight hat of just 0.2 pounds. The only precaution you need to take is not put it into the washing machine or brush wash it.
We like that the sun protection offered is really high with a UPF of 50+, so you can easily spend the whole day in the brightest sunlight possible, enjoying your fishing trip. The design features a hasp brim that will also cover your neck and shoulders, making for a comfortable fit for most head sizes.
Other features we love are the wind rope, which is adjustable and enables you to wear this hat even when it's windy, which happens frequently near lakes or rivers. The chin drawstring is practical but looks good too, in a vintage sort of way.
Plus, it doesn't take a lot of space either seeing as it's a foldable sort of hat which you can easily stuff in your pocket for an easy reach.
Tilley Endurables Hat
Dimensions: 15 x 11 x 3 inches
Specifications: X-small to 8+; khaki/ olive; 100% Supplex nylon; 50+ UPF; snap-up brim; polyester mesh; underbrim; secret pocket in crown
Best use: High-impact outdoor activities
This Tilley Endurables Hat can be found in a price range of $67.90 – $319.80. With an 89% fit as expected rate, there's no way you can go wrong with this model, which can be ordered in a size as big as 8+. Or you can get it in the smallest model available, X-Small, either way, there's definitely a model for you.
The options are a bit limited though in what color is concerned, seeing as they're pretty similar. But whether you choose the khaki/ olive pattern or the natural ones, you'll still look pretty stylish and these light colors will repel heat and dangerous sunrays.
The nylon manufacturing is a reliable one, contributing to you're the abilities of this hat to repel moisture, heat and keep your head ventilated. The Supplex nylon used is resistant to both water and mildew, so you won't even have to worry if it rains a bit.
However, this hat does its job with flying colors when it comes to protecting you from the sun, seeing as it has a high UPF of 50+. The only thing you have to watch out for is washing it by hand or on the delicate cycle if you're using the washing machine.
The brim on this hat is another great feat, considering that it's a snap-up type and that it has a polyester mesh. This is pretty wide at 0.75 inches and can be found in the crown, and works together with the underbrim for extra protection against glare. Plus the crown also hosts a secret pocket for your stuff like driving license or a hotel key.
Coolibar Men's Hat
Dimensions: Small – XX-Large
Specifications: Natural pattern; foldable; polyester and cotton blend; 3 inches brim; UV protection; crown mesh; chin cord
Best Use: Working outdoors
This Coolibar Men's Hat comes in different sizes, ranging from Small to XX-Large. You can order whichever size you want for the same retail price, which is a definite plus.
The fit as expected rate is 80%, and that's another advantage, to which the internal elastic band has an important contribution. That's because each size allows for a maximum head circumference, but the smaller ones need adjustment for a tighter fit.
The foldable design is a real positive, considering that you can easily pack it in your backpack or even grab it in your pocket. That makes it travel-friendly, which is one of our top factors to choosing the best hats for sun protection.
The fabric used is a mix of polyester and cotton which keeps it lightweight, breathable and resistant to sweat. So wearing it will definitely keep your head feeling cool and ventilated, but it will also prove a great protection for your neck and shoulders.
Apart from having a large, 3 inches brim that can cover them, the UV protection factor is pretty high so you won't get any sunburns.
The mesh used for the crown allows extra ventilation, so you won't just get your head covered, but your skin will be able to breathe and help you feel truly comfortable. That, in turn, will help you withstand bigger temperatures too, not just the glaring sun.
Plus, there's a chin cord attached which you can easily adjust to make the most out of windy weather seeing as the wind aggravates the negative effects of the sun, thus making sunburns even worse.
Tilley Endurables Hat
Dimensions: 10 x 11 x 8 inches
Specifications: 6 7/8 to 8+ sizes; organic cotton; wide brim; 0.75 inches polyester mesh; 50+ UPF; secret crown pocket
Best use: Low-impact outdoor activities
This Tilley Endurables Hat can be found in a price range of $66.94 – $95.00, depending on the size you'll choose. And you really have a lot of options, starting with the smallest size of 6 7/8 to 8+. The generous range of measurements in between probably explains the high 80% fit as expected rating.
On the other hand, you don't have a lot of options where color is concerned since all the models offered just have different variations in Olive. But that's not necessarily a bad thing: this light color can protect you against heat and UV rays, meanwhile offering you a good camouflage if you're wearing the hat hunting for instance.
Manufactured entirely from organic cotton, this hat is great for low-impact activities since cotton absorbs moisture.  However, cotton is a comfortable, soft material that's low-weight, breathable and resistant.
The wide brim of this hat will keep your neck and shoulders cool too, and thanks to the polyester mesh that's 0.75 inches wide, ventilation will be totally ensured.
The maximum 50+ UPF rating ensures you won't get any sunburns or a heatstroke. Thanks to the wide brim, your eyes will be protected too so you can comfortably work outdoors for hours. The secret pocket that's hidden in the crown is another cool feat, and many internet reviewers use it to keep their fishing license at hand.
Outdoor Research Sombriolet Sun Hat
Dimensions: 9 x 10 x 6 inches
Specifications: 86% nylon; 14% ripstop polyester; Supplex nylon under brim; foam-stiffened brim; crown vents; TransAction headband; chin cord; adjustable drawcord
Best use: Extremely windy conditions
This Outdoor Research Sombriolet Sun Hat is priced at $30.79 – $49.99, considering the appropriate size you get: a Medium, a Large or an Extra-Large. Whatever you may select, the fit as expected rate of 86% should give you confidence that it will be a good fit. The Fatigue pattern is a good camo color, and it will shield you from the dangerous UV rays.
The manufacturing is amazing, with the purpose of protecting you from theintense sun because it's sun protection factor is UPF 50+. Even when it's very hot and humid outside, this hat will keep you ventilated and cool. Not to mention that it's lightweight enough, you won't even feel it on.
We love the whole design, starting with the materials used. The mix between nylon and ripstop polyester for the crown is great for moisture wicking. Also, the Supplex nylon used for under the brim keeps you shaded and refreshed. In fact, the crown has vents and mesh lining for this exact reasons: dealing with unwanted sweat and maintaining a good air flow.
The brim is foam-stiffened and has piping on its edge to make sure it does its job, while the headband is TransAction and keeps your hat in place. Plus, you can easily adjust it thanks to its external drawcord or secure it even tighter with the chin cord.
All these features are amazing for extremely windy weather, ensuring your hat doesn't fall off and the brim can still protect your neck and shoulders from the sun.
Camo Coll Outdoor Sun Cap
Specifications: cotton and polyester blend; khaki; one size; crown mesh; large brim; drawstring
Best use: Outdoor trips
This Camo Coll Outdoor Sun Cap comes in one size and has an appealing Khaki color which makes it look fashionable and laid back at the same time.
But if you prefer something brighter, or conversely a darker shade, you have 11 more patterns to choose from. Khaki is a valid choice though since it repels heat, and keeps you camouflaged.
With a mix of cotton and polyester, this hat will keep you insulated, ventilated and free from sweat. These are great materials since they account for a low total weight of the hat, helping you feel comfortable at all times. There's also a mesh part on the crown for better air ventilation, which is always a plus.
At a convenient price, you'll get a good, resistant hat with a pretty large brim. The diameter is 7.5 inches inside and 13.5 inches on the outside, so you can rest assured it's a good fit for most people, and that it's wide enough to become a good protection against the negative effects of the bright sun, like heatstroke and sunburns.
Since these effects are accentuated when it's windy, this hat comes with the option of an adjustable drawstring to guarantee it safely stays into place.
Columbia Sportswear Sun Hat
Dimensions: One size
Specifications: 100% nylon; Grill pattern; adjustable drawcord;chin strap; 50+ UPF; quick-dry sweatband
Best use: Fishing
At 4.6 stars this Columbia Sportswear Sun Hat has a stylish pattern that looks grayish, and it's called Grill. However, you can choose between this and seven other different colors, if you want something less traditional.
All these models are great since they're made from nylon 100%. This material is amazing for wicking moisture and for rendering the hat very lightweight.
The adjustable drawcord is a nice addition for windy days, and you can toggle it behind for an even tighter fit. The chin strap is adjustable too, making this hat fit well no matter how large your head is. Although it's a one size model, most reviewers are happy with what they got.
The 50+ UPF is high enough to keep you safe from the burning sun rays, which is what this hat was intended for. Conversely, since it's made from nylon, it can also prove a good shield in case of an unexpected rain.
The technology used for ensuring you get the desired shade and air ventilation for increased breathability and protection against the sun is called Omni-Shade. The sweat band is Omni-Wick and ensures your head remains dry and guarded against perspiration because of its quick-dry attributes.
Adam's Headwear Hat
Dimensions: One size
Specifications: Navy color; one size; adjustable back; 45+ UPF; low profile crown; mesh panels; metal eyelets; foam visor; veil with hidden zipper; elastic cord; terry sweatband
Best use: Extreme weather
Adam's Headwear Hat is one of the best hats for sun protection considering it has such a high rating and a 91% fit as expected score. The adjustable back is surely why most people can comfortably wear it, and the Navy color looks vintage and professional at the same time.
Of course, if you want a brighter or a lighter shade, you have four other color options to choose from. This hat was manufactured for extreme weather conditions, and it can shield you perfectly from the sun thanks to its 45+ UPF. Besides, the crown has a low profile and four panels, which account for a terrific design.
In fact, these mesh panels are responsible for good ventilation, along with the metal eyelets that are large screen. They also account for fast moisture release, ensuring that you won't even feel you're sweating when it's really hot outside.
The visor is 3.5 inches and it's covered with foam, thus increasing floatation. The included veil is 8.5 inches long and it covers your neck and ears, keeping you shaded and cool. There's also a hidden zipper on the veil, to make sure it's easy to take it off.
The elastic cord has a metal clip, so apart from adjusting your hat in windy conditions, you won't lose it when taking it off since you can quickly attach it to your clothes. The terry sweatband and mesh lining made from Cool-Crown are other remarkable feats, literally making moisture wicking a breeze with this hat.
Sunday Afternoons Adventure Hat
Specifications: Cream/ Sand; water and stain resistant; 100% polyester; 50+ UPF; mesh crown; downsloping front brim; floatable foam core sides; neck flap;
Best use: Various outdoor adventures
This Sunday Afternoons Adventure Hat is retailed in a price range of $10.88 – $85.79. You can get it in Small, Medium or Large and the fit as expected score is a whopping 92%.
The Cream/ Sand color pattern is great both for camouflaging purposes, and resisting heat and powerful sun rays, but you have 12 other models to choose from if you're not happy with this.
The fabrics from which this hat is manufactured are great for moisture wicking, plus they're water and stain resistant. Since the material used is 100% polyester, you can rest assured it will keep you cool and dry no matter how hot the weather gets.
Moreover, the high 50+ UPF is bound to offer top notch sun protection while the mesh fabric used for the crown provides great air flow and ventilation.
The design has a big contribution in these regards too, starting with the front brim. This has a down-sloping construction and it's 4 inches wide to make sure your eyes are shielded from the bright light. The sides are 3.75 inches and have a floatable foam core, with polyester wire to ensure a good fit.
Besides, the neck flap you'll find in the back is long enough at 7.5 inches to protect your neck from the sun, and in case you don't want to wear ityou can use the lift-up tab.
The hat you'll get
With all these options available we sort of feel like the Mad Hatter. But we're sure you've already set your eyes and heart on a good hat, so tell us which one that is.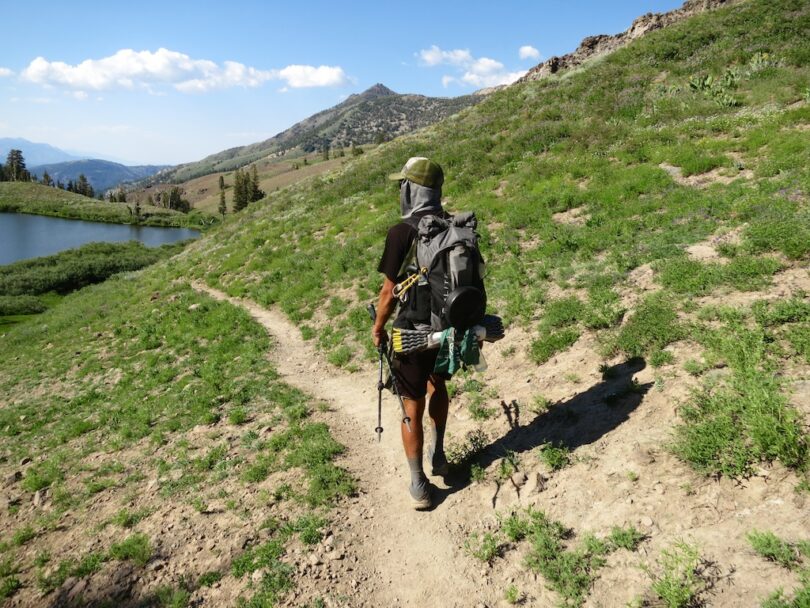 What sort of sun hat have you been using until now? Would you recommend it to others? Is there a hat you really loved or one you've tried and hated to bits? Have we missed something in this article? Let us know in the comments!
Do check out our guide on what to wear hiking to protect yourself from the elements.
Some of the links in this post are affiliate links. This means that if you click on one of these links and make a purchase, I earn a small commission at no extra cost to you. Also, as an Amazon Affiliate, I earn from qualifying purchases. If the information in this post has been helpful, please consider purchasing through one of the links in this article. Thank you.