If you're going to be heading out on your own in the wilderness one of the most important things you need to be able to do is travel. That means you need to have the right gear to get out there and walk through the dirt, over hills, through rivers, maybe even over mountains and climbing trees.
[the_ad_placement id="in-text-1-type-a"]
That means you need things like coats and thermal clothing but you also need boots because the shoes that you wear are definitely going to play a big part in whether or not you are able to survive. The best survival boots are going to prepare you for anything, but having anything subpar could result in anything from hypothermia because water gets in to a broken leg because you've wrenched it walking through bad terrain.
What to look at
You need to look at several different factors when you decide to get your own survival boots. You need to consider the makeup first of all because that's how you're going to know if the boots you've chosen are actually going to be good quality and last or if they're just going to fall apart when they come into contact with difficult terrain.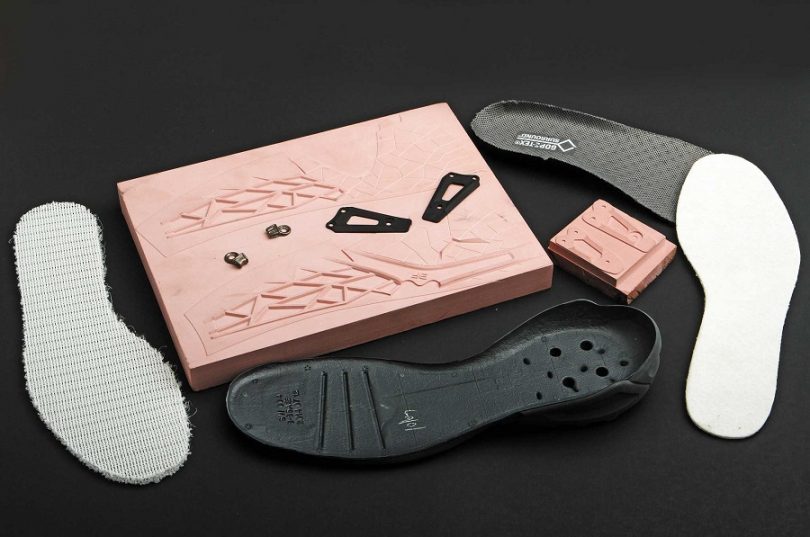 So make sure you're paying attention to all the right things before you pick them up.
Soles
The soles are essential to a good pair of boots. The soles need to be thick and they need to be stiff as well. On the other hand, you want them to be flexible enough that you can easily walk in them. Too stiff and you could hurt yourself trying to move. Too soft and you could end up getting stabbed by something you step on.
Upper
The upper is supposed to be strong enough and sturdy enough to resist breaking from sticks or stones that may come into contact with your feet while you're walking. At the same time, it can't be too stiff or you could end up cracking the material when you try to walk.
Make sure these uppers are also waterproof but still breathable. A synthetic material is generally going to be the best option to provide both at the same time.
Inner
The right padding is going to be important because it keeps the shoes themselves from rubbing against your feet and causing blisters. You want enough padding that you're going to be comfortable walking in the boots for long periods of time, after all, that's the whole point of them right?
Insole
Insoles should have some padding and they should also provide good arch support. Too much arch support can hurt your foot while you're trying to walk. Not enough arch support can result in becoming flat footed. Neither of these is a good option so make sure you try on your boots and decide if they are comfortable to walk in or if you need some different support.
Scree Collar
This is an area you may not have known the name of before but it's the padded space at the ankle of your boot that fits tight to your leg.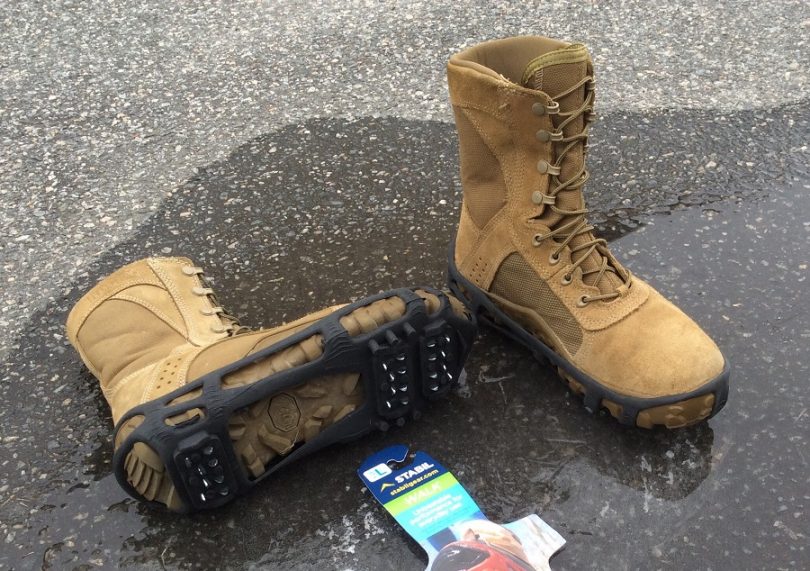 It's supposed to keep out debris and make sure you don't get blisters or sores. Make sure that you are watching this section if you notice you're getting them anyway as it may lead to problems walking.
Lacing
The strings on your boots need to be high quality so they can be tied up tightly and last for a long time. You want something that will fit properly in the boots you have (even if that means purchasing something separately) and you definitely want to make sure that you lace them the right way.
You need them tight and fitted right to your foot. Anything less is going to result in your feet sliding and that could cause blisters over time.
What you need most
When you go out looking for your boots you need to make sure that you're looking at the right aspects. You don't want to pick out boots that seem to have a decent sole, insole, upper, inner and everything else but find that they are lacking in some of the very important aspects.
These are some of the most important because when you're out for your own survival you need to be sure you are protected as much as possible. Things like extra weight, moisture and a twisted ankle can be detrimental or even life-threatening. Definitely not worth it when it's so easy to prevent.
Lighter boots
The lighter the boots you get the better they're going to be (providing that they fit all the other qualifications of course). If you're out for your own survival even a few extra ounces can be a problem because you need to be able to carry absolutely everything you need on your own back (in most instances at least).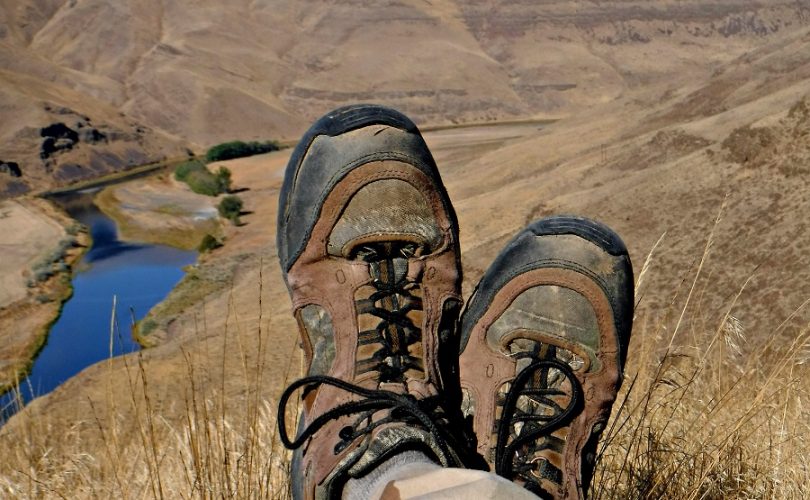 The lighter your boots are the easier it's going to be to hike those long distances that you need. You'll have to put less effort into the process and that's definitely going to be essential for your safety.
Waterproof
Having waterproof boots is a must because you never know what you're going to be hiking through. You may need to wade through a river or you may just need to walk through a rainstorm. No matter how much water you're surrounded by you want to make sure that your boots are not going to let that water in.
See also: How to Waterproof Boots: Methods And Products to Keep Water Away From Your Shoes
If your feet get wet you could end up with blisters or even with hypothermia and that's going to slow you down or even prove deadly. Make sure you don't just trust the waterproofing your boots come with either but actually spray them down so they're really protected.
Ankle protection
Any boots you pick up for hiking should come up over your ankle because you want to be protected against rolling your ankle. When you're walking on even terrain, such as down a road or sidewalk, this is generally simple.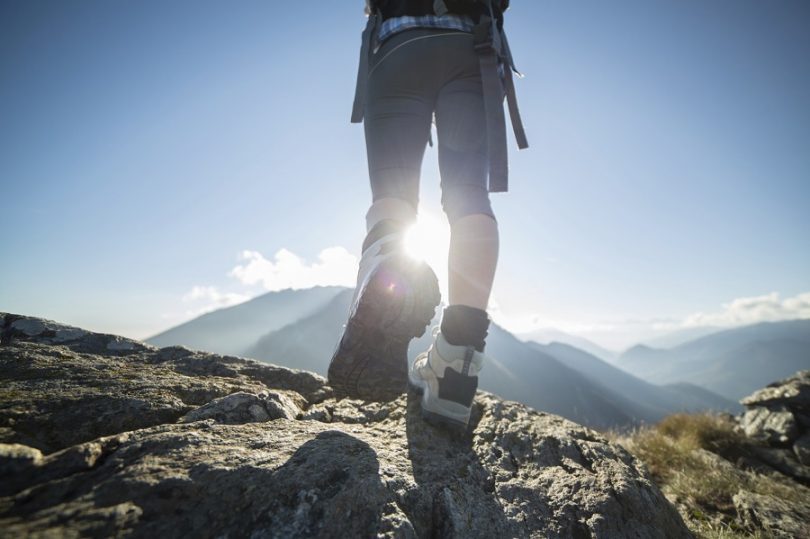 When you're walking over uneven terrain however, you could find yourself bending or twisting and you could find your ankle moving around to try and accommodate the changes in your footing. This movement could roll your ankle which could be as simple as a sprain (which is bad enough in dangerous situations) or as bad as an actual break.
Range of motion
No matter what you are doing you want to make sure that you can move easily. A smooth and easy range of motion is going to make it much easier to move around and to get where you need to be when it comes to traveling and hiking. You definitely don't want to be stuck where you can't move your ankle at all because this makes it more difficult to get around and you could end up getting hurt this way as well. It's a difficult process to balance range of motion with ankle protection but it's an important balance as well.
What to watch out for
When you're choosing the right boots it's important that you look at some key traits. Not all boots are going to be created equally and if you aren't careful you could easily end up hurting yourself by purchasing something that's made with a poor level of quality. You definitely don't need that when you're trying to protect your life in a lawless land or if you're trying to get through a forest or over a mountain. You're trusting your survival boots to take care of you, so make sure you're paying attention before you start.
Check stitching
The stitching on the boots should be done to a high standard. You don't want missed stitches or anything loose. Loose threads or stitches could mean that they will come out when you're walking and that means your boots are going to literally fall apart right there on your feet.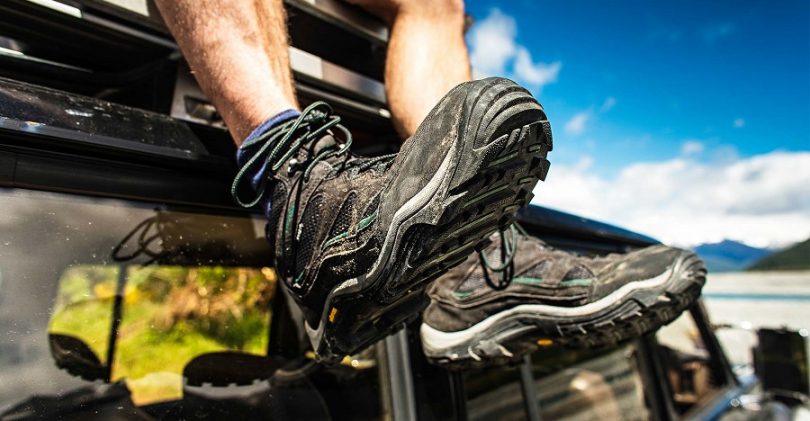 It also means that, in the meantime, they aren't going to be very waterproof and you're going to end up with wet and dirty feet and possibly even blisters because just about anything can get in through those cracks and weak spots.
Leather thickness
The leather used to make the boots should be high quality. You don't want any kind of weak spots or thin spots in the material because those are spots that are going to crack or wear away. They're going to let in water or they're just going to break down and that's going to result in problems for you as you're walking.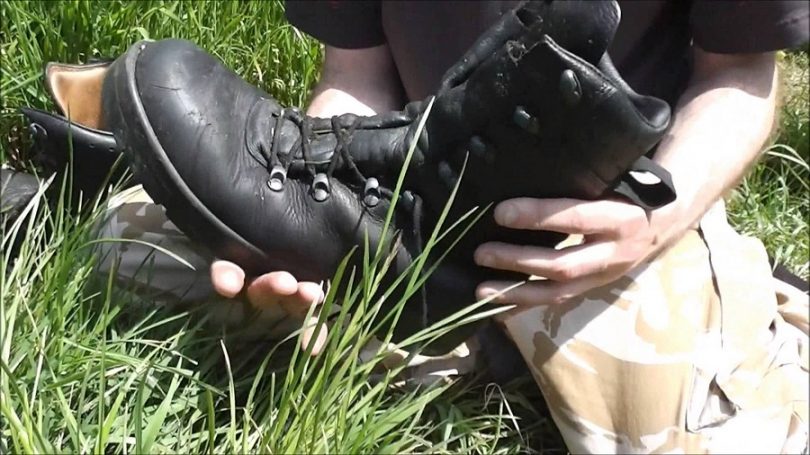 The leather should be the same thickness all the way throughout the boot in order to provide the surface and the quality that you actually need. Just make sure that you're also getting real leather (unless you opt for something synthetic).
Heavy tread
The tread on your boots should be thick enough that it's going to last a long while. You don't want to find yourself with no tread left after only a couple weeks because that means you're going to have a less sturdy and capable product as you continue to walk. The tread is what's going to keep you stable going over less than stable terrain.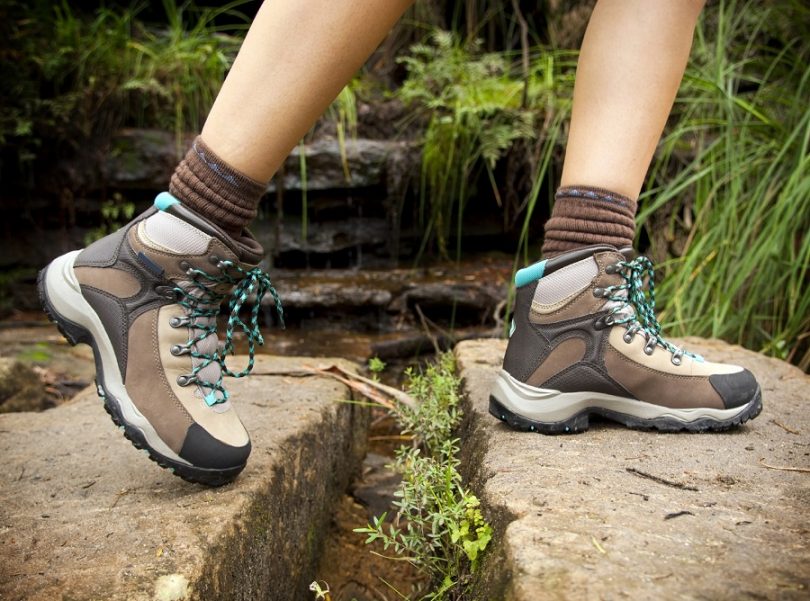 If you have nothing on the bottom of your shoes to grip with you could easily fall or otherwise hurt yourself if you're forced to climb over rough terrain or even if you're forced to climb up hills or mountains.
Durable pieces
You need eyelets in your boots to make sure that the holes for your laces are going to stay sturdy and not wear out. But you also need to make sure that those eyelets are made of quality material. You don't want them slipping out of the holes or bending and breaking.
Instead, they should be firmly placed and not easy to pull out. Likewise the laces that you're using should be high quality and should not fray or break when you pull them tightly around and through the eyelets or any other hooks and latches.
Sturdy laces
The laces should be braided and made of a synthetic material that's going to make them more sturdy and long-lasting. Thin, flat, or single length boot laces are fine if you're just going to be using the boots one day or if you're going to be wearing them around town.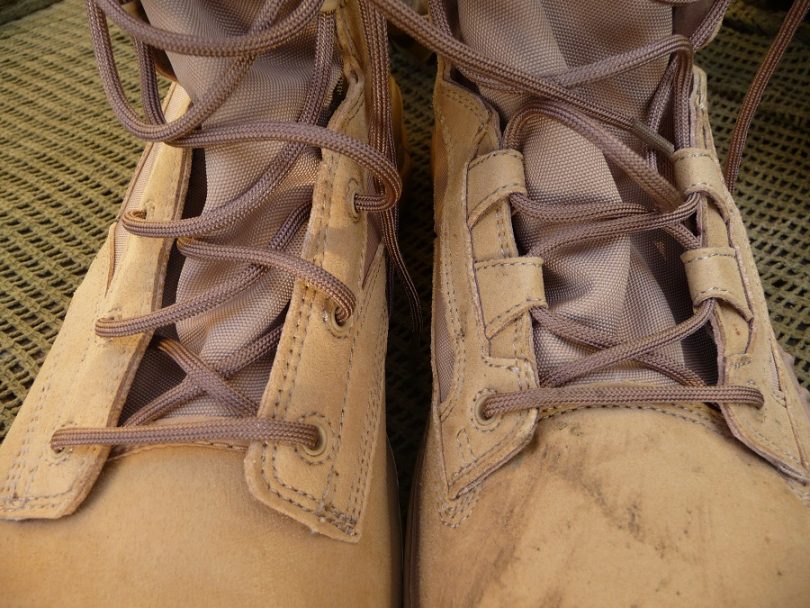 When you're wearing them for an extended period however, you need something that's built to last a very long time and laces that are woven with sturdier and thicker materials are definitely going to do that much better than thin or ill-made laces.
Leather smell
That leather smell isn't really important in most aspects, but it will tell you that the boots are made of real leather and that they are brand new. This is important because secondhand shoes could result in problems for you in the long run.
If you're paying attention you'll know right away whether the boots you've purchased are actually new and if they're actually leather because of that strong smell. Luckily it's not a bad smell either considering how your boots are probably going to smell after you've been wearing them for a few days (or weeks) tramping through the wilderness.
Best boots reviews
Bates USMC Rugged All-Terrain Hot Weather Boots
These boots are moderately priced and made with full-grain leather and nylon. The nylon uppers are designed to be breathable so you'll always be comfortable while you're walking. Even more, the leather lowers are intended to protect your foot from anything that they may come into contact with.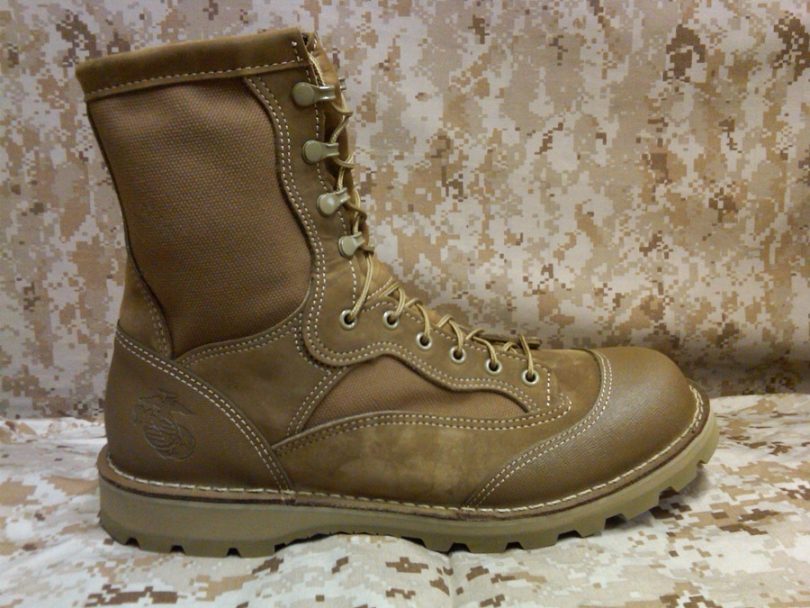 There's even an added leather piece over the toe and heel to add more protection and the quick lace system allows for an easier and more accurate fit. Tan in color, these boots have a deep tread for stability.
Like this product? Then you can buy it on Amazon.
Voodoo Tactical Boot
These boots have a nylon and leather frame and are a little lower than other survival boots. They make great hiking boots however because they provide a better range of motion and also a comfortable inner with moisture wicking lining.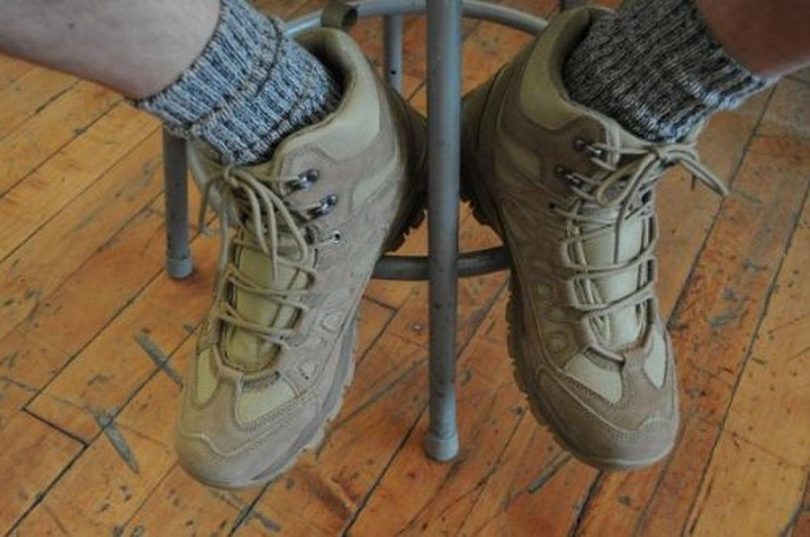 The soles are slip-resistant so you can easily travel through even tough terrain and at a much lower price you'll also have no problem picking up a couple pair. There's added padding in the collar and tongue to keep your comfortable and a removable foot bed to provide more ease while walking.
[the_ad_placement id="in-text-2-type-a"]
If you interested you can check its price on Amazon.
Garmont Men's T8 Bifida Boots
A little more expensive, these boots may not look like much but they're definitely going to keep you moving when you need to be. They're made with canvas and a Vibram sole, but that definitely doesn't mean they're anything but the best. Moderately priced, these boots are intended to dry quickly and ventilate easily in wetter climates.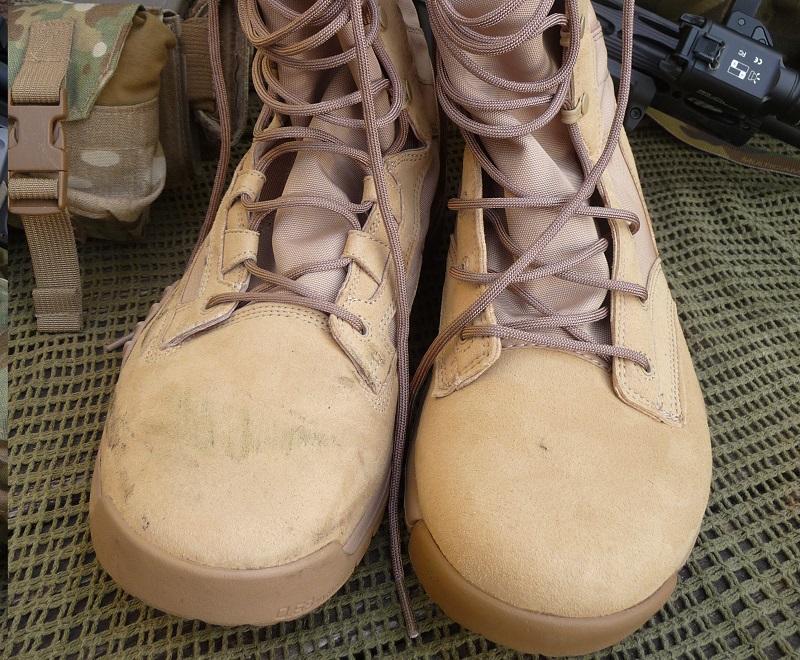 Using a zero optical refraction hook, eyelet and ball bearing for lacing and suede leather uppers for easy fitting, these boots will definitely provide you with excellent traction as well as absorbing shock.
Like this amazing product? Then you can purchase it on Amazon.
Rocky Men's C4T Tactical Boot
These boots are designed to move with you no matter what you're doing. That means they fit directly to your foot and ankle and you'll have almost your entire range of motion like you weren't wearing shoes at all.
Available in three colors, these boots range from low to moderate on the price scale depending on the specifics of what you need for size and color. They're made to fit higher up your ankle and have a small heel and platform to provide more traction. You'll also like the fast-drying aspects of the leather/fabric combination that they're made of.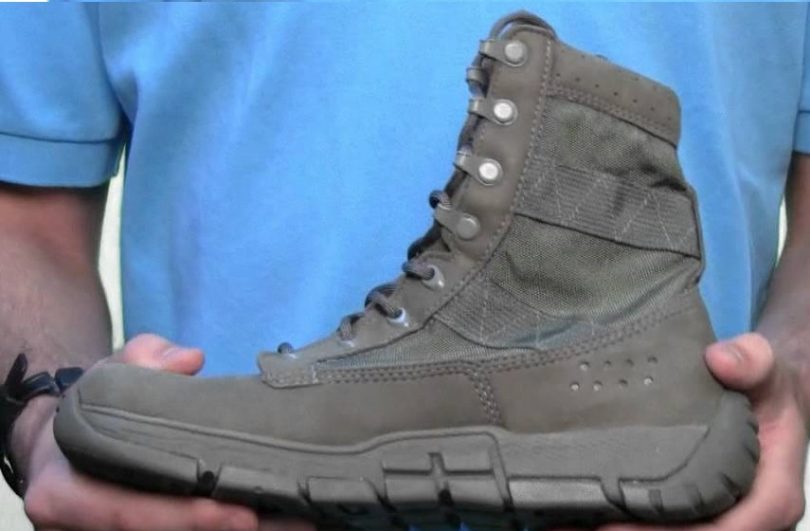 With the eyelets and NATO hooks they're also a lot easier to lace than other boots and the rubber sole helps keep out debris while also making it easier and less clumsy to walk around. 550 paracord laces and a lightweight style, these boots are great for anyone looking for survival.
If you interested you can check its price here.
Magnum Men's Elite Spider 8.0 Boot
Here you're going to get a moderate priced boot that's a little bit bigger and bulkier than other options. It's made with leather in a web-style overlay pattern that covers SpiderMESH lining to provide excellent moisture wicking.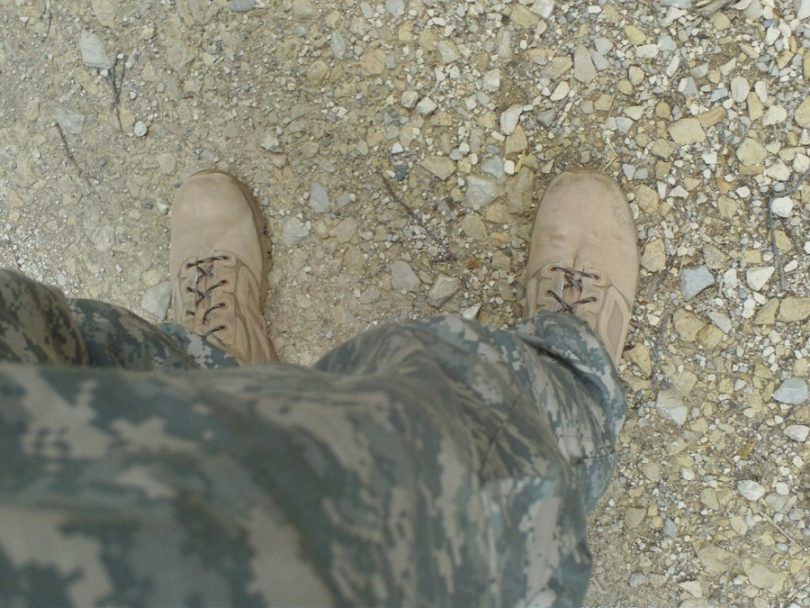 There's non-metallic hardware inside which means you'll get through any type of security easily and the cushioning throughout makes it comfortable to wear no matter how long you're out in anything, including the desert heat that these boots were made for. Moderately priced, they also include a removable sock liner for even more comfort and durability.
If you interested you can check the current deal for it on Amazon.
In conclusion
No matter what your plans are you want to make sure that you have the best survival boots possible before you head out into the wilderness. Whether that means it takes you several tries to get out there and choose the right pair or not that's what you need to do.
[the_ad_placement id="in-text-3-type-a"]
There's no reason you should be heading out on your own, trying to fight off the weather and poor terrain in something that doesn't fit you or doesn't properly prepare you for what's out there, or what you may have to do when it all comes down to it.
Check out our reviews of the best survival gear to help you prepare for anything.
Some of the links in this post are affiliate links. This means that if you click on one of these links and make a purchase, I earn a small commission at no extra cost to you. Also, as an Amazon Affiliate, I earn from qualifying purchases. If the information in this post has been helpful, please consider purchasing through one of the links in this article. Thank you.