Whether you are a construction professional or simply looking for the right equipment to perform DIY repairs at home, it's always a good idea to invest in the proper tools. Depending on the type of work you wish to do, you will need to build up your tool set piece by piece. A circular saw is an excellent investment, and it can more than pay for itself over time.
[the_ad_placement id="in-text-1-type-a"]
After all, why hire somebody to do something you could just as easily do yourself? When searching for the best circular saw on the market, it's crucial that you understand what to expect from this kind of power tool. There are a number of brands, types, and sizes to choose from. It's not just about selecting a brand name that you know, but also value for money and quality.
Essential precautions
When working with any power tool, especially one that can cut, there is nothing more important than safety! While a circular saw might not have the same power as an angle grinder, it can still do a number on you if you're not careful! Make sure you also have a complete first aid kit handy. See our article on how to assemble one to be prepared.
You should never use power tools alone. Always make sure that there is somebody nearby just in case of an accident. Remember to wear safety glasses as well as hearing protection and gloves.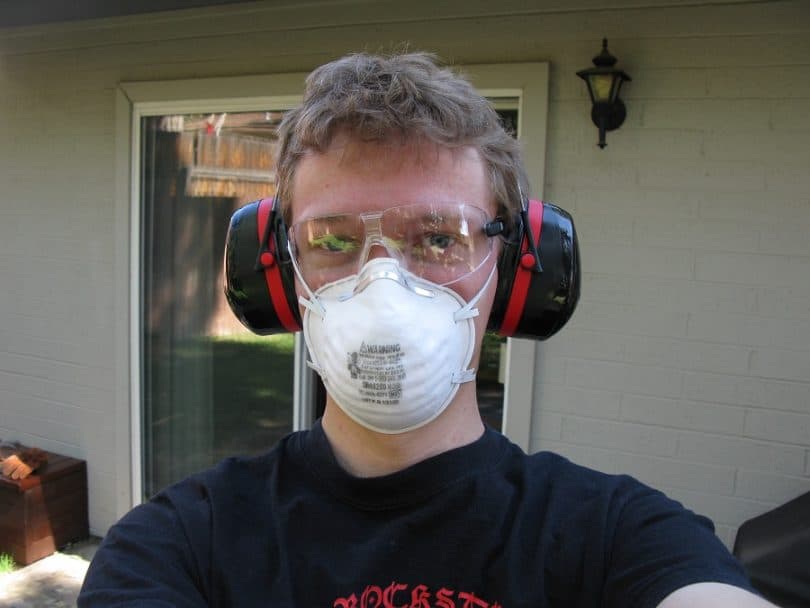 Splinters and dust can fly while the noise can damage your hearing. Remove all jewelry, tie back your hair, and avoid wearing particularly loose clothing. Make sure that you set the depth of the saw 1/8 inch thicker than the material you're cutting.
See: How To Use A Circular Saw: Secrets And Techniques
Your saw should be fitted with a guard, and it should never be removed. This guard is there for your safety. It should only be pulled back as you prepare to saw the material.
Always hold the saw firmly with both hands while the blade is turning. Even if you're done cutting, wait for the blade to stop before setting the saw down. Make sure that you stand to the side of the material you're cutting.
This will keep you out of harms way. Before you start to cut, inspect the blade and make sure that it is not damaged or dull. Make sure that any onlookers also keep a safe distance while you work.
Cordless versus electric
Before choosing the type of saw you wish to purchase, you will need to decide whether you want one with an electric cable or the cordless variety. Both of these options have their fair share of pros and cons which means that your personal needs and preferences will be the final determining factors.
Corded varieties tend to be more powerful than cordless ones. They also tend to have larger blades than the battery powered saws.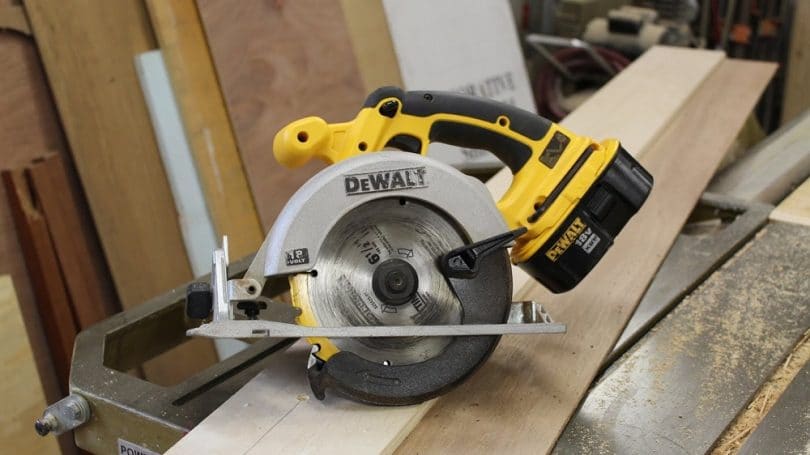 The main disadvantage is the cable itself. It can get in the way, and it can also be inconvenient if you don't have a power source nearby or if the power goes out. Cordless varieties are completely mobile so you can just pick it up and take it wherever you need to work.
This is convenient and helps save time. On the down side, apart from the lower level of cutting power, the batteries only last so long. Depending on the charge time, you will need at least one spare battery. This is the only way that you'll be able to work uninterrupted.
While you use one battery, the other can charge, and you have to switch them out regularly. Some batteries need to cool down before they will charge so this can also cause a delay and, to minimize heating, you should keep your saw in the shade.
Proper maintenance
Power tools and any type of equipment is usually backed by a warranty of sorts. The length and the terms of the warranty will depend on the product and its intended use. Even with an extensive warranty, it's always important to make sure that you take proper care of your saw if you hope to get as much use out of it as possible.
Just like your car – the better you take care of it, the more miles you'll get. Maintenance is more convenient and cheaper than repairs!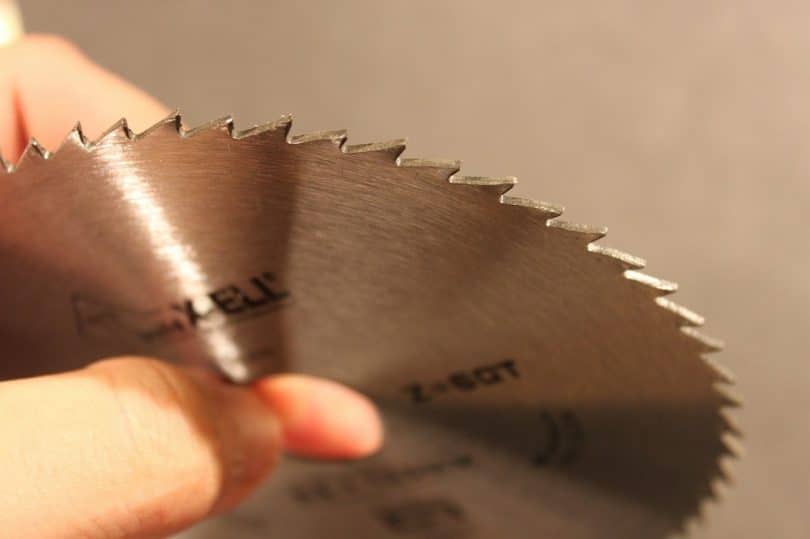 After each use, you should take the time to clean your saw thoroughly. Remember to unplug or remove the battery before you begin the cleaning process. A light brush with a clean (preferably new), dry paintbrush will remove the larger surface particles.
Never wash the motor or other electronic components with water. You can use a slightly damp cloth to wipe off the more stubborn dirt but never use a dripping wet rag!
To clean the blade, you should remove it from the saw before washing with an all-purpose cleaner. You might need to let the blade soak in soapy water before inspecting for stubborn dirt. Once the dirt is all gone, rinse thoroughly and allow to air dry completely before reassembling your saw. While cleaning, always inspect for damage.
Circular saw accessories
When purchasing a circular saw, it's good to understand the various accessories you might need. Cordless saws will often require an additional battery if an extra one has not been included. Saw guides can also be helpful in obtaining perfect results.
You should also invest in extra blades and keep them on standby since you never know when you current blade might get damaged or become dull. Remember; there are different types of blades, and they each have their own purpose.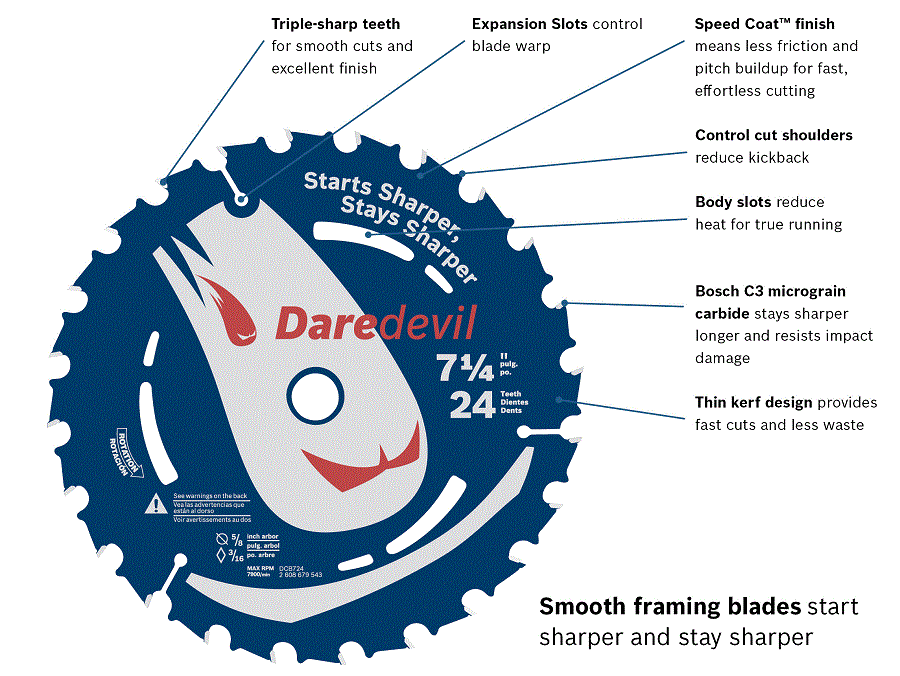 So, if you're not sure, ask a professional or read up online when selecting your blades. You should also keep a lubricant on hand since saws do require some form of friction reduction from time to time. Not only is it good for the saw but it will help ensure more use out of each blade and better cutting results.
Remember, should you require a replacement part for your saw, you can either contact the manufacturer or search online for the right part. If your saw is still under warranty, you will need to go through an accredited repairer, but you should also check if the repairs are covered by the warranty.
Comparing various saws
Just one important note to remember before choosing your circular saw: always check all the specifications. This includes the blade sizes that the saw can accommodate. It's good to buy extra blades but it's better to try the product out before investing in any accessories.
Simply put, if you purchase a saw, and you aren't completely happy with it, you might be eligible to return it or exchange it for a different model. This different model might not have the same specifications as the first one and, if you buy a whole set of blades, you might be stuck with them!
So, select the saw you want based on the intended use and give it a fair amount of testing before buying such things as blades, extra batteries, and so on.
Bosch 15 Amp 7-1/4 in. Circular Saw
Bosch is a well-known and respected name in appliances and equipment. This particular model is reasonably priced at just over $150. The lightweight design makes it easier to handle and work with for extended periods of time. The blade is positioned to the left in order to increase visibility.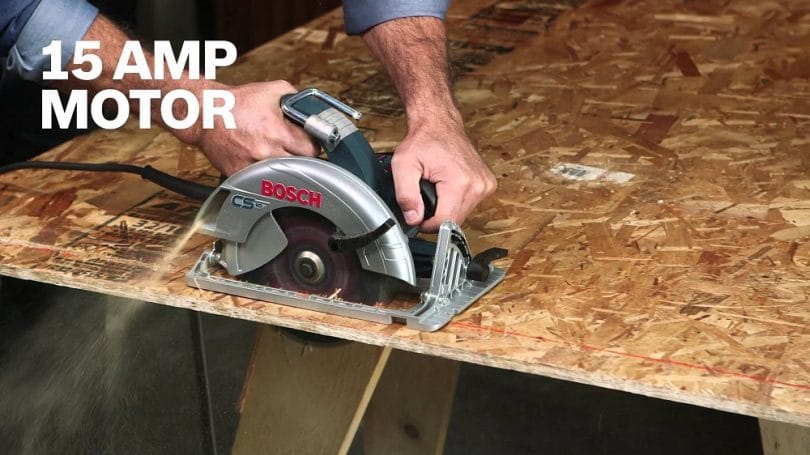 The lower guard makes it possible for you to use this saw without an advance guard. This is a corded saw and boasts a speed of 6200 RPM (without a load). The name itself should speak to the quality and reputation of this product.
DEWALT DWE575SB 7-1/4-Inch Circular Saw with Electric Brake
DeWalt is another big name in the DIY and construction industry. This saw retails for less than $150, and it is tough enough to handle fairly heavy duty tasks. It's easy to use, compact, and lightweight.
With a 15 Amp motor and integrated dust blower, this tool will make your work that much easier. This saw also boasts a well-balanced design along with its durability. It is perfect for cutting siding, plywood, exterior finishing and other types of wood.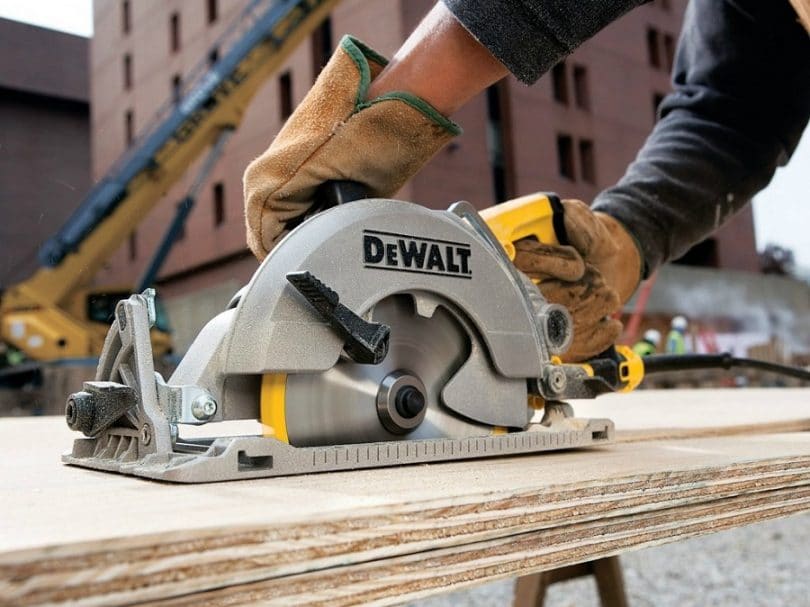 The quality gears ensure smooth cutting and a satisfactory result. Most customers find this to be an excellent product. However, there have been some concerns regarding its precision. It's always advisable to check any saw thoroughly to ensure the blade is perpendicular to the shoe. This makes perfection that much easier to achieve.
Rockwell RK3440K VersaCut Circular Saw
At less than $130, this is one of the most affordable options. The ergonomic design makes this saw easy to use. The laser indicator helps guide your cuts while the plunge cut indicators display the precise blade entry point. This powerful mini saw is powerful despite its compact design.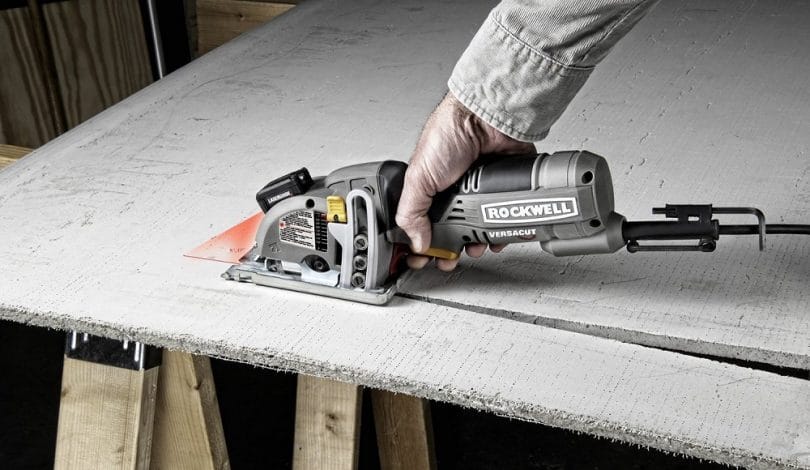 Use the VersaCut Saw on wood, plastic, flooring, metal, and ceramic tile. The streamlined design and other aspects make this saw a pleasure to use rather than one that causes excessive fatigue. That said, the grip might take some getting used to and, since the blade is not necessarily easily visible, precision cuts can be difficult.
This mini saw is extremely affordable at just $40. It boasts incredible power along with the advantage of being lightweight. It's also easy to clean and is perfect for smaller tasks where a large saw may fail. The LED light and LaserTrac are two features that help ensure accuracy.
This product is best for light work. Given its size, the blade will not penetrate as deeply as that of a larger saw.
Ridgid R8653 GEN5X 18-Volt Brushless Circular Saw
This saw sells for less than $100 and is of the cordless variety. It offers supreme cutting power as well as a longer run time and motor life. This saw is great for those jobs that require hours of work.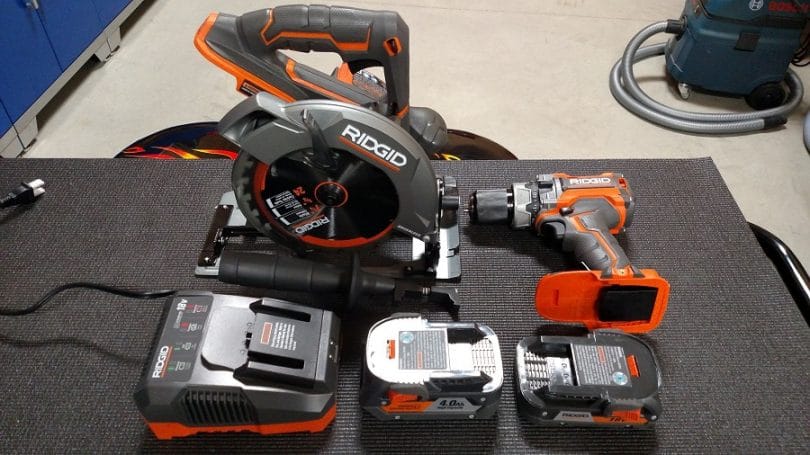 There are few things more frustrating than short battery life, and this saw more than makes up for that.
Hitachi C7SB2 15 Amp 7-1/4 Inch Circular Saw
Hitachi is also well-known around the world for manufacturing construction equipment and tools. The bevel capacity is impressive in that it offers a wide variety of applications. The one-piece base is made from heavy-duty die-cast aluminum alloy.
The non-slip grip handle makes it safer and easier to control. This saw won the Tauton Press 2005 Best Value Award and boasts a speed of 5,800 RPM (without any load) thanks to its 120 Volt, 15 Amp motor.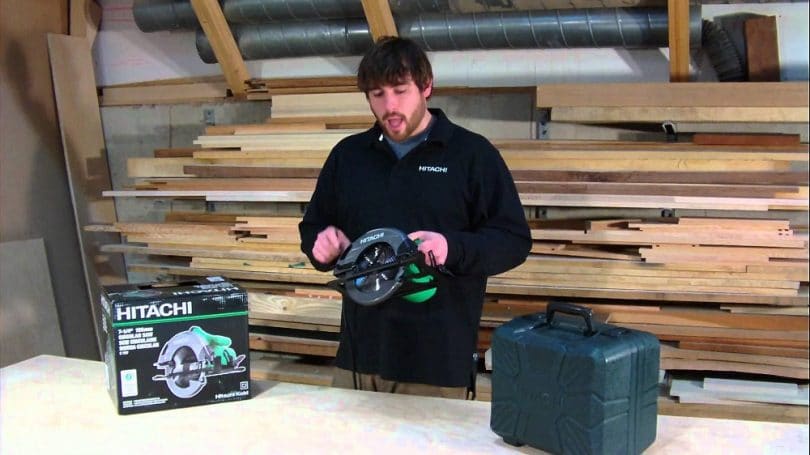 Hitachi has been in the industry for a number of years already which is why this name is one of the most trusted names in the industry.  This saw is praised for its great value for money and use in DIY applications. The design is basic yet effective which ensures that a variety of jobs can be successfully performed using this one tool.
SKILSAW SPT77W-01 15-Amp 7-1/4 Inch Aluminum Worm Drive Circular Saw
This Skilsaw is known for its light construction and reasonable price. At about $170, this quality saw won't break the bank. It is fitted with an anti-snag lower guard for smooth operation. This model is a whole 1lb lighter than the previous model which means that you can work with it for that much longer with less fatigue.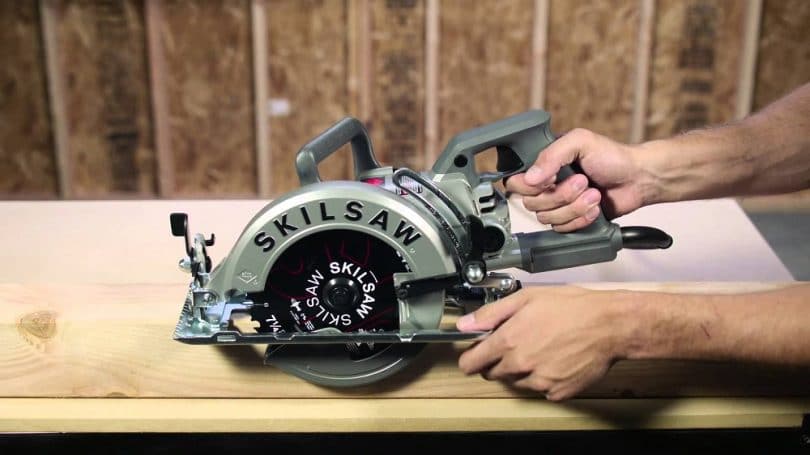 Its reputation and durability gain much favor with those who choose this saw over the many others on the market.
Dextra 15177 18-Volt Lithium-Ion Circular Saw Kit (Cordless)
This Dextra saw retails for about $70 which is quite reasonable in the world of tools and equipment. It offers 3,800 RPM (without a load) for making short work of just about any job. The laser cutting guide helps ensure accuracy while the 18 Volt lithium-ion battery makes this a powerful tool that will offer plenty of use before recharging is required.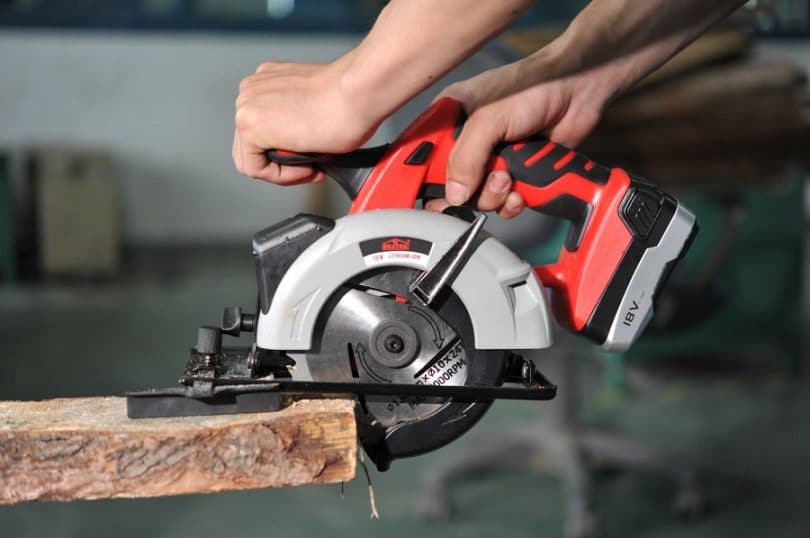 The built-in battery indicator makes it easy to check the power level as and when needed.
[the_ad_placement id="in-text-2-type-a"]
No nasty surprises for you! Dextra is known for making a wide variety of tools including drills, multi-tools, and even flashlights. Needless to say, their experience ensures that a quality product is a result the public can enjoy. All Dextra products are vigorously tested to ensure maximum quality. This saw is applauded for its affordability and for being a handy tool around the home.
Milwaukee 6470-21 15 Amp 10-1/4-Inch Circular Saw
This particular saw is somewhat on the higher end in terms of pricing. It sells for about $400, but the advantages more than justify the price. With an impressive RPM of 5,200 (without any load), 3.1 horsepower, and 2.300 maximum watts output, this truly is a heavy duty piece of machinery.
Given the power and durability of this saw, it's quite easy to understand that it weighs a fair amount more than many other lighter varieties. Of course, this is precisely what makes it ideal for heavy duty work.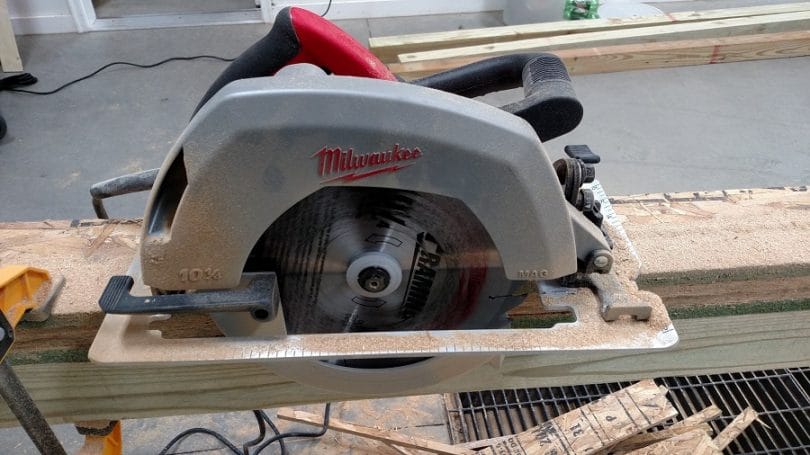 This and other Milwaukee tools are trusted by professionals as well as home users. Of course, given the price of this product, it is most popular among the former due to frequent use. This saw is the most popular of its kind on the market and, given all the benefits, it's no wonder why.
The saw's shoe is made from Aircraft Aluminum, which means that t will not warp or bend during even the most demanding cutting applications. While there have been some concerns regarding its reliability, these are isolated instances and the vast majority agree that this saw more than serves its purpose.
VonHaus 7-1/4 inch Circular Saw Corded Multi-Purpose Tool with 1 x 24T TCT Blade
For just $50, this saw is one known to suit those on a considerably tight budget. It can house a sizeable blade and dust extraction ensures minimal clean up. This saw has a no load speed of 5,500 RPM and is popular among professionals and DIY enthusiasts alike.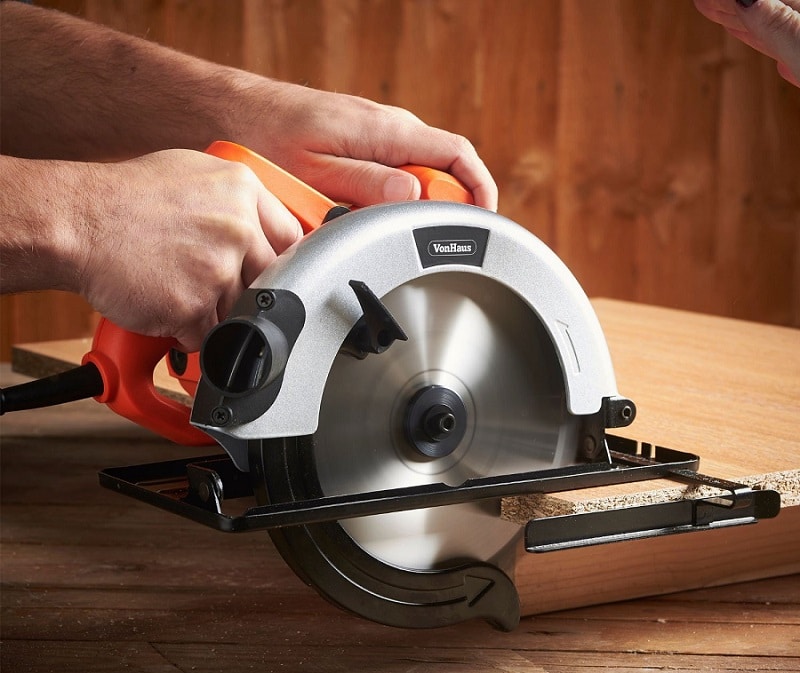 For the most part, this powerful saw has received a great response. Particularly considering the value for money it presents. Any concerns are isolated cases and, after just a few minutes of use, it's easy to understand why this VonHaus saw remains popular.
Makita 5402NA 16-5/16-Inch Circular Saw
This saw retails for over $700 and, as a result, is usually favored by professionals who seek a reliable saw that can handle daily use. It s a corded saw with a powerful 15 Amp motor and houses a large blade. The noise level from this saw only reaches 87dB which means that it is considerably quiet in comparison to other circular saws.
It also weighs somewhat more than many other saws, but this is largely due to its sturdy design. The blade stabilizer makes for safer, more precise cuts.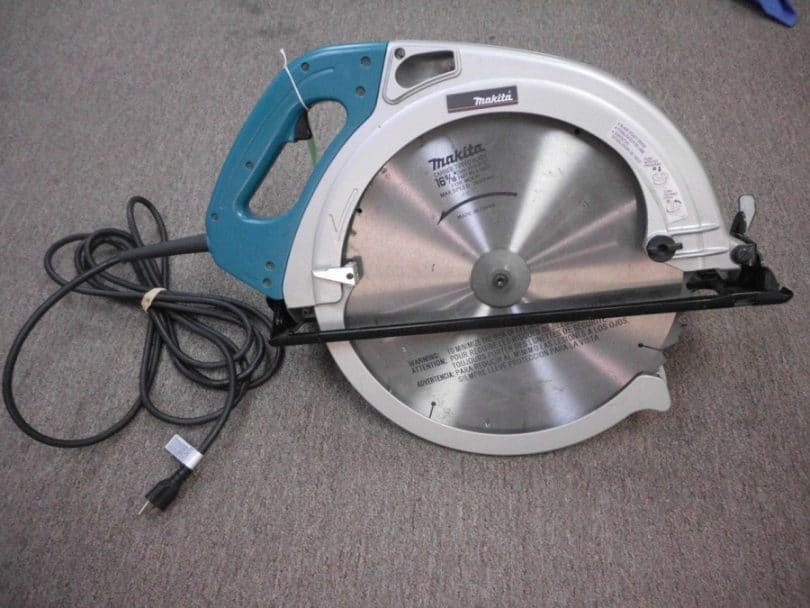 The RPM of this saw (without any load) reaches 2,200. This might seem lower than that of other saws, but it's always important to consider the size of the blade before reaching any conclusions. This saw is praised for its ability to make light work of even the toughest jobs. Jobs where smaller saws will fail, this Makita excels.
Makita 5007F 7-1/4-Inch Circular Saw
For anyone looking for the quality of Makita but with a more affordable price tag, this is the circular saw of choice. At less than $100, this powerful saw lives up to all the expectations associated with this popular brand name. Fitted with a powerful 15 Amp motor, users enjoy a powerful 5,800 RPM (without a load).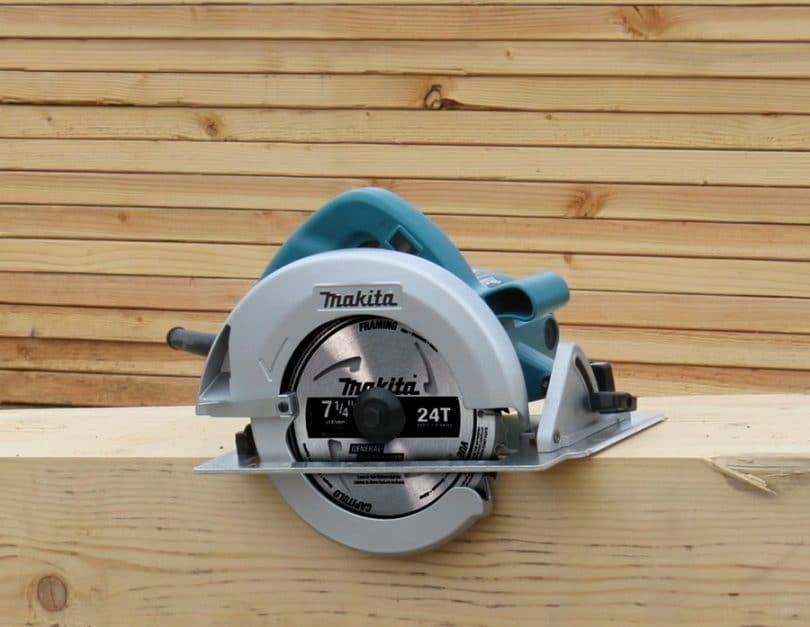 Along with the impressive motor power, this saw is also known for its reliability and durability. It has a built-in dust blower as well as two built-in LED lights. All of this quality and cutting power for such a reasonable price, it's no wonder this saw has managed to gain such popularity.
Important tips
When using a circular saw, there are some important tips that you should always remember before you begin and while working. Firstly, as mentioned in the safety section, you should inspect the saw and the blade for any damage.
Secondly, if you want to make perfectly square cuts, you should use a layout square. This does take care, and you should take your time to do it properly until you really master this technique.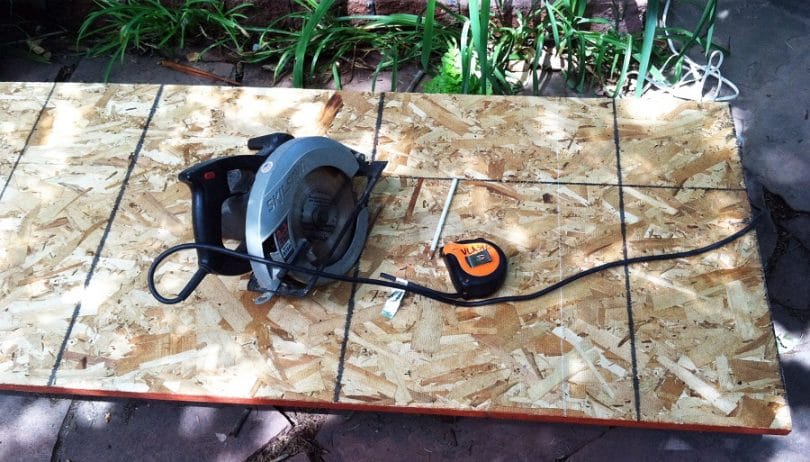 Make sure that you always cut on a solid surface and that you support both ends of the cut. As you progress past the halfway point, if you don't support the part that's being cut off, it might start to bounce or pull down to the ground.
This can put pressure on your blade and result in inaccuracies. Keep both pieces even and well supported until the cut is complete. Given the nature of circular saws, you can expect some wood splintering to occur on the upward facing surface.
[the_ad_placement id="in-text-3-type-a"]
If you require perfection (like when cutting panels for flooring), make sure that the good side of the wood is facing down. This way, the splintering will only affect the underside and nobody will ever need to know! If you ever need to make a vertical cut, make sure that you do so from top to bottom if you want gravity to be a friend rather than a foe!
Getting to work
Once you have selected your circular saw and you're ready to get to work, it's time for the real fun to begin! If you have never used a circular saw before, you might want to practice on some scrap pieces of wood first. The best part about a circular saw is that it operates really smoothly.
Unlike a jigsaw or other handheld saws, the circular rotation of the blade makes it that much easier to handle. Other saws work with a back and forth motion of the blade while circular ones are more like meat slicing machines that continue in the same direction from start to finish.
Some of the links in this post are affiliate links. This means that if you click on one of these links and make a purchase, I earn a small commission at no extra cost to you. Also, as an Amazon Affiliate, I earn from qualifying purchases. If the information in this post has been helpful, please consider purchasing through one of the links in this article. Thank you.