Incredibly enough there are apps which can be quite helpful to the enthusiastic hunter. After all in todays tech world, you can do almost anything you can think of today using your mobile device. And if you can use the benefits of that, why not? One may wonder what makes an app one of the best possible, among the hundreds and thousands of such hunting apps.
[the_ad_placement id="in-text-1-type-r"]
The most important criteria are for the app to be unique and informative. It must be memorable and have a deep impact on you. Another important thing we must consider is that the app is intuitive and easy to use. You must be able to quickly understand and follow the app's flow with ease.
Finally, if an app isn't useful, then it will simply waste your precious time. The app should help you with all the environmental conditions like wind, temperature, it should rightly advise you when to hunt or not, or whether the conditions are ideal for fishing, etc. With all that said, let's see which are the best hunting apps we recommend you try.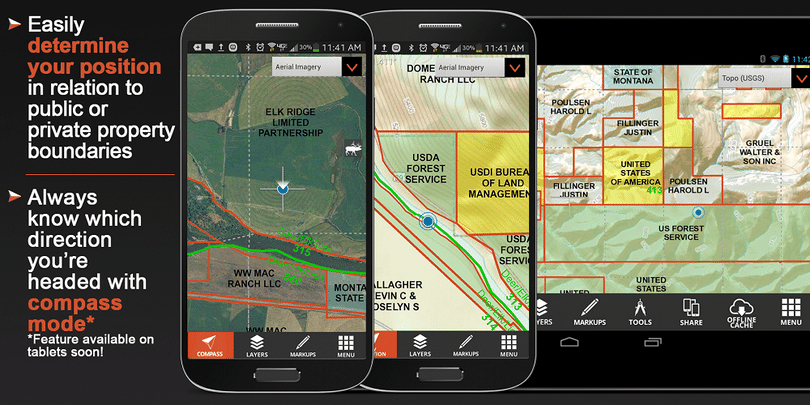 FindMeFish.com
This little app offers you the knowledge gathered by thousands of people across the globe, who have the option to buy and sell what is called a 'fishing hotspot', using GPS systems and locations, and this is intuitively integrated with Google Maps. What this means is that, let's suppose you're experienced in fishing and want to make some extra cash, you can share your fishing spot or even 'honey-hole' with other anglers via the FindMeFish app.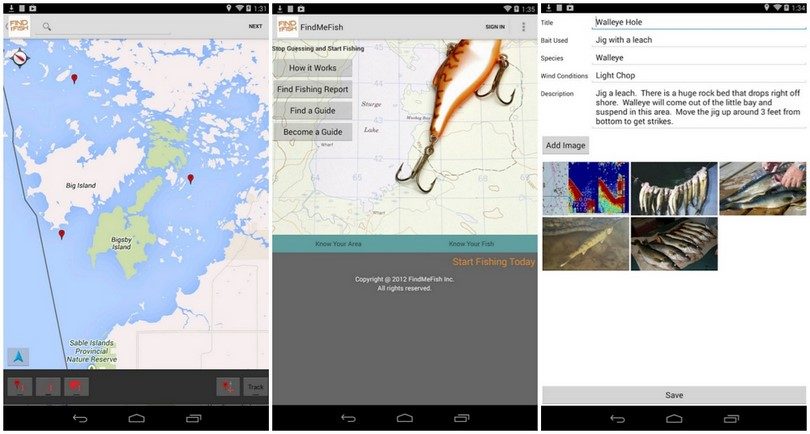 Or if you're a guide, you can offer some more knowledge about the area you know like the palm of your hand. This means that you, as a purchaser, won't spend hours looking for the ideal fishing spot, but will immediately find what you're looking for, because another angler or guide will help you.
Hunt predictor
This app is among the most popular and valuable you can find. Thanks to this app you will know what time is good for hunting and what not. The weather conditions can be predicted by the integrated GPS and weather forecast data, to give you the best results. You even have the option to choose which animal you plan on hunting, in order for the correct data to be gathered. See our article on the best hunting times for more information.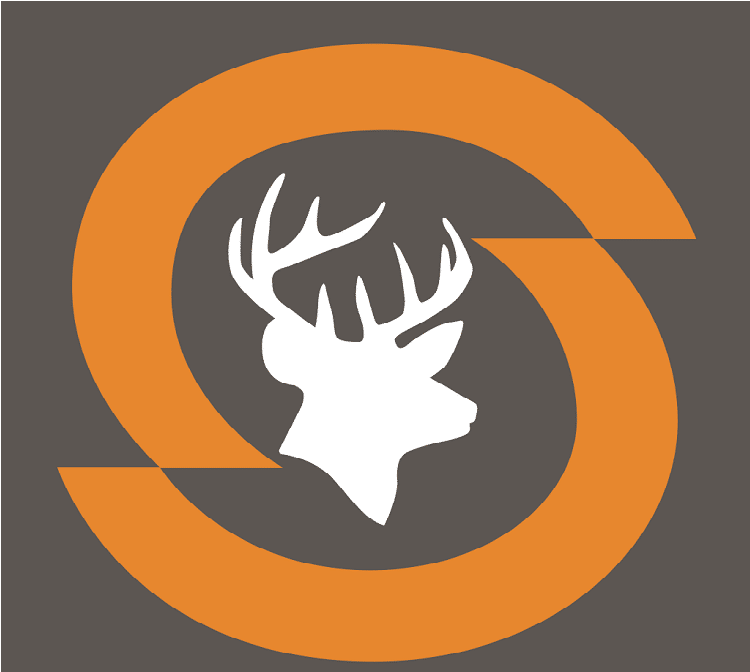 Thanks to the easy to understand layout and graphical interface, you quickly navigate the app. When it comes to obtaining the information you need, you have a line graph, which will show you all you need to know – if the weather is bad, you don't even have to get up from your bed. The data is deliver right on your smart phone or device.
iHunt journal
Once you open this app, you will notice how clean and understandable the layout and user interface is. It's among the best and most intuitive to use apps currently available. You can track all your trips and hunting adventures, and also you have a wide range of animals you can note down.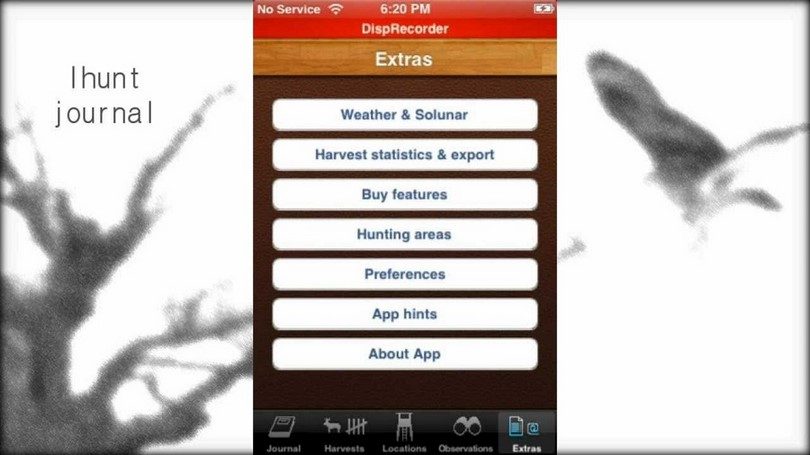 As for the functionality, you will be happy to find out that you will have an observation mode, GPS, record for the harvest season and keeping it in the history. You can use this app to keep a journal and track your record throughout time.
OnXMaps' hunt
This app is useful because of its feature to give you information about the area you are at currently. This means that if you plan on hunting in a specific area you haven't been at, you may find if it's private land/forest, you will know if it's public or not. If it's owned, you will know by who.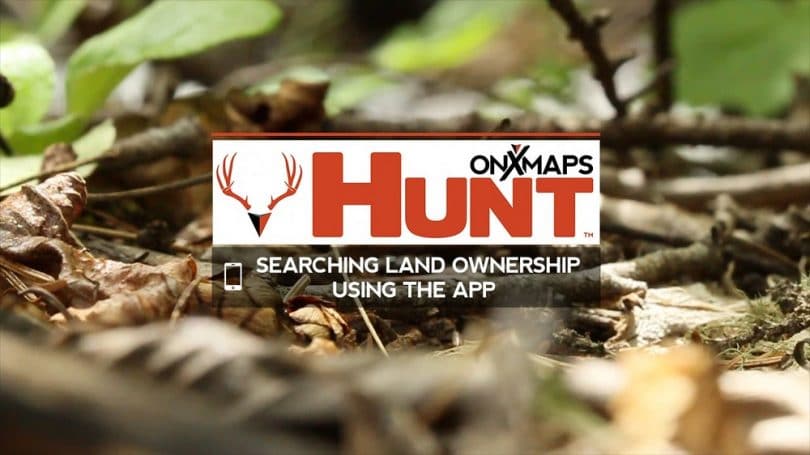 Such sensitive data is extremely important for those serious hunters, who like exploring new areas, but need to spend quite a lot of time, figuring out if it belongs to someone or not. Now you can do that within minutes using 'Hunt', by OnXmaps.
ActInNature
This app is highly recommended because its main purpose is to let you know if you're aiming at someone, or someone's direction. This is especially important, since you may injure someone unintentionally. This may happen if you are hunting in land close to houses and buildings, or private clubs and public land. Thus, you can avoid any unpleasant or even fatal accidents. Thanks to the GPS, the app localizes people and their geographical location. You will get a warning and some data when the app locates someone nearby you or near the area you're hunting.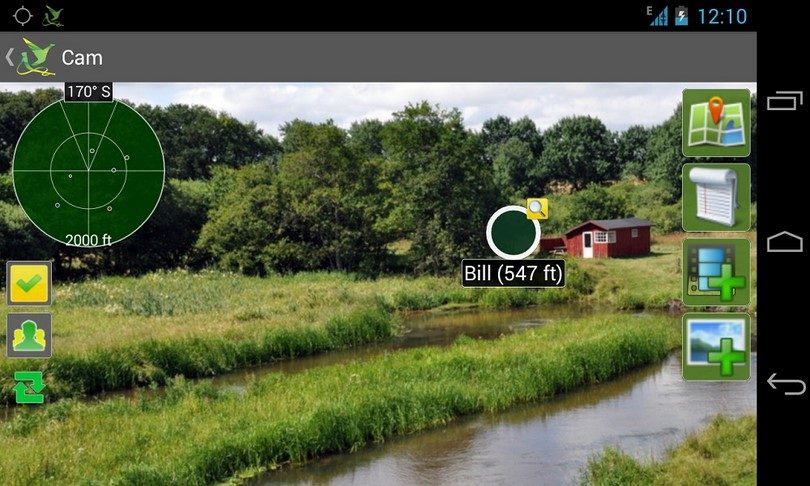 With this app, you'll be sure you won't accidentally shoot at somebody's location. As a bonus you'll have access to the sunrise and sunset data, plus you'll be able to take photos and shoot videos.
Tracking point
Now this is an app you will definitely appreciate if you're a shooter. This is a revolutionary app which is unprecedented on the app store. You can aim at the animal with your rifle, but you can be sure to lock it on your mobile device's screen thanks to the Tracking Point app.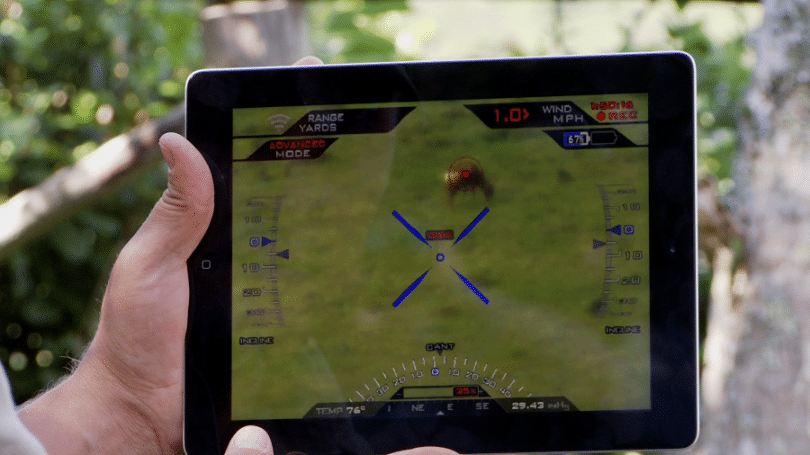 What's great is that viewers can watch all of this in real time. While this app works only with a Tracking Point rifle and scope, it's nonetheless one of the most wanted technology by hunters.
Sportsman tracker
This could be considered also one of the best and most trusted hunting apps. To start with, you will be able to track all different weather conditions you need to be aware of, like the atmospheric pressure, temperature, both the sun's and moon's activity, the weather (if it's changing or not), the wind's speed and direction, and finally the seasonal patterns and specifics.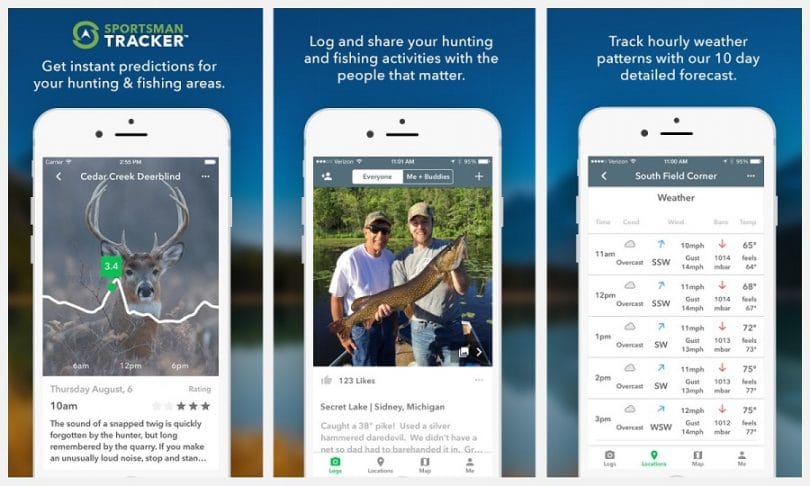 As for why it's the best app. Well, you can track almost anything that moves. Any animal you like to hunt or fish for, it can be tracked down by the app. Not only that, but the app's creators have a collaborative connection to Navionics, who build various lakes' database. You can see the specific lake's contours and then you can navigate to an ideal hotspot or the perfect fishing location. The accuracy is stunning.
You will also be able to pick out the ideal time for hunting thanks to the line graph, which shows which days have a higher chance for better harvest. You can see various factors that will make a better prediction. If for example, it will rain, the app will tell you when it's best to hunt – before or after the rain. You must of course, give the app the data on which animal/fish you plan on hunting/fishing.
ArcheryPal
This app is for, as the name implies, archery fans. It can be run only on Apple devices, but it's nonetheless worth noting. You can do various things with this app, it can record your progress through time and help you improve your skills. As a start, you can begin calculating the speed of your arrows, the kinetic energy produced by the arrows upon impact. Furthermore, you will learn if your arrow, upon shooting, will produce the ideal result or you need to change something about the arrow configuration. It is important to log your progress. This will help you get better. Check out our reviews of the best arrow for hunting for more helpful options.
[the_ad_placement id="in-text-2-type-r"]
The app also offers graphs, which can be used to keep a regular log on your arrow placement, with simple touch on the screen. You can also track your accuracy over time and the trends judging by the arrow placement. It's impressive that the app also can recognise your maximum kill range to give you a confidence boost.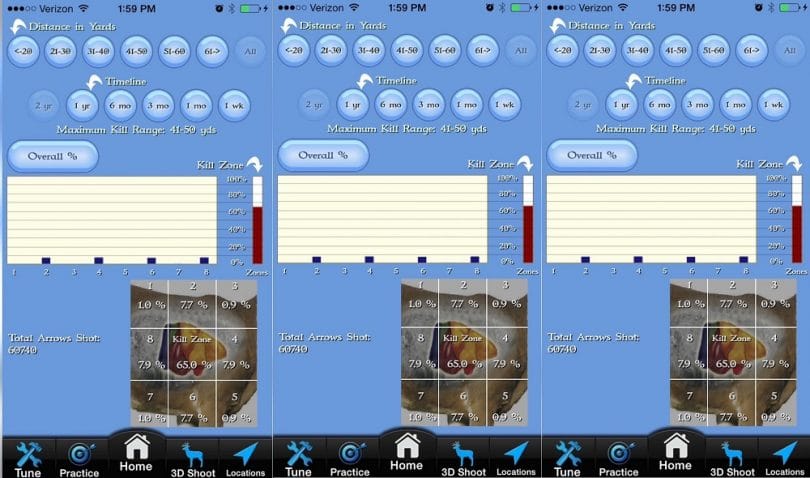 You'll have an unlimited access to hotspots, plus the option to add your own. Doing that can be done manually or automatically. Finally, you may wonder how the app will work at night. You can use the Night button to use the green light in order to navigate around and remain unseen by animals.
Primos Wind
This modest little app can actually be incredibly useful. It may have happened to you before, but hunting an animal, and having it escape you within a second, makes sense because the wind changed direction and brought your smell to the animal. It's crucial to be able to use the wind direction data in order to avoid such unpleasant situations. The app will also give you data on the speed. As long as you know the speed and direction you can plan your hunting trip much better and efficiently.
The graphical interface is very simple and intuitive and you won't have to click several times to get the data you need. Simple tap on the screen and you can see the wind's direction on a graphical map.
Recon hunt by Cabela
This app will provide you with the best and most appreciated mapping tool. You can use the map to color-code areas which are either private or public. This is considered one of the strongest features of this app. Otherwise, you have the unlimited option to track animals and wildlife, discover hunting hotspots, take photos of your game as a trophy, and then navigate back home. And if you think this is all, you will be mistaken.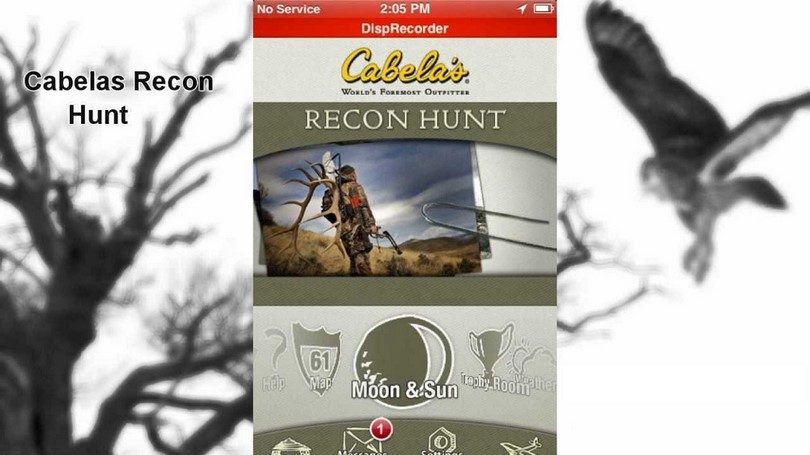 You can still obtain invaluable data like the sunrise and sunset, moon phases, and even ballistics data. What's really impressive is that Cabela created the app with a thought about your smart phone's battery. Such apps tend to drain the battery way too quickly. This app though, has the option to preserve your battery by monitoring your use of the app. Thanks to this tracking, you can be sure the app knows how to save your battery energy for longer use.
Finally, you will be glad to know that the app doesn't necessarily need a wireless connection to function as it must. Even in areas with little or no reception, the app will deliver what it promises to.
SAS survival guide
After all the apps so far, we have to say that having a survival guide right in your pocket is a great opportunity. You'll have access to a huge array of guiding tips in different weather conditions, specific climate, sea or land, etc. This guide will help you survive regardless of where you're located in the world.
You'll also have access to a free book by John 'Lofty' Wiseman (who wrote this app and book, and was a former SAS soldier), 15 videos on survival, a list of various edible and poisonous plants. You'll learn important Morse code signaling. You can also spend some time doing the built-in quiz which will put your knowledge to the test. You'll also have a sun compass.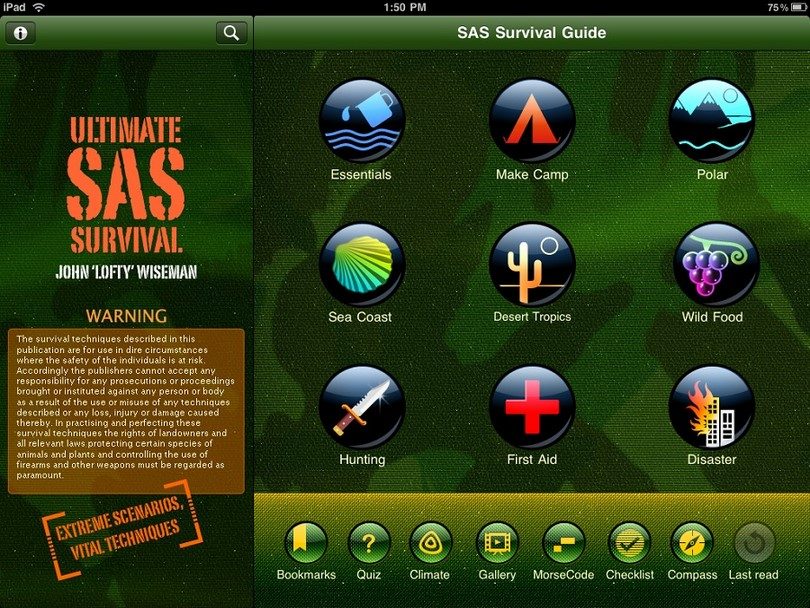 You can run a search through the book in case you need to find some specific information. You can use the Extreme Climate Survival, which will improve your knowledge and skill set. You'll learn about how to survive in the desert, polar regions, at sea and tropical climate. And finally, you'll learn more on first-aid techniques at the first-aid section of the book. Make sure you are prepared – check out our must-have first aid kit to help you.
ScoutLook
This app focuses on the weather. While you may think you can simply download a weather app, we can assure you, ScoutLook is far more advanced. It's made by hunters for hunters. It's geo-coded and linked to your precise current location and provides you with a large array of activities and measurements, from radar, wind direction, lunar and solunar phases and activities, atmospheric pressure fluctuations, etc.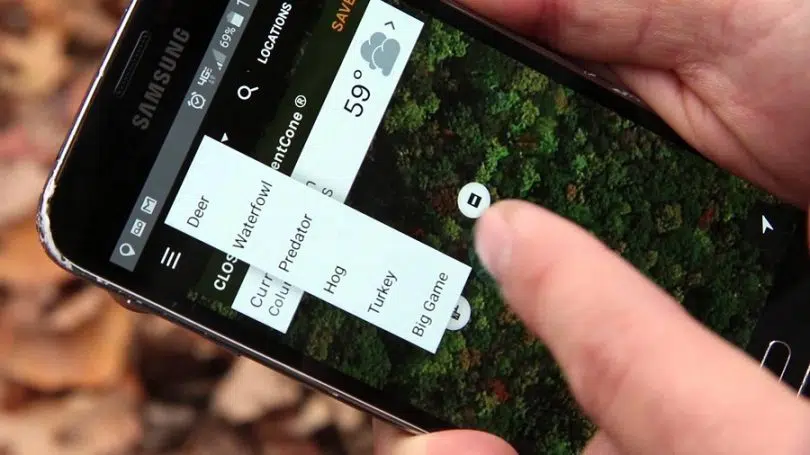 Using the ScentCone and SetZone maps for wind indication you will have a visual map representation. You can then tap the screen to the area you're planning on hunting, and the app will show you the wind's direction and speed for the next 72 hours.
When it comes to helping waterfowls, this app offers the ability to mark a duck blind and the SetZone feature will give you detailed information on where potential duck flocks will land. All this thanks to the wind data and direction. This info again covers the next 72 hours. As you can see, this app is quite helpful and it's worth using before you go on your next hunting trip.
Shooting hours
We promise you will like this incredibly simple app. It vibrates when the time is ready for you to shoot. There's no need any more to glance again and again at your device. With Shooting Hours, you can concentrate on your target, and shoot when it vibrates.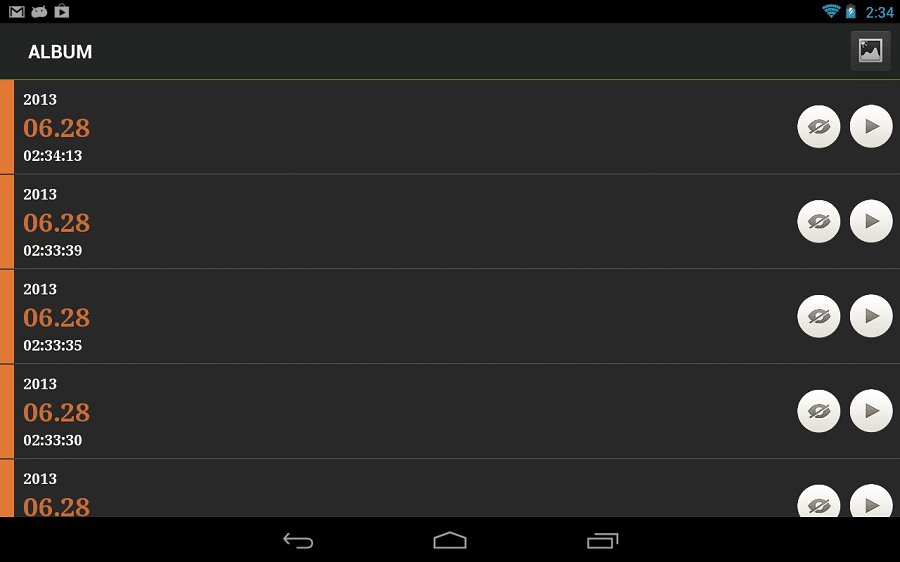 The app measures and calculates certain amount of data. It will take into account the sunrise and sunset hours. This is important since upon sunrise you will be given the signal for 'Open'. There's no need for you to remember the sunrise or sunset precise time, since it changes every day. The app will do that for you. You will see 'Closed' when the shooting time is up.
Shot simulator
This app is different from the above, because it can show you, as the name implies, a simulation of the shot you're planning. You can use this app to improve and perfect your shooting skills. You can play the simulation and then make shot placements on different areas of the deer (the default animal in the app) and see how that affects the shot. The app will also help you better locate the shot target after you hit it.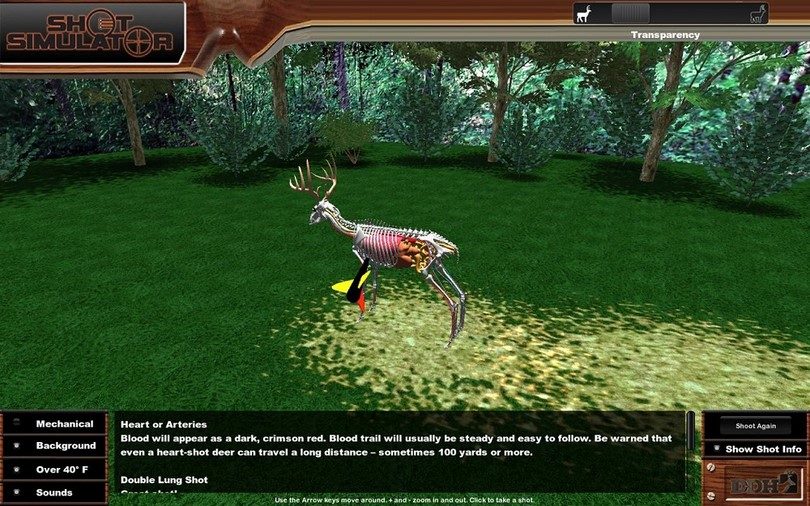 With the app, you can simply place a shot, and then watch the result in the simulator. You can get detailed instructions in regards to your placed shot. You can even use the app to see the vital organs and which of them is affected by your placed shot. You will also be able to set the temp data, broadhead type, and also the angle – all after you placed your shot.
Huntforce
This app is considered the top among all providing camera management and a trail hunting tool. It will help you organize all of your available cameras, including all the photos and images you have ever collected, up to now. With the help of this app, you can track each of your camera's location, pin it down, write down notes and keeping them as history record, and then tag images/photos as well.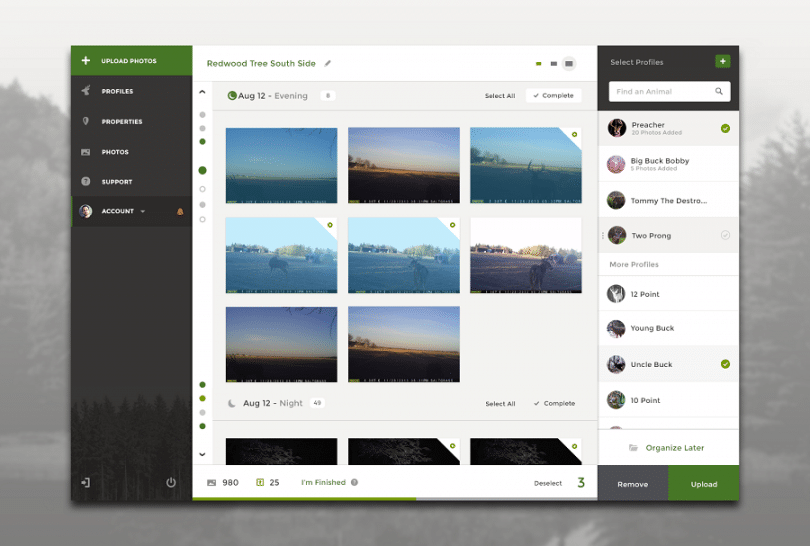 The app makes it far more easy to choose the photos you need, without all the hassle and search through your computer's database. You can upload your hunting photos (those you tag inside the app) on the Huntforce servers. In the long term, Huntforce is helpful because it will let you keep track of other animals and also help you figure out your hunting pattern and improve your harvesting skills.
Pocket ranger
This is not a single app, but a series of apps. It's useful if you're living in the USA, and you need specific information about your area, state and also national park. Hunters have full access to any current information about the national park, including important phone numbers, hours, different trails, even campgrounds, plus a GPS interactive terrain map.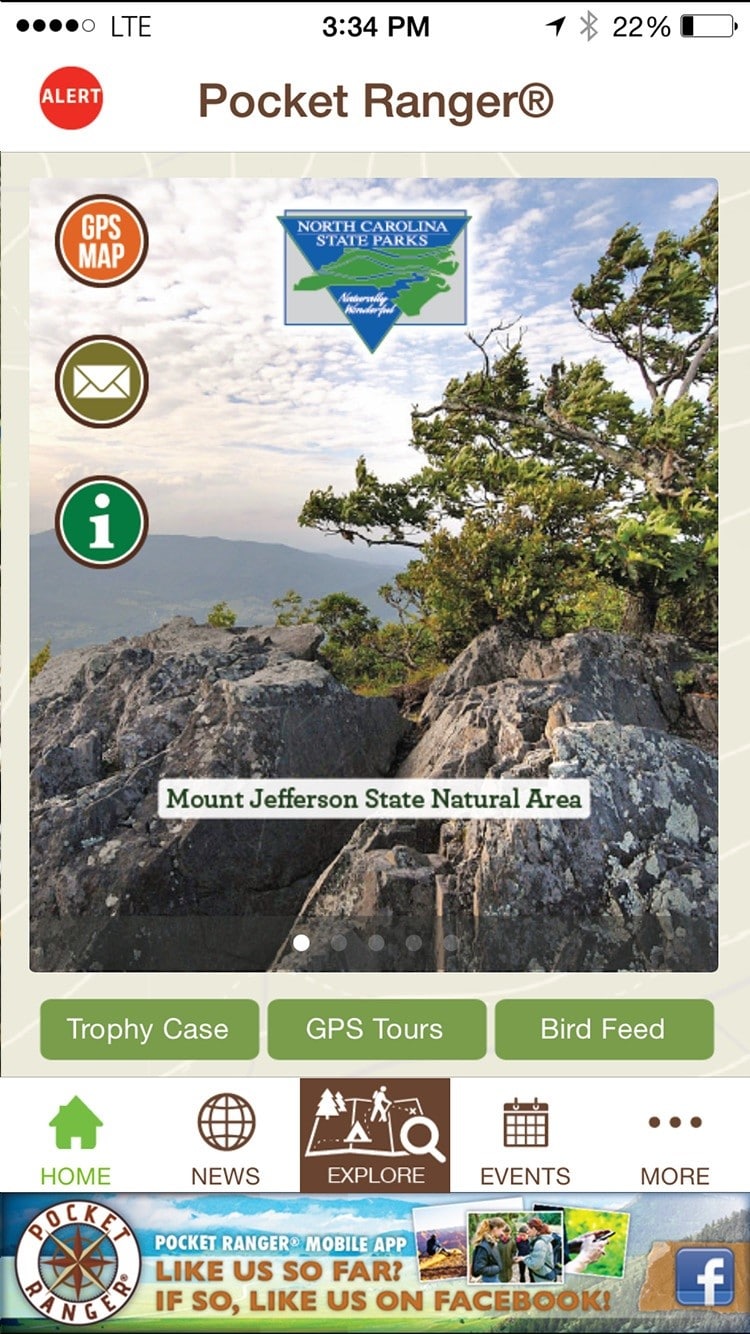 Thanks to some apps found in the bundle, you can quickly find more information in your preferred hunting location, some of the rules and regulations about this area, and most importantly license and also permitting info. You can find all that for each national park and state.
Overall, the various features and apps inside the bundle, are useful both for hunters and for hikers.
Hunting light and blood tracker
While it may sound strange, but this app provides you with some light. Both are useful enough for us to consider this app a worthy competitor to the above. The hunting light is a strong flashlight. Thanks to the different 'filters' or modes, you can be sure to use it even in less favorable weather conditions. All four colors are: red, green, blue and the standard white. You'll even have an SOS light.
The red light is useful if you want to remain in stealth mode. The green light will help you see better in the dark. The blue light helps bright objects appear to be green. The white, as we said, is standard and there's nothing specific about it.
[the_ad_placement id="in-text-3-type-r"]
When it comes to the Blood tracker you will be able to track a wounded and bleeding animal. Thanks to the built-in Game Track ID you will be able to learn from photos and images more about the animals' tracks and trails, including features on how to better and successfully recognize a specific track and identify which animal it belongs to.
Phone Skope camera
This app captures a screenshot using your mobile device, while you're observing the game through your hunting optics. These can be binoculars, rifle and spotting scopes. This is not an entirely unknown practice, but it's relatively new. It's called digiscoping. In order for you to use the best of your app, it's using the built-in stabilizer in your mobile device. Thus you can see your prey much better and have a better aim as a result. Your shot will be much clearer.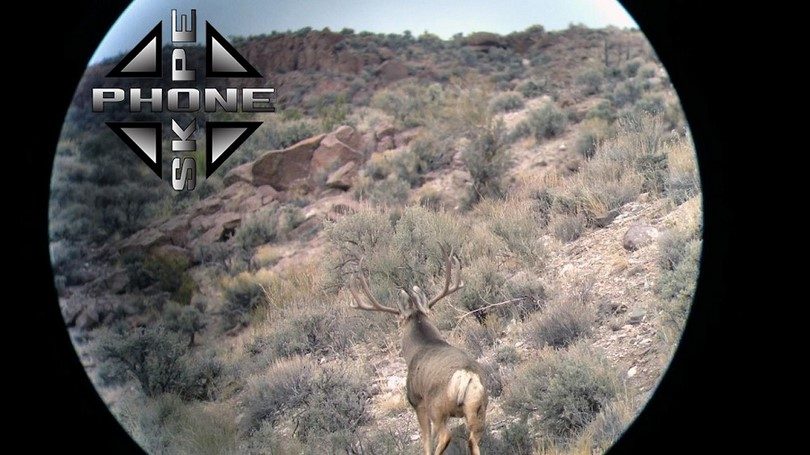 You can also attach your mobile device to a tripod and make a really good camera shot. The app doesn't have to be used necessarily for hunting, but it's really perfect if you want to have a clean shot.
Ballistic
This app is a calculator which, as you can guess by the name, is ideal for measuring your ballistics. It also measures the atmospheric changes and wind. The library is full to the brim with about 5000 projectiles, including a rangefinder and a super-advanced heads-up display. The wind feature can calculate and measure different wind conditions, because it uses up to 8 sources, providing accurate wind measurements. Some of the features (range log) can be easily and quickly synced with other mobile and smart devices.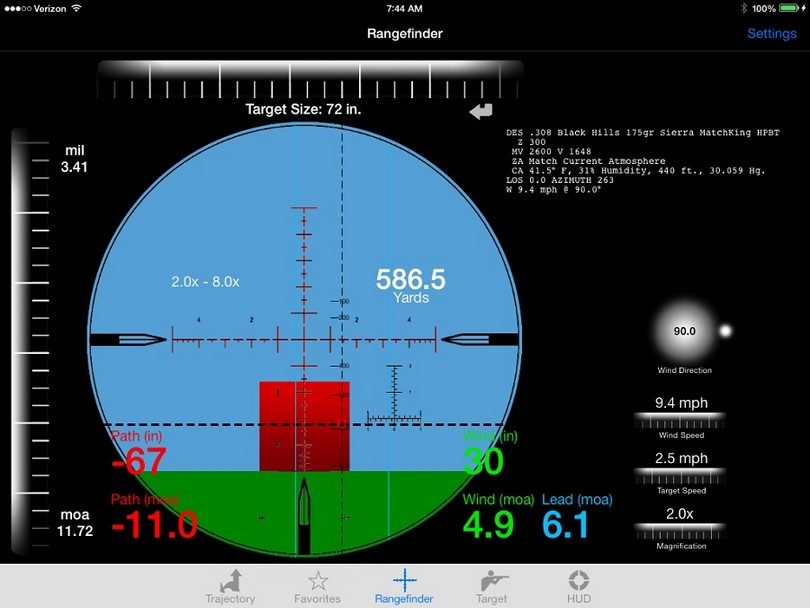 All of the above apps require some on-the-field testing. We hope to have presented to you the best hunting apps, but now it's time for you to try them yourself. Happy hunting!
Take time to read our piece on how to get a hunting license to provide you with useful information you'll need.
Some of the links in this post are affiliate links. This means that if you click on one of these links and make a purchase, I earn a small commission at no extra cost to you. Also, as an Amazon Affiliate, I earn from qualifying purchases. If the information in this post has been helpful, please consider purchasing through one of the links in this article. Thank you.