Over the past few years, we have seen a number of impressive gadgets hit the market. Out of these, the GPS watch has proven both popular and practical, especially for athletes who want to train for marathons or triathlons without getting lost while they make their daily training. However, these clever devices are not designed exclusively for runners or athletes; they can also be very helpful during a hike or when you're trying to find your way to the camping site.
[the_ad_placement id="in-text-1-type-a"]
So, they are just as valuable for survivalists and outdoor adventurers and this is why today we'll try to identify the best GPS watch to have (regardless of its final purpose).
What is a GPS watch?
GPS watches are devices with integrated (or built-in) GPS receivers. They are worn like any other wristwatch, and they often have additional features to complement their main function.
Their main purpose is to help you find your way and make sure that you always know where you are. Think of it as a far more compact version of the GPS you would install in your vehicle. Many of these watches can use wireless ANT + protocol to connect to external sensors and also to your computer using a USB connection.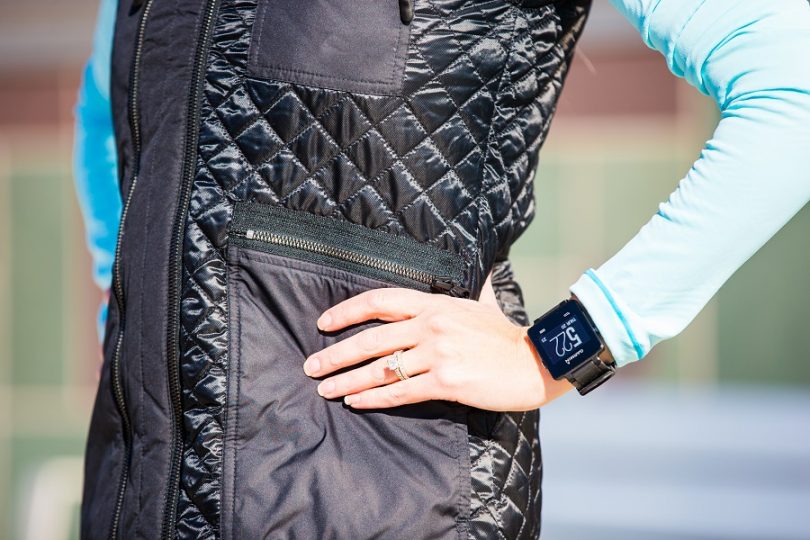 Some common sensors that are often used in conjunction with these watches include foot pods (for speed detection) and heart rate monitors. Most of these watches are charged through a USB connection, and some are designed for specific sports or activities.
See also: Best ABC Watch: Track Your Steps
Also, some of the most common features include data collection, navigation, sport specific assistance, locating people, and various fitness features to help you get the most out of your workout.
Benefits of a GPS watch
Let's say that you are training for a big race. In this situation it's important to keep track of your time and progress. With a GPS watch, you will be able to keep a detailed record of your times, distances, your pace and so much more. Among the main important features, we should mention:
You won't need to map your route out or worry about getting lost along the way. Keep track of your location in real time and stay on pace too.
You can also set alarms to remind yourself about where you should be along your route and to make sure that you are making your best time.
After each training session, you can transfer the data to your computer and compare it to previous runs. All of these features are great for keeping you motivated as when you know your pace, you will either feel confident in your current plan, or you will know that you need to do better. Seeing the results on the go helps motivate you to do better before the race is won.
GPS watches vary in price as much as they vary in features and this means that the more complex and hi-tech the watch, the more it will set you back. Spending a bit more will, therefore, prove worthwhile in the end.
GPS watch disadvantages
There are some possible disadvantages to using this technology and keeping these in mind will help you focus on skills that matter.
For instance, some people worry about technology dependence – we have seen many users become dependent on their phones, computers, and other similar devices. When running, for example, you could end up paying more attention to your watch than your surroundings.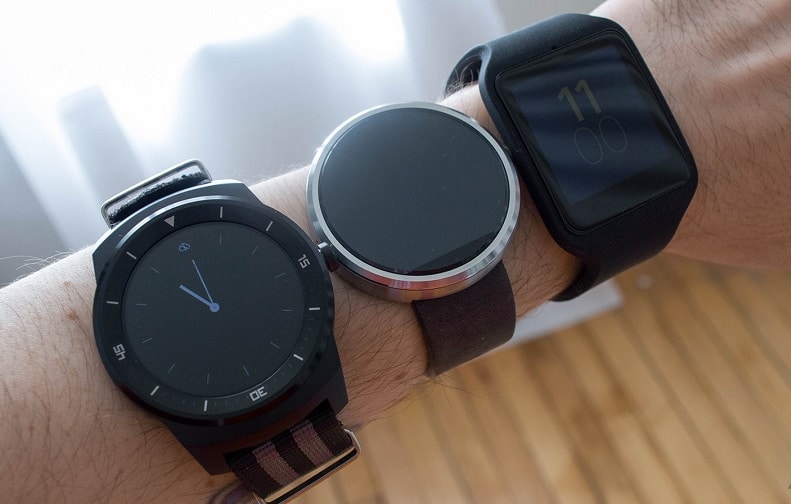 It's also important to understand that the GPS signal can be disrupted from time to time, and this can result in delays in terms of updating your location. That's why is important to use your GPS along with your natural instincts in order to make the most of this technology.
On the other hand, some people find this technology too overwhelming, and it can make you feel pressured instead of enjoying yourself. It's also a lot like using your phone at a concert or event. Instead of making the most of the event, you are busy recording it so that you can enjoy it later.
Then there's the matter of price. Sure, some of them are quite affordable, but if you want one of the top of the range models, it will set you back a fair amount.
Features to look for
When choosing the right watch for your needs, you should take the time to consider the various features that you need. For instance the features that are a must for a runner or an athlete are as follows:
Accelerometer for tracking the distance
Optical heart rate or chest strap for heart rate monitoring
Indoor run option for treadmill training
Expert training plans for preparing for important races
Interval training sessions for building speed and fitness
Real-time feedback to help your running form
Music to help keep you motivated on your run
Recovery advice for post-run training
Compatibility with third-party apps so you can get even more out of your GPS watch
Long battery life if you plan long runs
Thermometer particularly for monitoring temperatures when hiking or camping
A barometer helps monitor air pressure
An altimeter to measure your altitude as you climb and descend
Real time tracking so that you don't get lost
Pairing with other devices via Bluetooth
Water resistance
Top GPS watch reviews
TomTom Multi-Sport GPS Watch & Heart Rate Monitor
This particular watch retails for about $170, and its features include an extra-large display, graphical training partner, one-button control, and a heart-rate monitor. This watch is great for walking, running, swimming, and cycling.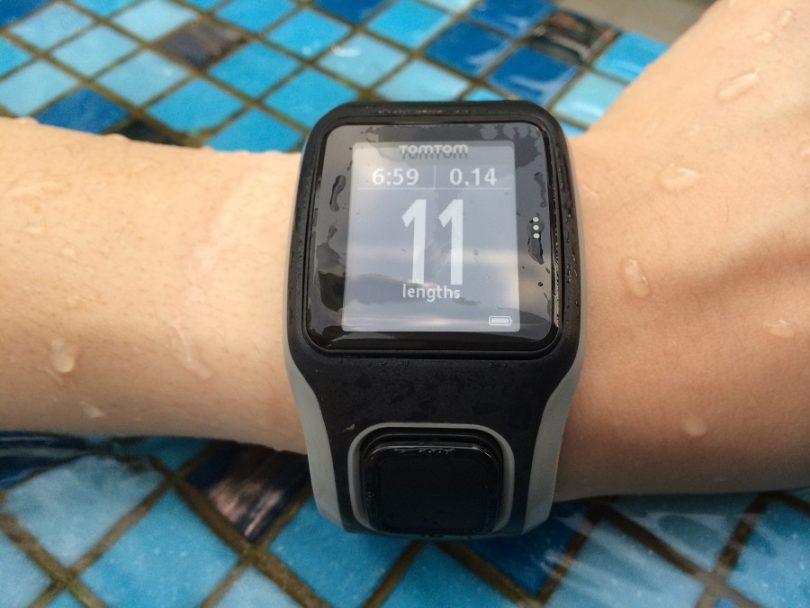 This product is praised for being lightweight and thin. The setup is really easy and everything will sync quite quickly. This watch allows you to keep track of your pace really easily and in a matter of a glance.
There have been remarks regarding inaccuracies when used during swimming and there have been concerns regarding battery life.
If you like this product you can find and purchase it on Amazon.
Garmin Vivoactive Black
Garmin is well-known when it comes to GPS devices and this watch doesn't disappoint. It goes for about $175, and it includes a number of great features. The design is really slim, and the high-resolution touchscreen is sunlight-readable.
Regarding the screen, there have been complaints regarding the brightness of the display. However, it's important to understand that there are brightness and backlight settings that can be adjusted in order to make the screen that much easier to read.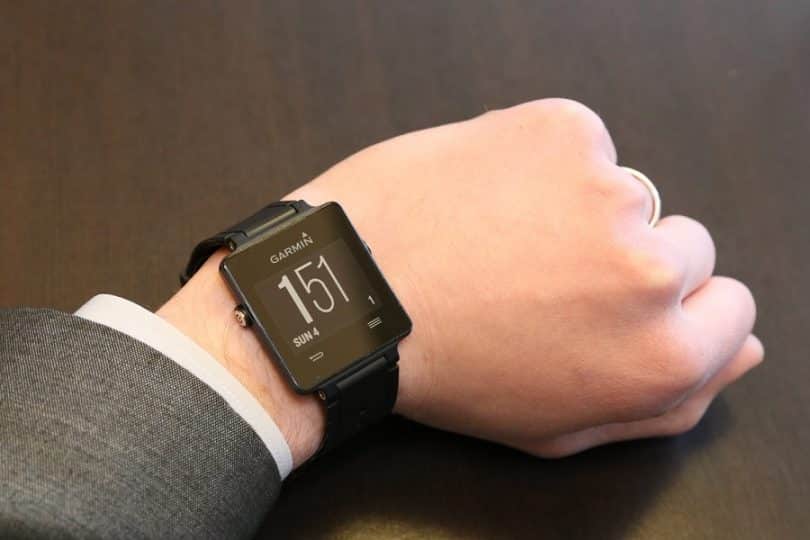 When it comes to accessories, it comes with built-in sports apps for various outdoor activities. It's easy to pair with your smartphone, and it has a vibrate function. There are also free watch face designs that make it easy to customize your watch.
The battery lasts for up to 10 hours when using the GPS function and, talking about this, many reviewers have stated that this product is wonderfully accurate at tracking your location in real time. Another potential problem involves failure to connect or stay connected to the heart-rate monitor.
Like this amazing product? Then you can check the current deal for it on Amazon.
Magellan Echo Smart Sports Watch (Black)
This is easily one of the cheapest sports watches on the market at just $26. However, it's important that you check the compatibility of this product before purchase. As per the manufacturer, the watch is compatible with iPhone 4S and later models as well as phones using Android 4.4 and later.
The features included are:
remove control for music and sports apps,
real-time data display,
water-resistant,
designed for everyday use and sporting activities,
the display can be customized.
On the downside, the watch strap is not replaceable so, if it breaks, you cannot simply buy a new strap. However, on the plus side, it has an attractive design that doesn't make you stand out like a sore thumb and it is comfortable.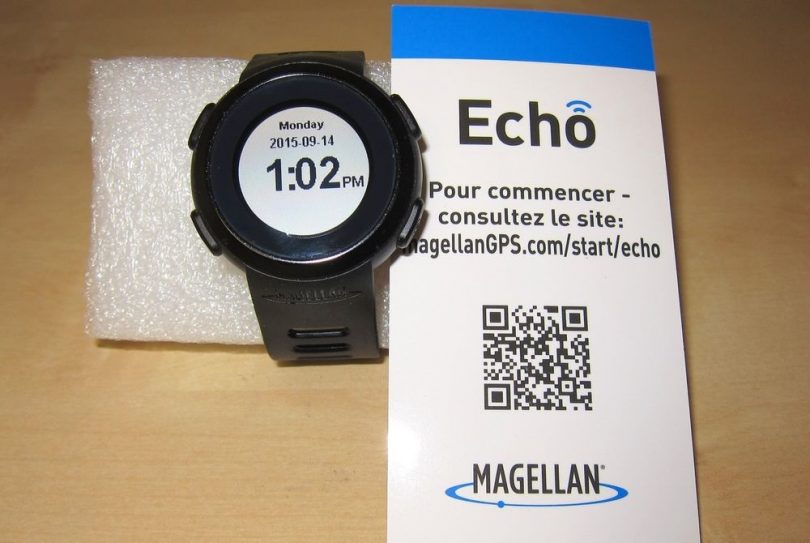 The battery life isn't as long as many users would like and this watch is also dependent on your phone. You literally cannot set anything on the watch until you sync it with your phone. The sync is also lost when you switch between certain apps.
If you think that this product could be useful for you, then you can buy it on Amazon.
Garmin Foretrex 401 Waterproof Hiking GPS
At $156, this is a reasonably priced hiking GPS. The high sensitivity receiver ensures that you enjoy reception even in the deepest of canyons and densely wooded areas. This watch is great for tracking your route and keeping an eye on your heart rate.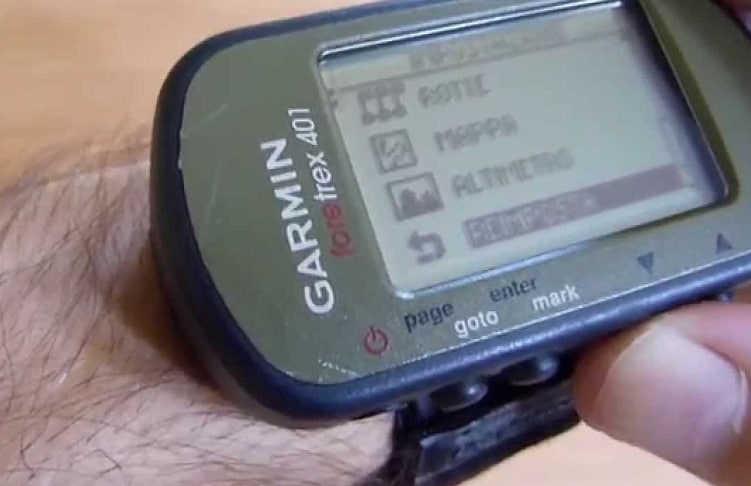 The LCD screen is also easy to see and use. This watch supports dual position which means that you can view your current location in a number of formats. Other features include a barometric altimeter, compass, hunting and fishing information, as well as sunrise and sunset times.
With all of these handy features, it's no wonder hikers love it! The one main concern is the setup. Many users found it a bit tricky and confusing but, once that was all done and dusted, the watch works great.
Like this product? Then you can buy it on Amazon.
Nike+ SportWatch GPS Powered by TomTom
Nike has teamed up with TomTom to produce this SportWatch. At $143, this is a relatively affordable option for those who don't want the cheapest and can't afford the most expensive options out there.
This watch allows you to track your time, pace, distance, heart rate, and how many calories you've burned. Also, you can view the route you've mapped out along with all the data gathered during your time out.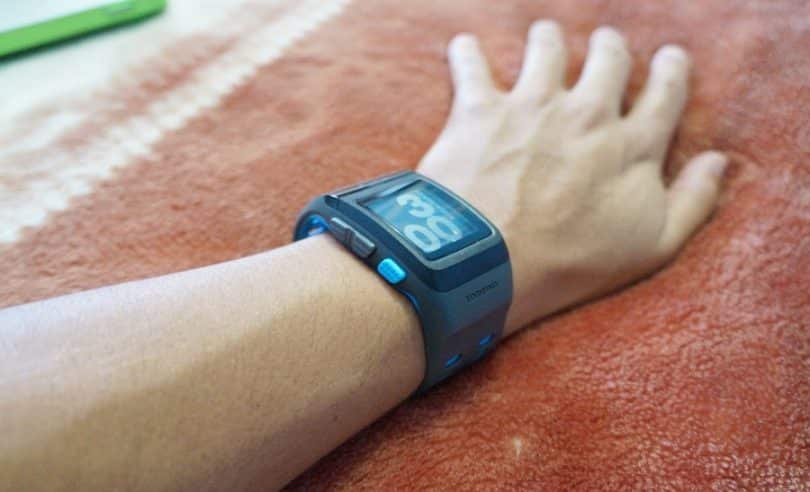 The battery offers 8hrs of run time when the GPS and sensor are both on. On standby, the battery lasts up to 50 days which is absolutely impressive.
To be useful an entertaining at the same time, there are fun apps to help you and your family take part in challenges, share routes, and keep track of your progress.
This watch comes with a 1-year warranty. However, just like some of the previous models we've discussed, the strap is also not replaceable so, if it breaks, there's no way of switching it out for a new one.
On the downside, there have been several complaints regarding reliability and some customers have had theirs replaced several times.
If you think that this product could be useful for you, then you can buy it here.
Polar M400 GPS Smart Sports Watch
This watch retails for about $145, and it helps you keep track of your distance, altitude, and pace. Keep track of your steps, calories burned, sleep quality and your activity levels throughout the day and night!
Runners love this watch for training purposes and to prevent injury due to overworking. It is also waterproof, and the Polar Flow app and web service allow you to share, sync and plan your training.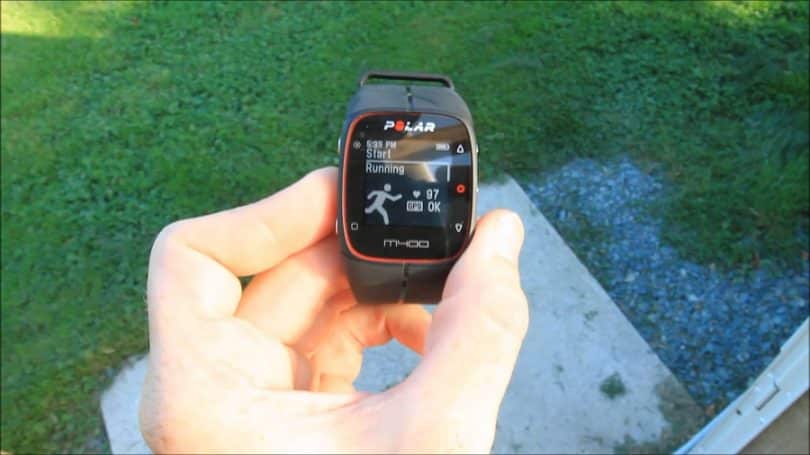 Some reliability and design concerns have been noted as well as charging issues where the USB connection stops working. If such technical issues do occur, it's always best to contact the manufacturer immediately.
If you think that this product could be useful for you, then you can purchase it on Amazon.
Pyle GPS Sports Watch and Workout Trainer
This watch retails for about $80, and it is available in a number of funky colors. Of course, if you prefer to downplay it, you can choose the classic black design. The GPS function maps and records your route and based on that, the watch maps and graphs in detail your distance and speed.
[the_ad_placement id="in-text-2-type-a"]
GPS navigation also makes route automation possible. Users have noted that this product offers a wealth of reliable features but the battery life is not great. At least it only takes a short amount of time to charge.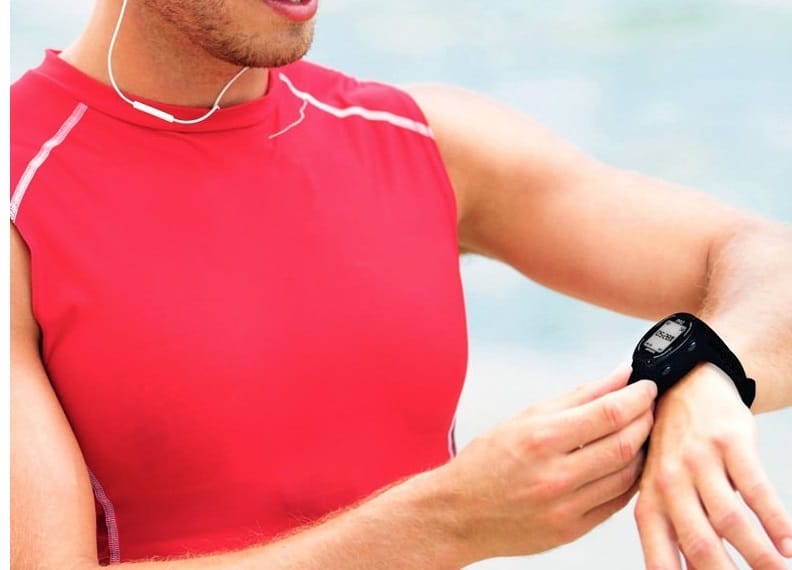 This watch is also waterproof which is always a bonus for those who enjoy outdoor activities like hiking, camping, and fishing. You don't need to worry about it getting wet when you are about to make the catch of a lifetime!
Another possible concern relates to the setup. Several users have noted that the setup process itself is not as straightforward as it should be. Since this doesn't seem to be an issue for every single user, one can't help but wonder just how well these unhappy users read the instructions.
Like this amazing product? Then you can check its price on Amazon.
Fitbit Blaze Smart Fitness Watch, Black, Silver
This product is somewhat on the higher end of the price scale at $200. Its features include tracking steps, distance, floors climbed, active minutes, and calories burned.
Heart rate monitoring is done through the wristband itself, so there is no need to wear a chest strap. Multi-sport tracking can help you track your progress on several activities, and it works wonders for cross-training. The SmartTrack app can be used to record workouts to your dashboard for easy reference and, when using the GPS function, the display will include various important information.
With the FitStar app, you can enjoy a guided workout thanks to step-by-step instructions that make sure you complete each move properly.
There is a known issue regarding its compatibility with the Galaxy S6 running 5.1.1 not receiving text message notifications but we've been notified that the manufacturer is working on this. Another common issue is that of a skin irritation so make sure you don't have sensitive skin or certain allergies.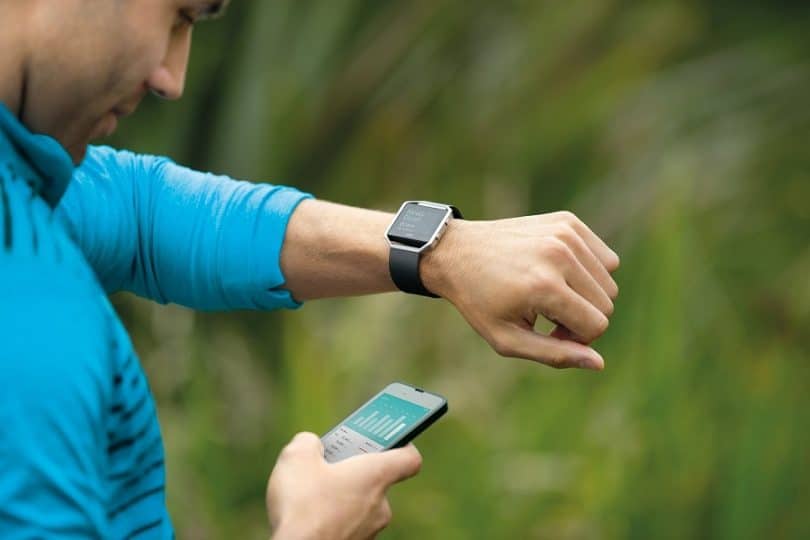 Main benefits of this product include:
The display is sharp and very clear
The ambient sensor works well
The heart rate monitor is really accurate
The touch screen is very responsive
Bluetooth connections can be challenging and may require reading and re-reading instructions. This is because the watch has two Bluetooth connections and it can be confusing at first.
If you think that this product could be useful for you, then you can check its price on Amazon.
Suunto Core Wrist-Top Computer Watch
Slightly more expensive than most other models, this watch retails for about $250. Its features include an altimeter, compass, and a barometer.
It also has weather functions, a robust construction, comfortable strap, temperature and storm alarm, and can be used just about everywhere, including the mountains!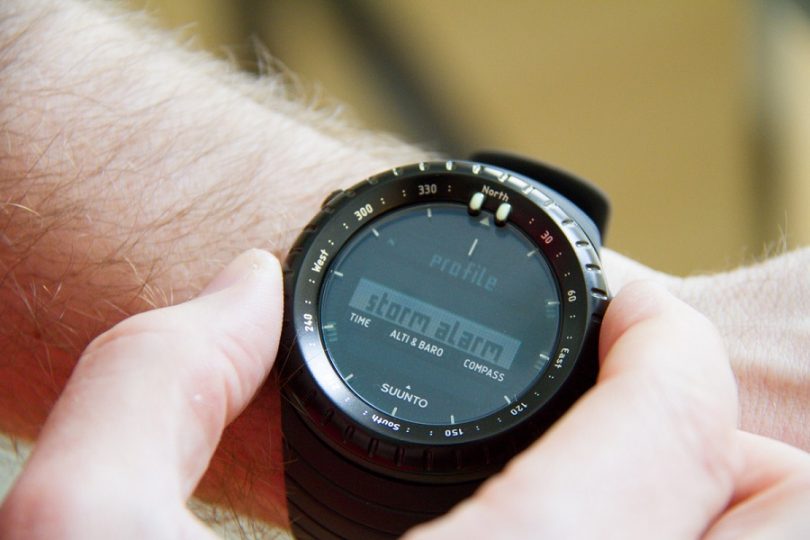 This product is praised for its fantastic accuracy, and the batteries can be installed by the user which means that you will save money in the long run. The directional rotational ring can be tricky to turn, and you might need to put those fingernails to good use!
The alarms are not as loud as they are on some other models which can make them tough to hear. The strap also has a bit of a cheap look and feel to it. It's also important to note that this product had some software issues in the past, but the manufacturer seems to have addressed and remedied these problems.
If you interested you can buy it on Amazon.
Lad Weather German Sensor Men's Sports Watches
Available in a variety of colors, this watch will only set you back about $45. Its features include weather forecasting, altimeter, thermometer, barometer, countdown timer, alarm, compass, and a 6-month warranty.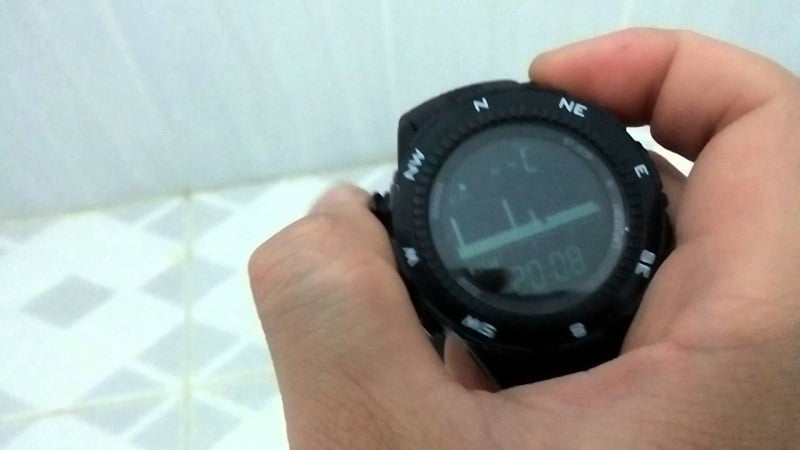 While many users have had wonderful experiences using this product, there have been some issues with regards to the screen freezing and some other issues relating to personal preference. If the product is still under warranty, it's always good to find out if the problem is covered.
If you think that this product could be useful for you, then you can check its price here.
Casio WSD-F10 Smart Outdoor Watch
Casio is a well-known name in the watch business, and they have come up with some amazing products over the years. This particular model features a monochrome LCD and a color LCD with a comfortable urethane band and buckle.
Smartphones that are compatible with this product include those with Android 4.3 and later as well as the iPhone 5 running iOS 8.2 or later. There may be limited functionality when using this product with your iPhone however.
The quad sensors are built in and provide real-time notifications. Also, real-time features include an altimeter, compass, altimeter, and activity tracking.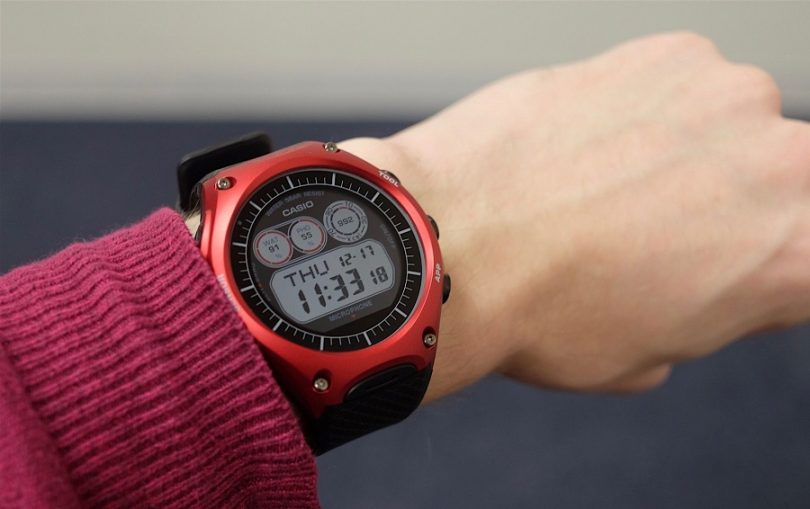 This watch is water-resistant up to 50m (165ft), and it's suitable for spending a short amount of time in the water. It is not, however, suitable for use while diving or snorkeling.
The battery life during use is about 20 hours and it also responds really quickly. On the downside, it uses a magnetic charger that disconnects easily.
It's important to note that this watch offers a number of great outdoor features but, despite the high price tag, it does not have built-in GPS! While some users were aware of this from the beginning, others felt as if the product had been misrepresented. This is why it is essential that you always do proper research regarding the features and compatibility of these kinds of products.
Like this product? Then you can check the current deal for it on Amazon.
GPS watches for various activities
GPS watches can be used in a number of daily applications. Most often they are seen as training aids for professional athletes and runners but even if you aren't a runner, you can practice another type of sport as fitness is important. With a GPS watch, you can keep close tabs on your progress. Check out our list of the best outdoor watches to give you more options.
These devices are also great for hikers. If you have ever taken a walk through a densely wooded area, you will know just how easy it is to get lost. Every tree starts to look alike after a few hours and making your way back to camp can become quite difficult. If you go out hunting, and you want to make sure that you get back safely, a GPS watch can really come to the rescue!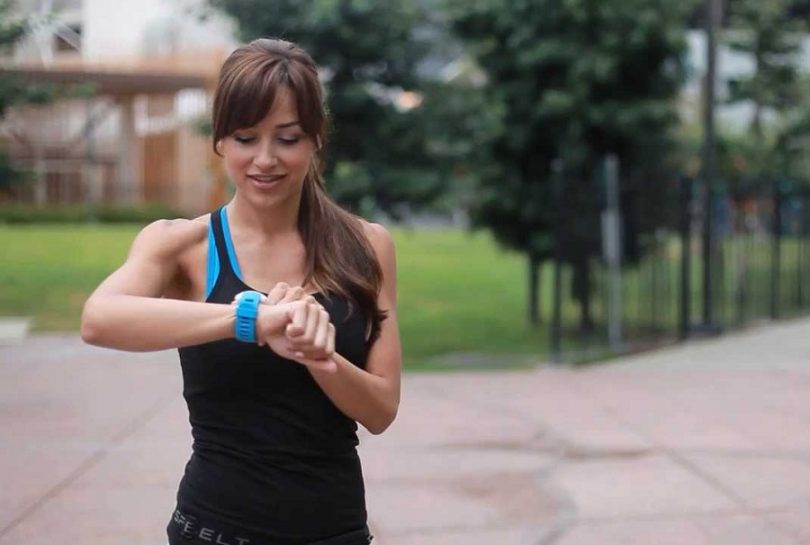 Some highly water resistant varieties are used by swimmers who want to monitor their fitness and times. When hiking, you will also experience various elevations and, for many, keeping track of things like altitude and air pressure are both very important.
In conclusion
Just like any other piece of equipment, it's important to always make a wise buying decision when purchasing your GPS watch. Take the time to read all the specifications as well as customer reviews. This way you can find out as much as possible about the useful features and where the product possibly falls short.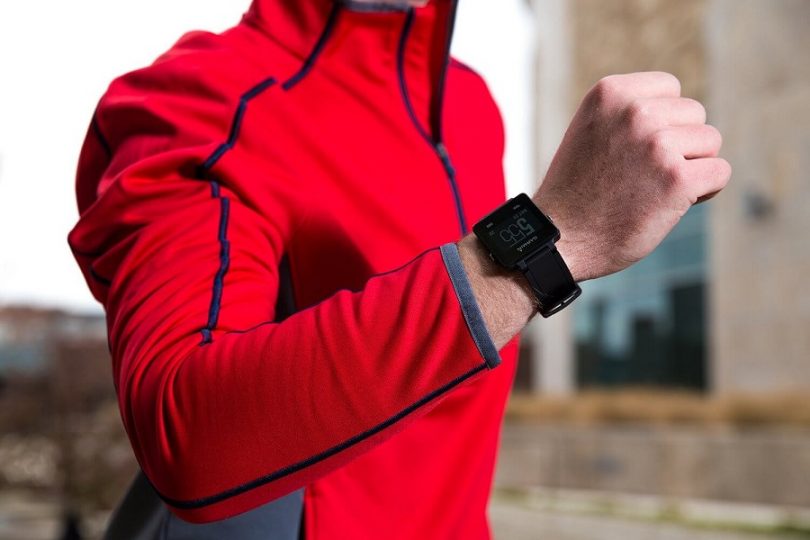 Keep in mind that not all GPS watches are suitable for all users! It will come down to the intended use as well as the price. If you need specific features, you might end up spending a bit more. If you are partial to a particular brand, this can also mean that you will end up paying more.
[the_ad_placement id="in-text-3-type-a"]
Take your time when choosing between the dozens of products available. Do not allow yourself to get overwhelmed and, before you buy, you should always find out about the return policy and guarantee!
Do check out our piece the top camping essentials to help you get a wonderful experience of the outdoors.
Some of the links in this post are affiliate links. This means that if you click on one of these links and make a purchase, I earn a small commission at no extra cost to you. Also, as an Amazon Affiliate, I earn from qualifying purchases. If the information in this post has been helpful, please consider purchasing through one of the links in this article. Thank you.