Gift giving is definitely an art! It's a difficult task with lots of ramifications, especially if you want to make sure the person who gets it will actually love it.
[the_ad_placement id="in-text-1-type-a"]
And sometimes, even if you know the person extremely well and you put lots of thought and love into the idea, the inspiration refuses to strike. So, if you're on the verge of buying a scarf or a new paracord bracelet for your prepper friend, stop!
We have your back so take a look at the wonderful (and many) ideas of a great Christmas gift for preppers we put listed below. There's a gift for every personality and every budget so browse through and let us know which one you chose.
Gift Ideas for Christmas between $0-50
If you don't want to invest too much but you still want to give a great gift, the ideas below will make any survival passionate extremely happy.
Victorinox Swiss Army Tinker Classic Knife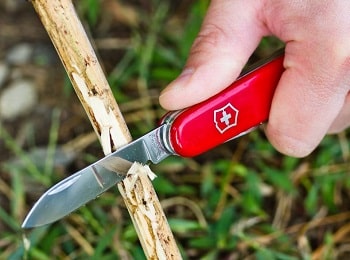 Weight: 0.3 pounds
Size: 0.5 x 1 x 3.58 inches
Color: red
Best Use: small, everyday tasks
Description: If your friend doesn't have a Victorinox Swiss Army Knife this gift will definitely make you his or her favorite friend! This product is a combination of the classic Swiss Army pocket tool and the Tinker Pocket tool resulting in a good-for-anything multi-tool.
It's light enough to wear in on the key chain or in any type of pocket and it will be useful in an infinite number of situations.
ResQMe Mini Lifesaver Keychain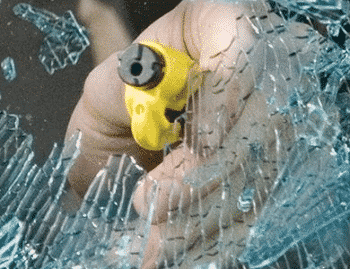 Weight: 0.3 oz
Size: 3 x 0.8 x 1.6 inches
Color: yellow
Best Use: to get free from a car in case of accident
Description: This item is absolutely amazing for a friend who travels by car a lot. The ResQMe Mini Lifesaver Keychain was designed to be worn with your keys so you can have it on you or within reaching range regardless of situations.
The product is a literally a lifesaver as it is equipped with two seatbelt cutters and a car window breaker which are extremely useful in case of a car accident.
This is the type of gift that says you care about your friend or loved one's life and you want to make sure they will be safe in any situation.
LifeStraw Personal Water Filter
Weight: 0.11 pounds
Size: 8.86 x 0.98 x 8.86 inches
Color: blue
Best Use: any outdoor activity
Description: The LifeStraw Personal Water Filter is a fantastic gift for any outdoor lover. So, regardless of the fact that your friend loves to go hiking, climbing, or camping, they will eventually need to hydrate.
Since carrying a lot of water is usually uncomfortable as it adds weight to the backpack, the LifeStraw water filter is definitely a huge improvement. It is lightweight, it doesn't take space, and can be used to drink from most natural water sources.
The filter was designed to get rid of 99.99999% of water born bacteria and removes 99.9% of protozoan parasites that are common in untreated water sources.
Also, it filters anything above 0.2 microns which is absolutely amazing. So, you'll be easing your friend's burden during hikes and making sure they keep hydrated and healthy. What better gift could you offer?
If you want to understand how this water filter works, we invite you to read our detailed LifeStraw Water Filter review.
Light My Fire Swedish FireSteel 2.0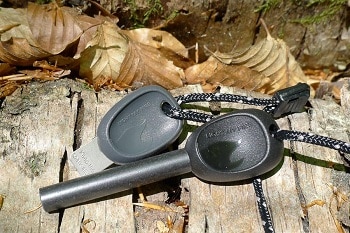 Weight: 0.11 pounds
Size: 0.62 x 1.02 x 3.74 inches
Color: orange
Best Use: fire lighting and emergency situations
Description: When you're spending most of the time in the great outdoors you do have to light a lot of fires. However, sometimes it happens that everything goes wrong (the matches get wet and the lighter doesn't work).
In such a case, having the Light My Fire Sweedish FireSteel 2.0 on your keychain can be a lifesaver. Even more, you'll think fondly of the friend who was so inspired to make such a wonderful gift.
The best part with this product is that it is equipped with a built-in emergency whistle (another lifesaving feature) and it can create bright sparks which can also be used for signaling an emergency.
Tesla Coil Lighters Windproof Arc Lighter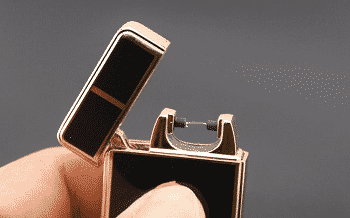 Weight: 4 ounces
Size: 1.8 x 0.5 x 3 inches
Color: metallic gray
Best Use: lighting a fire
Description: Well, this Tesla Coil Lighter is a fantastic gift for a man since it is compact, sleek, and elegant. But, besides the gorgeous design, this is the best lighter you could have on you in any situation. Since it doesn't use a flame, it is completely windproof and it doesn't need fuel.
The lighter works based on an electric arc created at the press of a button and uses a lithium ion battery for this. Even more, it can be charged via USB and a charge lasts for about 100 to 300 uses.
It's elegant, innovative, and compact; the perfect gift for your male friends!
Hydrapak Stash Water Bottle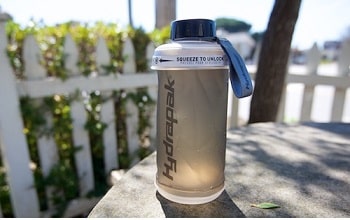 Weight: 6.4 ounces
Size: 10 x 8 x 3 inches
Color: light brown
Best Use: hydration
Description: One of the biggest problems of an outdoor adventurer is hydration. Most of us tend to take water from home in a bottle and re-supply on the road from natural sources (like springs and rivers).
However there is a space-related issue with this aspect: you can't take a big bottle since it will occupy lots of space even when empty and a small bottle won't be enough to keep you hydrated.
In this case, a product like Hydrapak Stash Water Bottle makes all the difference in the world! It comes in two different sizes (750ml and 1L) and it features a wide mouth which makes it easy to fill and drink from.
[the_ad_placement id="in-text-2-type-a"]
But the best feature is yet to come: the bottle can be collapsed to a circular disk, 4-inches high. This makes it extremely easy to store when empty and saved lots of space which is why any prepper will definitely love it.
SOL Original Survival Tool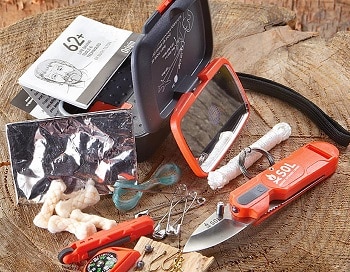 Weight: 7 ounces
Size: 10.8 x 6.8 x 1.2 inches
Color: black and orange
Best Use: various survival situations
Description: The SOL Original Survival Tool is actually a complete and compact survival kit and should not be missing from any outdoor adventurer's backpack!
The fact that comes equipped with a wide range of features that can be used in many different situations is what makes this gift quite a brilliant idea.
So, let's see the main features of this tool:
A fire starter which works well with tinder
An emergency kit for fishing a sewing (in case something breaks or rips on the way or you want to try your hand at catching fish)
150-pound-test braided nylon cord (it never hurts to have some extra rope with you)
Stainless steel wire created according to military specifications
A Fire Lite sparker (in case the fire starter fails)
A compass
A small blade that folds into the kit and can be extremely useful in a wide range of situations
One Rescue Flash signal mirror which can be seen from 20 miles away
One pea-less emergency whistle that can be heard from one mile away.
As you can see, this is definitely an extremely thoughtful gift especially considering the fact that this kit can easily be stashed in a pocket.
Zippo Emergency Fire Starter
Weight: 0.09 pounds
Size: 6.1 x 3.9 x 1.7 inches
Color: orange matte
Best Use: lighting a fire
Description: If your friend already has a great lighter, you can always complete the set by offering the Zippo Emergency Fire Starter as a gift. The product is compact, extremely lightweight and bright in color so it is easy to find in the backpack.
It is also equipped with a waterproof case that floats (just in case) and inside, you'll find water-resistant waxed tinder sticks that can be used to light a fire even in the most humid conditions.
So, if the lighter fails, this emergency fire starter is a fantastic backup and your friend will be extremely grateful for thinking of his or her safety.
Gerber Bear Grylls Ultimate Survival Kit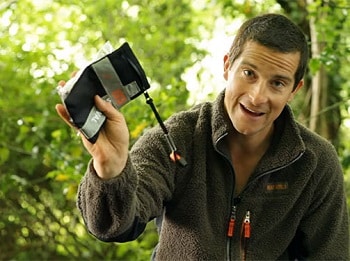 Weight: 9.4 oz
Size: 4.5″ x 6.8″
Color: black and orange
Best Use: a wide range of military, survival, tactical, hunting, industrial, and outdoor situations
Description: If you want to make sure your friends return safe and healthy from their outdoor adventures, then the Gerber Bear Grylls Ultimate Survival Kit is the gift you want.
The product is lightweight and compact which makes it easy to carry around and comes packed in a ripstop nylon bag with a waterproof zipper so all the items stay in one place.
Among the tools included you'll find waterproof matches, snare wire, needle nose pliers, a hand saw, a signaling mirror, and more.
Zippo Hand Warmer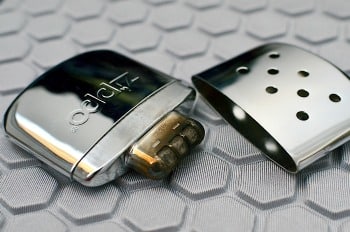 Weight: 2.6 oz.
Size: 3.9″ x 2.6″ x 0.5″
Color: silver
Best Use: in the outdoors or at an activity outside during winter
I bet you thought Zippo only produces lighters and accessories, right? Well, the Zippo Hand Warmer is a survival accessory that could help your friend in avoiding frostbites in the fingers and hands. The product is lightweight and compact and one fill offers about 12h oh warmth.
As the name says, this is a product for keeping your hands warm which comes extremely in handy if your friend loves to go outdoors in the winter. It is compact enough to fit in a regular pocket and the fuel is completely odorless.
Related: If you have small hands and small pockets, there is also a smaller version (2.9″ x 2″ x 0.6″) but this one will provide only 6h of warmth.
MTech USA Ballistic MT-A845 Folding Knife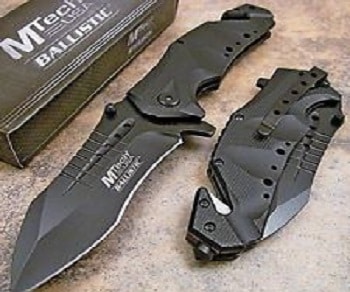 Weight: NA
Size: 5-inches when closed
Color: black
Best Use: various outdoor activities
Description: Elegant, sleek, and powerful, the MTech MT-A845 Folding knife is a fantastic gift for any outdoor enthusiast. The 3.75-inch blade is created with black stainless steel which offers durability and power for many outdoor activities (skinning, cutting, slicing, etc).
It feels heavy in your hand but it will fit in most pockets and can also be worn on the belt due to the included belt clipper.
The knife unfolds quickly due to the spring assist mechanism and can be locked securely into place. The handle is made out of black aluminum to offer increased grip and comfort.
10000mAh Solar Power Bank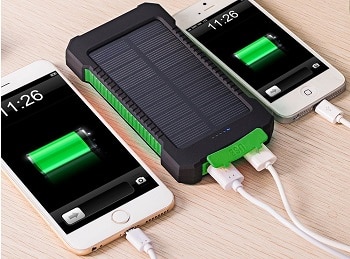 Weight: 9.21 oz.
Size: 5.47 x 2.95 x 0.79in
Color: black and orange
Best Use: charging up devices when you're outdoors
If you have a friend who loves to enjoy their modern gadgets while hiking, this Solar Power Bank will definitely put a smile on their faces!
The great part is that it can be charged either by sunlight or via an adaptor for traditional energy sources. This makes it quite versatile and the fact that it has outputs for most digital equipment today it increases said versatility.
The charger is also equipped with LED lights which come in handy if your flashlight just died. There are three modes: steady, SOS, and strobe so you can also use it as an emergency signal. There is also a built-in compass so you won't lose track of your path.
Ideas that Fit The $50-100 Range
People that mean something to you deserve a more impressive gift so spending a bit more in them is definitely worth it.
Below we selected the best ideas for preppers and people passionate about outdoor activities so we're confident you'll find something interesting.
Coast HL7 LED Headlamp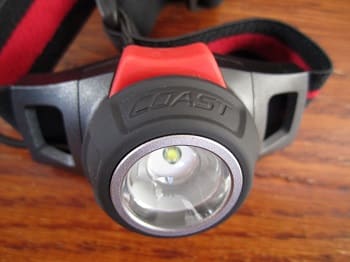 Weight: 4.5 ounces
Size: 24 x 3.2 x 2.1 inches
Color: black and red
Best Use: hiking, camping, climbing, and many other outdoor activities
Description: Imagine you're out hiking, at dusk, and you need to install the tent. If you use a regular flashlight, at least one of your hands will be occupied and you'll only have one hand for the tent.
With the Coast HL7 LED Headlamp you get free hands and the possibility to direct the light exactly where you need it which is why it will make a fantastic and thoughtful gift.
This headlamp can be adjusted so anyone can wear it and it offers the possibility to adjust the brightness (on High it outputs 285 lumens and on Low, 4 lumens).
With the 3 AAA batteries fully charged, it will provide 1 and half hours of continuous light when set on High – on Low, it lights your way for about 70 hours.
Anker 15W Dual USB Solar Charger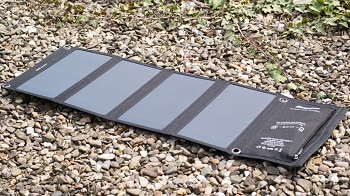 Weight: 12.5 oz.
Size: 11 × 6.3in folded or 18.1 × 11in opened
Color: black
Best Use: charging devices
Description: Unlike other portable solar chargers, the Anker solar charger is flexible and extremely versatile. First of all, it works based on solar power only but it doesn't need any other sources as the efficiency of the solar panels is extremely high.
Another feature that's worth mentioning is the fact that it is foldable for easier transportation. The product folds like a paper and it is produced in 4 sizes (depending on the number of panels available and the power delivered).
The software will identify your device and will apply the correct charging protocol so there's no need for special ports or adapters. This charger allows for two devices to be charged at the same time and can be worn over the backpack so it charges while you're walking.
Leatherman Rebar Multi-Tool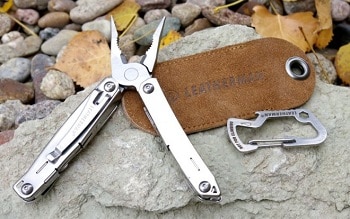 Weight: 6.7 ounces
Size: 4 x 100 x 100 inches
Color: silver
Best Use: multi-tool fit for thousands of activities
Description: This is a marvel of engineering and a gorgeous present for any outdoor passionate! Considering the size, it seems almost impossible to think that this multi-tool actually hosts 17 different tools which are necessary for a wide range of activities.
However, the Leatherman Rebar Multi-tool is not just a multi-tool. It is a high-quality product with safe features (each tool locks in place so you can use the one you choose without risks) and the possibility to replace pieces that wear from usage (wire and hard-wire cutters in this case).
This tool comes with a leather sheath and a lanyard ring which make it quite easy to wear in the wilderness and difficult situations.
Kelty Cosmic Down 20
Weight: 2.8 pounds
Size: 8 x 13 x 8 inches
Color: light and dark blue
Best Use: camping in cold weather but not in the winter
Description: A sleeping bag is quite a personal gift and it shows you want the person receiving it to be cozy and warm while enjoying the beauty of nature.
So, if this is the case, the Kelty Cosmic Down is right up your alley. With a temperature rating of -7°C (20°F), this bag is designed with a hood and a natural fit foot box which allows the person inside to feel comfy and snug. The zipper locks in place and it is designed with a draft tube to keep the cold away.
Morakniv Bushcraft Carbon Steel Survival Knife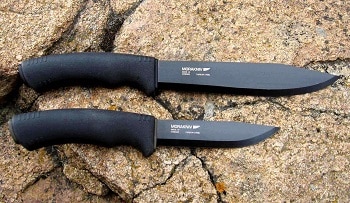 Weight: 5.4 oz.
Size: Total length: 9.1 inches; Blade length: 4.3 inches.
Color: black
Best Use: cutting, slicing, kindling, skinning, and many other activities that require a knife
Description: A knife that comes equipped with several other survival tools is definitely a very thoughtful gift! So, if you know your friend needs a knife for his or her outdoor endeavors, we recommend the Morakniv Bushcraft knife.
This is a fixed blade with carbon steel and an anti-corrosive black coating which also gives a sleek finish to the entire product.
The sheath is designed with a diamond sharpener (in case the blade goes dull while you're out) and a fire starter which can produce 3,000-degree sparks. Also, the handle fits well in most hands and offers great grip even in high-humidity conditions.
Abu Garcia Black Max Low Profile Reel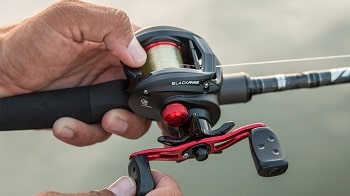 Hand Configuration: right hand
Color: black and red
Special Features: lightweight, smooth and quick retrieve, fits comfortably in the hand
Best Use: bass fishing and other large species
Description: Does your friend love to fish? Then you might consider offering a high-quality reel as gift – he/she will definitely think of you when they catch the next big fish!
The Abu Garcia Low Profile Reel is equipped with 4 stainless steel ball bearing and 1 roller bearing for a smooth operation. Even more, the spool is created out of machined aluminum for extra strength and the Dura gear brass provides durability even through heavy use.
This is definitely a dream gift for any fishermen out there!
Ultra Stream Led VP-10 Flashlight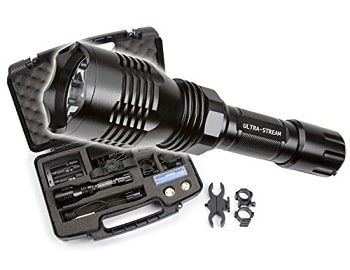 Battery Type: Li-Ion rechargeable
Color: black
Special Features: it can be mounted on the barrel of a gun, very bright and durable
Best Use: hunting, animal observation, or general outdoor use
Description: This is definitely more than just a flashlight; it's a light bearing kit that every outdoor adventure should consider adding to their backpack.
The Ultra Stream Flashlight comes in a heavy duty carry case which contains the flashlight and several accessories that help use the flashlight in various different modes (scope mount, battery charger, car charger, and more).
The flashlight is designed to withstand heavy use due to the precision machined T6 aircraft grade aluminum.
Also, it features 3 LED options: RED (300 plus yards unfiltered red light), GREEN (300 lumens, 300 plus unfiltered yards), and WHITE (300+ unfiltered yards). As a plus, it is water resistant and can work in 3 different modes: High, Medium, and Low.
Ideas that Will Cost You Over The $100 Threshold
Now we're entering the heavy-duty category of gift-giving and, if you haven't found anything interesting yet, now it's the time to focus.
Below we listed 8 ideas that should be on every survivalist or outdoor enthusiast's dream board so read carefully and weigh in your decision.
BioLite Wood Burning Campstove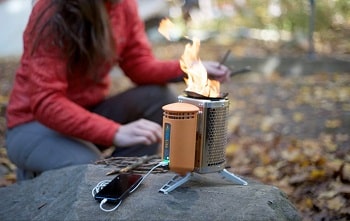 Weight: 2.07 pounds
Size: 8.27 x 5 x 5 inches
Color: orange + metallic silver
Best Use: camping cooking, getting heat during emergencies, purifying water
Description: A compact device that generates heat, charges your phone, and boils water at the same time – who could want more?
The BioLite Wood Burning Campstove is a camper's dream come true! First of all, you don't have to worry about fuel – the stove works with twigs and small branches you can find in any forest. Second, the stove converts the heat into electricity removing the hassle of solar chargers (having access to sun rays).
If you need to purify water, the stove will boil 1L in about 4.5 minutes which is quite impressive considering the size. If you want to know more about how this product works, take a look at our BioLite Stove review.
MSR WindBurner Stove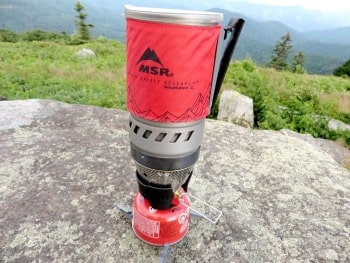 Weight: 1 pound
Size: 9 x 5 x 5 inches
Color: red
Best Use: camping cooking, getting heat while camping
Description: If you want to offer more than just a stove, the MSR WindBurner is definitely the perfect choice.
This is a stove integrated with the necessary cookware system which will allow anyone to make coffee or cook something regardless of the weather and wind speed. However, the stove works with a 4oz IsoPro™ canister so you have to consider adding the fuel to the gift.
To make things cozier, the stove is equipped with a mug, a pot, and a lid which will make everyone's camping days a lot easier and fun.
Therm-a-Rest NeoAir Xtherm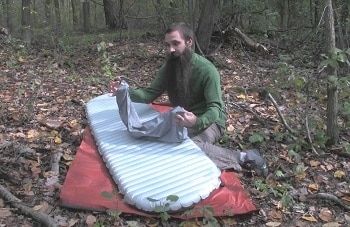 Weight: 1.26 pounds
Size: 12 x 9 x 6 inches
Color: vapor
Best Use: camping
Description: Any camper, hiker, or outdoor enthusiast, knows that the backpack is a very limited space that needs to contain a wide range of necessary items. So, the best way to make sure you have everything you want is to buy high-quality things that can get tight and small.
This is the case with the Therm-a-Rest NeoAir Xtherm mattress which can be packed to the size of a one-liter water bottle.
When opened, the mattress is 2.5 inches thick and offers amazing support which is quite a luxury when you're sleeping in a tent. Even more, the mattress is equipped with modern technologies that trap the heat and minimize the heat loss during the night.
Garmin Fenix 3 HR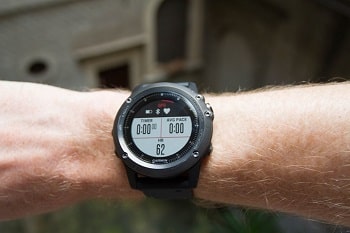 Weight: 3.2 ounces
Size: 0.6 x 2 x 2 inches (LxWxH)
Color: black
Battery: Li-Ion
Description: If you really want to impress, then a GPS watch with a wide range of functions and fitness trackers is quite a great idea.
The Garmin Fenix 3 HR is equipped with a heart monitor (the sensors are situated in the wristband), WiFi and GPS connectivity, advanced fitness training features, and outdoor navigation options like an altimeter, barometer, 3-axis compass, and TracBack feature.
Now, besides the cool software, the watch is equipped with a silicone band which gives it an elegant, rugged look making it a good fit for men.
The display offers high-resolution images and works well in direct sunlight while the entire watch is designed to support up to 100 meters under water – this means you can actually swim with it on your wrist.
Read more of our best survival watches to give you more gifting options.
Nikon Monarch 7 ATB 10×42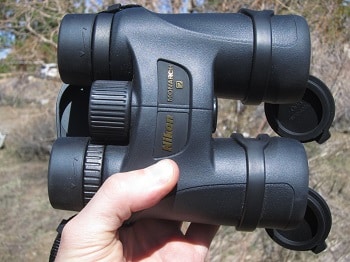 Weight: 1.33 pounds
Size: 1.65 x 5.1 x 5.7 inches
Color: black
Max Magnification: 10
Description: Most of us love the outdoors for the feeling of freedom it offers and the adrenaline-pumping environment. I mean, where else will you ever get to see mesmerizing mountains, gorgeous hills, or unspeakable river valleys?
Mother Nature is the most acclaimed architect, artist, and mathematician in our entire universe! This is why the Monarch 7 from Nikon is such a thoughtful gift: you are giving your friend the possibility to see beyond the human eye limitations.
These binoculars are bright, which makes them great in low light, and provide the viewer with an exceptionally wide field of view (351 feet). Also, they are designed to reproduce colors accurately and they compact size makes them very easy to carry around.
Camping or hunting at night? See our piece on the how to choose the best infrared binoculars for vision acuity in the dark.
Leatherman Charge TTI Multi-Tool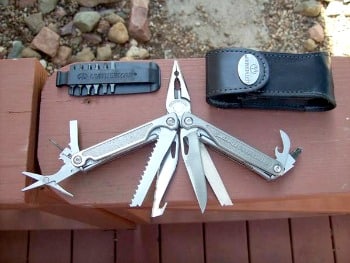 Weight: 1lb.
Size: 1.5 x 4 x 1 in
Color: stainless steel
Description: There is yet another multi-tool in our list of ideas, but the Leatherman Charge TTI is equipped with 19 different tools that can be used in thousands of situations.
The TTI is equipped with a titanium handle which means that durability won't be an issue and features tools like wire cutter and stripper, 2 different knives, saw, several drivers, a file, pliers, and more.
Benchmade Knife 585
Weight: 3.5 ounces
Handle Thickness: 0.57 inches
Size: 6.91 inches length overall
Best Use: Regular outdoor activities
Description: If your friend needs a small, foldable knife with a powerful blade and cool features, then the Benchmade 585 will be a great gift. This knife is equipped with the AXIS Assist locking mechanism which makes it easy to open with one hand.
Also, it doesn't matter which hand as it has ambidextrous thumb studs. The blade is stainless steel and the knife comes in a specially-designed pouch.
Garmin eTrex 20x
Weight: 4.96 ounces
Size: 2.1 x 4 x 1.3 inches (L x W x H)
Color: black and orange
Display Resolution: 240 x 320 pixels
Description: Compact and lightweight, the Garmin eTrex 20x is the perfect GPS to offer as a gift. Besides the fact that it has many cool and interesting features, this device is also great for geocaching.
[the_ad_placement id="in-text-3-type-a"]
The eTrex stores several maps and display information about location, terrain difficulty, descriptions, and hints which are very useful if you like geocaching or backpacking.
The WAAS-enabled GPS receiver is very sensitive which means you will get GPS signal in some of the most difficult locations.
For more of the best GPS handheld devices, see our review on the topic.
To Wrap It Up
Hoping that we offered a great Christmas gift idea for an outdoor enthusiast we end our list here. If our recommendations helped, please let us know – we're waiting for your great stories in the comments section!
For more ideas on gift ideas, see our post on camping gear gift ideas for family and friends.
Some of the links in this post are affiliate links. This means that if you click on one of these links and make a purchase, I earn a small commission at no extra cost to you. Also, as an Amazon Affiliate, I earn from qualifying purchases. If the information in this post has been helpful, please consider purchasing through one of the links in this article. Thank you.