Probably one of the most versatile pieces of furniture in the market today is the folding table. When you have the best folding table, you have a table that can work for you under a variety of circumstances and/or environments.
These pieces of furniture can work as indoor or outdoor work and eating surfaces that have the added benefit of portability.
In recent years, the market and demand for good folding tables have expanded tremendously. As a result, more companies have put their time and money into developing folding tables to suit the various needs of today's shopper.
Folding tables are used for a wide array of activities indoors as well as outdoors. Caterers, restaurants, and thousands of homes use them for commercial and domestic events. Folding tables also see a lot of use in campsites and nature parks as well.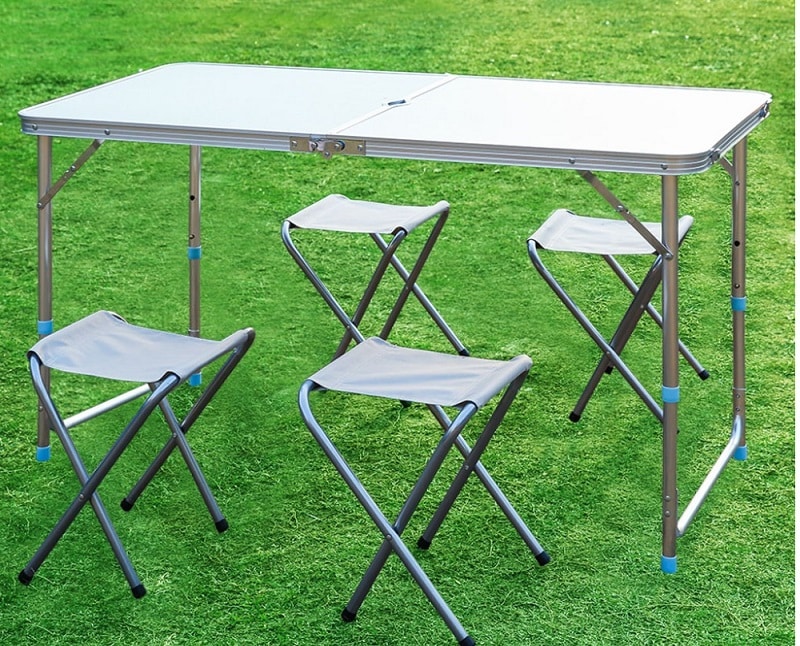 The utility of a good folding table, cannot be understated. With that said, we will briefly discuss what are the characteristics you should look for and the considerations you should make when shopping for a folding table.
What Makes A Good Folding Table?
Figuring out which folding table to purchase starts off with knowing what your intended use for it is. Sure they are versatile, but the construction of each folding table can be quite different from the next. This makes particular tables better suited for particular tasks than others.
For example, the best camping table will be very much suited for the rigors of outdoor use. However, it might not be the best choice for indoor activities.
In the same breadth, strong and stable indoor folding tables might not pack away well or have stability on uneven surfaces in the manner that outdoor tables would.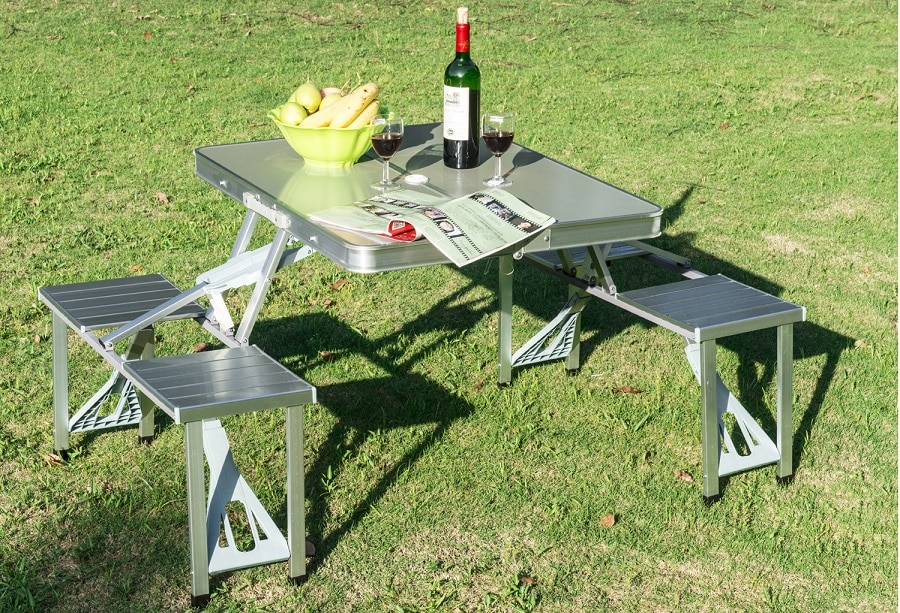 That being said, here are a few things you will want to look out for.
Height: If you purchase a folding table that comes with a set of seats then you're probably set. But if you don't, and you intend to use the folding table as a dining/working surface, you'd best be sure that the folding table's height is ideal for use alongside your seats.
Too low, and it might feel akin to eating with your plate on your lap. Too high and it will be quite uncomfortable. A folding table for use of kids should generally be lower.
Weight: Among the biggest draws of many folding tables is the ability to easily move it from point A to point B. That being said, if you're purchasing a folding table that you intend to move around a lot, you will probably want it to be on the lighter side.
If you frequent a camping site, how far is it from where you park to where you can unload your gear? Heavy tables will be a bit troublesome.
A perk of higher weight is that it potentially (not always) means a sturdier and more stable table. For one thing, it's harder for the wind or an inadvertent bump to topple it. Also, heavier can mean tougher materials.
Ease of Unpacking/Assembly: Is the folding table easy to assemble? Can you pack it away easily? Starting off a camping trip with a frustrating experience putting up a folding table can dampen the mood early on.
It's definitely advantageous if the table unpacks easily and can be folded away quickly as well.
Construction & Leg Mechanisms: The fate of your table and whatever you rest on it will be largely based on the strength and stability of the table's overall construction. How are the legs supported?
Legs that are bolted to the lower end of the table are a good sign. Struts that help distribute weight also contribute to a more stable table. You will also want to inspect the screws and bolts that make up the table's moving parts.
Wooden screws are an unspoken warning that the table might not be able to take much weight.
Edges and Corners: These are the parts of the table that take the biggest beating during falls. If your table takes an unexpected fall for whatever reason, you will want a table with edges and corners that can take fall damage. Otherwise, your table will get old rather quickly after several tumbles.
Carrying Capacity: The weight bearing capacity of tables are rated by manufacturers. When picking out a table, you should have a general idea of what you'll be putting on the table and rough estimate of the weight.
Overburdening the table beyond its indicated capacity can cause damage as well as void your warranty.
Dimensions: The dimensions of a table's surface will determine how much you can put on top. If the table is intended to be an eating surface, how many people is it expected to accommodate?
Too small and the table won't be able to serve the intended number of people. If it's too big, then it may become a waste of storage space. The ideal size of a table will largely tie-in with the intended usage.
Materials: What the table is made of will largely dictate the experience you will have while using it. Cloth-like nylon folding tables tend to be more compact than their hard-top counterparts.
However, nylon top tables tend to slack, making it a less stable option. Some surfaces are also more stain resistant than others. That should factor in as well, especially if the table is going to be used for food.
In terms of the construction of the moving parts and the foundation of the table, you will want materials that are corrosion-resistant, especially if the table is going to be exposed to the elements a lot.
Extras: Though this shouldn't be a primary consideration, it should still factor into your purchase decision-making. Does the table have drink holders? Does it come with seats?
Does the table have a carry-bag? The small extras can have a huge impact on your experience using the table and in getting your money's worth.
Warranty: As with most other purchases, you will want a sense of reassurance that you won't be tossing your cash to the wind in the event that you wind up with a defective product.
Some manufacturers have better warranties than others. Aside from giving you the option to replace your product, a good warranty policy also speaks loudly of a company's confidence in the quality of their products.
Don't forget comfy chairs. Check out our must-read articles on the top camping chairs to make camping even more relaxing.
Top Products Reviews
There are a variety of folding tables out in the market today. We've assembled a list of some of the most sellable folding tables to help you figure out which one is right for you.
Coleman Outdoor Compact Table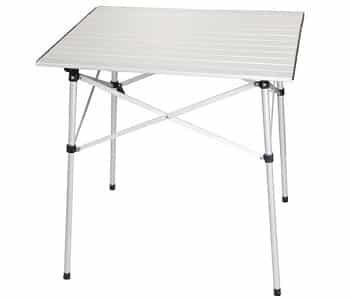 Weight: 8.86lbs
Dimensions: 27.6 x 27.6 x 27.6 in
Table Top Material: Aluminum
Folding Mechanism: Easy Assembly, Snap-together frame
Carry Capacity: 100lbs
Warranty: 1-year limited warranty
Best Use: Outdoor cooking / outdoor dining surface for two people
Comes with: Free bag with carry strap
Description: The Coleman Outdoor Compact Table is an excellent companion for your next camping trip. This versatile table can handle pretty much anything you can reasonably expect to throw at an outdoor folding table.
The aluminum table top is stain resistant and is a breeze to clean up after even the messiest outdoor cookout. Being made of aluminum, it is also safe to use the table as a surface for your stove.
The frame and legs are solid. The legs point outward slightly for added stability. The frame which features supports that aid in weight distribution gives the table a solid foundation. The legs, however, do not have adjustable lengths. The table is rated to be able to take 100lbs of weight.
In terms of its dimensions, at 27.6 x 27.6 in it's provides generous space for two people to have a meal or four people to play a poker game. Not overly spacious but it stores up very nicely, a great space saver in your storage and it carries easily too in its bag.
Overall, the Coleman Outdoor Compact Table is a great choice, if you need a small-sized folding table for use outdoors. It shines as a cooking and small dining surface, but it'll handle most tasks well enough.
GCI Outdoor Compact Camp Table 20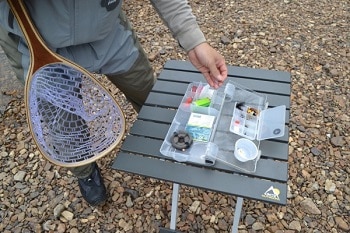 Weight: 4lbs
Dimensions: 18 x 19.9 x 23.8 in
Capacity: 60lbs
Tabletop Material: Aluminum
Folding Mechanism: Squeeze Telescoping Technology
Warranty: Limited lifetime Warranty
Best Use: Outdoor cooking, light dining,
Description: The GCI Outdoor Compact Camp Table 20 is a rugged, lightweight table, great for a variety of outdoor uses. The table top is constructed of aluminum which offers great heat distribution, making it a viable cooking surface for you to place your stove on.
The legs and construction are also quite sturdy, making it a go-to table for a variety of outdoor uses. It's rated to be able to take a good 60lbs. For its dimensions, you probably won't be stacking on too much on top of this table anyway.
In terms of portability, it does not disappoint. At 4 lbs it is a very light hard top folding table. Its Squeeze Telescoping Technology allow for quick and simple assembly and folding away.
When folded up it is a mere 18 x 2 x 17.9 inches. It definitely lives up to its name.
In terms of table surface area, however, it might not be as generous as other folding tables. The 18 x 19.9-inch surface is good enough for a dining surface for two people, though additional space for extra food and drinks will be a bit scant.
The price might be a bit of a deterrent for some, regardless it is a solid all-around outdoor table that can stand up to most outdoor and camping-related tasks.
Helinox Table One Camping Table – Hard Top
Weight: 2 lbs
Dimensions: 15.4 x 23.6 x 15.7in
Capacity: 110lbs
Tabletop Material: Polyester 600D (with hard panel surface underneath)
Folding Mechanism: Single Shock Corded Pole Structure
Best Use: Outdoor snacks for two people, concerts, tailgating, backpacking
Description: The Helinox Table One Camping Table is among the most compact and lightweight folding tables in the market today. As is characteristic for Helinox folding tables, it folds up very well. When folded, it's roughly the size of a loaf of bread.
Couple that with the 2lb weight and you have a very light table that you can definitely consider taking on a backpacking trip.
In terms of its dimensions, the Helinox does well enough. You can comfortably place sufficient food for two to three people on it without any trouble. Though it is a bit closer to he ground than most other folding tables.
This makes it a bit trickier if you've packed seats of a standard size. You might end up eating too high or sitting on the ground. That's not necessarily a bad thing if that's what you were going for in the first place.
The material that comprises the table surface is polyester, it's cloth. But don't fret. The polyester simply covers a harder panel-like material underneath making it solid.
You won't have to worry about your drinks getting tipped over because of the table surface taking on a slight slope because of the weight of items placed on top.
Given the surface, however, you aren't going to be cooking on top of this table. The polyester can easily catch fire, so consider another table if you want one to cook on.
The Helinox Hard Top does have some drawbacks. Aside from the inability to cook on it and the low elevation, the Helinox is a bit pricey, it's potentially prohibitive for anyone with a limited budget. Despite this, however, overall, the Helinox makes for a great choice for a folding table.
The stability its construction provides plus the weight and ease of transport, makes it an asset for table surface needs while outdoors.
ALPS Mountaineering Dining Table – X Large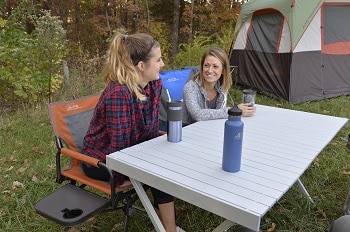 Weight: 14lbs
Dimensions: 28 x 55 x 28 inches
Material: Anodized Aluminum
Best Use: Outdoor food prep/cooking, dining 3-4 people, family outdoor trips
Description: The ALPS Mountaineering Dining Table XL is a strong, portable folding table, great for families and group outings. Packing a 28 x 55-inch table surface the XL version of the ALPS Mountaineering Dining Table provides a lot of space.
With this, it allows for a lot of activities. Kids can play card and board games on the table without much issue. Cooking and food preparation can both be done on the table. Dining with 3-4 people is very comfortable given the ample space.
The anodized aluminum surface makes it resistant to both corrosion and stains making clean-up a breeze. The aluminum structure also holds up well against abuse.
Despite all of these, the Alps Mountaineering Dining table is not without fault. For one thing, at 14 lbs it is a tad bit heavier than other offerings, making it a bit more difficult to carry. If the camp site is a long distance from where you park, it can be a bit of a hassle to carry.
The aluminum frame, while capable of carrying weight must be stored properly, lest it gets bent or dented due to accidents. It's also relatively expensive.
In terms of providing money's worth the ALPS Mountaineering Dining Table delivers. Its expensive price is alright considering that it can take twice the load and offers roughly twice the space of smaller folding tables.
Evrgrn Picnic Table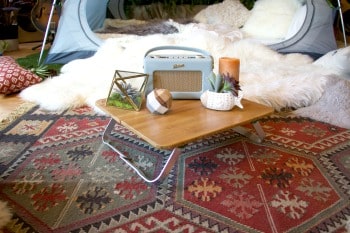 Weight: 5lbs 8oz (with carry bag)
Dimensions: 18.5 x 18 x 5.75 in
Tabletop Material: Bamboo
Best for: Picnics, camping trips, eating while seated on the floor, Japanese style dining
Description: The Evergrn Picnic Table is an awesome portable table for picnickers and campers who like to eat sitting down on the ground. At 5 lbs and 8oz, it's very light and easy to carry. You can easily have one of your kids carry this during a family picnic.
When set up the table is only 5.75 inches off the ground. Needless to say, this doesn't do well for anyone who likes eating from a seat. For a picnic, while sitting on the ground, however, it's perfect.
With a surface space of 18.5 x 18.5, it does not offer that much in the way of space. Probably only two people can dine on it if a lot of food is involved, but for light snacks, four people can easily make use of the surface area. It's also great for other activities to pass the time like a card game or drinks.
The Evrgrn table also features a bamboo tabletop, though not as stain-resistant as the more metallic options, it provides a cozier aesthetic and can be used to recreate the feel of traditional Japanese dining. (Though traditional Japanese tables tend to be even lower).
The aluminum legs and support coupled with the low height make it very stable.
While it isn't the most versatile of folding tables, overall, the Evergrn Picnic Table, does what it's supposed to do. And that is to provide a low-rise table surface for the group or family to enjoy.
For more cool camping ideas you can use, see our piece on this before your next backpacking trip.
REI Camp Roll Table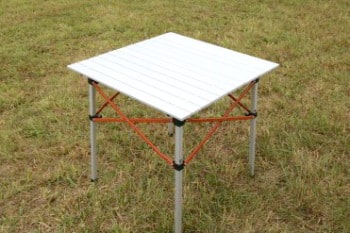 Weight: 8lbs 8oz
Dimensions: 27.5 x 27.5 x 27.5 in
Tabletop Material: Aluminum
Carry Capacity: 100lbs
Best for: Camping, Outdoor cooking
Description: The REI Camp Roll Table is a compact, versatile outdoor table option. Technically, it isn't a folding table in the regular sense as it rolls away. That being said, it's highly versatile, great for a variety of outdoor work. The aluminum table top provides a cooking surface fit for use with stoves and grills.
The 27.5 x 27.5 surface area allows you sufficient space to prepare food, eat with 2-3 people and/or enjoy other simple activities to help pass the time.
In terms of comfort of use, at 27.5 inches high, it won't have any trouble with most seats. You should be able to dine on it without having to resort to putting your plate on your lap.
The aluminum construction and supports are also rated to be able to handle 100lbs worth of weight.
Whether cooking, dining, or just a surface to place gear and bags on, the REI Camp Roll Table is a great choice.
Conclusion
While there are a lot of folding tables out there. Purchasing one is a pretty straightforward affair for so long as you know what it is that you are looking for. Our article on the best camping tips is a great way to make your next trip memorable. Check out our must-read article for more.
Some of the links in this post are affiliate links. This means that if you click on one of these links and make a purchase, I earn a small commission at no extra cost to you. Also, as an Amazon Affiliate, I earn from qualifying purchases. If the information in this post has been helpful, please consider purchasing through one of the links in this article. Thank you.