The great outdoors and car camping can only get better if you are sharing it with family and friends. Whether you are headed to the chilly mountains, or hosting your kid's first backyard tent adventure, you are going to want a big tent to accommodate all your new camping pals.
We suggest buying big, a six-person tent, to maximize space in your car, reduce set up times, and all gather in the tent at night for flashlight lit ghost stories.
In this article, we are going to cover how to pick a tent, special features to keep an eye out, and then review a few of the best 6 person tent for you to consider buying.
If you are an experienced alpine backpacker, planning on skimming ahead to see the products, note that shopping for more tent space means that you are going to be looking at different specs when picking your tent.
You won't find a lot of keywords like ultra light or packs down to a thermos size, nor do you have to worry as much about season ratings or single and double wall. This car camping tent is a serious investment, costing around $150 to $700, so we want to be sure that you have the best 6 man tent on the market.
Hint: Most family tents are double walled tents, meaning they are perfect for base camp tents and tend to be pretty heavy. For tips on how to choose the best family tents for camping, see our earlier article on this topic.
Doors, Doors, and More doors
This might seem like a trivial determination to choose not to buy a tent, but the amount of doors you have will become crucial when you think about the likelihood of actually sharing a tent with six of your best friends.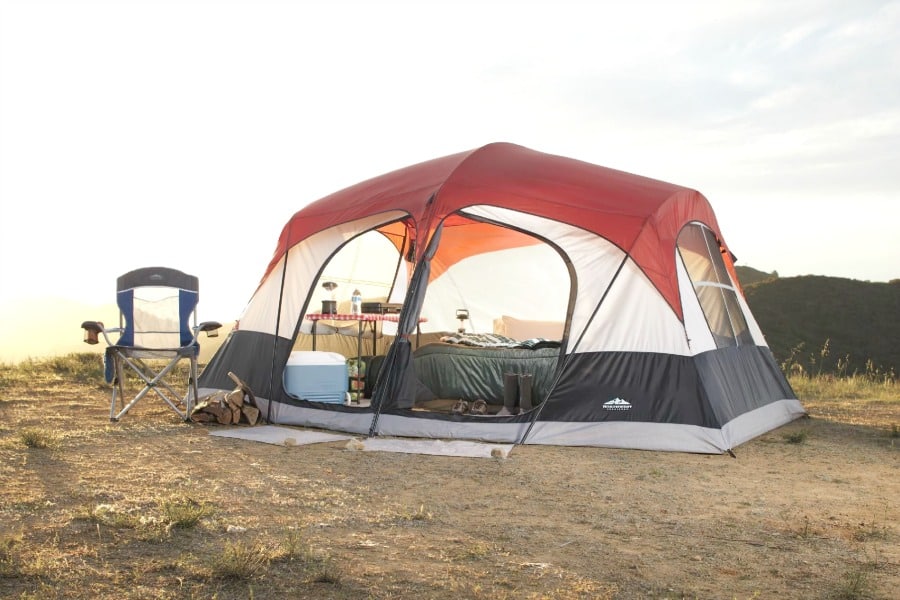 If you are looking to purchase a tent of this size try and find tents with 2+ doors, you will appreciate the accessibility, and also the ability to open up these doors when you are camping in the unseasonably warm weather in the summertime.
When you set up this beast for the first time you are going to actually want upwards of three, especially if you are bringing little ones along, who love to run in, out and around your tent. These tents are not meant for alpine adventures so the goal here is absolute comfort in your car campsite.
Can We Get some Ventilation in Here?
Have you ever slept in a tent with six people before? If the answer is yes, then you know that everyone deep slumber breathing on top of an already warm night means that you will be desperate for some fresh air.
As we see it, there are two main ways to get the proper ventilation you need, and buying a tent without looking at these specs could be deadly.
Mesh doors, windows, and ceilings
How much of the tent is actually made with a secondary mesh? If you plan on being fully packed into your tent with six adult people, then you are going to be looking for optimal amounts of mesh.
You will be hard pressed to find a tent without some mesh panels, but you are looking for whole mesh doors, and large mesh panels across the top of the tent to keep you cool and happy for a full nights sleep.
High Ceilings
You aren't worrying about weight since the longest trek with this tent will be from the car to the picnic table. You are looking for tents that stand higher up, if you can comfortably change in it, then that ceiling will vent better for you and your crew.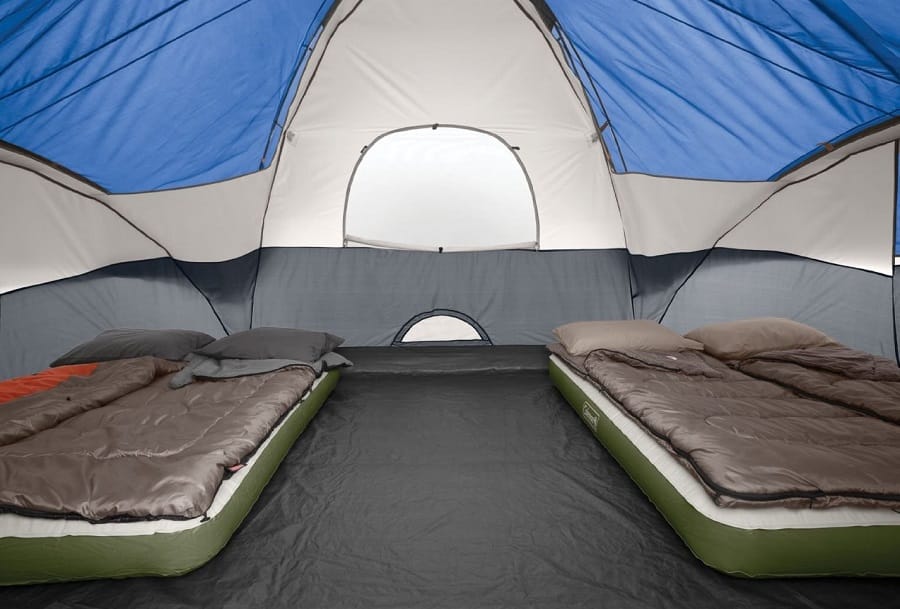 Not only do high ceilings make it easier to breathe at night, they are great to have for convenience and comfort. Being able to change in your tent, stand up straight, and exit with ease are all a part of keeping everyone happy in a big adventure to the outdoors.
Useful tip: There is a trade-off for ventilation to consider when purchasing your tent, the more mesh, vents, and windows, unfortunately, means that there are more ways for rain and the wind to get into your tent. These tents are comfortable but mostly in nice weather.
But Could We Live in It?
You've got your large vented tent with three doors, so you might be ready to go. But first, consider if you really feel that you can live in that tent. The biggest benefit that car camping has over backpacking is that it is meant to be comfortable, and you are meant to be around your tent for longer periods. This isn't a set it up and sleep in it situation. Read our informative article on how to select the best family camping tent to give you more ideas.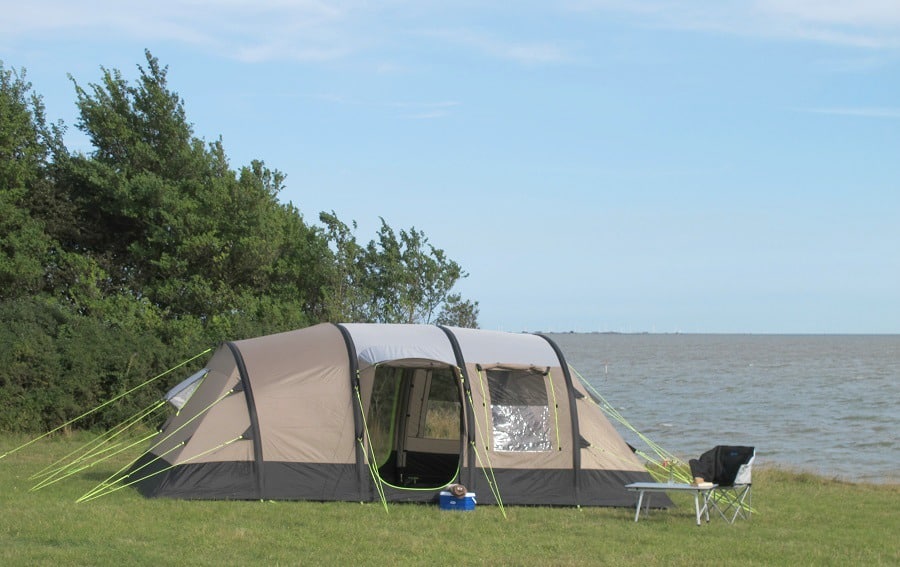 You are going to want a tent that suits you and your family's needs, can you lounge in it, take a nap, escape from mosquitos, or even play a card game with your friends in it? When you first set up your tent see if you can stand comfortably, check to see if it has indoor pockets to stash valuables and see if the shape and size of the tent truly fit your needs.
These tents are durable and roomy so that you can feel as if your tent is more than just a basic shelter you plan on tearing down at first light.
Buy The Best
If you are already itching to hit your nearest camp store, quickly glance over our suggestions for these large bags.
There are many options out there for you to choose from, with virtually no differences! So we have rated the top eight tents just for you so that you can purchase the best 6 person tent!
Coleman Evanston Screened Tent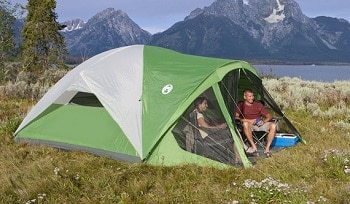 Weight: 20.9 lbs
Dimensions: 168″ L x 120″ W x 68″ H
Price: $81.63
Specific Features: This lovely Coleman Evanston Screened Tent features a fully screened porch in the front to keep you safe from bugs, is designed for easy setup and takedown and is made out of a polyester taffeta meaning it can keep you dry.
Best Use: Large group car camping
Description: This large dome shape tent is not only a great price, but customers absolutely love its roominess and four meshed windows. It is incredibly easy to set up, and if you are the designated man in charge of putting up this beast, reviewers say that you can even do it solo!
If it rains, this is the tent to have, but don't go in weather where it drops below 40 degrees Fahrenheit. In addition to the inside of the tent, you can enjoy an attached front screen porch area that is big enough for a few chairs and a small table!
Ideal for relaxing by the lake without being eaten alive by mosquitos. There is back wall window covered in a mesh that some people were not happy above. There is no zip-close flap, so while it gives you quite a bit of circulation but it can get chilly in the cold.
Coleman Elite WeatherMaster 6 Screened Tent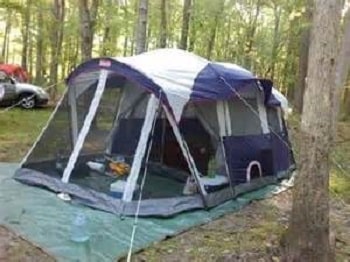 Weight: 16.25 lbs
Dimensions: 11 x 9 ft. with 9 x 6 ft. screen room, 6 ft. 8 in. center height
Price: $139.43
Specific Features: Enjoy having a tent that not only fits six people but has two rooms to it. The special features to this tent seem endless, it has self-rolling windows, a built-in lighting system, and a hinged door. All to keep you comfortable, well light, and dry during rain.
Best Use: Luxury car camping for a group of six
Description: Needless to say, reviewers were in love with this large and luxurious tent. Featuring one of the largest mesh porch areas for a family sized tent, with built in lighting, this Coleman Elite WeatherMaster 6 Screened Tent is well worth its price.
The wall switch in the tent allows for you to turn on a nightlight mode, without even getting up, ideal for camping with little ones used to light in their rooms.
Unlike most other tents this one has two rooms to wander through, so you can either have individual bedrooms, a gear storage location, or a place for your pets and still enjoy a screened porch.
You might be worried that the tent is too technical and difficult to put up. But our reviewers not how easy it is to install and take down, even with its rigid frame. It may take a bit longer than your average tent because of its special features, but it extremely comfortable once up.
While Coleman certifies weather resistance, we still suggest that you don't take this tent out if you are expecting rainfall for over five hours.
Slumberjack Trail Tent 6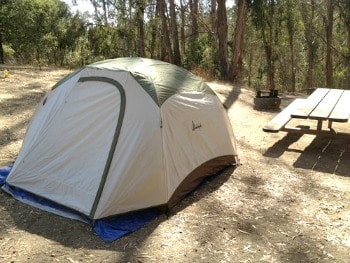 Weight: 18 lbs 6 oz.
Dimensions: 130 x 110 x 70 inches; floor area: 99.3 square feet
Price: $199.14
Specific Features: This free standing six-person tent features a full coverage rain fly, sturdy polls, and internal storage pockets to keep your basic needs handy. The set up is made easy with a color coded system and once up is weather proof and durable. It has two doors and two vestibules for you to use.
Best Use: Car camping or backyard camping in harsh weather.
Description: This Slumberjack Trail Tent 6 is going to be more akin to your backpacking tent, in its durability and in its full covered rainfly. While you don't have the luxury of a screened porch, you can be sure that you will be warm and dry throughout the trip.
One reviewer even mentions taking this tent to the snow. If you are on the taller end of the spectrum set the tent up first and see how comfortable you are standing in the tent. It is smaller than our other products, but reviewers have said that they can fit five people with a bit of gear space.
All this being said this tent has received quite a few reviews that note that the fiberglass poles break on first use.
Some have said this is due to improper setup, but others believe it is because of the reliability of the materials themselves.
Kelty Trail Ridge 6 Tent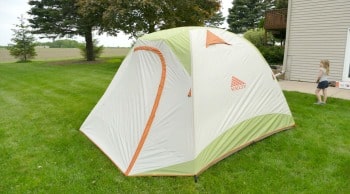 Weight: 13 lbs and 13 oz.
Dimensions: 96 x 120 x 72 inches
Price: $399.95
Specific Features: This freestanding tent features gear loft loops, fly vents, and noiseless zipper pulls that will keep you comfortable and help your tent mates sleep.
The spacious interior is lined with huge mesh wall panels and two vestibules for plenty of storage space. They have a lifetime warranty and is lightweight for extra ease.
Best Use: Car camping
Description: While this Kelty Trail Ridge 6 Tent is a bit more expensive, it is one of our lighter weight tents for you to purchase. The tent itself is easy to set up, and can even be done in 3 minutes with a little familiarity.
It's simple design created a dome-like tent, that makes it feel roomy on this inside. If you love to organize your gear upon settling in, you are going love the four mesh pocket and an addition gear loft.
This tent has been reviewed as being a bit smaller than what was originally expected. You can't actually comfortably sleep six people in the tent. That being said, it's mesh walls will keep the tent well vented if you do plan on trying to sleep shoulder to shoulder with five other people.
Kelty Acadia 6 120×96-Inch 6-Person Tent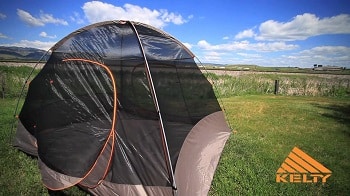 Weight: 14lbs 3 oz.
Dimensions: 96 x 120 x 74 inches
Price: $189.95
Specific Features: Kelty designed this six person tent to be the perfect option for 3 season camping and backpacking. It has a three pole setup design for fast and easy setup and take down, with plenty of mesh paneling. Enjoy two doors and two vestibules to get in and out of the tent and store gear.
Best Use: Camping and light hiking
Description: This Kelty Acadia 6 120×96-Inch 6-Person Tent will keep you warm and dry on you camping adventure with its sturdy rainfly and mesh wall panels.  The set up will be pretty simple, and if you see bad weather coming, the rainfly goes over quite nicely.
You can easily fit two adults and two children in this tent, and utilize the vestibules to store your gear. With plenty of ventilation, you can ensure that your tent will not only keep a fresh smell but won't become unbearably hot at night.
It may not have as many features as some of our other tents, but Kelty designed this tent for not only camping but quick backpacking trips as well. Meaning that they were anticipating a need for lighter weight materials that could be split up in packs.
Related: Eagles Nest Outfitters-JungleNest Hammock
Eureka Copper Canyon 6 Tent – 6 Person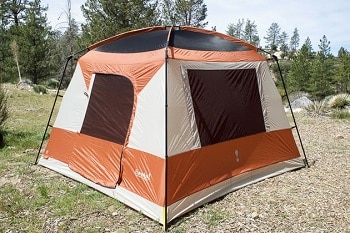 Weight: 25 lbs
Dimensions: 120 x 120 x 84 inches
Price: $174.99
Specific Features: Enjoy this incredibly roomy six-person cabin styled tent, easily sleeping six and even room to walk around in! It has one large door that is a "D" shaped.
It is a hybrid between a free standing tent and having a fiberglass frame so that you have a very sturdy tent. For floor and fly seams will keep you dry and comfortable, and can withstand a modest rain downpour.
Best Use: Car Camping
Description: This Eureka Copper Canyon 6 Tent – 6 Person style is a throwback to classic camping with its six pole cabin style, that not only assures you floor space, but also the optimal standing room. With windows on each side, you can ensure plenty of visibility and cross ventilation.
It also features a beautiful mesh roof that reduces air condensation. There are gear pockets along the top of the ceiling, with interior utility loops for you to be able to find your stuff even at night.
If you are choosing to have cots on your trip to sleep on, then this is the tent that is best for you.
It is incredibly roomy with nearly vertical walls that make you feel right out home in the outdoors. Make sure that you peg this tent down, though, as it's shaped makes it a bit like a sail in the wind.
Coleman WeatherMaster 6-Person Screened Tent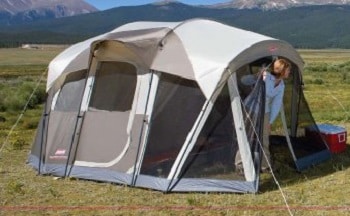 Weight: 35.2 lbs
Dimensions: 204 x 108 x 80 inches
Price: $145.94
Specific Features: This large tent has two rooms to sleep six campers and a floorless screened room for extra ventilation and hanging out on warm days.
The special Coleman WeatherTec system means that you can rest assured that you will be dry and warm.
The system features zipper protection, wind strong frame, and leak-free seams.
Best Use: Car camping
Description: The main difference between this Coleman WeatherMaster 6-Person Screened Tent and the Elite we reviewed, is that this tent does not come with built-in lighting and auto rolling window shades. However, you can still enjoy an easy set up that is color coded and an incredibly nice porch to enjoy.
If you want a tent that allows you to not only have a fantastic shelter to sleep in but also a place to relax and enjoy a camp day then this is the perfect tent for you and your family.
If you are camping and want privacy then the second room to sleep or change in will be perfect. It's light gray color keeps it cool and bright during the day.
A con to this tent is that the front door zipper does not zip all the way to the bottom, meaning it is not 100% air tight. Also, most reviewers will highly suggest purchasing separate stakes, as the tent comes with plastic stakes.
Related: Coleman 8 Person Tenaya Lake Fast Pitch Cabin Tent with Closet
Coleman Instant Cabin Tent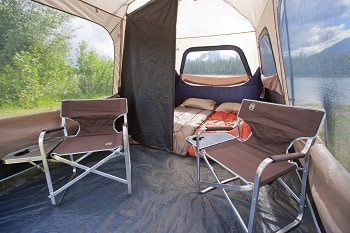 Weight: 24.9 lbs
Dimensions: 72 x 107 x 120
Price: $179.99
Specific Features:  The best feature of this Coleman Instant Cabin Tent is its pre-attached poles that create a secure instant setup. Your tent is ready to go in 60 seconds! IT has the Coleman Weather Tec system to ensure that you stay dry and warm. It's integrated vented rainfly allows for airflow without additional assembly, keeping your setup fast and efficient!
Best Use: Camping and light hiking
Description: Excited to go camping but don't want to deal with the headache of trying to set up a large and complicated tent? Just simply by this tent and get 60 seconds or less set up that you can do yourself!
The integrated rainfly does stand up to some light rain, but Coleman also sells a package that includes and additional rainfly. While there is no porch area on the tent and no vestibules, the inside of the tent is roomy.
There are huge windows allowing for gorgeous scenic views and plenty of air ventilation. There are two mesh pockets in the tent for storage and a hook on the roof.
The con most talked about with this tent is the lack of waterproof assurance and the square bottom corners that has two zippers creating a small gap in the tent.
Tent It Up!
Going out on a long weekend with your friends and family doesn't have to mean tight quarters and uncomfortable sleeping. These six man tents will keep you incredibly comfortable and happy throughout the whole trip.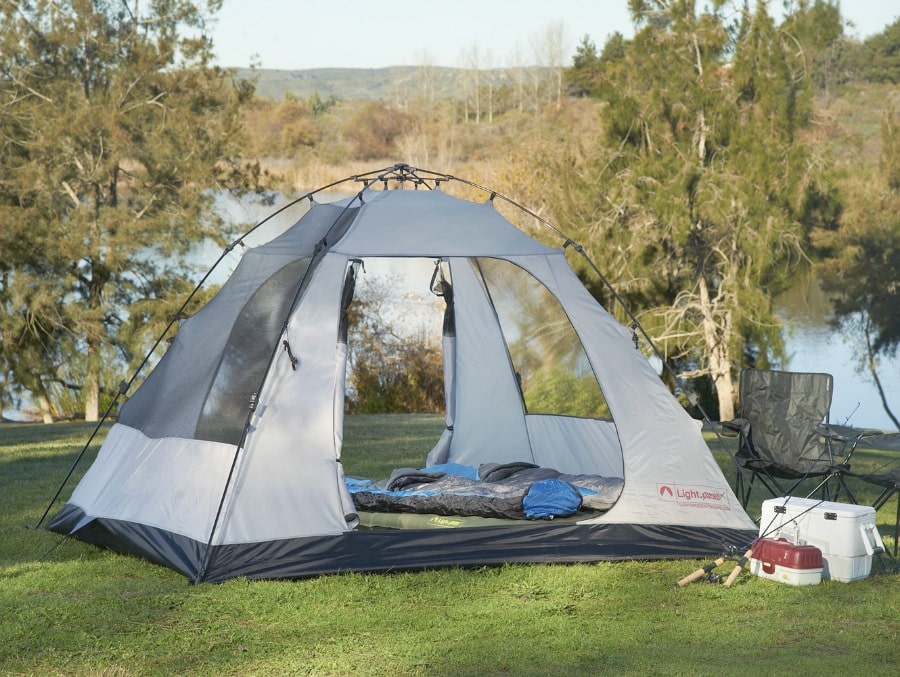 For car camping, your tent not only acts as your shelter but also your ability to hang out and lounge in your tent on warm summer days without being eaten alive by bugs. For the top luxury camping tents for big groups, see or earlier article on this piece.
Have we missed your absolute favorite six-person tent, or do you have a suggestion to make car camping even more comfortable? Let us know in the comments below!
Some of the links in this post are affiliate links. This means that if you click on one of these links and make a purchase, I earn a small commission at no extra cost to you. Also, as an Amazon Affiliate, I earn from qualifying purchases. If the information in this post has been helpful, please consider purchasing through one of the links in this article. Thank you.