You ask, "What is the best family camping tent?" Using a family tent (may be better than using a car or a campervan) is the perfect way to enjoying the outdoors, feeling the power of the wind and the heat of the sun and listening to the sound of the rain, but a tent should be able to shelter your family well.
[the_ad_placement id="in-text-1-type-a"]
Selecting a tent is a tough challenge because they come in all shapes, sizes and features, but with research you will be able to find the right one—all of course depending on your budget and priority, among other factors.
If backpacking is your adventure, then the family tent's weight must be top priority, or if you have a large family, say six up to 10, you may want to pick a model that comes with bedrooms and living areas.  So giving you a clearer picture on ways to pick the right family camping tent, check out the following for a full explanation.
Important characteristics to look for when choosing a tent
Seasonality
In most cases, three-season tents are chosen for their lightweight features and perfect design for temperate conditions in the spring, summer and fall. These types of tents come with enough mesh panels that boost air flow and keep out bugs and insects, although they cannot filter blowing sand. They can also keep up with downpours, but they are not the best choices in terms of sustaining harsh storms, heavy snow or violent winds.  Their main functions are to provide privacy, shield your family against bugs and insects and keep them dry during light snow and rain.
There are also 3+ season tents, which are designed and built for three-season and summer use. They usually offer strength, ventilation balance and heat retention and come with at least one pole and fewer mesh panels than 3-season models, making them stronger and warmer, too.  You may opt for this family tent if you often go to camping trips in elevated destinations.  Take note, however, they are not for keeping up with harsh winter conditions.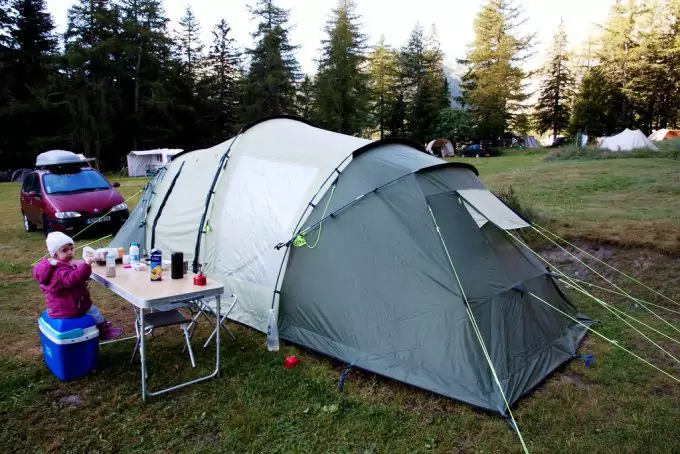 Finally are the four-season tents or mountaineering tents that are designed and made to keep up with harsh winter and wind conditions. They come with thicker fabrics and heavier poles than any other types of tents. They also have rounded dome designs for eliminating flat roof space. However, their thick make may hinder ventilation, resulting to a warm and stuffy feeling in mild weather conditions. Their main functions are to stand inhospitable weather patterns, such as howling strong winds. For reviews of the best survival tents to choose from, see our informative piece.
Tip to select better: Before camping, you should be able to anticipate the weather conditions by checking the forecast the day before the activity because two main enemies of campers are the rain and wind. So if you were planning to camp in places where these two are always visitors, you may want to consider a high quality tent appropriate with features to withstand existing weather patterns and to protect you and your family against the elements.
Weight and size
Many family tents are designed for car transport and it is common that larger ones may be heavier than expedition tents. You can look at its packed size to see if it will fit your car boot and look into its erected form (plus extensions) to check if it will fit on the pitch you have chosen in the campsite.
Many family tents for sale claim to be accommodating a specific number of campers, but these ratings may not often be realistic. For instance, an 8-person tent may be 180-square feet in size, allowing 22.5 square feet per person. However, you should remember that an air mattress alone can consume 12 square feet, leaving little room for your personal possessions. So in this case, a reasonable allotment of 30 square feet per person would accommodate only six persons in this tent.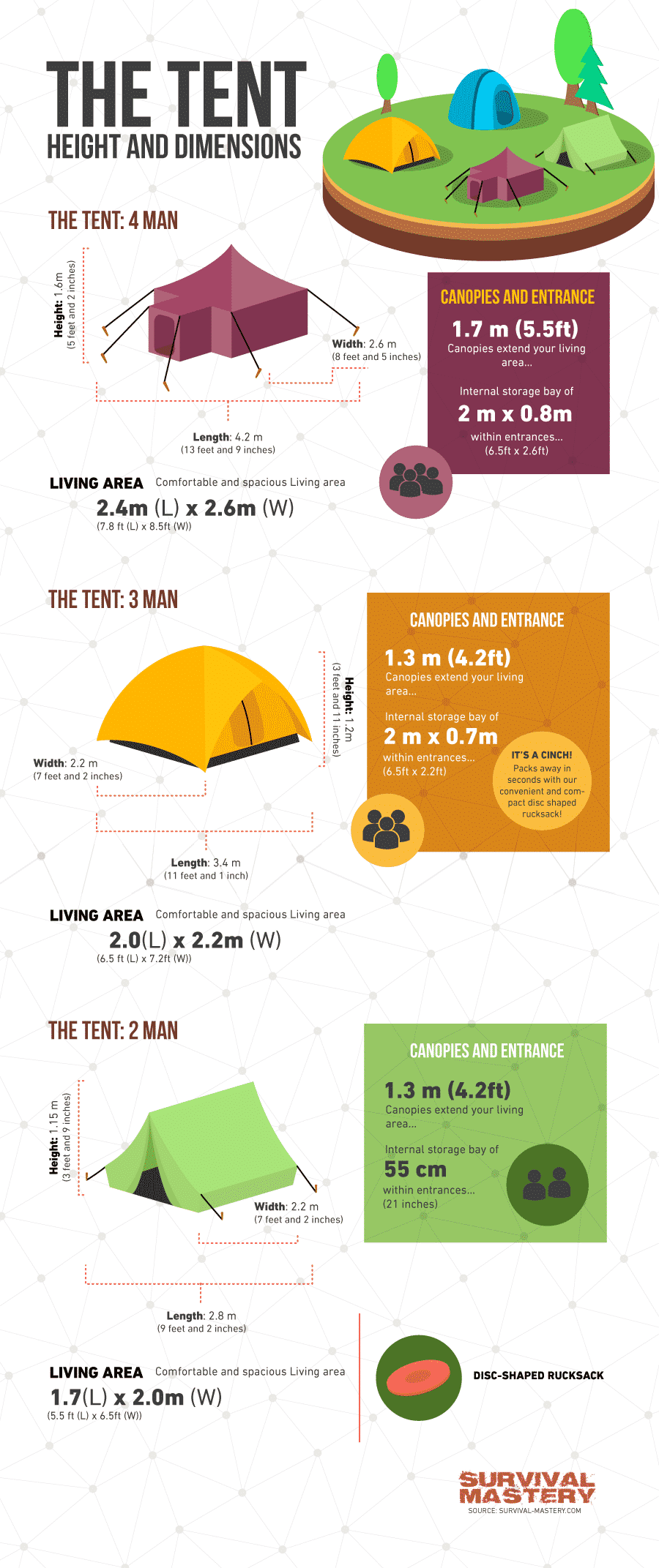 In addition, you should take note of odd-shaped family tents that may have a big flooring area but do not have enough room to allow your family members to stretch out to full length when on their sleeping bags.  More on choosing the tent size is to check on your family dynamics.  You should imagine how everyone would be coexisting peacefully inside the tent.
For instance, does your husband snore loudly waking up the children at night, or do your children fidget and keep everyone awake? Imagine and consider your family's sleeping habits so that you can decide on what size of camping tent to buy. Otherwise, you may have to buy two to three small tents that will separate all.
[the_ad_placement id="in-text-2-type-a"]
You should find an easy-to-setup tent to avoid the stress of spending too much time on it.  Remember, kids also love to participate in tent-building, so see to it if fewer than three people can build it.
Insect protection and ventilation
When picking a tent, see if it has a ventilation function to make everyone inside the tent comfortable and to allow the air flow freely. However, you should see if the vent panels have a mesh covering, an important feature to keep the bugs and insects out the tent.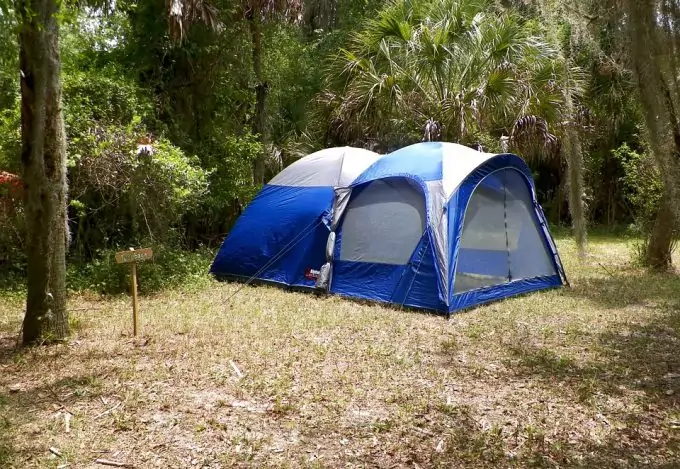 You can also choose camping tents with fly screens at the door, which do not only allow fresh air inside but also keep the flying insects out.
Storage
It would be nice if you would select a family camping tent with enough of storage area to accommodate your things, including camping equipment. There should be enough of the space so that you can keep the main sleeping and living area clutter-free.
Doors and windows
You may consider getting a family tent with at least two doors to help in the free flowing of air through your camping tent, something to improve ventilation and to welcome the breeze in the warmer weather. With two doors, you can also have the flexibility of entering and leaving your tent using the most convenient doorway and you can reduce foot flow through only one door in the harsh rainy weather.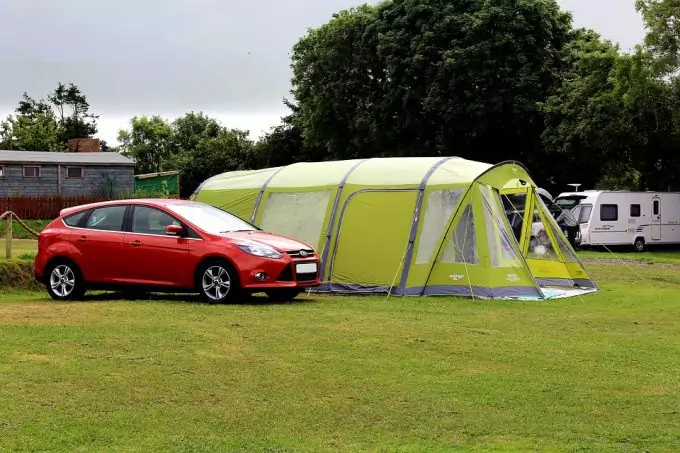 You can make the most out of your tent by increasing its sense of space and lightness with windows. And for these, you can find models with built-in or pre-attached windows to block the light out, if desired.  Not only windows give a better sense of space, but they also add to the ventilation for making everyone comfortable when inside the tent.
Space
Make sure that it can accommodate the number of people in your family and see if there would be enough moving space for everyone. Remember that it is essential to have a decent living space in the tent to avoid a 'claustrophobic feeling." See our article on the best six person tents to give you more choices.
You should also be making everyone feeling comfortable and that they are able to stand up inside the tent. You should also see to it if you could fit chairs and tables inside for activities, including playing board games and cards and eating.
Assembly
Requiring at least two people to set up, a family tent is larger than two-person tents, so ease in construction is a very important factor to consider when choosing one. Don't let hard assembly stress you and ruin your vacation.  There are tents with poles held in their sleeves, while others have clips that pole skeleton. You may want to opt for the sleeve design for its strength, but for the clip design for easier assembly.
Additional tip: Don't wait until the camping trip before trying and setting up the tent.  You can try and erect it in your backyard before the camping to see how to set it up.
Headroom
There are several tent shapes to select from, and some of them are the cabin styles that come with almost vertical walls for accommodating max headroom and the dome styles that come with less headroom but does work against the wind better. So if you are anticipating a bad weather, you may opt for the dome tent or the cabin style if you are after more headroom (particularly when camping in large groups).
Material
In addition to these characteristics, you may also want to take in the material of the tent into consideration. For instance, you may buy one that is made with aluminum and polyester so that you can make sure that it will stay dry and sturdy.  More so, remember that nylon is also a great choice to be the material for the tent sides because it allows moisture (exhaled by everyone in the tent) and it breathes.
However, take note that heavier nylons are more durable than lighter ones.  And for the rain fly, which is the separate fabric piece holding the rain off and going over the tent, pick polyester fly that does not only cover the roof but also cover the entire tent to repel the rain.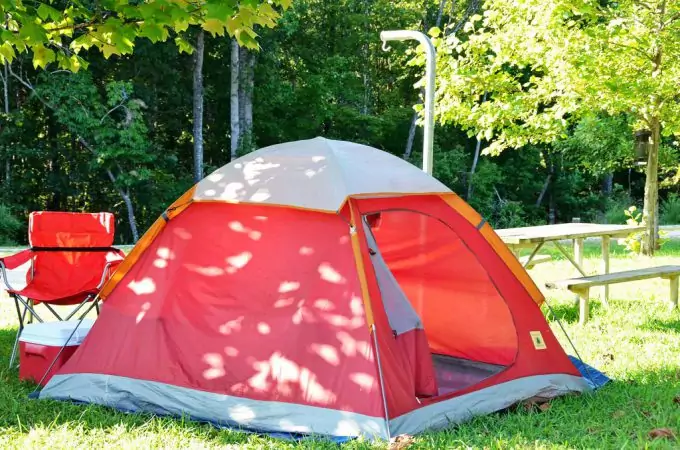 When it comes to poles, you should go for a tent with poles of aluminum material that is tougher than fiberglass. In addition, you may want to find models with taped floor seams and bathtub design that wraps up onto the tent wall for a couple of inches, making it water resistant, and are stronger than those that are only sewn together.
Ground cloth and stakes
You will need good stake in order to hold your tent firm against the wind, and remember that the bigger your tent, the bigger surface area there will be for the wind to strike. You will also need a ground cloth or a piece of plastic that will cover the bottom of the tent in order to keep the ground moisture from getting into the tent's interior.
Sleeping capacity
When selecting a family camping tent, you may want selecting a model that is based on the number of family members as well as the number of people joining (e.g. friends, close relatives…). However, there is no specific industry standard that exists to define per person dimensions of the tent.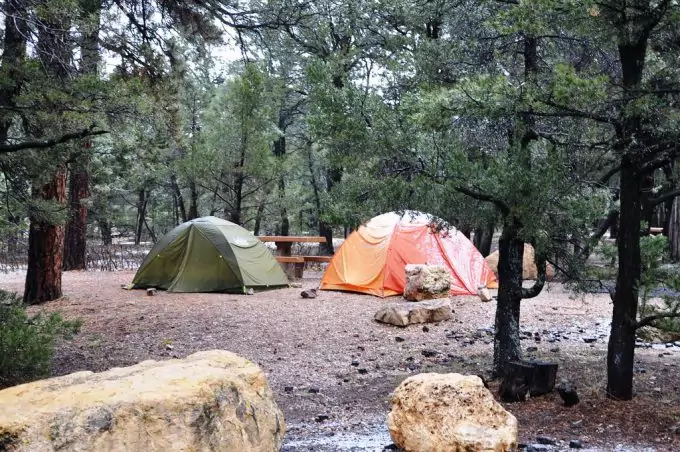 So when evaluating for the tent's capacity ratings, you should assume a close fit, and if you were considering more space, you may opt to upsize the tent's capacity by at least one person, especially if people to join are large, claustrophobic, toss when sleeping and you would be bringing a dog or a small child.
Sleeping compartment inside the family camping tent
What is your preferred sleeping arrangement? This is something you can decide on depending on the age of your children. There should be flexible bedroom compartments and a central zip to separate at least two chambers, meaning you and your husband can sleep in the small compartment and your children in the large one.
Or you can also check if you could split the compartment for privacy if you have older children. And for this, most families choose the vis-à-vis style family tent wherein there are two sleeping areas at both ends of the tent, being the living room in the middle of them.
Porch and extension
A camping tent with an optional or integral porch is important so that you and your family can take off outdoor clothing and boots before getting inside the living area of the tent.  In addition to a porch is an extension, something worth considering for family camping tents because they offer flexibility and add space as your family's needs grow, too.
[the_ad_placement id="in-text-3-type-a"]
Choosing a tent with or without extension may also depend on how long the camping trip you are up to. Additionally, you can choose a model with a canopy or awning for providing sun protection and making a shaded area in order to enjoy the outdoors. You will find camping tents with bigger extensions, especially if your family loves to have a separate space for cooking, a greater living area or an additional storage.
Additional features
If you and your family are looking for more comfort as possible, you can also choose tents with more features, including lantern hooks (allowing you to make lighting at night easier) and electric hook-ups (allowing phone charging and running of electrical items). Better yet, check out our article on solar-powered tents to give you more ideas.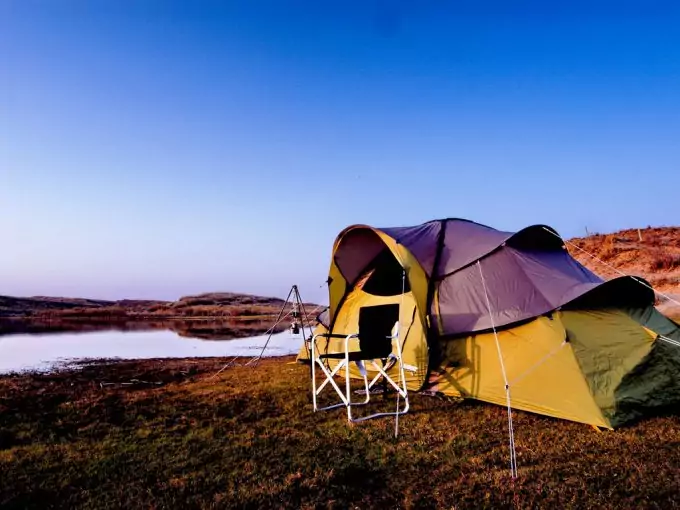 On the other hand, there are tents that come with carpeting or flooring that can make everyone feel homely while it also functions as an insulator, although not a main feature.
If looking to have this feature, you can get custom carpet that is designed to fit inside the tent you have selected. Alternatively, there are types that come with sewn-in ground sheets, a common feature in most family style tents that keeps the insects and water out. Design features may also be invaluable if you were looking for extra functions. For instance, you may select a family tent with large screened windows to ventilate better.
A list of 10 tents you may want to consider
Definitely, choosing the right tent is a must because a tent may indicate the level of comfort, protection and safety you and your family will experience in camping.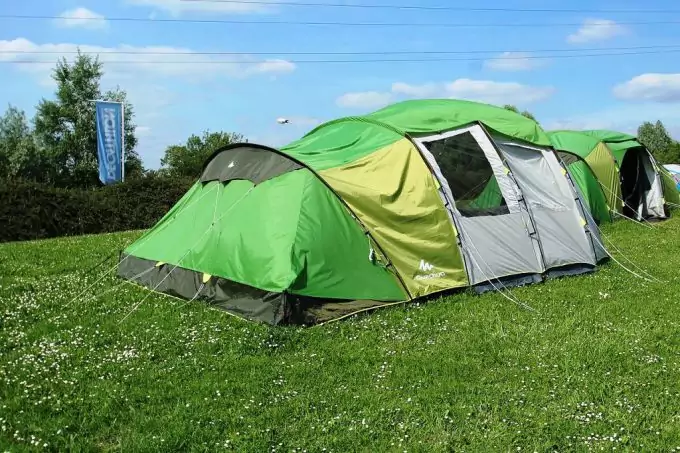 Therefore, you may want to consider the factors we've listed above to decide on the tent that works and serves your family best. Happy camping!
Check out our reviews of the best camping tents to help you in your buying decisions.
Some of the links in this post are affiliate links. This means that if you click on one of these links and make a purchase, I earn a small commission at no extra cost to you. Also, as an Amazon Affiliate, I earn from qualifying purchases. If the information in this post has been helpful, please consider purchasing through one of the links in this article. Thank you.