Although camping should be a time when we should be getting away from as many modern conveniences as possible, there are just some things we can't do without. Having a source of power while we're out in the woods can amount to lugging around batteries and other tools that we need just to get by, and that can make camping more of a hassle than it needs to be. But there have been a lot of developments in the world of camping that can help us to feel safer while we're roughing it, and one of those inventions is the solar power tent.
[the_ad_placement id="in-text-1-type-r"]
Not only does it provide you with a source of light when your campfire is out, but it also harnesses the power of the sun so that you don't have to carry around any extra power supplies with you. It allows you to live off of the grid without affecting the environment around you.
Solar power while camping isn't anything new, but the portable means of solar power cells, especially if you want to store the energy, can also be too wieldy for some people to handle, and can take up more space that you need for other, more important supplies. By having the solar cells already on the surface of your tent, then you don't need to worry about extra bulk.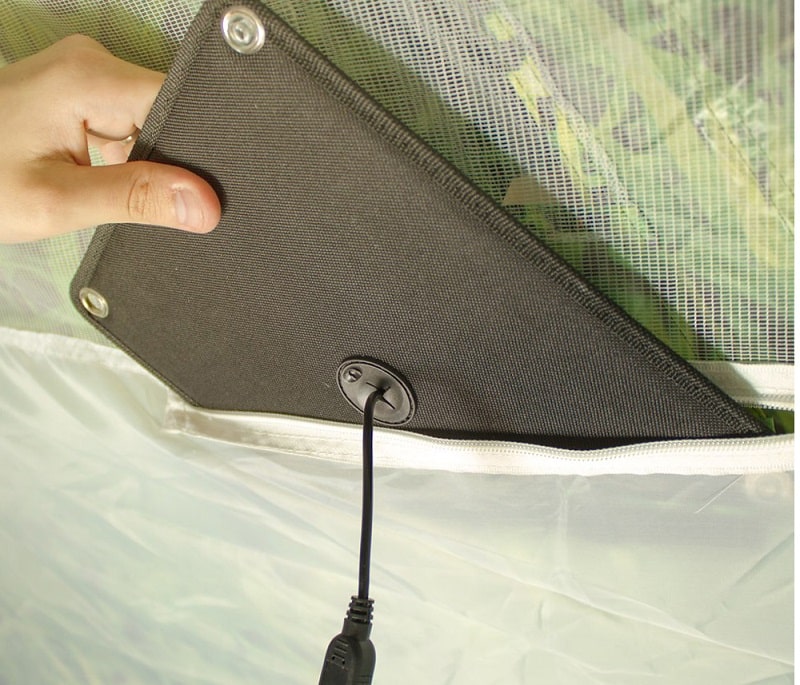 People have brought solar systems with them in the past to help power up their campgrounds, and there are even campsites that provide power for an extra cost, but there's nothing more satisfying than being self-sufficient with your power needs while still helping the environment. Many tents may even have the capability of storing the power for you, so that you can charge your devices while you sleep, or throughout the day.
More and more solar power tents are being released into the market, providing you with a variety of options to choose from. Many of them can shelter families, while many are small enough to house just one person, which can be convenient if you're planning to take your tent to a festival or a packed campsite. The tents themselves are also very unique, so you'll stand out from the crowd and be able to pick out your tent from the rest.
There are also options when it comes to the kind of power that they can provide. Some solar tents may only store enough power for the interior lighting, while others have storage capabilities with charging outlets so that you can keep your devices powered for when you need them. This can be extremely useful, especially if an emergency ever occurs and you need to contact the authorities. Our article on the best solar chargers to power-up your gadgets is a good read so check it out.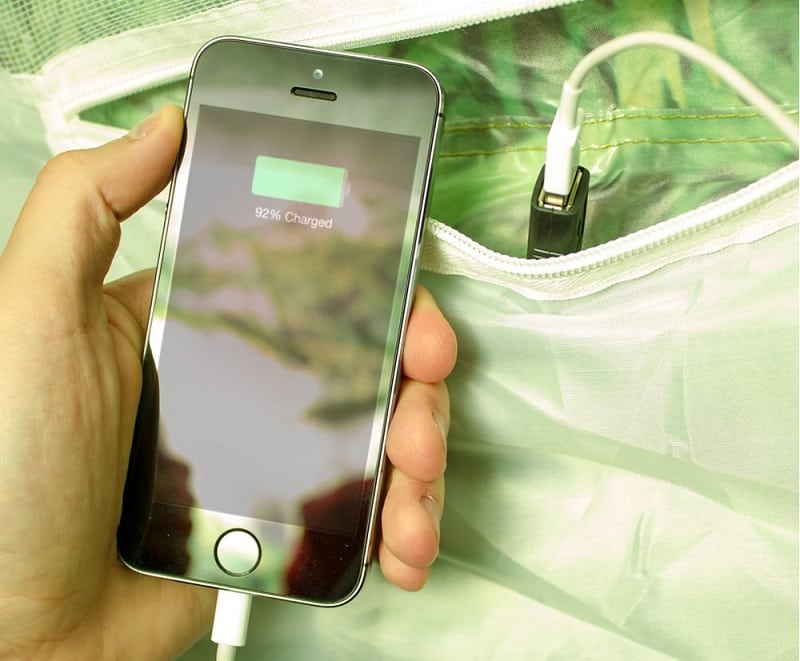 One limitation is that you won't be able to upgrade your tent without having to trade the solar power with it, as there still aren't that many choices of solar power tents available in the market. And by the off chance that your tent starts to fall apart from use, you'll have to discard it and get a whole new one. You also won't be able to see the tents for yourself in very many outdoor stores, so you'll have to resort to purchasing them online.
Solar Power Tent Options
Since this is still a new piece of technology with the camping world, there aren't a lot of options available. However, as they become more popular, you can be sure to see more and more outdoor companies becoming involved in this realm of camping, and may even improve on what's already being used in the construction of these tents.
Eddie Bauer Katabatic 2
Eddie Bauer has teamed up with Goal Zero in developing a new solar power tent that allows you to keep your mp3 player and phone charged for when you need them. The tent itself is 36 square feet and is 44 inches tall, allowing for the housing of a single person, or two, if you don't mind sharing the space. The wiring within the tent can be used to charge a tiny Sherpa 50 battery pack, or the larger Yeti Solar Generator, depending on how much power that you'll need. For the best generators that run on solar energy, see our useful articles to learn more.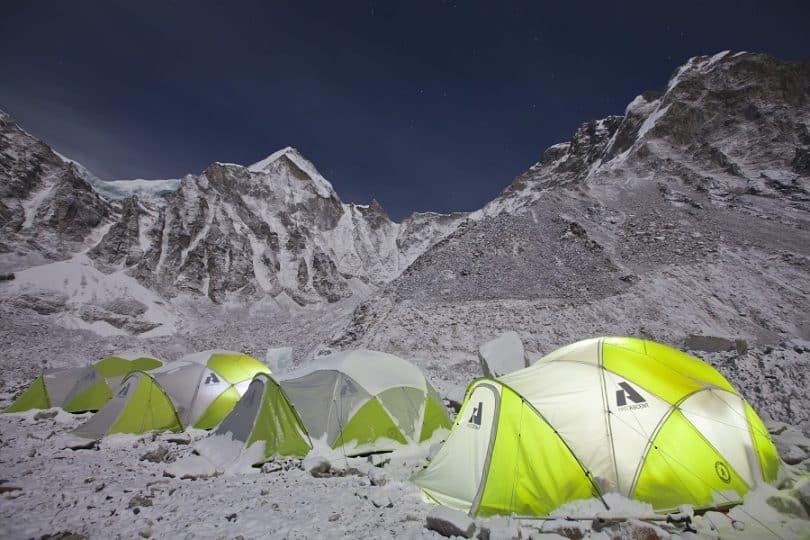 Many campers won't need the power capabilities of the Yeti, so settling for the smaller charger will cover the majority of their needs. This kind of tent isn't designed for the camper who only goes once a year, as it runs at $800 with the battery pack. It's a great way to get off the grid without worrying about those missed calls or having your music to help you sleep.
Kaleidoscope
This tent is not yet on the market, but it's definitely revolutionizing the way people will start camping. Whether it's for festivals or camping in the great outdoors, this solar tent will provide you with all the power you'll need.
[the_ad_placement id="in-text-2-type-r"]
Kaleidoscope and Orange Communication have come together in the development of this tent and the new way that it collects sunlight with its domed structure. The fabric of the tent has been interwoven with specially coated threads that will channel the solar power, as well as directional solar glides that are easy to move and will help you to maximize the power that you're collecting.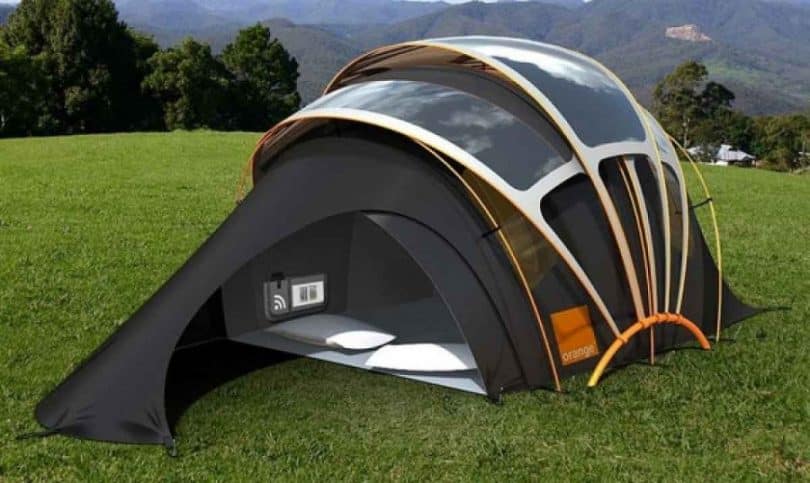 It also has a central wireless control hub that provides you with information on the amount of energy that's being created, as well as how much is being used to power your devices. The wireless charging pouch means that there are no cords to get tangled in or break, so you can charge your devices worry-free. And when bad weather hits, that's fewer chances of there being an electrical failure. And if you thought that was all the tent can do, there's more.
It is also capable of central heating, which can be beneficial on those unexpected nights when it gets a little too chilly. The heating element is embedded within the floor, and is triggered automatically once the internal temperature drops below a set level.
Whether you've ventured a little too far from camp or you're lost on some campgrounds, you can send a text message to your tent that will trigger a distinctive glow that can be seen from a distance. You'll never have to worry about stumbling in the dark ever again after you've done your business in the middle of the night and made a wrong turn. Although this tent is still in the concept stages, it would be wonderful to see it come to fruition.
Cinch
The Cinch tent was designed to house a couple or a family, is easy and quick to put up, and will take care of all your power needs. It has LED lighting integrated into its construction and has a power supply that can be used to charge your devices. It's a pop-up tent, so you don't have to worry much about stakes or going through a set of elaborate instructions to get it ready. It only weighs about twenty pounds and includes shoulder straps to make it easy to carry with you and the rest of your things.
The solar panel is roof-mounted and has a lead wire that is routed to a water-proof port, so you won't have to worry about your electronics getting fried. And when you're away from your tent, you can drop the battery source into an interior hanger so that it can be charged throughout the day. This easy to construct tent runs for about $225 for the two-person tent and $285 for a family tent.
Bang-Bang
If you're looking for a fun way to camp that stands out from the rest, then Bang Bang tents offer a unique way to find your tent. Instead of going with boring colours that use a smattering of neons to help you find it, Bang Gang tents have brightly patterned exteriors, as well as solar panels. There is a wide range of unique patterns for you to choose from, and make it much easier for you to pick your tent out from a crowd.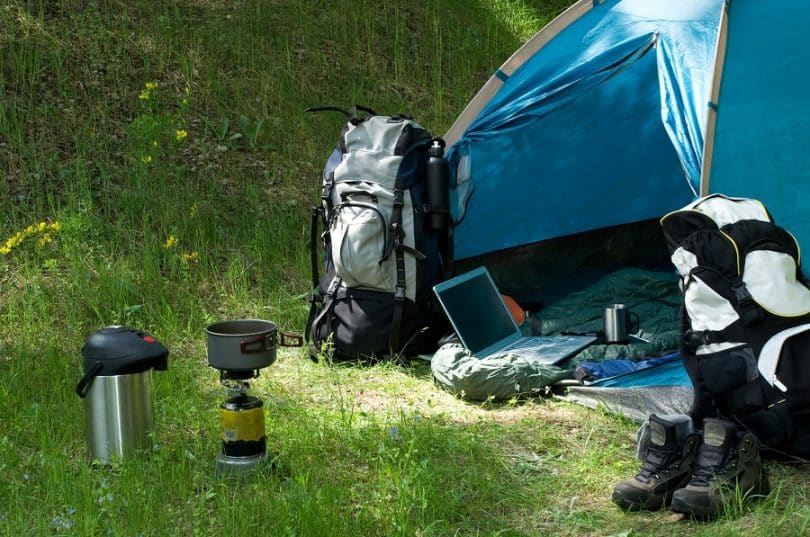 The included solar panels provide enough power to charge your cellphone, laptop, camera and/or speakers. At only 5W, the lithium battery bank and USB charging adapter are enough to keep your electronics powered throughout the day so that you don't miss those important texts or have to worry about emergencies. They can house up to four people comfortably, and are designed to withstand the elements, whether the sun is scorching or it's pouring rain.
Final Words
Solar power tents are still a new thing on the market, as most people are trying to rough it as much as possible. But the concept of "glamping" is becoming a popular concept, and it seems more and more people are being drawn to the concept of having some modern conveniences with them on their trip.
[the_ad_placement id="in-text-3-type-r"]
The solar power tent definitely makes it easier for you to keep your flashlights charged as well, so you won't have to carry a handful of batteries with you and allow you to fit more supplies in your bags. Although they may seem a bit pricier than other tents, remember that you're paying for the convenience of having access to solar power, as well as making your tent as rugged as possible to support their weight as well.
For more information on how solar energy works, check out our article on this topic.
Some of the links in this post are affiliate links. This means that if you click on one of these links and make a purchase, I earn a small commission at no extra cost to you. Also, as an Amazon Affiliate, I earn from qualifying purchases. If the information in this post has been helpful, please consider purchasing through one of the links in this article. Thank you.