Going camping is a lot of fun and it can be a great experience for your entire family. However, if you're looking for a more rustic experience you might actually need more tools than you think. One of the most important things you're going to need is somewhere to sleep and relax.
[the_ad_placement id="in-text-1-type-a"]
Sure you could opt for a tent, but if you're really trying to experience the outdoors you're going to want the best camping hammock you can find. This is going to let you have some fun outdoors with the entire family and what could be better than that?
What to look for
If you are planning on looking for a camping hammock you really need to understand what you're looking for. After all, just like anything else, you're not going to just walk into the store and pick up the first one on the shelf. You need to do a little bit of research and think about what you are going to need.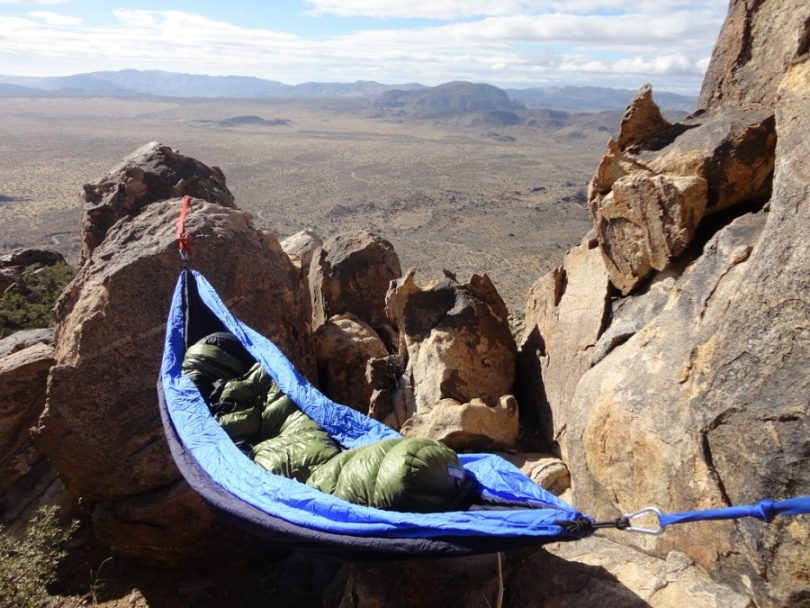 If you're going with your family it's going to require even more work because you need to consider what's going to work best for each of them. But don't worry; it's still going to work out just fine.
Size
One of the big things you want to look at is the size of the hammock you're getting. Most hammocks are going to fit the average person quite comfortably, but if you're a little taller or larger or if you just need a little more space to sleep comfortably you'll want to look for a double hammock.
Make sure you acquaint yourself with the standard hammock sizes so you know whether it's going to work for you. And remember that it's going to wrap slightly, so you're not going to want too much excess space, but you do want enough to lie comfortably.
Material
What your hammock is made of is also going to be very important. Nylon or other heavy materials are going to be durable and they're going to last a lot longer. That also means you're going to have an easier time trying to set them up because they won't move around as much and you don't have to worry about accidentally tearing them while you're working.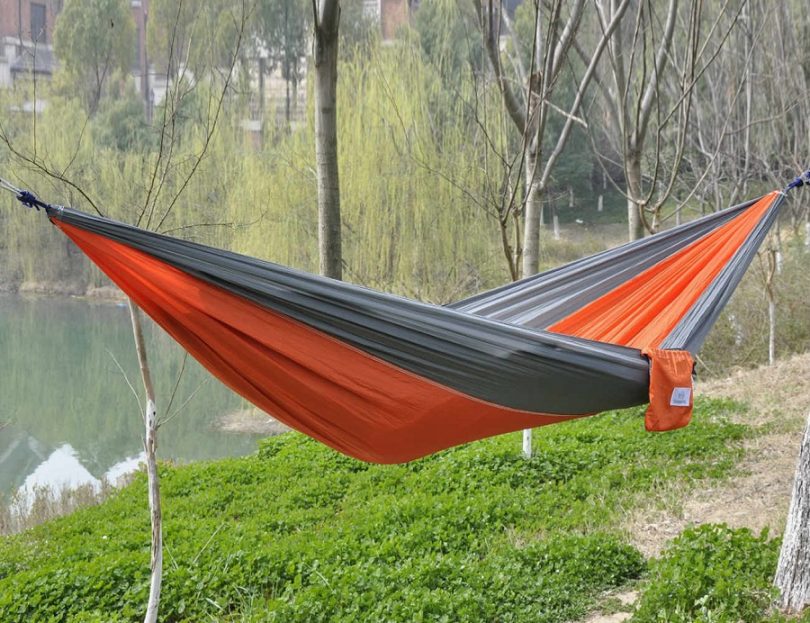 You definitely want to check the weight limits on anything you purchase to make sure it will hold you and anyone else if you decide to use it for seating as well as for sleeping.
Weight
Not only is the weight that the hammock can hold important, but so is the amount of weight of the hammock. You want to know how much extra you're going to be carrying around after all.
If you're going on an extended hike you may want to cut down on the weight a little, but if you're going to be in a questionable area, where the weather could be contentious, you'll want something made of stronger material, which could end up being heavier. Make sure you balance out your needs to get something that works well.
Extras
You'll want to check what actually comes in the box with the hammock that you purchase. Some have carabineers and other straps included inside the box. Others might need these extras and you'll need to check what your options are. Make sure that you are getting good versions of these products as well since you could easily end up with something lower quality.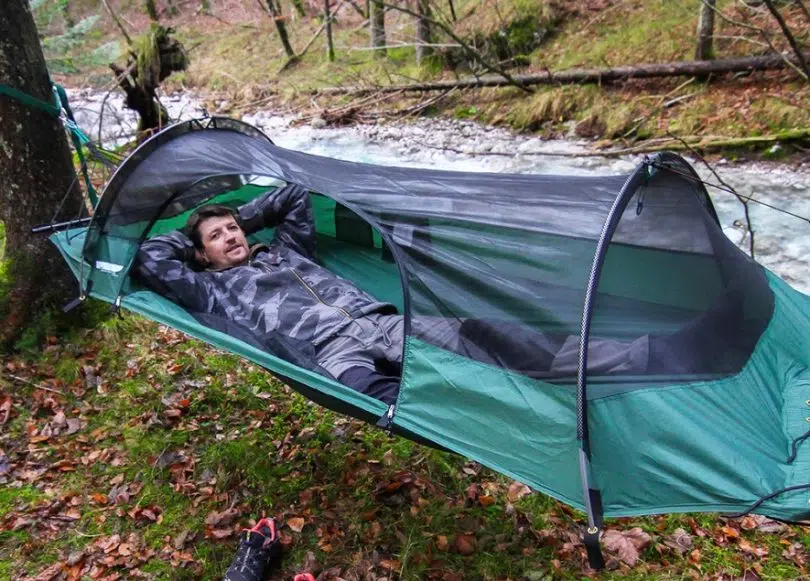 The better you get the better your hammock is going to do when there's wind or even just from you lying in it. You want something that can support a decent amount of weight and that requires strong straps and carabineers.
Types of camping hammocks
You definitely want to find the best type of hammock and that means weighing out your options. You may be surprised by the variety that's out there and finding the right one is going to require you to look at each of them and also look at just where you're planning on camping and how you're planning on getting there.
See also: Camping Gear: Must Have Items and Cool Gadgets to Enjoy The Wild
The more you know about your plans the better you're going to be prepared to purchase your next hammock, or at least one that's going to work for your situation.
Parachute Nylon Singles
This parachute is designed for one person to sit in or sleep in. There are all different options available but in general you should know that it's made of nylon, which means that it has just a little stretch and give but a durable frame and it's not intended for multiple people.
If you're going camping with your family or you have a young one that's going to want to stay with you it may not be the ideal option, but if everyone is going to have their own hammock it will work out just fine.
Parachute Nylon Doubles
If you're sharing a hammock with someone you'll like this one, though it's still generally not going to work well for sleeping. If you need a bit more space for yourself you're going to like it because it's slightly wider and a little longer.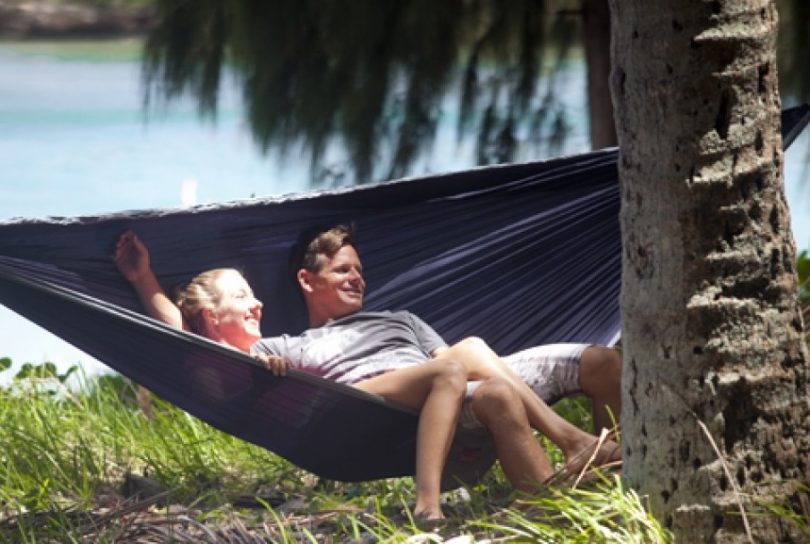 If you're also going to use your hammock for sitting in and you need a bit more space so more than one person can sit together you'll like this as well. It's made of nylon so it has some stretch as well as a durable build so you'll be able to stay comfortable at all times.
Ultralight
This hammock could be made of a variety of different materials so you'll need to check over your different options to get a material you like. They're not as comfortable as the parachute nylon versions but that's because they're designed to be lightweight and easy to store.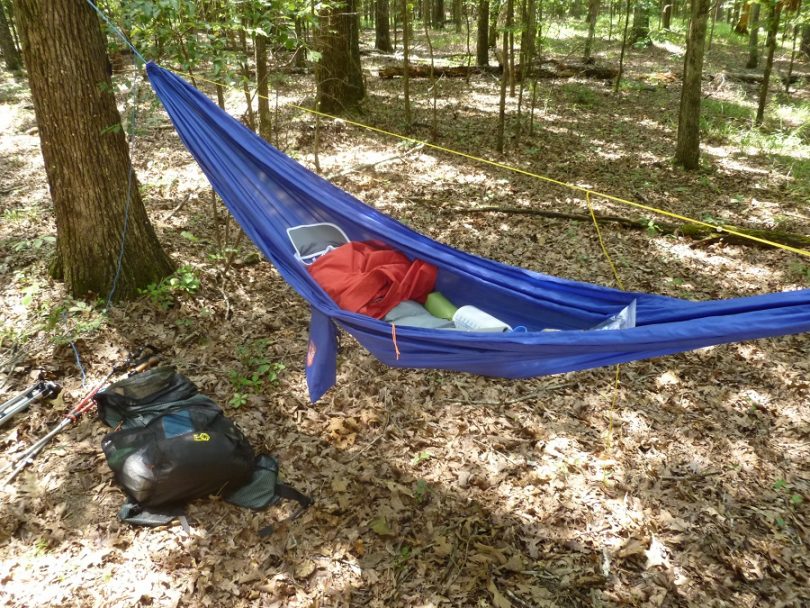 You'll find that it's smaller than your other options, so it fits easily into a small bag, but it's still a decent size for you to sleep in. It's also going to last relatively well, though it's not quite as durable as the other versions either. It will make your pack a whole lot easier to carry however.
Expedition
If you're not as concerned about the weight but you are concerned about durability and comfort then this is the option for you. It's going to be a bit heavier but it's also going to have some better attributes. For one thing, you'll get a heavier duty fabric. For another, you're likely going to get a few extras which could even include a bug net.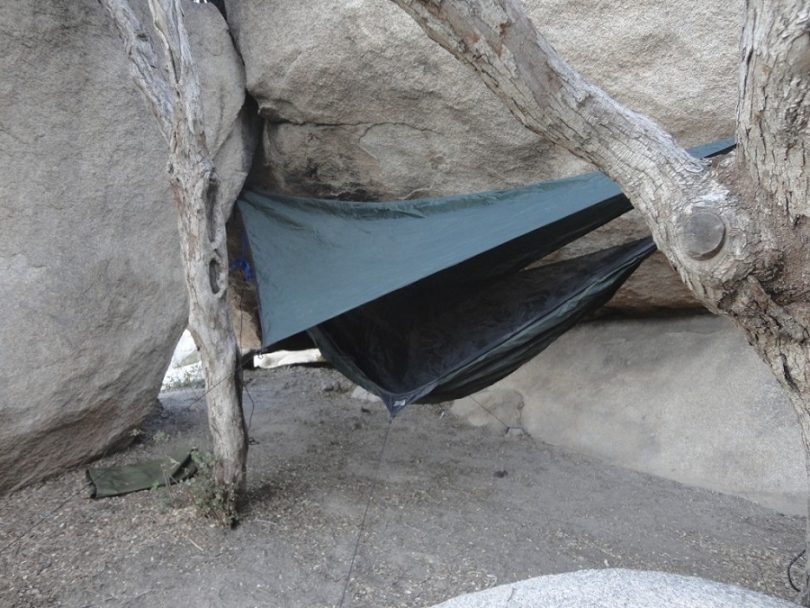 That's definitely a benefit if you're going to be sleeping outdoors. You might also get a little extra space in one of these, but it's likely going to cost you.
How to set up your hammock
Setting up your hammock shouldn't take you too long if you understand the process. The point is, within a half hour at the most (if you're still new at this) you should be able to have your hammock set up and ready for you to get to sleep (or just relax for a while).
You'll definitely be able to relax and you don't have to worry about it getting dark or not having much notice before the weather starts getting cold, because the setup will take you a very short time – even if you have to set up several hammocks.
One of the best things you can have to tie off your hammock is polyester webbing. This is going to last a long time and it's not going to tear or fray like other types of webbing. Make sure it's one inch thick to keep it sturdy and stable and so you are able to adjust it quickly and easily.
You'll also want to sew in a loop at one end so you can easily use it to set up your hammock and pull yourself up into the tree where you want the hammock to be.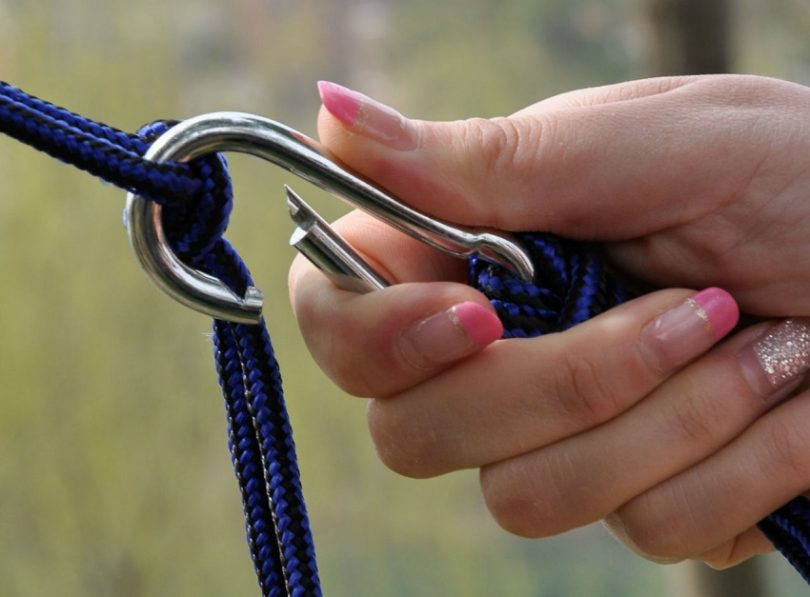 The first step is to take your polyester webbing and wrap it around the tree. Take the free end and put it through the loop and pull tight. It should hug right to the tree without slipping or moving around.
Then you want to make a sturdy knot, something like a marlin spike hitch, which will hold the carbineer steady and ensure that your entire hammock is going to hold up to anything (including your weight or anything else you put on it).
Put the carbineer through the knot so when you pull the carbineer tight the knot tightens around it and doesn't move. Then repeat the process on the other side.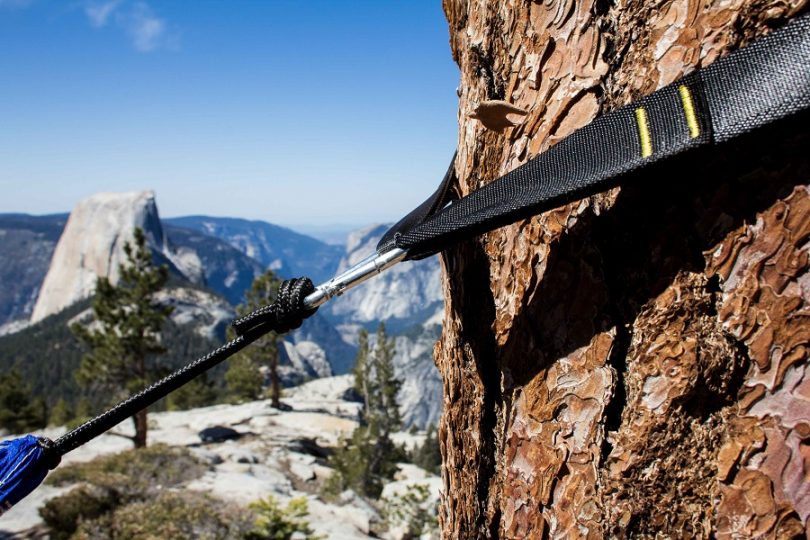 Now you have the base to put your hammock up so pull it out and get ready to hang it up. Using whoopee slings to attach it is going to give you a strong hold as long as you wrap it properly, though this process isn't difficult either. Simply slide the loop of the sling inside the carbineer on both sides and your hammock is up.
Of course, you're going to need to adjust it a little so that the base is right where you want so you can sit or sleep comfortably without hitting the ground.
All you need to do to adjust your length is slide the string on your whoopee sling and you'll easily shorten or lengthen the ends. That way you can get the entire piece exactly where you want it and you'll be able to comfortably sit.
Once you've adjusted both ends you can add your underquilt if you have one to help you stay warmer and dry if the weather starts to get a little nasty. All you need to do is attach the carbineer for each end directly above the ends of your hammock.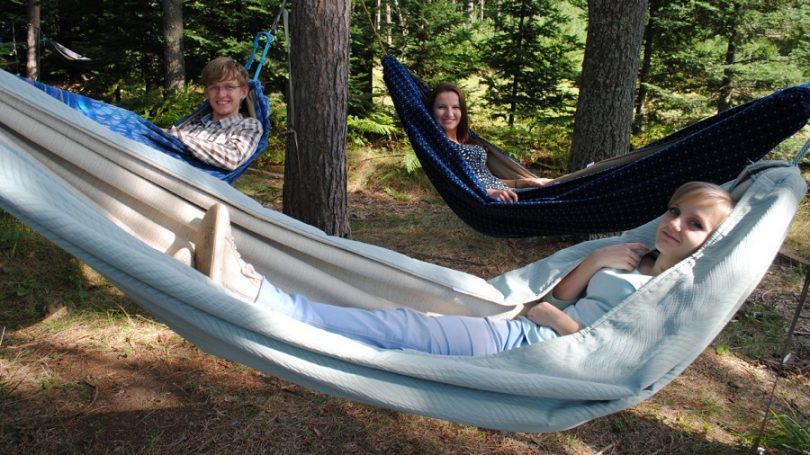 Make sure you get them on the right sides as your underquilt does have a top and bottom. Once you've got it attached on both ends all you have to do is pull it up and around the hammock and you've got a nice little cocoon that you can rest in.
If you need an additional blanket there are overquilts available as well and you'll be able to stay perfectly warm and dry inside your hammock, even when you're swinging out under the trees.
Best products to consider – quick reviews
There are plenty of different camping hammocks out there that you can choose from but the important thing is getting one that's going to work for your family and your needs.
[the_ad_placement id="in-text-2-type-a"]
Whether you're going out in your own backyard to sleep for a night and see the stars or you're going out into the wilderness for a week and need something comfortable and durable, you're definitely going to need to do a little research and make sure that the tools you're taking with you, including your hammock, are prepared for whatever you need in the moment.
Eagles Nest Outfitters
Available in several different colors, this reasonably priced hammock is made of high strength nylon taffeta, attached together with triple interlocking stitching. In fact, it's rated to hold up to 400 pounds and is extremely lightweight and easy to put up.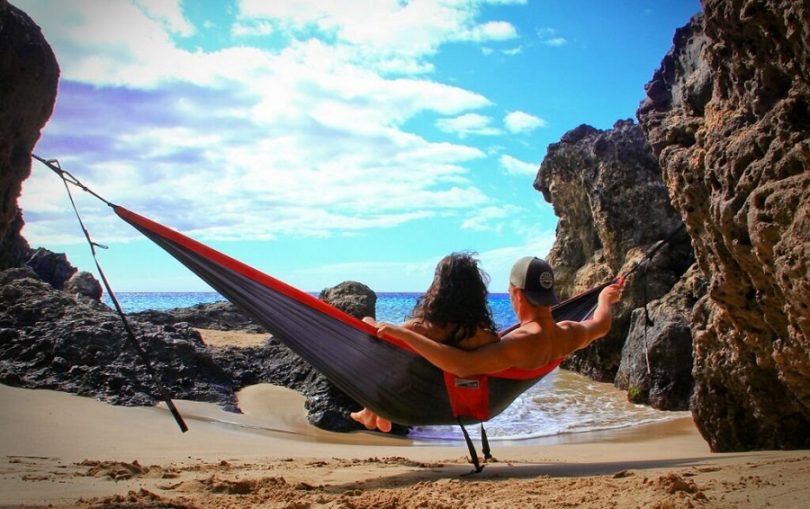 It comes with the aluminum carabineers and line you'll need as well as stainless-steel snap links so you can get it ready for your next night. Even better, it easily fits into a small compression sack to allow for easy transportation, even when you're traveling long distances or hiking across difficult terrain because it's only 19 ounces.
If you think that this product could be useful for you, then you can purchase it on Amazon.
Trek Light Gear Double Hammock
Slightly more expensive than the last option, this lightweight hammock is still very reasonably priced and has a variety of color options. Available in a double size, it's large enough to hold two people sitting and weighing up to 400 pounds.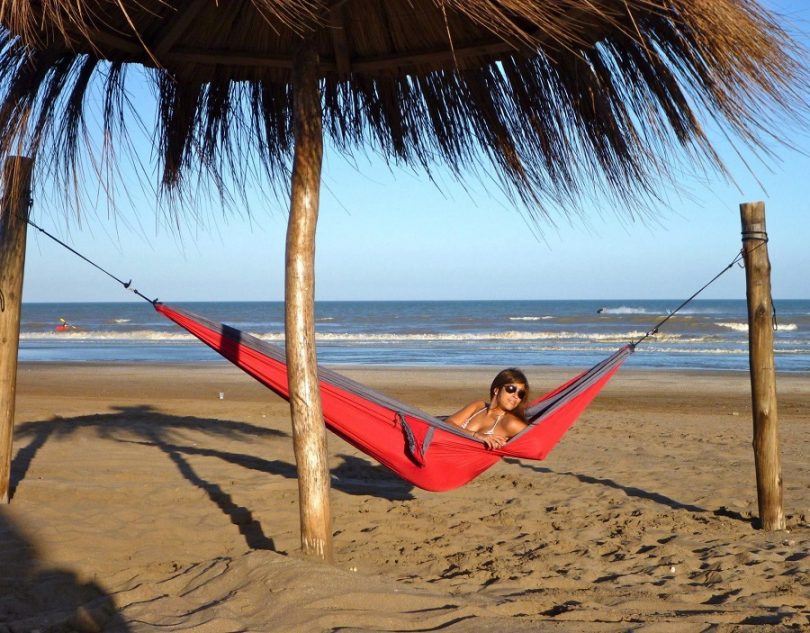 Weighing approximately 20 ounces it's easy to carry and comes in at 6.5' by 10', making it a great size for you to relax in. It also comes with the rope and other mechanisms you'll need to hang it and has a three year warranty that you're going to love the breathable material for your next trip.
If you think that this product could be useful for you, then you can buy it here.
Neolite Double Camping Hammock
This reasonably priced hammock comes with everything you need to get going including the straps and steel carabineers. The double hammock also has several color options and a breathable nylon fabric that is quick to dry and holds up to 400 pounds.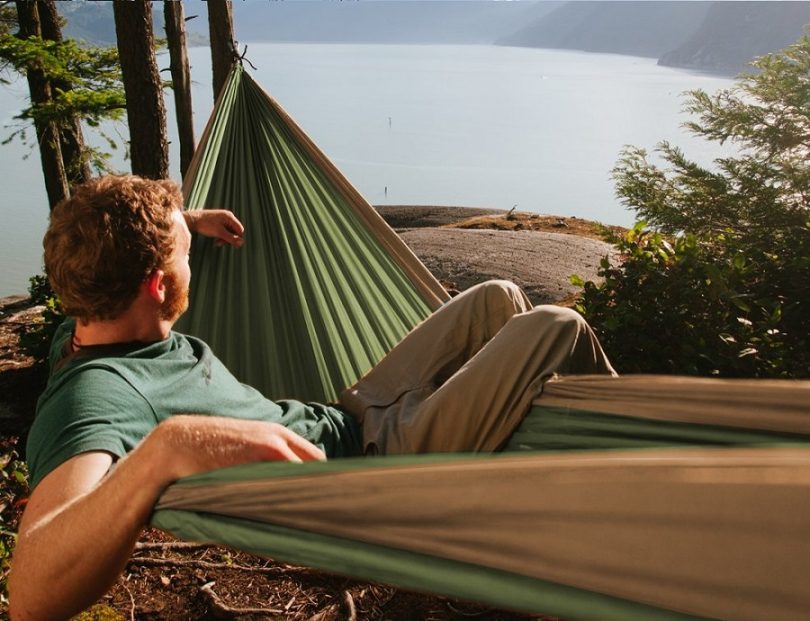 It even includes a bag to hold the hammock itself or other items if you prefer and weighs only 19 ounces. It's easy to set up and extremely durable so you don't have to worry about it breaking and you don't even have to worry about getting additional parts to set it up.
Like this product? Then you can buy it on Amazon.
Double Parachute Camping Hammock
This double hammock is designed to be extremely strong but still comfortable for anything you need. In fact, it is entirely breathable so you don't get too warm at night and includes all of the straps, rope and carabineers to get it set up, all without stretching.
The 12 different attachment points ensure that you'll be able to hang it in a sturdy way and the compression sack makes it even easier to carry when you're ready to head back out on the trail. Its moderate price just completes the package.
If you think that this product could be useful for you, then you can buy it on Amazon.
Grand Trunk Skeeter Beeter Pro
With this hammock you don't have to worry about the bugs getting in and causing you any trouble during your night out. All you have to do is hang it with the easy to attach rope, net suspension kit and carabineers.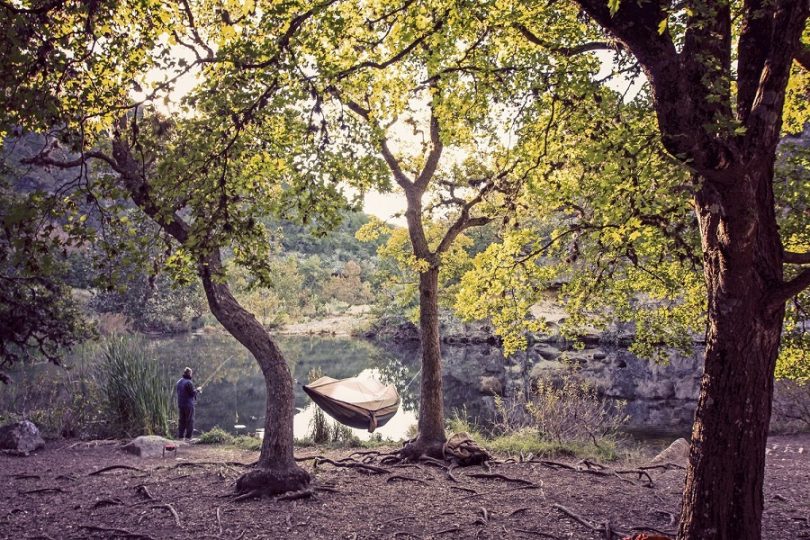 You'll also get an easy to install mosquito netting to hang over the top. It's tall enough that you can still sit up easily but it keeps out the bugs easily. Of course, this net is entirely optional and you can remove it for sitting or sleeping as you prefer. Made entirely of nylon, this hammock weighs 28 ounces with the added netting.
Like this amazing product? Then you can check the current deal for it on Amazon.
Legit Camping Double Hammock
This hammock is slightly cheaper than other options and comes in several colors and a size perfect for two people. Able to hold 400 pounds of weight, it weighs less than one pound so you can carry it anywhere you want to go. It's designed to withstand rain and wind and is also designed to be extremely easy to install.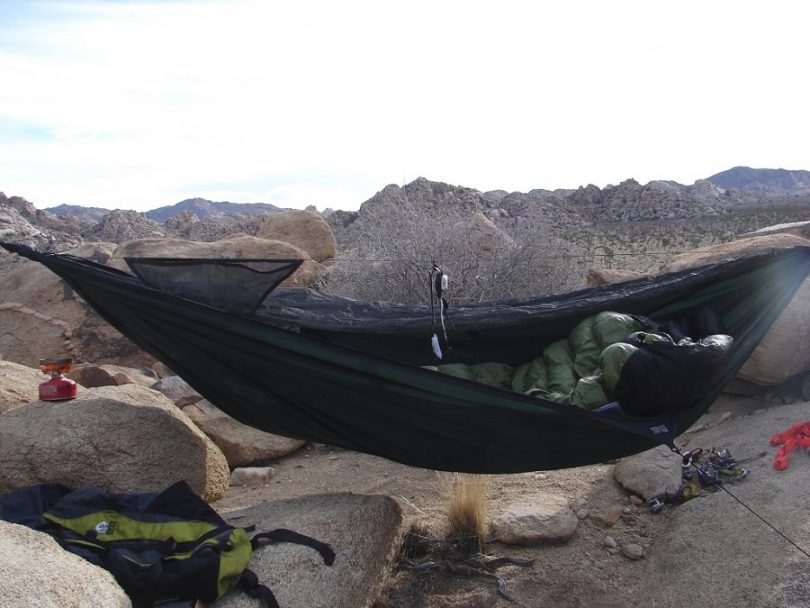 Made with military grade nylon, it has a lifetime warranty backing up the quality and even includes everything you'll need to get it set up, from carabineers and rope to tree friendly straps and even its own bag.
If you like this product you can find and purchase it on Amazon.
Single Camping Hammock
This slightly smaller hammock is very inexpensive and only 9' by 4'7". This is an average size for an adult and it still holds up to 400 pounds. Inside the box is all the hanging gear including rope, aluminum wire gate carabineers and more.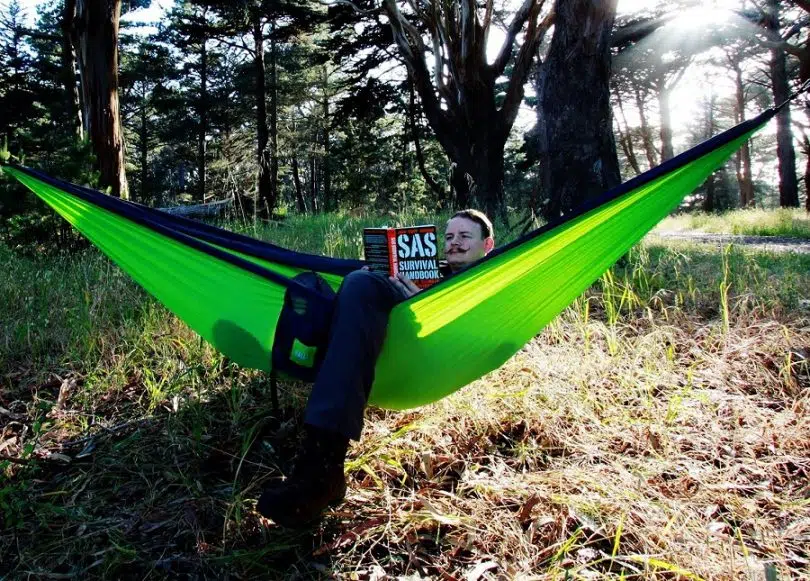 You'll also have no problem carrying it in the included compression sack because it packs extremely small just for your camping needs. Weighing less than a pound, you'll have no problem carrying it in your regular pack as you're hiking or otherwise heading out through the wilderness.
Like this amazing product? Then you can check its price here.
Grand Trunk Double Parachute
This hammock may look thin but it's definitely strong enough for anything you need and capable of holding up to 400 pounds. It weighs only 20 ounces on its own and is actually large enough for two, at 10' 6" by 6'6". You'll get the ropes and other pieces that you need to make hanging it up even easier.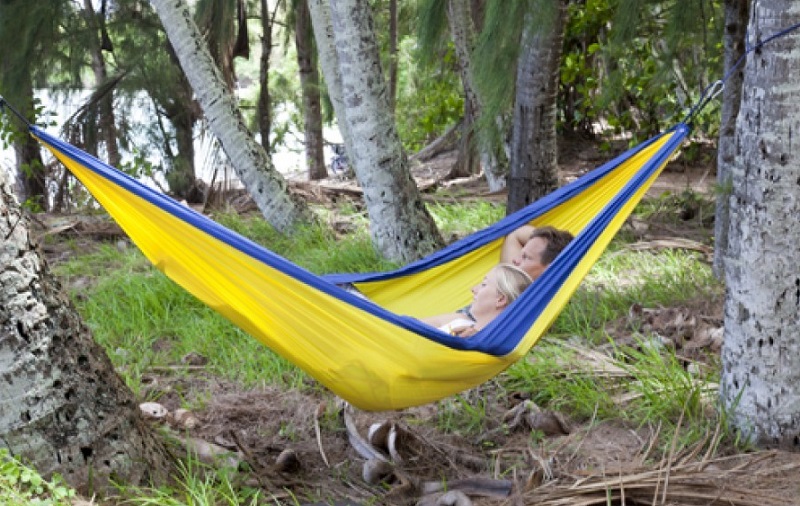 It's made with a parachute nylon so it's sturdy and it's also able to fold up to fit into a small bag when you're ready to move on for the day.
If you think that this product could be useful for you, then you can buy it from Amazon.
Outpost Camping Hammock
With several color options you will love this moderately priced hammock, available in single or double size. It's over 11 feet long so you have no problem getting comfortable but it still weighs less than 2 pounds when fully packed with the hammock, suspension system and all straps.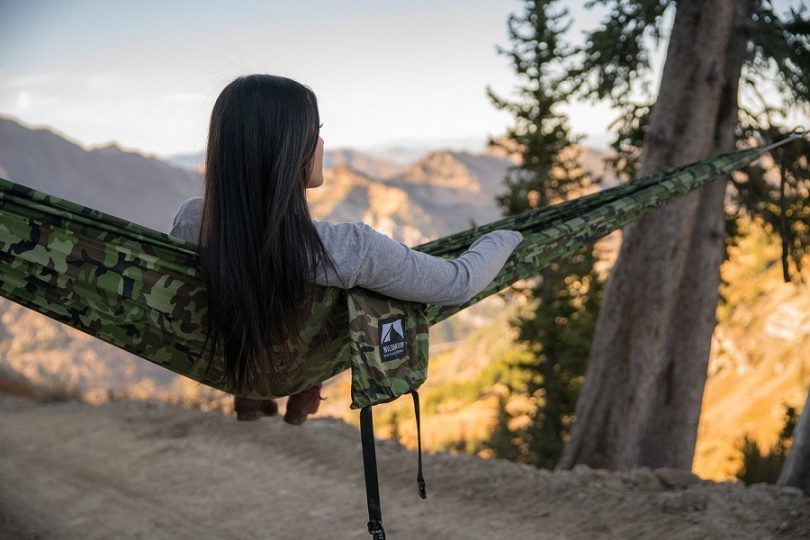 Rated for 400 pounds, this hammock has been tested far higher with excellent results and it's going to make the process of set up extremely easy because everything is included in one bag. You'll also have no problem adjusting it to easily fit your exact needs and you can be confident with all of the components because even the straps and carabineers are rated for over 2000 pounds.
Like this amazing product? Then you can buy it on Amazon.
Portable Parachute
Here you're going to get an extremely lightweight option that's easy to clean and quick to dry at the same time. It's also able to hold plenty of weight and easy to put up. It's even easy to store away in the included small bag. That means you'll have no problem sticking it in your backpack to take on your next trip.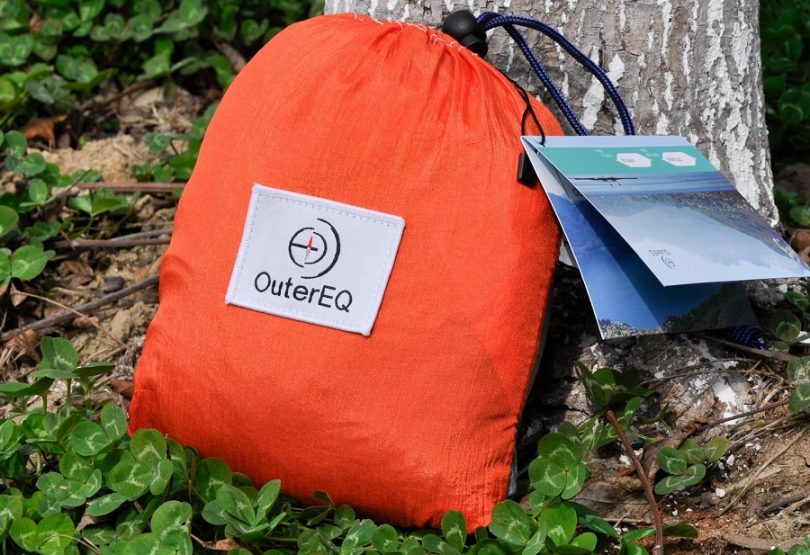 With a low price and included straps to attach to the tree, you're going to really enjoy this hammock and you'll be able to easily pick up several so the entire family can get out there.
Like this amazing product? Then you can buy it from Amazon.
Conclusion
All in all, camping can be a whole lot of fun, you just need to know what you're getting into right from the start. It may not always be easy to camp outdoors and forgo even the relative comfort you can get with a tent, but if you're really interested in getting out under the stars you're going to love the experience.
[the_ad_placement id="in-text-3-type-a"]
So why not get a camping hammock and enjoy your time outdoors? You'll probably be surprised just how much fun the entire family has, no matter what the rest of your plans are for your trip.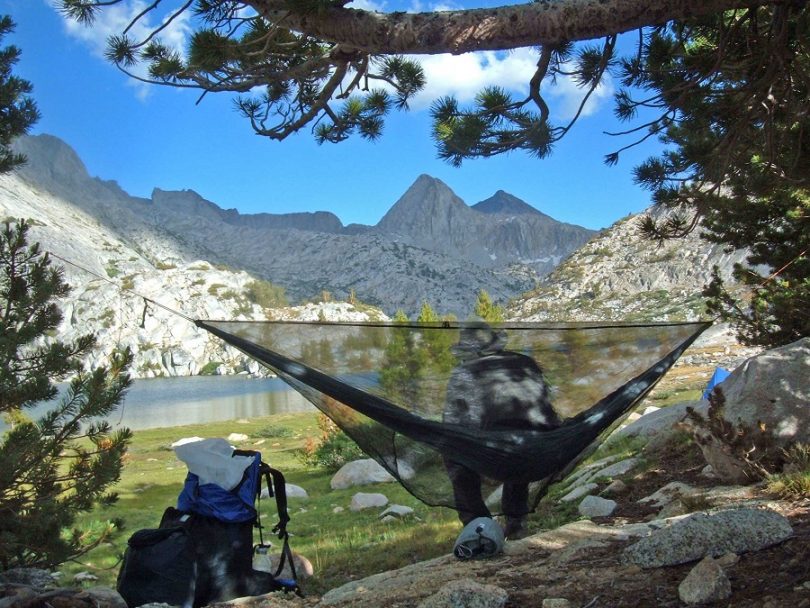 With a camping hammock you don't have to spend a lot of time setting up and you don't need to worry about skills in order to accomplish your goals. It's actually a very simple process and if you follow the steps carefully you're going to be swinging in your hammock in no time.
So make sure you get out there and get started. You'll have the best camping hammock around and you'll be more interested in taking a nice long trip outdoors with your family because not only will it be cheaper than ever, it's more fun too.
Don't forget to read our article on camping safety tips for your protection.
Some of the links in this post are affiliate links. This means that if you click on one of these links and make a purchase, I earn a small commission at no extra cost to you. Also, as an Amazon Affiliate, I earn from qualifying purchases. If the information in this post has been helpful, please consider purchasing through one of the links in this article. Thank you.