At first it may seem easy to choose a tent for camping, but when you come face to face with the reality of how many choices you have you actually end up confused and frustrated. There are many factors to consider when you decide to buy your own tents, like weight, capacity (how many people can sleep inside), durability (endure harsh wind, rain, etc.), and so on. In this article we'll try to help you make the right choice having in mind all those specific details.
[the_ad_placement id="in-text-1-type-r"]
Your main priority is to determine whether you'll go camping nearby your home, if you'll drive to there, or if you'll backpack cross-country. In either of these two cases you'll have options. Of course, most important in backpacking is the weight, so naturally your tent will have to be light and compact, at least in comparison to the other option.
Advice and tips on tents if you drive to the camp area
The very first thing to plan before you buy a tent is to determine how many people will sleep in it. Usually there is not exact standard on what one person's size is. Per-person varies from brand to brand, so the trick here is to think about the space you'll have.
If you can't image spending 8 hours of sleep in a tight area, then choose a tent with one extra per-person place. Thus, you all will have more space to move freely. If your tent has not extra compartment, you can even keep things in your tent in the available areas. An extra room is also advisable for claustrophobic people, or if you bring a small child or your pet (dog).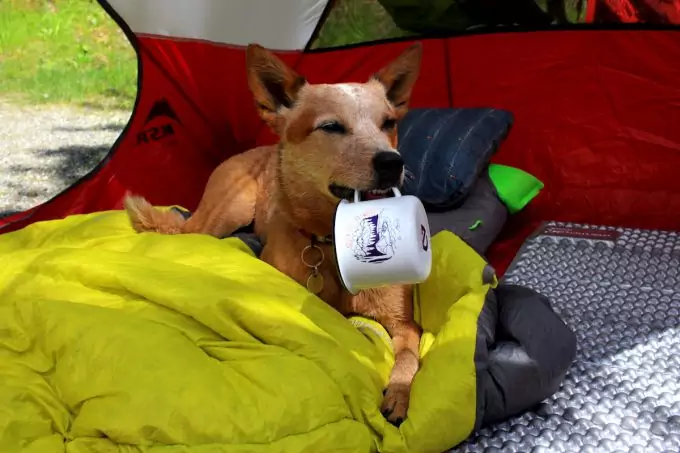 We have to talk about the weather condition properties too. Most popular among the tents are the 3-season tents. Very few people go camping or hiking in harsh winter conditions. So, those who prefer the more temperate conditions, go for a 3-season tent. It protects against bugs and insects perfectly (unless you've left the tent unzipped). It also keeps you safe and dry when it rains or snows lightly, and is also build so the air inside circulates freely. The walls are usually made of mesh panels that improve the airflow.
If you plan on camping during the transition period from winter to spring or fall, an extended tent may be your better choice. It is a 3-season tent but with an ability to withstand some stronger winds and also keeps warmer inside.
Of course, for more adventurous types, there is a 4-season tent option. These are much sturdier, and in fact offer a good shelter in the most inhospitable climates and winds. Usually 4-season tents are used by mountaineers on high altitudes. They provide a very good balance between airflow and warmth. They have rounded domes to keep snow from accumulating on flat surfaces on the roof area. If you are interested in learning which are the best products in this category, take a look at our article on cold weather tents.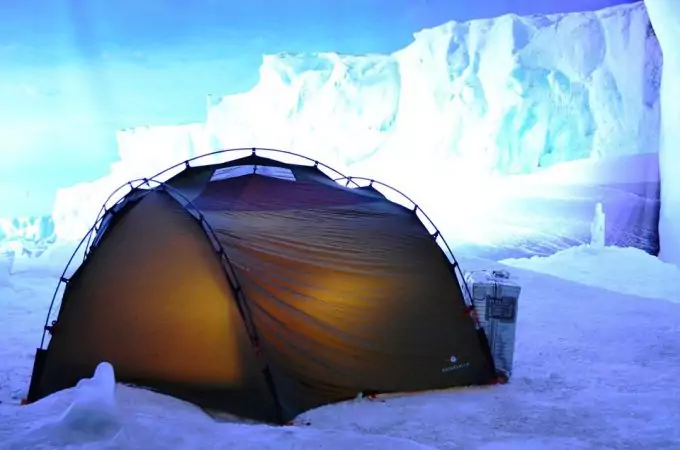 So, judging by all these main categories in which tents fall, you can safely pick the ideal for your case. If so, there are some other tent features to look after.
The shape and size of the tent can be determined by whether it's dome-shaped or cabin-shaped. If you drive to your camp place, you may definitely want to get a cabin-shaped tent. It has vertical walls and gives ample amount of space inside. They are perfect for families with children (even dogs). They may be pricey but the comfort these tents offer is worth the price. We have a great article with reviews and opinions from the users in our article on the best car camping tent.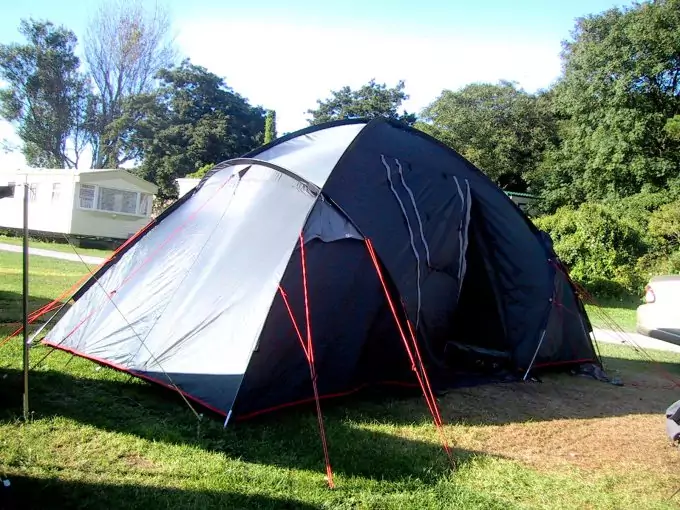 If you want to go on a budget shopping, then a dome-shaped tent will be your choice. If you get a large tent, and have in mind the 1-person extra space, you can have a pretty comfortable time inside. It may not provide you with the luxury of vertical space but it will give you shelter nonetheless. We also have a great set of reviews for campers on budget in our article on cheap camping tents
Consider also the door openings of the tent. If you have a large family you definitely want to have more than one door, so you can avoid stepping over each other during the night. If you are only 2-3 persons, maybe one door opening would suffice.
When it comes to the poles, most large family tents score the best here. They need fewer or no stakes at all to be used. This also makes them portable just as they are standing. If the tent uses fewer poles, this means it takes less time to set up.
For the rainfly you'll have two options – one that covers only the roof, or one that covers the entire top. The first offers a pretty decent airflow with a nice view and good protection against rain. The other one is a better protection against rain and wind. It doesn't offer the luxury of view.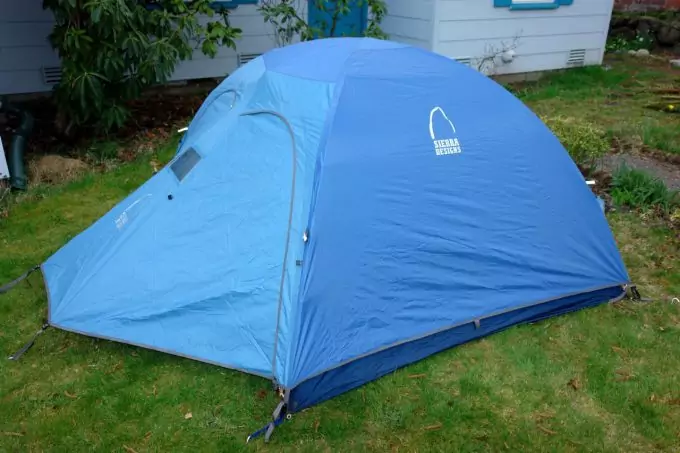 You may want to consider a tent with an additional compartment or vestibule. If you want to store a lot of things in the tent during the night, you'll definitely need a place to put them. Some vestibules are sold separately.
Another tip, pay attention to the mesh walls and pieces. Mesh walls offer free airflow and makes the tent 'breathable' during hot humid weathers. If you plan you camping during the summer, consider a tent with mesh walls and other pieces, like rainflies and mesh panels.
Tent ideas for countryside or cross-country camping

If you are a more adventurous type and enjoy spending some time away from any type of civilization, including your own vehicle, and prefer to hit the trail on your own two feet, then another type of tent is for you.
Whether you go camping alone or with your family you still have to consider the capacity of the tent. The above advice about the extra person space still should be considered. It is true that when you go camping you have to consider your backpack weight, but if you can't imagine sleeping in a tight area, where you elbow each other, then get a tent with extra space. Also, in your case, you may have to go for a dome-shaped tent, since it's more compact and much lighter than the cabin-shaped versions. We have some great product ideas in our article on best backpacking tent.
When it comes to the weather, the above advice stands valid. Choose a 3-season tent if you'll be camping in temperate conditions, and a 4-season if you'll be out there in the peak of the winter.
[the_ad_placement id="in-text-2-type-r"]
We have to talk about the size of the tent as well. As we mentioned earlier, 1-person cannot define all people's sizes. You can read on the label of the tent about the real dimensions of the tent, its height and square feet surface area. It will give you a more precise idea of how many people can fit in snuggly inside. The height is usually what makes a tent claustrophobically small or spacy. So, the more vertical the walls, the more space it provides and the higher the roof, the more head room it offers. If you like family camping, we have a few great reviews and products in our article on the best family camping tent.
If these things are important for you, always read the label for these indications. If you want, you can also ask the shop assistant to set up a tent so you can try it real-time. Remember though, that the more room the tent provides, the heavier it will be.
A tip from us: since the floor area is related to how steep the walls are going to be, and how much space that provides, people who want more space can look for a larger floor area. That means that the walls will be away from you and the angle will be proportionally larger to the provided space. So it will feel spacy, although the dimensions won't be much different from a tent with a smaller floor surface. What matters are the proportions and the space that is created above your head? This is especially true for taller and larger people.
To continue the topic of size, there is another category for tents. These tents are called ultralight (minimalist). They are made of extra-light fabrics, and offer a very small space. Since they are made of very thin fabric you have to choose your camping site carefully, trying to avoid rocky areas, pinecones nearby the tent, etc. These can damage the tent's fabric. This can be a downside to the ultralight tents but it shouldn't discourage you.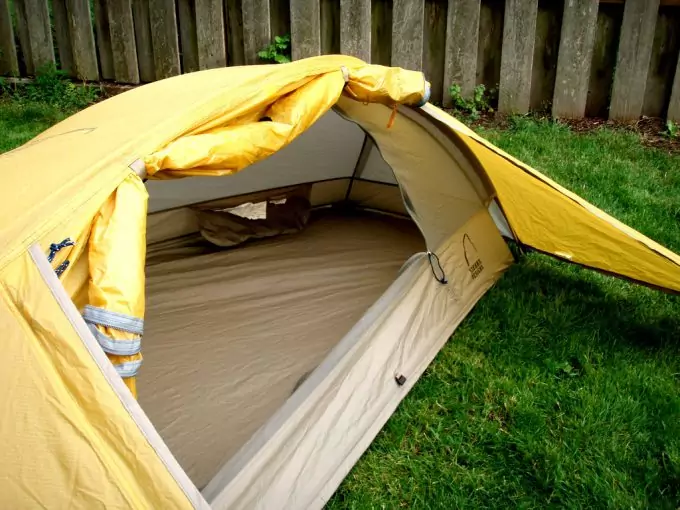 To this compact category, we have to mention the single-wall tents. They are usually used in winter conditions. They are again lacking in space inside, but keep the tent well ventilated, since they use a GoreTex technology for the walls. It provides fresh air for the people inside, and uses vapor pressure to push out the condensation. Since the walls are breathable, these tents don't have rainflies, thus don't provide a view opening. These tents are much lighter than their two-wall counterparts.
Things to know before choosing a tent

There are a few things you should have to know, as addition to the above lists and descriptions of various types of tents and their properties.
Mesh walls provide your desired freshness and airflow during warm, even hot weather. The only downside to this is that during chilly nights, cold air comes in unobstructed, so mesh wall aren't protective against cold. So, if you place the rain-fly before going to sleep it is estimated that you can have up to 10 degrees higher temperatures inside. So, remember that the rainfly can be a warmth booster. After all, even during the summer season, nights can be cold.
And some additional notes on the poles and stakes. Usually all tents these days are made so they can stand stable without attaching stakes to the ground. A tent can be moved to another site, if the original one was uncomfortable.
Of course, it is highly advisable that you always place the stakes before going to sleep, since sometimes there can be unexpected gusts of wind. The stakes will keep it well-grounded and stable. What's really handy is that when you want to move camp, you can only grab the tent and, as it is, but released from the stakes, shake out any dirt particles or debris.
A thing to consider when it comes to strength is the poles. They are mainly made of either fiberglass or aluminum. Fiberglass is prone to shattering if arced repeatedly (in case of strong winds). Aluminum is so far the best technology engineer's use. It's the best combination between weight and strength.
And when we talk about strength and material we have to talk about the walls. Today's most used tent fabrics are nylon and polyester. They are both the lightest available materials, of which nylon can be slightly lighter (sometimes even insignificantly). We you go searching for your ideal tent, look for the denier (D) indication. It shows you how light or heavy the fabric is. The larger the number, the heavier it is. The smaller the number, the better weight-to-strength ratio is. Most rainflies are made of polyester because this fabric is more water-resistant.
Tent walls are also often coated. This means that manufacturers put some coating on the outside, inside or both sides of the tent wall, to improve the water-resistant property of the material. Most used coatings are Polyurethane and silicon. Polyurethane (PU) gives additional waterproof quality and usually applied on the outside of the tent wall. The silicon is used to give further elasticity and strength to the tent fabric.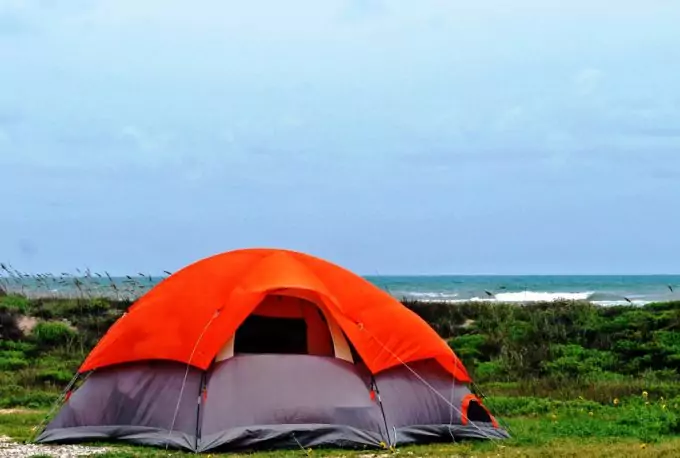 Thus, it is a bit harder for the fabric to tear upon strong gusts of wind. Most manufacturers use both coatings, e.g. PU on the outside and silicon on the inside. An additional note to consider is that polyester being water-resistant is used for the rainfly, but the tent walls are made of nylon, which absorbs slightly water. If silicon is applied to the nylon fabric it resists the water absorption. So, a PU-coated polyester is just as waterproof as a silicon-coated nylon, also called 'silnylon'. Of course, polyester can still be treated with silicon.
You have to consider the floor as well. You can either buy a separate footprint that is specific to your tent (manufacturers sell separate such footprints that fit exactly the floor of your tent), or just rely on the old-fashioned sleeping pads. Usually a footprint will be a better choice since it can prevent water leaking in or moisture finding its way inside the tent, but it is after all your decision. A footprint may add a bit more weight to your backpack, but so do the sleeping pads.
When you place your tent to the camp area of your choice, place it so that the doors face away from the direction of the wind. If you have more than one door, you can choose which one to use when going in and out. One of the doors should always be away from the wind. Be mindful where you position the tent. Stay away from thick bushes, pinecones and other plants with sharp branches or leaves. Upon heavy wind they can exert pressure on the fabrics and easily tear it. Your tent is designed to withstand wind, not piercing branches.
That doesn't of course mean that you have to be fully exposed out there. You can still find a place that is quieter and provides some shelter from the winds. The idea is to be aware of the proximity of bushes and pinecones to your tent.

Another advice from us is to practice setting up the tent at home or in the garden. Do it several times until you get the hang of it. While in the wild sometimes you have to be quick setting up the tent and if you never used it before it will be extremely frustrating. Read the manual at home and give it a time in peace and quiet. Also, don't fold the tent at the same creases every time you fold it. The more you use the same crease, the more it weakens the material and it may tear easy.
[the_ad_placement id="in-text-3-type-r"]
Yet another tip, if you have never gone camping before, a good idea is to borrow a tent. You don't know if this is your thing and you don't have experience, so borrowing is the best thing to do. Again, practice setting it up at home and ask the owner about advice and tips on his/her tent, so you know how to take care of it properly.
When it comes to storing the tent, it is almost always advisable to never keep it tight in its sack. It should stay loose somewhere in your closet, garage, etc. Also, if it's wet don't keep it packed for a long time. Mildew can gather and that will be the end of your tent.
Along with these advice, tips, descriptions and hits we hope to have given you an extensive overview of how to choose your tent for your camping trip. If you follow these tips and make learned decisions you should be just fine. Of course, practice makes perfect, so set up the tent as many times as you have to until you feel comfortable with the process.
Be careful when folding and using the poles. After all, the tent may be made to withstand harsh weather conditions, but some rough handling can destroy it pretty easily. As long as you know what you're doing, you should fully enjoy your next camping experience.
Some of the links in this post are affiliate links. This means that if you click on one of these links and make a purchase, I earn a small commission at no extra cost to you. Also, as an Amazon Affiliate, I earn from qualifying purchases. If the information in this post has been helpful, please consider purchasing through one of the links in this article. Thank you.