Camping in the winter can require some extra attention to all of the details and specifics of planning. People usually believe that good clothing is the top-most priority, and there's no arguing that. But there are still a few more extremely important aspects, which can't be measured in importance – they are as vital as good clothing.
[the_ad_placement id="in-text-1-type-r"]
So, knowing how to choose your cold weather tent can be quite challenging and as you delve deeper into the given information, you can end up confused and overwhelmed. Here we'll give you the main and most important aspects to be aware of and to look for when buying your tent. Overall you will need to know each part that makes the tent, why it's important and how to choose a tent based on that information.
The best way to choose a tent for the winter
First of all you have to determine how you'll be reaching your camping area – are you trekking or you'll be driving. This makes a lot of sense, since as a hiker you won't really be pleased to carry a large and luxurious tent, whereas if you're driving you can allow some extra space in your car for a larger tent.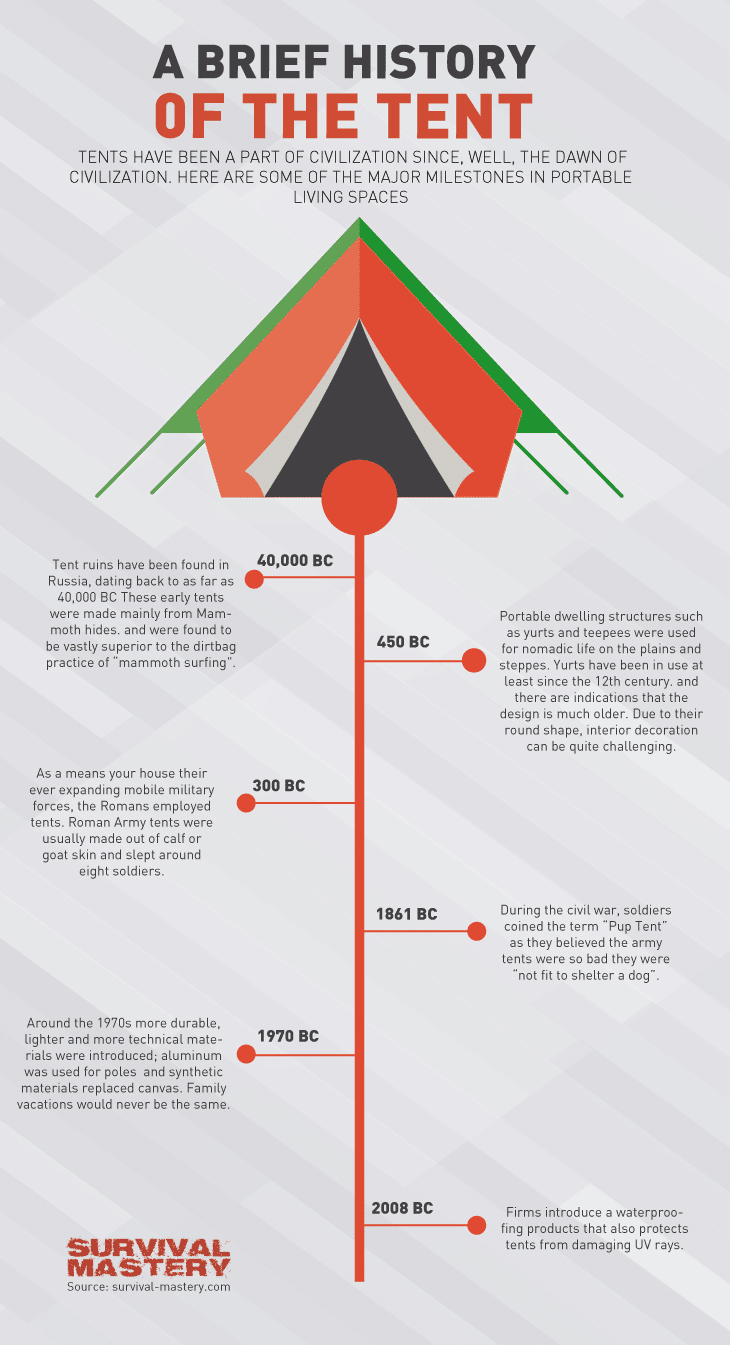 Overall, if you'll be hiking in the back country, we advise you to find a dome-shaped tent. They are manufactured for hikers, since they are lighter in weight, more compact and take less space in your backpack. They are specifically built to withstand strong winds in exposed areas and to prevent from snow building on flat areas (hence the name 'dome-shaped').
Heavy snow can quickly build on top of your tent and damage it and even risk your life. This is why dome-shaped tents are so popular these days. Most 4-season tents (for cold weather) are designed specifically for people facing extreme weather – on mountains, south or north poles, or camping in northern areas like Alaska, Canada or Scandinavia. Of course, according to the price you will get the respective durability and quality.
On the other hand, if you're a large family and just want to explore the back country for a weekend, and you'll be driving to your preferred place, you don't need a dome-shaped tent. Instead, opt for a cabin-shaped tent. These tents can also be great for winter experience, and mostly in milder winters. Usually cabin-shaped tents are designated for families, friends, larger groups, and people who are not inclined to spend several days on a windy mountaintop in the peak of winter.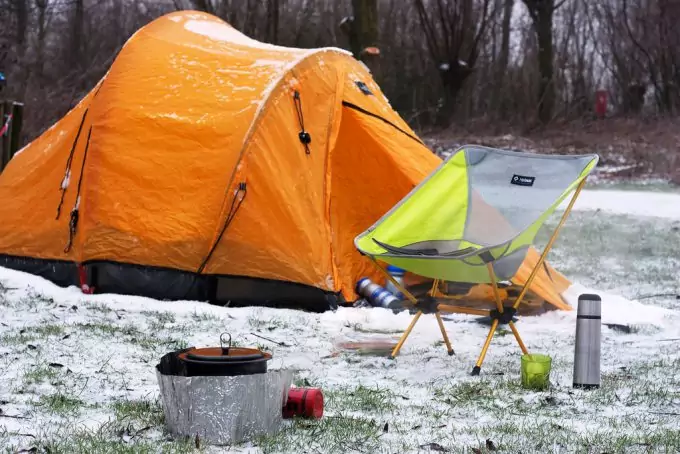 When you've made up your mind as to how you'll be approaching your camping area, and decided the type of tent you'll get, you have to plan ahead how many people will be with you. If it's only you, that may be pretty easy to determine, but if it's you and a friend, family member, or group of friends or your entire family, then you may have to consider more details.
First of all, if you've chosen a dome-shaped tent, you may have a hard time squeezing in your tent with more than one person in the tent. If you will be, for example, 3 people, we advise you to buy a 4-person tent. Usually, dome-shaped tents tend to be very economic and as a result you may feel cramped inside.
Also, you may have to consider people who are taller or large in body structure. So, buying a slightly larger tent can definitely be a plus. Even if you're three normal-sized people, sleeping in a 4-person tent, you will still have space for your backpacks, boots, food, etc. Always go for a larger tent.
Of course, cabin-shaped tents are more expensive, so if you're on a budget you may have to stick to the dome-shaped tent.
[the_ad_placement id="in-text-2-type-r"]
Another thing to consider are the zippers. If you'll be more than 2 people in the tent, you should definitely have more than one opening in your tent. It may be very hard for other people further away from the opening to move, in case they need to leave the tent, for example, during the night. They will disturb the others. So, to avoid that, buy a tent with at least two openings on either side of the tent. If it's a 3-person (or above) tent then a third opening would be beneficial too.
As we're on the topic of zippers, when you place your tent, try to determine the direction of the wind and position the tent and its openings, so that the wind doesn't blow directly at them.
Another very important thing to talk about when choosing your winter tent is the poles. Basically, a large family tent may not have flexible and foldable poles. This may be ok if you're driving a van or RV, but if you're backpacking or have a smaller vehicle, it may be a problem.
On the other hand, dome-shaped tents have usually foldable poles, either made of fiberglass or aluminum. Bear in mind that fiberglass can break if bent too much, so usually aluminum is known as a much more durable material for the poles. After all, poles are the 'skeleton' or bone structure of your tent – it must be able to sustain strong gusts and heavy snowfall. Also, aluminum is lighter, so you'll have both low weight and strength.
Remember that, the more poles your tent has, and the more intersections they make, the more durable the tent will be. That also means it will be heavier, but if you expect to go hiking in heavy winter conditions, a durable and stable tent should be your choice, without question.
On the topic of poles, we also need to talk a little about the pegs (or stakes). Pegs allow you to attach firmly to the ground your tent. In case it's gusting outside, if your tent isn't grounded, the strong wing may rip it. So, this is where pegs come very handy.
Of course you would need hard ground so you can stick them properly. Camping during the winter also means that you will have to dig all that snow in order to position your tent. In case you don't have access to the actual soil, find a place where the snow is heavily compressed and almost as hard as rock (possibly even frozen), and is above the new fresh snow. Using some force, stick the pegs to the ground so that the tent's walls are visibly stretched. Some people carry small hammers to ground the pegs, as the hard icy ground can get really hard.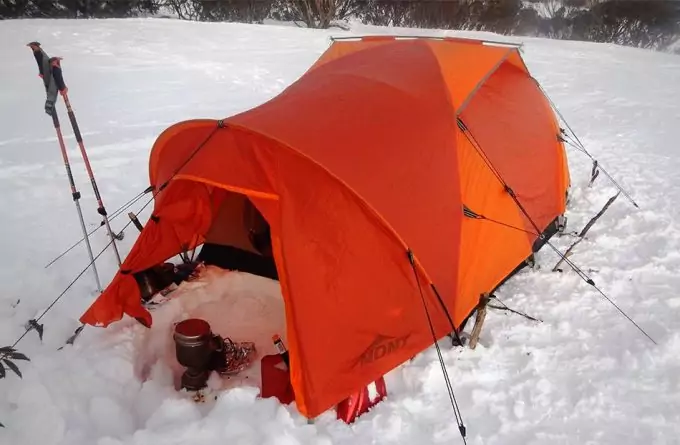 If there is a flapping part or something seems loose, make sure to find out why this is so. If you leave that floppy, it may get ripped upon some strong gust of wind.
If the ground is too hard and you can't stick the pegs, you can use your trekking poles to stick the tent firmly. Of course, if you're alone, you'll have only one pair of trekking poles, but nonetheless, at least you'll have two stable anchor points. You could still try to push at least two pegs for the other two corners.
Important aspects of winter tents to be considered during the winter season
Another aspect we must talk about is the walls, or simply – the fabrics which the tents are made of. Usually tents are made of either polyester or nylon. Both materials are breathable, light and durable.
Nylon can be very slightly lighter than polyester, but the difference is insignificant. So, when you go shopping for your tent, note the marking, i.e. Denier (D). This indicates the weight of the fabric. The larger the number, the heavier the fabric (and the whole tent as a result), and the lower the indicator, the better for you – the tent will be both lighter and stronger. Of course, the price will be higher, but it is worth it.
Winter tents are also quite often made of coated fabrics. This means that they have additional protection. Two very common coating materials are silicon and polyurethane (PU). They also add water-resistance properties to the walls, while keeping the fabric breathable and letting perspiration escape the inside of the tent. Polyurethane is used specifically to improve the resistance against water.
It is applied on the outer walls. Silicon, on the other hand, is added mostly on the inside, to improve the elasticity of the walls and give additional strength to the tent. This is especially important for winter tents, since winter is much harsher and the elements require much more preparation. If your tent doesn't have all that protection, it exposes you to a huge risk.
There is a new term in regards to the walls' fabric, and it's 'silnylon'. This means that the walls are made of nylon coated with silicon. Silicon also adds resistance to all elements, and improves the nylon's properties. Polyester is better in water-resistance even without coating, so PU just adds more to its resistance. So, basically, silicon-coated nylon acts the same as PU-coated polyester. Both work great. Rainflies are usually made of polyester, since they have to protect from the rain, and they must be highly resistant.
Additional note on the walls – wall fabrics (also called mesh) aren't much of heat insulators. They protect from water, but if you're camping in the winter, it will remain cold inside. Of course, your (and your companions') own body heat will warm up a bit the inside of the tent, but not enough to consider this warm at all. Remember though, keeping the rainfly attached to the roof will boost the inside temperature slightly (about 10 degrees) which may increase a bit the comfort.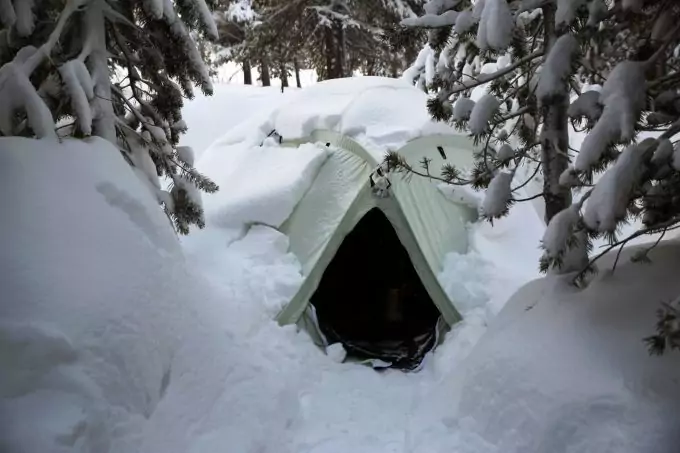 Also, the rainfly for summer tents is usually short and reaches at most the middle of the tent, when attached to the roof. On the other hand, winter tents have rainflies, which absolutely must reach the ground. In this way, the tent has two protective layers, which can be really a much better protection from the elements. In addition to that, the winter rainfly protects quite well from the snow, which may gather during a night's heavy snowfall. In this way the snow won't reach the inside walls of your tent and cause water to creep in.
Of course, consider the fact that having two layers, being great, can be a bit of a downside, since it slows the ventilation process. This lets moisture remain inside the tent and as a result the condensed water particles attach to everything they come in contact with and crystalize (due to the low winter temperatures). This can be dangerous especially if you have some part of your skin exposed.
Remember that in cold dry weather, you exhale almost a liter of water throughout the whole night. Imagine that in the form of condensation all over your tent, sleeping bag, possessions, and even your face.
So, when you go shopping, read the label and ask for a tent that is really proven and tested to have sufficient ventilation, even with two layers. Look also for some sort of mesh windows that allow a bit of wind to gently blow away the moisture during the night.
Moving on to the floor of the tent, you should know that no matter how warm a sleeping bag you have, if your tent's floor is bad, you'll end up cold during the entire night. First of all, tents' floors are nothing more but plastic. They don't isolate the cold, but keep the moisture away.
You will absolutely have to pack either a sleeping pad or optionally a footprint. There are footprints specifically manufactured for the brand's tents, so they fit ideally. They are sold separately, as not all people may want them. We would highly advise you to get a footprint, as it will keep the cold away from you and your tent's floor will be much better insulated. You should take a look at our reviews on the best sleeping pads on the market to make an idea about price and materials.
There is one special category for tents. These tents are called ultralight or minimalist. They are made for one person only and are quite tight inside. There are 4-season versions of these of course. These tents are extremely light and are made of thin fabric. You have to be careful with that, since they can be easily ripped if something sharp, like a pinecone or thorny bush, is situated nearby.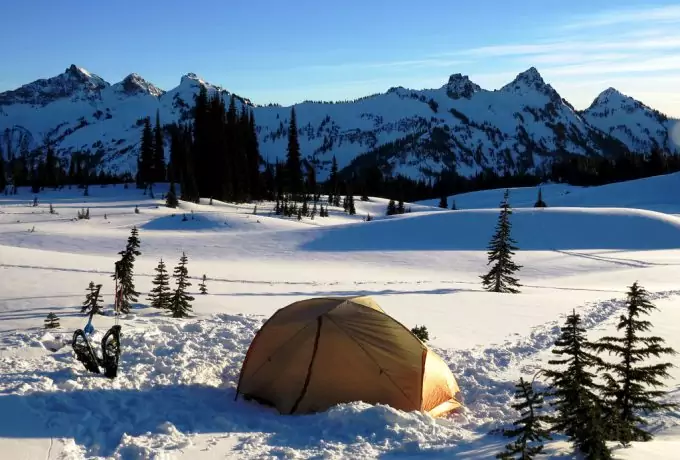 Another version to the 1-person tents is the single-wall tent. These are specifically designed for winter conditions. The walls are made of Gore-Tex, which is popular for its ability to keep low-weight alongside great protection and breathability. What's interesting about these tents is that they use vapor pressure, which pushes out the moisture, thus lowering the chances for condensation on the inside walls.
[the_ad_placement id="in-text-3-type-r"]
There are very popular all-in-one tents, e.g. JakPak, which serve as tents, sleeping bags and jacket. Incredible as it may sound, they are a great way to pack all these three in one. It is true that they alone may not give you the great protection for winter, but are an option if you pack more clothes. In this case, such a tent would be great. It's small, compact, durable, water-proof and portable. For one person only, this is a great way to spend a weekend, without costly tents and additional sleeping bags.
A better option for a tent-and-sleeping-bag-in-one is the bivy. It looks exactly like a sleeping bag, but has an opening like a mini-tent right around the head area. It can be hard for claustrophobic people, so keep that in mind. Also, to make sure no snow ends up inside, you'll have to set up your camp beneath a tree. Otherwise, you'll have no other protection when you want to exit your bivy (putting on the boots, clothes, etc). If you're more comfortable in a sleeping bag, then you should consider getting one for low temperatures. Here is an article that can help you choose the right winter sleeping bag according to several features.
Additional elements adding more comfort to your winter tent
Finally, consider the other (less important and life-saving) properties you need to keep in mind.
Find a tent with the option for a vestibule either on both sides of the tent, or at least on one. Vestibules give the opportunity to store objects there. Also, vestibules are usually 'created' by simply attaching the winter rainfly to the tent. It should reach the ground level and should cover the 'door' area. In this way, you'll have spacious area where you can, for example, prepare yourself to leave the tent and do so in peace.
Imagine yourself having to put on your boots straight at the door without the vestibule, and then add to that some strong wind and snow. Definitely the vestibule option adds to some comfort during the harsh winter.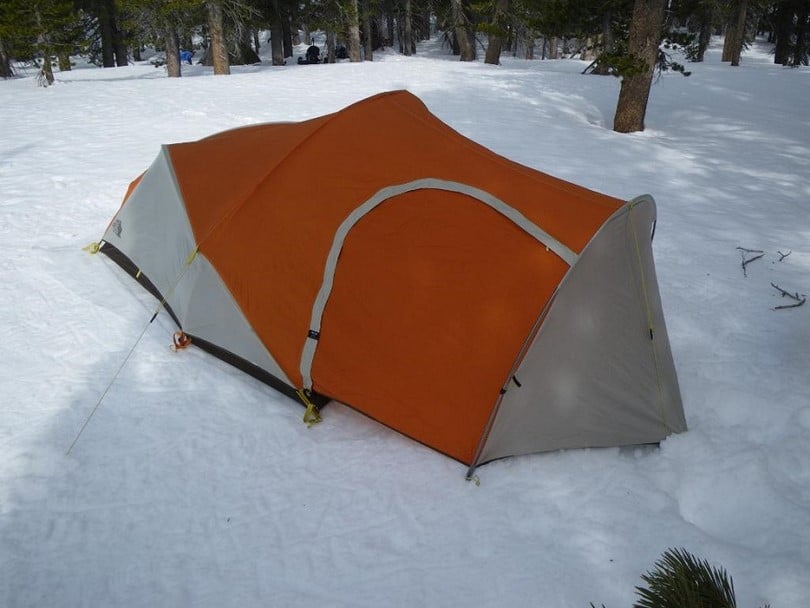 Another thing, adding to your comfort is the peak height and elbow-room which the tent provides. Of course, smaller and lighter tents offer less of the above. That is why they are light – because they provide only the ground for sleeping, sacrificing height as a result. You could only sit inside and crawl in and out.
When it comes to elbow-room, more volume inside the tent is achieved by more rounded walls. This lowers the angle at which the walls intersect with the floor. This definitely adds more space and comfort. Tents that are lighter have steeper walls, and eventually lower height.
Considering all these details and following them, should help you choose the most appropriate and suitable 4-season tent for your purposes. Of course, don't forget that the personnel in the shop can also help you further, based on what you already know after reading this article. Another advice from us – test your tent beforehand, in your back yard, or in a nearby national park, close to civilization. This will give you an overall idea of the tent and you'll be even more prepared for your actual winter adventure.
Some of the links in this post are affiliate links. This means that if you click on one of these links and make a purchase, I earn a small commission at no extra cost to you. Also, as an Amazon Affiliate, I earn from qualifying purchases. If the information in this post has been helpful, please consider purchasing through one of the links in this article. Thank you.