When you go camping and start packing your backpacks or your vehicle, it can be a bit daunting to start considering what food to take, what is appropriate and what not, etc. It may take you hours of preparing and planning. Some people just go to the local store and buy whatever they see, all pre-packed and ready to eat, others don't like this type of food and prefer cooking their own meals. Both of these approaches are alright, as long as the food you pack is nutritious and satiating.
[the_ad_placement id="in-text-1-type-r"]
Camping in combination with hiking or trekking requires that you have plenty of food to replenish your lost electrolytes, vitamins and minerals.
Here we'll give you the best camping food ideas, all tested and tried. We will give you ideas for both packed foods and which of these are your best shot, and also ideas and recipes for meals you can cook yourself around the campfire. If you don't intend on starting a campfire, there will also be ideas for you, on how to make a meal without the need for campfire. You can at least carry a camping stove (very compact and easy to set up) and boil some water to use for some dried food.
What to take and what is better to leave at home
Lunch is slightly more special in relation to the other two mealtimes. Lunch should be most satiating and nourishing than the rest. Yes, it doesn't have to take hours for preparation, extra pounds to carry, nor should it require special cooking gear to make. Our ideas will show you how easy it can be to make a campsite lunch and enjoy it.
There are several types of food that you should opt for. For the bread and pasta, you should better opt for pack crackers (almost any type will do), bagels, pita breads and even rice cakes. To add to the bread and pasta, consider some spreads on top. Good suggestions are peanut butter, cream cheese and even hummus. Keep them in reliable and sturdy plastic boxes or tubes. The risk for breaking the original container is smaller this way. Also, using a tube will make it easier to spread on top the bread slices or pitas.
All of this would be pretty dull and boring to eat, so you would need more variety for your lunch. Your best choices are beans, quinoa, lentils, taco salad and buckwheat. They contain those important vitamins and minerals to cover your body's needs. If you are a vegetarian you should know that quinoa contains all the essential amino acids, which are present in meat. Also, to keep your backpacks as light as possible, opt for plastic boxes for the salads. There are some camping dishes and bowls on the market so we advise you to spend some time checking them out. We have a great article with in-depth reviews for camping cookware that may be of great help in selecting the right items.
Don't forget to pack some vegetable salads to keep your meals fresh and juicy. Too much bread and grains can dry your mouth too quickly to actually enjoy any type of meal. So don't go camping if you don't plan on taking something fresh and juicy along with you. The best options for vegetable salads are carrots, cucumbers, cherry tomatoes (or tomato slices) and radishes. All of these contain large amounts of water and are a great supplement to your main dish. They are also tasty and will give you the needed freshness.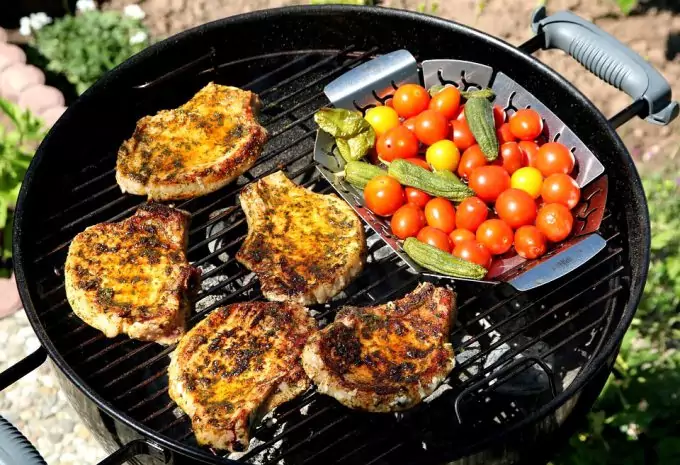 Fruits and berries contain a lot of water and vitamins that contribute to a wholesome meal. Add apples, blueberries, grapes, oranges, etc. Berries are probably most nutritionally dense per 100 gr and can be your number one choice. The others are more rich in vitamin C and high in water content.
The other type of food that should be part of every camper diet is meat and eggs of course. The most light-weight variants are canned tuna, hard cheese, boiled eggs. To add to that, if you're a vegetarian, you can opt for tofu and other soy products. Always consider packing hard versions of your favorite foods since softer foods can be easily smashed in your backpack and weigh more.
To make everything easy you can put some ready-made meals at home, so that you end up having one meal per plastic box. There is also the option of MREs that are usually found in stores, but you can also prepare them at home. We have a detailed article on homemade MREs if you want to know more. By using this method you optimize your backpack and you end up having fewer boxes to wash later. Your backpack will be much lighter and compact.
Other very quick options for meals:
Nuts, protein bars, trail mixes, dry fruits, dates, etc. They are considered most dense in nutrients and easy to pack as they take up very little space. You should absolutely consider packing some of these too, since they can be a very quick refresher between the main dishes.
Sandwiches are also a good idea – quick, tasty and satiating. Consider some homemade granola bars. They are delicious and quick to prepare. If you don't want to spend time on making granola bars, you can find them at your closest food store.
If you always want to cook your own food and don't want to eat dry fruits and nuts, you should prepare some heavy-duty aluminum foil and some easy and quick campfire recipes. There are some very good ideas for campfire meals that won't take more than 30 minutes to prepare and cook altogether. They also require only a handful of products and the end result is a warm and tasty meal.
Classic campfire meal ideas
Here we'll share some really good and quick ideas for campfire meals, which require only a few ingredients and heavy-duty foil.
If you had packed some oranges and raw eggs, here's a great recipe for you. You can carve the inside of the orange, and then break one or two eggs into the carved orange. Then put the cap of the orange back on top of it, to cover the eggs and wrap in the foil. Place the whole thing near the hottest charcoals and let it cook for no more than 7-8 minutes, 10 at the most. Be careful when you remove it from the heat and inspect the eggs. Sprinkle some spices and salt to taste and enjoy this quick and easy camping food.
Another very popular and just as quick meal is to cook potatoes with some vegetables. You can cut the potato and vegetable in cubes. Then put some oil or butter (if you have) and put all that in heavy-duty foil. If you have thinner foil, roll it twice to make the bottom thicker and sturdier. Wrap well the contents in the foil and again, place the whole thing on the coals to the side of the fire. Let it cook 15 minutes. You can check it sometimes by unwrapping it and picking the potatoes with a fork. If the potato feels soft and tender, then you're ready to remove it. Otherwise, leave it to cook a bit more.
If you have place in your backpack or your vehicle, you should definitely pack a Dutch oven. You have endless opportunities for experimenting with what food you have at hand. You can cook basically anything with the Dutch oven. In addition to that you can prepare some sticks and cook some hamburgers and other vegetables directly over the fire. Be careful of course not to burn and scorch the food. Don't forget about the S'mores, as they are a typical camping food.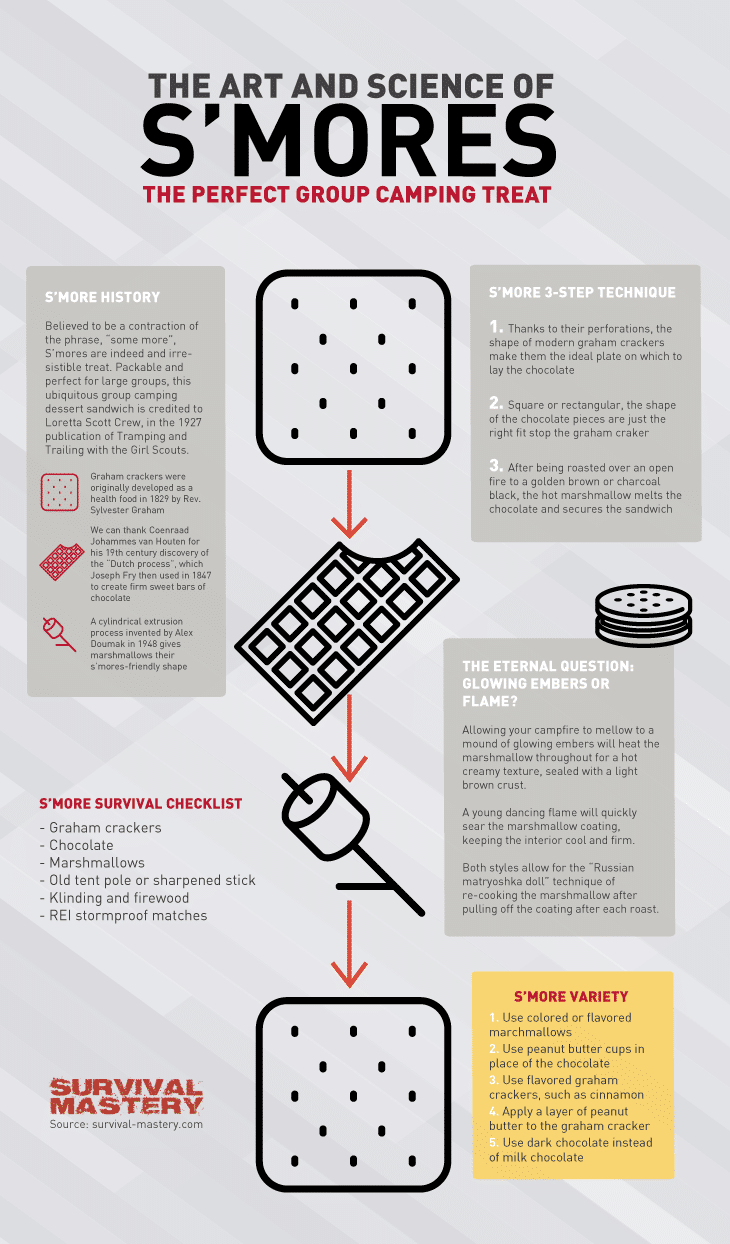 To make S'mores you would need crackers, chocolate bars and marshmallows. Crack one cracker in half. Place a chocolate bar on top of one of the halves. Then take a marshmallow on a stick and place it over the fire. When it's ready and hot, place it on top of the chocolate bar and put the other cracker half on top of the whole thing. You'll end up with a tasty and sweet 'sandwich', very quick and easy to make. It's an absolute classic.
Don't underestimate the drinks of course. We're sure you wouldn't say no to a hot coffee or hot chocolate, or even cappuccino, if you had the chance. So pack some of it, boil water and pour the contents.
Additional "save-your-time" ideas
Of course you don't want to spend half of your time cooking, so there's a way to avoid all that. There are some handy recipes, very quick and easy, which will save you plenty of time so you can actually enjoy going camping.
[the_ad_placement id="in-text-2-type-r"]
Consider the oranges your best friend around the campfire. You can cook a lot of things inside a carved orange half. A good example of such a dessert is the orange brownie. Cut the top of an orange and carve the meat of the fruit away. Then take a brownie mix and follow the instructions on the box. Put the brownie mix in the empty orange and put the cap on. Then wrap the orange in a heavy-duty foil and put on a bed of hot coals. This makes a perfect breakfast for both kids and grown-ups.
The orange should be ready within 15-20 minutes at the most. You can of course check regularly the situation by removing the cap and looking how the brownie cooks.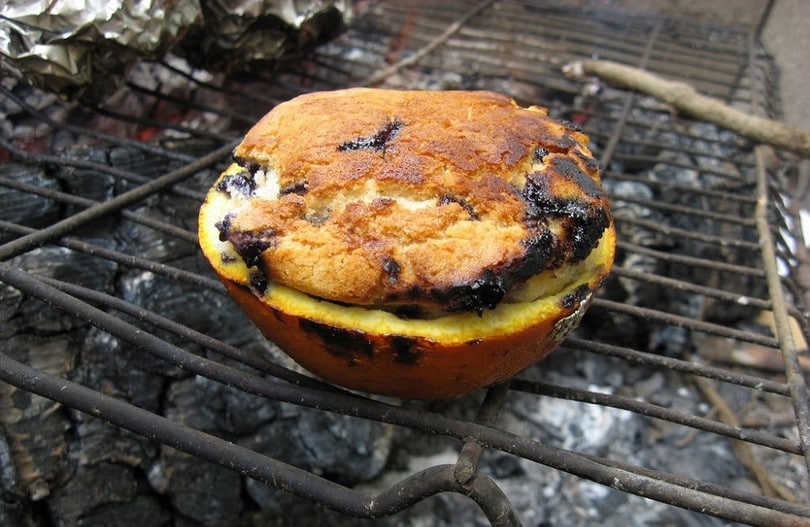 If you carry a skillet (frying pan) you will also have a huge variety of recipes to experiment with. For example, you can make quick pancakes with just a handful of ingredients like flour and oil. Now, if you carry a skillet you should also carry a backpacking stove so you don't worry about fire woods every time you want to cook. If you want to buy one, we reviewed some of the best camping stoves in this article here.
You can also make French toast. It is really delicious and a favorite to kids. You need only several slices of bread and eggs. Batter the eggs in a bowl, while in the meantime heat the cooking oil in the skillet. When you're done with that, take the bread slices and roll them in the eggs, so they're well soaked. Then fry the bread slices until they are nicely brown.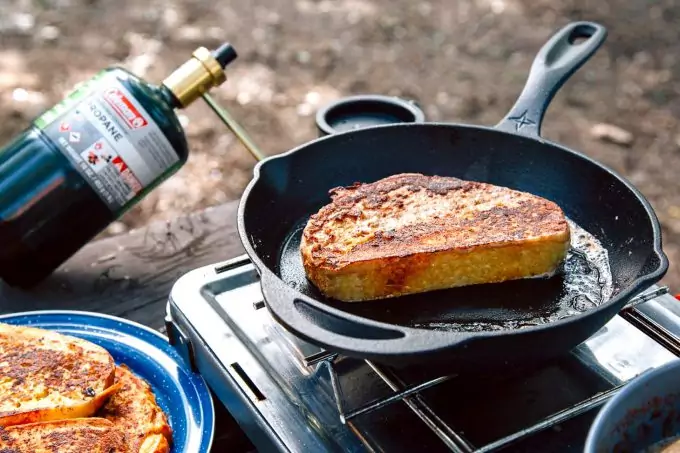 Don't overcook them or they will actually turn black and will be inedible. When they are all done, cover with maple syrup or other favorite sweetener, or simply roll them in regular sugar and enjoy.
A nice meal is to use potatoes and onions only. Take one large potato and cut it across in slices, but without fully cutting them – the potato still needs to be whole. Put slices of onions in the potato cuts and sprinkle with oil (or butter) and some spices and salt. Roll once again in heavy-duty foil and place on the hot coals. This meal needs no more than 15 minutes. If you would like, check the potato with a fork, by pressing it with the fork. When you draw the fork out the potato has to stay in place. If it gets stuck on the fork, it needs a bit more time to fully cook and soften.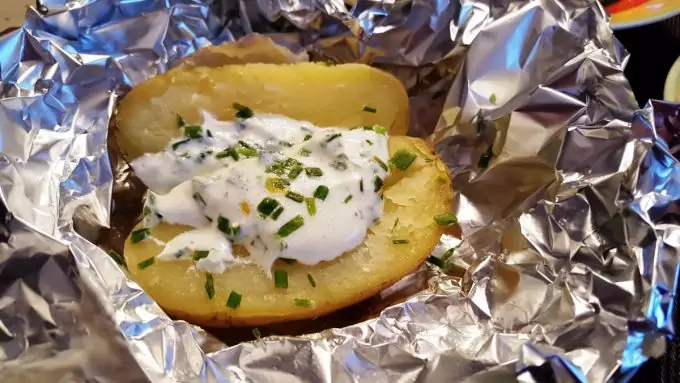 If you want something more serious you can also prepare some fish, like tuna, mackerel, trout, etc. Take the fish fillets and place them in aluminum foil. Put some lemon rolls on top of the fish. You can also add some garlic or onion rolls, if you wish. Add also some oil to taste, e.g. olive oil. Then wrap in the foil and place on the hot coals at the base of the campfire. The fish needs no more than 15 minutes to be ready to eat. This is a very quick and easy recipe that leaves no dishes or bowls to wash afterwards.
Best advice from experienced travelers
A great idea is to prepare at home all meals you plan to eat. Wrap them in the foil and place them in a portable fridge. This is much easier way to have a ready meal when you reach your camping site. You will be tired and hungry when you get there to start cooking and preparing everything from scratch. So, planning all that at home will definitely save you time on the preparation stage. In this way you will only have to unpack and place the foiled meal at the coal bed and wait more or less 15-20 minutes for your dish. In the meantime you can set up your campsite.
A good advice to follow is to place onion rolls on the aluminum foil before you lay all the other ingredients. Most foods don't taste good when they are cooked in direct contact with heat, whereas onions taste good even if they are a bit overcooked or slightly burned. Also, don't forget to use cooking spray on your foil, or your food may get stuck on it and that will surely lead to burning the meal where it was in contact with the foil.
A good optimization idea is to dehydrate your food. Almost anything can be dehydrated and re-hydrated on-site. This method will help you carry a much lighter load (or backpack). You will basically need only boiled (or normal) water to prepare the entire meal. There are many such dried foods, like potato powder, dried soups, etc. There's also dried meat that can be very tasty even dried. There are other ideas like dried noodles, dehydrated onions, oatmeal, sun-dried tomatoes, cous cous and bulgur.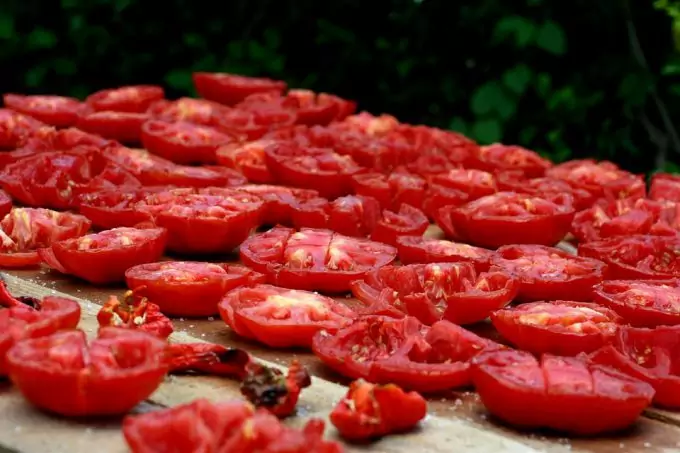 There are also dehydrating machines that can give you the option to dehydrate almost anything you come up with. It would be entirely homemade, less processed and you will be sure to give your family food free of preservatives. If you're interested, we have a great set of reviews on the best home dehydrator on the market to choose and the main features that matter.
[the_ad_placement id="in-text-3-type-r"]
We still need to give you some advice on how to store these foods before you actually use them. You should know that most of these foods contain oil. Oil in dried foods can quickly turn them bad, as oil goes rancid with time. So, keep these foods refrigerated until you use them. Also, remember that meat must be dehydrated on higher temperatures. This is to kill some potential bacteria and organisms. Otherwise, vegetables and fruits don't have to be dehydrated on such high temperatures. For better directions you can also read the instructions that come with your dehydration machine.
There are also freeze-dried foods out there, so if you want some more variety in your meals you can check these out. Mountain House have a lot of freeze-dried meals like beef with noodles, lasagna with meat sauce, turkey, spaghetti, biscuits and gravy, etc. They specialize in making camping and hiking meals, so you can trust their approach.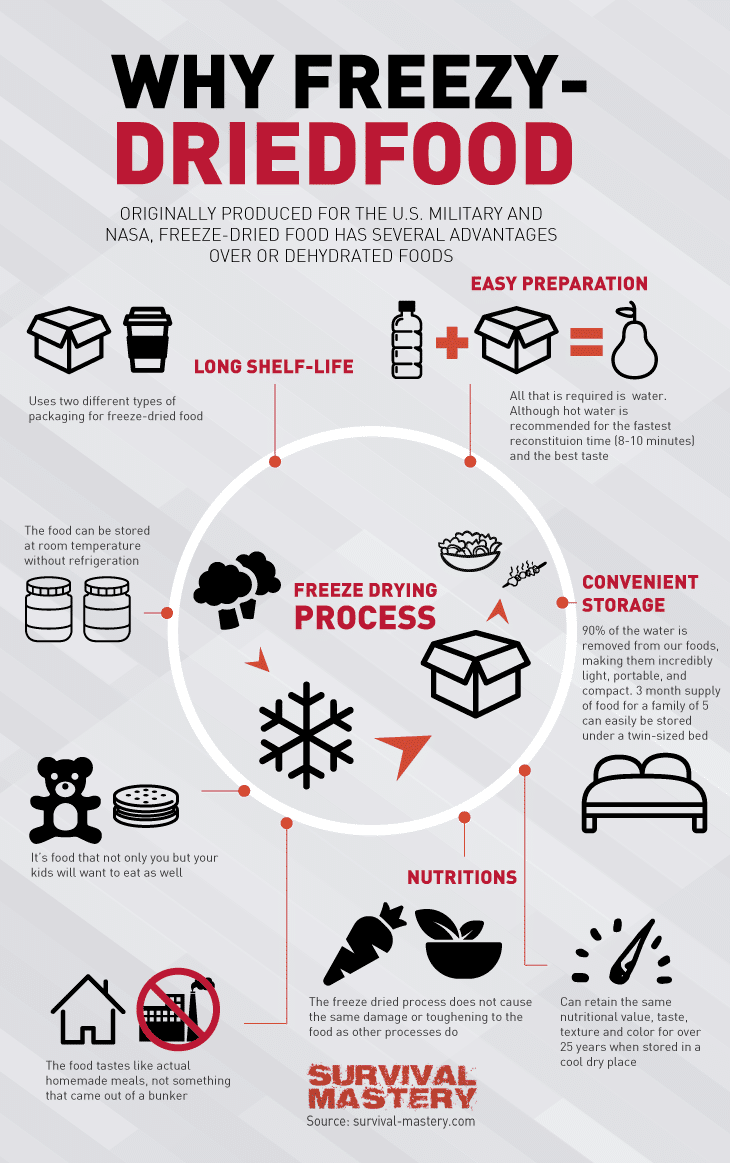 And another advice from us – if you really want to make your meals super-tasty you can definitely try adding different spices and herbs. There are a lot of great combinations for refreshing the tastes. Especially good are oregano, mint, savory, coriander, and fenugreek. If you want more heat in your meal, consider cayenne pepper, chili, and turmeric.
Camping food can be a fun experience and requires a bit of creativity. And when you get used to this, it can become a long-awaited experience. Every time you go camping you will actually totally love preparing your meals rather than dreading them. The above recipes and ideas can be combined with other fruits, vegetables or favorite meals. When you try the original version we gave you, you can then experiment with your own. Have fun and enjoy your camping adventure!
Some of the links in this post are affiliate links. This means that if you click on one of these links and make a purchase, I earn a small commission at no extra cost to you. Also, as an Amazon Affiliate, I earn from qualifying purchases. If the information in this post has been helpful, please consider purchasing through one of the links in this article. Thank you.