Camping doesn't necessarily involve only your car, van or caravan in order to enjoy some time in the nature with your friends or family. Tent camping can be a really fun and unforgettable experience when you plan it well and are prepared for the specifics of this type of camping. While it's true that sleeping in your bed with all the comfort and luxury you're used to can't be compared to sleeping in a tent, on a sleeping pad and other people around you, but it can be nonetheless relaxing and fun if you know how to prepare well.
[the_ad_placement id="in-text-1-type-r"]
There are many aspects you must take into account if you want to fully enjoy your experience. If you think of the slight discomfort while sleeping in a tent and see it more as a real adventure, when you toughen up and learn something new about yourself, behavior and needs, you will definitely change your mind and will actually welcome a bit of discomfort now and then.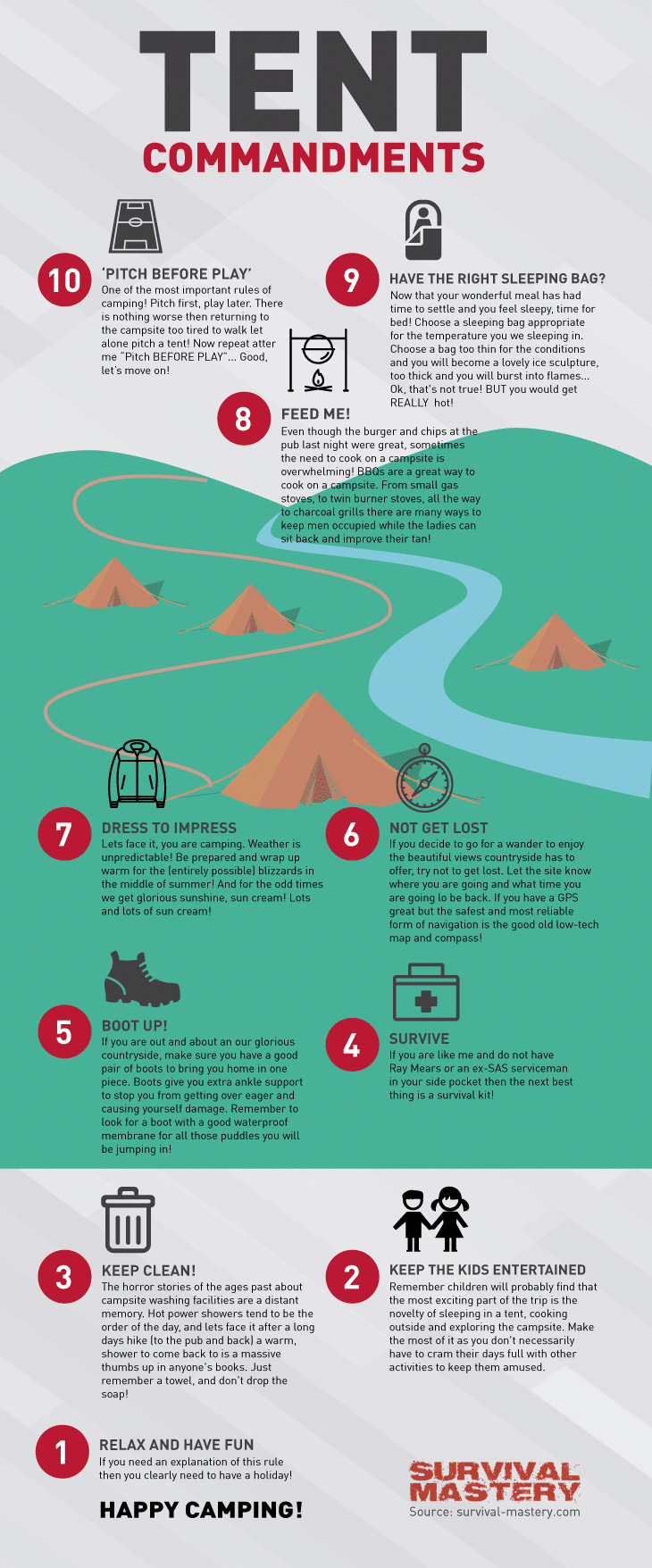 As weird as it may sound, you may even enjoy it! In this article we will help you with some useful tent camping tips and tricks on how to take the most of your camping experience and have fun with it.
How to enjoy your tent camping experience
Choose the right sleeping pad and bag
This is one of the first crucial steps towards a good night's sleep under the stars. There are lots of options for sleeping pads and beddings, but that doesn't mean that all of them will be just as comfortable. Some are more light-weight and compact, while others are best for people who can't stand the rough ground while they are sleeping. To be sure you're getting the proper sleeping pad for your needs, you have to know whether you will be fine sleeping on thinner pads.
Yet, of course, hardly anyone enjoys rocks and uneven ground as they try to relax and sleep. So, best go for an inflated pad. They are also light-weight and won't take a lot of space in your car. If you're hiking and all your luggage is in your backpack, you may have to sacrifice a few rough nights. Thinner sleeping pads definitely take less space and are very light-weight.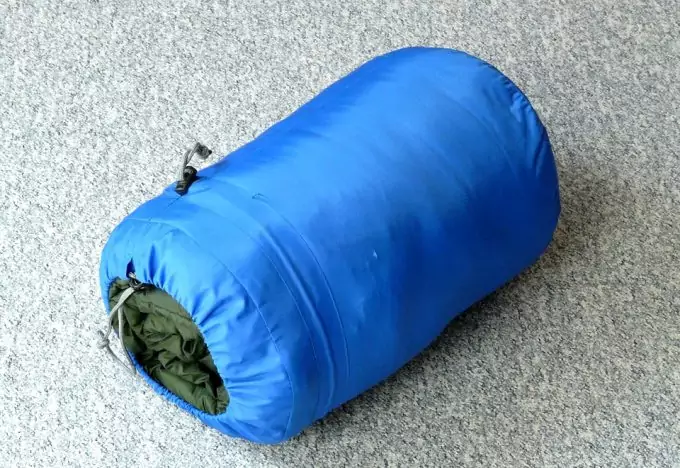 Inflated pads are best for people who are not used to regular hikes and treks and are more used to the comfort and luxury of their own bed. Try to mimic your bed and your habits in it to make sure you will have proper sleep, and you will be definitely relaxed in the morning.
After you made your choice with the sleeping pad, you need to take a look at the sleeping bags too. The choices and options are again intimidating and you may feel quite confused. Don't let frustration in. The simplest way to choose your sleeping bag is to know when you will need it – during warm or cold months. This is one of the basic principles for choosing the right bag.
Usually, summer (or 3-season) sleeping bags don't require that much consideration. Take a look at the minimal comfortable temperature. Most 3-season sleeping bags will keep you comfortable to as low as -5. Of course, it depends also on where you'll be tent camping. Is it in the woods, in a desert, how large are the temperature fluctuations? If you expect warm temperatures during the night, find a lighter sleeping bag which can get your through the night without feeling too overheated. For more information on quality-made sleeping bags, see our article on the top survival sleeping bags for you.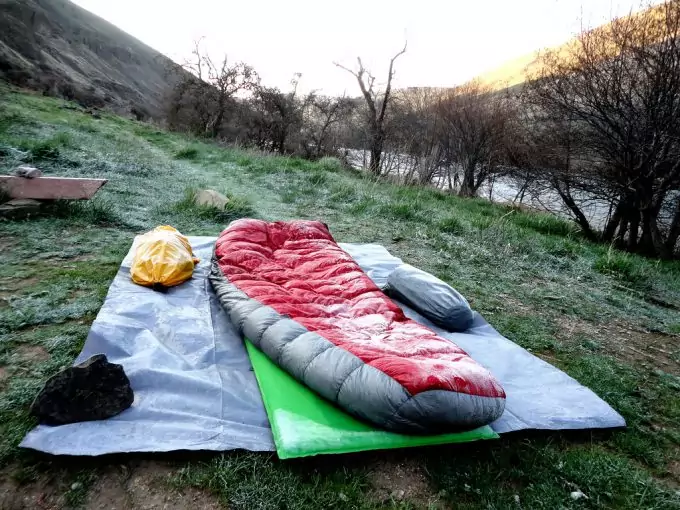 Usually, the label on the sleeping bag will give you a rough idea on what it offers as comfort and warmth, so try to match that to the expected weather during the time of your tent camping.
A word on noise management
During the night it may not be as quiet as you may expect. The wilderness isn't the quiet and peaceful place it can be, day or night. Life for some animals and insects will just start with the setting sun. Keep that in mind and if you're a light sleeper, you absolutely must take a pair or two of earplugs. Optionally for some people are some devices' apps which mimic the natural sounds of ocean waves, waterfalls, leaves, etc.
If you are used to that, by all means, go for it. Of course, you should be aware that your smart phone or devices may not have enough battery to play for too long, so don't rely only on that. The earplugs should be the first thing you should consider for a quiet and peaceful sleep.
Dealing with temperature fluctuations
While summer nights aren't as cold as winter nights, you may still be surprised that in desert regions temperatures can fluctuate with around 30 degrees or even more. This means that nights can be surprisingly chilly. Of course, if you are planning on hiking in more temperate climate, you won't experience such drastic change of temperatures. And yet, it's good to be prepared.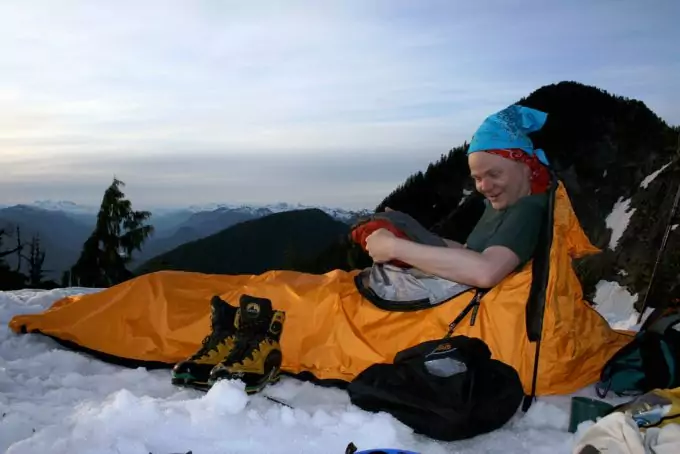 During the night in the wild it's more probable that you will feel colder than warmer, so there is no risk of overheating. If you have troubles with the temperature and you feel cold and uncomfortable, prepare beforehand a water bottle and fill it with hot water. Make sure there are no leaks from the cap and stick the bottle in your sleeping pad. It won't take long until you're already warm. You can of course do that before you go to sleep and place the water bottle 30 minutes before you go into your sleeping bag. It will be already warm and cozy in there.
Quick bonus tip
Find plenty of activities to do during your camping trip. People tend to sleep much better after they literally wear themselves out. Try to get tired (but not over-exhausted) and you'll fall asleep much faster. You will tend to ignore some minor imperfections about your improvised bed, and will enjoy sleeping in it much better.
The best place for setting up the tent
It may not be far from logic that the place where you set up your tent is of big importance. Human bodies aren't used to sleeping on uneven surfaces, thus the ideal will always be the flat perfectly horizontal surface. Many campers and hikers tend to immediately feel if the surface they are sleeping on isn't perfectly horizontal.
While they look at it, it does feel totally flat, but once they lie down, they feel the difference. And as you can imagine, an uneven and non-horizontal surface can lead to a terrible night and tossing around trying to find a more comfortable position. This unfortunately never happens if the surface isn't good enough.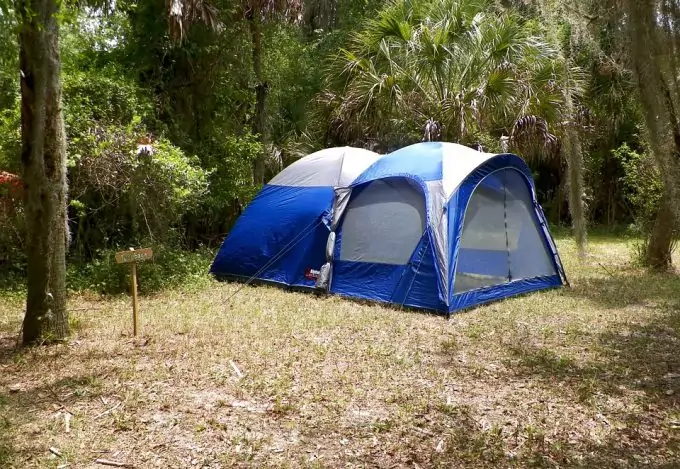 This is why, it is very important that you find a really flat surface. Even if it takes time to find it (and after all nature hardly provides ideal bed-flat surfaces), give it around 30 minutes of search. When you set up the tent, test the place and see if there can be some potential problems. If there are, don't hesitate to move the tent, even if it means setting it up again. It's better to spend some time searching for the good spot, than waking up groggy after a terrible night.
Staying clean and dry
This applies not only to you, but also to your tent and sleeping bag. Tents tend to fill in with some foliage and small natural elements and particles, which may begin to bother you at some point. Also, when it comes to your own comfort, being clean and dry is actually a key component to enjoying a nice restful night. Unwashed sweat tends to make you feel chilled and stay cold no matter what you do. You could find a lake where to wash (during the summer it can also be refreshing). During the winter try to prevent excessive sweating in the first place.
Of course tent camping isn't only about sleeping. What matters is also how you spend the evenings and mornings in your tent.
Cooking equipment
For morning refreshment, consider packing a small cooking stove if your day can't start without coffee or tea. Make sure to start the stove outside the tent. You can still stay in it, at the entrance, while tending to the boiling water. Mornings in the wilderness are definitely different from those at home, but try to consider all the items that make your morning cozier.
[the_ad_placement id="in-text-2-type-r"]
Also, don't forget that to boil water you'll also need cooking equipment – pots or pans, and of course, some utensils. Of course, along with your cooking stove, don't forget to pack as many fuel canisters as you consider it appropriate. Small propane canisters can last for 60 mins of cooking.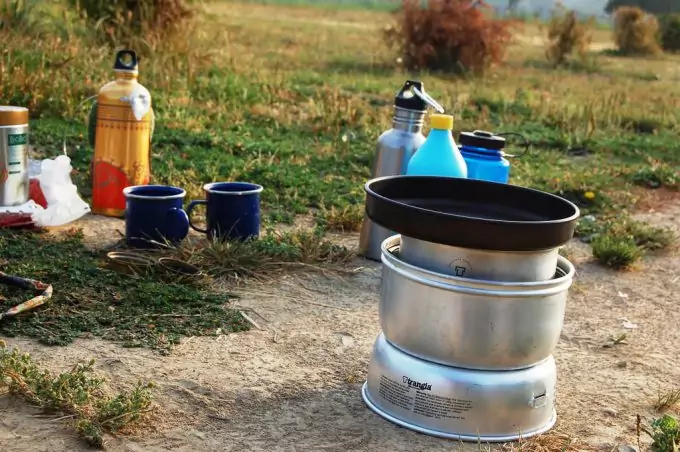 What's more, if you also use the stove to cook meals, this means that your pots and dishes will be dirty when you're finished. You don't want to attract hungry wild animals to your campsite, so you'll have to wash the pots when you're done eating. You can use bowls to carry water and immediately wash the pots, or if you're camping near water, you can clean them there.
If you plan on eating oily meals, you may even have to take some detergent or dish-washing liquid. Optionally, you can prepare a special cloth for wiping the pots and pans with it. Keep in mind that this doesn't remove the smell from the food leftovers, so place the cloth in a plastic bag with a zipper, to isolate the odors and not attract insects and animals.
As for additional items, make a list of kitchen utensils and pots which you may want to use. For more tips on how to choose the best camping cooking equipment, see our earlier article on this.
Preparing the luggage
While it's a no brainer that we all rely on soap to keep us clean, toothbrush and toothpaste to keep the hygiene, or the wash towels to stay dry, people tend to forget these items. We have probably gotten so used to them, that we take them for granted and when we go hiking we realize that we just can't live without them and our regime and habits take a swerve.

If you don't want to be taken by surprise, prepare all kinds of toiletries, creams, tissues or toilet paper, soap, shampoo, baby wipes for freshness, toothbrush and paste, different types of towels and cloths for staying clean and dry, cosmetics you use regularly, sunscreen and lip balm with UV protection, and any other similar item you can't live without. In your head, go through your daily routines which you perform habitually and check if you've forgotten something and add it.
You can also think of items to kill off time or to use when you get bored (and you can't go hiking), like books, games, paper and pencils for drawing or writing, and anything else you tend to enjoy doing in your free time.
In addition to all these categories, you will definitely need plastic bags where to discard garbage items. Another bag will be needed for your (un)used kitchen equipment. Don't forget the first-aid kit. It always has needed items like bandages, pads, adhesive tapes, etc. for minor scratches and injuries.
The light
Sleeping in a tent is no different than sleeping in your van or caravan – you may need light during the night. While your caravan has a built-in electrical grid, your tent doesn't. So don't forget sources of light like flashlights, torches or lanterns. Even the survivalist's favorite headlight is a great option. Besides, it takes less space, and is insignificantly heavy. If you plan on using it a lot, prepare enough batteries in case you need them.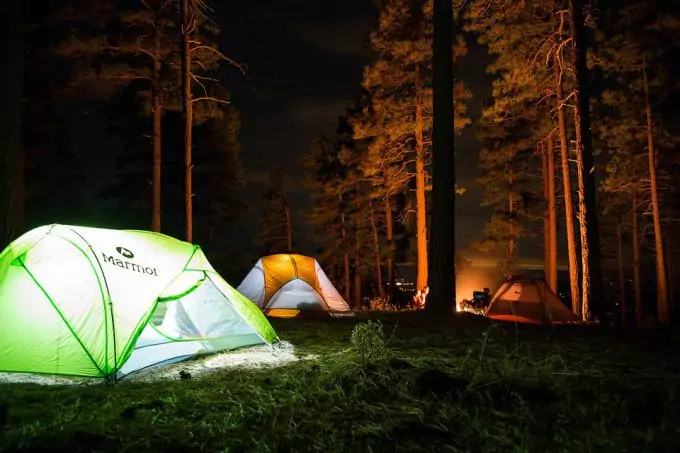 Optionally you can attach lamps out of the tent that could keep working during the night, so that people (especially children) can quickly go to the bathroom. Children tend to be unable to hold, so they have to quickly run out of the tent. It's much easier to have a lamp alight outside than having to go through the trouble of finding the torch or flashlight in the dark.
See our article on how to choose the best off-grid lighting fixtures to illuminate the darkness.
Clothing
Staying in a tent, and not your minivan or caravan can be different in terms of clothing. While you're tent camping you may experience that the tent only won't keep you warm. This is why to stay safe and warm it's best to carry a bit of extra clothes, and be sure you won't lack anything. Even if you don't use them, you'll know you left home prepared. After all, tent camping isn't for everyone and is slightly more challenging.
Pitch the tent beforehand
Most inexperienced people think that if they bought a tent it will be like a child's play to pitch it up. Unfortunately you will be disappointed that pitching the tent may require quite some time and nerves before you can finally relax in it. Don't automatically assume that the manufacturers are making tents that can be set up for 5 minutes. To keep tents compact and lightweight, they also need more time to pitch.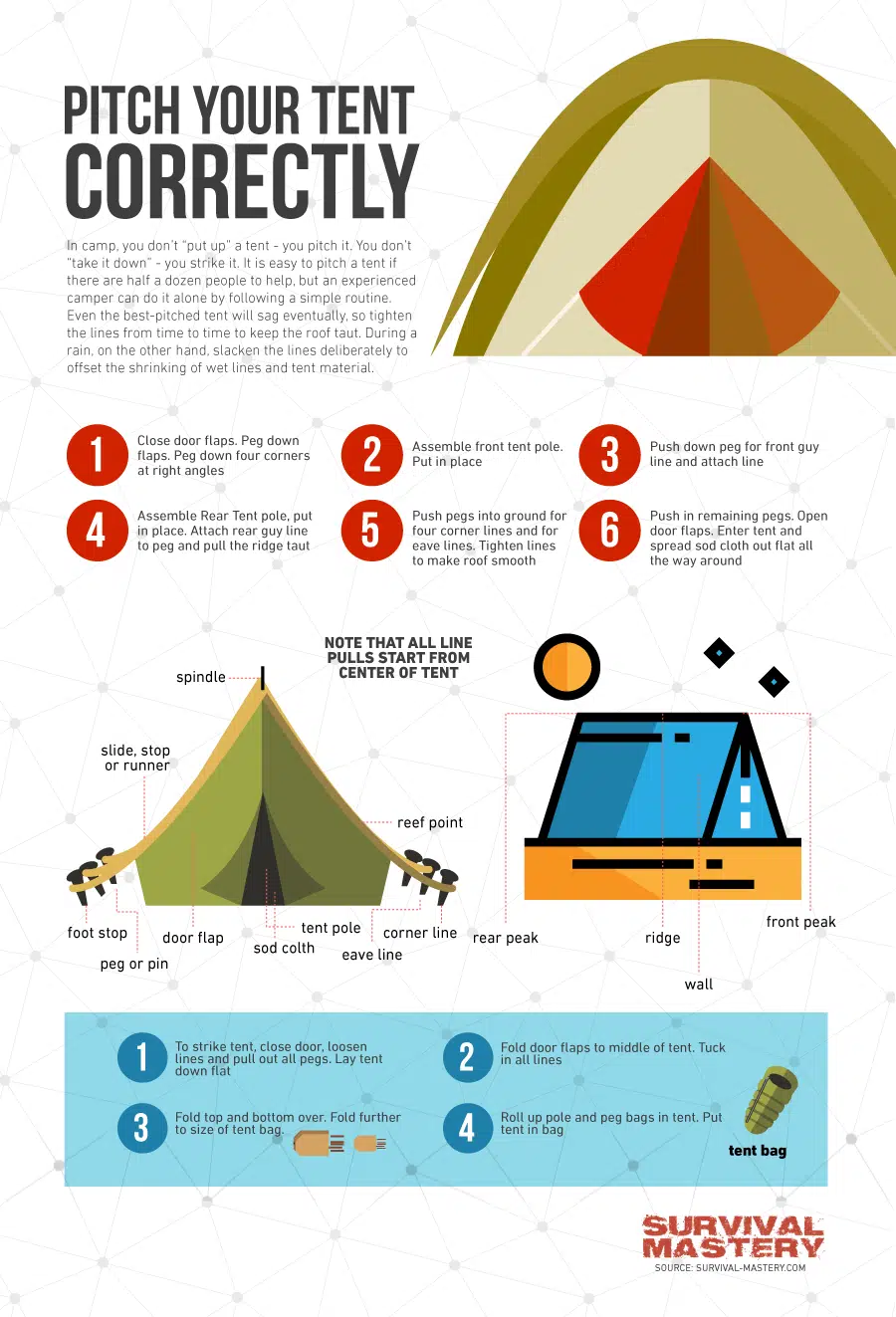 This is why it's absolutely necessary that you practice pitching the tent in advance, at home or in your garden. Or in the nearby park. Make sure that you are not entirely reliable on it, if you can't set it up the first time. Also, keep in mind that most tents require two individuals at least to pitch the tent together. One person only will go through too much trouble to pitch a tent, unless it's a one-person tent. These are easy and designed to be pitched by one individual.
Tent organization
While we're still on the topic of tents, you need to organize in advance what will be put where. For example, where the beds will be, where the luggage, boots, clothes, etc. It may take time, but if you practise at home it may be quicker on the camp site.
[the_ad_placement id="in-text-3-type-r"]
When it comes to boots, don't place them directly inside the tent, as they can be smelly and of course leave dirt behind. Put them in plastic bags before you place them inside the tent. While in the tent, keep the food also in plastic bags so that they don't emit any odor. Not only can that bring animals and insects, but the overall smell of food inside the cramped space of the tent isn't very appealing.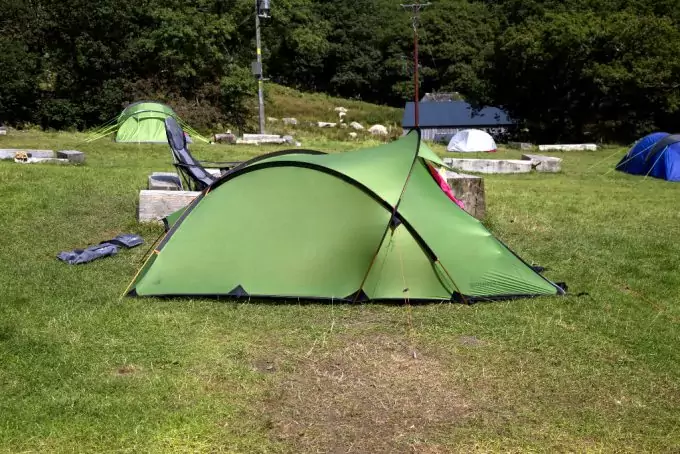 Also, before you go to sleep, don't leave anything that belongs to you outside the tent. This includes chairs, tables, clothes, food, toys, etc. Take a good look before you enter the tent, and make sure nothing is left behind.
Also, the ethics of the camper includes keeping the area clean and not to pollute it with tissue, toilet paper, food leftovers, beer cans, etc. This means that whether you're leaving the place now, or just going to bed, you should follow the ethics code.
Going back to the tent – as you enter it to sleep, make sure you've visited the bathroom, brushed your teeth and followed your hygienic habits. Then, don't forget to zip all entrances of the tent, or animals and insects may find you an interesting phenomenon to explore. When it comes to insects, they can crawl in the tent through the tiniest hole. This includes mosquitoes, which can be very persistent on campsites.
And finally, as we already hinted above, keep in mind that the same area will be used by other campers who want to enjoy the place just like you did. This is why you should be respectful both to the place and your fellow campers after you. Keep an eye on your garbage, keep it stored in one place only and throw it away once you're back in civilization. Leave the spot as if you've never been there.
Some of the links in this post are affiliate links. This means that if you click on one of these links and make a purchase, I earn a small commission at no extra cost to you. Also, as an Amazon Affiliate, I earn from qualifying purchases. If the information in this post has been helpful, please consider purchasing through one of the links in this article. Thank you.