When you think about rock climbing gear, one of the first few things that come to mind might include things like clothing, ropes, and a helmet, but there are a lot more things you need to get in terms of equipment if you plan on participating in the pastime with any degree of safety. The things you can expect to have to add to your list include safety equipment and things that can make your climb easier overall. Some equipment is an absolute essential, while other gear is selected as a matter of preference.
[the_ad_placement id="in-text-1-type-a"]
Either way, before you start to shop, it is a good idea to sit down and write a list with all the equipment you plan to buy. You can use it as a checklist to ensure you have all your bases covered and that you get all the essentials you need for your safety and rock climbing satisfaction.
Indoor and outdoor climbing attire
When creating your list, consider if you will be climbing indoors, out, or both. Outdoor rock climbing is challenging, with a change in scenery with each new climbing destination. Indoor climbing is equally exciting, but it also allows for year round enjoyment of the sport. Participating in both types of rock climbing will give you access to the best of both worlds.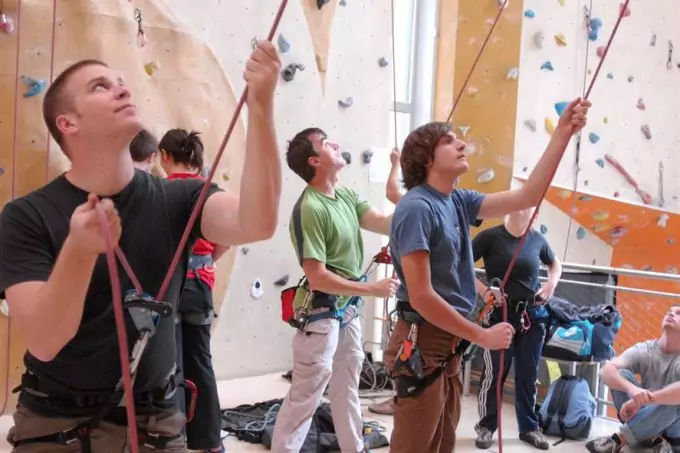 Indoor rock climbing: This type of climbing gives you the opportunity to practice safely in a dry and more secure environment. While working indoors, you can work in unison with a trainer during group or private sessions. A trainer can educate you about climbing safety, techniques, and maneuvers.
You will also get an opportunity to try out different climbing routes while working in an indoor environment. For instance, you can try lead routes, top-rope climbs, and bouldering, which involves a route with pre-established foot and handholds affixed to a large, artificial rock wall. While indoors, appropriate attire includes:
Climbing shoes
T-Shirts and tank tops with light breathable fabrics
Non-restrictive attire (non-cotton fabrics preferred)
Pants: Full length, three quarter length, Capris
Shorts with a gusseted crotch (Note: longer pants are preferred)
Women can wear a sports bra.
Sunscreen for full skin protection
Outdoor rock climbing:  This type of climbing includes everything from Ice to Trad to Competitive Climbs. Weather conditions define what you wear. Indoor attire is appropriate outside in warmer climates, but, in colder weather, lightweight, warm clothing will help you escape potential illness or dangerous hypothermic conditions.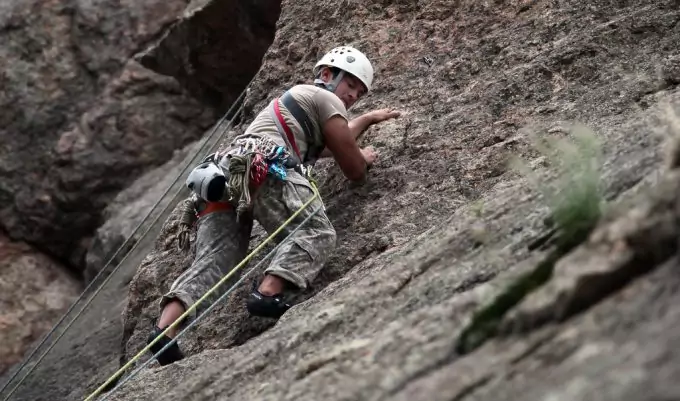 In cooler weather, light, but protective attire is desirable.
Belay devices
The belay is another necessary piece of your equipment. When you are climbing rocks, the belay will help you to secure the progress you have made by controlling the rope you are climbing. You can also use the belay as a safety device, one in which allows you to catch yourself if you should suddenly start to fall.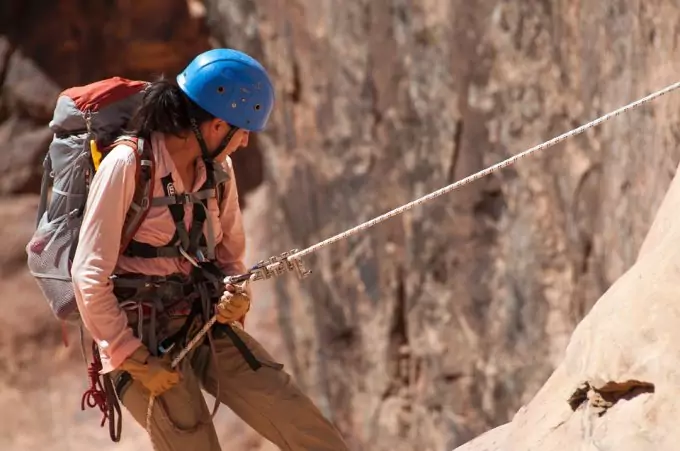 The belay is a device us something you can use to provide tension when you reel in the rope, or lower another climber if you are climbing with others. With the application of friction, the belay is a device that works as a "brake" of sorts, as it helps stop the movement of the climber. Your options when it comes to choosing a belay include:
Assisted brake belays: This option comes with a camming system that causes it to lock onto the rope if force is applied to the assisted brake.
Figure 8 belays: So aptly named for its appearance, the belayer looks like the number 8. These belays are used most commonly as rappel devices in traditional climbs, for caving, and for search and rescue endeavors.
Tubular belays: This is the most common option used. You will push the climbing rope into and through the belayer, and a carabiner is used to connect it to the anchor.
Body belay: This is when you rely on your own body to serve as the belay: In other words, you will be applying the necessary friction to your climbing rope. While this is an easy belay technique, because it requires no extra equipment on your part, it is still a method you must master before you can use it.
Münter Hitch Belays: This is another technique used when you do not have a physical belay on hand. It is completed by looping your climbing rope into a running knot after running it around a locking carabiner.
Carabiners for rock climbing
No rock climbing gear list is complete without carabiners (sometimes spelled karabiners), which are small, durable metal rings. Carabiners are what allow you to connect gadgets, nuts, and bolts, all of which serve as protective devices, to the rope you are using for your climbing. See our guide to the best carabiners for more information.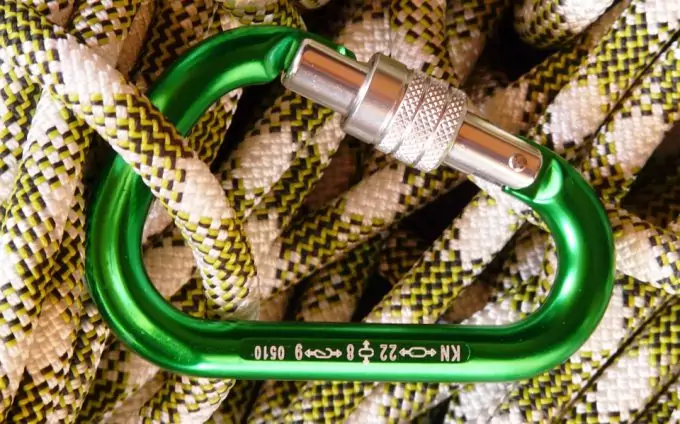 What's more, you can use them to rack one or more gear slings or make a quick draw. The average climb requires at least 12 top quality carabiners. Your options when it comes to carabiner styles include the following:
| | |
| --- | --- |
| Carabiner style | Best use |
| Asymmetrical D-Shaped | These carabiners are stronger than the average oval type. The unit has a smaller end in order to minimize the weight of the device. The unique shape causes the climbing rope to move to the carabiner's solid side. They have less interior room than the D-shaped carabiners though. |
| D-shaped | A stronger carabiner selection as its unique shape allows for the endurance of a greater degree of force in an outward direction. This option allows for ease of connectivity to protective rock climbing gear. |
| Oval | The oval carabiner is one of the most basic options. It is, therefore, suited with a wide selection of climbing endeavors. They feature uniform, smooth upper and bottom curves for the purposes of restricting load shift. The units give you a greater degree of holding capacity for your gear. |
Your options when it comes to carabiner gates include:
| | |
| --- | --- |
| Gate style | Uses |
| Bent | Not necessarily the ideal option for protection during rock climbing, but it is good if seeking a carabiner that is easy to clip. |
| Locking | You can use this option if you find yourself in need of an additional carabiner for belaying. |
| Straight | The carabiner has a rotational closing feature and a simple push operation to open this spring-loaded device. |
| Wire | This kind of carabiner has a wire gate made of stainless steel. |
Climbing harness
With most types of rock climbing, you will require a two-piece harness. The rock climbing harness features two loops and a belt and this is what creates the "T C Sit" harness framework. The belt must be snug, tight, and it has to rest on your hips. Each of the loops is assigned to one of your legs. The loops are often adjustable in some harnesses, and in others, they are even removable.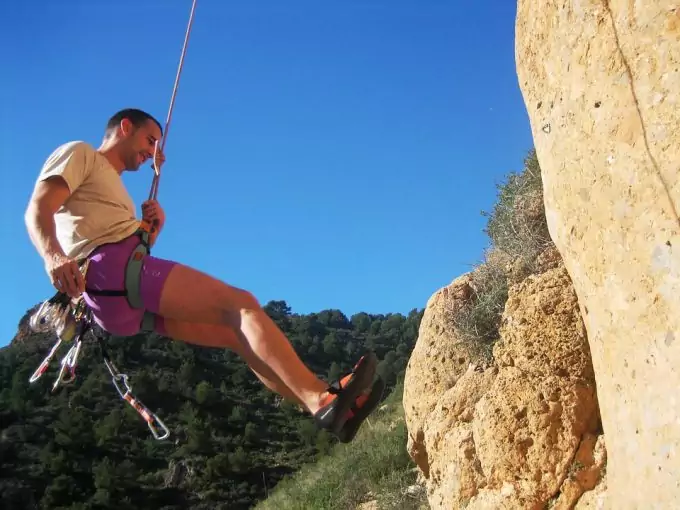 The harness features a tie in loop on the front side for ease and efficiency of the tie in function. All harnesses are made with a front tie in loop, and some are made with gear hoops so you can hang a chalk bag off the belt and a water bottle as you climb.
[the_ad_placement id="in-text-2-type-a"]
When you are climbing, connecting everything to the harness correctly is essential for your security and safety during the climb.
The Galaxy Harness by Mad Rock is a one size fits all harness that is available for men and women. This unisex harness is affordable too, with a price right around $40.00. The harness has buckles that lock down automatically to ensure easier cinching of the rope down to the appropriate size. The unit measures 3.5 inches x 6 inches x 18 inches. The harness even has gear loops for hanging your chalk bag and climbing accessories.
A Black Diamond harness for women comes in a Primrose package by the manufacturer. The package is a nice alternative to the Galaxy Harness. The model is priced between $85 and $100. It comes with the harness, the ATC belay, chalk bag, carabiner, and white gold chalk. The unit you measures all of 13 inches X 5 inches x 5 inches and weighs 1.7 pounds so it is lightweight.
Must have equipment: helmet
Whether indoors or out, rock climbing endeavors require that you need to have a helmet. There are several options to choose from when you are seeking a helmet to add to your equipment list. Just make sure you choose a helmet tested for its safety.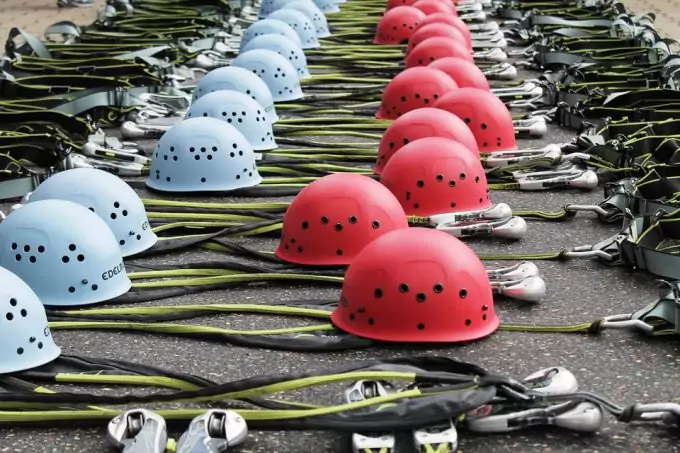 Your options include:
Foam: A light helmet with a polypropylene exterior and a foam shell. If something strikes the helmet with considerable force, it protects the skull, but the exterior of the helmet often ends up cracking under the pressure, so it will have to be replaced. One excellent selection is the Petzl Vertex Helmet available in a one size fits all option and several colors for ease of personalization. The helmet features a chinstrap, hard outer shell, foam interior, and it can fit a headlamp. The helmet costs between $115.00 and $156.00.
Suspension: Much like a construction helmet, the suspension helmet hosts a hard exterior serving as an outer shell that protects the inner webbed suspension system. Both the hard exterior and interior suspension system help in protecting the skull from potential injury. In the instance something lands on the helmet when you are wearing it, the helmet absorbs the majority of the otherwise potentially injurious impact.
An example of this helmet is the Petzl Elia Women's Climbing Helmet priced between $59.00 and $65.00; it has the polystyrene foam liner. You can get a headlamp (sold separate) and attach it for use when extra lighting is necessary.
Adjustable straps, interior suspension systems, and layering roomAs you shop for a helmet, also look for the following features:
Headlamps (If you start your rock climbing adventure at sunrise, these prove convenient)
Ventilation holes
Light weight structure
Types of climbing shoes
As a must have in terms of rock climbing gear, shoes are among the most important equipment you can buy because they help ensure you are sure footed. The shoes also help you to maintain a grip on the surface area where you position your foot. The shoes you choose will protect your feet from potential injury, all while providing you with the friction needed to grip onto footholds. See our reviews of the best climbing shoes to guide you in choosing the top brands for your needs.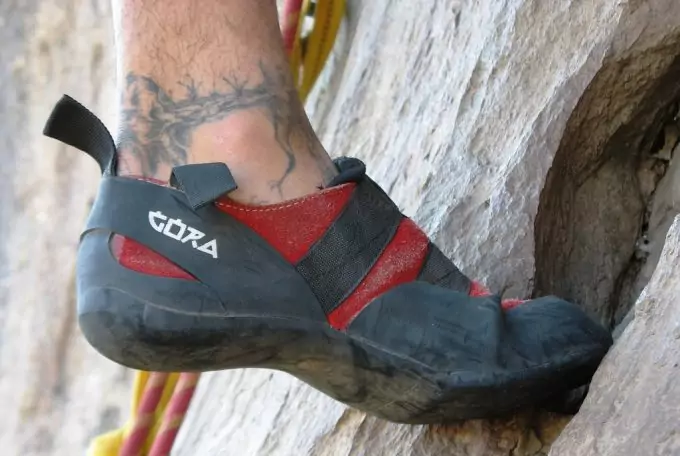 When it comes to rock climbing and shoes, you really need to have a good idea about the type of climbing you will participate in so you can get the right style shoes. Shoe features and options include:
Type of shoe
Basic features
Additional features
Indoor Boulder Climbing Shoes
Have a rubber sole that is thin, a midsole made of soft materials, and a curled-toe, snug fit.

For models that offer up a tight fit, seek closures of the hook and loop variety.

If you are dealing with overhanging climb routes, look for shoes that have a toe section with a downturn.

Crack Rock Climbing Shoes
Need to be durable, with a slim toe profile and a midsole that proves stiff. These shoes are best when they have a flat-toed fit.

The flat-toed fit is necessary as it allows you to insert your foot into smaller openings (cracks). The design will also protect you from friction injuries.
Steep Face Rock Climbing Shoes
Have a well-balanced stiff and flexible midsole. They come with a relaxed heel area and a tight fitting toe area.

These shoes are good for intermediate to adept climbers involved in trad and sport climbs. The shoes will allow for the slight curling of the toes, and when featuring a pointy toe, will allow for putting the foot into tight pockets.
General, All Day Comfort Shoes
.These shoes feature a rubber sole that is thick, a medium or stiff midsole area, a cushioned and relaxed heel, and a flat toe fit.
These shoes can be used for a variety of rock climbing adventures.
Climbing ropes
A very obvious addition to your rock climbing gear collection is the climbing rope. It is, in fact, one of the most important pieces of equipment. The rope must be of unquestionable quality. In terms of its quality, you get two types of rope to choose from; where you are rock climbing and the type of climbing you are engaging in determines the kind of rope you need.
The two types of rope are dynamic and static. Each rope, no matter what category it falls under, must undergo and pass rigorous testing by the Union Internationale des Associations D'Alpinisme (UIAA).
When it comes to dynamic rope, the materials have elasticity and it is cable of absorbing a fall's energy, despite the large force of a fall. In contrast, a static rope is stiff and has little to no elasticity: This is the kind of rope serving best for rescue situations and rappelling. The most popular type of rope you can buy measures about 60 meters in length.
The diameter may vary between 9.8 and 10.2 millimeters.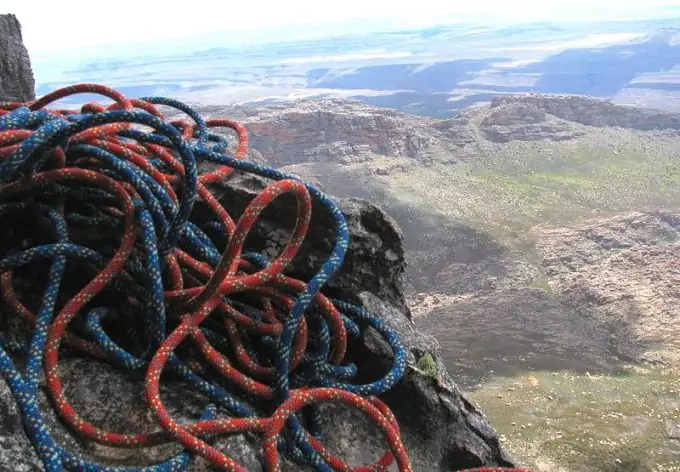 The type of rope you are buying is indicated on the rope ends: There is a white label wrapped around the end of the rope revealing information about the rope quality and make. There are half or double ropes, single ropes, and twin ropes. There are also static ropes, single skinny ropes, and workhorse single ropes. Every rope is made with a different weights and diameters, suitable for different workloads.
More on climbing ropes
To ensure you have the correct rope for your weight, you have the correct belay unit that is suited to the diameter of the rope you are buying. It is recommended that you do some small, low-level practice falls, most likely at an indoor rock climbing location, to test your equipment and to make sure the rope and your gear can help you successful stop in the event of a fall.
The best place for testing your equipment is in a gym featuring padded floors and steep gym routes.
Bear in mind that the heavier you are the heavier the amount of wear and tear that goes into any rope you choose. Any lowering forces and impacts will definitely reduce the rope's life span. When you are heavier than the average climber is, you should invest in the thicker, more durable ropes available.
Typically, the various ropes are used for the following:
All around single ropes: Are good for climbing alpine, trad, and sport routes in the snow, ice, or just rock.
Half ropes: Are best for use on alpine or multi-pitch rock routes, especially if there is a point where you will have to retreat halfway through the route. The rope is a bit cumbersome and bulky.
Skinny singles ropes: This rope is a bit more risky because it is thinner than other types of rope: It may cut when used on an overhang. The rope is light and should be used for light duty task only.
Static rope: Is fantastic for big wall ascension and rescue endeavors, and it desired whenever you have to pull up on or lower a heavy load. Static ropes are not ideal for rock climbing situations.
Twin ropes: Are best for use on non-wandering climbs on rock routes and ice climbs where you will be rappelling at some point. The con associated with this kind of twin rope material is that you must clip both of the rope strands every time and the rope has to go through every piece of protective equipment to ensure the right amount of drag.
Workhorse single ropes: Are used for climbing top roping routes and big walls. The rope is bulky.
For more information on ropes, see our article on the best climbing ropes for more wise options.
Passive protection
Any rock climbing gear list should have on it both active and passive items for protection. The protective devices available can be used to help in preventing potential falls during any rock-climbing endeavor in which the equipment is used correctly. Passive gear is manufactured with a single body construction and are absent of parts that are moveable. Nuts and stoppers are an example of passive protective gear. The other types of passive devices include the following:
Passive rock climbing gear
Uses
Camming Chocks

Camming chocks are also one-piece protective equipment options for the rock climber. The difference between camming chocks and the tapered stoppers/nuts is that the chocks can be twisted so that they can be locked into place inside a pocket or crack in the rock. The camming chocks are great for cracks that are excessively straight or large thereby making it an impossible fit for the taper items. What's more, the camming chocks are your solution when you are dealing with parallel rock cracks, horizontal cracks in the rock or even round pockets in the rock formations.

Hexcentrics are six sided tubes with an asymmetrical design: The passive equipment is used for dealing with narrow crack formations or straight-sided cracks in the rock. When you apply force in a downward motion on the sling or wire it will rotate the hex for a tighter fit.

Tri cams have a point on one end and a rounded end on the other. Much like tapers, you can put them inside a crack in a rock. You can also put cam them into place with the sling positioned on the side of an edge that is curved. This tool takes some time to master through practice, but after you learn how to do it, you will find it quite practical.

Stoppers & Nuts

This form of passive equipment is manufactured out of durable aluminum. The units are large on one end and taper down to a smaller end on the opposite side. The purpose for the tapered design is to allow for the climber to insert the stopper or nut into a small wedge or crack in the rock. Bear in mind these stoppers are not ideal for use with parallel rock cracks.

Micro nuts

 

This type of equipment is 25 percent the size of a traditional stopper or nut. The ultra small size and tapered design are perfect for super small cracks where you cannot get a traditional stopper to fit properly.
Active protection
As mentioned above, active protection equipment for rock climbers are tools that make it easier and safer to climb rocks and routes. The definition of an active piece of protective equipment is that the product has parts that are moveable and adaptable.
[the_ad_placement id="in-text-3-type-a"]
For example, a piece of equipment that is adapted to crack sizes because it is spring-loaded is considered an active protective piece of equipment. More examples of active protection you can choose to use during your rock climbing adventures include:
Active equipment
Uses
Spring Loaded Camming Units
Spring Loaded Camming devices (SCLD) look like complex units featuring three to four cams made of aluminum material fashioned into a curved shape. When you pull on the wire that triggers the cams to retract, it will make the unit narrower. When it is made smaller it fits into rock cracks with greater ease. Releasing the trigger expands the unit and therefore tightens the camming device into the rock crevice where it cannot move. Provided it is positioned correctly and made immovable, the camming units with spring-loaded capabilities are definitely desirable active protective tools for the rock climber.

Rigid stems: These are spring-loaded cams featuring stems made of aluminum in the center. These cams have wire stems that are flexible and durable, but must be used in the appropriate situations or they can prove troublesome. For instance, these cams should not be used in a horizontal crack where the force of a fall could cause the rigid camming stem to break.

Single Cable, Flexible Spring Loaded Cams with Stems: These cams will work far better when dealing with a rock climbing situation where there are horizontal cracks to deal with, but the offer up even less durability than the flexible stem cams. They work well for odd shaped cracks and smaller crackers where other equipment will not work.

U-stems, Flexible Spring Loaded Camming Devices: These devices are excellent for dealing with horizontal rock climbs and holes. Using the thumb and forefinger you can control the trigger on the unit.

Tube Chocks
Tube Chocks, are spring-loaded gadgets with aluminum tubes with a telescopic nature. With this tube you squeeze it together thereby forcing it to contract. It is then placed in a rock pocket or crack. When you let go of the unit, it forces it to expand and therefore tighten into position.
In conclusion
When it comes to comprising your rock climbing gear list, you will find there is a lot of equipment that is not only excellent and desirable, but also necessary. Much of the equipment list you create will include items you simply cannot do without if you plan to approach rock climbing in a safe, sensible way. The essentials like ropes, harnesses, helmets, shoes, carabiners, and belays really need to be rounded out with both active and passive tools that can make climbing safer for you and those you climb with as well.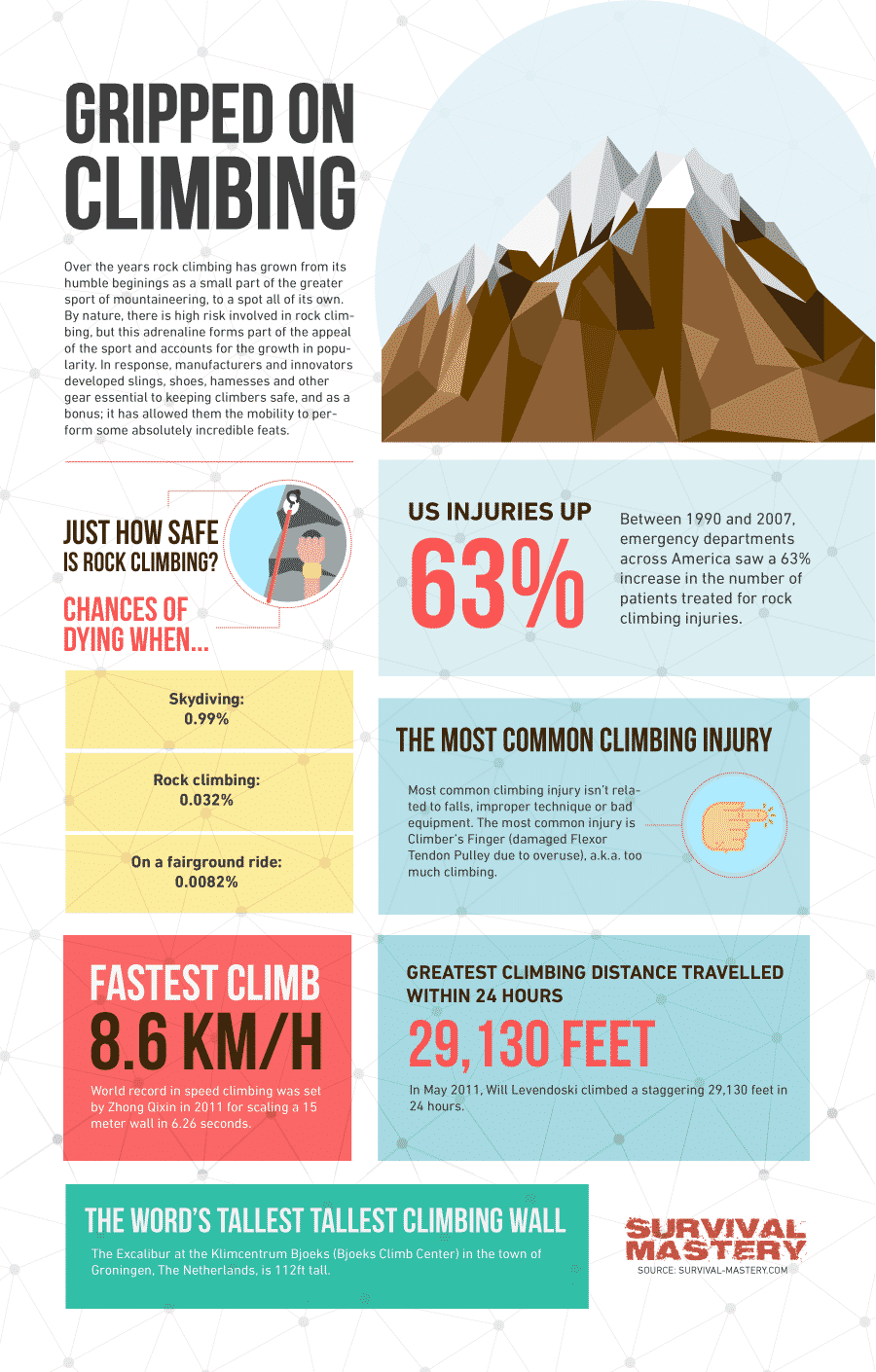 As you shop around for the rock climbing gear on your list, do not settle for less than the best: This means getting equipment that is well reviewed and subjected to rigorous testing to ensure it meets any and all safety standards. For beginners, see our useful article on tips and guides on how to climb a rope for added insight.
Some of the links in this post are affiliate links. This means that if you click on one of these links and make a purchase, I earn a small commission at no extra cost to you. Also, as an Amazon Affiliate, I earn from qualifying purchases. If the information in this post has been helpful, please consider purchasing through one of the links in this article. Thank you.