Rock climbing season is almost here and whether you'll be heading to Silver Mountain, the Grand Teton National Park or the gym around the corner, you're going to need a good pair of shoes to get you up the crag or the wall. There are so many good rock climbing shoes and brands out there that it's practically impossible to decide off the top of your head.
[the_ad_placement id="in-text-1-type-a"]
As it follows, you'll find out which things to consider and base your decision on before you invest in a pair, as well as details about some kickass rock shoes that you must have in your collection! High-end brands don't always offer what's best for your level of expertise, so don't spend too much unless you know what you're paying for!
Experience, style and time
When thinking of buying a pair of rock shoes, your decision should be based, among others, on your experience, the style or kind of rock climbing you're doing and the amount of time that you're going to spend in the shoe. Make sure you read our piece on rock climbing techniques to jump start your trip.
There are various types of rock climbing, which involve several hours of effort or a whole day. It goes without saying that each types requires different shoes. So, let's break it down and start with the first aspect!
Your experience level
The longer that you have been climbing the better you are at shoe selection. It's just that simple and it gets easier, reason being is that you most likely have a good idea of what your rocky needs are and what shoes are going to work best for you.
However, for those of you who are new to climbing, it's not recommended go out and buy a $150 to $200 rock shoe that you're going to burn the rubber off of scrambling of your first several routes. Most companies have an entry level shoe and price range.
The brands that seem they're always on sale and they are fitted for beginners are Mad Rock and Evolv. They have a tendency of being a little more reasonably priced even when they are not on clearance and they are just as good as all the higher-end brands. The performance difference isn't noticeable in the beginning and the beginning will last enough time, so you won't be making a mistake.
Mad Rock Men's Flash 2.0 climbing shoe
According to numerous users, this type of climbing shoe is best for beginners. There is no need to look further if you consider its features to be enough. In case there's a feature that you're looking for and this model doesn't have it, then you are more experienced than you think.
The features this shoe has are leather and rubber sole, 3D molded heel to maximize friction and Shock Gel to reduce the impact force on the heel. It is provided with hook-and-loop closures, which are ideal for rock climbing. But, they are not recommended for crack climbing because of various reasons. You can find this pair here.
Evolv Men's Royale climbing shoe
Great for both indoor and outdoor rock climbing, this shoe is durable and comes with a symmetrical toebox meant to provide comfort all day long. It is made of leather and it has a rubber sole. An entry level shoe, it makes climbing a lot easier thanks to its non-aggressive impact on the foot. This means that you can keep them on in-between routes as well.
The synthetic lining keeps it from stretching, so it's a shoe that must be bought keeping that in mind, unlike other climbing shoes made of leather. This product is available here, where you can also find more information about it and users' experience as well.
Your style or kind of climbing
Most people will start out sport climbing on single pitch, bolted faces, usually directly from the ground. This is where your all around shoe will be the most useful. In general, climbing can be divided 3 subcategories, namely bouldering, free climbing and long mountain routes.
In case of the first 2, the climber's main objective is to overcome the maximum climbing difficulty. So, the climbing shoes are worn for a brief period of time and must achieve the highest technical performance.
Therefore, it's natural to base your choice on the shoe's performance level, not its comfort level. This means that you can use less structured shoes, such as climbing slippers, which provide greater sensibility and are more snug-fitting. These soft shoes will also provide good support of your weight if you wear them tight.
In case of long mountain routes, the comfort will be the most important factor. This is because the climber is less interested in surpassing the maximum climbing difficulty. So, maximum comfort is essential. In this regard, here are some recommendations:
Five Ten Men's Spire climbing shoe
Five Ten Spire is a lace-up, all around shoe that you'll have for ages. A leather shoe with rubber sole, it is provided with an asymmetric split slingshot rand. This one ensures a good fit and allows you to point your feet in a very easy way. Because of its full to toe lacing, it fits any type of foot shape and it's easy to slip into as well.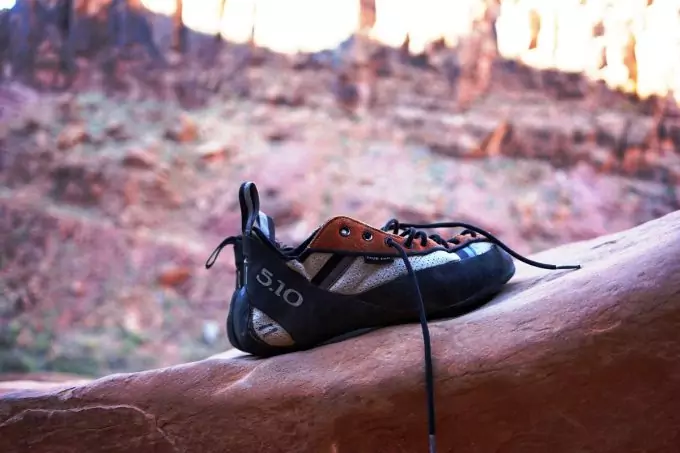 Users say Five Ten is comfortable to wear and comes with a balanced sticky and durable proportion. This model stretches a little, so it's best to choose half a size or more less than your regular size. You can find this pair here.
La Sportiva Nago shoe
Available here, La Sportiva Nago delivers performance and comfort. It is recommended for moderately overhanging sport routes, face climbing, gym climbing and crack climbing. Since it comes with laces, they aren't easy to undone by mistake when crack climbing.
Easy to stretch as well, they have a little inconvenient in terms of color. Because of sweat, the red color comes off and leaves red patterns on the user's feet. If this won't bother you, you can opt for them as they are great for beginners and wearable on multiple types of routes. It is not a technical shoe though. It focuses more on comfort.
Five Ten Men's Anasazi Moccasym climbing shoe
This is a great slip-on shoe; probably among the best rock climbing shoes ever made and also a shoe that you can grow into. It goes well with both rock climbing and crack climbing thanks to its super sticky rubber from the sole. It doesn't maintain its size, so it's best to order half size down and expect to put a pair of socks on after a dozen wears. For the best pair of socks, see our article review to gain more insight.
https://youtu.be/6Wp7l9bzdJM?t=2s
This model is best to have after you've already experienced climbing and you've blown out your first pair of rock shoes. You can find it here, along with more information and opinions.
The shape of the foot
Among the most important factors when you have to choose climbing shoes is the shape of your foot. There are many types of feet, which can be divided in 2 basic shapes, namely narrow and broad. Narrow feet are usually long and slim with the toes gradually decreasing, starting from the big toe to the little toe.
The instep bone is quite flat and other foot bones tend to be quite flat as well and aligned horizontally. As for the broad feet, they are less slim and the toes tend to be square-shaped. The sole is usually arched and the bones are more vertical than horizontal.
Narrow feet fit best in shoes with symmetrical shapes, while wider feet feel more comfortable in asymmetrical shoes. So, you have to be really careful when you choose the structure of your future rock shoes because they will not adapt to the shape of your feet.
[the_ad_placement id="in-text-2-type-a"]
On the contrary, your feet are the ones that will have to adapt to the shape of the shoes. Your feet aren't supposed to move inside the shoe, so the fit has to be perfect. All these rules apply to women too. As it follows, you'll read about a shoe type for narrow feet and one for wide feet, both from La Sportiva.
La Sportiva Katana Lace – For narrow feet
Available here, this shoe type does not stretch. It is made for overhanging sports routes, bouldering, gym climbing and technical face climbing, fact which makes it suitable to more experienced climbers. The moisture management is excellent, so your feet will not feel humid or get too hot while climbing.
Most recommended for edging, this model is aggressive, but it comes with the comfort of a beginner shoe. If you have gaps over your toes, this model will fit best because it comes with laces, not Velcro. Some say Katana Lace is the best climbing shoe they own.
La Sportiva Testarossa Climbing Shoe – For wide feet
Since Testarossa is a climbing shoe for wide fit, it benefits of an innovative bi-lateral stretch technology designed to widen in just the right spots. The patented figure 8 slingshot rand keeps the foot in place, unable from moving forward.
Thanks to the same feature, this shoe doesn't stretch much either. You can find it here, but think twice if you are a beginner. Very good at bouldering, these shoes have soft soles that will wear out in a short time if you're too sloppy when climbing. The fact that the rubber is thin makes their wearer more sensitive in both the toe and the heel.
How small should your climbing shoes really be?
You should bear in mind that once the shoe has been worn, the foot and she shoe become one. The support the shoe will provide to the climber depends on how constricted the foot is inside the shoe. In other words, the tighter the shoe is, the more support it provides to the climber.
Conversely, if the shoe is too loose, it will make climbing more difficult because the support won't be as desired.  In case the shoe is too wide, it should at least have a rigid sole in order to properly support the climber's weight.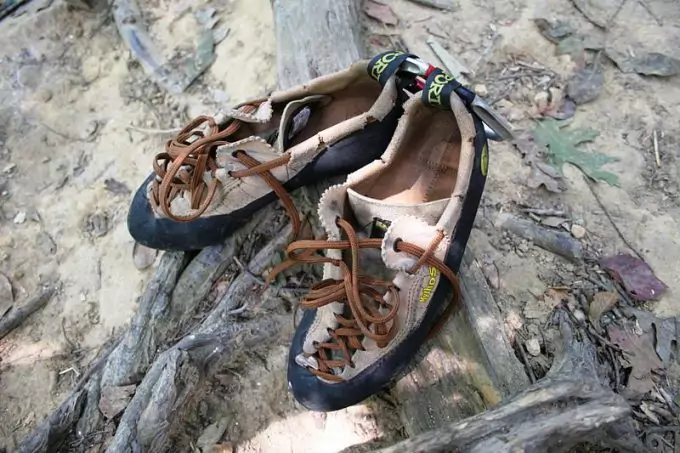 The best climbing shoes come with soles that are characterized by both sensibility and rigidity. A rigid shoe reduces the foot's sensibility and the shoe's ability to adapt to different types of rock. On the other side, soft shoes are great because they will provide more sensibility; they will shape according to different types of rock and help you reach high performance, even though they are undoubtedly tight.
Lace-up vs. Velcro vs. Slipper
The thing with the lace-ups is that when you put your foot in, you can dial up the fit; you can tie them as loose or as tight as you want. Since you want climbing shoes tighter than any other shoe you're ever going to wear, you can think of them as your second skin.
So, if you're just starting out, lace-up shoes are a good idea because even if you get them too big the first time, you can always lace them up tighter and they'll work in the long run.
Velcro shoes are considered a step up in performance. For those of you who are too lazy to tie and untie your shoes every time, these are a great compromise. Often, they are a lot more aggressive, which means they are turned in. When you put your toe in the shoe, it's going to curl up in there and you're going to be able to put it down on rock a lot better. This type of climbing shoes gives you a much more concentrated point to stand on the rock.
Just as lace-up shoes, the Velcro shoes can be tightened up or loosened, but not quite as well. However, these have to be purchased so tight, that sometimes using the Velcro system on them isn't necessary.
The ultimate in performance is the slipper. These have to be purchased so tight, that's extremely difficult to get them on your foot. The nice thing about these is that there's nothing that has to be tied or something that has to come undone. Most recommended for indoor climbing or for bouldering, the slipper will work for more advanced users.
Top-rated rock shoes
In no particular order, here are some of the top-rated rock shoes made for climbing and worthy or your consideration. Besides the examples you've seen so far, the following will give a more focused view of each shoe's purpose and most recommended situations to wear.
Beginners might not know yet if they want a traditional climbing shoe, an all-around climbing shoe or the best bouldering shoe, but other more experienced users will definitely find this information useful. For all women climbers out there, you should know that most shoe producers offer the feminine version for every model they sell.
So, if you don't like the suggestion for women contained by the following list, you'll definitely find a pair that fits all your needs, not just your feet!
La Sportiva Genius rock climbing shoe
Fitted in the category of best sport climbing shoes, La Sportiva Genius is a little pricey. You can find more details about prices here. Advertised as an award winner, this model delivers unparalleled edging performance on the rock. Its sole is made off a hard rubber, that's also very sticky.
Users are very fond of the no-edge technology because it makes every tiny pocket and little crystal accessible in terms of foot sensitivity. The heel hooks feels comfortable, but, unfortunately these shoes are not ideal for multi-pitch climbs. In addition, multiple users like the fact that they can adjust them with the help of the laces.
La Sportiva Solution climbing shoe
Top boulderers consider this shoe model the best at bouldering. They basically like everything about it and they don't mind paying a little more for its top notch quality. La Sportiva Solution is a climbing shoe that offers both toe and heel hook.
Its patented P3 permanent power platform retains the downturned shape of the shoe. In addition, it comes with a very fast lacing system that looks nothing like the normal one. Performance oriented and aggressive, this model is especially made for intensive footwork. Since it doesn't stretch much, you can even order it online, here. Not recommended for beginners.
Scarpa Men's Vapor V climbing shoe
Included in the category of best climbing shoes for long routes, this model is comfortable to wear all day. The tension in the heel is not high, so you could keep them on for a long time. The randing system facilitates the usage of your toe power, while the Vibram XS edge provides incredible grip and it adds more durability as well.
The inside is made of leather, fact which makes many users very happy. Stinky shoes are a sensitive subject, but if you must know, these ones don't become stinky. They don't require too much getting used to and you can find them here.
Mad Rock Woman's Lotus climbing shoe
A multifunctional pair, Lotus is a model made for women. Not really for beginners, these shoes are great for bouldering and other indoors activities. They are obviously nicely colored with purple, black and baby blue and they don't make you waste time with laces.
Thanks to the split tongue design, you can tighten them up with little to no effort. Downturned toe might not feel too comfortable, but that comes with any pair of aggressive climbing shoes. They are perfect for edging the small holds and you can own them from here.
Evolv Men's Shaman climbing shoe
The pointy toe on these climbing shoes is best for toe hooking and edging. It is super pointy, probably the pointiest of all climbing shoes out there. As long as it serves its purpose, you shouldn't feel too fashionable with them on.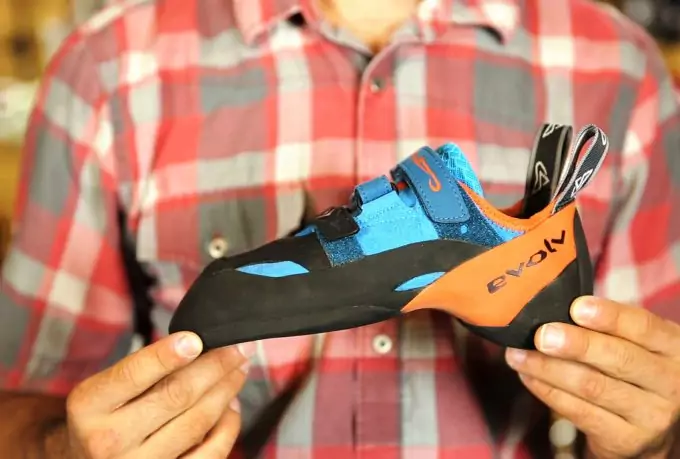 To be even more adorable, it comes with a midsole called a Love Bump that provides comfort.
[the_ad_placement id="in-text-3-type-a"]
The Love Bump works together with the Knuckle Box in favor of your comfort. Its stiff sole is considered great for edging and some say they fit great in case of wide feet as well.
La Sportiva Miura Lace climbing shoe
La Sportiva thought of intermediate climbers too. This model is designed for those of you who want to step up from your beginner shoes to a more performance-oriented pair. Made of both synthetic materials and leather, it is an aggressive model that will put pressure on your toes. The feeling might be strange at first, so it takes a little getting used to.
Even so, they are much more comfortable than other climbing shoes available on the market. Edging precision and sensitivity are among its qualities.
One pair is not enough
Even if you get the most perfect pair of rock shoes from the beginning, this will not stop you from advancing and becoming more experienced. When you are an experienced climber, you want more results and more achievements and for that you will need other climbing shoes. So, there is no way you will not own more than one pair of rock shoes all your life.
Let's say that you will not progress, but only climb once in a while. This might be a good argument if climbing was a boring sport. You will surely desire to step up and feel those very tight shoes that make your toes curl.
As seen, there are multiple types of climbing shoes made to offer you stability and comfort when all you step on are rocks. Not all of them have the same features, fact which is great because you can find the perfect pair that will feel like it was made for you.
Whether you like to climb for a few hours or a whole day, remember to take all the previously mentioned advices into account in order to have a rewarding experience that will turn into a sense of well that you'll want to feel again as soon as possible.
Don't forget to complete your gear. Check out our article on rock climbing gear to find out more.
Some of the links in this post are affiliate links. This means that if you click on one of these links and make a purchase, I earn a small commission at no extra cost to you. Also, as an Amazon Affiliate, I earn from qualifying purchases. If the information in this post has been helpful, please consider purchasing through one of the links in this article. Thank you.