There is really a lot say about climbing ropes – more than you might think and make a good use of – that is why we decided to tell you everything about everything you need to know about climbing ropes. We will also teach you how to choose a solid good climbing rope for rock climbing and tree climbing, along with presenting different types of climbing ropes and products.
[the_ad_placement id="in-text-1-type-a"]
Although climbing ropes can appear as not as interesting story with layers, there are lots of points that need to be covered and learned before you are able to find and purchase the perfect rope for you – we are covering all the details for rope climbing, so you would be safe and able to find a rope that will match your personal needs.
First, you should know that there are two different types of climbing ropes (Dynamic and Static) and each serves its own purpose in a various number of  situations. Once you learn what each of those two types represents, you will know which one is the best for you based on your personal preferences. For an in-depth view, see our tips and guides on choosing the right rope for your needs.
Static climbing rope
Static rope, as you might have already realized, is a type of rope designed not to stretch under the pressure of load.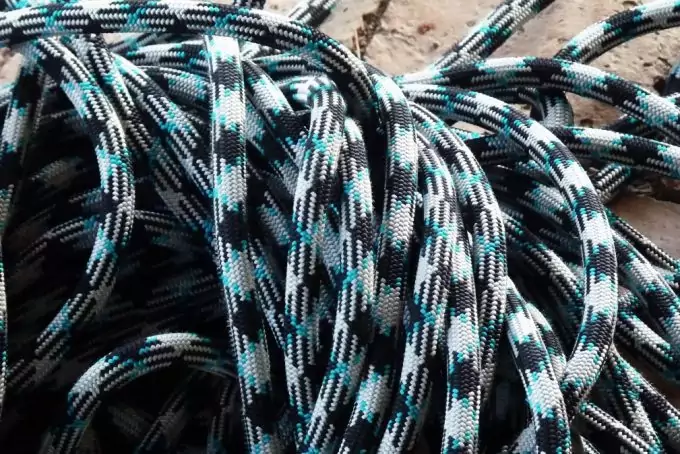 This makes it less useful in climbing a rock, but there are lots of situations where static rope is used, like:
Rappelling – climbers use static rope to foot down the rock safely. Because static rope has zero or a very low level of stretching, climbers can control where they land while climbing down the rock, thus reducing the possibility of getting injured.
Rescuing – the static rope is amazing during rescue missions, so you might want to have one of these if you are a rock climber.
Caving, hanging, and hauling.
If you want to buy a decent static rope that will assist you during rappelling, we recommend some of the products below.
This rope is light and durable and supports up to 35 kN of strength and weighs 80grams per meter. The best part is that you can order starting with 1oo feet and up to 600 feet of rope, but make sure to calculate your budget as this is not cheap.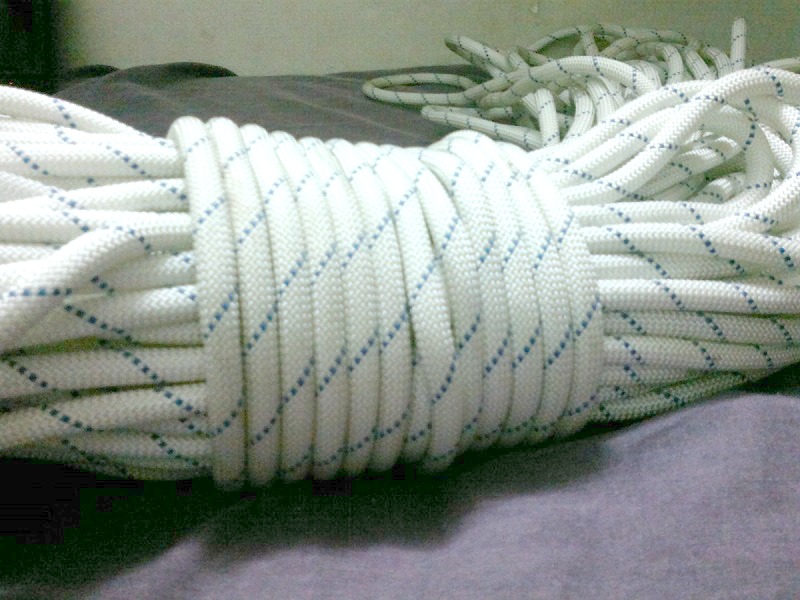 This rope is perfect for rappelling but it won't do well on activities that require some flexibility like lead climbing. Otherwise, the sheath is dense enough to resist any abrasion that might happen with the rock
#2: BlueWater Ropes AssaultLine NFPA
A durable rope that won't let you down in need! This type is specially designed for military and police where low visibility is required, but of course, it can be used by individuals.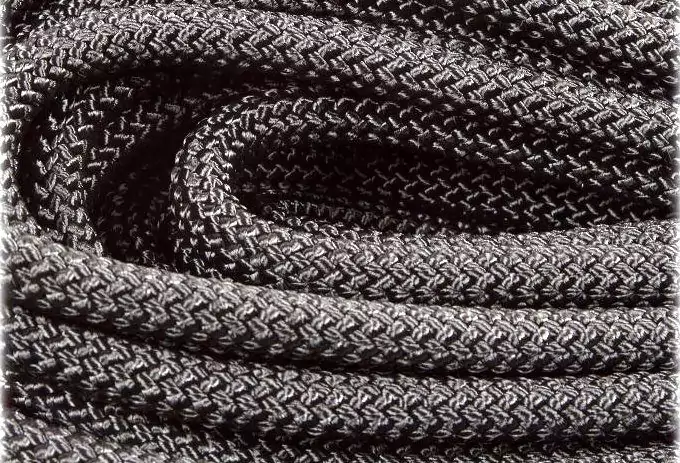 All-in-all, the rope is very durable and handles well repeated use.
Dynamic climbing ropes
Dynamic ropes are designed to have the ability to stretch under the pressure of load, unlike static ropes. The stretch level will reduce possible failure and lower the possibilities for getting injured in case of a sudden fall.  Also it prolongs the time needed for the load to fall, also slowing it down. So if you fall, the rope will stretch, reducing the impact and possibilities for injuries. This makes dynamic climbing rope great for mountaineering, rock climbing and ice climbing.
Dynamic ropes are durable and strong due to the ability to stretch under load and support sudden rises in pressure without being ripped apart. Maybe the most popular dynamic climbing ropes are Kernmantle ropes, also considered to be one of the safest ropes for all kinds of purposes.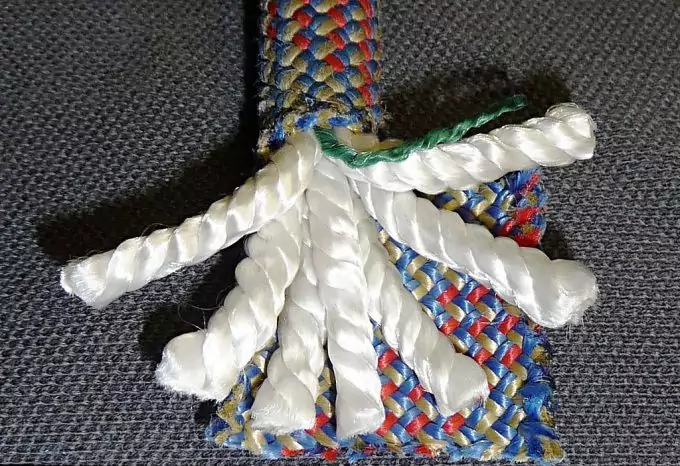 Kernmantle rope is designed to have a strong core covered with woven material on the outside for protection – the interior or kern provides much needed durability, strength and flexibility so the rope would last you long and support you in different situations without letting you down. The fibers in this core are what make the kern rope revolutionary as it not only reduces the pressure in case of a free fall but it also reduces chances that your rope will get torn apart under pressure.
Original use for this rope was for nautical and many other different sports, but it is proven to be great for rock climbing and mountaineering. Just as any other rope you would use for climbing, kern rope should be checked and tested before and after every climbing action.
[the_ad_placement id="in-text-2-type-a"]
The appearance of tufts sticking out from the core is a sign that you need to change your rope as it might break in the middle of climbing and put you in unflattering situation where you might, and probably will, get hurt. Also, if the rope is thinner on some parts or cut at the edges, you will need to replace it and buy a new one.
Our recommendation of products:
#1: MilSpec Paracord / Parachute Cord. 8 or 11 Strand
This is a lightweight type of paracord that any climber should consider included in his backpack. It is even used by the military in all their outdoor campaigns due to its durability and toughness. The fact that it is small in diameter and has a breaking strength of over 600 lbs makes it one of the most wanted Kernmantle ropes out there.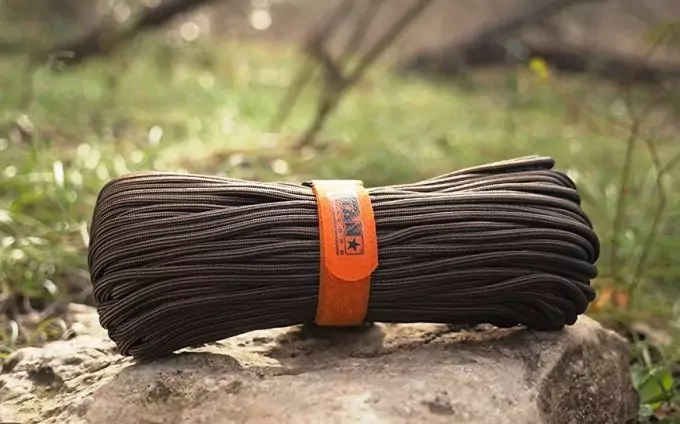 The MilSpec Paracord has 8 inner strands, twisted for extra durability and each inner strand is made up of 3 twisted inside strands. It can be used for almost anything in the outdoor (anchoring tents, rescue missions, and others) and around the house.
#2: Sterling Rope Evolution Velocity Climbing Rope
This type of rope may be a bit expensive but it comes highly recommended from professional rock climbers.
It is durable and the soft sheath makes it very easy to use and extremely resistant to friction. It goes great on both tough trails and beginner routes.
Climbing rope sizes & types
Just as we have different climbing rope types, we also have different sizes, referred to as: Single, Twin and Half or Double.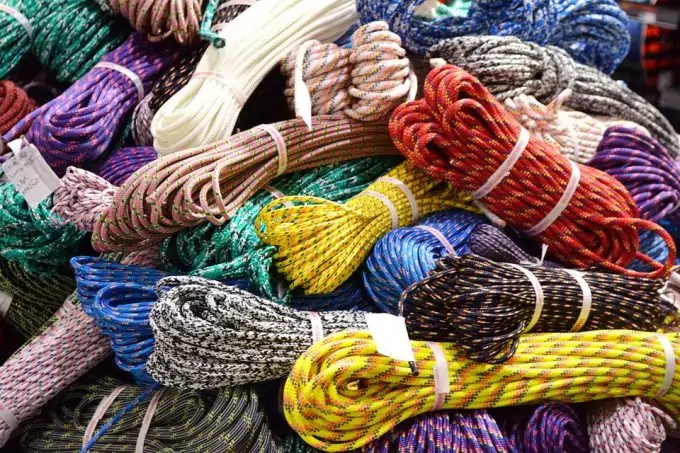 The single rope size is suitable for rock climbing, indoor climbing, and lead climbing. Single ropes have different lengths, but the standard length of 50 meters. Width of a single rope is somewhere between 9 and 11mm.
You would presume that width of a single rope determines its strength as well, but that is not necessarily the rule you can apply here. Apparently, the thinner the rope the stronger it is. The strength of a rope is determined in falls, and we will discuss about that later through our instructions. One rule, however, can be applied – the thinner the rope, the lighter it is.
Petzl Mambo 10.1 mm Dynamic Single Rope
Petzl is a well-known name in the outdoor passionate community and everyone knows their products are top-quality. This single rope has a diameter of 10.1mm and can be used for both gym and crag climbing. The thick sheath (37%) is amazing in protecting the inner strands against abrasion.
Also, the rope is specially treated so it will increase grip and maneuverability over time. It weighs 65 grams/meter and has a number of factor falls equal to 7. It will support an impact force of 8.5 kN and comes with 3 years guarantee.
Twin ropes, as you might presume by its name are two separated ropes that are designed to be used in pair by being clipped together. Twin ropes are being clipped together through each piece of the gear. The two ropes are pretty thin, going not over 8mm width. There are various lengths available and you can decide which one you want to go for based on what you need. Twin, unlike single ropes, are somewhat less popular and are used for actions where light gear is needed, such as mixed rock-ice climbing adventures and rock climbing.
7.7mm Ice Floss Double Dry Dynamic Twin Rope
This rope has only 7.7mm in diameter but don't let its thinness fool you! It supports an impact force of 9.2kN and it weighs only 38 grams/meter which makes it the ideal rope to carry when you're on the mountain looking for that perfect spot to start climbing.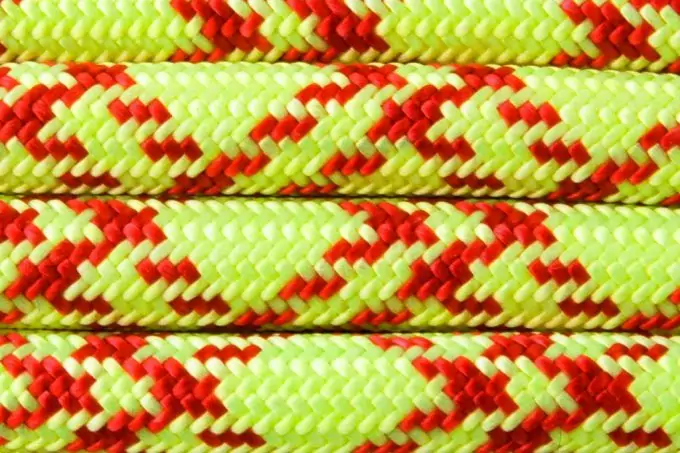 Half or double – if you want to be and feel perfectly safe, half and double rope size is the perfect size for you. Half and double are two ropes, separately used by being clipped into gear. One is independent in oppose to another as one is meant to add more protection if one of the ropes fail. This means that you are far less likely to fall and get injured. The two ropes are thicker than twin ropes, going over 8mm, approximately to 8.8mm each.
The ropes are always used in pair as one should give you protection in case the other rope fail – this is a far better and safer option if you are climbing a terrain with sharp rocks that can cut your rope.
Sterling Rope Evolution Duetto Dry Rope
This is the thin side of this duet, meaning the half rope. It goes great for both climbing and ice and it features a dry sheath and a dry core. This makes it great for when the air is extremely humid or it's raining.
Due to the intricate weaving and the special sheath, the rope will resist to any abrasion happening during climbing.
Sterling Rope Fusion Nano IX Dry Climbing Rope
This one can be used as a single rope, a twin, and a half rope which makes it incredibly versatile.
Still, it is not recommended for beginners and it was not designed to be used for working routes or top roping. You can use it on sport routes or trad climbs.
Dry ropes
Dry treatment for ropes is used as ropes do not act and react the same and as expected when moisture is high, due to increased moisture in the air or in case the weather gets rainy. The rope shrinks with up to 10% when it gets wet, so it won't be as flexible as you would need it to be. This is bad as you'll be left with an unreliable rope on a rough and unreliable terrain.
When a rope gets soaked and wet, it gets heavier and of course that makes it more difficult for you to climb up. Also, due to increased friction chances of falling increase and, as the ability to stretch is decreased, chances of getting injured increase. If you are expecting rain or if you are climbing icy terrains, you certainly want to use a dry rope as your rope can even turn icy and become unusable.
So, think about the terrain you are planning on climbing and choose dry rope if there is a possibility that your safety will be jeopardized due to wet or rainy weather.
BlueWater Ropes 9.1mm Icon Double Dry Dynamic Single Rope
A skinny rope that will definitely resist with you through some of the most difficult climbs! It only weighs 55 grams/meter and has an impact force of 8.8 kN which puts it in the durable ropes category. Also, the sheath and the inside are dry treated so humidity won't affect its characteristics.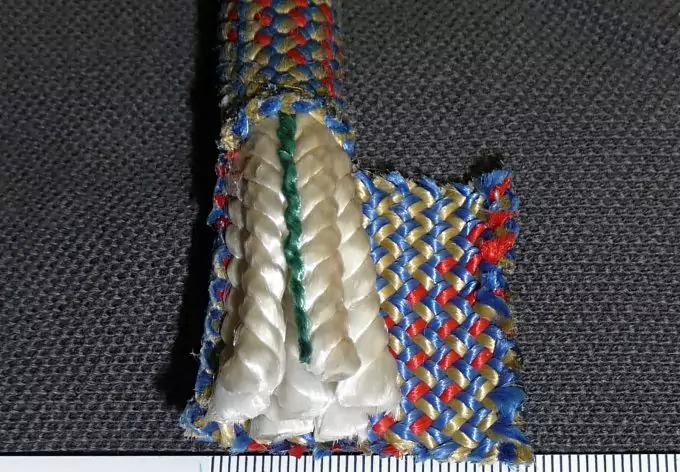 There are a couple of more types of rope when it comes to rope sizes. So we have Confidence ropes that can be used for walking over and across rocky terrain in order to attach uncertain hikers that don't feel comfortable walking across certain terrains and need to be sure that they are safe and that they won't fall. This rope, however, is not suitable for rock climbing as it is too thin and it wouldn't support free load, no matter how light you think you are.
Triple ropes are somewhat a novelty that has not reached its deserved popularity yet – there is a good reason for that, though. The catch is that you can combine single and half or double ropes for securing yourself when climbing a bit more challenging terrains for additional support and rope strength.
The downfall and probably the reason not many climbers are choosing to use triple rated ropes is that the ropes that are thinner will inevitably go first while the thicker will last longer. Triple ropes are rated as great for trad climbing as you are enabled to climb far easier and more secure.
Fall ratings – rating strength
Fall rating is an indicator of the strength of your rope. In other words, the fall rating determines how many falls is your rope made to save you from by withstanding the pressure of load.
According to specialists, the strongest ropes are Twin ropes with values of up to 12 falls, while Single and Half or Double ropes have value of 5 falls.
Keep in mind that International Union of Alpine Association (UIAA) has to approve every rope and evaluate every manufacturer, so make sure you only buy your ropes from trusted and certified sources. If a rope is approved by UIAA, you'll see this on the label and in the description of the product.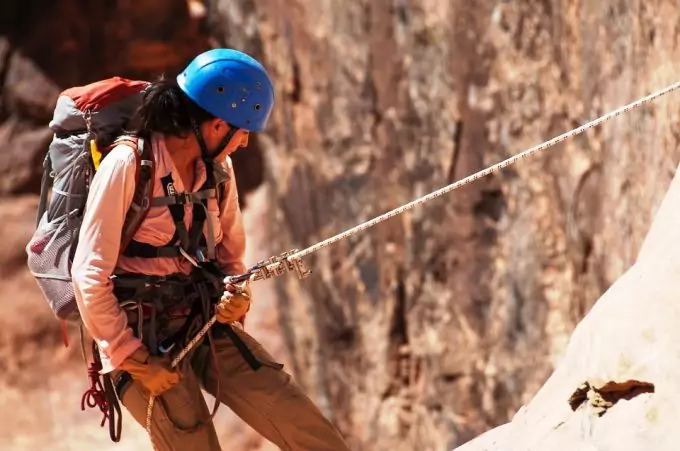 To make sure you know exactly how many falls you have remaining, keep track in your diary and write a number every time your rope fails you so you would know how many times you have left. When there are 2 falls remaining, we recommend you buy another rope just to be sure and play safe.
How to pick the best climbing rope?
Basically, there is a type of rope designed for every type of climbing – each perfect for the use it is made. That means you should have at least 10 types of different ropes for each type of climbing.  However, if you don't have the luxury of owning that many ropes, you can find a single rope that will match all your needs when it comes to rope climbing. Make sure you are familiar with all the knots you're going to use. See our article on mastering rope knots to keep climbing safe.
[the_ad_placement id="in-text-3-type-a"]
First you need to pay attention to the type of terrain you are climbing and determine the length of the rope you need.
If you are climbing indoors, the required length would be somewhere between 30 and 40m, although 30 would be enough.
If you are searching for a perfect rope for sport climbing, your rope should have at least 60 or 70m. One of 80m would be perfect and the safest choice.
For trad climbing use half ropes of 50 or 60m in length as you need enough freedom for pushing your body weight from one rock to another.
In case you are doing ice climbing or rock climbing on a rainy weather, you should use dry treated rope
If you are doing regular mountaineering you can use a standard rope. We recommend using bi-color rope even though this type of rope is a bit more expensive.
Next, you have to consider the size of the rope:
Thicker ropes will last longer although it does not necessarily means that thinner ropes are weaker.
Twin ropes are always a great choice as you will surely get a fair and square protection with two sets of identical ropes.
For light climbing choose lightweight ropes and the vice-versa. We recommend dry treatment ropes and bi-color ropes – you can choose whether you need Single, Twin or Half or Double.
Products we recommend
Now, that we're so close to ending our journey in the world of climbing ropes, it's time to make a few recommendations.
These are tested products we trust and that are often used by specialists.
We surely hope we've managed to tell you everything there is to know about climbing ropes.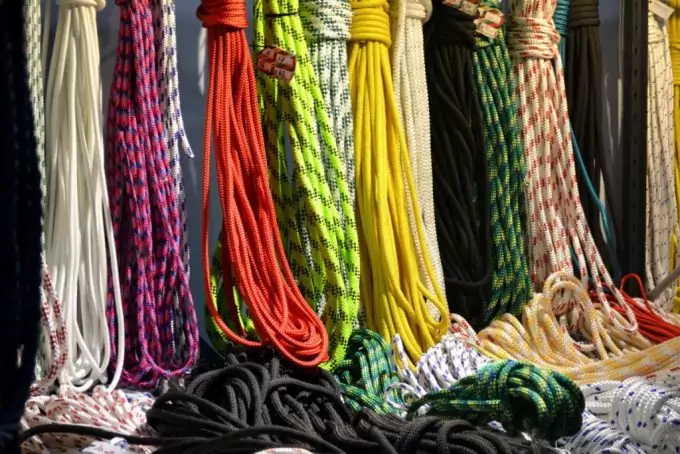 The most important thing is to make sure that no matter what, you are completely safe and sound. We are confident that, with everything you've learned today, finding a perfect climbing rope won't be a problem.
See our earlier article on how to choose the best rock climbing gear to give you additional knowledge on this important topic.
Some of the links in this post are affiliate links. This means that if you click on one of these links and make a purchase, I earn a small commission at no extra cost to you. Also, as an Amazon Affiliate, I earn from qualifying purchases. If the information in this post has been helpful, please consider purchasing through one of the links in this article. Thank you.