Some of the links in this post are affiliate links. This means that when you click on one of these links, I earn a small commission at no extra cost to you. Also, as an Amazon Affiliate, I earn from qualifying purchases. Thank you.
Thermal or emergency blankets (also called Mylars or space blankets) are thin sheets usually made of plastic, destined to keep you warm in bad weather conditions or in case of an accident. These blankets are extremely light and due to their material, they can keep about 90% of your body heat by not letting the warmth radiate away from your body. They are usually large, with high resistance to wind and water, and ideal for surviving in emergency situations as they reflect body heat and keep you protected from elements.
[the_ad_placement id="in-text-1-type-a"]
Unlike ordinary aluminum foil, this type of blanket is usually made from two layers and can be used repeatedly. Thanks to its bright color it can be immediately seen from a distance so you can use it as shelter when waiting for the rescue teams. There's a very small chance to not be remarked by rescuers when you're covered with it. Take a look at our reviews of the best survival blankets to give you more insight.
A thermal emergency blanket can be very useful when camping, so it's always recommended to know what products are the best and why. One situation where the blanket might prove useful is when exploring a cave: the blanket is extremely useful in underground locations, for thermal protection of injured cavers while waiting for the rescue team.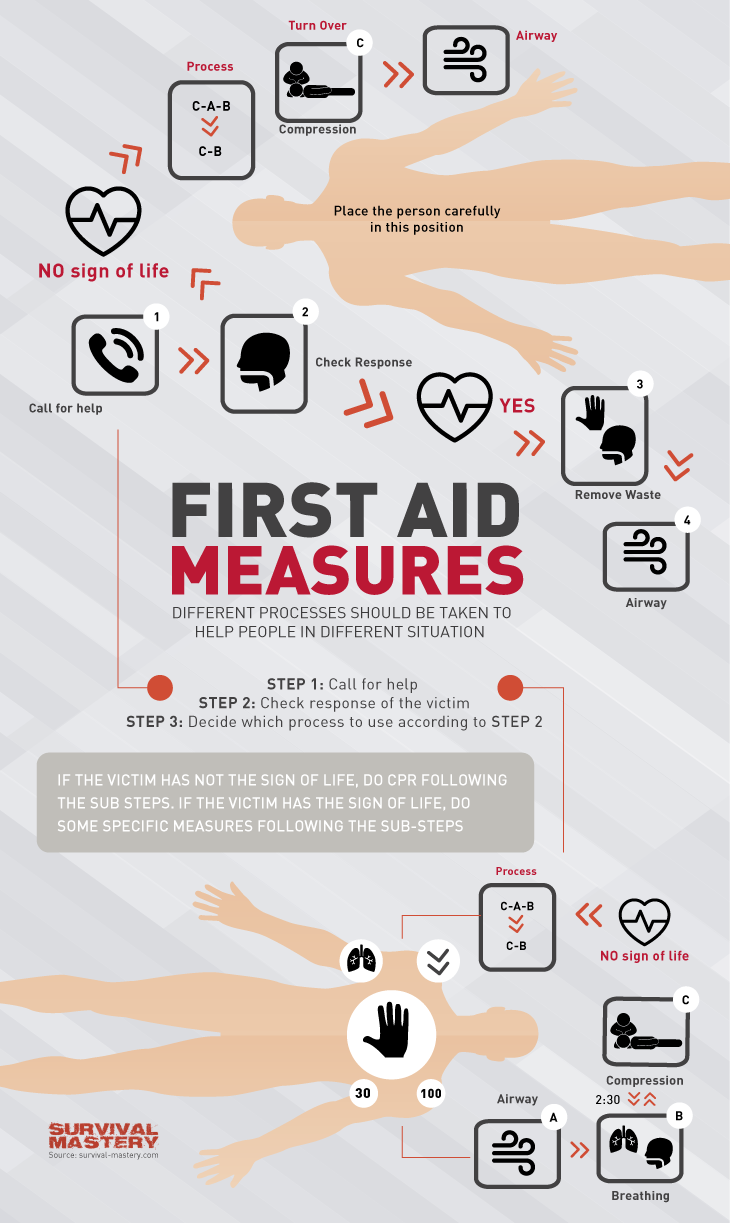 It doesn't weigh much, it can be packed easily and it fits anywhere, even in your pocket. This is why you shouldn't forget to include it in your emergency kit and make sure you always have at least one to spare.
Multiple uses for the first aid blanket
Believe it or not, an emergency blanket can be used for various emergencies, domestic or outdoors. If you have one around the house that you're not using while camping and hiking anymore, you shouldn't throw it away; there are others that may need it. Let's see what uses a Mylar has in an emergency situation or around the house:
The first use is in an emergency situation, when you're trying to stay warm until the rescue teams reach your location. Also, it's very useful if you go camping during winter: place it inside your sleeping bag and you'll be properly insulated from the cold;
The blanket is waterproof and it can provide protection in case your tent starts to soak from the humidity;
It can be used as a heat reflector so all the heat from the fire will be redirected towards you;
It is highly visible so you can use it when signaling for help. You can make different shapes with the blanket or you can cut stripes and leave them on the ground to form a trail or mark your way when you get lost in the woods;
Returning to its waterproof properties, you can create a shelter to protect you against the rain. Tie your blanket with a rope to some solid branches or a tree and you will not get wet;
You can use it to obtain water during winter. If you place it in the sun and put some snow on it, you will get fresh potable water;
You make a fishing rod out of a piece of Mylar and a stick (fish are attracted to shiny colors);
The blanket is quite resistant so you can put it together to form a cord in case you need one. However it may be not strong enough to hold the weight of a human body so it is advisable not to repel down a rock.
In some emergency cases you might need a tourniquet. You can create one by cutting a few strings out of the emergency blanket. It is an improvisation but it will hold until you receive professional help.
Due to the fact that it reflects light it can be used to start a fire, by directing the rays to the tinder (using it as a magnifying glass). Still, it's always recommended to have another fire source with you in case this doesn't work or it takes too long;
Use it as a water proofing material for your boots and backpack. Line the interior of tour shoes and backpack with pieces cut from the blanket. This way, not matter how much rain it pours down, you'll be dry and thing in your backpack will live to see another day;
In case you break an arm, you can use the blanket to support it until you manage to reach a doctor;
The blanket is resistant so you can use it to carry water or anything else you need;
In the summer, when you want to keep your food or drinks cold while camping, you can pack everything in the blanket, tie it well and place it in cold water (a creek or a river). Make sure you secure it so it doesn't float away;
If you are caught in a wild forest fire that threatens to reach you, find a creek, submerge your body completely under water and create an air pocket with your emergency blanket. Breathe like this until the fire passes over;
You can fill it with heavy materials to create an anchor;
It prevents heat from going out so if you need to keep the house or the chalet warm, simply cut large pieces from the emergency blanket and isolate the windows and doors with them and some duct tape;
It also can be helpful in the garden: during hot summers the vegetables may fade if they don't have enough water. Cover them with the foil and it will not let the moisture evaporate.
The blanket can keep the birds away from your garden as they are scared of the light reflections. This way the tiny beings won't nibble your fruits anymore.
As you can see, preserving life in an emergency situation may be the first use for an emergency blanket, but it's not the only use. Isn't it that, after reading our list, you sort of want to go online and buy a few for yourself? Well, let's see some of the best products on the market, and what are their pros and cons.
Choose your emergency blanket
We put together a list of the most popular products that you can find online and why you should or shouldn't buy them. Hopefully this will help you decide which products to buy and add to your emergency kit.
Emergency Mylar Thermal blankets by Science Purchase
This product is highly popular among campers and outdoor enthusiasts and it comes in packs of 10 pieces so you'll have plenty for a period of time. The size is similar to a bed sheet but, compared to this, you can fold it in a tiny piece and put it in your pocket. It helps you get warm instantly in case you can't do so with the fleece blanket you brought or you're cold in your sleeping bag.
Pros:
The quality-price ratio is really good given the fact that you pay around $20 for 10 pieces;
It is easy to carry with you, so in case you get lost you'll have something to protect your body from the element;
Heats you up instantly.
Cons:
The material may be too thin as some users reported it. Still, this is an emergency blanket and it's not meant to have extra layers.
If you like this product you can find and purchase it on Amazon.
Emergency Mylar Thermal blankets by Ever Ready First Aid
As the producer advertises it, this is one of the best quality blankets available and it provides protection against cold or bad weather. The material manages to maintain almost 90% of the entire body heat inside maintaining you warm until rescue teams can find you.
https://youtu.be/245ZLfZKo0U
There are two types of packages: the ones with 10 and the ones with 20 blankets so you have to choose according to your necessities.
[the_ad_placement id="in-text-2-type-a"]
Each blanket is 4.5 by 7 ft in size and you can fold it down into a small package that fits in your first aid kit.
Pros:
They are a good addition to your first aid kit;
You get more pieces in one package;
The price is affordable.
Cons:
People reported problems with the shipping and material durability. Some of these blankets get to their destination already torn apart;
Another problem is with packaging. You may order a packet of 10 but the actual number of blankets may be less;
They are considered to be quite noisy because of the material. This way, when you move in them you are in danger of waking anyone near you;
The moisture created inside the blanket keeps the clothes wet and this could be a problem on a cold weather;
A full grown adult will not fit completely in one of these blankets.
If you like this product you can find and check its price here.
Emergency Mylar blankets by Mylar Blankets
This blanket is a bit thicker as material goes (it was designed by NASA for space missions) and it comes in 4 pieces per package. Each piece is individually wrapped and sealed so when you open the package and take one blanket, the other ones remain intact.
It can be used in all weather conditions and it is reusable. The standard size is 84 inches by 52 inches.
Pros: 
The material used is resistant and of good quality;
The size is perfect to cover a full grown adult;
The blanket keeps 90% of the human body heat inside.
Cons:
The noise problem continues to appear even if the material is of better quality
The packaging is poor and there is the risk of tearing them apart when unfolding;
Even though the producers advertise them as being reusable, many users couldn't use them more than once.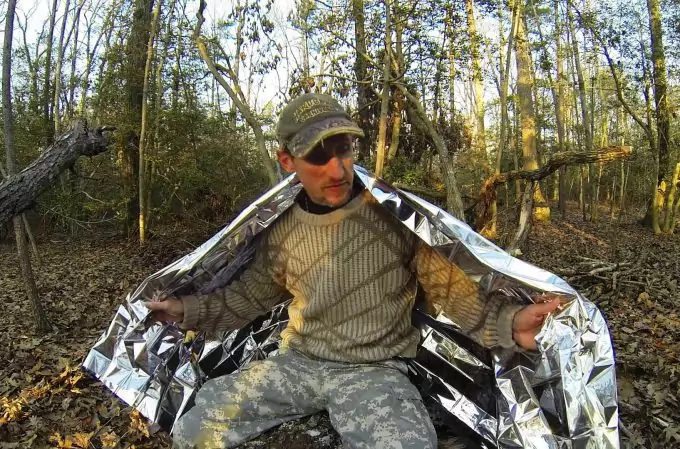 If you like this product you can find and buy it here.
Emergency Mylar blankets by PrimaCare Medical
This pack comes with 12 blankets that offer protection in case of an emergency. They are light and durable retaining the body heat and offering protection against the elements.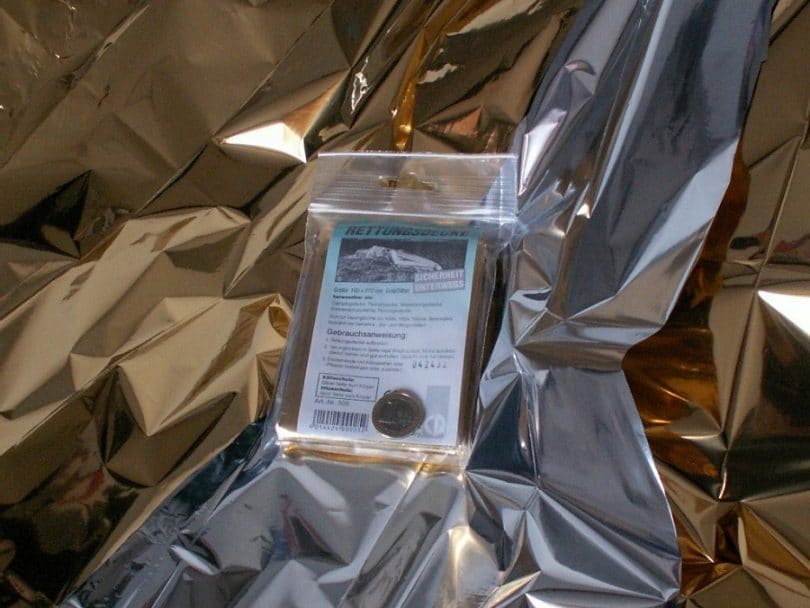 The standard size for these blankets is 52 by 84 inches.
Pros:
They are very good for keeping the warmth inside or outside the house so you can use them as a home insulator;
These blankets can be used in case of a car accident to help the wounded keep warm until help arrives;
They are cost effective;
Each blanket is packed individually in zipper bags that you can use later for other purposes.
Cons:
The material looks more like aluminum foil and it is not strong enough;
They look to be very flimsy and thin and should be handled with care;
The size is too small for an average adult.
If you like this product you can find and check its price on Amazon.
Emergency Thermal blankets by Kangaroo
Perfect to have around when hiking in US states that have predominantly cold weather but they work great in warm weather too. The standard pack contains 10 blankets and the standard size for each blanket is 54 by 84 inches – big enough to roll two small children in it. The material used for these blankets is of high quality helping maintain 90% of the body heat in case of a disaster or injury.
Pros:
Each blanket has a resalable bag;
The material is of high quality and keeps 90% of the body heat;
They are light and can be easily packed in a first aid kit;
These blankets can be used in many purposes, not just for emergencies;
Great price for a pack of 10 blankets of high quality.
Cons:
They are not reusable;
The material is a bit thin but it doesn't seem to affect the quality of the end product.
If you like this product you can find and buy it on Amazon.
Emergency Survival Mylar sleeping blanket by Mylar
This is more a sleeping bag than a space blanket as it doesn't have an opening at the bottom. The main purpose for this is to keep the heat inside and not let it escape through the bottom if you don't wrap it well enough around yourself. They are windproof and waterproof and the material (polyester) is pretty resistant so it won't be easily torn apart.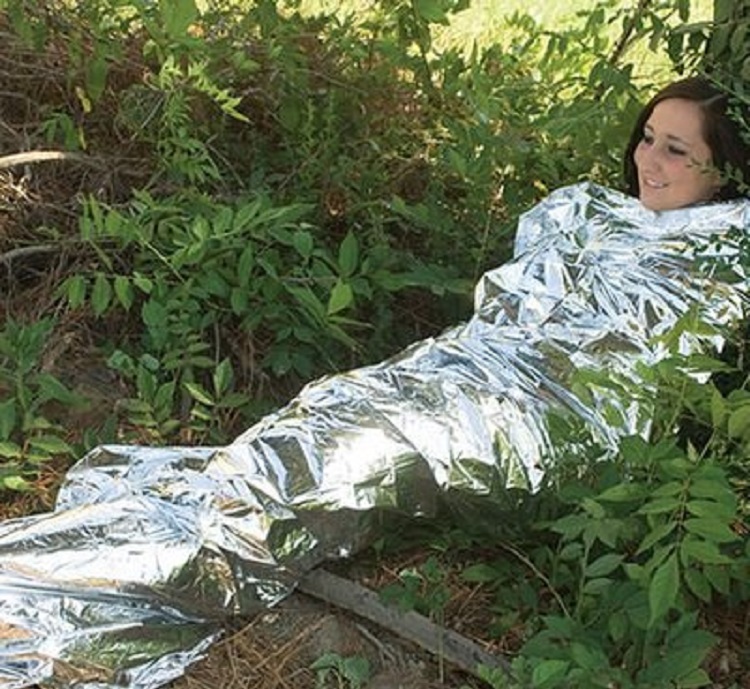 The standard is 2 pieces per package and the size is 84 by 36 inches.
Pros:
The size is appropriate for a full grown adult (even big) to use;
It is perfect for a survival kit;
The material is resistant even though it looks flimsy;
Easy to reuse if kept in a ziplock bag.
Cons:
The blankets are not individually wrapped;
It can be pretty noisy.
If you like this product you can find and purchase it on Amazon.
Emergency Mylar thermal blankets by Science Purchase
These blankets come in packets of 20 pieces and were specially designed to help in emergency situations (in all weather conditions) that require keeping a wounded person warm until the rescue team comes.
[the_ad_placement id="in-text-3-type-a"]
The material they're made of is Rugged Durable Insulated, specially created for Mylar blankets and they are capable to retain or reflect about 90% of the body heat. Each piece is individually sealed and the entire package is folded tight for easy storage. The standard size is 54 by 84 inches.
Pros:
The material is durable and they do not get torn apart easily;
Affordable price;
Versatile blankets that can be used for multiple purposes;
Individually wrapped in ziplock bags.
Cons:
They are for one use only.
If you like this product you can find and buy it here.
As you can see, there are plenty of products out there and according to your needs and budget, you can get blankets for one use or ones that can be reused. Anyways, regardless of what you need, an emergency blanket should always be in your kit, backpack or car. Do read on our earlier piece on the best survival kits to ensure your safety and survival.
In conclusion
It is always better to be prepared and well equipped so you can fully enjoy your journey and, in emergency cases, you will have what it takes to survive until you get help.
Being prepared also means that you need to check the weather forecast, pack your bags carefully and learn everything you can about the places you want to visit. All this knowledge may be of great help if something bad happens.
Do check our reviews of the best first aid kits to keep you prepared for any eventualities, it's a must-read!