If you want to sleep in comfort while you are on a camping excursion, you will definitely want to invest in the best camping pillow you can buy. Let's face it, there are some people who can sleep on any surface in just about any position and wake up in the morning feeling refreshed, comfortable, and ready for the day ahead, but the greater majority of us require minor creature comforts, like the right mattress, sleeping bag, and/or a comfortable camping pillow to ensure we feel our best when we awake in the morning. To help you with more options, read our article on how to choose the best backpacking sleeping bags for campers.
[the_ad_placement id="in-text-1-type-a"]
There's nothing worse than achy shoulders, a sore neck, and the terrible tense headache that sometimes accompanies the lack of a good pillow that would otherwise provide you with the support and comfort you need, not just to sleep well, but to wake up feeling great and pain free the next day. Here we will explore your options when it comes to camping pillows as well as things to consider as you shop. In addition, see our piece on camping checklist and essentials to ensure that you have everything you need.
Camping pillow types
You have several choices when it comes the time to choose a camping pillow. The different styles are available in three categories: inflatable, compressible, and hybrid.
Inflatable
These are firm and light as they are filled with air, so it goes without saying that the more air the units contain the firmer the pillows become. The camper simply pulls the flat pillow out of its sack and blows it up to prepare it for use.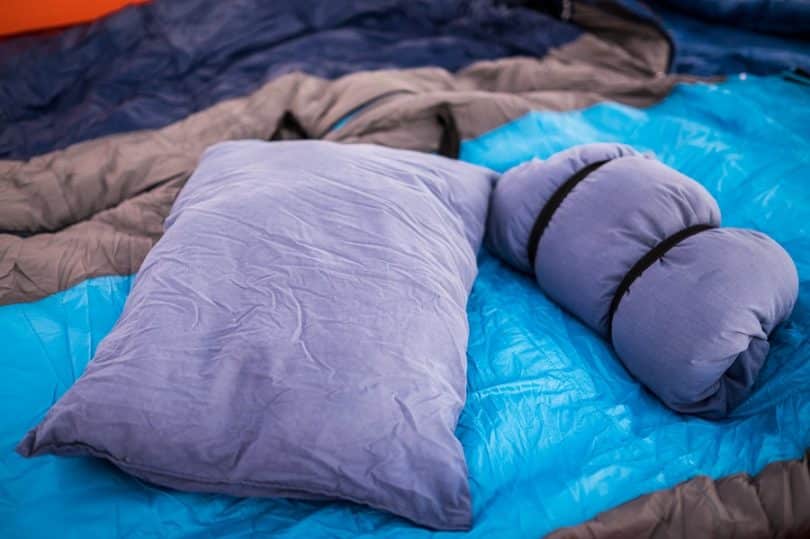 Thus, the pillow is not instantly ready for use, but it requires far less storage space when it is not inflated.
Features:
Firm and light because of air filled interior
Has to be blown up to prepare – not ready for instant usage
Thinner during storage
If too firm, the pillow is adjustable.
Compressible
These selections are soft, comfortable, and very much like the pillows you would have at home in the bedroom.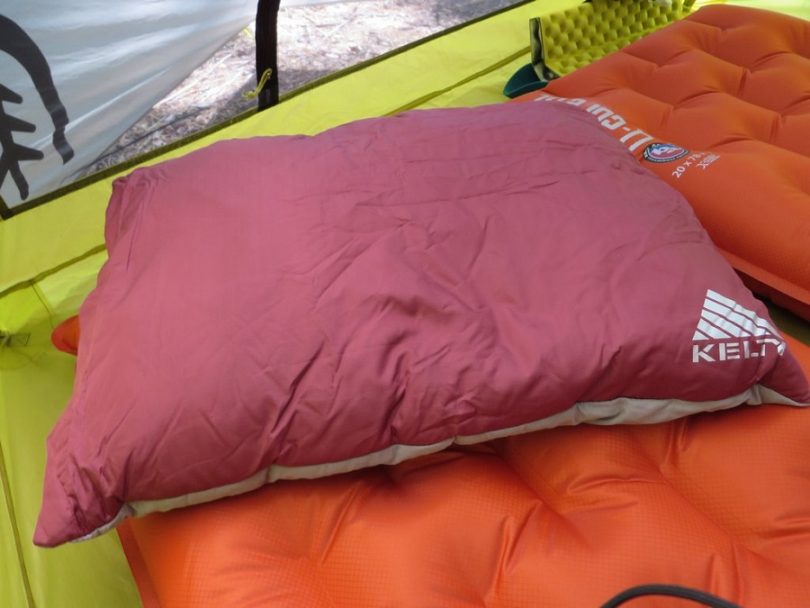 The material inside these camping pillows compresses and includes things like synthetic fibers, different varieties of foam material, and down feathers.
Features:
Ready to use once pulled from their stuff sack
Compressible material is soft and light
Weight is heavier than the inflated counterparts
Require a greater amount of space when in storage like a hiking backpack
Hybrid
These pillows bring the features of both pillows into one unit. The bottom of the pillow inflates and the upper part of the pillow is compressed when in storage.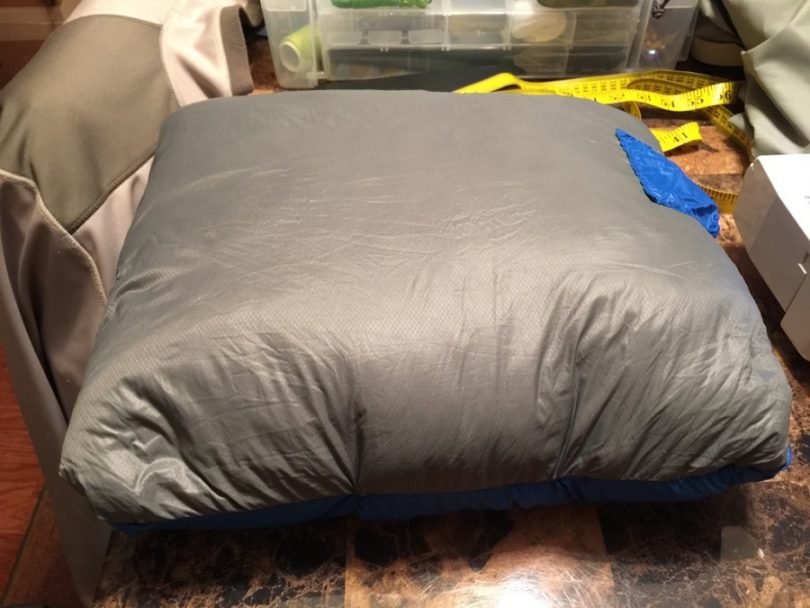 Thus, the weight of the unit is reduced while its comfort level is increased
These pillows make a good compromise between both the inflatable and compressed units.
This is a good pillow for the camper needing maximized storage space but who wants the comfort compressed-style camping pillow comfort.
Choosing the right product: Considerations
When you are in the process of evaluating different products, there are a number of factors you need to consider that will help shape your choice. Here are the factors to take into consideration as you shop around for the best pillows to serve your needs:
Comfort level
The attributes of a camping pillow that will affect the level of comfort you receive during its use include the pillow's overall size, how firm it is, and the materials the pillow is made of as well as the type of pillow you buy.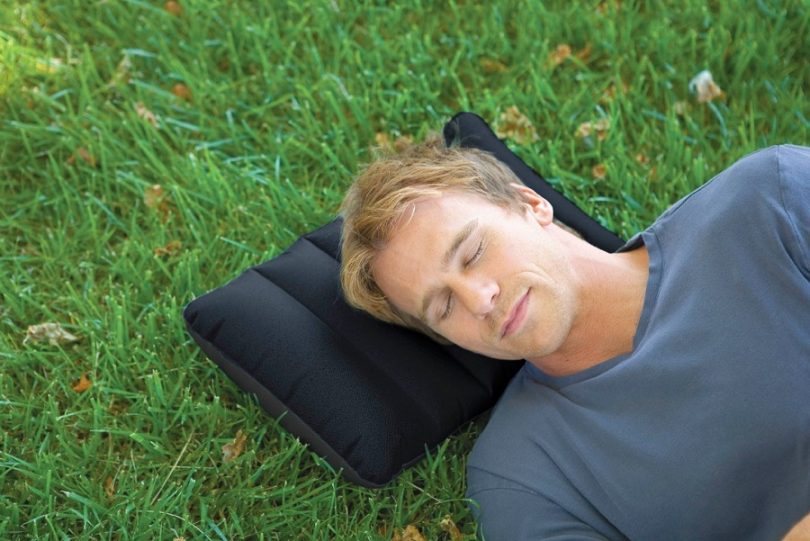 You will find the compressible pillows the most comfortable as they are most like those in the home, followed by the hybrid pillows, which are then followed by the inflatable options.
User friendliness
If you are looking for a no fuss pillow, the compressed versions are those that are ready to use immediately. The hybrids only require some of the pillow is inflated, and the inflated pillows take the longest to prepare.
Pillow support
The degree of firmness a pillow offers will vary, and even with compressed pillows filled with down, the support can diminish through use. The benefit of the inflatable and hybrid pillows ensures you can re-inflate the units to increase the firmness levels.
Weight & packing size
The weight of the pillows you buy will play a role in the amount of storage space you need in your backpack or packing area.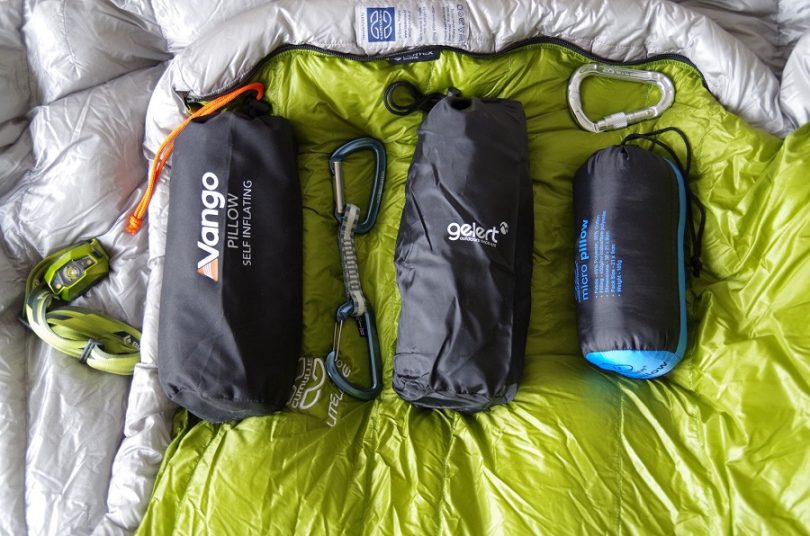 It will also play a role in the weight of your gear if you are backpacking. The lightest pillows are inflatable because they are deflated when you pack them, followed by the hybrids, and the heaviest pillows are the compressed options.
Best products on the market:  quick reviews
ONWEGO Inflatable Pillow
The company behind the ONWEGO pillow forges forward with the mission of creating outdoor and travel gear crafted from the best materials. This way, such gear only enhances the outdoor adventures users; experience.
The ONWEGO Inflatable Pillow is one that proves ideal in a variety of travel situations. The pillow is perfect for outdoor relaxation, camping excursions, car travel, beachside relaxation, or plane travel. The price is affordable too as it is between $21.99 and $31.99.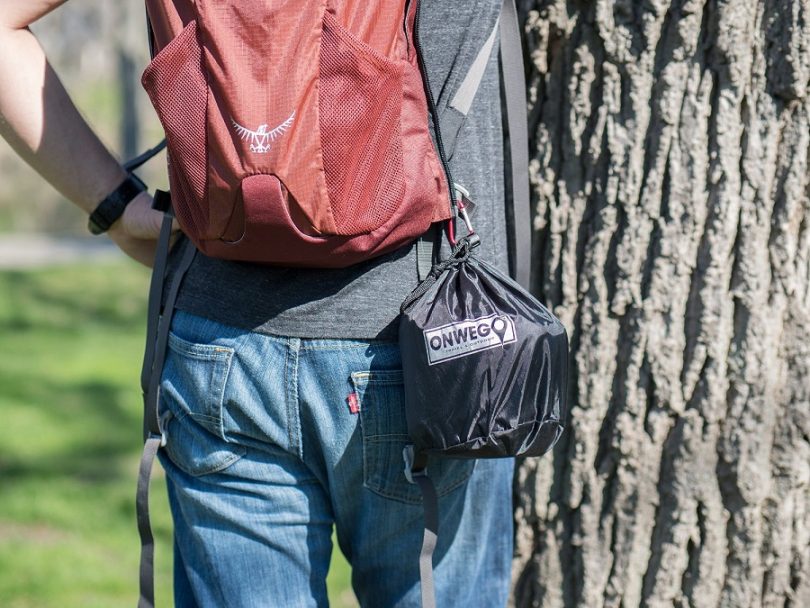 The ONWEGO pillow is available in several color variants as well, including camouflage, black, blue, yellow, orange, or pink, so personalizing your purchase is a breeze. The pillow has a foam material inside to add to its inflated comfort. The design is contoured for a better fit and so it can provide necessary neck and head support.
To inflate it, you just have to expose the foam to air by releasing the safety-locking valve. The inflation process will expand the pillow by about 50 percent its capacity. You can increase the pillow's firmness by blowing more air into it, or if you prefer, you can release air to deflate it a bit. The backside of the pillow is made of a slip resistant material so the pillow offers secure support of the head and neck.
Additional features include:
A self-inflating unit with a safety lock air valve
Easy to inflate or deflate
Measures a mere 20 x 12 x 6 inches when deflated
Measures 20 x 12 inches when fully inflated
Weighs a mere 10.5 ounces for ease of travel and packing
Made of moisture and slip resistant materials
The exterior is made of a vinyl type material
Puncture resistant
Comes completed with a elastic banded – stuff sack for storage
Like this product? Then you can check the current deal for it on Amazon.
Terra Friendly Inflatable Travel Camping Pillow
The Terra Friendly Inflatable Pillow is a product made in the USA. The pillow is perfect for use in the car, on a plane, boating, festivals, hiking, or camping. This product comes in 9 colors/patterns all wearing interesting and appealing names.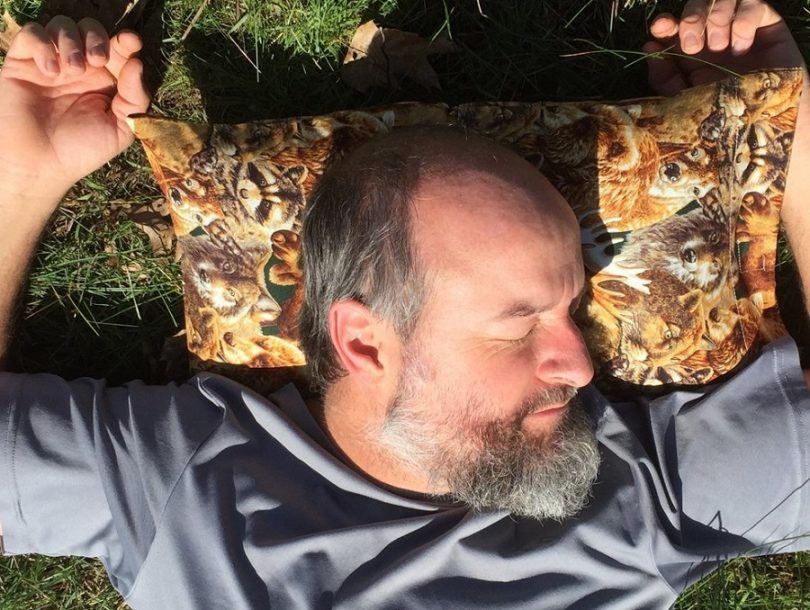 The pillowcase is made out of 100% cotton and the pillow is crafted of synthetic foam materials. In full size, the pillow measures 20 inches x 12 inches. The Terra Friendly pillow weighs 0.6 pounds and with the pillowcase on, it weighs about 0.8 pounds. Also it measures 5.5 x 5.5 x 6.5 inches when deflated and packed. However, keep in mind that this product is not intended for prolonged (months) use or expose to extreme weather conditions, and this unit is for use in conditions of less than 100 degrees Fahrenheit.
The pillow will require some expanding the first use and the first few uses after that – once expanded, it will inflate with far greater ease via its self-inflating functions. The pillow is priced between $14.88 and 27.77 depending on where you buy.
Additional features include:
Soft, odor free materials
Heavy duty valves for ease of product inflation
No air leakage from the valve or seams
Premium ripstop nylon for durable exterior
Tear and puncture resistant materials
365 Standard Warranty for risk free purchase
Outdoor grade materials for product longevity
Pillow rated for a 250 pound individual in sitting position
Padded interior ensures it requires less inflation effort
Cylinder-shaped sack – Custom fit
Nylon materials used for sack with elastic band
Fits into carrying sack with ease once deflated
Corner located valve for adding air
Counterclockwise turning valve opens the unit
Self inflating unit
Pillow is made of waterproof materials
Like this product? Then you can check its price here.
Kuda Outdoors Inflatable Pillow
The Kuda Outdoors Inflatable Pillow is an ideal selection for camping excursions. The product is sold with a lifetime guarantee, so you can buy in confidence.
[the_ad_placement id="in-text-2-type-a"]
The price is between $17.99 and $29.99 and you can get the pillow in blue or bright orange.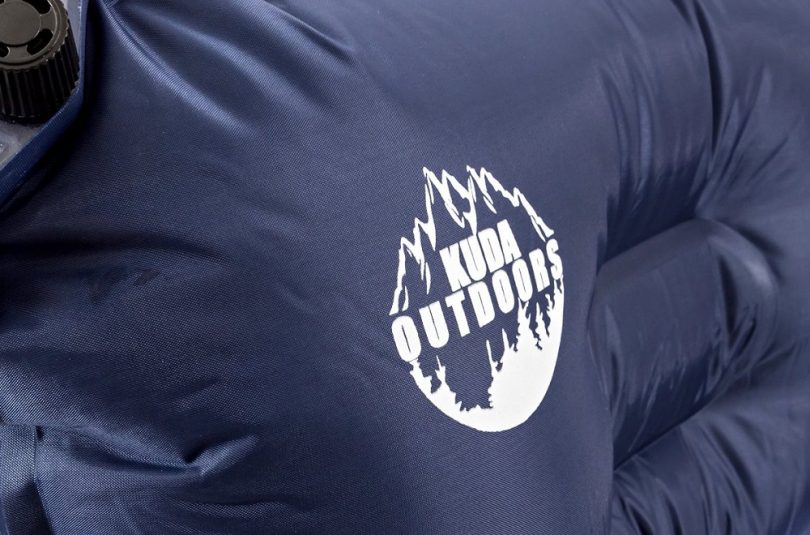 The unit has a special indentation sewn right into the body of the pillow for more comfort when in use. Even more, it self inflates and its firmness is adjustable.
Additional features include:
60 Day Money Back Guarantee for risk free buying
Durable materials made of polyester foam
Measures 4.8 x 5 x 6 inches
6 inches in weight
Noiseless, non-crackling pillow when in use
Relaxing, soft foam layer inside the pillow for additional comfort
Absent of sharp edges to ensure long-term comfort
Textured surface that soothes while helping you relax and sleep
No chemical odors
Light and easy to store
Foldable and uses little storage space
Highly tote-able
Ergonomic design for maximized comfort and fit
Practical travel sack included
Non-leaking unit
Color is bright and non-fading
Like this product? Then you can check its price on Amazon.
Therm-a-Rest Compressible Pillow
This compressible pillow is among the best camping pillows for sale. It is priced affordably between $11.50 and $87.73 depending on where you buy and the options you choose. If you care about design, you can find it in 5 outstanding colors including denim, poppy, night sky, indigo dot, and mosaic, and it is a great choice for campers and travelers alike.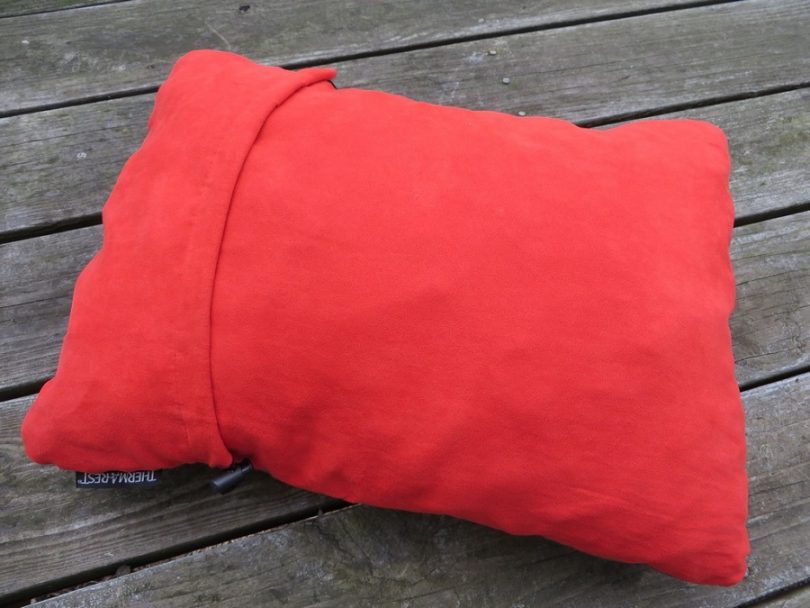 The compressible pillow packs away small and becomes large for maximum comfort when in use. The exterior is made of brushed polyester and ultra soft urethane foam filling is inside the pillow itself. The pillow does not come with a stuff sack, but it can be stuffed into itself for space saving features.
Additional features include:
An XL size measuring 16.5 x 27 inches
Machine washable materials
Quick and easy fluffing with a simple machine wash
A small sized version measuring 12 x 16 inches
A medium size version measuring 14 x 18 inches
A Large size version measuring 16 x 23 inches
Weighs about 9.5 ounces in all
Like this great product? Then you can buy it on Amazon.
Wenzel Camp Pillow
The Wenzel Camp Pillow is decently priced at around $13.47. It is an exceptional pillow for travel or camping excursions as it comes with in a large size and a flannel top to provide extra soft comfort for the user. When the pillow is stuffed in its sack it measures about 10 x 6 inches, but when fully inflated it measures 12 x 20 inches. The multicolor design is attractive, and the pillow is ultra light weighing in at about 0.6 pounds.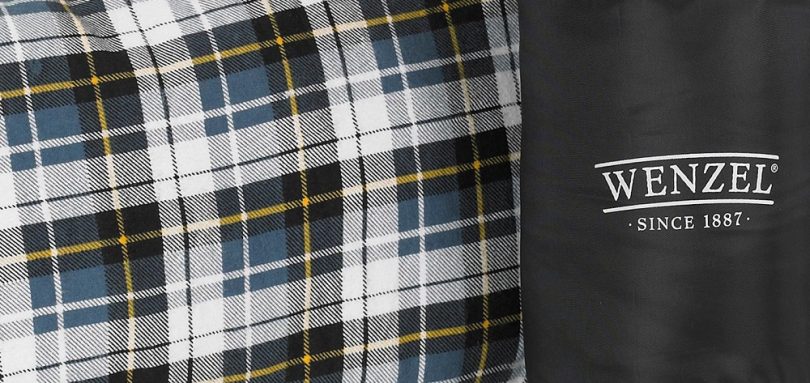 Additional features include:
Omega II polyester materials
Comes with stuff sack
The upper part of the pillow is flannel
The bottom part of the pillow is polyester
Blue, black, and white plaid design
Other materials are a cotton blend
Like this great product? Then you can check its price here.
The Stansport Outdoor Pillows
There are at least two Stansports Outdoor Pillows worthy of consideration when you are seeking high quality camping pillows. First, the Stansport Outdoor Pillow, model number 508, measures 14 x 18 inches. The unit is priced between $9.30 and $13.99 and features an outer shell that is soft and made of a soft flannel material. The design is an attractive plaid design.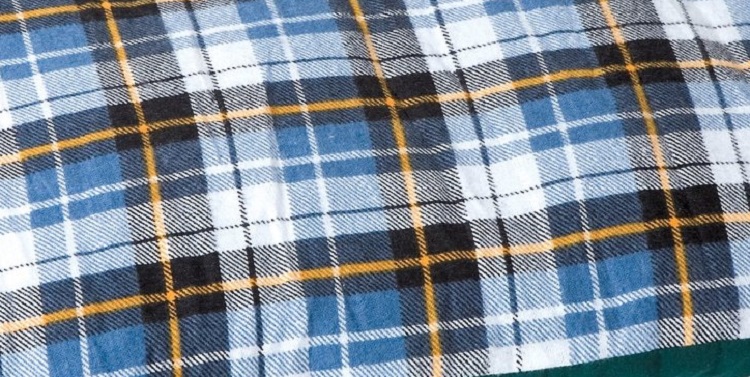 You can wash the Stansport Outdoor Pillow in the washing machine and it has polyester hollow fiberfill inside to make it soft and the material is chemical free.
Additional features include:
Weight of 7 ounces so it is highly portable
Stuff sack included
Measures about 20 x 3 x 10 inches
If you interested you can buy it on Amazon.
Among the outdoor pillows the company makes, there is also the Stansport Inflatable Pillow priced around $12.99. This unit makes a nice selection for those who want to forego the fiberfill pillow and who want something a bit more lightweight. The unit comes in different colors, and measures about 20 x 12.5 x 5 inches. The pillow is sold with a mesh bag for ease of transport.
Additional features include:
A nylon valve located on the corner of the pillow
Self inflation features
Two web straps for easy transport and storage
Cross weaved oxford shell for holding a sleeping bag into position
Made with a high density, fully bonded foam core
Weighs about 0.12 pounds
If you interested you can check the current deal for it on Amazon.
NatureHike Portable Pillow
The NatureHike Portable Pillow comes in three cool colors including light blue, lime green, and a peachy orange color. The rectangular shaped pillow is priced around $10.00 and is crafted out of 80% polyester material and 20% TPU coating. It weighs about 78 grams in all and is sized around 420 x 290 x 110mm.
The pillow is inflatable and must be blown up to use it. These pillows are an excellent, and inexpensive choice for travel, camping, car travel, and more.
Additional features include:
Sold complete with a stuff sack
Simple method of inflation
Folds away small and is therefore easy to pack and transport
Air remains full inside for days before requiring additional air
Material ensures the pillow stay cools
Quiet pillow for a quiet sleep
Good price and great value
If you interested you can check its price here.
Inspired Equipment Camping Pillows
The inflatable pillow designed by Inspired Equipment is compressible for ease of transport. The pillow is exceptional for hikers, long distance cyclists, the beach, and camping pursuits and is priced between $19.95 and $39.95.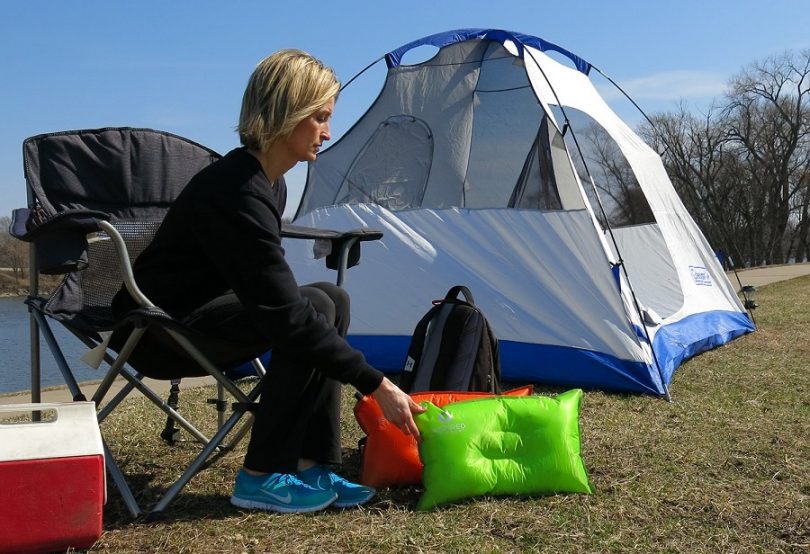 Each pillow is about 6 inches wide by 7 inches high when compressed and it weighs 10 ounces when flattened.
These pillows have the following features:
Adjustable inflation
Foam filled interior
Small enough to fit in a backpack or small bag
Memory-foam style filling
Self inflating features
Air nozzle allows for ease of inflation
190 threaded polyester materials
Robust, textured design
Waterproof covering
Like this amazing product? Then you can purchase it on Amazon.
In conclusion
When searching for the best camping pillows on the market, you will need to know what you want out of such a product. It might serve you well to jot down some of the features you desire while you are comparing what's available.  Comfort is subjective for each individual, so you will have to take in additional factors into consideration.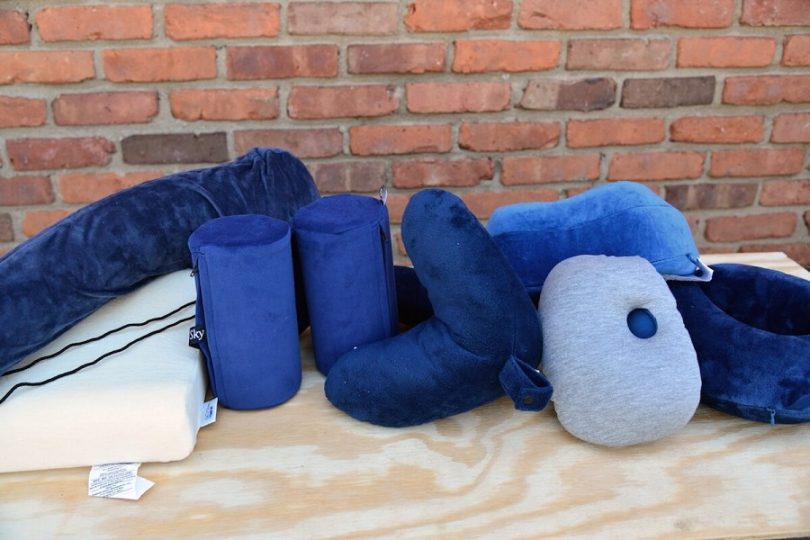 Some of the many things you will want to take into consideration as you shop, are size, style, weight, fabric and materials, and whether you prefer compressible, inflatable or a reasonably designed and affordable hybrid.
[the_ad_placement id="in-text-3-type-a"]
Of course, affordability is also a factor to consider, but it should not be the sole factor you use to determine which pillow to buy. You want a product that will also be with you for the long run and will serve you well for the immediate and future camping trips to come. When shopping, take your time to compare products carefully so you can ensure your comfort when on your next camping adventure.
Before your next trip, check out our article on top essential camping gear to make your stay comfortable.
Some of the links in this post are affiliate links. This means that if you click on one of these links and make a purchase, I earn a small commission at no extra cost to you. Also, as an Amazon Affiliate, I earn from qualifying purchases. If the information in this post has been helpful, please consider purchasing through one of the links in this article. Thank you.