Camping is a great activity which brings you a ton of health benefits, like oxygenating your brain, improving your memory, strengthening your heart, and working your muscles. But we all know that if you go into the great outdoors without a comprehensive camping checklist, the benefits that wilderness has to offer to your brain turn into an actual hindrance for your peace of mind. So, if you're planning a relaxing, fun trip you shouldn't leave home without taking everything you need for that.
[the_ad_placement id="in-text-1-type-a"]
We're here to give you an idea of what the essentials are when it comes to camping, but feel free to add the items you need the most on the corresponding category for this checklist. You'll end up having more fun and make sure that everything is under control.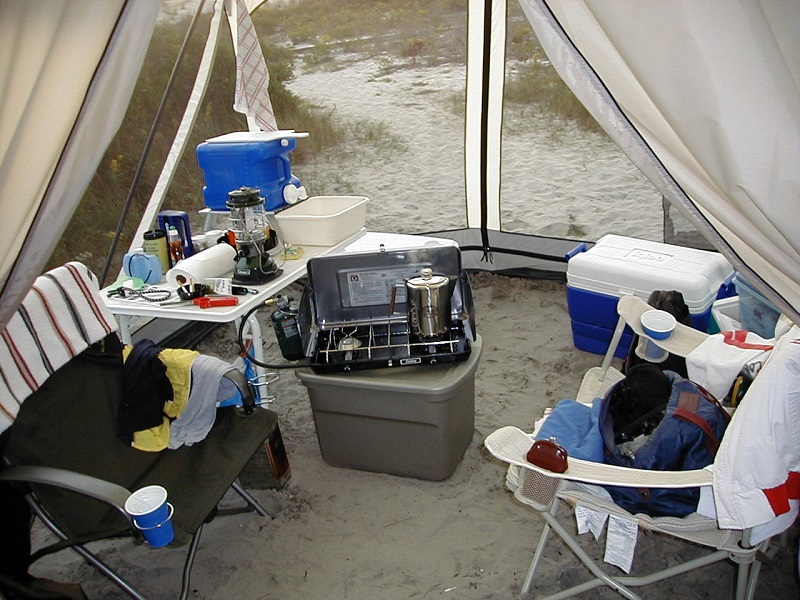 Besides this, we'll also sum up by providing you a list of our favorite items on the market, since getting the right gear also means using high quality products.
The actual checklist
This list is split into 7 main categories, taking into account the basic necessities when it comes to shelter, eating, clothes, personal gear, miscellaneous items, as well as people who go camping with their kids or with their pets.
#1: Shelter equipment
Tent – A tent is very important not only in case it rains or with the nightly temperature drops, but it will keep you more comfortable and safe. To avoid spending a lot of time setting your tent up, it's best to practice at home first, even if you get an easy to assemble product.
Groundsheet – Every tent needs its groundsheet, so don't forget this item. It's used for protecting the tent's floor and keeping it more stable, which is very important particularly in case of a windstorm.
Tarpaulin or tarp – Rain won't ruin your picnic if you bring along a tarp to cover your table. It can also prove very useful for other activities as well.
Sleeping bag – this is a must, especially if you go camping somewhere with low temperatures during the night. In this case, a simple blanket just won't do.
Pillow – This will give you the support for the spine and neck you can't dispense of after climbing all day or carrying a hefty back-pack. Even a small travel pillow can make all the difference for you. See our review of the best camping pillow to give you more options.
Sleeping pad – These items are specifically significant if you don't want every little pebble leave an indent on your back, but it will keep you more insulated from the cold as well.
#2: Kitchen gear
Mess kit – when camping, you will need at least a plate, a mug, a bowl and the basic utensils. Consider using steel ones, as they're more resistant and weigh less. The plastic ones are good too, but aren't as hardy.
Camp stove – this is something essential for your trip, if you want to enjoy a hot meal once in a while and not stick only to canned food.
Fuel – choosing the proper fuel for your stove and for your lantern is very important, or otherwise you'll end up with no light and no food, so be sure that the fuel you buy matches the gear you have.
Cutting board – Don't forget this for cutting and chopping your food.
Pots and pans – Depending on what food you need to be cooked, remember the pots and frying pans. The pots are essential for boiling water, and you can benefit from a nutritious hot soup after a day in the wild, a cup of tea to warm you up, or a strong coffee to wake you up in the morning.
Pot gripper – If you have frying pans or pots without handles, then it's easier to get a pot gripper to move them more easily once you've cooked your food.
Dishpan – Your dishes need to be washed, so bring a dishpan for this purpose.
Biodegradable dishwashing soap. If you're camping in the wild, you need to protect the environment and get an eco-friendly dishwashing soap. After you wash your dishes, the water shouldn't be thrown on the ground or in lakes, but in sinks and drains. Check out our article of the top biodegradable soap to guide you.
Food cooler – Don't forget to cross this item off your checklist, if you want to keep your food fresh, but don't leave it out in the open at nights, or some little critter may end up eating your supplies.
Can opener – Cans have to be opened somehow, so don't leave the valuable can opener at home. But if you do, a knife will do the job.
Aluminum foil – Leftovers are future meals, and you can't be too picky in the wild. Bring aluminum foil to wrap them up and save them for later. It can also be used for cooking food in the fire.
Paper towels – Clean your hands with paper towels. Wet wipes can prove just as handy.
Garbage bags – Don't leave your garbage behind for other campers or for animals to find. It's not only impolite or damaging for the environment, but dangerous for you if a larger animal comes snooping around.
#3: Clothing
Hats & rainwear
Whether you want to be protected from the burning sun or from the rain, a hat is always a camping must. Moreover, it's better to keep your head warm if you're outside when it's really cold. Choose something that's water resistant in case it rains, and has larger brims to protect your shoulders from wetness or sunburns.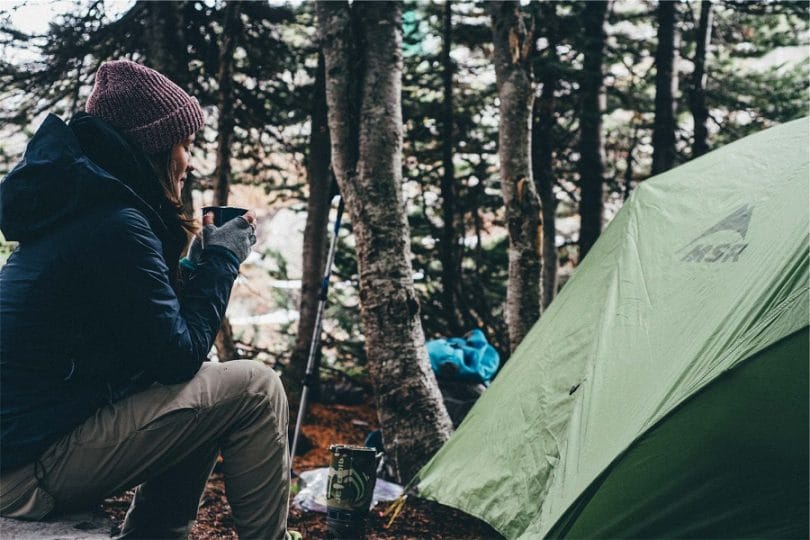 Experienced campers know that weather is unpredictable, and bringing along waterproof clothing is something you can't neglect. Even if it doesn't rain, this piece of clothing equipment proves valuable even when it's windy or cold, as it will shield you from the bad weather.
Shirts, pants and shorts
Having enough shirts with you is a requisite, because you can change them as needed or use them as layers. Shirts with long sleeves are advisable if your camping spot has mosquitoes and ticks roaming around. You should choose nylon or polyester shirts instead of cotton ones, because they dry faster, and you won't lose heat if you sweat.
Long pants are mandatory when it comes to being shielded by mosquitoes, ticks, snakes or plants with spikes. Short pants are good for warmer weather or for swimming. As with shirts, it's better to chose nylon and polyester fabrics, but jeans are also a good idea. If you're camping somewhere hot, choose light colors that reflect the light and keep you cool. Conversely, dark, heavy materials will keep you warm and fuzzy..
Socks & footwear
Don't forget the socks! You need to change them immediately if you feel your feet getting wet in your hiking boots, because they need to breathe too. Otherwise, they'll become irritated and hurt, with the possibility of developing dangerous infections.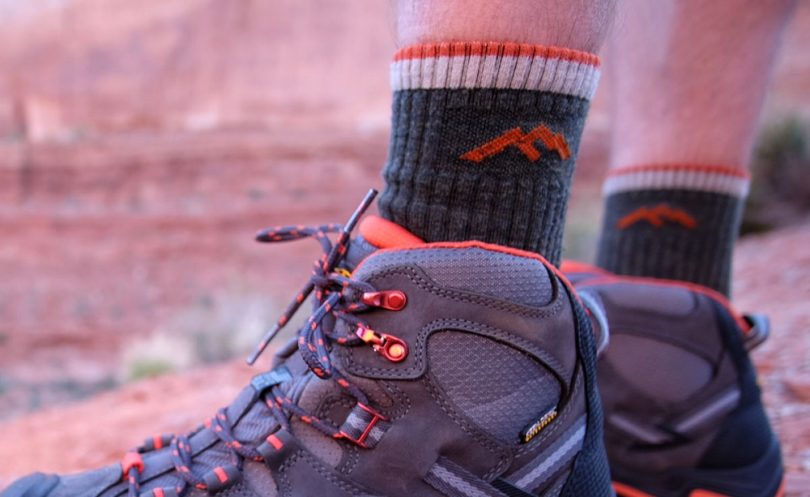 Keep in mind that you need high quality shoes to keep you comfortable and protected. You need closed-toe shoes for many activities, like walking through the forest, or even sitting around the campfire, to make sure you don't hurt your ankles and you don't run into snakes or poison ivy. Sandals can prove great too, if you're somewhere near a lake and the weather is warm.
Stuff sack
Your clothes need to be organized to maximize the space used for your gear, and that's when a stuff sack comes in very handy.
#4: Personal gear
Insect repellent – There are a lot of insects in the woods, and a good insect repellent can protect you from their dangerous bites. Some wild spiders or mosquitoes have a more powerful venom than the ones we're used to at home, so choose the right product according to its ingredients and indications.
Sunscreen – don't neglect sunscreen even if it's cloudy, because higher altitudes make the sunrays more powerful. Sunrays are also intensified by wind and water, and if you're planning to spend a lot of your day outside, it's better to be safe than sorry.
Whistle – If you want to give a quick signal to the other campers that something's up, or if you want to scare away a larger animal, bringing a whistle along can do the trick. For your choice of the best emergency whistle, do read our article on this topic.
Tweezers – you may gather firewood or climb a tree, and get a splinter from that, so it's good to always have tweezers near to pull it out.
Aloe gel –this item is helpful in various situations, so don't leave it at home. It can soothe an irritated skin, an insect bite, sunburns or even other mild burns.    
Eco-friendly shampoo and soap – biodegradable items are necessary in the wild, so you don't disrupt the ecosystem too much. Just as in the case of dishwashing soap, you mustn't throw it on the ground or in a lake, but in a sink or drain.
#5: Extra equipment for kids
Diapers and wipes – don't bring too many diapers and wipes, but just enough that your kids are comfortable, clean and dry.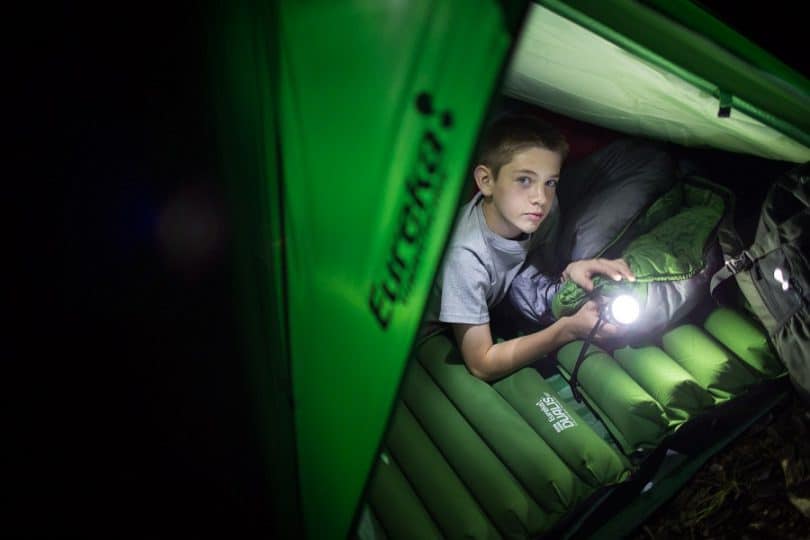 Extra clothing and footwear – since kids love playing outside and aren't very careful to not get dirty, they probably need more clothes and shoes than usual. It's important for them to be dry and warm, so they won't get sick.
#6: Extra equipment for pets
Leash – Sometimes it's better to have your dog or cat on the leash when camping, so they won't get lost if they get too excited about being in the great outdoors. However, some camping sites don't allow dogs roaming free, since they might scare other campers.
Doggie bags – Even if you're in the wild, unfortunately you still have to pick your pet's poop and keep the place clean for other campers.
Food and treats – You might need some more food and treats than usual, because your pet may get hungrier after extensive physical effort. Just like with your own food, don't forget to secure theirs at nighttime too, so that wildlife doesn't get to it.
Brush – Just like kids, pets aren't very careful about their own cleanliness when they're having fun, so dirt or wood clay might get stuck in their fur, and that's why it's good to bring a brush with you.
#7: Miscellaneous
First Aid Kit
It's needles to argue why everyone must have a First Aid Kit on their camping trips. However, check to see if the items inside aren't past their expiration date, and if you have everything you need.
Waterproof matches & paper
Make sure you have chosen water resistant matches, so you can light your fire even in damp conditions.
[the_ad_placement id="in-text-2-type-a"]
Also, you should bring newspapers or old magazines to use when starting the fire, but you can also light it with ember and small twigs.
Lantern & headlamps
There are no city lights in the wilderness, so don't forget a lantern to see both inside the tent and outside. However, don't use a gas or propane lantern indoors, because something in your tent might accidentally catch on fire, and don't forget to bring extra batteries with you.  If you don't like lanterns, a headlamp is the best choice. It's easier to do what you need to if your hands aren't busy holding a lantern.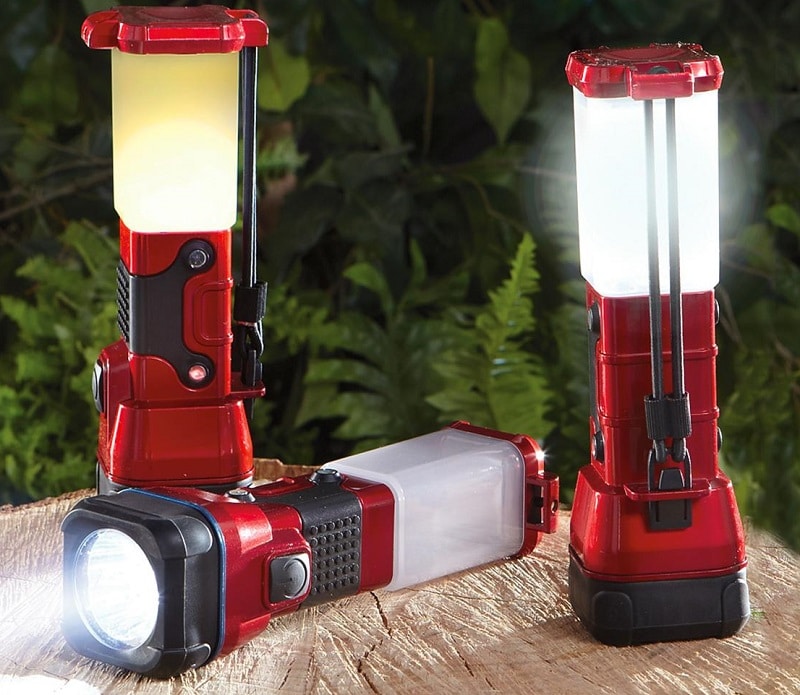 Other small stuff you never thought you'll miss, like:
Rope or cord – You never know when you might need to secure something, like a tarpaulin. But it's also important in case someone accidentally falls in a ravine, or if you need to climb somewhere steep.
Duct tape – In case there's a rip, a hole or a tear you want fixed fast, duct tape is indispensable in every camping trip. Just be sure to get the extra-strong type, which is also waterproof.
Clothespins – If you get your clothes wet and you want to hang them dry over night, clothespins are a great addition to your checklist.
Small broom and dust pan – These items come in handy for keeping your tent clean, but also for sweeping the leaves and pine needles from your camping spot.
The best items on the market
When it comes to your camping equipment, you can never be too careful about choosing the best items on the market. We're here to lend you a hand in that department, and help you select the very best.
Sundome 4 person tent
At a price of $65,16 and with a lot of positive reviews from happy customers, this Sundome Tent by Coleman accommodates 4 people, and at 10.5 pounds, it's very easy to carry around. It has an electric access port to charge your electronic devices, and it can be set up in 15 minutes.
This tent is ideal for camping in warmer weather, since it provides rain-fly awning for shade, as well as ground vent and large windows.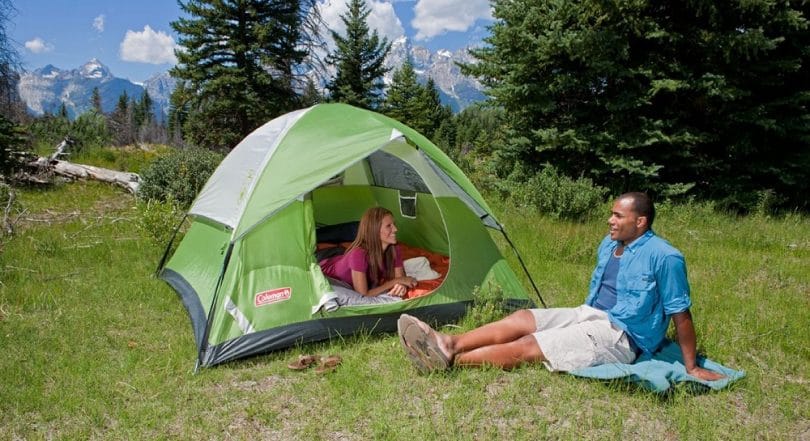 You'll find that this tent is really spacious, but also wind and water resistant, since it has the WeatherTec (TM) system's patented welded floors and inverted seams.
Like this amazing product? Then you can check its price on Amazon.
Coleman Tent Kit
Coleman is a very reliable brand when it comes to camping equipment, being in the business since the beginning of the 1900s, and they also provide this $9.59 comprehensive Tent Kit for you to set up your tent.
You'll get four steel tent stakes that will secure your tent against the wind, a rubber mallet to pound the stakes into the ground instead of using a rock, a small hand broom and dustpan to keep your tent clean and cozy, a steel rod to pull stakes and protect your hands, as well as a mesh carry bag to store all your items inside.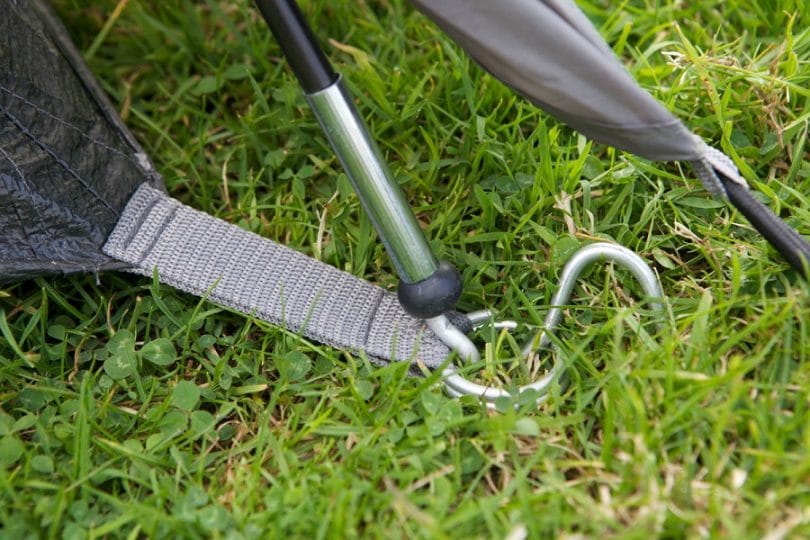 If you think that this product could be useful for you, then you can check its price on Amazon.
Ultra Bright LED Lantern
With 4.7 out of 5 stars from more than 7000 customers, this Ultra Bright LED Lantern from Divine LED's is a great addition to your list. It costs less than $10 and weighs approximately 10 ounces, not to mention that it's made out of military grade materials that are very sturdy and waterproof.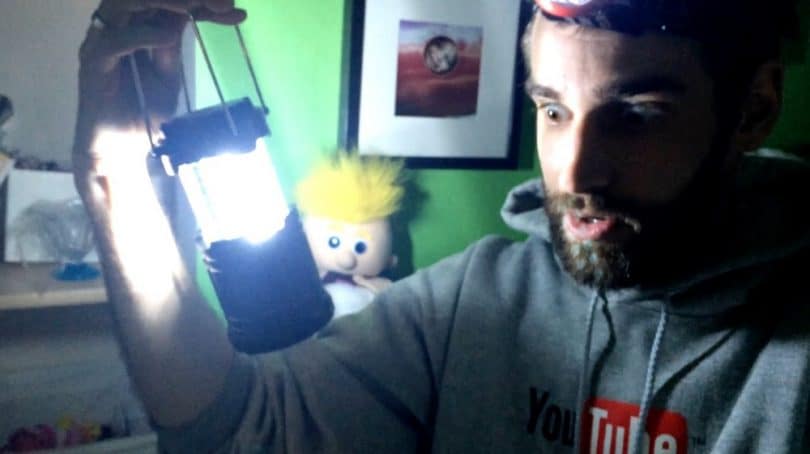 This trustworthy brand delivers a high-quality lantern that lights brightly and has a compact design, since it's easily collapsible. Besides this, it entails a long battery life, being compatible with rechargeable batteries. Apart from this, you will also receive a 10-year warranty in case your lantern gets damaged accidentally or if it ceases to work as it should.
If you think that this product could be useful for you, then you can check its price here.
Ohuhu Double Sleeping Bag
Ohuhu is a reliable company, and this $50 waterproof double sleeping bag is made out of a very good material, which provides a warm and comfortable place to sleep in, apart from being easy to carry at just 6 pounds.
It includes two small pillows, a carrying bag, and it combines two individual sleeping bags which can be zipped jointly so that two people can tuck in together, but they can also choose to use them apart.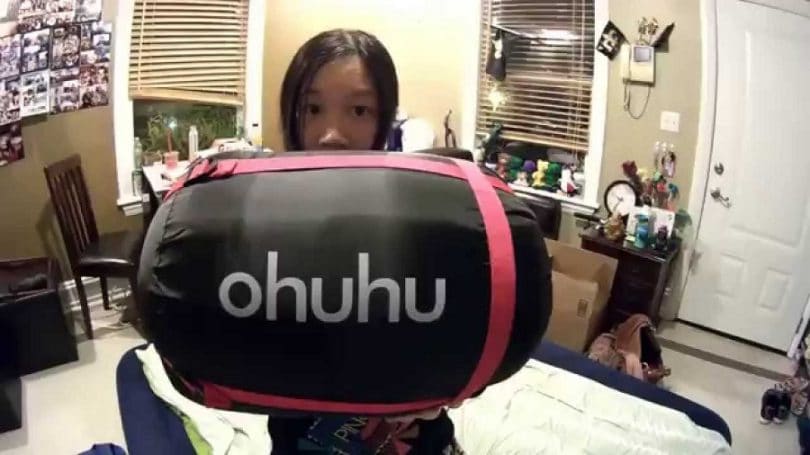 Besides this, you have zippers on both sides in case someone wants to exit it at some point. The comfortable temperature for this sleeping bag is in the range of 32F to 50F, but can withstand temperatures as low as 23F.
Like this product? Then you can check the current deal for it on Amazon.
Nalgene Tritan Wide Mouth BPA-Free Water Bottle
One of the best selling water bottles on the market, courtesy to a qualitative brand, this water bottle has established Nalgene's reputation amongst campers and hikers. Its characteristics include a BPA-free Eastman Tritan co-polyester, as well as durability and sturdiness.
It can hold both very cold and very hot liquids, in the interval of -40F to 212F and it's marked with milliliters and ounces so you know exactly how much of the beverage inside you're drinking.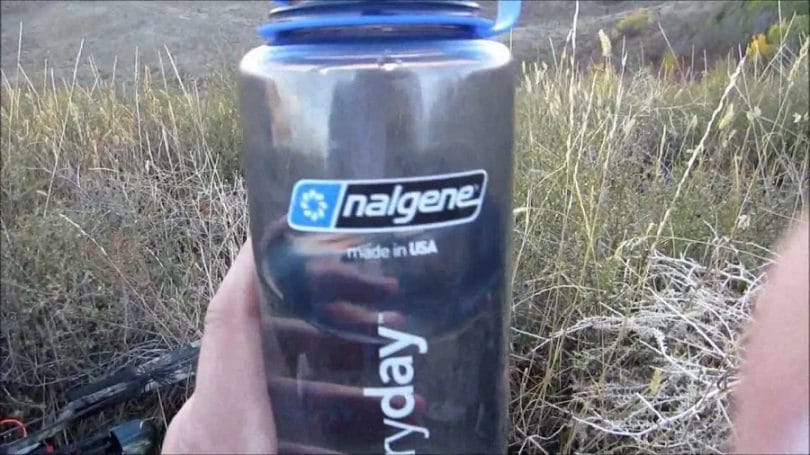 Having a good water bottle is important in every camping trip, but this one's even better since it has a wide mouth that allows the easy adding of ice cubes, as well as washing your hands. Besides, dropping or losing the lid is very unpleasant outdoors, but this bottle has a loop-top design that will prevent this from happening.
Like this product? Then you can check its price here.
Outlander Backpack
This backpack from Outlander is the best rated backpack out there, and it's no wonder since it comes from a very dependable brand. Depending on the size – 20L or 33L –  its price range is between $17.96 and $19.96, but it has numerous other advantages for camping trips, since it's quite light, weighing just 0.5 pounds, but really spacious at the same time.
You can pack it compactly by folding it into the zippered inner pocket, and simply unzip it when you need it for other trips near your camping site.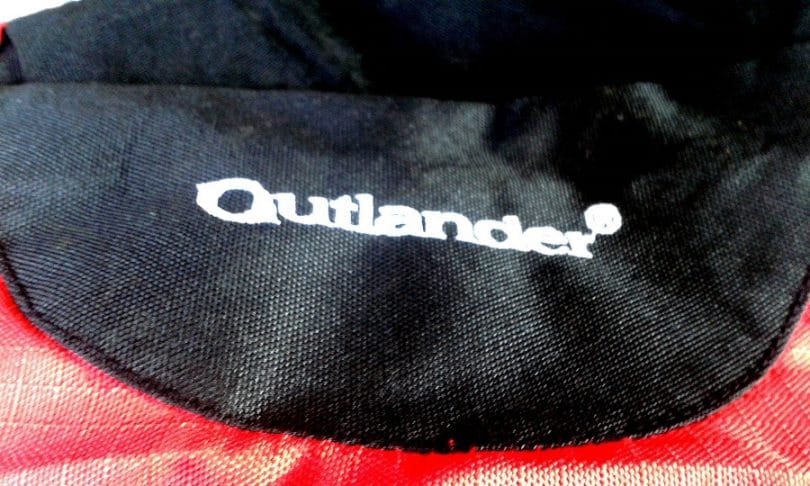 It has many additional compartments for you to pack the things you need, while it's also waterproof. Its durability is proven by the bar tacking that reinforces the stress points, as well as the metal zipper which resists various abrasions. Plus, you get a lifetime warranty to guarantee that you can exchange or return the backpack if you're not happy with it.
Like this product? Then you can check its price on Amazon.
MalloMe Camping Cookware Mess Kit
On sale with just $21.97, this is one of the highest rated kitchen items that you can use confidingly on your camping trip. As such, it's built out of quality aluminum that lasts longer, isn't toxic and it warms up your food fast. Besides this, it entails a 10 pieces mess kit which are easily cleaned and stored, since they collapse together.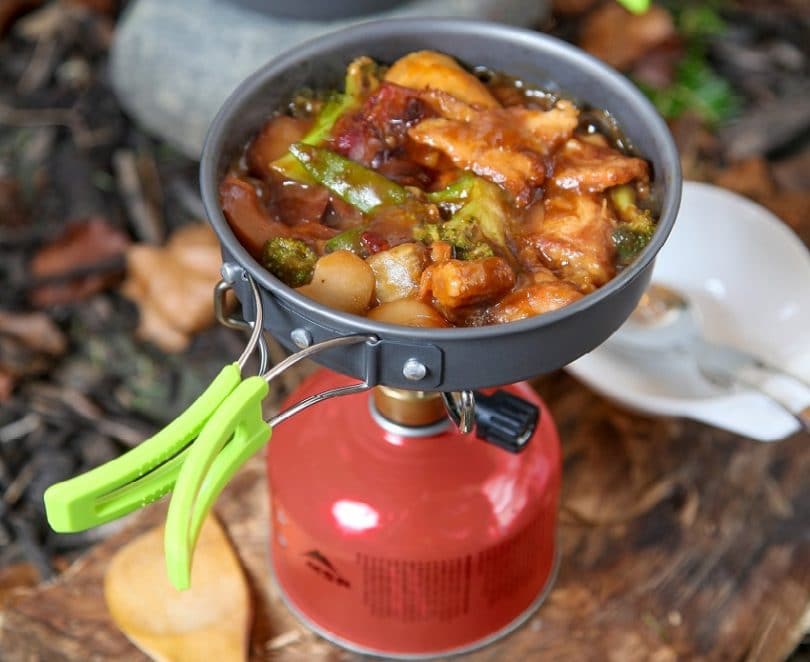 You'll be getting a nonstick pot and pan, a pot cover, 2 bowls, a spork, a soup spoon, a wooden spoon, a cleaning loofa, a nylon travel bag, as well as an e-book with recipes for cooking marshmallows and smores. Weighing just 0.7 pounds, this is the perfect kitchen equipment for camping.
[the_ad_placement id="in-text-3-type-a"]
Like this great product? Then you can buy it on Amazon.
Premium Permethrin Insect Repellent
Since you can't be too careful about creepy-crawlies when you're out camping, you'd better gear up with a good insect repellent, like the one from Sawyer Products. It has only positive reviews from hundreds of happy customers, and its retail price is $10.29. Coming in a 12 ounce bottle, this item works very well against ticks, chiggers, mites and mosquitoes.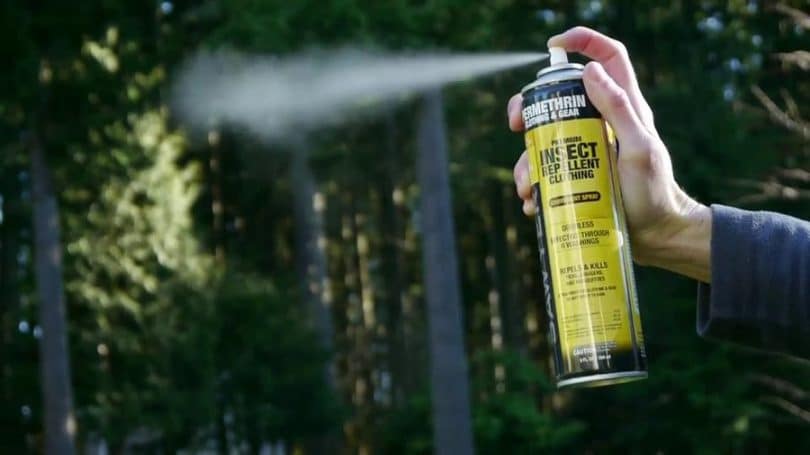 It can also be very effective against the Yellow Fever Mosquito, responsible for the transmission of the Zika Virus. With one bottle, you can treat 2 complete outfits which are protected up to 6 weeks afterwards, or up to 6 washing cycles. It doesn't have a specific odor, which makes it all the better for hunting trips.
Like this great product? Then you can check its price here.
All that being said, making a checklist prior to any camping trip is a vital requirement, since careful planning will ensure the success of your trip. You should include only essential things to get the most out of your wilderness experience, but get quality products that have multiple uses, are easily stored, readily carried, resistant, waterproof and durable.
Some of the links in this post are affiliate links. This means that if you click on one of these links and make a purchase, I earn a small commission at no extra cost to you. Also, as an Amazon Affiliate, I earn from qualifying purchases. If the information in this post has been helpful, please consider purchasing through one of the links in this article. Thank you.