We all have that one friend who considers cooking an art and loves to stand by the stove and stir in the pot. We say it's time to make him (or her) get out of the house and show him (or her) that there are other ways of enjoying their hobby, for example cooking delicious camping recipes. This way you enjoy your hobby (going out in the nature) and your friend will complete the experience with delicious food, cooked at the campfire.
[the_ad_placement id="in-text-1-type-r"]
Camping is an amazing experience from many points of view. Here are just a few of them:
you actually manage to escape from your daily routine
you get in touch with nature and explore new sensations
you learn about plants, mushrooms, food you can find in the wilderness (on this topic, we have a fantastic article that will help you learn more about plants you can safely it in the wilderness)
you may also have the incredible luck of watching animals in their natural habitat
you get to bond with friends and family (a night under the clear sky, in the wood is a good time for stories and having fun)
you get to relax and have fun without technology and gadgets
you actually learn to see the world around and understand its meaning
If these arguments aren't compelling enough, the food cooked at a campfire should convince you.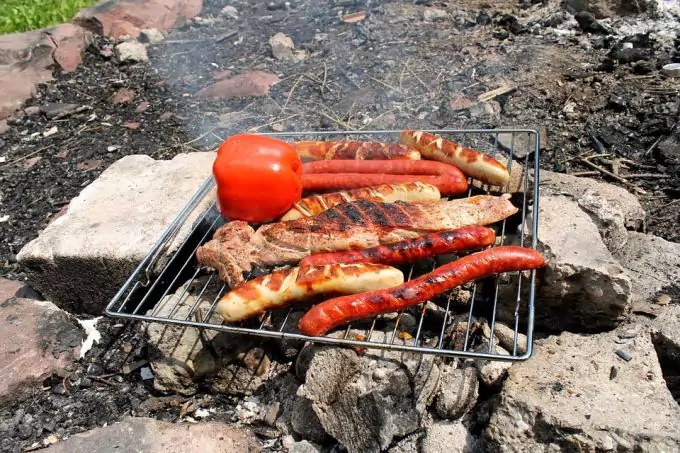 There are a lot of easy camping recipes that can transform a boring camping day into an amazing one. Just think about it: camping cooking is an activity that gets everyone involved. It's not like you're at home, in the kitchen where only your mother or your wife steps in. Here you have to help because you don't have sophisticated machines to take over some of the burdens. Probably this is one of the reasons we find camping food more delicious, because everything is done manually and everyone works together.
Camping cooking gear you might find useful
In order to cook the best camping recipes you will need some special camping cooking gear. Why so special? Well, if you go camping with just a backpack on your back (it's actually recommended if you want to get the entire camping experience) you won't be able to take pots, pans, porcelain plates, cups and all sorts of stuff you find in the kitchen. There are special items created by experienced campers and outdoorsmen, that won't occupy all your backpack space and won't add too much extra weight. We actually have a great article where we review said cookware so take a look here and check out the features that make them so special.
If you choose to take the car, you will be able to take almost everything you want with you but then you'll miss a lot on the real camping experience. We know that comfort is important, especially when you want to relax, but you're not changing much. It's simply like being at home, only you stay in a tent – this experience won't allow you to get in touch with nature.
[the_ad_placement id="in-text-2-type-r"]
Let's see now what sort of cooking gear you should have when camping:
The first on your list should be a camping stove and the necessary fuel. There is an entire variety of stoves, specially designed for camping out there but we recommend a small tank with the stove that comes on top. A small stove is easy to pack and it won't take a lot of your space. If you're not completely sure what type of stove you need, we have a great article with reviews on several types of camp stoves;
Thermos – as much as you want to keep the technology away, you will feel the lack of a thermos. You can keep coffee in there or any other hot liquid like tea or milk. In the morning you will need that hot coffee and the thermos will always be there for you;
 A big jug for water, with water. Make sure to take enough water from home. Consider all the activities that will require water like: washing hands and face, washing the food, drinking, cooking, and others. You may have the luck to find a water source nearby but in the eventuality you don't, you should have enough water. In case you find a water source, you can use the jug for transportation and storage.
A cooler will also be of great help (if you travel with your car). You can store meat, cheese and anything that needs cold temperatures to stay fresh. If it's hot outside, you can store your beverages there. Here you can read about the best camping cooler and compare prices and features.
Campfire grill – the grill is amazing for that whole camping experience we talked about.  There's nothing more delicious than a nice grilled sausage or a nice piece of meat, smoked by the fire.
Dutch oven – if you plan on cooking something that needs heat from all sides, this will be of great help. It's amazing for cooking beans, potatoes, vegetables, and more and gives food a special outdoorsy flavor. So if you can carry it, take it.
Plates, cups tableware – if you're not planning on eating with your hands, you are going to need these items too. Look for kits specially created for camping, made out of resistant plastic. These items are made to occupy as less space as possible and they don't break easily which is a huge advantage when camping.
Firestarters, charcoal, matches – if you're not planning to make the fire with woods you find at site, you will need these items. The campfire is the main character when you go out camping; you need it to keep you warm at night, to cook and to feel like you are actually in the wilderness.  That's why you need to make sure you have the necessary items to make the fire and you need to make sure they work. If you don't want to be caught on the wrong foot, take a look at our reviews on the best fire starter on the market.
Other items like paper towels, bowls, tongs, anything you consider necessary.
Now, that we established the basic items you will need for cooking when camping, let's talk about some of the best camping recipes that will make your experience really amazing.
Easy camping recipes to cook on the campfire
Camping recipes can go from very simple (grilled mushrooms for example) to very elaborate (pot roast). We're going to discuss a few easy camping recipes, for beginners and some not so easy but extra delicious for the ones who dare to try more.
Recipe #1 – Green bean casserole in aluminum foil
This is the kind of recipe that you do with whatever you have left in the fridge. So if you want to clean up your fridge when you go camping, put one of these on the menu. It's also more of a spring kind of food but you can do it in the summer too.
The main ingredients for this camping recipe:
Green beans – here you can choose from frozen, canned or fresh. If you have the possibility to get fresh green beans it' always the best choice;
New potatoes – about 3 or 4 regarding on the size and the quantity of green beans you are going to use;
mushroom soup;
salt, pepper and paprika;
some butter or anything else that can substitute it.
These are the basic ingredients but you can add some more vegetables like actual mushrooms, green pepper, onion, and others.
How to cook:
Take one foil of aluminum, big enough to form a pocket out of it;
Wash the vegetables (if you haven't already at home) and prepare the beans and potatoes for cooking;
Cut potatoes in medium sized cubes and also cut other vegetables you consider adding
Grease one side of the foil with butter or other type of grease to make sure the food won't stick to it;
Mix all the vegetables together and place them on the foil (make sure to remain enough space on the foil so you can make the pocket);
Put some mushroom soup and butter on top and add seasonings;
Fold and seal foil pocket but make sure to leave a little room for air to flow back and forth.
Put the resulted pack on the grill or directly on the hot charcoal. Add an extra layer of foil if you put it directly on the coals;
Wait for about 15 to 20 minutes and take it off the fire;
Carefully open the pocket (it's really hot and there's a lot of steam!) and enjoy a delicious meal.
The secret with this recipe is that the mushroom soup and butter melt together and cook the vegetables inside the foil, making them delicious and ready to eat. It's a healthy recipe as it doesn't require frying and it's absolutely delicious. You will have to make one pocket for each member of your party because in one foil of aluminum you can only fit enough beans and vegetables for one.
Recipe #2 – pot roast using a Dutch oven
As we said earlier, the Dutch oven is a miracle when it comes to cooking on the campfire.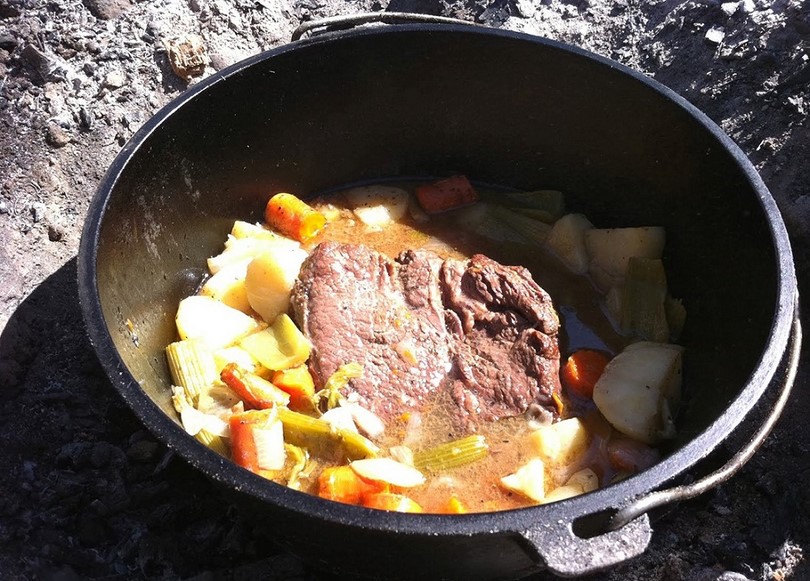 The pot roast is amazing cooked this way and you can include it on your list of best camping recipes ever. To cook this delicious dinner you'll need the following ingredients:
0.5 to 1 kg beef pot roast from the supermarket (if you don't plan on hunting some sort of a buffalo);
4 potatoes medium in size;
2 onions medium size;
1 big bunch of celery;
3 carrots (choose some large ones) or 4,5 small ones;
salt, pepper, garlic (you can use powder garlic or real garlic);
some oil;
water to cover the ingredients.
Now, that you have the ingredients and the fire is strong enough to heat the Dutch oven, it's time to start cooking. Wake up your lazy friends and put them to work: someone needs to wash the ingredients really well and someone needs to cut the meat and dice the vegetables. You don't need the vegetables to be super diced you're cooking in the woods after all.
How to cook:
First put some oil in the Dutch oven to make sure all the sides are covered and then put the pot on a nice bed of heated charcoal to have constant heating. The cooking will take a while so make sure you have another fire nearby to offer you a constant supply of hot charcoals.
Now that your pot is nicely warming up (3 to 5 minutes), take care of the meat. Season it with salt, pepper and garlic on all sides. When the Dutch oven is hot (the oil starts to sizzle) put the meat inside the pot and let it sear on all sides (about one or two minutes for each side). This action is necessary to seal all the juices inside the meat. When the searing is done (the meat is brown on all sides), toss in the vegetables a stir for a few minutes.
The final step is to add water – enough to cover everything up but not too much so you can still see the meat and vegetables.  After all these actions are done, cover the pot with the lid, and pile some hot charcoals on top. You can also heat some rocks in the fire (during all the cooking and stirring) and pile those on top of the Dutch oven too. Rocks release heat slowly, allowing the pot to take it over.
If you're really hungry, this is not the food to wait for. The cooking usually takes about 3 or 4 hours so start the pot roast after you finish eating lunch. Make sure that there are hot coals around and on top of the pot all the time. If you forget this aspect your food will be uncooked and honestly, not so tasty.
This recipe is for about 4 or 5 servings and it is best served hot so if you don't have that many people to feed you may want to reduce the ingredients. Be careful though, the final result is so tasty that you may end up with a few lifetime camping partners!
Recipe #3 – grilled chicken wings and legs
This is one of the best camping recipes because it's easy to cook and it's not heavy to eat. Also you can combine it with all sorts of side foods like salads, rice, beans, and so on.
The main ingredient on this amazing camping recipe is the chicken meat. Of course if you want to use chicken breast instead of wings and legs, you are free to do so. We chose wings and legs because they are less pretentious and they go very well on a campfire grill.
To make sure the meat is still fresh when you are ready to cook it, it is best to buy it frozen and stick in the cooler. This way you'll keep the cooler temperature low and your meat will slowly defrost, remaining fresh.
[the_ad_placement id="in-text-3-type-r"]
For this sort of grill you need a medium fire. The chicken meat is tender and gets burnt easily which is why you have to make sure the fire isn't too strong. When you reach the necessary temperature, put the grill over the heated charcoal and carefully place the wings and legs on top of it. Before this, you need to clean and wash the meat and then season it with salt, pepper and maybe some garlic. Also make small cuts in the meat to make sure the heat reaches the inside. A chicken leg that looks cooked on the outside but is raw on the inside won't be as delicious.
If you don't like the idea of placing the meat directly on the grill, you can use a foil of aluminum. The heat from the grill will disperse in the aluminum foil creating a plane, hot surface for the meat to cook on. Make sure to turn the meat on all sides and to keep the fire alive. The chicken doesn't need much time to cook, about 30 to 60 minutes according to the fire.
Meanwhile you can prepare the salad or heat up the canned beans. You can also add mustard, salsa, or other sauces to this amazing dish. The reason you should include it in your menu is that it is extremely versatile. With a little imagination you can transform this recipe in something you only eat in fancy restaurants.  It's easy to cook and very easy to eat!
We know you're already hungry after reading about these delicious camping recipes but you absolutely need to cook these on a campfire. Only there you get to capture the smoke flavor which gives campfire food a distinct taste. There are thousands of easy camping recipes and if you love cooking this should be a piece of cake.
As you can see, there are many advantages when you go camping: you get to eat healthy, you breathe fresh air, you forget about stress and you remove your nose out of computers, phones and tablets. You actually get to live like we should live: in harmony with the surrounding environment! Equipped with these easy camping recipes and lots of energy, who wouldn't want to go camping?
Some of the links in this post are affiliate links. This means that if you click on one of these links and make a purchase, I earn a small commission at no extra cost to you. Also, as an Amazon Affiliate, I earn from qualifying purchases. If the information in this post has been helpful, please consider purchasing through one of the links in this article. Thank you.