There's nothing quite like cooking a meal under the stars with your family and friends to keep you company! As you take in all that fresh air and the sounds of nature, you can enjoy the warm glow of the crackling fire along with your favorite beverage.
[the_ad_placement id="in-text-1-type-r"]
Apart from nutrition, it's also important to focus on simplicity when cooking outdoors. This is why so many campers look for easy campfire meals. This way, they don't need to spend hours slaving over a hot pot just to get a good meal. Just like anything in life, it's important to make sure that you are properly prepared. This means that you need to choose your recipes which will help you make a shopping list for food as well as cooking equipment and other supplies.
Benefits of cooking outdoors
Cooking outdoors is beneficial for everyone. When you are camping, preparing your meals over an open fire is the most realistic way of cooking. Wood is far more accessible than other forms of fuel, and you can set up your fire just about anywhere.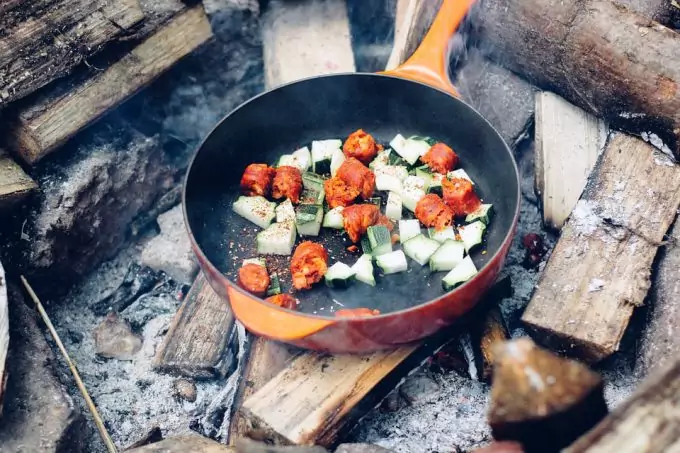 Another advantage for those traveling with campervans or motorhomes is that you won't need to be cooped up in your mobile kitchen just to cook a breakfast, lunch, or dinner. Why sweat it out in the kitchen when you can let the breeze blow that hot air away? Not to mention the fact that your campervan won't smell like food!
For many, the mere fact that they can enjoy nature while cooking is enough to persuade them to cook outdoors every time! Grilling your food is healthier than frying it and a grilled menu can be quite versatile when you open your mind to new possibilities. Last, but certainly not least, your campfire will cost far less than cooking with gas or electricity.
Possible risks or disadvantages
Any cooking environment presents its fair share of risk. Similarly, each cooking method also presents various disadvantages and dangers. When it comes to preparing meals over an open flame or hot coals, burns are the most obvious danger. Whether you burn a part of your body or an item of clothing catches on fire, it's always important to back away from the fire, make sure you are not on fire, and treat any burns immediately.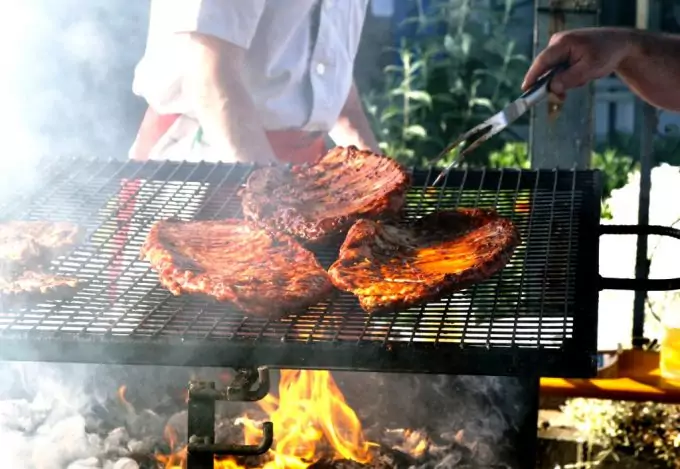 Another risk is that of the weather. High winds and rain can make outdoor cooking somewhat unpleasant. If you have a tarp that can be secured high off the ground, you can continue cooking even in the rain. Just make sure that it's not so low that it gets hot or burns!
Another possible danger is that of the fire getting out of control. This often happens when campers don't follow the proper fire safety guidelines or when excessive consumption of alcohol occurs and campers become reckless. You might find that grilled foods all have a similar taste because they are prepared in the same way. That said, if you use slightly different cooking methods and equipment, you can create some variety in terms of preparation.
Tools and equipment needed
The key is to make sure that you have everything you need without adding unnecessary clutter. Look for items that serve more than one purpose. The Billy Can, for example, can be used to boil water, make tea, heat canned soup, and even make stews.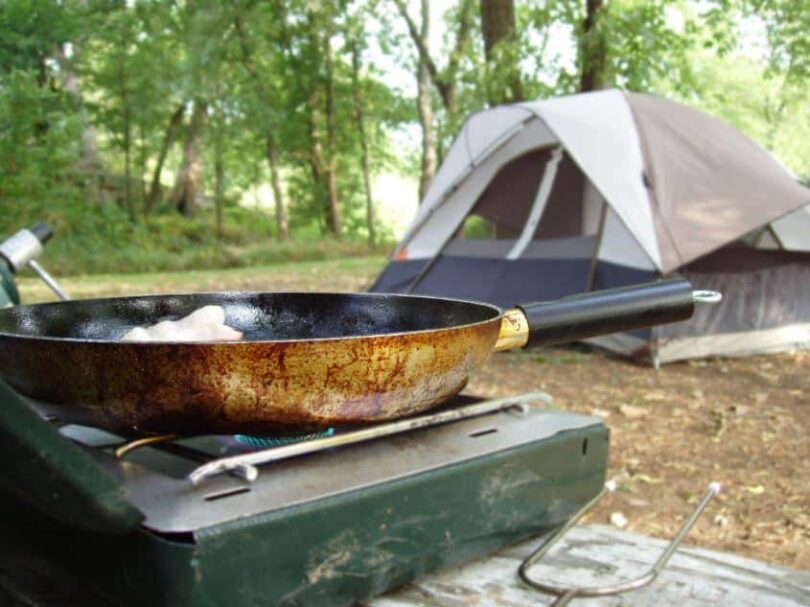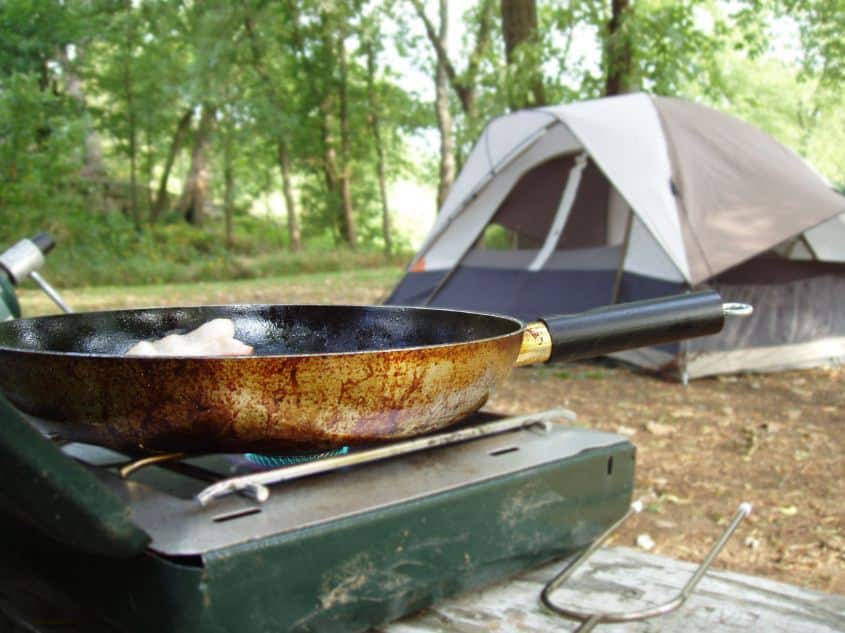 A cast iron pan and pot are both great to have but, remember, they can weigh quite a bit! The pot will need a lid for stewing, and these meals are much like those prepared in a slow cooker. Don't forget a tripod to support the pot on the fire. Use the pan for frying eggs and other breakfast foods! You will also need some tough, heat resistant gloves to handle these pots and pans. Welding gloves do quite well in this regard. See our article on the best camping cookware to give you more options.
A waffle iron is great for making all kinds of sandwiches. It's perfect for families with kids, and you can make delicious sandwiches to take along on your hikes! Don't forget the toasting forks! This is a great way of letting everyone prepare their own food. You should also include your basic BBQ tools like a grid in which you can place your meat and turn the grid without having to turn each piece of meat individually. This is particularly great for fish!
Fire safety
Never underestimate the importance of fire safety! It's not only important for you but also your loved ones. Speaking of which, keep any children far from the open flame. Sparks can fly, and they are most vulnerable.
Never use substances like petrol to light the fire. This is how some of the most unfortunate accidents happen! Use long matches for lighting the fire and avoid using regular lighters. You can use special BBQ lighters but always exercise caution and keep the lighter far from the flames. Prepare the fire area by placing bricks around the edge and pack sand around the bricks too.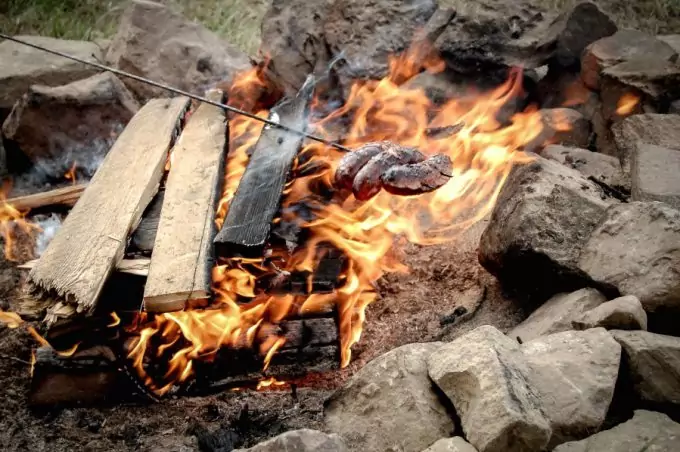 Don't build a large fire since this increases the risk. Instead, make a large fire area and use half for cooking and the other half to keep a fire going for a constant supply of fresh hot coals. Make sure that you put the fire out with sand or water before leaving the site or going to bed. Never leave the fire unattended! Always keep a burn kit handy just in case and make sure that you understand basic burn care. Help kids when roasting marshmallows or any other foods over the fire in order to prevent accidents. Check out our tips and guidelines on campfire safety for more information.
Easy outdoor cooking recipes
Cooking over the campfire is more versatile than many people may realize. By simply using the right techniques and ingredients, you can enjoy new and exciting meals every day!
[the_ad_placement id="in-text-2-type-r"]
Here are some of the easiest recipes and, remember, the ingredients can often be altered according to your personal preferences!
Easy foil meal
Ingredients:
1 pound skinless, boneless chicken breast (cubed)
2 onions (diced)
8 ounces fresh mushrooms (sliced)
1 yellow bell pepper (seeded and sliced)
1 red bell pepper (seeded and sliced)
4 cloves garlic (sliced)
4 small potatoes (cubed – there's no need to peel them if you simply ensure that the skins are washed thoroughly)
¼ cup olive oil
Juice of 1 lemon
Instructions:
Allow a total of 1 hour and 10 minutes for this meal.
Use a large bowl to combine the chicken, mushrooms, onion, peppers, garlic, and the potatoes.
Pour the lemon juice and olive oil over the ingredients and make sure that you mix it all up so that all the ingredients are well coated.
Divide the mixture evenly into 4 portions.
Place each portion on a generous piece of aluminum foil and top each food pack with another piece of foil (to act as a lid). Roll the edges of the two pieces of foil together to ensure that each package is properly sealed.
Wrap each package in another layer of foil. This ensures that the contents won't spill out if the foil gets a bit damaged.
Cook the packages in the hot coals for approximately 40 minutes or until the potatoes and chicken are cooked all the way through.
Grilled cheese
This is a quick and easy meal perfect for packed lunches or even for breakfast!
You can prepare a few of these delicious sandwiches in under 10 minutes.
Ingredients:
2 tbsp. butter
2 slices bread
1 egg
Cheddar cheese
Instructions:
Place your toaster in the hot coals so that it has time to preheat.
In the meantime, prepare your sandwiches. If you are camping with several people, you may prefer using a larger flat top or two toasters so that the cooking process is speedier.
Prepare your sandwiches just as you would any other toasted sandwich. With just one exception – butter the outsides of the bread! This helps give the sandwiches extra flavor, it gets a great golden color, and it prevents sticking.
Place the sandwich in the toaster or on your flat top and cook until ready. If you use the flat top, you will need to flip the sandwiches. If you use the toaster, you will need to turn the toaster over occasionally to ensure proper heat dispersal and even cooking.
Feel free to add whatever you like to your toasted sandwiches! You can even use leftover BBQ meat, chicken and mayo, egg and bacon, or you can even add some tomato and onion to your grilled cheese!
Grilled sausage with green beans and potatoes
Allocate about 45 minutes to prepare and cook this delicious and nutritious meal.
Ingredients:
¾ pound fresh green beans (cut in half)
½ pound red potatoes (cut into quarters)
1 large onion (sliced)
1 pound smoked sausage (cut into pieces about 1 inch in length)
1 tsp salt
1 tsp black pepper
1 tsp vegetable oil
1 tsp butter
1/3 cup water
Instructions:
Get your fire ready and place the grill on top to heat it up.
Place all of your food items on a piece of foil and season with salt and pepper. Top it off with some butter and oil before you seal the foil and leave just a small opening at the top.
Pour the water in the opening and then seal the foil completely.
Place the foil package on the grill and allow it to cook for about 20 to 30 minutes. The sausage should be browned and the vegetables cooked through.
Scalloped potatoes
This meal will take about 45 minutes to prepare from start to finish.
Ingredients:
8 large potatoes (peeled and diced)
1 bunch green onions (sliced)
10 ounces condensed cream of mushroom soup
1 cup cheddar cheese (shredded)
Black pepper and garlic salt to taste
½ cup bacon (cooked crisp and crumbled) – optional
½ cup sautéed mushrooms – optional
½ cup butter
Instructions:
Get your fire ready and place your grill on top.
You will need 8 pieces of aluminum foil, and each one should be greased with vegetable cooking spray.
In a bowl, combine the potatoes, green onion, cheese, soup and the bacon and mushrooms if you plan on including them.
Season with salt and pepper and then divide the mixture up into 8 portions. Add butter on top and fold the foil shut.
Cook the packages on the grill for about 15 – 20 minutes. You will know it's ready when the potatoes are fully cooked.
Peach Cobbler
Satisfy your sweet tooth with this delicious dessert.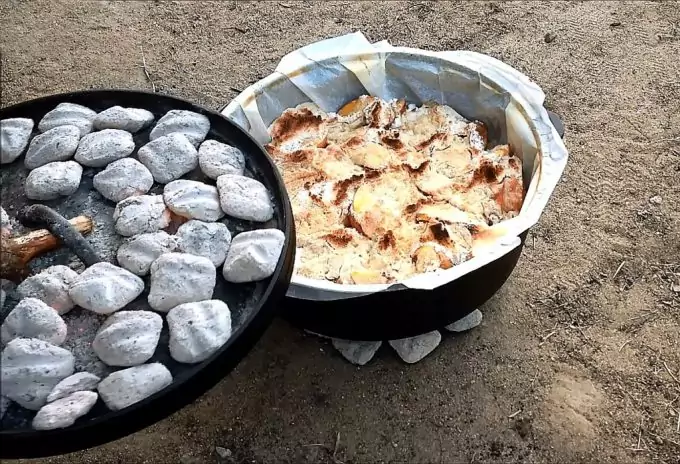 It takes just over 30 minutes to prepare and cook.
Ingredients:
1 can of sliced peaches (29 ounces)
2 tsp ground cinnamon – optional
¼ cup white sugar
1 package yellow cake mix (9 ounces)
4 tsp margarine
Instructions:
Remove half of the juice from the canned peaches and pour the remaining half and the peaches into a saucepan. Sprinkle cinnamon and sugar over the peaches and then add the cake mix. Put the margarine in the center of the dish on top of the cake mix.
Put a lid on top of the pan and cook on the hot grill or use your flattop as a stove. You will need to make sure that the temperature is medium to low and allow it to cook for about 10 minutes without lifting the lid.
Remove the pot from the fire and leave the lid on. Let it stand for another 15 minutes before you remove the lid and serve.
Good old-fashioned BBQ
Barbecues are all about personal preference. You get to choose everything from the type of meat, the seasoning, and how well it's all cooked. Classic seasoning consists of three simple ingredients – salt, black pepper, and red pepper. You can also take some marinade packages along for easy use.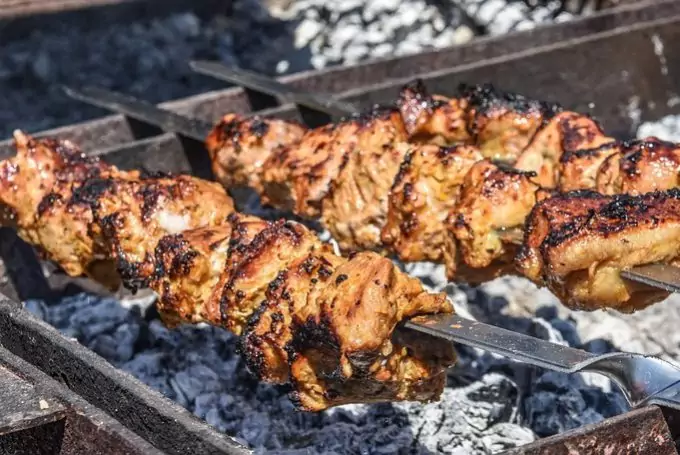 All you need to do is prepare the marinade according to the instructions and let your meat soak it up! You can grill your meat over the hot coals, or you can use BBQ forks for cooking things like sausages. Don't forget about all the important extras like garlic bread and salads of your choice.
Garlic bread
Ingredients:
French loaves (as many as you like)
Butter (softened)
Garlic (crushed)
Cheese (optional)
Instructions:
Make cuts in your bread but do NOT cut all the way through. You want to make each cut about 2 fingers from the next.
Mix your butter and garlic (for every 7 ounces of butter, you will need to add approximately 1 Tbsp of crushed garlic.
Add a small amount of garlic butter between the slices.
Add a small amount of cheese between the slices if you like.
Rub the remaining garlic butter over the exterior of the bread and wrap in aluminum foil.
Grill as you would your BBQ meat but make sure that the coals aren't too hot. Turn and check regularly to ensure that the bread is properly toasted and the cheese is melted.
Easy potato salad
Ingredients:
Approximately 2 ½ pounds potatoes (peeled and cubed)
5 eggs
1 large onion (chopped)
Mayonnaise
Parsley or chives for garnish finely chopped (optional)
Instructions:
Place your peeled and chopped potatoes in a pot of water with some salt and allow to boil over the fire. Keep a lid on the pot to speed up the process.
At the same time, boil your eggs in a separate pot of water for 10 minutes.
When the potatoes are cooked, drain the water and let them cool down for a few minutes.
Peel the hard boiled eggs and remove the yolks from the egg whites.
Put the cooked potatoes and chopped onion together in a bowl and cut the egg whites into chunks before adding it to the bowl.
Add the mayonnaise and stir gently so that you don't mash the potatoes.
Crumble the egg yolks with a fork.
Sprinkle the crumbled egg yolks over the top of the salad and top with chopped parsley or chives.
Stews
This recipe is versatile, and you can use chicken, beef, or even pork if you like.
Ingredients:
Meat of your choice cut into small cubes (about 2 ½ pounds)
Salt and black pepper
2 Tbsp butter
2 medium onions (each cut into 6ths)
5 garlic cloves (crushed)
1 Tbsp tomato paste
1/3 cup all-purpose flour
10 cups water or stock
Parsley
Thyme
2 bay leaves
1 ¼ pounds medium potatoes (quartered)
4 medium carrots (cut into 2-inch chunks)
2 celery stalks (cut into 2-inch chunks)
7 tomatoes (canned, peeled, and slightly crushed to help them blend well with the stew)
2 – 3 tsp red wine vinegar
Instructions:
This recipe will take 3 hours or more to prepare. Make sure that you get your fire started and, once your coals are ready, light another fire on the side so that you always have a fresh supply of hot coals to keep your meal cooking!
Season the meat with salt and pepper.
Heat some oil in your pot on the fire.
Saute the meat in the oil until browned.
Drain off any excess oil and set the meat aside.
Melt the butter in the pot and add the onion. Cook until browned.
Add the garlic and cook for about 1 minute while stirring.
Add the tomato paste and stir well.
Add the meat and scatter the flour on top before mixing well.
Add the water or stock and allow to simmer
Tie the thyme, parsley, and bay leaves together in a bundle using twine and place this in the pot much like you would a teabag.
Add salt to taste and cover to cook. This takes about 90 minutes.
Skim the fat of the top and add the rest of your vegetables.
Cook uncovered and stir occasionally until the sauce thickens and all the vegetables are cooked (about 1 hour).
Remove the bundle of herbs.
Stir in the vinegar and add more salt and pepper to taste.
Serve and enjoy!
For more information on campfire recipes, see our earlier article on this topic.
Safe food preparation guidelines
In order to ensure that the food you are preparing is safe, you need to follow some basic, yet vital, hygiene guidelines. Firstly, always make sure that you wash your hands and clean under your nails before cooking. You are spending time outdoors so you never know what you might come into contact with during the day or night.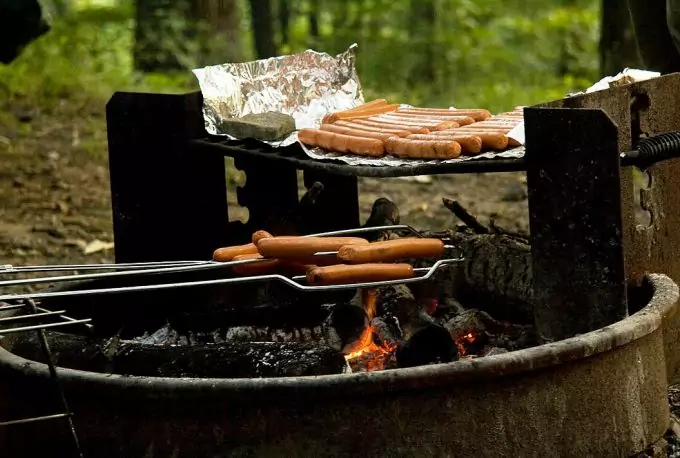 Check all of your food before you cook it. Smell the meat, inspect fresh produce, and check the expiration date on and cans or packages. Well-cooked meat is always safest – especially for kids. The same goes for eggs. If you drop any food on the floor, toss it in the trash. Never attempt to wash the food and put it back on the grill! There's not "5-second rule" when your outdoors!
Creative flavors
When cooking outdoors, you should take the opportunity to make yourself at home in the company of nature! Just as you would experiment and enhance your meals at home, you can do the very same with campfire cooking. Simple seasoning of your meat with some salt, black pepper, and red pepper or paprika will do the trick. You can also add other flavors by including various herbs and spices. A don't forget about desserts! Our friends from Backpacking Mastery did a great job on their campfire dessert recipes article, it's worth to check it out!
[the_ad_placement id="in-text-3-type-r"]
Add them dried or fresh – depending on availability and preference. Just a bit of spice can completely transform your meals! It's also important to remember that recipes are not set in stone. They are open to interpretation and can be adjusted by substituting, adding, or eliminating various ingredients according to your preferences.  See more tips and guidelines on how to transform simple campfire recipes into outstanding ones.
Some of the links in this post are affiliate links. This means that if you click on one of these links and make a purchase, I earn a small commission at no extra cost to you. Also, as an Amazon Affiliate, I earn from qualifying purchases. If the information in this post has been helpful, please consider purchasing through one of the links in this article. Thank you.