When was the last time that you went camping with your family? While you were out there in the woods or even in a campground, what did you choose to eat? If you're like a lot of families you probably brought burgers, steaks or hot dogs to cook on a grill and maybe some potato chips to eat with it right? But those are definitely not the best camping food you can find.
[the_ad_placement id="in-text-1-type-r"]
There's plenty better where those came from, but you don't want to spend a lot of time on a fancy meal that really isn't that easy to cook over a fire pit right? Well you don't have to worry about that.
Cooking tools for camping
The most important thing when you're getting ready to cook food on a camping trip is making sure that you have the right tools. You're not going to get very far if you don't have at least a few basics but you'll get even further if you want to spend a little bit more on higher quality and more unique items.
It's all up to you and just how much your family likes to camp. The more often you go the more tools you're going to want because even the best meals will get boring after a while. Do read on our reviews of the best camping gear to make your trip pleasurable.
Aluminum foil
This is going to be one of your best friends camping outside. There are a great many things you can wrap in it and cook right on the grill or even right in the open fire. Because of the way it traps the heat in you'll get a great amount of flavor and you'll have a very small amount of work to go along with it.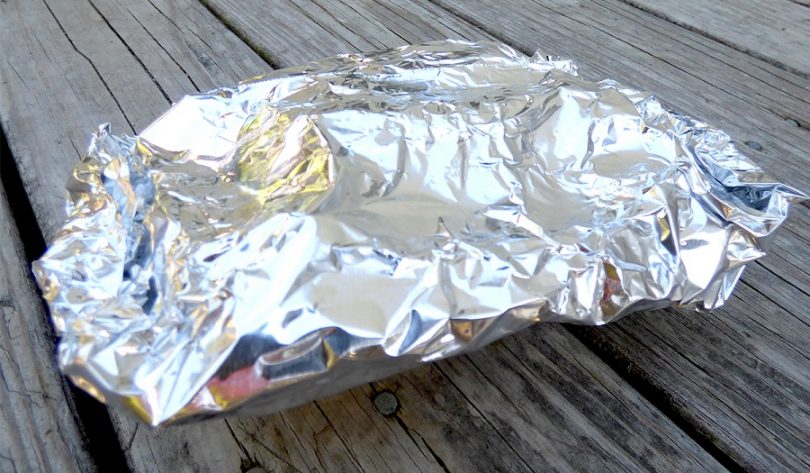 All you need to do is cut up your food, wrap it in a piece and stick it near some heat and then it's just wait until it's ready to have a bite.
Roasting sticks
Though these are primarily used for marshmallows (and what camping trip would be complete without s'mores?) they can also be used for plenty of other things, like hot dogs, for example.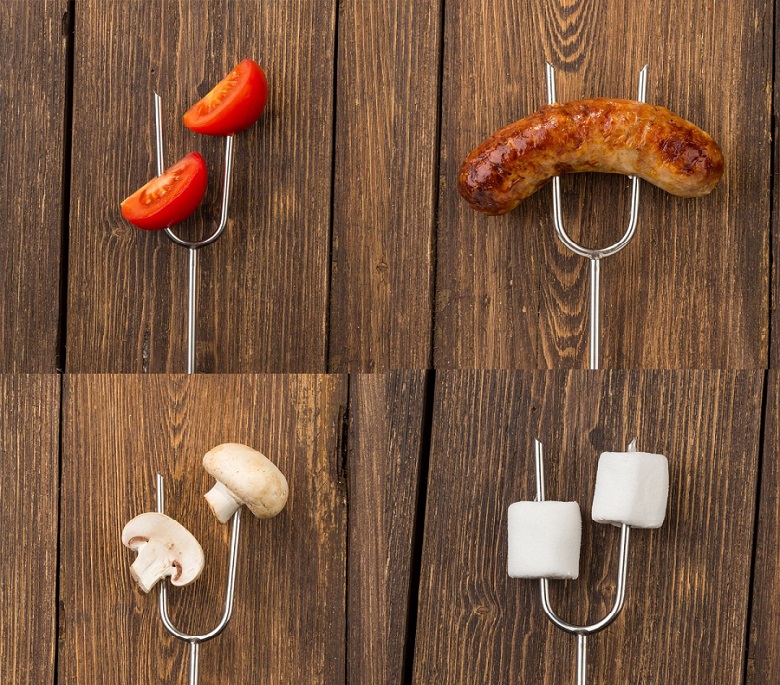 These sticks are easy to clean because you just stick the prongs in the fire to burn off anything that shouldn't be there and they're easy to use because all you need to do is stab whatever you're cooking on the end and stick it over the open fire.
Pots and pans
You don't need a lot of pots and pans in your camping gear but a few are definitely going to help.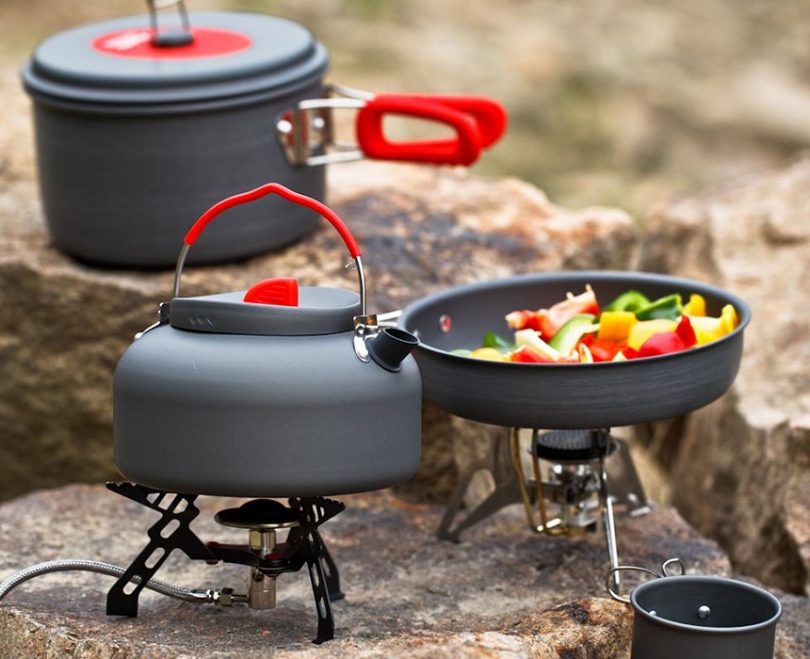 For the most part, one large pot and one cast iron skillet or pan will do just about anything you're going to need while you're camping, but make sure you take into consideration what you're going to be making before you head out there. You don't want to forget anything. See our reviews of the best camping cookware to give you more options.
Cooking rack
Just about anything you're going to make will require you to have some way of putting that pan over the fire. A cooking rack will set up over top of the fire so you can set your pots or pans on it. Some will sit directly in the fire and others are taller to sit over the fire or even hang a pan from.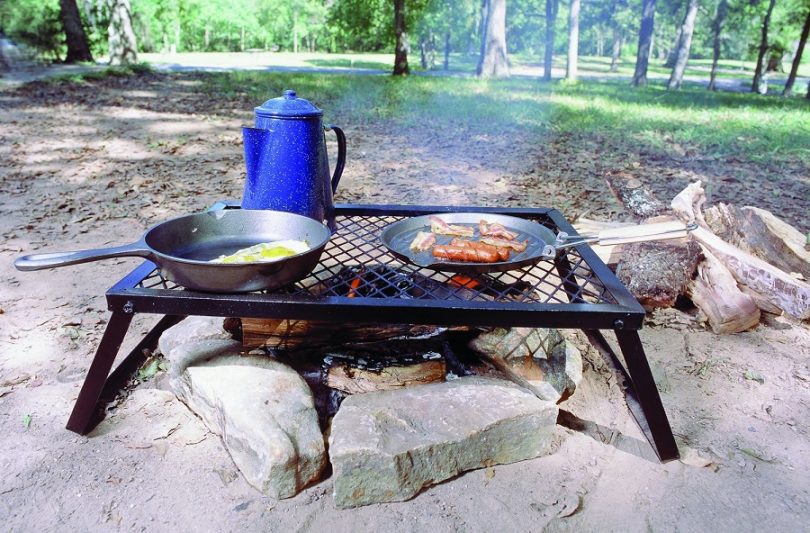 Whichever type you choose make sure it's good for the pans you're bringing with you and make sure it's designed for this purpose. Racks that aren't made for campfire cooking could burn or melt when put in the fire.
Tips to make cooking easier
Cooking while you're out in the woods or otherwise away from home isn't always easy and that means you want to do whatever you can to make the process easier when you get there. Check our our tips on easy camping meals with less preparations to guide you.
Some of that means doing certain things while you're cooking but some of it is actually going to start before you get to the campsite, when you're preparing for what you're going to do next at home and that means a little thought and preparation. In all, there are many ways to improve your cooking process, but you need to think about them before you go.
Take pre-made snacks
Now that doesn't necessarily mean potato chips and granola bars. What it means is taking a little bit of time to cook up or mix up some of your snacks before you head out for your camping trip. They'll taste a  lot better than anything you can buy in the store and they're also going to be a lot healthier for you.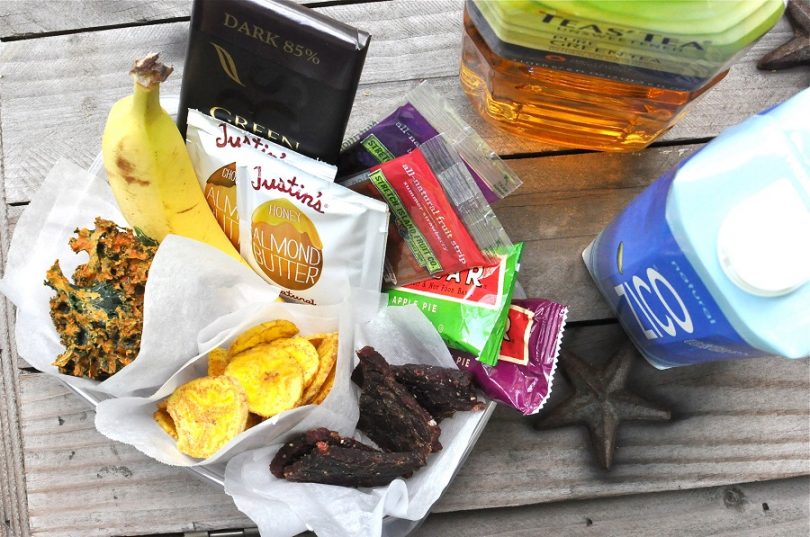 Not to mention you'll be able to make them a lot easier if you do it before you head out than trying to do it over a stove. If you're making them at home they could be easy, but making them at a campsite could be nearly impossible.
Prep your ingredients
If you're going to need to cut up veggies or clean your meat you want to do as much of that as possible before you leave.
The more rustic your camping trip is the harder it's going to be to do those things when you get there and even though it would take only a few minutes to accomplish in your own home, you might find it takes hours to accomplish when you're out in the middle of the woods or you're struggling without the table and cutting board you're used to having. Prepping first will save you a whole lot of hassle.
Keep it simple
Remember, you're cooking over a campfire. That means you need to keep your menu simple. Even though you might make 5 star meals for your family at home every day that doesn't mean you can do the same thing when you're cooking over a campfire or on a grill.
Make sure you're paying attention to the tools you're going to have available to you and plan your menu accordingly. You don't want to have something great planned and realize when you get there that it can't be cooked over the fire.
Your camping menu
Breakfast meals
Breakfast is a questionable meal because there are so many different things you can choose to make. Many families like to eat simply for breakfast and either have donuts or other pastries or cereal or even oatmeal, all of which are just as easy to eat (or make) when you're up camping as they are anywhere else.
But if you're looking for something a little healthier or you're thinking you want to make a more filling breakfast for the family there are plenty of options for that over the stove as well, and they aren't going to be difficult to make either.
Biscuits and gravy
This is definitely an easy breakfast to make because you can use premade biscuits that you bring along with you already cooked. If you prefer, you can use biscuit dough that you drop into the frying pan over your fire.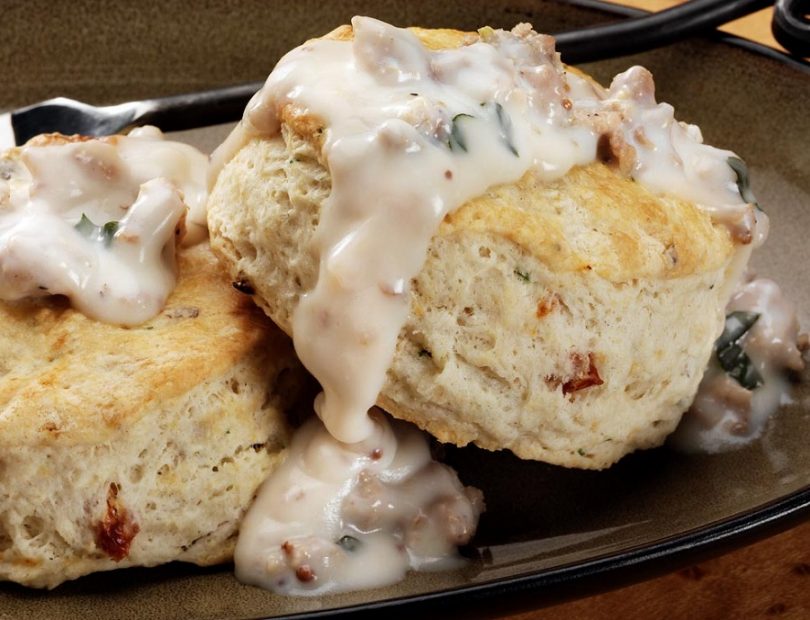 The biscuits will only take a few minutes to cook and then all you need to do is heat up the gravy you're going to serve over top of them. In less than half an hour you can be eating your home-style meal.
Omelets
This is another easy to make meal because you can prep it before you head out on your camping trip.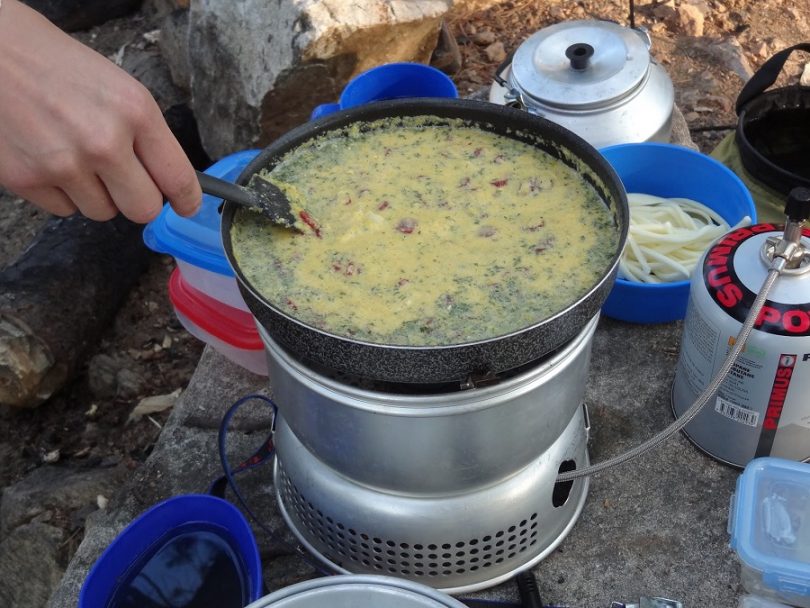 All you need to do is take a baggie and fill it with the ingredients you want in your omelet. You can cut up peppers and onions, spinach and mushrooms or anything else you want then you dump them in the bag along with a couple of eggs.
[the_ad_placement id="in-text-2-type-r"]
If you have a skillet you can dump the bag out into it and cook your omelets that way or you can keep them in the bag over the fire. Either way they're going to turn out great.
Breakfast sandwiches
These may not even need to be cooked depending on what you want to put on them because you can easily use pre-made biscuits, cheese and even sliced ham or other meats. If you want you can cook some bacon or sausage patties to put on the sandwiches or you can even heat the entire thing up in a pan.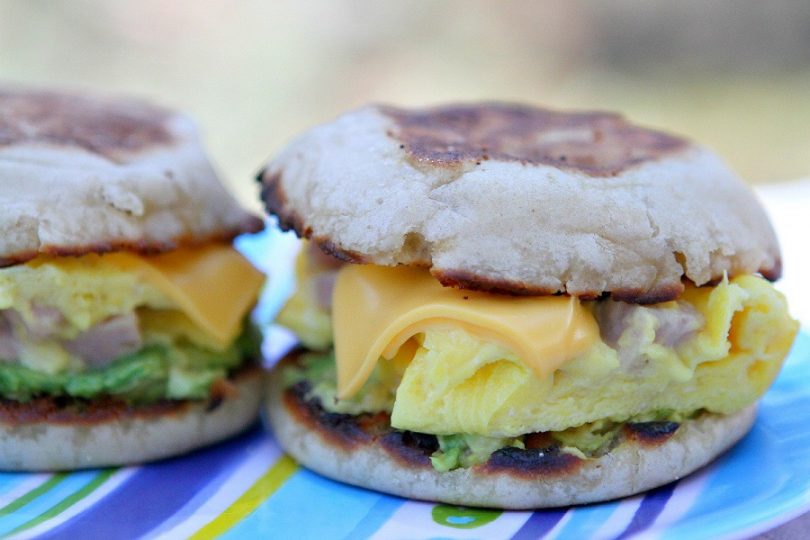 These are definitely going to be made to order and they'll be easy to heat and eat whenever your family is ready for breakfast.
Egg scramble
Here you'll need a frying pan and some veggies all chopped up and waiting but it's similar to what you do for your omelet. Just throw everything in a pan together and mix it all up. You'll end up with scrambled eggs with plenty of other great tasting veggies mixed in the middle. That's definitely going to make for a whole lot of flavor and some fun.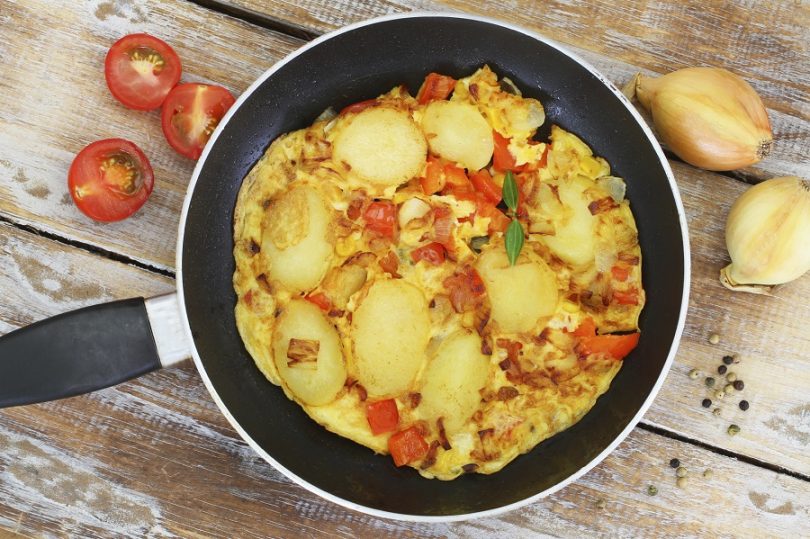 What's even better is that your younger ones can even help with this one because it's easy and still makes them feel like they're a part of the process.
Breakfast burritos
Finally, you can make these ahead of time at home if you want by cooking and cutting up all of your ingredients and rolling them in a tortilla or you can make them up while you're camping. You'll also be able to eat them cold or you can wrap them up in aluminum foil and throw them directly into the fire to heat.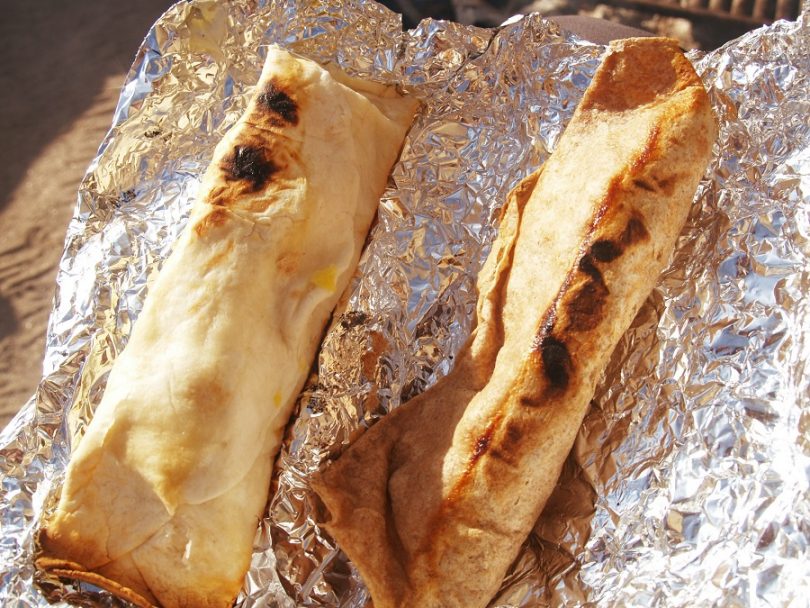 It's a really easy breakfast that's also easy to heat up when you're hungry. Plus if you're still hungry you can throw another one in and it won't take long to get the rest of your breakfast to the right temperature.
Lunch meals
Lunch is probably the easiest meal to make because a lot of people actually eat pretty simple lunches. For the most part, they can even be cold, especially if you're going camping in the middle of the summer. A nice cold sandwich or even salad can taste really good at this point in the day.
But of course, if you're in the mood for something a little nicer or you really want to spend some time cooking, there are plenty of options for you and your family.
Quesadillas
These are great because you just need your diced up veggies and ingredients and tortillas in order to get a great flavor. Just lay one tortilla down in the pan, add your ingredients, throw the other tortilla on top and cook until done. It's that easy and then you can flip out the quesadilla and start on one for the next person in your family.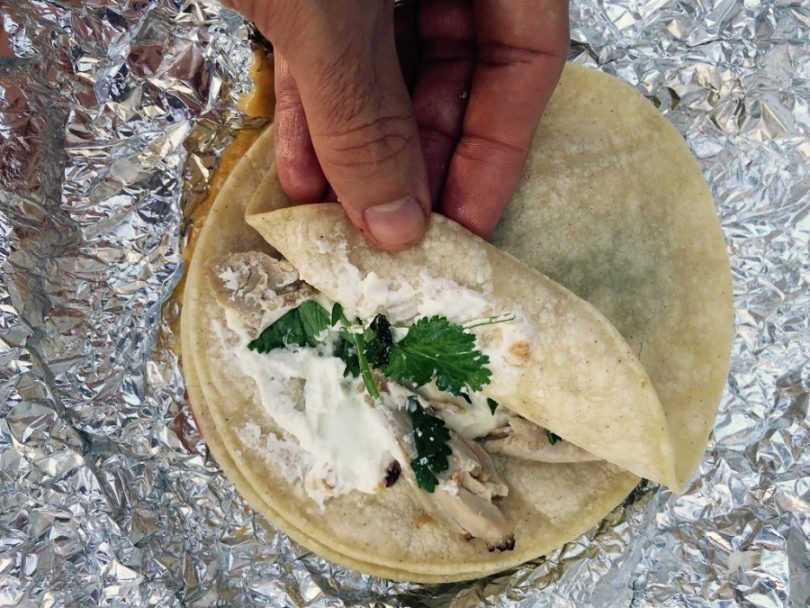 Because the ingredients are generally precooked, it only takes a few minutes to sear off your tortillas and melt the cheese (as well as heating up any of your other ingredients inside the quesadilla).
Nachos
These are a little better if you cook them upside down in your pan. Rather than putting the chips in first, put all of your meat and other ingredients in the bottom of the pan to cook up and mix together. You'll get a lot of flavor that way, then you can add in your cheese to melt.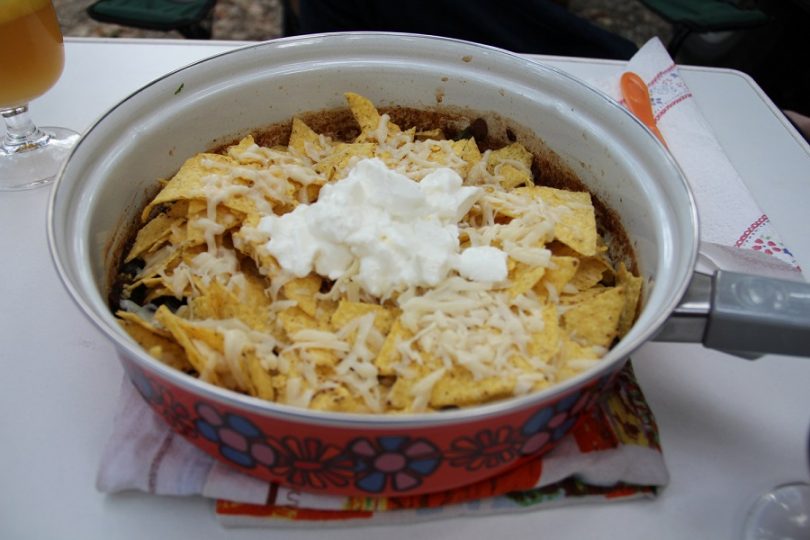 Finally, put the chips on top to heat them up and you'll be ready to eat. If you like, you can flip the whole mix onto a plate and they'll be ready to eat (with the chips on the bottom) or just eat it right out of the pan.
Hot dogs
This is probably what you think of first when you think of going camping and that's because hot dogs are so easy to make and so agreeable for younger children. You just put the hot dog on a grill or stick it on your marshmallow roasting sticks and hold it over the fire.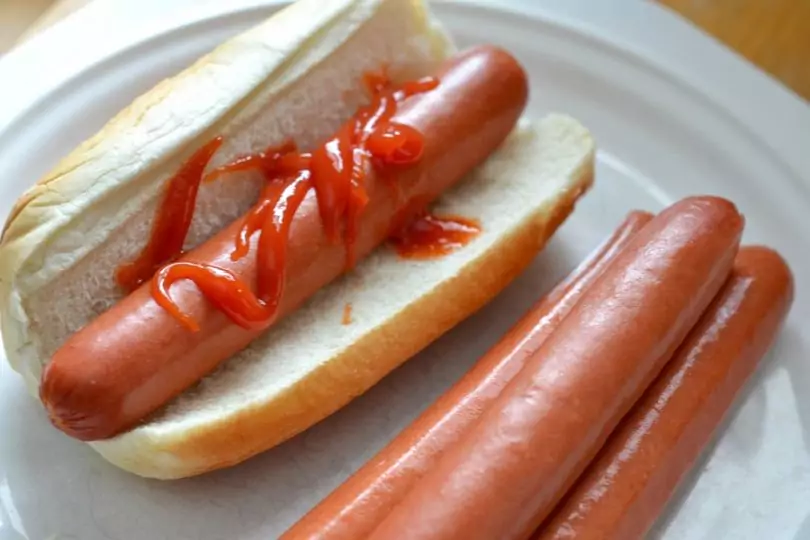 Then everyone can cook theirs to their own degree of doneness and you'll definitely feel good about making your own meal. Your kids will love this idea too since they're going to be responsible for cooking their own hot dogs (though they may need a little help).
Tacos
These cook pretty much the same way as your quesadilla except you cook the tortilla separately from the ingredients and then fold them all together. Mix whatever you like into your pan whether it's ground beef, chicken, veggies or anything else and then cook your tortilla to get it nice and warm.
Then you'll be able to fill them up and start eating while they're still hot. It's definitely better than having a cold taco and it's going to be filled with all the ingredients that you like best as well.
Burgers
This is another common food for camping and it's just as easy to make. You can either put a frying pan over your fire and make up the burgers that way or you can put them on a grill. Either way they're going to have a lot of flavor and your family is really going to like them.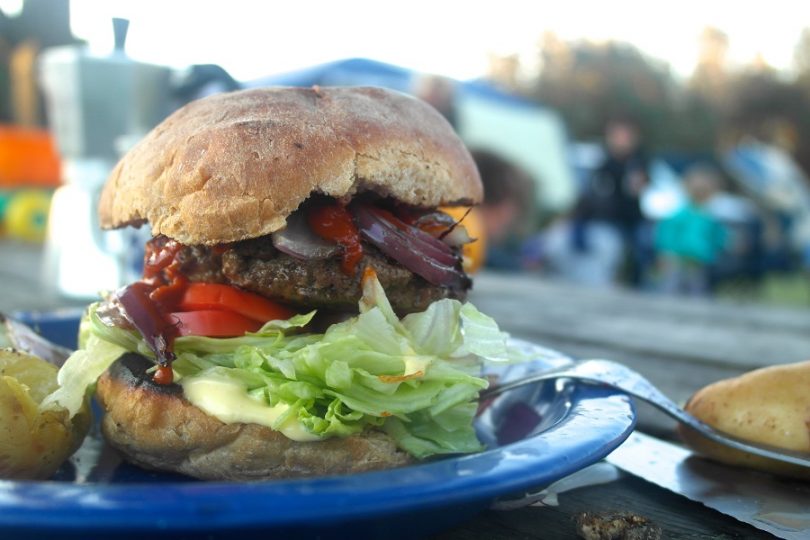 Just make sure you have some good sides to go along with these burgers, whether it's corn or potatoes and don't just settle for something simple like potato chips. Going out camping should be about having something really good to eat after all.
Dinner meals
This is where most people are willing to splurge a little and want to make something really good. For many, when they're not camping, it's the only meal that the entire family eats together and that means it's the one meal that they spend the most time making.
So if you want a well-rounded (or at least reasonably so) meal that you'll be able to enjoy with everyone you need something to be cooked over the stove (or maybe on a grill). Just what could you be making your family for dinner? You may be surprised by the choices.
Soup or chili
All you need is a pot and your ingredients all cut up for this one. Throw everything together in a pot and you're ready to go. Just heat it up and serve (unless there's meat that needs to be cooked of course). If you make up the soup at home first it's even easier because you literally just throw it in a pot until it's warmed up and your entire family can enjoy.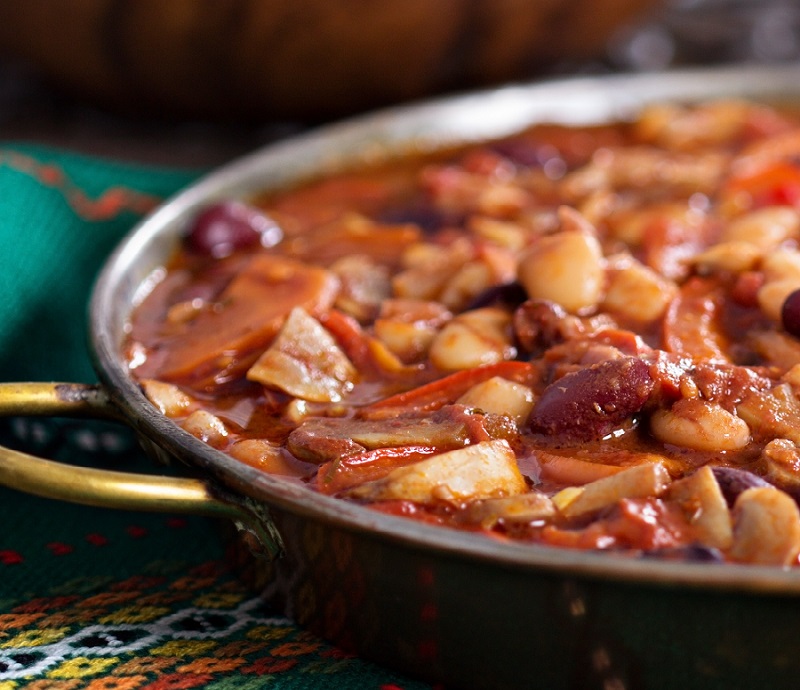 The great thing about soup too is you can leave it on the fire for a longer period of time as long as you keep stirring it and you'll be ready to eat it all day long.
Grilled cheese
If you have the sandwich makers you're definitely going to have no problem with this one. All you need to do is put your bread and cheese in the sandwich maker and hold it over the fire like you do with your hot dogs. Your kids are going to love it because this is something they can do themselves (though getting it out definitely requires an adult).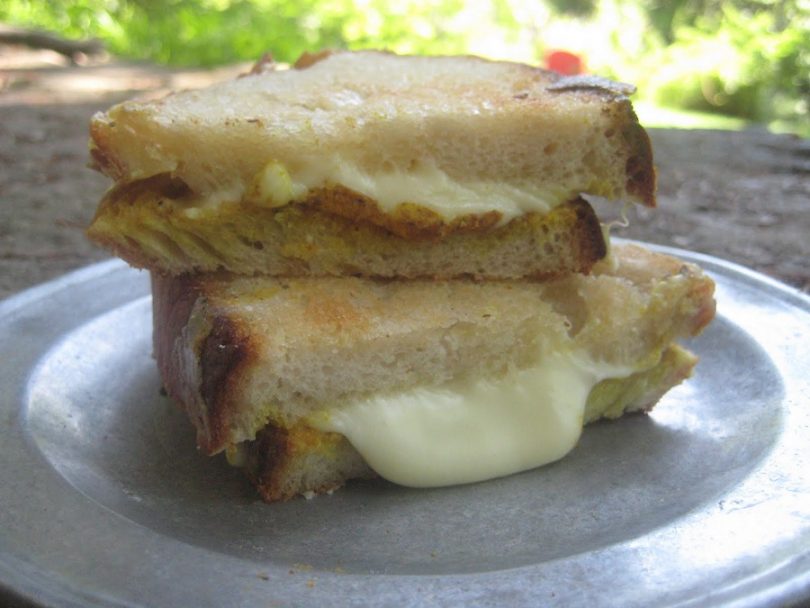 Plus these are great to make if someone is hungry before it's actually time to eat a meal because they only take a couple minutes.
Baked fish
Who doesn't love fish? And when you're camping it's extremely easy to make because all you have to do is season it and wrap it in aluminum foil. Then stick it in the fire and you'll be ready to enjoy a really flavorful piece of fish in practically no time at all.
See also: Vegetarian Camping Recipes: The Collection to Include in Your Camping Kit
You'll actually be surprised how good it tastes and you might consider making your fish this way all the time!
You can also throw some veggies in there with the fish to make it even more flavorful and to have a great side dish along with it.
Mac & cheese
This one is just a little more complicated than others but it's not really any more complicated than what you would make at home. You need a pot to mix everything up in and then you cook your noodles and mix in your cheese.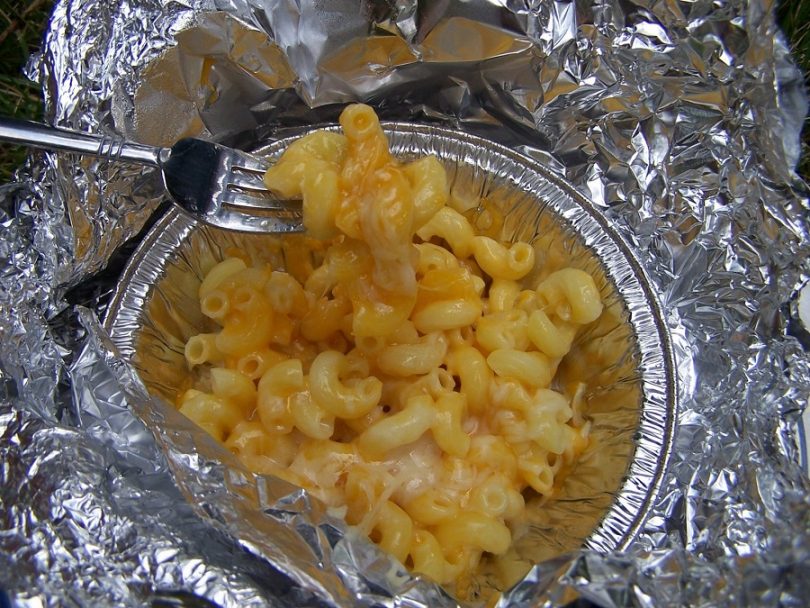 You can choose to make a boxed style macaroni and cheese or you can make your own with noodles and shredded cheese instead. Either way it's going to taste just as good cooked over the fire as it would cooked on your oven at home so if you have picky eaters this just might be the perfect way for you to go.
Grilled Steaks
Another traditional camping food, steaks on your grill are going to taste just great. Plus you can throw some corn in the fire to make it taste even better. There's no reason not to try it out and with steaks on the grill you can get them to just the right temperature.
If you prefer you can put them on your fire and you'll get a slightly different flavor that's definitely going to be no less delicious. Steaks of all types will cook quickly and easily this way and you'll definitely be surprised with just how good it's going to go over with the rest of the family.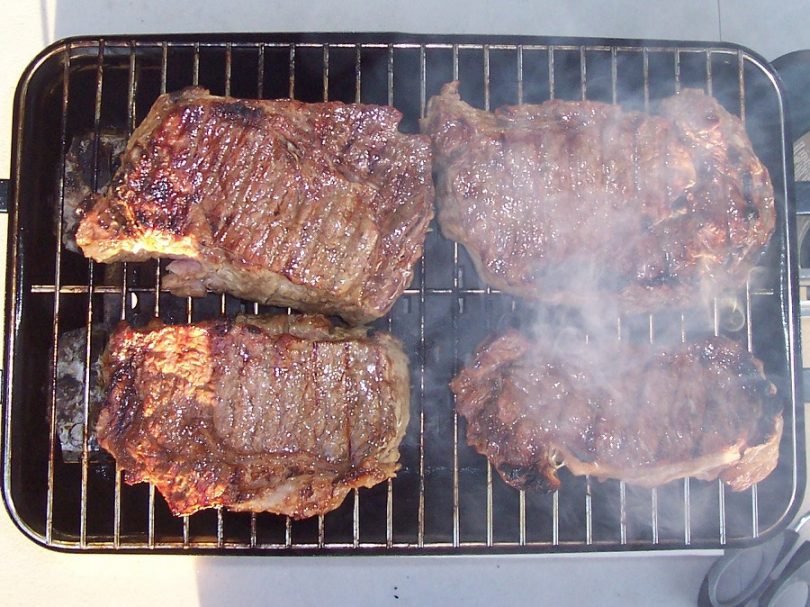 No matter what you decide to make, you can definitely do it quickly and with at least as much flavor as the meals that you make when you're at home. Make sure you're not skimping on the seasonings and that you're still going with the meals that your family really enjoys.
You may be surprised just how much there really is for all of you to eat, even if you have some really picky eaters. That's because there's a great deal of different things that you can eat from a campfire or from a grill.
[the_ad_placement id="in-text-3-type-r"]
Make sure you're being adventurous and trying something new. Many people think they can only have burgers and hot dogs while they're camping, but the truth is you can have anything. If you're really feeling like trying something different or putting a lot of work into it you can even find some gourmet recipes for the best camping food ever and that's really going to put a smile on your face and make you want to go camping again and again. Or at least several times throughout the rest of the summer. So make sure you're not missing out.
Some of the links in this post are affiliate links. This means that if you click on one of these links and make a purchase, I earn a small commission at no extra cost to you. Also, as an Amazon Affiliate, I earn from qualifying purchases. If the information in this post has been helpful, please consider purchasing through one of the links in this article. Thank you.