The home is a sacred place to anyone and anybody with true concern to their safety will find ways to protect their loved ones from the negative elements of our society. It is not enough anymore that you double the number of locks and install high security fences to keep them out. These days, you need to have a good and dependable home security system to help you sleep better at night.
[the_ad_placement id="in-text-1-type-a"]
But before sauntering off to the nearest hardware or electronics store, here are some important things to learn and consider before making that all important purchase. Reviews from across the web have narrowed down the top factors basing on user experience and brand reputation.
Factors to consider
Performance – the most important factor of all, performance. Knowing how well a model has performed in the past is a good indication of how well it will perform in the future. A good home security system should be able to meet your minimum protection requirements without compromising the other factors in this list.
Reputation – admittedly, not all famous home security brands deliver the highest quality, the best systems are those whose reputation go beyond glossy manuals and paid reviews. Even in this day and age, reputation gained through user experience is still the best way to tell how a product does.
Quality – a home security system of high quality should be able to protect you every hour of every day without fail for a long period of time.
Warranty – warranty is more of an optional factor but most manufacturers do offer it and it does give you some sort of peace of mind knowing you can reach out to experts if you're security system bogs down for some reason.
Relocation options – you are never sure if you're going to stay in one place for a long period of time or not and since home security systems do cost some money, it will be better if the one you have the option to move it with you.
Automation – this is a newly added feature for home security systems and having it automated means that it can give you control to switch it off and on even if you're not at home. An automated system also alerts the authorities as soon as it detects abnormal activity.
Products available in the market
There are a multitude of options available in the market right now and below are some details and observations about them.
Oplink Connected OPG2201 TripleShield home security system
Product detail: The Oplink Tripleshield offers the standard wireless system with the ability to monitor the entire system through your mobile phone via live streaming. The standard package comes with one processing unit, two IP camera, two sensors for doors and windows, one motion sensor, a pair of remote controls and a siren.
Oplink offers a free service to customers that includes the basic package and a premium service for an additional $20 that provides the ability to view 30-second recordings that users can view using the mobile app.
Pros: Overall user experience highlighted the system being easy to install without a need for a deep technical background. The whole system comes preprogrammed and automatically connects to any available wifi system that you may have. The free service also includes the ability for two people to connect to the system and review the surveillance feed.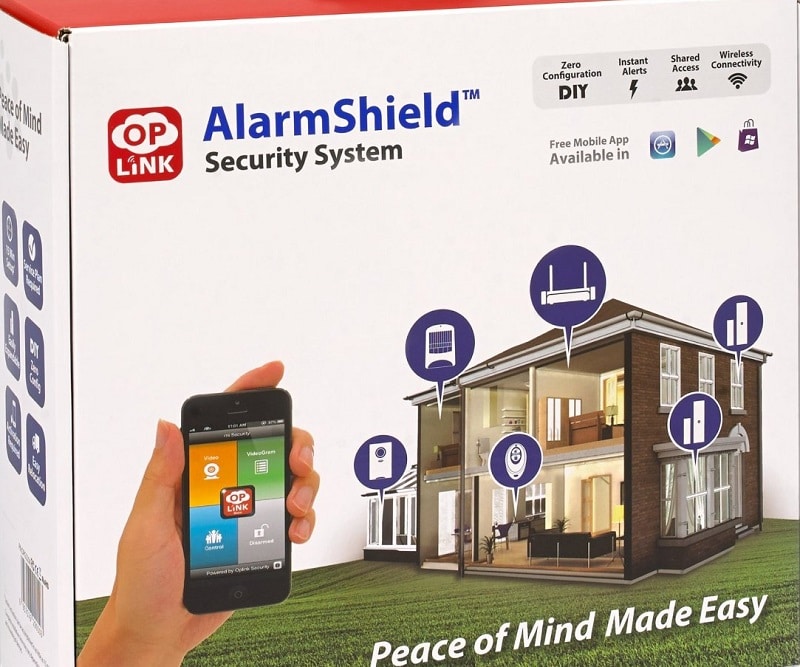 Cons: The product has its downsides as posted by some buyers. The number one disadvantage is that the system goes offline several times a day and while users can stills from the video footage using their mobile, they are not able to view the live feed if the alarm goes off unless they have availed the premium service. A few users have also complained that the company does not have a reliable after sales service.
If you like this product you can find and buy it here.
GE Personal Security alarm kit
Product detail: The GE Personal Security Alarm Kit is probably the cheapest option on this list but it does pack some features. It is easy to install and comes with the standard keypad for setting up a security code that will arm and disarm the unit when needed. The alarm kit also comes with a delay feature in case of a false trigger. The Personal Security Alarm Kit includes a four digit console with three window alams and some hardware for mounting the system.
Pros: The alarms are loud, really loud and customers are pleased with how easy it is to install.  The whole system is independent of each other, which means the sensors can be set-off without the need to alert the main console to trigger the rest of the alarms.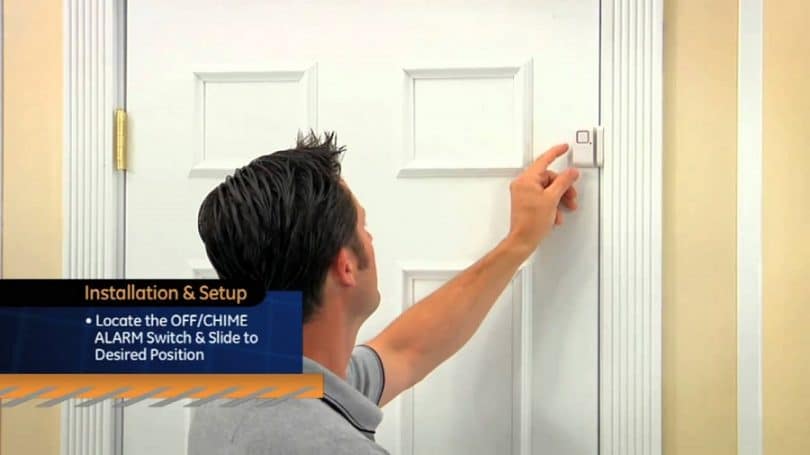 Cons: It is a personal alarm kit which means that it is not connected to any law enforcement system so it would basically just trigger a loud alarm to alert you if intruders are nearby and it also bears the potential to startle them and make them think that a connected alarm has been set off as well. Another disadvantage commented by users is that the console with the keypad needs to be opened with a screwdriver which impedes access, especially if you need to turn it off due to false triggering.
If you like this product you can find and buy it on Amazon.
Simplisafe2 wireless home security system 8-piece plus package
Product detail: The standard package comes with a keypad, a base station, a motion sensor, four sensors for the windows and doors and a remote control unit. The keypad is separate from the base station which means the alarm will continue to sound even if the keypad has been destroyed.
The Simpisage 2 system also comes with a rechargeable back-up battery for the base station which can provide it enough juice to run for 2 days while the sensors are equipped with lithium batteries that can power them for 5 years.
Pros: Customers have commented that the Simplisafe is easy to install and is a great budget alternative to the more expensive items on this list. Since the system is wireless, there is no wire to cut-off and the whole kit can be armed and disarmed using a mobile phone using the manufacturer's app. Customers also loved the idea that the system not only triggers a loud alarm but it also sends a text alert to their mobile phones.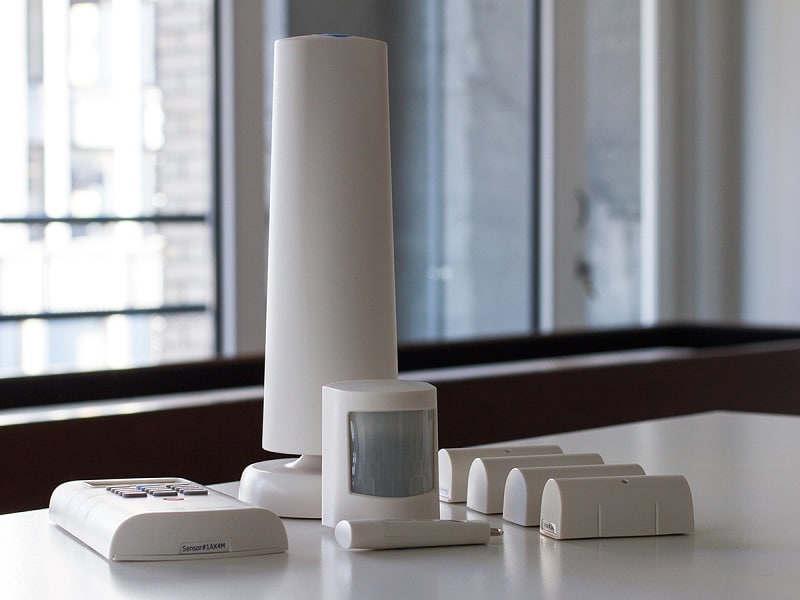 Cons: The package does not come with an external siren but it can be purchased as an add on. Other than that, customers also commented about terrible after sales service, especially if you call after 6PM EST.
If you like this product you can find and check its price here.
Fortress Security Store (TM) S02-B wireless home security alarm system kit with auto dial + outdoor siren
Product detail: The Fortress S02-B comes with magnetic sensors for doors and windows and these can detect any break in or suspicious movements. The package comes with a main control panel with an auto-dialer, three passive motion detectors, ten door and window sensors, one loud alarm with an extra siren, one panic button, one keychain remote control and a panic alarm. The control unit is programmable and it will automatically call up to six designated numbers in case of a security breach.
[the_ad_placement id="in-text-2-type-a"]
Pros: The product is suitable for small to medium sized homes and is easy to install. You can program the alarms to have a trigger delay and they are pretty loud and piercing as well. Some users have praised the great customer service that they received when they called support and they got their problems resolved quickly.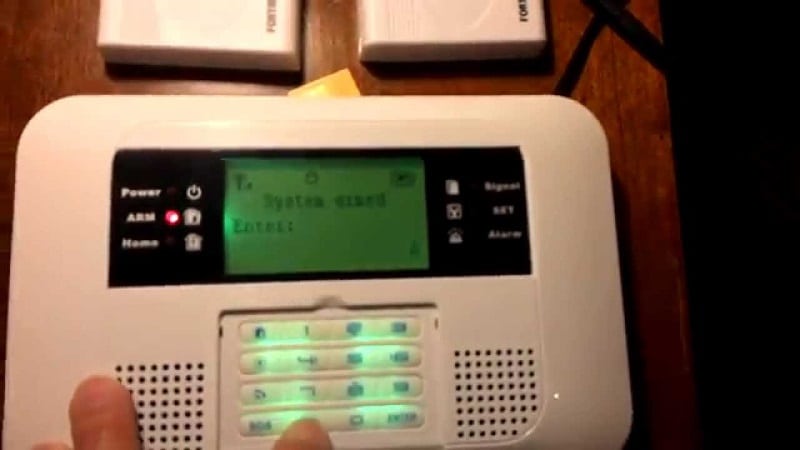 Cons: Customers have commented that the included sensors are poorly designed and are made of cheap materials. The sensors don't always work and some have falled off given time and exposure. Others commented that the instructions are hard to follow and intentional triggering would not sound the alarm at all. A home phone is also required to operate the unit and it does not connect to external law enforcement services.
If you like this product you can find and check its price on Amazon.
Honeywell Wireless Lynx Touch L5200 home automation/security alarm kit with wifi and Zwave module
Product detail: The Honeywell Lynx comes with a full-color touchscreen with graphic icons and has a live on demand video capabilities. It also comes with tornado alerts and its software is upgradeable with new features added for every update. The package comes with a main console unit with three sensors and a keychain remote control.
Pros: Users said that it is a well designed system that is easy to install and can be used with older Lynx systems.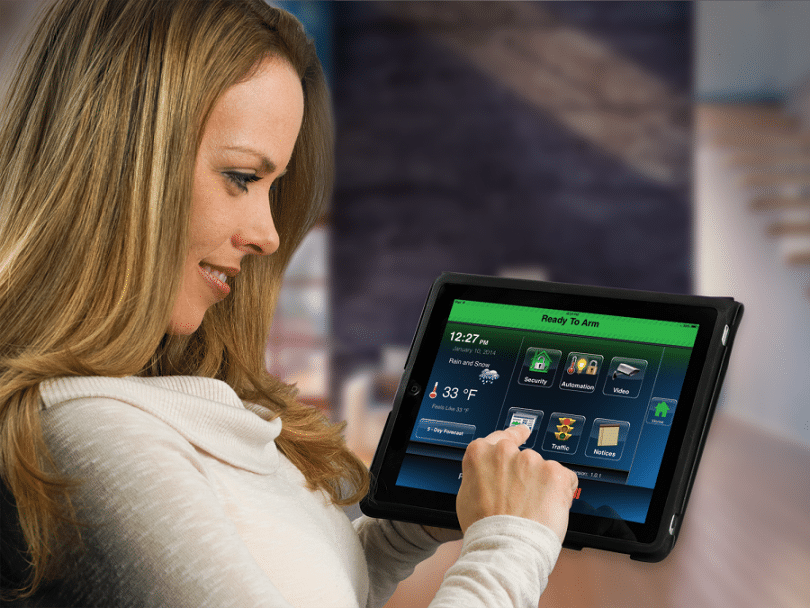 Cons: The control panel is easy to break which automatically disables the whole alarm system. Users have also commented that the software is not compatible with some WiFi systems while some have advised that the system is not for do it yourself newbies.
If you like this product you can find and purchase it on Amazon.
Pisector Professional wireless home security alarm system kit with auto dial
Product detail: The PiSector PS03 provides an auto dial function that can call up to 6 different numbers in case the alarm is trigerred. Each sensor has the ability to be named differently for easy identification and the overaller designed of the said sensors makes it stylish and inconspicuous.
The package comes with a main console, two remote control units, two sirens, a panic button, three motion sensors and ten sensors for doors and windows.
Pros: unlike the other products on the list, the PiSector has the most number of sensors included in the basic package. Users have found the system to be worth the money and they especially like the after sales service. Some have commented that the system is easy to install without using any screws and since the sensors don't have any compromising features, like antennas, it is hard to detect visually.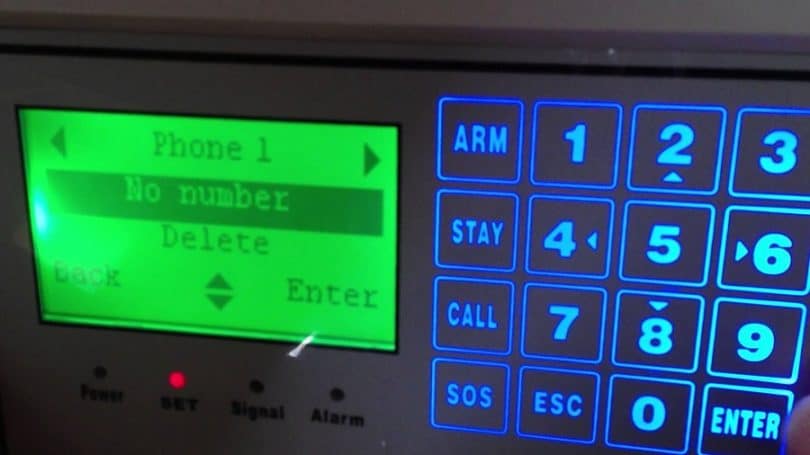 Cons: The top of the line product, the PiSector offers little when it comes to disadvantages other than its cost. The sensors do tend to become sensitive and improper installation will have them constantly falling off.
[the_ad_placement id="in-text-3-type-a"]
If you like this product you can find and buy it here.
DIY Add-ons
Having the best home security system does not mean you should depend everything on it.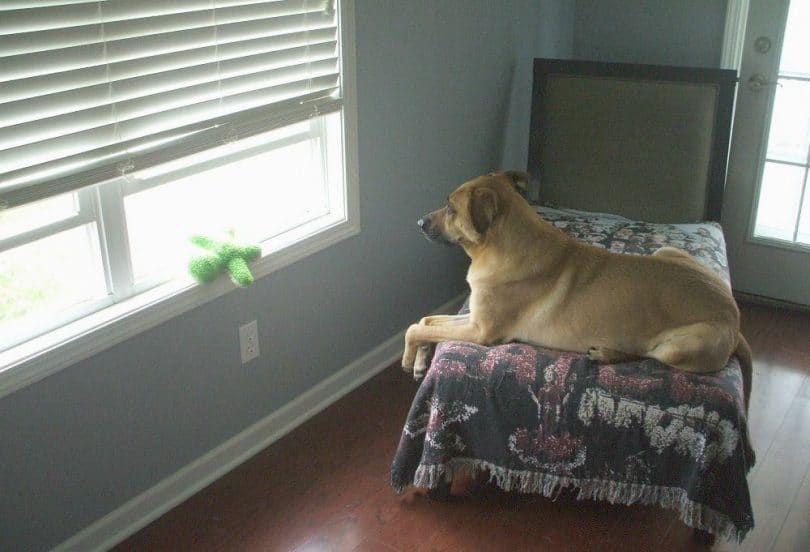 There are some improvements you can do to your home to supplement the home security system that you are getting.
Motion sensitive lights – these can be placed in strategic locations around your house and they not only provide lighting to otherwise blind areas and they also have the ability to increase their brightness if someone enters within their coverage. This helps startle would be thieves and also alert you if you happen to notice the lights shining more bright than usual. See also our piece on how to use booby traps to protect yourselves from intruders for more options.
Safety deposit box – getting a safe for your important items is always a good investment. You not only keep them safe from theft but most safes now offer fireproof and waterproof capabilities, ensuring protection from the elements and other natural disasters.
Change exterior locks – you have the option of changing the exterior locks of your house especially if the ones you have now are of inferior quality and are easy to break or jimmy.
Solid doors – the main entry point of every house is the main provider of protection and should be made of solid material that would not easily breakdown. Some species of wood are sturdier than others and door makers now offer reinforced doors with embedded steel bars.
Reinforced windows – in addition to having a very solid door, your windows should ideally be made of reinforced glass that would not easily shatter when hit with a large force. Some homeowners have added steel grills to their windows but this can pose as a serious hazard as the grills will impede your exit if you plan to jump through your windows during emergencies.
Utilize landscapes – thieves can hide in any bush or tree that's big enough to fit them, having any obstructing plant or tree trimmed down or pulled out and transferred if it got too big.
Pets – pets are a good addition to any home, not just for their value as a companion but they can also give alarm if someone unfamiliar is in the general vicinity of your house. Unless your pets are fish, snakes, spiders or some other animal with no audible sounds of course.
For more DIY home alarms systems, see our step-by-step guide on this important project.
Conclusion
In the long run, having the a good home security system and adding some do-it-yourself home improvement will pay off especially if the worse comes and your overall security system protects you without fail.
For more ideas on how to protect your home, see our informative article on this important safety topic.
Some of the links in this post are affiliate links. This means that if you click on one of these links and make a purchase, I earn a small commission at no extra cost to you. Also, as an Amazon Affiliate, I earn from qualifying purchases. If the information in this post has been helpful, please consider purchasing through one of the links in this article. Thank you.