Knowing the time whenever we're out on a hike is very important. It lets us know how many hours we have left in the day so that we're not suddenly caught in the dark, unaware of where we are. But watches are being manufactured with more and more features designed for outdoor activities like camping and keep us from getting lost.
Also see: Best Outdoor Watches: 7 Best Outdoor & Survival Watches Reviews
[the_ad_placement id="in-text-1-type-a"]hhttps://survival-mastery.com/reviews/best-gps-watch.html
From altimeters to time zones, nothing is a more useful feature than having a compass. The best compass watch will keep you moving in the right direction and remain aware of where you left camp behind. Many compass watches also include GPS so that you can find your way back without any problems. If you want a separate GPS, see our article reviews of the best GPS watch.
Other features of hiking watches
Including GPS, some of the more common features you'll find on a compass watch are altimeter, barometer, and thermometer. An altimeter tells you how high you are above sea level, while a thermometer tells you the temperature around you so that you can dress accordingly.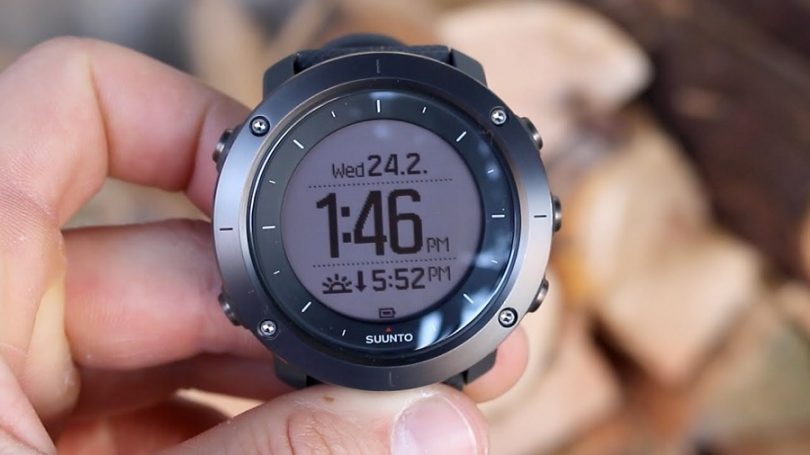 A barometer will provide you with pressure information that lets you know the kind of weather that is heading in your direction. That may mean a warm and sunny day, or a rain storm that will leave you drenched. Knowing this beforehand, however, will help you to prepare beforehand and take whatever tools you need to stay high and dry.
Another feature to look for is durability. Don't invest in a compass watch that has rubber or plastic bands; these can break easily and cause irritation on your skin. Instead, invest in leather or metal to ensure that it stays on your wrist and can endure all of the harsh punishment that it may go through while you're on your camping trip.
Finding the best compass watch
This isn't an exhaustive list of compass watches, but we managed to include some of the best that you'll find in the market. By seeing the features that they offer, you'll know what to look for and can make an informed decision on the kind of compass watch you want to purchase.
Garmin Fenix 3 Sapphire
This is the watch that every hiker should consider getting. With all the features that it has, it can be difficult not to splurge on this highly-functional watch. It has a high-resolution color display, stainless steel bezel, and scratch-resistant sapphire glass specially designed for those harsh outdoor conditions.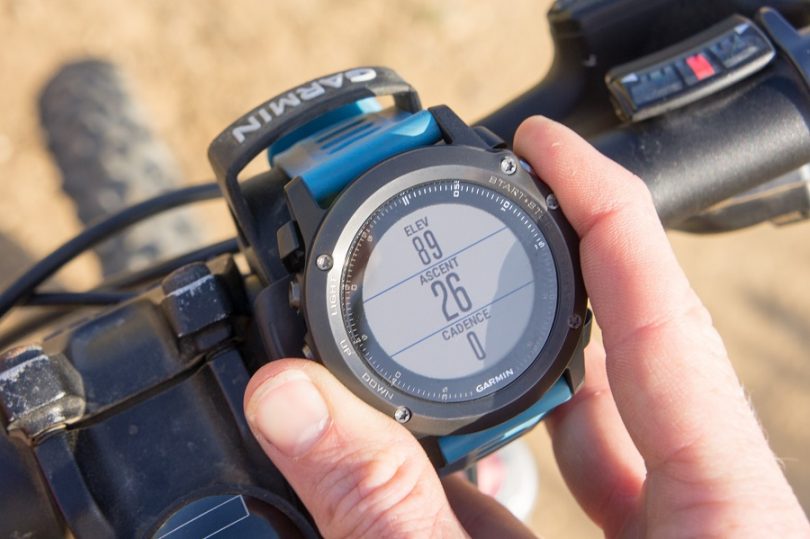 The design is stylish so you can still wear it to business meetings without it looking out of place. It has a 3-axis compass, altimeter, barometer, and thermometer, and it can also be connected to an external temperature sensor for more accurate readings. All of these are calibrated through a GPS receiver, so that they remain accurate. If that wasn't enough, the watch can also import routes and points of interest, and get you going in the right direction to see them all.
And if you want to stay connected, it can be synchronized with a smartphone to reveal your text messages, alerts and emails. One downfall to this watch is that it's quite large, so it may look bulky on smaller wrists. You'll have to shell out a lot for this watch, as it costs about $600.
If you think that this product could be useful for you, then you can check its price here.
Suunto Ambit 3
The Ambit 3 is one of the more popular hiking watches on the market, and can fulfill the needs of any rugged outdoorsman. It has a built-in GPS, altimeter, thermometer, barometer, and compass. It isn't difficult for you to navigate with this watch at all, and you can even import routes that help you along your hike.
Never worry about being lost again, as the watch offers superb navigation and tracking functions that will keep you on the right path.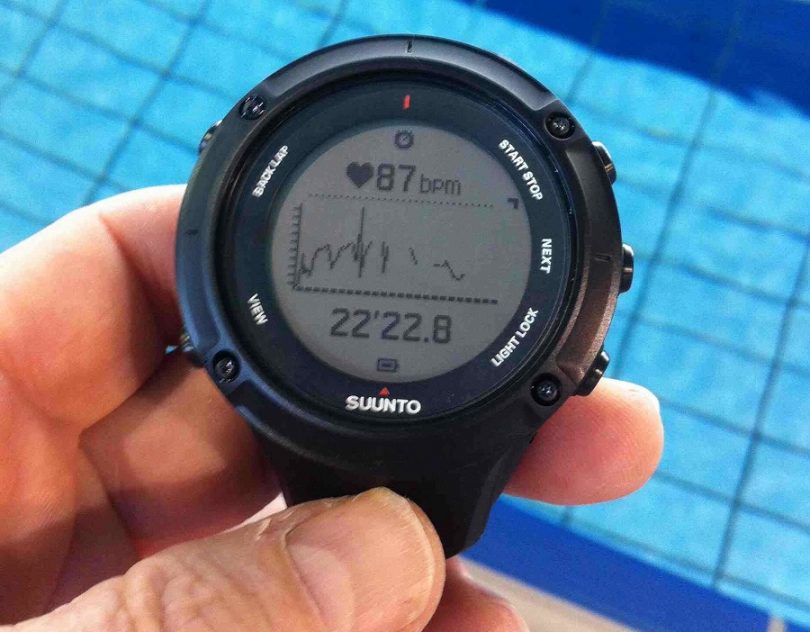 It's one of the first compass watches to be Bluetooth-compatible, so that you can connect it to your smart phone and keep track of your missed calls, text messages, and other notifications. It can also be easily connected to a heart-rate belt so that you know just how many calories you're burning on your hikes, allowing you to stay fit and healthy.
[the_ad_placement id="in-text-2-type-a"]
The website even allows you to create your own apps for personal use so that you can get the most out of your compass watch, no matter what kind of activity you're involved in. On the downside, it does have an external antenna that could break if you're not careful. It's about $250.
If you think that this product could be useful for you, then you can check its price on Amazon.
Suunto Traverse
This compass watch became quite popular with hikers very soon after its release. This is likely due to its attractive design, as well as the sophisticated features it possesses. It was designed with recreational outdoorsmen in mind, so it has all of the features that they need to make their camping and hunting experience the best it can be.
It does lack a few features that the Ambit 3 has, such as connecting to Bluetooth and having a multisport mode, but this watch will still function just fine without them.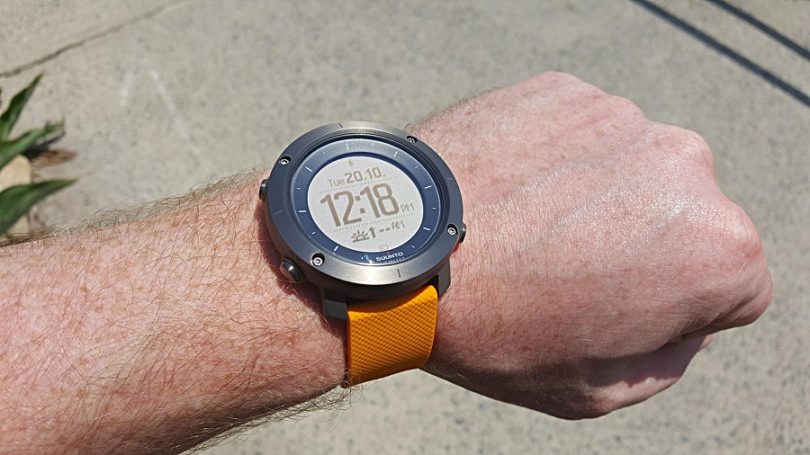 It does have some handy features, such as vibration alerts, a step counter, backlight, flashlight, and GLONASS navigation. Otherwise, it has the other features that make the Ambit 3 perfect for hikers, namely the well-functioning altimeter, barometer and thermometer, as well as the digital compass. The Bluetooth functionality allows you to connect to your smartphone, whether it's Android or iOS, allowing you to manage the watch's settings and data. The cost is about $362.
Like this amazing product? Then you can check its price on Amazon.
Suunto Core Crush
If you're on a budget when it comes to looking for a hiking watch, then this one is for you. It's a bit older than the other models that are on the market, but it is just as functional. It has a stylish design with flash colors to choose from that make it easier for others to spot you if you ever get lost.
It has a compass, altimeter, barometer, and thermometer, allowing you to keep track of the weather through the graph and trend indicator. This way you can stay prepared and get back to camp before the rain hits.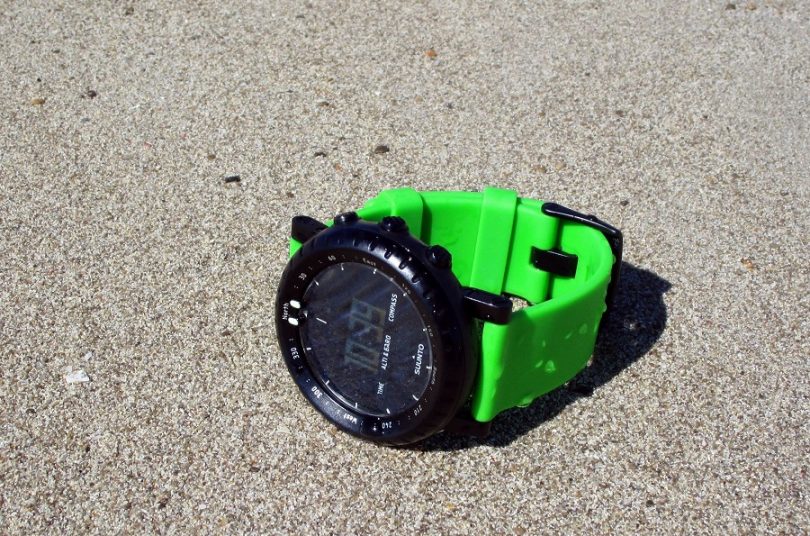 And if there's a storm coming, the watch detects this and sends out an alarm. However, because of the age of this watch, it can't be paired with a heart rate belt and isn't GPS-enabled. It's definitely a good watch to have in a pinch, especially if you don't have the big bucks to spend on the other watches. It costs around $280.
If you think that this product could be useful for you, then you can purchase it on Amazon.
Casio Pro Trek PRW 3000 1A
This watch is probably the most affordable of these watches, costing as much as $182. It has a digital compass, barometer, altimeter and thermometer, providing you with all the functionality you can find in the other watches.
What's even better is that it comes with a solar rechargeable battery that can last for a long as 7 months without any exposure to light. This is a welcoming surprise, especially for those who worry about the battery giving out in the middle of a hike. It keeps accurate time through the use of calibration radio signals that it receives up to six times a day.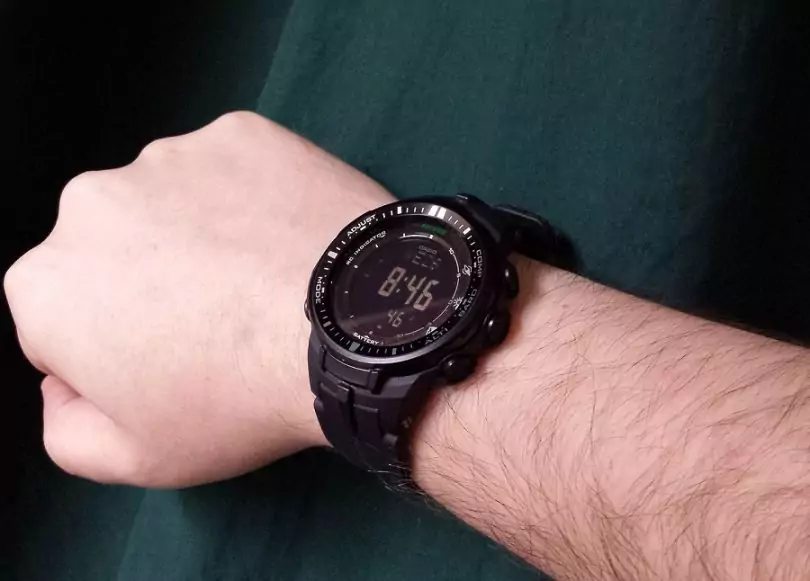 The compass alone has bearing memory and supports magnetic declination, while the barometer keeps you up to date with the pressure readings around you to let you know if the weather's about to change. The other features it comes with are a stopwatch, countdown clock, calendar, alarms, and sunrise/sunset data. You won't feel like this watch is lacking in any respect, even if it can't be paired with a heart rate belt or have GPS connectivity. If you're not into all the fancy features, then you might want to give this compass watch a try.
If you think that this product could be useful for you, then you can buy it here.
Garmin Tactix
Armed with GPS, this watch was originally designed for military use, but has all of the features that any hiker would enjoy to have with them. It's made of non-reflective materials, has a scratch-resistant lens, which is curved to minimize further reflection. This can keep the glare out of your eyes from the sun while you're hiking, which saves your eyesight and keeps you from missing those important steps.
It's backlit when it gets darker, and is compatible with night vision. It possesses an altimeter, barometer, and compass, and can track your movement so you can always navigate back to your campsite. It has Bluetooth connectivity to keep you in synch with the messages on your phone.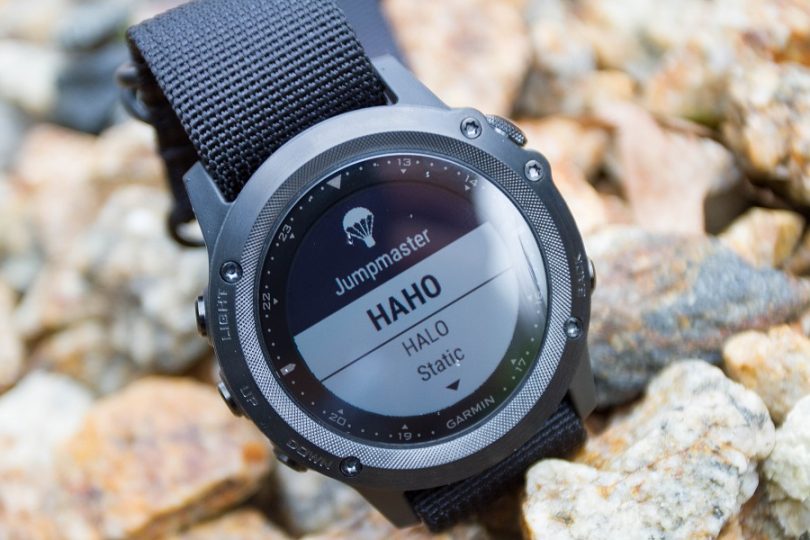 The heart rate monitor will keep you abreast of how much exercise you're getting so that you ensure you don't wear yourself out too much. The downside to this watch is that it lacks a swimming mode, so don't take it with you into any lakes, and the weight might be more than you expect. It's a good idea to try one on first to see if you can handle it. It costs about $300.
Like this product? Then you can buy it on Amazon.
With the advent of technology, even the watches on our wrist can do a lot more than we ever imagined. Hiking used to be the opportunity to get away from our computers and other modern conveniences, but it's this very same technology that manages to keep us safe when we need it the most.
[the_ad_placement id="in-text-3-type-a"]
Having the best compass watch on your side will keep you on track, help you to navigate your surroundings, and stay ahead of any impending weather that may be heading in your direction. What avid hiker could turn down that kind of help?
For a comprehensive list of the best survival watches to help you, see our article on this topic.
Some of the links in this post are affiliate links. This means that if you click on one of these links and make a purchase, I earn a small commission at no extra cost to you. Also, as an Amazon Affiliate, I earn from qualifying purchases. If the information in this post has been helpful, please consider purchasing through one of the links in this article. Thank you.