A maul, also referred to as a sledge axe, block splitter, block buster, and axe is a heavy, long-handled hammer/axe used to drive stakes or wedges and splitting. One side of this cutting tool takes the shape of a sledgehammer while the other side takes the shape of an axe. Usually, the best wood splitting maul is equipped with a head that weighs approximately eight pounds.
[the_ad_placement id="in-text-1-type-a"]
As far as splitting wood is concerned, this tool is superior to a typical axe. The weight of the head plays a bigger role when cutting wood because it helps to prevent the axe from being trapped in wood. Usually, the difference between a sledge axe and a normal cutting axe is clearly observed on the wedge. The wedge is somewhat convex to circumvent jamming. See our article on the different types of axe to help you differentiate this from a maul.
Buying decision and safety precautions
There are two primary parts of this tool that you must get right, which include the head and the handle. As mentioned earlier, the head plays a bigger role as far as splitting is concerned. The edge as well as the hammer/wedge design should provide you with enough impact power. If you are planning to drive stakes, then the hammer should be able to do it right. The head's structure should be convenient for your kind of work, because some mauls have monster heads. See our must-read article on the list of best axe, tomahawks and hatchets for more options.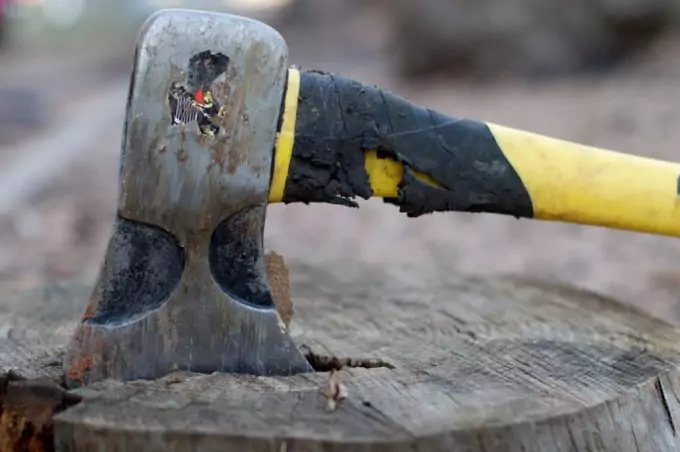 There can only be more power at impact if you select a sledge axe with the finest handle specs. The handle should be designed from high-quality material and it should have non-slip grip. You can achieve perfect swings and splits only if you select a block splitter with a smart construction that distributes most weight to the head while ensuring that the stronger-than-steel handle is lightweight.
With such perfected weight distribution, you will be presented with an ideal power-to-weight ratio that improves swing speed in order to multiply power. Ideally, the blade of the block splitter you choose should be engineered with a proprietary grinding technique.
You should unquestionably remember to wear some protective gear before putting a block splitter to use. This is so since wood chips can easily fly into your eyes without your knowledge. You need to have adequate knowledge of using a block buster.
Unlike a typical cutting axe, block busters have a much heavier head and a lightweight handle. Therefore, a slight mistake may cause you some serious injuries and damages to the axe. One of the most dangerous faults you can make is to miss your mark or only giving it a sideways blow. If your block buster lands beyond your target, its handle may either break or bounce back.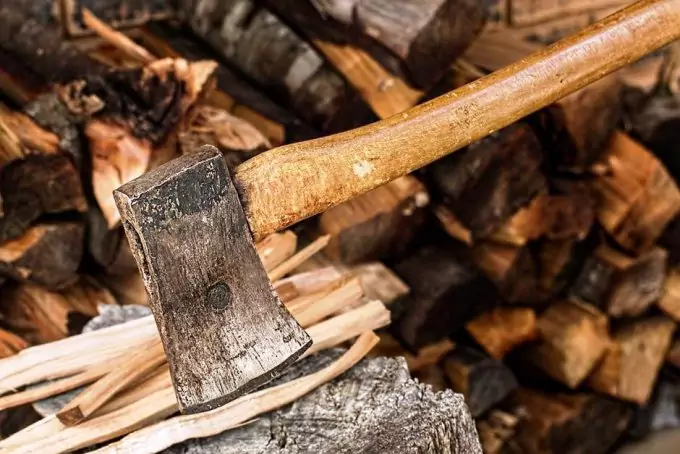 On the other hand, if it lands in front of your target, then it may hit your legs and cause you injury. Usually, the events mentioned before present real danger, which you can avoid by first educating yourself on how to handle and swing a maul. Always remember not to swing your sledge axe to the side.
Top 10 wood splitting maul – Quick reviews
Gransfors Bruks Splitting Maul
Measuring 39 by 3 by 1.2 inches and weighing 7.5 pounds, Gransfors Bruks is a top quality product that will always impress you. This exceptional cutting tool is engineered from high-quality steel; thus ensuring that you have the right splitting power. You will definitely be comfortable working with this hand tool and you will split wood for a very long time. It has the perfect balance that you can rarely find with other models in the market. With a 5½ pound head, 2½ inches face, grain-leather sheath and 31-inch hickory handle, Gransfors Bruks is a master cutting tool.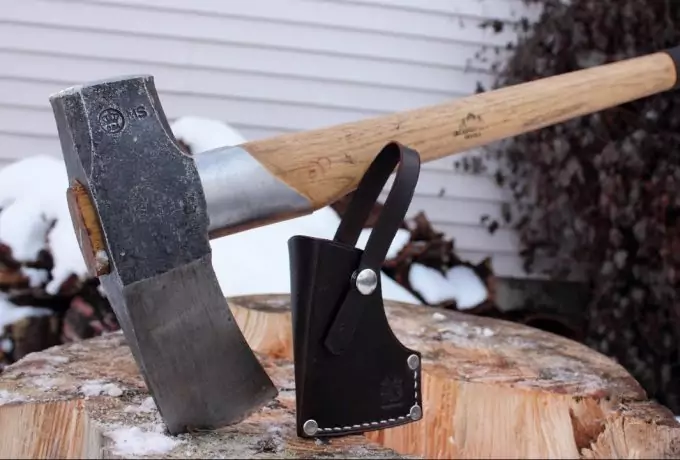 You will rarely need to sharpen it, because the quality of the blade and how long the edge stays sharp is incomparable to any other cutting tool. The head is lighter, somehow tapered and narrow, making it easier for it to penetrate end grain easily. It has a thin profile and a small poll; therefore, it is the most convenient tool for small rounds.
It is indeed an elegant model defined by its traditional design along with rustic finish. It is equipped with tough heavy hardwood handle that provides you with a comfortable grip. The grain leather sheath provides you with a proper way of securing the blade whenever you are not using the maul.
Pros: The edge is easy to sharpen and it has a well-designed sheath for securing the head.
Cons: This is not a proper tool to use for large rounds.
Like this product? Then you can check its price here.
Fiskars X27 Super Splitting Axe
Measuring 37.4 by 9.3 by 1.8 inches and weighing 8.56 pounds, Fiskars X27 is the best splitting axe for the money. This masterpiece is engineered for extreme performance, because every swing you make will be your best. This tool combines unbreakable design, an ultra-sharp edge, advanced blade geometry and perfected weight distribution. It is structured not only to be effective, but also simple functional and simple. Its state-of-the-art structure distributes most of its weight to the head while keeping the handle light. Therefore, you will not experience any difficulties with the swing.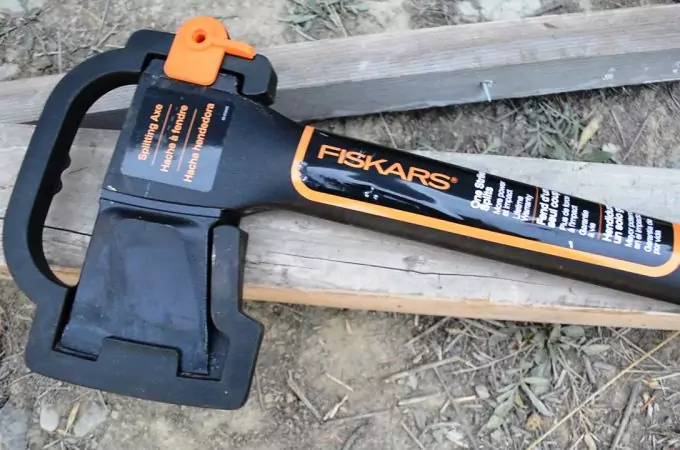 In fact, it will provide you with amazing swing speed that guarantees you maximum control at impact. Regardless of the fact that it is lightweight, you will still be able to split walnut, white oak along with all sorts of hardwoods. All you need to make perfect splits is strategy instead of pure strength. It has an unbelievably sharp edge that maintains its sharpness for a long time. It has a well-built handle designed for precise swings and splits. The material used for the handle is heavy-duty, and you will have to strike with unusual force to break it. Basically, this unit is designed to provide you with one-strike splits.
Pros: It is a 36-inch cutting tool that is ideal for taller users, especially when splitting medium to larger logs.
Cons: The overly long handle may not be convenient for shorter users.
Like this amazing product? Then you can check its price on Amazon.
Wilton Splitting Maul 8LB 36" #50836
Wilton #50836 is equipped with a 36-inch handle and it weighs only 8 pounds. The design of this hand tool is built from patented unbreakable technology that guarantees you high performance. Unlike most heavy long-handled hammer/axe used to drive wedges and splits, this particular model is built to be unbreakable.
Its construction is based on steel design that does avoid breakings during overstrikes. It uses safety plate to secure the handle; thus preventing any dislocation, meaning that you will always be safe when using this piece. If you are a professional in what you do, then you will appreciate the non-slip grip handle.
The handle is textured, ensuring that your grip is firm whenever you are striking. You should not be alarmed about your safety as far as frequent job site use of this hand tool is concerned, because it is fitted with anti-vibe neck. Unlike other models that advertise indestructible handles yet they end up breaking after heavy striking, Wilton #50836 handle is truly indestructible.
You can constantly use it for a couple of hours and the handle will feel very solid. The edge may not be extremely sharp, but it is moderately sharp for your first use. Those who are used to razor-sharp blades will definitely complain about the edge's sharpness.
Pros: It is unbreakable, has a safety plate, has a non-slip grip handle, and it is fitted with anti-vibe neck, making it the best tool for striking wedges and splitting.
Cons: The edge is moderately sharp and flat in some cases.
If you think that this product could be useful for you, then you can purchase it on Amazon.
Mintcraft PRO 34004 Wood Splitting Maul
Measuring 3.8 by 8.5 by 34 inches and weighing 4.5 pounds, Mintcraft PRO 34004 is one of the finest hand tools for splitting wood. This is without a doubt a quality performing axe that provides you with better impact on your target. The weight along with the additional wedging on its sides make this piece a splitting gigantic that you will always want to use when cutting wood. The edge is well-sharpened from the beginning. In fact, you will not need any sharpening for a while, and you will still be able to do impressive splits for many days.
[the_ad_placement id="in-text-2-type-a"]
This masterpiece will split almost anything as long as it is wood, including wood that requires the power of standard axes. It offers great splits on small diameter wood while you will need a few swings on large diameter wood. Its handle is fitted with rubber grip strip, which outspreads to the front side of the handle. The grip ensures that this tool stays firm in your hand; therefore, providing you with perfect swings and splits. This is the ideal gizmo to buy when you have a lot of wood to split.
Pros: The blade is engineered from high-quality steel for producing quality splits.
Cons: If not sharpened correctly, the edge flattens quickly.
If you think that this product could be useful for you, then you can buy it here.
Fiskars Garden Iso Core 8 lb. Maul, 36"
This is the kind of tool you need when you want to do intense wood splitting. Measuring 3.2 by 7.8 by 36 inches and weighing 8 pounds, Fiskars Garden Iso Core is a powerful splitting gizmo. It has optimised blade geometry that provides you with better penetration of wood and has more than enough power to blast hard-hitting logs apart.
The manufacturer has your best interest at heart, because they have used Patented IsoCore Shock System in the making of this axe. This technology absorbs strike shock as well as vibration; thus minimising any impact effects on your body while striking. Basically, the handle transfers less vibration and shock when compared to the handles of other models.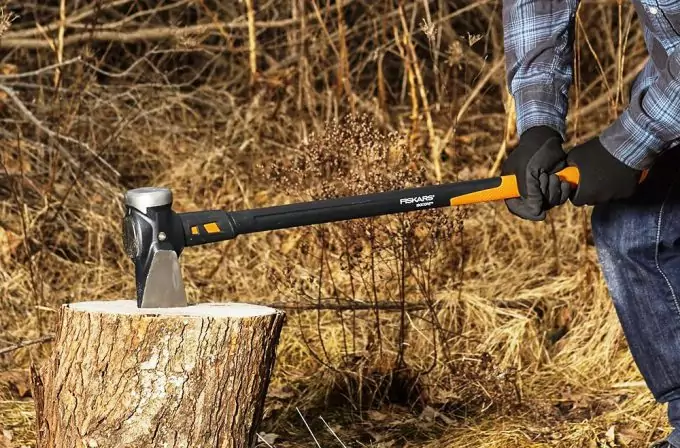 The handle structure is also fitted with insulation sleeve designed to capture the first strike shock (instead of it being transmitted to your hand). You do not have to spend a lot of money buying inferior models that will constantly frustrate you. Instead, you should consider this 8-pound axe. It has more than enough power to help you split wood that would otherwise require at least three ordinary axes to accomplish. The 36-inch handle makes this the best tool for tall people who want to split wood and drive wedges and stakes.
Pros: It uses patented IsoCore shock control system that does not only absorb shock, but also vibration.
Cons: The handle may be a bit longer for short people.
Like this product? Then you can buy it on Amazon.
Estwing E3-FF4 4-Pound "Fireside Friend" Wood Splitting Axe/Maul
Measuring 14.2 by 5.8 by 1.5 inches and weighing 4 pounds, Estwing E3-FF4 is not only a powerful splitting tool, but also a lightweight hand tool that you can always carry along. It has a satisfying weight of four pounds and state-of-the-art design, which makes it ideal to use with either one or both hands.
It is primarily engineered to provide you with leverage as well as power for effortless splitting. The head is of good size of 1½ inches and the splitting edge is roughly 2 inches, which are just the convenient sizes for a splitting tool. Unlike regular hatchets that will undoubtedly kill your elbow with each swing you make, Estwing E3-FF4 does actually absorb the impact.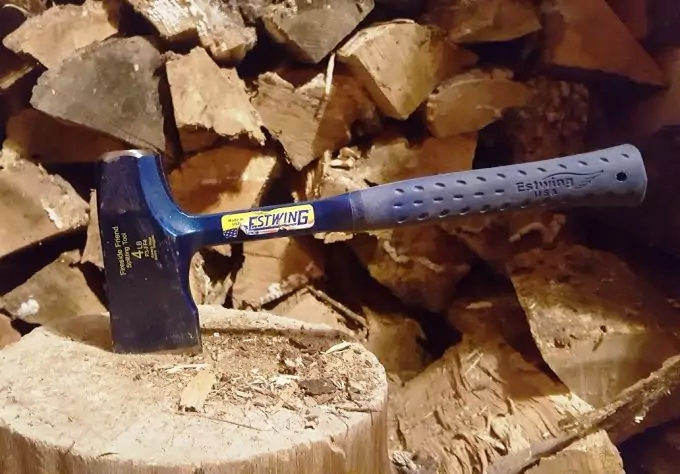 This tool is equipped with a well-structured nylon vinyl grip that is not only shockproof, but also non-slip. You can hit hard on your target without feeling the effects of the impact. You might be worried that you do not know how to split; however, your lack of success may be attributed to the kind of axe/hatchet/maul you have been using. You will be totally surprised with the kind of splitting you can do when you decide to settle for this model. With all that said, this Fireside Friend is what you need whenever you want to do some serious damage on those piles of woods.
Pros: It has the strongest construction and the finest nylon vinyl shock reduction grip.
Cons: It may develop some blemishes on the hammer after some serious and repeated splitting.
If you like this product you can find and check its price on Amazon.
Truper 30958 8-Pound Splitting Maul
This is a gigantic smashing/ splitting tool for huge pieces of wood. Measuring 2.5 by 8.5 by 36 inches and weighing 10 pounds, Truper 30958 is the best splitting axe. This is one of the tools that must be present in your winter prepper list. It is fitted with an 8-pound splitting head that is engineered from high-quality steel. Both the edge and the hammer are well-structured for driving stakes and splits. Unlike other models in the market, this particular one is fitted with a heavy-duty handle, which is made from double injected fibreglass with rubber grip for better handling and control.
The handle is also rubber protected for absorbing overstrike impacts, a feature that ensures you feel no pain when splitting. As long as you have strength, you should not be worried about the performance of this masterpiece. You will without a doubt split almost anything, and you will most certainly not experience shoulder pain. If you seriously want to work on a log for the shortest time possible and the least number of swings, then you should consider buying this axe. Apart from using it domestically for various splitting activities within your homestead, this can be a good addition to your list of survival gear.
Pros: Has a user-friendly and highly ergonomic handle that is made from double injected fibreglass and it is fitted with overstrike protected rubber.
Cons: The 36-inch handle is not very convenient for short people.
Like this amazing product? Then you can buy it from Amazon.
Seymour SM-8FG 8-Pound 36-Inch Fiberglass Handle Wood Splitting Maul
Measuring 9 by 2.5 by 35 inches and weighing 10.3 pounds, Seymour SM-8FG is a splitting tool with a fibreglass handle. Unlike traditional mauls that can be easy to break, quick to dull and heavy, this gizmo has combined weight distribution. The blade geometry is advanced with low friction surface and well-sharpened edge. Seymour SM-8FG is designed to be simple, effective and functional, and it will help you get things done quickly and perfectly. To be precise, the blade is engineered with a patented grinding system that offers you a sharper blade for precise contact as well as cleaner cuts.
In fact, the blade is made to split wood; therefore, you should not mistake it for cutting wood. The sledge end of the axe is perfectly designed for driving stakes or wedges. The design is unique in every regard. To some extent, this tool will feel more like a standard blade, but with better splitting power.
You can actually split for hours without getting tired because the handle is specifically designed to absorb all the shock and vibrations. If you are a serious woodsman, you will agree to the fact that the performance of this axe outweighs the performance of a hydraulic wood splitter.
Pros: It has an extraordinary design and heavy sledge end that offers powerful strokes and splits.
Cons: From the box, the blade may not be as sharp as you would have expected.
If you think that this product could be useful for you, thenyou can buy it from Amazon.
True Temper Sledge Eye 1190400 Super Splitter
Measuring 2 by 7 by 33.5 and weighing 6 pounds, 1190400 Super Splitter is the finest, lightweight splitting tool. It is the best axe not only for splitting but also for cutting wood. It is fitted with a characteristically molded handle guard that ensures your hand does not slip while you are doing some serious wood splitting.
You should not be worried about the overstriking impact because the axe is fitted with permanent overstrike protection. It is also molded with polypropylene cover, which provides you with ultimate strength. You will always make perfect swings because of the four-pound axe head and 36-inch FiberPro handle.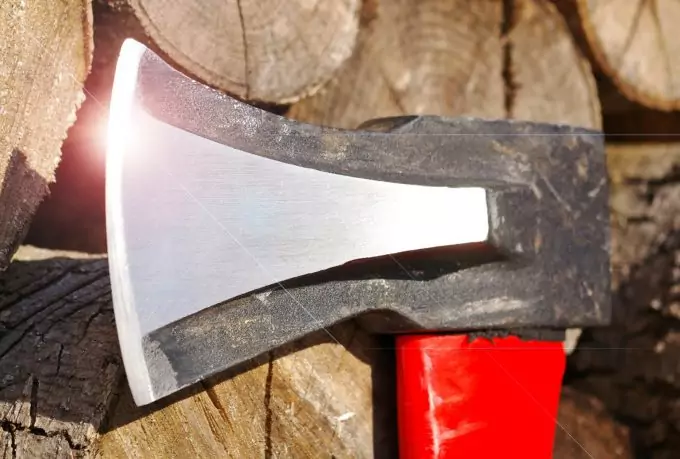 Pros: It is fitted with a 36-inch FiberPro and integrally molded handle for perfect swings and splits.
Cons: It is not a very convenient maul for a short person because the handle is quite long.
Like this amazing product? Then you can buy it on Amazon.
Maul Total Control
As the name suggests, this is a top-quality cutting tool that makes wood splitting effective and efficient. Unlike most models you can find in the market, this particular one is uniquely designed with a compound head. It has a well-structured wedge on one side and a sledge on the other side. This maul is not just fantastic, but perfectly fit for the job. The handle will surely take some harsh impact force and it will not display any signs of stress. It has a handle that is engineered from high-quality fibreglass wave, providing you with comfort and authority over the wood you are working on.
Pros: The head is forged heat-treated, providing ultimate durability and safety while splitting wood.
Cons: As far as short people are concerned, this might not be the ideal maul.
If this is the ideal product for you, then find and buy it on Amazon.
In conclusion
Splitting wood and driving wedges can be easy and safe only if you know what you are doing and you have the correct tool. Any slight mistake you make may put you in serious danger! Here are more tips on how to choose the best bushcraft tools to ensure  your survival.
[the_ad_placement id="in-text-3-type-a"]
Now, as discussed in most reviews, the handle size plays a big role as far as your splitting and hammering abilities are concerned. Long-handled sledge axes are highly recommended for taller people while the ones less than 36 inches in length are good choices for short people. With that said, do not be quick to judge the effectiveness of a maul before you put it to good use.
For tips on how to sharpen your cutting tools, see our piece on this important topic – check it out.
Some of the links in this post are affiliate links. This means that if you click on one of these links and make a purchase, I earn a small commission at no extra cost to you. Also, as an Amazon Affiliate, I earn from qualifying purchases. If the information in this post has been helpful, please consider purchasing through one of the links in this article. Thank you.