You can't possibly predict beforehand every situation that might occur when camping, hiking or even indoors, so that's why it's best to be prepared. Consequently, the most effective planning and gear also includes having the best survival multi tool in your pocket.
[the_ad_placement id="in-text-1-type-a"]
That translates into doing your research and sift the seed from the chaff because you'll surely find a lot of multi tools that are simply too big and to heavy, not to mention that they have useless items. And you don't want to carry something completely unnecessary on your trip or in an emergency situation, do you?
How do you choose the ideal multi tool?
The answer is pretty simple in theory, but a bit hard to apply for some people: just think of what your needs are.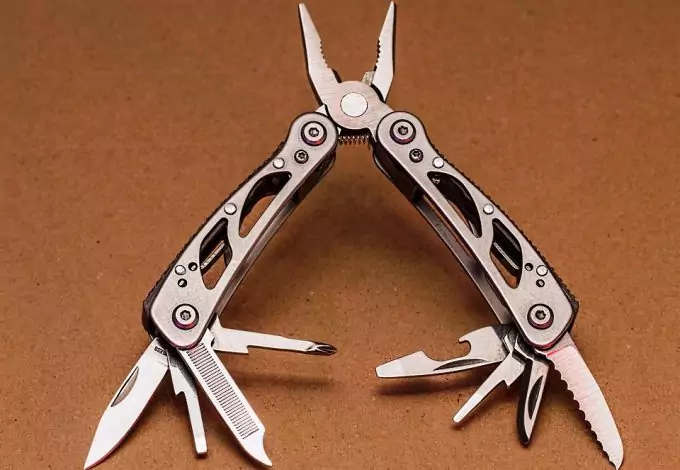 The most appropriate survival multi tool for you is:
Good quality. It's best to pay a few extra dollars and stay on the safe side, making sure that you've acquired a product manufactured only from the best materials.
Useful. A good multi tool must have a purpose. It's highly indicated to select the gear you're sure to use instead of picking out a multi tool comprised out of numerous useless things. So what do you really need from this list: blasting caps, bottle opener, knife, scissors, and screwdriver? Or can you think of other items that could help you more? Either way, the choice you make is highly individual. Check out our piece on DIY survival tools to save money.
Lightweight. You don't need something very bulky or too heavy, because instead of helping you it can actually inconvenience you. Besides, if you have a hefty multi tool, you're not even going to be that fast when taking it out of your pocket. All that only decreases your chances of survival. See our article on the best keychain multitool to give your more options.
What are the best items on the market?
That being said, let's take a look at what we think are some of the most ideal products for almost everyone. We've taken into account things like affordability, utility, versatility and quality, but remember that there is no such thing as a perfect multi tool for everyone, since that concept is highly relative.
Gerber Bear Grylls Ultimate Multi-Tool
At a retail price of $42.66, this is definitely a great addition for your survival kit. First of all, it's made out of very high-quality materials and therefore has an ergonomic textured rubber grip. That maximizes the comfort of your grip, and you won't have trouble holding it in your hand or feel to heavy apart from not being in any danger of slipping through your fingers and hurting yourself.
Additionally, the Bear Grylls Multi Tool also comes with a spring-loaded jaw. This mechanism assists you in those situations when you can only use one hand to maneuver the multi tool. That's why we feel that its simplified single hand use can prove a great ally for people who are hiking, hunting and rock climbing.
Another great thing is that the whole thing weighs just 8.8 ounces even if it has a selection of 12 tools which include: needle nose pliers, a fine edged and a serrated knife, a saw, a Philips screwdriver, two flat screwdrivers, a lanyard ring, bottle opener, can opener, wire cutters, and a pair of scissors.
This multi tool uses a Safe.T.Plus system to lock every tool in its place while you're using one of the above items. Moreover, its curved handle makes it all the easier to use, and its overall functionality is impressing.
When you buy this product, you will also receive a survival guide and rescue instructions to peruse at your leisure, as well as a lifetime warranty which guarantees you will always have the greatest of service with this item.
Like this amazing product? Then you can buy it from Amazon.
Camillus Knives Les Stroud S.K. Engage Multi Tool
This $27.49 item from Camillus Knives offers you a selection of 10 carbonitride titanium bonded non-stick 440 stainless steel items. Which is to say that its manufacturing company has invested in good craftsmanship and only the best quality materials, giving you the certainty of acquiring a topnotch item that won't easily damage.
The Les Stroud S.K. multi tool is increasingly simple to use since it comes with easy open notches, as well as a ballistic nylon sheath with integrated belt clip that makes it very convenient to carry.
The items included by this multi tool are: fish scalar with hook remover, square head screwdriver, Phillips screwdriver, saw, wire cutter, standard pliers, scissors, file/screwdriver, blade and a can opener. That makes it the perfect thing for your fishing expeditions: you can use it for things like scaling fish, fixing your rod as well as opening a nice cold bear in the evenings.
Other items included are a fire starter, a LED flashlight and a whistle. Basically, if things start looking really grim, you can make sure that you will at least be able to start a fire and shed some light on your surroundings, apart from being able to give other people a distress signal in case something goes wrong.
Besides this, you will also get the brand guarantee that accompanies the name Les Stroud, one of the most ambitious and resourceful survivalists out there.
Being able to survive for so long on his own in the toughest and most dangerous of climates, Stroud is undoubtedly really knowledgeable when it comes to survival gear and that's why his signature tools are made to be tough. All this comes as a plus to the lifetime warranty this product comes with.
Like this product? Then you can buy it on Amazon.
Gerber MP1 Mutli-Pliers
First of all, it's well known that the Gerber brand has a lot of experience when it comes to survival gear, such as tactical pocket knife sets. Consequently, it's a good way to make sure that the rugged, reliable design they use for all their products will also be an advantageous trait for this multi tool.
Besides this, for your piece of mind you get the further guarantee that all the products are field tested, as well as accompanied by a Gerber lifetime warranty to ascertain the high quality of this item. That's because the materials used are top shelf, the G-10 handles give you an excellent grip and it comes with its own mildew resistant sheath.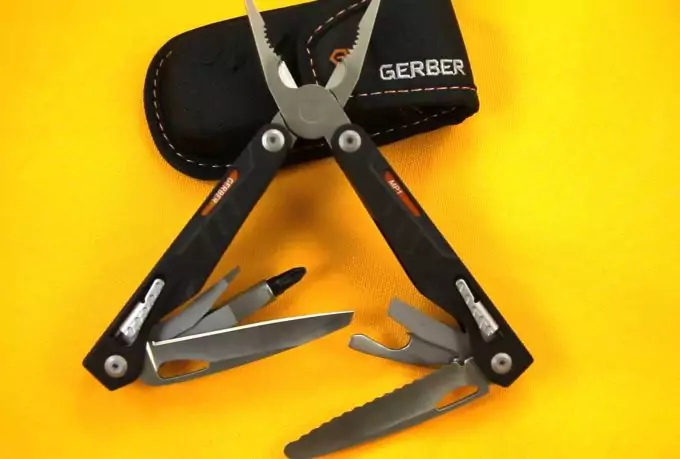 Being able to properly hold the multi tool in your hand is of high significance, especially if you're planning to use it for the military, hunting, survival, tactical, and industrial purposes it was created for.
Its amazing outdoor versatility is further proven by the components it comprises, such as: a fully forged spring loaded pliers, a wire stripper and diagonal cutters, serrated and fine edge blades, bottle opener, pry bar, magnetic bit driver, two flat drivers, utility blade and scraper.
Another amazing detail is that you get all these items in an easy to carry and collapsible multi tool, which ends up being only 9.5 inches long when it's completely open. Additionally, weighing just 10.4 ounces chances are you won't even feel it in your backpack and it's sure it won't weigh you down.
Like this product? Then you can check its price here.
Leatherman – OHT Multi-Tool
One of the highest rated products in its category, this $ 87.53 multi tool from Leatherman is one of the heaviest items on the market too since it reaches a weight of 0.75 pounds.
However, having it with you on your camping or hiking trip can prove especially useful if you are looking for a versatile multi tool that includes all sorts of pliers, wire cutters, screwdrivers and other tools that can assist in your handiwork.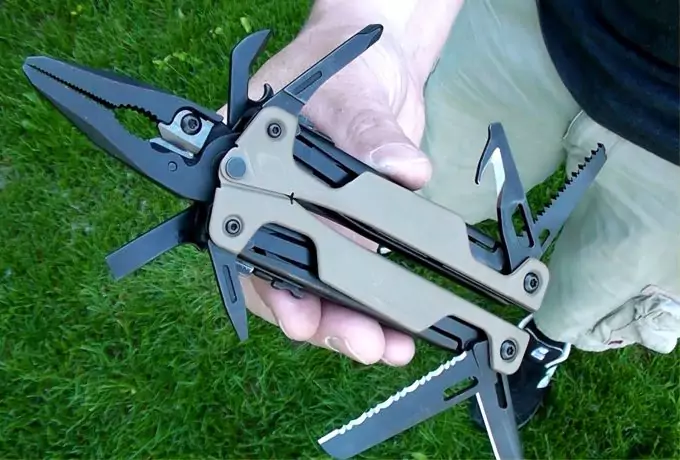 As such, the tools it features are: spring-action needle nose pliers, spring-action regular pliers, spring-action 154CM replaceable hard-wire cutters, spring-action 154CM replaceable wire cutters, 420HC knife, 420HC serrated knife, saw, strap cutter, #8-32 cleaning rod/brush adapter, can opener, bottle opener, oxygen tank wrench, Phillips screwdriver, large screwdriver, medium screwdriver and small screwdriver.
[the_ad_placement id="in-text-2-type-a"]
Consequently, you can enjoy the versatility of this multi tool and take it along even in your fishing or hunting trips, since it will give you the assurance of a complete and useful piece of equipment.
More to the point, even the materials used for manufacturing it are supplementary proofs of its quality, durability and strength. The 420HC stainless steel used for some items is an improved, high-carbon form of 420 stainless steel that is very strong and optimized in Leatherman multi tools by heat treatment.
The 154CM stainless steel is likewise a high-carbon stainless steel, being also high alloy and corrosion proof material, holding its edge even longer than the 420 stainless steel, and that's why it's used in the premium tool features like knife blades and wire cutters.
Last but not least, the black oxide – which is a powder-based metal coating – reduces glare and reflection, being effectively employed by the military in situations when you want to hide your location.
That being said, the Leatherman OHT is highly functional, and can be operated with one hand only, which also makes it great for survival tasks along with its ability to lock into place, and if you need further assurances you get them in the form of a 25 year warranty.
Like this product? Then you can check the current deal for it on Amazon.
Snap-on Multi Tool B30
At a retail price of just $ 19.18, this is definitely one of the most affordable items on the market, apart from also being a good representative in its category since its design is based primarily on quality and simplicity. Therefore it's not only pretty easy to use and rather convenient to carry, but it's likewise stylish enough in its silver and black nuances.
When it comes to quality, you can rest assured that its polished aluminum handles are shaped for comfort and grip, and if by chance it can become loose after a number of uses, it comes with a set screw that can help you make it tight again.
That is always quite neat to have, because even the best multi tools that are securely held in place can loosen over time, and it's great to know that you can easily restore like-new performance in a flash.
Another thing people look at when it comes to multi tools is their ability to assist with survival, which means that they always have to be within reach, easy to use and grasp. This Snap-on item helps you with that concern because it also includes a nylon belt pouch for convenient storage and ready reach.
Moreover, this compact 9.6 ounces multi tool comprises a number of thirteen very useful items that are packed into a lightweight polished aluminum chassis: pliers, wire cutter, wire stripper, knife, serrated knife, can opener, bottle opener, saw blade, double cut file, single cut file, Phillips screwdriver, medium flat head screwdriver and large flat head screwdriver.
It's therefore obvious that you can use this multi tool for a lot of purposes when you're camping, hiking or at a worksite. And you don't have to worry about its strength and durability either, since it's made from stainless steel that resists corrosion, while its handles are unique cut-out and anodized.
All these factors contribute to the multi tool's sturdiness and lightweight, as well as its good looks.
If you think that this product could be useful for you, then you can buy it here.
JClaw Tek Fire Talon Premium Heavy Duty Multi-tool
When it comes to heavy duty multi tools, this $ 36.95 item from JClaw Tek may be exactly what you're looking for. One of the great additions that it entails is represented by the two built in LED flashlights it incorporates, helping you particularly in those circumstances when you forget to pick extra-batteries for your trip.
That way, you will never have to endure dark nights when you can only rely on the dim light made by your campfire. Even if that's not the case you may really need some powerful flashlight so you can see even the smallest of details when you're working or finding some tiny object you've misplaced or slipped under the couch.
In addition to the two LED flashlights, this item has a lot of other useful tools like a knife, spring loaded needle nose pliers with wire cutters and strippers built in, there is also a pair of spring loaded scissors, a can opener, as well as both a Phillips and a flathead screwdriver.
All these items can prove really helpful in all sorts of camping trips or outdoor activities, as well as for everyday indoor chores.
Moreover, this multi tool can distinguish itself from other items in its category because it's extremely durable and resistant, since it's manufactured out of black oxide stainless steel. Besides this, it also looks great and its looks are likewise improved by the handles, which are made from built in rubber inlays. Apart from looking nice, this material gives you a comfortable, steady grip.
The comfort and ease of this product are accentuated by the nylon sheath it comes with, since you will therefore be able to carry it outside of your pocket and have ready access to it. That doesn't mean it can't fit in there too: it's just 4 inches long and 9.8 ounces heavy, so it passes the easy to carry test successfully.
Like this amazing product? Then you can purchase it on Amazon.
Victorinox Swisstool RS Multi-Tool
This multi tool is the epitome of a rescue tool, since it was especially made to help people in need of emergency assistance. As such, it's spring loaded and therefore all its tools are simple to open, as well as to close when you need to get another tool.
The items it comprises are: pliers, wire benders, wire crimping tool, 2 rulers, 3 screwdrivers, wood saw, cap lifter, reamer, scissors, seatbelt cutter, crate opener, large blade, wire stripper, and a lock release.
What makes this Victorinox Swisstool really special is that you can readily gain access to each and every tool from outside the handle. Most multi tools on the market require you to pull on the item you need to use, but this product works differently as it allows you quick and smooth access to the tools you frequently use.
Besides this, these tools that you use more don't close until you choose to lock them back in, which makes it all the more efficient for emergency assistance.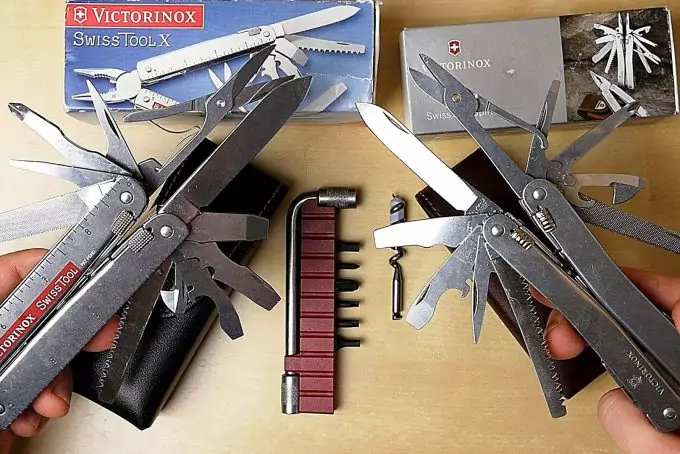 You will likewise enjoy a high quality product, manufactured from stainless steel which offers you the guarantee of a lifetime warranty. Hence if you have trouble with one part or item of this multi tool, you will be immediately sent a replacement, but that's rarely the case with Victorinox, a brand which prides itself with manufacturing life lasting items.
[the_ad_placement id="in-text-3-type-a"]
At 7.2 ounces and dimensions of just 3.5 x 2 x 2 inches, this product has the advantage of being rather convenient to carry around, either in your purse or in your pocket. However, at its purchase you will also receive a nylon pouch in case you're more interested to carry it this way.
Whichever option you may choose, you will surely never want to leave it at home again because it can prove significantly useful and efficient, increasing your self-help and survival chances in case of an accident.
Like this amazing product? Then you can buy it on Amazon.
That being said, a good survival multi tool will help you in numerous circumstances not only when you're outdoors but indoors too. That's why it's advisable to pick an item you can have ready access to, with many complementary uses, which is also easy to carry and made only from the best materials, like all of the above products.
To help you how to choose the best survival tools, see our article on this topic.
Some of the links in this post are affiliate links. This means that if you click on one of these links and make a purchase, I earn a small commission at no extra cost to you. Also, as an Amazon Affiliate, I earn from qualifying purchases. If the information in this post has been helpful, please consider purchasing through one of the links in this article. Thank you.