In the event of an emergency or disaster situation, a get home bag is an essential product to have with you. In fact, having one of these bags, akin to a bug out bag, can end up saving your life. The latter statement is especially true if you have the correct items inside the bag to keep you alive in a time of crisis.
[the_ad_placement id="in-text-1-type-a"]
The bag for getting you home safe and the bug out bag differ only in terms of location. An emergency bug out bag is something you pack so you have it when you leave home to go to a safer destination until the crisis ends: The contents of the bag are meant to hold you over for a matter of days or even weeks. In contrast, the get home safe bag features items you will need to make your way home if a crisis occurs while you are away from the safety of your abode.
About bags for getting home
The get home bag is ideal for those who travel. For the individual who likes to be ready for everything and anything, having one of these bags is definitely all about a focus on preparedness. When it comes to preparing for disasters, choosing a bag and packing it with the things you will need to get home is one of the easiest things you will ever have to do.
What's more, building a survival bag that will help you get home in an emergency is a relatively inexpensive measure to take. Bringing the bag together so that it has everything you need is a practice that will have you calling into consideration preparedness tactics, backpacking and hiking knowledge, and a bit of search and rescue knowledge as well.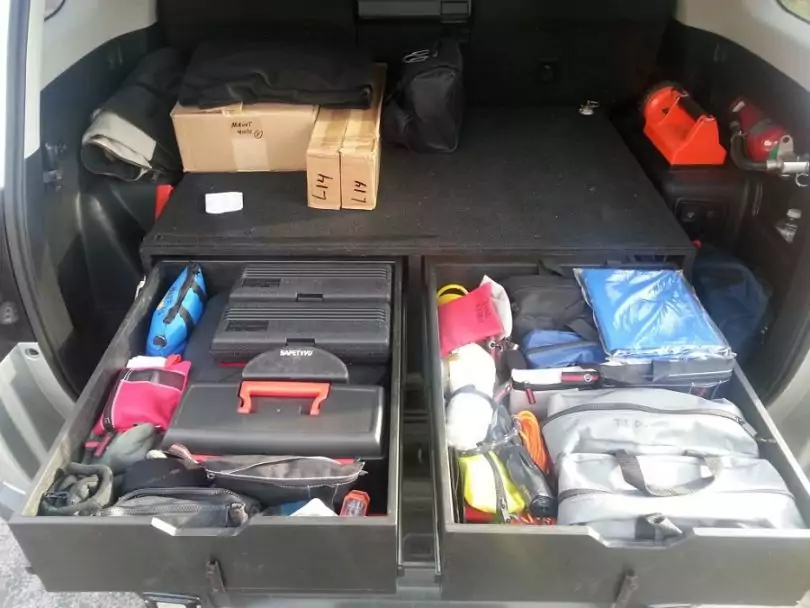 This essential emergency bag is sometimes referred to as GHB. The survivalist bag is something that you pack with a variety of supplies for the purposes of helping you in returning home when you are stranded for whatever emergency that arises. The GHB is a survivalist's item you tote around with you wherever you go. The ideal location to put the GHB is in the trunk of your vehicle.
If you own a truck, you might be able to put it in the toolbox, provided you have room to spare. Some vehicles have bench seats that lift up where you can store the bag as well. The primary goal of having a GHB is to allow you to return to your premises as quickly as possible during an emergency and the bag should contain items that will help you if you are stranded or if the find you have to travel a considerable distance to get from point A to point B.
Creating a list
Deciding what you need and what you do not need in the bag can be a cumbersome task. First, you will need to sit down and create a get home bag list. In order to get some sense of what you might need in the bag, you need to consider what disasters might strike in the region where you live.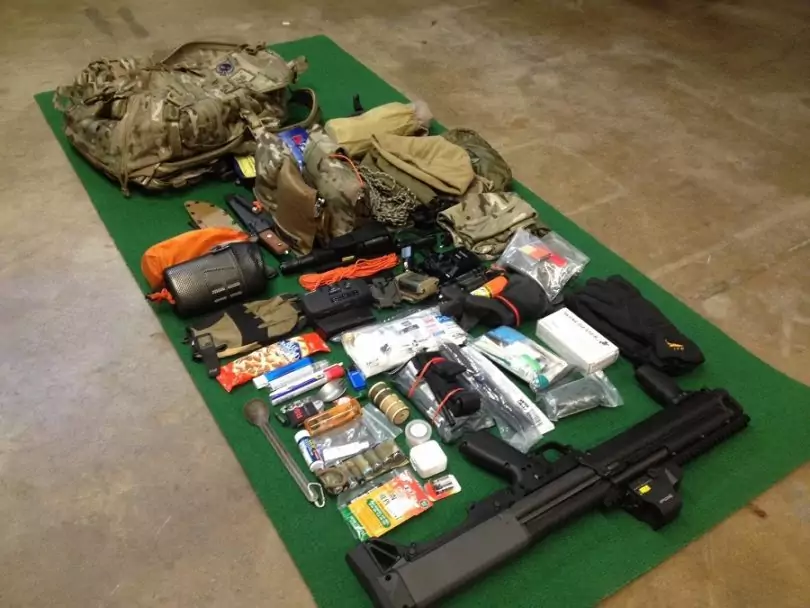 Ask yourself these questions:
What would you do if a massive snowstorm made impossible to get home and you were stranded?
What if there was an earthquake; What emergency items will serve you best?
What if the electrical grid went down? What would you do?
What happens if you are faced with hurricanes, tornados, flooding and storms?
Would you be prepared if a terrorist attack prevented your safe passage home?
Consider what you would do if suddenly stranded because of vehicular break down, a collapsed bridge, or other disasters that could happen. Would you be ready?
In addition to the kinds of disasters you might encounter unexpectedly, you will have to give some thought as to how often you travel and the average distance you cover. Of course, if you only spend most of your time traveling from your house to the local school or grocery store, it is really easy to figure out what distance you have to cover.
If you would have to cover a lot of distance between the place where you are stranded and the place you call home, keep this in the back of your mind as you pack products and items in the bag. Bear in mind however, that even if you do not pack the perfect amount of items for when a situation arises, having some resources on hand is far better than having none whatsoever.
Bag design
The bag you choose for the task of serving as a GHB does not have to be stylish, but it does have to prove practical, spacious, and durable. As you build the bag by adding items to it, you will begin to figure out what items are vital in an emergency. If you are making the bag for an adult, then it should weigh less than 20 pounds; this is so you can carry it without excess strain or inducing exhausting. To give you options, see our review on the top emergency bug out backpacks to guide you.
Mil-Tech's 36 Liter Tactical Backpack
A Tactical Backpack by Mil-Tech is ideal and is a product we trust and recommend. The bag ranges in price from $41.73 to as high as $149.95, depending on the features you desire but it is an excellent option for an emergency bag. The bag has two front pockets for extra storage.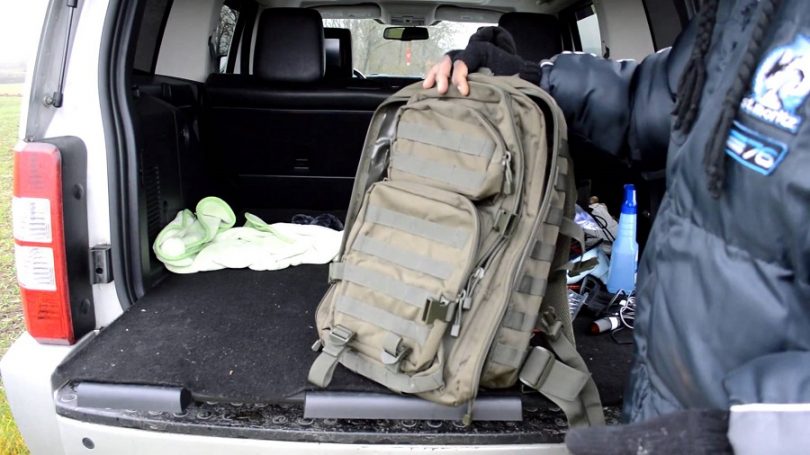 Additional features include:
A Velcro pocket for fitting a hydro pack
Spacious dimensions of 20.1 x 11.4 x 11.1 inches
36 Liter capacity in all
600D polyester materials
The bag is water resistant
If you like this product you can find and purchase it on Amazon.
Following the rules
There are some hard and fast rules to managing the GHB too.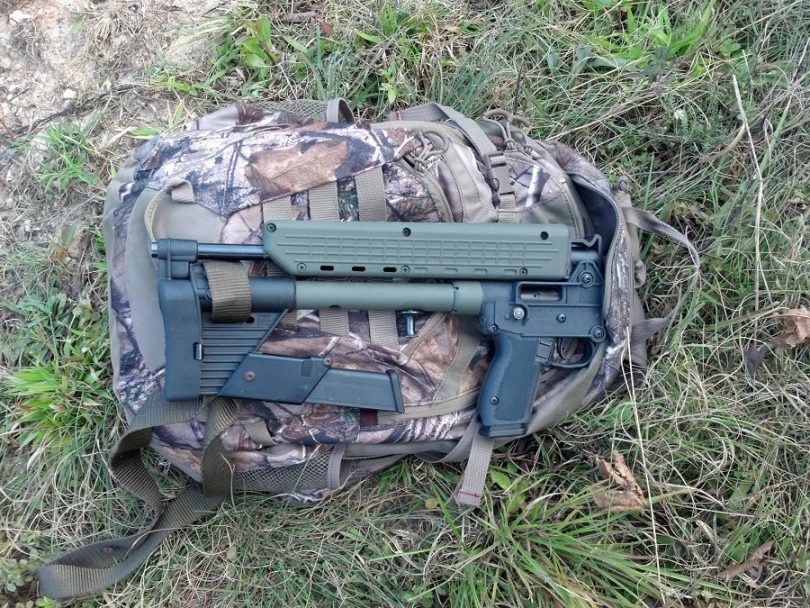 These rules help to ensure that your bag is always full with fresh content and that you have everything you require when an emergency finally occurs:
Rule 1: Never store a gun in the bag: If the bag is stolen the gun is too.
Rule 2: When adding water products or filtration products to the bag, replace and refresh two times a year to avoid issues with water stagnation.
Rule 3: Pack foods that do not perish easily, but make sure you rotate the foods too. In other words, eat what's in the bag but replace it immediately so you always have fresh food on hand. Check out our article on the best emergency food kits and MREs to pack in your bag to ensure your survival.
Rule 4: Put different attire in the bag every couple of years: Remember, you change size and clothing only lasts so long before it begins to slowly shred, thin, and waste away.
Rule 5: Keep heavy objects off your bag so you don't crush anything.
Rule 6: Don't use the items in your bag one day and then forget to replace the items. Keep the bag around for safety only.
Improvising shelter
Among the get home bag essentials is some sort of shelter. You never know when you will be stranded in a storm, the rain, during a flood, or in some area where you have to bunker down for the night before you can walk to your home safely.
[the_ad_placement id="in-text-2-type-a"]
The options you have that you can bring with you that will not weigh your bag down too much are limited, but limited options are better than none at all. Consider packing the one or more of the following:
Garbage bags/Leaf bags: In a pinch, you can use the bags to create a shelter outdoors that is wind and waterproof. You can also put some down on the ground so you can keep yourself dry.
Tarp: A tarp is diverse. The large piece of material is durable and you can use it to make a makeshift tent of considerable size. The tarp can also be used to keep you off the ground and dry.
If you are packing your bag and planning for an emergency for just one, a single person tent can proof helpful in an emergency as well.
As you consider a makeshift shelter, consider some other essentials like one or two fleece blankets so you have something to lie on, and a sleeping bag to ensure body warmth as you sleep. You can even opt for a bivouac sack, which is ideal because it is so light and easy to carry. If you forgo adding a shelter to your bag, at least include a poncho to keep you protected during the rain, or make sure you have extra gloves/mittens, a scarf, and a hat in the bag for wintry weather conditions. Here's a list of our top emergency blankets that won't weigh down your bag, check it out.
The Woodland Camo Bivy Cover
Tennier's Woodland Camo Bivy Cover is waterproof and the exterior is a camouflage color. The costs are around $56.39 to $159.95, depending on where you buy it and it measures about 83 inches long, 36 inches wide on top, and 29 inches wide at the feet. Gore-Tex® technologies are what keep the bivy waterproof and the seams on the bag are heat-sealed as well.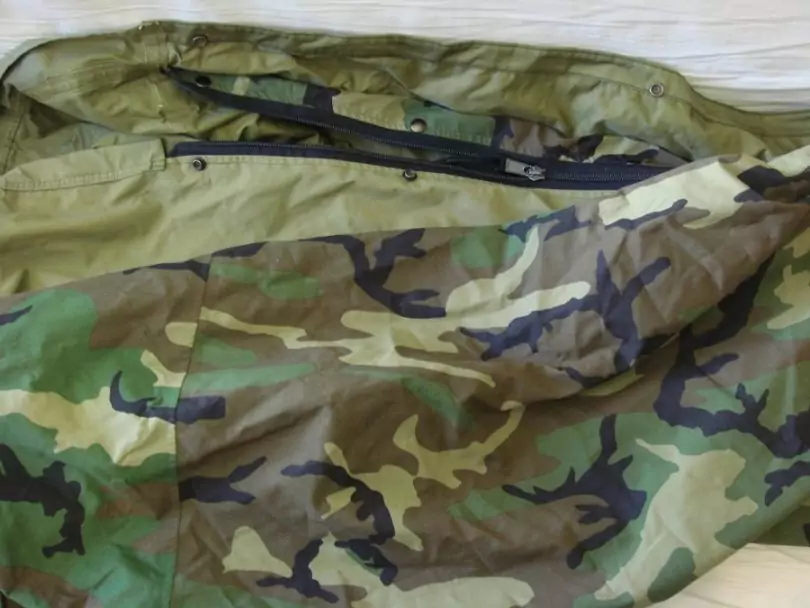 Like this amazing product? Then you can check the current deal for it on Amazon.
Food for 72 hours
Spare food is important to store away and you want to pack enough to last you at least 72 hours. Dried foods and those that are not highly perishable are recommended.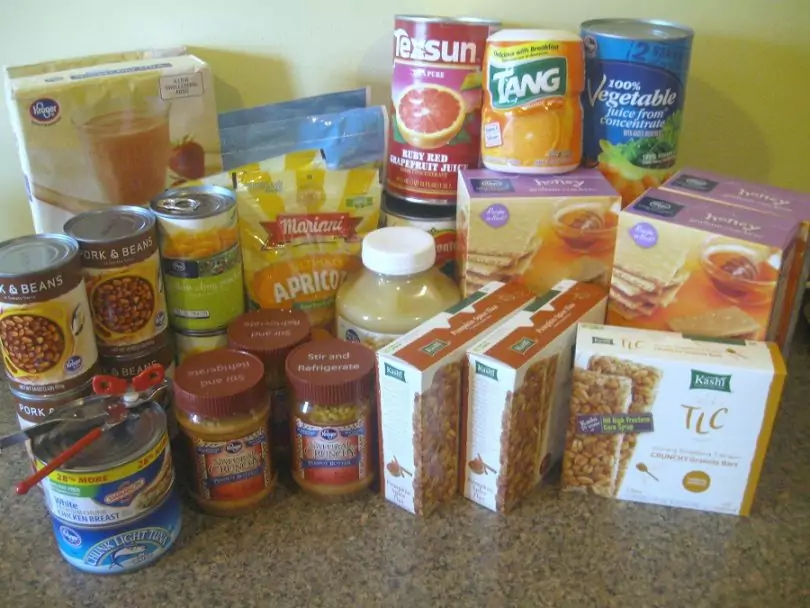 Here are some of the foods you can consider bringing with you:
Foods to include
Observations
·         Beef Jerky

·         Canned Chicken

·         Canned Tuna or packets

·         Spam

·         Canned Hash

·         Canned Fruit

·         Canned Veggies

·         Dried Fruit

·         Peanut Butter

·         Peanuts

·         Granola & Loose and Bars

·         Meal bars

·         Oatmeal

This list includes canned goods so you will need to bring a handheld can opener with you. If you have a chance, store an extra can opener in the glove box of your vehicle too: You never know when the one you pack might break.

These foods were chosen because they last a long time as they are canned or dried. You still need to examine the expiration dates from time to time and you need to rotate the food out to ensure the bag is always filled with fresh, consumable foods.

·         Powdered Milk

·         Tea

·         Lemonade powder

·         Kool Aid powder

·         Hard Candies

Water is, by all means, the most important beverage you can bring with you, but who says you cannot dress it up a bit with some flavoring. Teas can serve double time as some work as natural healing remedies too.

Consider packing honey and lemon tea for a sore throat or Echinacea to give you an immune system boost during an emergency.

·         Spices

·         Herbs

·         Honey

Spices and herbs can flavor your food, or they can offer healing benefits too. Honey does the same; you can enjoy its sweet flavor, but it also has ingredients that make it a natural healing source. It is excellent as a source of natural antibiotics and it helps in healing wounds more effectively.
Water is another essential
If you are human, you cannot live without water, it is just that simple. Either you must have water with you in an emergency, or you must find a clean and viable water source quickly. In fact, in addition to starting a fire for warmth and establishing a shelter if you plan on staying put for a few hours, having or finding water is your top priority. Also, one of these items will prove extremely useful:
Water Bladder: This will hold as much as two to three liters of water. You can also bring some water bottles with you so you have extra water on hand. To make things easier for you, there are backpacks that are fitted with a water bladder as a feature.
Water bottles: If you opt for water bottles you can get them in quart size bottles. Bring two to three liters with you at most.
Water Packs: If you want another water source, you can pack away up to four water packets for each day the bag must last. A 72-hour survival pack will require 12 packs of water.
Water filter system: There are many options available, with many systems capable of straining out bacteria that would make you sick otherwise.
Lifestraw Water Filtration
Lifestraw is one of the most popular options on the market today when it comes to water filters. It is light, portable, powerful, effective, and affordable. The water bottle comes with a 1000 liter integrated filter and only costs between $29.94 and $34.95. The unit removes 99.9999% of waterborne bacteria as well as protozoan parasites. Even better, you do not get the iodine or chemical aftertaste that comes from other water purification systems.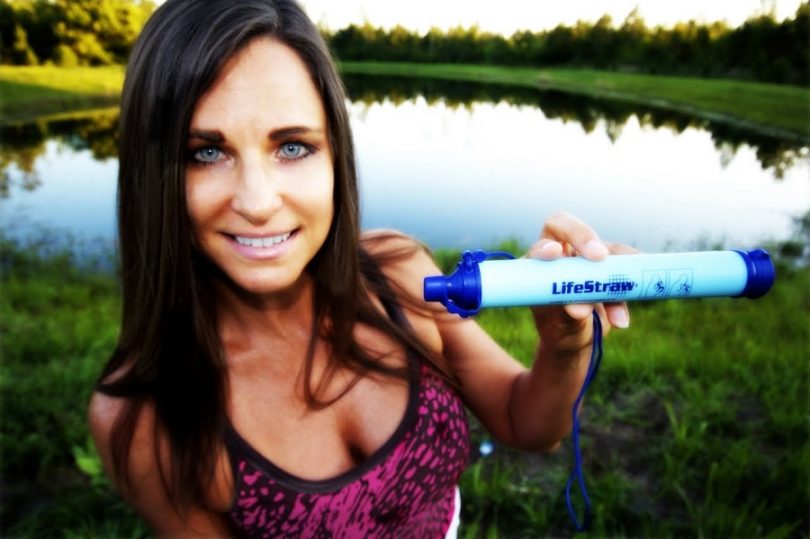 How much water is enough? If you are a man you will need roughly 3 liters of water for drinking purposes so you can remain hydrated. If you are female, you will need about 2 liters of water. The more active you are and the further you have to travel in order to return home will increase your needs for water. Other filtering options include Mini Water Filter Pumps, Chlorine Dioxide Tablets, Iodine Tablets, and water bottle filters.
Like this amazing product? Then you can check its price here.
Additional necessities
There are plenty of things you might want to take with you, but you have to remember you will be caring all of these things on your back. If you do not backpack often, it can prove a daunting task. That is why it is important to keep the bag as light as possible.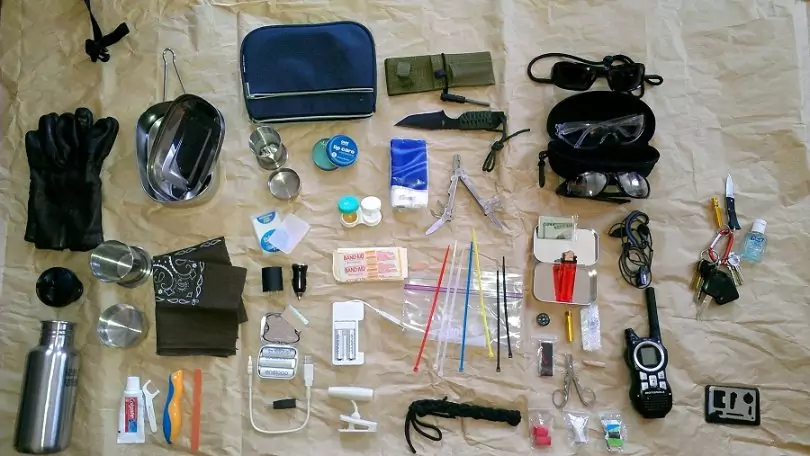 With every item you slip into the bag ask yourself these two important questions: "Do I really need this," and "What purpose will it serve."
Protective gear: When an emergency occurs, you need to be ready for just about anything. A pocketknife, pepper spray, and additional ammunition are something you should pack for just such an occasion. Remember; keep your gun separate from the bag at all times.
Fire starting gear: A lighter, matches, and a fire starter like fire steel (magnesium) are all products you can benefit from having on hand. Make sure you have some good tinder too: A bit of dryer lint or petroleum jelly soaked cotton balls go a long way in terms of tinder and getting a fire going.
Common sense equipment you will want on hand: A headlamp, flashlight, and batteries will have you being able to see no matter what time of day it is. Make sure you have sunscreen and chopstick in case you are stuck in the Sun for a good length of time. Toilet paper, a portable radio, extra batteries, and spare clothes can also be slipped into the GHB bag. Do not forget the first aid kit, a plate, fork, spoon, mug, and perhaps a small pan for cooking. Finally, if you can manage it, stash a bit of cash away where no one can find it.
In conclusion
A get home bag is an item that will serve you well when preparedness becomes important.
Putting a GHB together is not at all difficult, and it is one of the least expensive preparatory measures you can perform. Do not think about trying to be ready for every single disaster you can imagine, just think about essentials and getting through a few days as you tough it out.
[the_ad_placement id="in-text-3-type-a"]
With some food, water, warmth, emergency shelter and a few essentials, you can increase the likelihood of your safety and survival. Remember, if you are preparing survival strategies for all your family members that every person should have his or her on bag and a convenient place to stash it.
Some of the links in this post are affiliate links. This means that if you click on one of these links and make a purchase, I earn a small commission at no extra cost to you. Also, as an Amazon Affiliate, I earn from qualifying purchases. If the information in this post has been helpful, please consider purchasing through one of the links in this article. Thank you.