Ever since ancient times, people have created several types of outdoor activities to pass their leisure time with great enjoyment. Activities like hunting, various outdoor games, enjoying picnics and so on are on top of preferences these days. Among them, hunting can be considered one of the most exciting activities. Hunting can be defined as the practice of pursuing, trapping and killing wild animals and its main purpose is to hunt wild animals for food, trading or any recreational purpose.
It is noteworthy that, hunting (lawful) is different from poaching (illegally killing or capturing any wild animal). Generally, mammals and birds are the main species targeted for the hunting game.
In ancient times, people hunted various animals for survival and they used mainly spears, bows and arrows, knives and other ancient tools as weapons. However, this activity has gradually turned into a symbol of testing courage, speed, accuracy and skill. Even today, people go hunting to test these skills.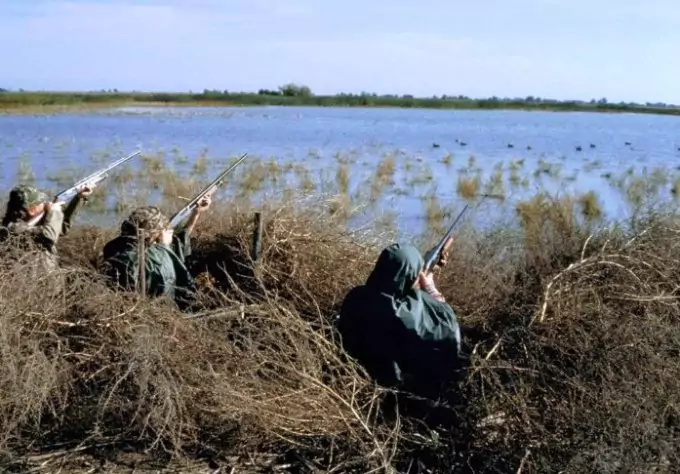 Given the fact that, along history, hunting was always associated with royalty and nobles, it became a prestigious activity that offers satisfaction and power. Even in some religions, it is found that, hunting is an essential part of important rituals. It is also found from the terracotta of the temples that, deities went to hunt animals. However, some religions only allow hunting for food, not for the purpose of game.
In our times, people became more aware of the surrounding environment and this lead to various controversies regarding the hunting activity. People concerned about the animal right and who protest against such an activity, suggested to conduct hunting within a limited scope to preserve the diversity in the nature. Otherwise, we will lose our valuable animals from our world. It will have severe harmful effects on the ecosystem.
Duck hunting tips
Duck hunting is one of the enjoyable outdoor activities that we were talking about in the beginning of this article. It's easy to learn and professional hunters consider the wild duck one of the best sources of protein out there.
See: Duck Hunting: Strategies, Requirements and Advices from Experienced Hunters
This happened because they live in the wild forest eating only natural foods. Considerably they are better than farm ducks, which can be genetically modified and/ or kept in improper conditions. If you compare the taste between wild ducks and farm ducks, you will find that the taste of wild ducks is considerably better.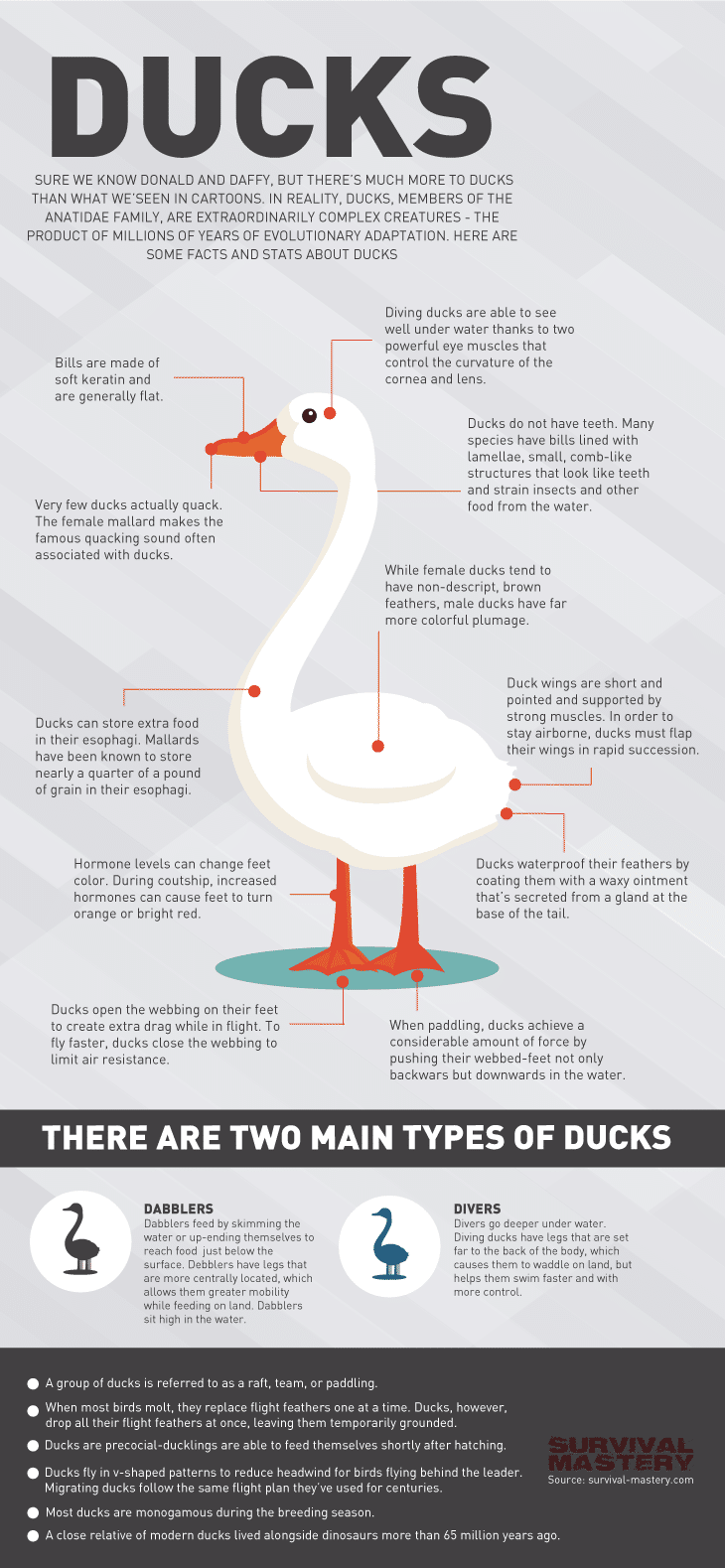 While you are going for hunting ducks (or any other animal), you should remember the following tips:
Learn how to kill an animal: killing a living creature can be very difficult for a person. Nowadays, we are accustomed to eating the meat of an animal which was already killed by butchers or other persons. So, consider whether you will be able to handle killing a duck. If you cannot perform this, then you should probably reconsider your choice of outdoor activities.
Take a friend or mentor with you: duck hunting can be considered a social event during which you will be able to learn new things even if you have already crossed the experience of a novice.
Get the necessary equipment and get up to date with the latest information: as you are going to be living in wild conditions for at least a few hours, you should be prepared both mentally and physically for such an event. You should take appropriate clothes, guns and other necessary stuffs. Besides that, you have to take necessary licenses and permissions for hunting in a particular area. See our article on how to get a hunting and fishing license to help you.
Seek the perfect spot: finding a spot is crucial for duck hunting so make sure to do your research. You can either go online or ask an experienced hunter about the most suitable place for duck hunting.
Differentiating the ducks: you should be aware that there can be different kinds of ducks in one forest or area. Knowing that, make sure you understand which species are allowed to be hunted in one area. There can be a particular law regarding a specific species to preserve their rights.
How to prepare the meat: you should also know how to prepare the meat so it can be edible after hunting. The most popular method is called breasting and it requires cutting the middle of the duck's belly. Another method is to remove the gut, then cook the duck as a whole. It's very possible to make a few mistakes at first, but keep practicing and you'll learn in time.
Following these few tips and trick, you'll be able to become a better duck hunter. Remember, confidence is the key to be a good hunter! Be courageous and most importantly, you should learn some survival techniques when you are planning to live in the forest for hunting.
There are several types of benefits of hunting, particularly related to environmental and health benefits, that drive people to go hunting.
Health benefits: Firstly, hunting has significant health benefits. As you will need to roam around in the forest or areas similar to it for finding a suitable place for hunting and staying at night if it is required, you will gain physical strength. In addition to that, physical activity will reduce unnecessary fat in your body. On the other hand, you will gain mental strength too.
Environmental benefits: Hunting helps the balance of the ecological system. For example, in a given ecosystem, a certain type of animal can increase in number, bringing a complete imbalance in the surrounding area and hunting can be one of the best ways to keep animal population under control.
Economic benefits: If you can hunt, you can save money and you can also sell the hunted animals in the market. However, you should obtain the permission from the local authority. It is necessary to preserve the diversity in the local area.
Why guns are better in comparison with crossbows
Hunters mainly use two kinds of weapons for hunting: guns and crossbows. According to your preferences you may lean more towards the crossbow but when it comes to hunting ducks, we consider guns to be the best choice and here are a few reasons why:
Gun can cross a longer distance. A crossbow can fire at about 350 feet per second when a gun can normally fire at about 3000 feet per second on average. That means a crossbow can send an arrow approximately at a distance of 500 yards while a gun can fire at a distance of 75 yards.
Guns are faster for the second shot. Generally, you will not need to reload bullets immediately after your first shot as bullets are already inside the gun. If you miss the target for the first time, you can always shoot quickly the second bullet. On the other hand, crossbows need some time to reload an arrow.
Bullets are very fast and penetrate deeply. As a result, it can smash the bones. Even though an arrow can do it too, it depends on the distance, speed and accuracy of the arrow.
Gun requires less physical strength. When you are using a crossbow, you will need to pull the string hard and this requires physical strength. However, pulling a trigger is much easier and any person can do it easily.
Bullet kills faster. The aim of using a gun is to kill an animal with the shock. Bullets can kill quickly while an arrow may miss and leave the animal to die slowly.
If you consider the above mentioned factors, you will realize that a gun is better than a crossbow for hunting ducks. Guns can make your hunting more enjoyable and easier but crossbows are also an effective weapon for hunting. Considering all factors, experienced hunters usually prefer to use guns for hunting. For tips on how to choose the best hunting air rifle, see our must-read article on this subject.
Factors to consider while buying a gun for duck hunting
Specialists say, when you are going to buy a gun for duck hunting, you should consider several factors to pick the best one from the market.
Consider your level of experience – if you are relatively a new gun user, consider to using a .22 caliber for your purpose. It is cheap, light and easy to learn. However, remember that it is a low powered gun. Before buying this gun, consider whether all relevant features are available, especially the safety features.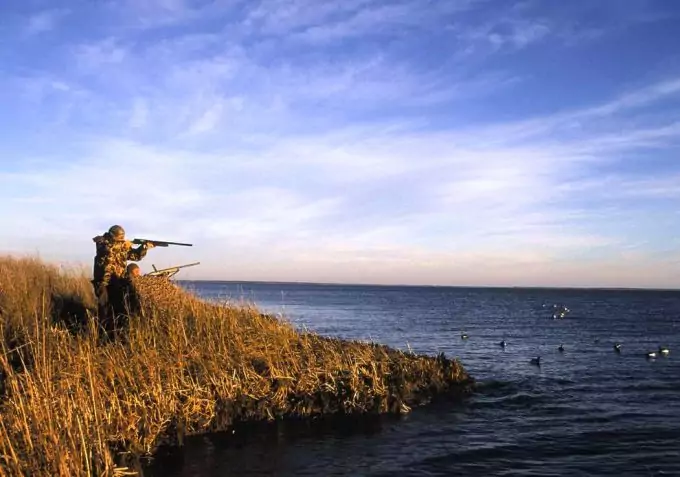 Consider its simplicity and maintenance – the gun should be easy to use and enjoyable to shoot. It is true that you have to practice a lot to gain expertise over it and for that reason alone, start using simpler guns. This way you'll understand their functionality quicker and easily. In addition to that, you will not need to spend a lot of time with maintenance.
Consider your budget: this is a very important feature when buying a gun. Choose the cheaper guns for practicing, and gradually improve the gun according to your expertise and necessity.
Consider the outer features of the gun – if you buy a used gun, check whether there is any rust or dirt on the gun.
Before buying a gun, you should consider some further tips as well. These are as follows:
Practice a lot: You have to practice a lot if you want to gain accuracy and perform better. The type of gun does not actually matter if you do not know how to aim accurately.
Keep your gun clean: Your gun can lose its proper functionality if you do not keep it clean on a regular basis. For that reason, you should clean your gun using proper materials and cleaning equipment.
Read or take suggestions from a pro: It is always better to take suggestion from a pro or to read articles containing valuable suggestions regarding hunting. As a result, you will gain knowledge and you'll be able to apply it when you are going hunting.
Try to keep yourself updated and do not stop learning. This way, you will be able to become a pro hunter.
Some recommended guns for duck hunting
There are many guns available on the market and this may confuse a beginner. We put together a few suggestions for you but you should feel free to read about other guns too.
Gamo 6110065654 Big Cat 1250 .177 caliber
This is a popular gun among duck hunters as it is very light and durable. To protect it against the harsh weather, the fluted barrel is covered with high-tech polymer.
Its power plant is reliable, which can produce 1200 fps (feet per second) with PBA.
It has the following characteristics:
It is a 0.177 caliber air rifle and you can make one single shot at a time;
It has an excellent scope with 4x magnification and 32 mm objective;
Its cocking system is automatic;
Its grip and forearm is non-slip checkering;
Its barrel is made of steel;
You can also use this gun for controlling small pest.
Specifications:
Its weight is 6.1 pounds;
Its length is 43.3 inches;
Its ammunition is any 0.177 pellet;
Effort for cocking requires 30 pounds.
Advantages:
It is a very accurate and powerful gun and you will definitely enjoy shooting.
As it is light, you will be able to carry it and roam around easily and fire comfortably.
It is durable; therefore, you can use it for a long time.
You will not need to worry about cocking the gun, as its cocking system is automatic.
Disadvantages:
The scope is not good, you will face problems while using it.
Users' opinion:
Many users have suggested that, the performance of the gun has exceeded their expectation. They are particularly happy with the performance of the gun, its weight and body. However, users have complains about the scope as it has failed to fulfill their expectations.
If you like this product you can find and check its price here.
Crosman Nitro Venom Break Barrel Air Rifle (22)
This is an ideal gun for small games, hunting and pest control. Its forearm is suitable for accurate shooting and it has following characteristics:
It has a 3-9×32 mm scope produced by CenterPoint;
It can shoot up to 950 FPS;
Its overall length is 44.5";
Its weight is 7.375 lbs;
It is a very beautiful gun: its wooden stock and overall design is impressive.
The scope is exceptionally good;
Its piston is comparatively quieter – a spring piston would be much louder.
Advantages:
The pellet is very accurate and powerful.
The gun is suitable for duck hunting but you can hunt other birds, squirrel and small hogs as well.
Its weight is decent enough to carry and fire with it.
Its cocking system is very simple.
You can shoot without bothering your neighbors, as its piston is much quieter.
Disadvantages:
Its price is comparatively higher.
Users' opinion:
Users have generally expressed positive opinions regarding this gun.
They are highly pleased with the performance and user-friendly design. However, some suggested that they are having problem with the scope although it is a better scope. Furthermore they suggested that a user can change the scope and add which one they prefer for their purpose.
If you like this product you can find and purchase it on Amazon.
Winchester Model 1400CS .177 Calibre Break-Barrel
Winchester is one of the most famous guns among the hunters. Its .177 caliber model is considered the best model in the market. Its design, accuracy, weight and performance are significantly better than other guns in the market.
Its specific characteristics are:
With its alloy pellet, its speed is 1400 feet per second;
It has a sound suppressor and, as a result, the gun noise is reduced up to 50%;
It has an excellent scope of 3-9×32 mm. In addition to that, it comes with a bipod (folding) and sling.
Advantages:
Its accuracy is very impressive.
You will not be tensed regarding the noise, as the sound suppressor can reduce the sound up to 50%.
It is comfortable for hunting and shooting small targets.
Bipod legs provide steady support for firing.
The web sling is made for carrying the gun easily in the field.
Disadvantages:
The box for the gun is quite fragile and sometimes it may break during shipment.
Surprisingly, the gun cannot be accurate in some occasions.
Users' opinion:
Users appreciate this gun's performance and some suggested that, the attention to details is incredible.
They also suggested that the price is reasonable. However, there are contradictory opinions regarding the accuracy. Some have found that it is very accurate whereas some said that it is very inaccurate.
If you like this product you can find and buy it on Amazon.
Afterword
Now, you are aware of the importance of hunting, why a gun is better option for you, some important tips for hunting ducks, some guns suitable for hunting ducks, and some other further helpful information.
However, you should respect the good duck hunter's credo that states to not be cruel to ducks or any other animals and do not kill any rare species of duck. Remember, they are valuable wealth for our nature. While you are hunting, avoid hampering peace of any other animals (like destroying their nest) or disturbing your neighbors.
Before you go hunting, see our reviews of the best hunting app to help you get a good catch.
Happy hunting!!
Some of the links in this post are affiliate links. This means that if you click on one of these links and make a purchase, I earn a small commission at no extra cost to you. Also, as an Amazon Affiliate, I earn from qualifying purchases. If the information in this post has been helpful, please consider purchasing through one of the links in this article. Thank you.