If you're looking to go backpacking, you want to make sure you have all the best possible equipment. Equipment for backpacking is pretty extensive as well. You're going to have to get a quality backpack, the right type of food, the right safety equipment and more. One of the important tools you're going to need however, is a quality pair of backpacking boots. You need these because that's the only way you're going to get through your hike or backpacking trip.
If you don't have the best backpacking boots you just won't make it as far as you hoped. So what are the best backpacking boots available to you?
The first thing you need to understand is what goes into picking the best backpacking boots. These factors are going to play a part in how we choose our top contenders and how we decide which is the overall best option for someone going on a hiking trip, whether you're going hiking for a short time or you're planning to go for a long trip.
The things you need to look at include comfort, support, durability, weight and material. Each of these aspects is going to add together to determine whether the boots you choose are actually the best for your needs or not.
What to look for
Comfort
Being comfortable is extremely important when you're backpacking. The last thing you want to do is get way out in the middle of nowhere and realize that your feet hurt because of arch supports, ankle supports or just the material that your boots are made of.
By checking the level of padding around the ankle as well as on the insoles you should be able to get a decent idea of how good the padding works before you start wearing the boots. You'll also want to spend a little time breaking them in which will give you an even better idea of how good they are going to feel after a long hike.
Support
Possibly one of the most important factors when it comes to backpacking, support is going to be a big part of choosing the right boots. You want boots that are going to support the arches of your feet as well as your entire ankle.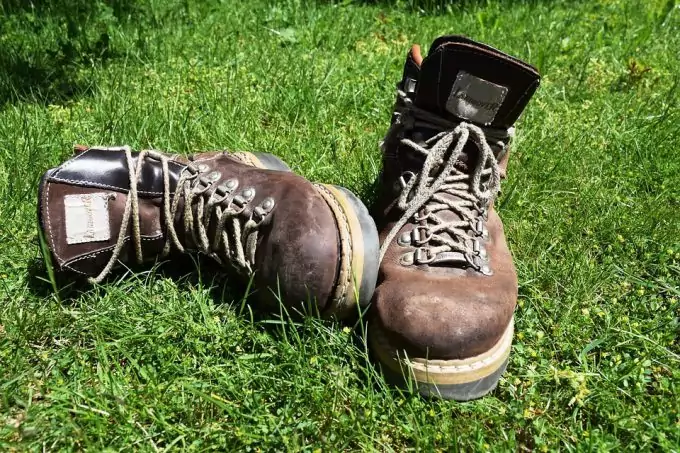 When you're backpacking it means you're carrying a lot of weight and you don't want to find yourself rolling an ankle on a mountainside. This can result in big problems, especially if you're far away from regular civilization. Look for boots that cover at least the entire ankle and have quality supports.
Durability
No one wants backpacking boots that are going to fall apart before you've finished even a couple trips in them. Make sure that you are looking at what they are made of (another factor we'll talk about in a minute) and also at the type of build they have.
Your boots should be built in a long-lasting way, meaning they should definitely have strong stitching and they should be sealed well. If they don't seem to be stitched together or if any of the stitching appears loose you definitely don't want them.
Weight
When you're backpacking you're already going to be carrying a lot of weight. What this means is you don't want to carry a lot more. Most backpacking boots are going to be much lighter in weight than traditional hiking boots because of this fact.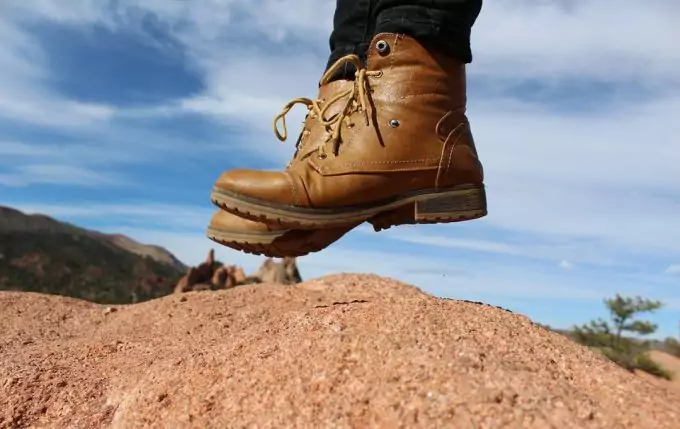 This also makes the more suitable for any type of travel whether you have a hiking path or not. You want to make sure that you get backpacking boots that are going to be comfortable when you're walking for long distances. You don't want them so heavy that you're dragging before you get to your destination.
Material
There are many different materials that you can choose from when it comes to the uppers of your backpacking boots. Some are made with full-grain or split-grain leather, while others are made with Nubuck leather or synthetics. Some are even made with waterproof materials. You want to look for something that is going to be high quality, generally full-grain leather or Nubuck leather.
The split-grain is generally going to be less water resistant and can have some abrasive qualities. Synthetics also have more trouble with breaking down faster than genuine leather versions of these boots.
Waterproofing
The final aspect to consider, which we didn't actually mention above, is the waterproofing. You want to make sure you have boots with adequate waterproofing because you could be walking through puddles or even streams, depending on where you're going.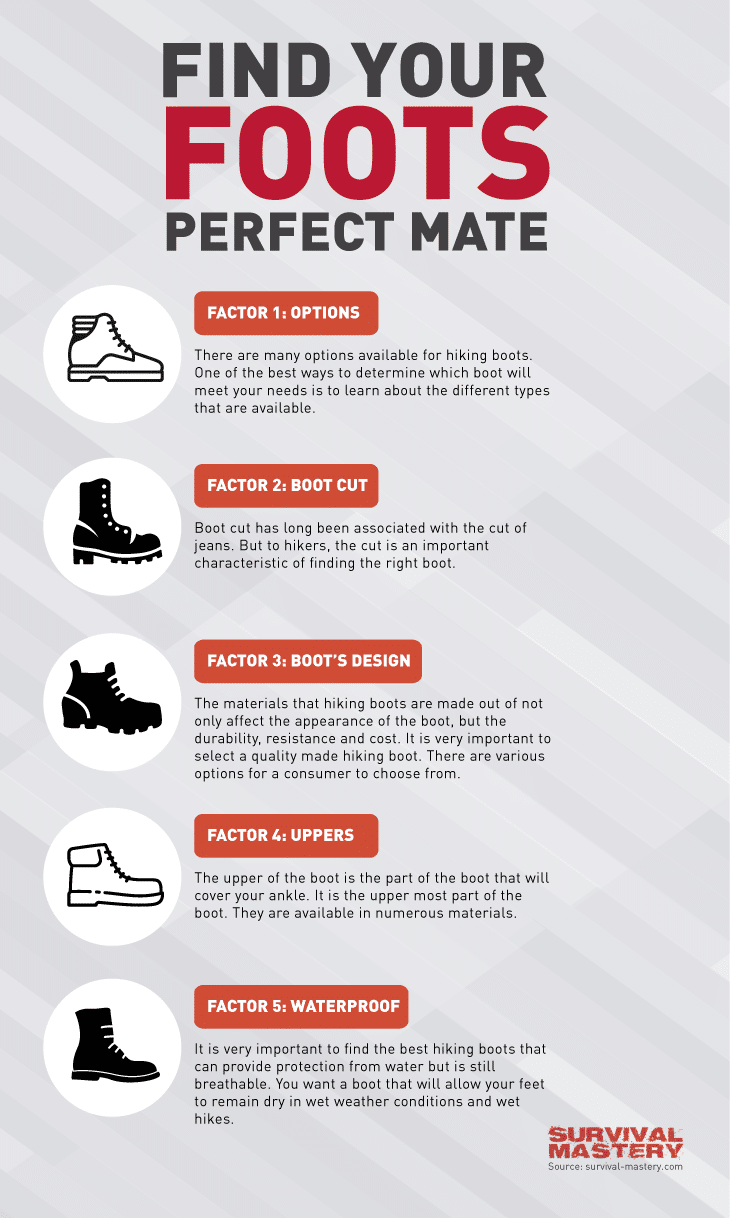 The waterproofing may only be around the foot to protect it from water, however, if you're going anywhere that is going to have a lot of water you may want to consider getting full waterproof booties in your boots. This will help protect the entire area that the boot covers (including the ankle) to ensure that you don't end up with blisters or problems from too much moisture.
Check out our article on how to waterproof your boots for more information.
Top 5 boots
Salomon Men's Quest 4D GTX
These boots are reasonably priced and have a large number of excellent reviews. They are made of leather with rubber soles, heels and toes. The framework of the boots are made of Gore-Tex, a waterproof but still breathable material that allows you to wear them no matter what the weather.
With the medium height for these boots your ankle is supported well without being too high, leading to discomfort in warmer weather. These boots come in a deep brown color and are designed to help you comfortably travel no matter where you want to go.
On the downside, these boots will provide a little extra pressure on the arch of the foot based on the way they were created. It's important choose the right size boot, which is easier to do if you are careful to go to the company website rather than relying on Amazon for accurate sizing information.
You will also need to wear thicker socks when wearing these boots as they can be slightly painful on your toes if you are not careful when walking around in them (difficult to do when you are hiking).
The arch support can be changed over time, however, if you are careful to tighten up the laces on the frame of the shoe separate from the laces at the top of the ankle. If you keep the laces at the bottom a little looser you're going to feel much better while hiking.
Wearing thicker socks has also been found to help with the arch support issue as well as the issue with stubbing toes. This is another reason it is important to check with the company about proper sizing.
If you like this product you can find and buy it here.
Vasque Men's Summit GTX
These boots are made of leather but lined with a traditional, breathable and waterproof Gore-Tex lining. They have easy lacing ability and D-rings to tighten them up easily as well. This is great for anyone going on a long hike because it allows for more freedom and quicker movement.
Brown in color, these boots are also reasonably priced and have a low ankle support. This provides the support you need without overdoing it. They are also very easy to break in and have excellent grip so you can keep moving through any surface. To learn how to break in your boots, read our earlier article on this topic.
Unfortunately, these boots do not have as much of the Gore-Tex material as other backpacking boots, which means they are not completely waterproof. They are also made in China which, according to many users, has resulted in lower quality than the same boots which were previously made in Italy.
The soles have also been found to come off in some instances though these seem to be less frequent. The most common problem is that the outsole is relatively thick and, when standing still, it is not entirely stable and useful.
Overall, these boots have decent leather quality and, in most cases, they are sewn together with good quality. On the other hand, they can have some problems with stability if you are simply standing and may not be 100% waterproof as they do not have a full waterproof bootie.
Instead, they actually have a waterproof liner around the feet. This means, if you walk through water you will be able to keep your feet dry but if the water comes over your feet (up to your ankles) the water is able to seep through. This does not work well if you are walking through different types of land.
If you like this product you can find and check its price on Amazon.
Danner Men's 453 GTX
Brown trimmed in black, these boots have a 5" shaft from the base of the arch up the ankle to keep the entire foot protected and supported. They have a scuff-proof cap on the toe to protect you when you're walking through the woods. You'll also get extra strength from the leather makeup.
The biggest benefit of these boots is that they are soft and comfortable under your feet and will have no trouble keeping strong throughout your trip, no matter how long it actually is.
Some people have found difficulty with these boots because of the ankle supports and the way that the seam is created at the top of the boot. They are somewhat stiff and this can rub against the bones of the ankle, causing discomfort.
Some have also found that they have difficult with tightening up the laces of these boots because of the way that the eyelets are set and the material the laces are made of. This can cause some discomfort when walking because the boots are not tight enough to prevent slipping.
All in all, the boots are better when you use blister prevention patches to protect against the ankle supports, which tend to wear on the body. You can also wax the laces to help achieve more friction, resulting in a tighter ankle to keep the boots stiff as you're walking.
The important thing is that they are decent quality. The ankle does not come up as high as some other Danner boots have in the past, which is a negative for some long-time customers, and they do take a little bit of time to break in, but overall seem to work quite well for most users.
If you like this product you can find and buy it on Amazon.
Oboz Men's Wind River II BDry
These boots are slightly taller than some of the others and also somewhat cheaper. They have a shaft of 5.5" from the arch up to the top seam and are made with leather and textile. The waterproof inner layer is made with Nubuck and BDry membrane.
The lining is also moisture-wicking which means it is designed to pull sweat away from the body, keeping your feet from blistering due to excess heat. They have excellent arch support to keep your feet comfortable even on longer walks and hikes and are supportive enough around the ankle for hiking in dense areas.
On the downside, these boots do run slightly small. You will likely need to purchase boots that are a half size larger than the boots you would normally wear. Some have found that the top section which fits around the ankle can be slightly tight and may hurt your ankle when walking long distances.
The arch support is also slightly high for some, resulting in a little trouble with comfort levels as well as being somewhat inflexible. It's important to check the sizing however because too small boots could be uncomfortable and result in them being too tight after long hikes but too loose will result in your feet sliding.
These boots are overall a good choice. They are reasonably priced, less expensive than many of the others in this category. They are also reasonably well formed with excellent supports. The downside is that some of those supports seem to be slightly intense for most backpackers and can result in sore spots on the ankles or arches.
They are comfortable whether in warm or cold weather with their thick lining for cold protection and moisture wicking for protection against the heat.
If you like this product you can find and purchase it on Amazon.
Adidas Terrex Fast X Mid GTX
Available in a few different color combinations, these boots are the cheapest on our list and also offer some stylish features.
They are made of synthetic materials though they do have a Gore-Tex liner and molded sockliner for comfort. The traction levels on these boots are very good and they also have a very lightweight feel to them, making them excellent for anyone who is just getting started in the backpacking realm and wants to get some decent equipment for the beginning.
Not as supportive as other backpacking boots, these boots have a short shaft, stopping just at the ankle. This can be difficult for those who are walking on unsteady ground and may have trouble with stability. They also tend to run slightly small and it is recommended that you order at least a half size larger than the shoes you would normally wear.
If you have higher arches on your feet you will also find these shoes to be lacking a little in support which may require you to purchase extra insoles or arch supports. You may also struggle to keep these boots clean as they attract dirt. Check out our guide on how to properly clean hiking boots for more insight.
The benefits of these boots are that they are inexpensive and stylish, excellent for those just getting started. It can be difficult to get them in the right size and it may be a little less useful for those looking to backpack in unstable areas where there are many rocks or trees. You will also want to consider the waterproof liner, which is not breathable at the same time and can allow sweat to continue to accumulate as you are walking. All-in-all however, these are decent backpacking boots and very popular.
If you like this product you can find and check its price here.
The best of the best
With over 600 reviews and over 4 ½ stars, the Salomon Men's Quest 4D GTX is the best option of the ones we have gathered here. It has many excellent features including a full waterproof bootie and is made of leather to keep out moisture.
It also has a higher ankle support and is still priced reasonably for those who may be on a budget. Gore-Tex is one of the best waterproof, yet breathable, materials available and it is used in these boots to improve its usability.
Choosing the right backpacking boots is not the same as choosing the right hiking boots because you're looking for slightly different things. As we've discussed, choosing the right backpacking boots is extremely important to keeping you safe when you're hiking. Though we've chosen the best of the best from our opinion this does not mean that these will definitely be the best choice for you.
Check out the pros and cons and make sure you are looking at your personal needs for backpacking. That's how you'll be able to get the highest quality and the best deal for your money. No two people are alike and that means you won't necessarily agree on the best backpacking boots.
Before you leave to your next adventure, check out our article reviews of the best boots for survival.
Some of the links in this post are affiliate links. This means that if you click on one of these links and make a purchase, I earn a small commission at no extra cost to you. Also, as an Amazon Affiliate, I earn from qualifying purchases. If the information in this post has been helpful, please consider purchasing through one of the links in this article. Thank you.