These days everyone is talking about ways to be environmentally friendly. Concern for creating less pollution and reducing the amount of waste should be on everyone's minds. Many campers and backpackers who enjoy the beauty of the outdoors are especially concerned with their carbon footprint and ways in which they can protect the environment and cut down on the amount of man induced pollution.
[the_ad_placement id="in-text-1-type-a"]
Traditional propane camp stoves not only aid in pollution from the excess of petroleum gas they emit, but are also expensive, bulky to pack, and can only do one thing, cook.
Frequent campers want products that save time and money, not to mention space, and have an added functionality to make them even more convenient. Campers are looking for the ultimate product.

Finding a practical stove that combines all of these attributes is no longer a thing of dreams, as a new stove has hit the market that does all of that and more. Now there's a way to combine a stove with a charging station to give your smartphone some juice while you're roasting up a marshmallow and remaining friendly to the planet.
For the green conscious or just campers looking for a multifunctional and super portable camp stove, the Biolite CampStove suits the needs of leisurely campers and even hardcore backpackers.
This stove goes beyond the expectations of traditional stoves with it's unique ability to convert heat energy into electricity to power the USB port for charging almost any electronic device that will have tech lovers ready for the wilderness. Not convinced? Here are 5 reasons the Biolite CampStove is the perfect camping accessory for any frequent camper or backpacker:
Harness instant on-demand electricity
There aren't any outlets in the wilderness and finding an extension cord long enough to connect to civilization and charge your smartphone and equipment at the top of a mountain can be a challenge. So what's a hiker that relies on their phones GPS to do when the battery power goes dead?
Well the Biolite CampStove offers a solution to the outdoorsy tech lovers by harnessing instant on-demand electricity off-grid. How does this stove do it? The trick is in the thermoelectric generator that converts excess heat from the wood burning stove into 2 watts of usable clean energy. The surplus energy is sent into a USB port via a fan connected to the generator.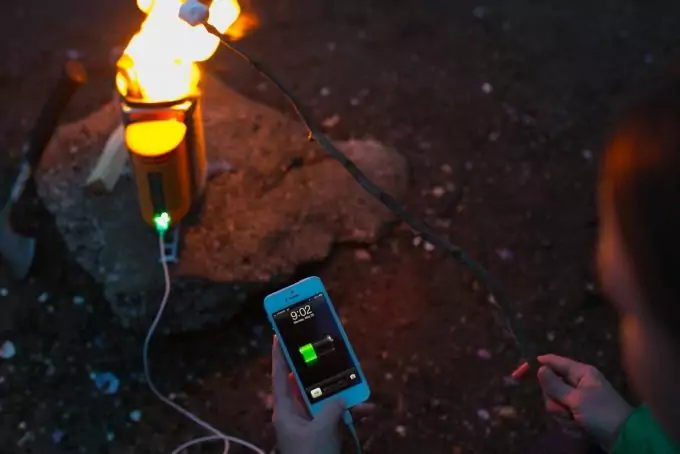 Now you have the power source to charge the things you need, no matter how deep in the wilds you may be. A dead smartphone, headlamp, or LED light while camping out at the top of a mountain is a thing of the past.
With 20 minutes of charging time you can get up to an average of 60 minutes of talk time on your smartphone. Note that to get the best charge, you need to be burning the hottest flame possible. Once you've gotten a good fire going, just plug your tech into the USB charging port and watch your energy bars soar.
Check out our reviews of the best solar batteries to juice up your gadgets.
Gather your own fuel and save big bucks
Traditional camping stoves require pricey propane tanks that take up space and need recycling once they've been used up. The Biolite CampStove eliminates the need for continually purchasing those terribly expensive propane tanks and buying overpriced and unsustainable firewood is no more.
[the_ad_placement id="in-text-2-type-a"]
Since the Biolite CampStove burns smaller renewable biomass that you can find out in good old nature, such as sticks, twigs, pinecones, pine needles and even wood pellets, you'll never need to buy a gas canister again. No more hauling those canisters to your campsite and back to civilization where you'll have to deal with recycling them all once they're spent.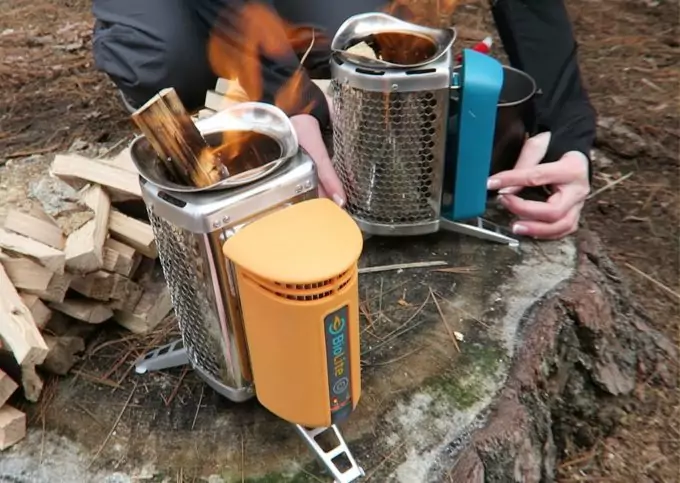 With the Biolite CampStove, you can just collect your fuel as you go along your journey, making your next backpacking or camping trip a breeze. It only takes 1.6 Oz of wood to boil 1 liter of water with this stove. You'll not only save yourself some big bucks, but also big on time.
It's also a great way to get the kids involved if you have youngsters accompanying you on your camping trips. Send them off to go collect the fuel for the evening. Check out our parent's guide when camping with kids for more ideas. Just be sure to collect more than enough fuel, this stove burns fuel fast and you'll need to be ready to refuel it frequently.
Burns cleanly and efficiently
For those looking to decrease the amount on their carbon footprint and help save the planet, the Biolite CampStove is the perfect camping necessity for the environmentally conscious. By ditching your traditional propane camp stove, you'll no longer need to use air polluting petroleum gas.
The BioLite's thermoelectric generator generates an internal fan that forces air back into the burn chamber. The fan even has different settings so you can control how hot you want things to get. The results are a fire that burns a clean, smokeless flame that improves overall combustion to give you a more efficient burn.
That means you're getting a greener way to get a hotter flame for quicker cooking. Now you can cook your meals over a hot campfire with peace of mind, knowing that you're being friendly to the environment and decreasing the amount of your contributing air pollutants.
Not only that, but because of the internal fan, you'll burn a hotter flame providing you with decreased cooking time, so you can boil 1 liter of water in as little as 4.5 minutes. And since the Biolite CampStove burns clean, you can say goodbye to teary stinging eyes from harmful and bothersome smoke.
You can check out our guidelines on outdoors fire safety to keep you and your family secure.
A compact and portable design
Space is precious when backpacking or camping and the Biolite CampStove was built with that in mind. Traditional camping stoves are bulky and impossible to carry for hardcore backpackers and finding a lightweight and compact stove option without sacrificing efficiency is near impossible.
Weighing in at 2.06 lbs., with a height of 8.25 inches and a width of 5 inches, the Biolite CampStove is a compact and easy to store option for backpackers and campers looking to utilize every inch of packing space available.
Designed to dismantle with lightweight aluminum legs that fold up and away, the CampStove nests inside of itself and compacts down to the size of a standard Nalgene type water bottle, saving you space in your pack so you can be sure to fit all that you need. Taking an extended backpacking trip through the mountains can now no longer be a thing of dreams with this little beauty.
Quick and easy to use
When returning to camp after a long day of hiking and exploring, any exhausted camper will want to cook a warm meal fast and without hassle. But lighting a propane gas stove can be dangerous and difficult to master.
Setup of the Biolite CampStove is easy to do. It's quick to light and with a performance that's on par with white gas stoves, the CampStove heats up fast so you can get a great cooking fire up and ready to use in no time at all. Boil 1 liter of water in 4.5 minutes and cook a hot meal fast.
So, there you have it. 5 reasons why the BioLite CampStove is the best camping stove to cook a meal and harness off-grid energy. With the unique and versatile design of the BioLite CamperStove, campers will no longer get stuck in a jam when important equipment needs a charge.
Just use CampStove's USB charge port while burning cooking fire and harness instant on-demand electricity no matter where you are. Save your money in the long run by collecting your own fuel along the journey.
[the_ad_placement id="in-text-3-type-a"]
Backpackers will love the compact and portable design that nests in on itself to give you maximum use of precious space. With a quick and easy to use design, the Biolite CampStove is the perfect addition to any backpacker's or camper's arsenal of staple outdoors supplies.
The BioLite CampStove helps the environmentally conscious do their part and is a great green alternative to traditional propane stoves. Need we say more?
Don't forget your other gear – check out our review of the choicest gadgets for camping that can save any day.
Here's what some satisfied buyers think about the Biolite camper stove:
-"This stove is amazing! It's a great way to get others involved, I get someone to volunteer to go collect fuel and then feed the stove. The kids love helping out and roasting marshmallows!"
-"Went on a fishing trip and brought this stove along hoping to use it to cook whatever we caught. This stove can get hot enough to boil oil and fry some fish, it's that good!"
-"While getting used to the refueling frequency takes some time, it is totally worth it! This is a stove that will turn heads and get you noticed."
-"As someone who has camped for almost 30 years, the Biolite CamperStove is the most innovative and useful stove system I've encountered. It's so efficient and easy to use, and I love that it uses renewable fuel."
Buy Biolite Camp Stove on Amazon
Some of the links in this post are affiliate links. This means that if you click on one of these links and make a purchase, I earn a small commission at no extra cost to you. Also, as an Amazon Affiliate, I earn from qualifying purchases. If the information in this post has been helpful, please consider purchasing through one of the links in this article. Thank you.