Now that the market is full of all types of stoves, one may wonder what would best suit him/her and how to make sure s/he chooses the right stove. There are hundreds of portable, compact, light and easy to use stoves, that it's impossible not to feel confused.
[the_ad_placement id="in-text-1-type-a"]
Before we dive right into the actual products, it's best to inspect the types of stove you can find on the market. For each of these types and categories there are stoves you can find useful so if a particular category appeals to you, you can later in the article, find the appropriate stove.
Generally, there are two types of stoves: canister and liquid fuel stoves. In addition to that, each group can be divided into portable and base camp stoves.
Base camp and portable stoves
Base camp stoves
They are slightly old-fashioned and pretty large. They can rival quite well your kitchen stove at home and they tend to heat up while you cook with them. If that sounds too much, we should also mention that they are bulky and the fuel will cost you more.
On the positive side though, they can cook a meal pretty quickly (due to its higher heat output) and can also be used with larger pots. They are more stable and pots can't turn over easily. These stoves aren't for camping or hiking at all, but if you can transport it with a car, van or RV, you will be pretty happy with the result.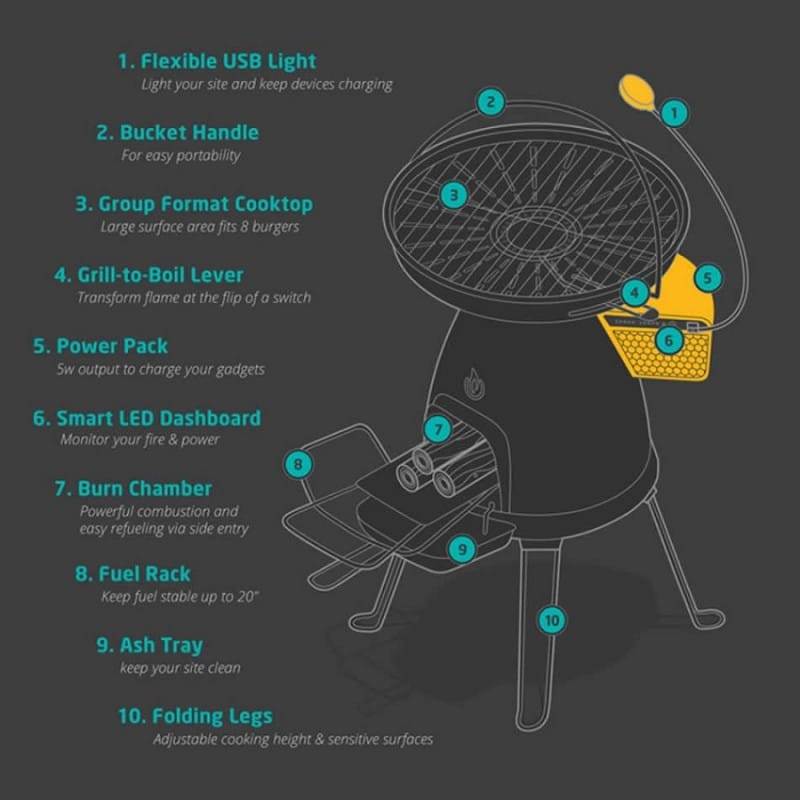 Liquid-based fuel stoves
These stoves are actually portable and more durable in time. These are used much more often by hikers, trekkers and other type of survivalists all over the world. The cost is really worth the heat it produces and you will have plenty of time using one tank fuel for the price you pay.
Before you use it, you must make sure the stove is clean, otherwise it may begin smoking pretty badly while you use it and it may cause fuel leakage. Before you think this may be exactly what you're looking for, we need to point out the downsides. They can tend to be very noisy and sometimes they may flare up quite suddenly before they actually settle down for you to safely cook.
So, you need to stay at a safe distance while you start the stove. If that doesn't bother you, you may also want to know that one of the biggest negative sides of these stoves is that they can be large pollutants.
They usually use kerosene or white gas, and even small amounts of these liquid fuels can pollute huge amounts of water, nearly 10,000 liters (gallons) of water only with a very small amount. This statistics is provided by Leave No Trace.
So, imagine you want to refill your stove on the riverside and you by mistake spill a spoonful of liquid fuel, you will be polluting several thousands of liters of water. But after all, as long as you're extra careful and attentive to your actions while in the wilderness, you are safe to go. Ideally, refill your canister at home or let a professional do it themselves.
Trangia stoves
A less popular type of stove is the trangia stove. Its benefits can definitely outweigh the few negative sides of this stove. These stoves are a Swedish invention and their basis for fuel is wooden alcohol. It doesn't use any polluting fuel like kerosene or white gas.
Wooden alcohol is a renewable source and even if you spill some of it in water, it's not polluted. It essentially dilutes in the water. As a comparison, other fuels never mix with water and float on the surface.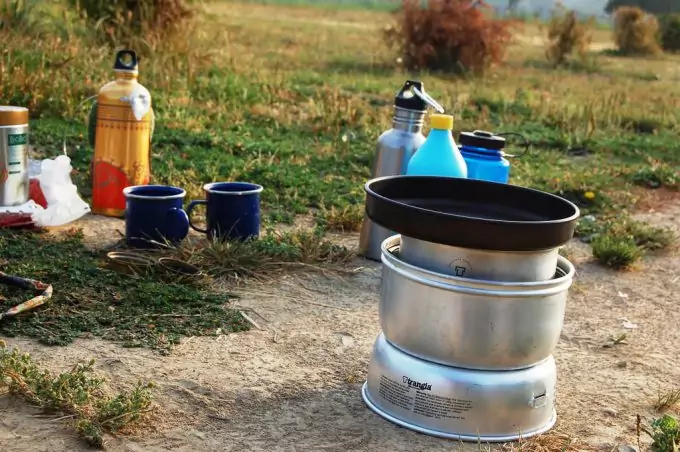 Trangia Spirit Burner stoves are amazingly quiet. Most people find it fascinating how they basically hear nothing but the boiling water or the rattling lid on the pot. On the other hand, it will boil your water 2 or 3 times slower, since it doesn't use the BTUs that are in other fuels.
Wooden alcohol is basically methanol and burns slowly. You can reload your Trangia stove with another methanol container, which can be easily bought from a pharmacy, as they sell quality methanol. Be careful of spilling the methanol on plastic – it will burn and melt.
If you want to know more about alcohol-based stoves, we have reviewed some of the best products on the market. You can read about their features, price, and other important aspects in our article on best alcohol stoves.
Canister stoves
Finally, let's take a look at the canister stoves. This type of stove is picking up on popularity in the last several years. They burn on propane-butane and are very small and portable. Most hard-core mountaineers and hikers love them since they are so light and easy to operate.
Most popular manufacturers are Primus, Snowpeak, MSR and such. They burn very quickly and if you need to boil water, you'll have it in just a few minutes. On the other hand, the fuel burns quickly so don't expect to cook something that takes up to 1 hour or you'll run out of fuel.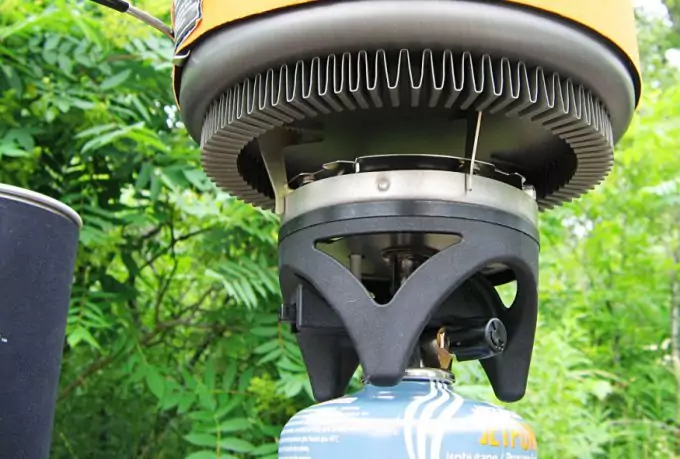 Also, they are not allowed in your baggage when you pass the check point on an airport. If you try to do that, you may end up with a heavy fine. Of course, if you are traveling by car, bus, train, you'll be fine.
As a whole, canister stoves are loved by many backpackers. The flame is easily controlled and you can even cook in the vestibule of your tent, but not inside the tent! We also have a great article on the best canister stoves to have in various conditions so don't hesitate to take a look!
Cooking stove according to what type of camper you are
We will give you an extensive list of stoves, suitable for different types of hikers, campers, trekkers and backpackers. Thus you can be sure that you pick the stove, suitable for your purposes and needs. But before we begin, if you are interested in a DIY solution, take a look at our article here.
Ultralight backpackers
If you're a hiker, that doesn't like packing tons of things in their backpack, then you probably would prefer light-weight stoves. You will be glad to hear that there are ultra-light stoves and one of the top such stove is by Emberlit – the Emberlit Stainless steel stove.
It weighs no more than 11.3 oz, which is about 320 g. It's made of rugged stainless steel pieces. It will never corrode or rust and is very strong and durable. As much as it may be small it also provides stability to the pot you place on top of it.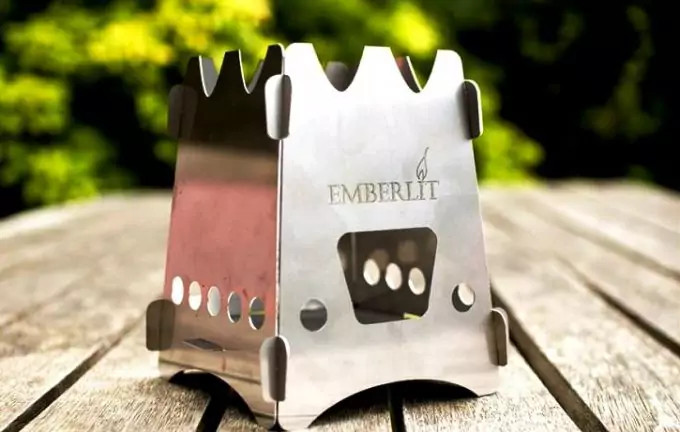 Most people love the simplicity of this product and have used it in different occasions and outdoors hiking and camping. You can use any type of wooden pieces, pine cones, dried branches and tinder to light your fire and use the stove. You can also use (as suggested by some customers) cotton ball and Vaseline to keep the fire burning for longer, if you don't want to feed it every now and then.
[the_ad_placement id="in-text-2-type-a"]
And finally, what's lovely about this stove is that it comprises four panel pieces, which you can assemble yourself. This makes it so portable and preferred among light backpackers. Customers report that they assemble it with ease and quickly enough to be super handy.
The EmberLit stove also comes in titanium version, which can weigh half the stainless steel version.
Finally, these ultra-light stoves have a tendency to have the panels warp with time, but the manufacturer claims that this is normal and doesn't affect in any way the use of the stove. You can continue to use it the same way as before.
The great side about this type of stove is that you can transport it anywhere and you will not be questioned on the airport, nor would there be a reason as you're not carrying any fuel. Of course, to use it, you'll have to start a fire yourself. But if you prefer ultra-light trekking, then you should know how to start a fire.
A-weekend or a-day hikers/campers
If you are fine with hiking for a day or two, then you don't really need to be concerned with heavy backpack and even if you have to, a slightly weightier stove, won't crush your back. So, with that in mind, you will probably be ready to at least boil water for your morning tea or coffee, or cook a quick meal once or twice.
For this type of hikers, we should point out that a canister stove would be perfect. As we already hinted, such stoves are made by Primus and Snow peak, to name the most popular. One of the highly valued products is by Snow peak – the Snow Peak Giga Power Auto Start Stove.
It can boil water in a matter of 2 minutes. It has a Piezo igniter, so that you don't have to worry about your own fire starter. It can safely be used in different weather conditions, including higher elevations and cold weather.
The flame can be regulated according to how much you need the water to boil. If you need it to just simmer, simply reduce the flame. The stove weight nearly 4 oz (about 110 g) including the fuel container.
Basically, if you want to purchase this product, you need to be aware that you have to cook no more than 5-6 minutes per meal/water boiling, because the fuel (as we explained in the first section) can run out pretty quickly.
And if you don't have a spare canister, you won't be able to cook/boil anything until you purchase another. The only downside is that it's pricier for the amount of fuel you will use, but it's still a handy stove for campers/hikers who need to cook/boil only once in a while and only for a short time. Using the ignition may be slightly tricky in very cold temperatures, but it works nonetheless.
According to users, if a person wants to boil 6 liters of water for 3 days, they will still have some fuel left. It is also recommended using one canister at home to see how quickly it will burn out and with what meals/drinks. And of course, don't forget that colder temperatures may require more fuel for you to boil water. Also, water boils slower on higher elevations, which means your stove may have to work slightly longer.
The Primus Classic Trail Stove is another similar to the above canister stove. It weighs slightly more than the Snow Peak – about 8 oz and seems a bit more rugged. The gas cartridge (230 g) can burn for up to 70 minutes. The downside to this item is that the ignition is manual and you have to carry lighter or matches to get the flames going.
Almost all customers who have tried and used this Primus stove have rarely experienced any issues with it. They have owned it for several years and it remains sturdy and works flawlessly. You only have to change the fuel cartridge now and then.
Otherwise, the stove itself is durable and reliable. These types of stoves are especially good for mountaineers as the fuel burns no matter the elevation. It's true it adds more weight to your backpack, but you won't be disappointed and won't let you down.
One customer reports that the stove has sharp edges and may poke a hole in the backpack you carry it in, but usually the stove itself is detachable from the fuel cartridge, and the stove comes with a special bag. If you keep the stove in the bag, you shouldn't have any issues with the sharp edges.
Primus is a manufacturer with years of experience making mountaineering and camping products and people who use them are rarely dissatisfied. Overall, you won't regret purchasing a Primus stove.
Camping groups
The following stoves are for people planning camping on-site and driving to the place. There's no shame in getting rest in the nature by simply getting there the easy way. Not everyone enjoys hours of sweating until they can finally boil water for bleak noodles. If you're the type of person who wants to get to the campsite and enjoy your time there in peace and quiet, then getting an appropriate stove will be your best option.
Camp Chef Mountain Series 2 Burner is one of the top highly rated stoves among campers. The stove has 2 burners and each uses up to 20,000 BTUs, which makes cooking a quick and enjoyable experience.
The manual ignition also adds more comfort since you don't have to do anything yourself, but simply turn a switch on and start the fire in the blink of an eye. It's made of stainless steel and that makes it easy to clean. It's very easy to use, and on top of that, it's not as heavy as other portable stoves – about 14 pounds.
You can safely adjust the heat and flames, thus making sure to cook just like at home. There are wind barriers to protect the flames from strong wind. Not only that, but the burners are powerful enough to fight the wind themselves. Adding the wind panels will make sure you will have your cooking despite the wind conditions.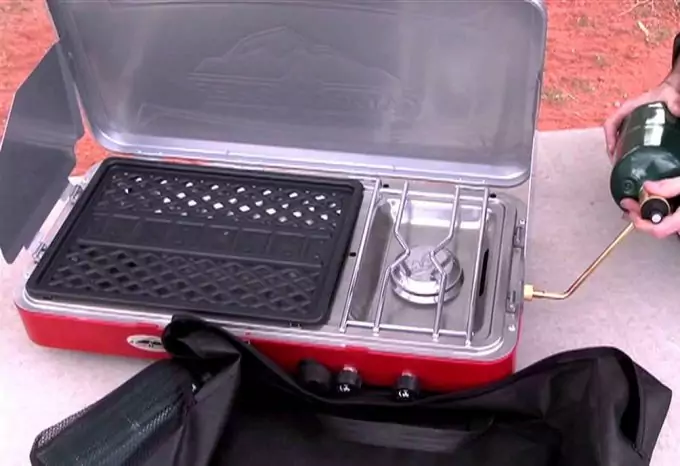 The stove has a nice handle to it, so it's easy to transport. It uses propane as fuel. The regulator adapter is included in the purchase. Also, the stove grate itself is made of nickel coated steel, and none of your pots, skillets and such will be unstable. The grate is large enough to hold them fast. None of your cooking can spill out.
Not only that, but because of the two burners you can actually cook two meals at a time, or make some tea and cook the diner, etc. There's plenty of room on the grate, so you are safe to cook anything that comes to mind. It can heat quite a lot, so your cooking will be ready sooner than you thought.
Of course, as some meals will require simmering so they don't turn to overburnt pieces, you will use less fuel, reduce the heat, and wait for the meal. People report that it's very easy to use the Camp Chef 2 Burner and it had never failed them.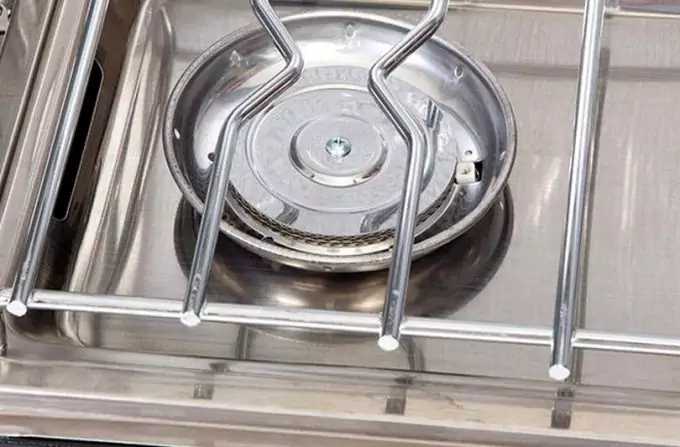 Another similar product is the Stansport 2 burner Propane stove. It also has two burners, with a total amount of 50,000 BTUs. It also has wind panels, pressure regulators and valves for controlling the heat production. It also weighs 14 pounds and is among the top rated stove products.
You can use this stove on high elevations and it won't fail you. It's sturdy and rugged, so it can last for a very long time. As a general customers are very pleased and happy with this stove.
Environmentalists
There is a category of users who cringe at the idea of using stoves, that tend to emit toxins in the environment, and you can't blame them. As we go camping or hiking in the wilderness we usually tend to enjoy the nature and peace, but we still leave some nasty leftovers from our short stay, and one of these is the toxic gases released from burning fuel.
For people who want to spend time in the nature and pollute it as little as possible, there are a few options. The BioLite manufacturer is a forerunner in the field of eco-friendly stoves.
Their BioLite Wood Burning Campstove naturally burns wood and at the same time you can recharge a USB device, e.g. your mobile/smart phone and similar gadgets in case you need to contact a rescue team. Of course, it's a stove, so you can boil water for no more than 4-5 minutes.
https://youtu.be/u4ZcUvc2Bl4
These stoves weigh no more than 2 lbs and takes up similar room to a 1-liter bottle of water. The stove has an internal battery for kick-starting the fire. After that, the fire will light up, so there's no wasting of precious energy. The product is an award-winner as it can convert some of the energy into electricity, instead of that same heat being unused while cooking.
[the_ad_placement id="in-text-3-type-a"]
The stove is also a great idea for emergency situations, since it relatively compact and you can cook meal and at the same time recharge your phone, thus keeping contact with the outer world.
You don't burn any fuel, so collecting some dead tinder and twigs is the only thing you should do while camping/hiking. You can also use any type of biomass in order to have a fire going. You can also prepare some Vaseline cotton rolls to easily start a fire and simply collect tinder to keep it alive. The stove comes also with fire starters, so you don't have to bother buying your own from a separate manufacturer.
People are overall very pleased with the product and they hardly had any issues using the stove. Some say that the first few times you try to start it, you may find it slightly difficult, but it all depends on how much tinder and wood you had set in the stove. As you get used to starting the fire the next time you try it should be a piece of cake. The idea is to put just a few twigs and little tinder so they fire up quickly. Then adding more wood and tinder is enough to keep the fire going. Also, if you want to know a bit more about the Biolite Camp Stove, we have an in-depth review for this product here.
Another environmental type of stove is the already-mentioned Trangia stove. Here is another of their products – the Trangia 27-3 Ultralight Hard Anodized Stove Kit. This set for example weighs about 1.63 lbs (740 g). It comes with several pots, made of non-stick coating.
The fuel being alcohol-based doesn't emit any toxic fumes or chemicals, so it's safe for the environment. Some customers advise to purchase only Trangia's own fuel bottles, since some other such products may be of lower quality and some people experienced leakage. Trangia's containers are sealed nicely and won't spill, so you're sure not to waste any of the fuel you will need.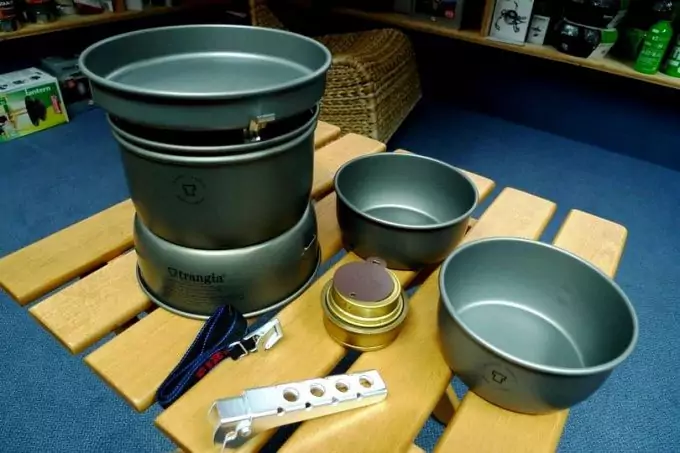 The anodized coating of the entire kit and stove cleans very easily and efficiently. It also protects the product from corrosion. Water boils for no more than 5-6 minutes.
Overall, Trangia are the standard for other alcohol-based stove manufacturers, but so far Trangia are the top producer of these products. Customers are all satisfied with how durable and sturdy the stove and set it, and claim it last for a long time without it getting damaged or in any way fail the user.
As a whole, the market is swept by the large amount of stoves and you can end up being overwhelmed. If you follow the above guidelines and consider one of the above stoves according to your personal needs you wouldn't regret the choice you made.
Some of the links in this post are affiliate links. This means that if you click on one of these links and make a purchase, I earn a small commission at no extra cost to you. Also, as an Amazon Affiliate, I earn from qualifying purchases. If the information in this post has been helpful, please consider purchasing through one of the links in this article. Thank you.