When looking for the best water bottle, there are some important factors that need to be taken into consideration. These include concerns matters regarding chemicals, portability, durability, and insulation.
[the_ad_placement id="in-text-1-type-a"]
For the most part, people are looking for something that will keep their water from spilling and make it easy to transport which means that weight is also an important point to keep in mind. Being weighed down by a heavy bottle even when it's empty is by no means pleasant. Check out our article on how to select the best hydration bladder for your survival needs.
Of course, you don't want one that will leak or break after just a few uses. The whole point of choosing a reusable bottle is to avoid buying water in regular plastic bottles.
Reusable bottle benefits
For some, it might sound quick and convenient to simply buy a bottled drink from their local grocery store or gas station. However, according to studies, disposable also means more damage to the environment. Bottled water production in the United States for just one year requires up to 54 million barrels of oil. This equates to 2,000 times the amount of energy required to produce tap water.
Buying bottled water will cost you remarkably more than bottling your own tap water. Another interesting point to note is that pre-packaged H2O is in contact with plastic for weeks or even months before you pour it into your body. When pouring water from your tap, you can rest assured that it has not absorbed any harmful chemicals as a result of the plastic packaging.
Just take a moment to consider the fact that bottles of water have expiration dates printed on them whereas your tap most certainly does not. Not only are reusable bottles better for the environment and your budget but also your health.
For tips on how to stay hydrated to avoid dehydration, read our article on this important topic.
Stainless steel and aluminum
There are a variety of stainless steel options available, and they are often chosen due to their many benefits. Some of the advantages of choosing stainless steel is that you will enjoy a durable product without worrying about toxins associated with many types of plastic.
Although made from metal, they are surprisingly lightweight, and most of them are easy to clean since they are dishwasher safe. They are seen as a popular accessory since they are available in so many different colors.
If you are sensitive to metallic tastes, this might not be the best option. If dropped, the steel may dent and, if it is particularly hot outside, it may become increasingly warm. In order to keep your drink cool on extremely hot days, you could always add a few blocks of ice.
Aluminum varieties are also popular and lightweight. Unfortunately, they are prone to dents, can be difficult to clean and some manufacturers use a BPA liner. BPA is a substance found in certain plastic products and poses significant health risks.
By choosing one that contains such a liner, you would essentially be defeating the point of choosing a reusable bottle altogether. Take note of all the properties and materials listed by the manufacturer before making your purchase.
Plastic
Not all types of plastic are the same, and some contain harmful toxins that make their way into the water. It is important to know that different types of plastic pose different potential risks.
Plastic #1, or PET, has long been used by bottled water companies. While this type of plastic is relatively safe for single use but it is not recommended for reuse. As time goes by and you continue to use the same bottle repeatedly, it is bound to lose its integrity.
PET is also difficult to clean and is prone to bacterial growth.PET needs to be kept at a moderate temperature. If exposed to higher temperatures, like that of the trunk of your car in the middle of summer, it can encourage bacterial growth and harmful properties could be released from the plastic into its contents.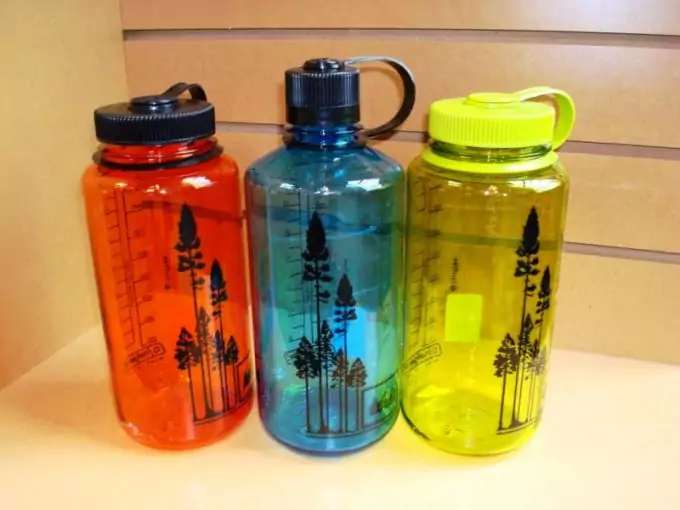 Plastic #3 (PVC) is known for leaching phthalates that can result in reproductive and developmental damage. Plastic #6 (polystyrene) is known to leach styrene that results in liver damage and nervous system issues. Plastic #7 leaches BPA (Bisphenol A) which disrupts hormonal balances.
It is important to look for plastics numbered 2, 4 or 5 since they are not known to leach any substances, and they are easier to recycle than many other types of plastic.
Glass
Glass varieties aren't likely to be the first choice for athletes or people who enjoy such outdoor activities as hiking, biking, and more extreme sports. These options are quite obviously more fragile than different types of metal and plastic. Metal may dent and scratch if dropped while glass could chip, crack or completely shatter.
From an ecological standpoint, glass is one of the best choices. Not only can you reuse glass without worrying about chemicals leaching from the bottle into your drink, but you can generally recycle glass a lot easier than plastic.
Unlike metal options, the bottle itself will not affect the flavor of its contents. Many types of glass bottles also have a protective sheath attached to prevent damage.
[the_ad_placement id="in-text-2-type-a"]
Glass bottles are usually dishwasher safe and are therefore easy to clean and sanitize. Many years ago, the only type of baby bottles that were available were made from glass. Plastic ones are available today, but glass is often chosen by mothers who are weary of the potential harmful effects of reusing plastic.
If glass is good enough for infants, it is most certainly good enough for older children and adults.
For added protection, users can purchase a special padded holder that will help keep the glass from getting damaged, and its contents will remain cooler for longer.
Product reviews
Stainless steel and insulated
Not only is this product easy to carry and leak proof but it is also suitable for both hot and cold liquids. According to the manufacturer's product description, it will keep liquids cold for 24 hours and liquids can remain hot for 8 hours. It retails for less than $30 which makes it reasonably priced compared to other stainless steel options.
Customers who purchased this product were in the market for a durable alternative to plastic. This particular product is praised for its durability and the fact that it really does keep cold drinks cold even when temperatures rise. Customers are also pleased with its insulation and leak proof design.
While some customers say that they do not notice any kind of metallic taste, others say that the metallic taste appears after a few weeks of use. One review noted that something inside the bottle sounded like it had come loose, and another somewhat unhappy customer complained that the product they received was damaged upon arrival.
If you like this product you can find and buy it on Amazon.
Stainless steel Hydro flask
This flask is somewhat more expensive and retails at more than $35 and is available in a wide variety of colors. Its matte exterior does not sweat and it keeps liquids cold for 24 hours or hot for up to 12 hours. Customers are impressed by the ability of this product to really keep liquids hot/cold and how it does not leak.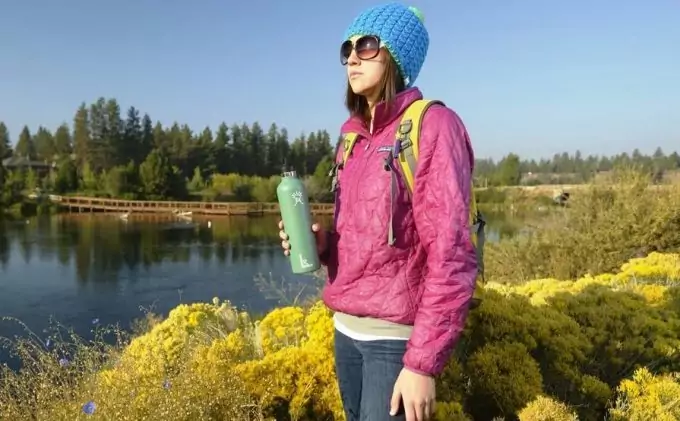 After using this product for several weeks, it can start to take on a bit of a strange smell. However, this really is simply a matter of following proper cleaning and maintenance instructions. It's not just about cleaning but also about sanitizing with hot water.
While the wide mouth makes it easy to refill, it can be tricky to drink from if you're in a hurry. You literally need to stop whatever you're doing in order to drink.
If you like this product you can find and check its price on Amazon.
Nalgene Tritan
This product has been part of Naglene's range for more than 20 years and has stood the test of time! It is a very reasonably priced product and costs less than $10. They are also available in several colors, and they are BPA-free. This bottle can be used for cold and hot liquids and has milliliter and ounce markings.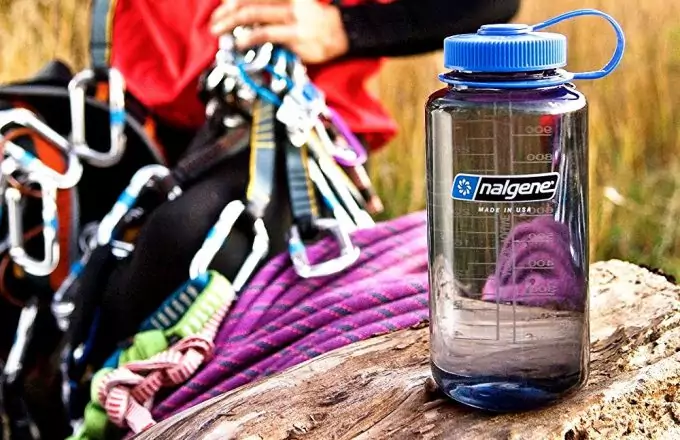 Many customers like to place this bottle in the freezer to really chill the contents. Although it is made from plastic, it is extremely durable and will not break easily. The product description says that they are dishwasher safe, but there have been several reports that the high temperatures of the dishwasher caused melting and warping.
Some customers complained that their bottles arrived scratched and scuffed. There were also reports of the plastic fogging up after time and simply not coming clean.
If you like this product you can find and buy it here.
Camelbak
This is a slightly more expensive plastic option but is still affordable at under $15. CamelBak offers customers a choice of various colors and is used by sipping on the built in straw rather than tilting. The lifetime guarantee is probably one of the most impressive features of this product.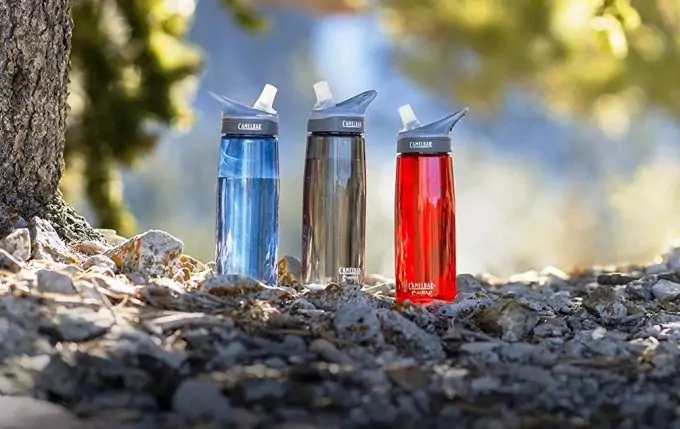 Customers love its leak proof properties as well as its durability. In many cases, customers love this product so much that they buy more than one. There have been some customer reports of cracking and leaking, but this is covered by the product guarantee so customers should not feel detoured by this possibility.
Some people have trouble using it for the first time. This is because the sipping straw is stiff and needs to be "broken in". They can also be tricky to clean, and this is largely due to the straw itself.
Straws are difficult to clean, and inadequate cleaning (even if you only drinking water) can result in mold developing inside the straw itself. This product needs to be disassembled and cleaned thoroughly in order to avoid such results.
If you like this product you can find and check its price here.
Liberty Bottleworks
This beautifully designed product is available in various sizes and colors. The ¼ turn cap allows the customer to open and close it in a flash while the bottle itself is BPA-free. Customers have praised the product for its quality and that it is leak proof.
Some negative remarks included that the lid seemed weak and that some parts were difficult to clean. The sports cap is an included accessory, but some say that this cap does not prevent leakage.
If you like this product you can find and purchase it on Amazon.
SIGG Swiss Emblem Touch
This aluminum bottle retails for less than $30 and has a lovely matte finish. The O-ring seal prevents leakage, and it does not leave the user with an unpleasant metallic taste. It is also praised for being lightweight but has received some criticism for being a bit difficult to clean, but this can be remedied by using the correct cleaning instruments.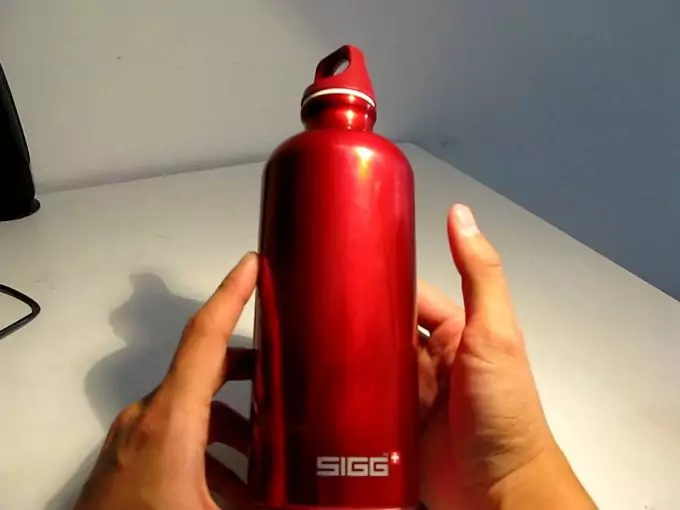 If you like this product you can find and buy it on Amazon.
Ello Pure
This popular product retails for around $10, and many will agree that this is most definitely money well spent. Glass is one of the best options for those looking to avoid toxins, and it is easier to clean too. Glass products are known to weigh more than plastic, and it is usually far more fragile. However, while these points are true, the silicone sleeve is there to help protect against damage.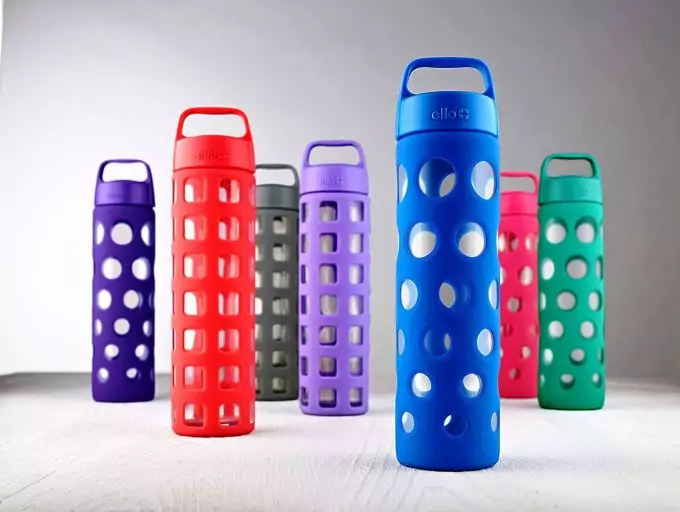 Some customers have reported that the plastic lid leaves a plastic odor in the water when the bottle remains in the sun for several minutes. The lid is BPA-free, but there is no actual mention of the number of plastic from which it is made.
The glass has also not been certified as being lead-free which may be of concern to some. Some customers have also noticed that the lid starts to smell really strange after a few months, and the smell is impossible to get rid of which makes drinking water rather unpleasant.
If you like this product you can find and check its price on Amazon.
BKR bottle
This compact $30 glass bottle is all wrapped up in a snug silicone sleeve for added protection.  Customers can choose from various colors and these sleeves also help you keep your grip and prevent it from accidentally slipping out of your hand. This product was praised by such big names as ELLE, Marie Claire, Vogue, Martha Stewart Living and even the Today Show!
The bottle is recommended for several reasons. Once of these being the fact that it is easy to clean. Customers report that they don't even need to remove the sleeve before placing it in their dishwasher! Although it is made from glass, this bottle is known for being extremely durable. Customers have reported that they have accidentally dropped theirs without it suffering any damage!
However, customers have also noted that it's not a good idea to carry this bottle by the loop. This is because it could possible twist out of the loop and fall that will most likely result in breakage. Some also complained that the small mouth of the bottle made it difficult to clean and dry.
Air drying can take a long time, and there have been reports of the glass fogging up and an unpleasant smell as a result of the water not drying as quickly as it should.
If you like this product you can find and buy it here.
Proper maintenance for maximum use
No matter which one you choose, the bottom line is that proper care and maintenance will result in more use out of the product. If you intend on drinking anything other than water from your bottle, you will need to clean it out after each use.
To do so, use a special brush that will help you scrub all the corners and all the way from top to bottom. Even if you only drink water, the bacteria from your mouth will find a way inside the bottle, and this is why it is so important to clean and sterilize properly.
[the_ad_placement id="in-text-3-type-a"]
After washing, make sure that you rinse thoroughly too. There's nothing worse than taking a huge gulp of your drink only to get a soapy aftertaste. Sterilizing should be done according to the standards set by the manufacturer.
Dishwashers operate at high temperatures which is great for killing bacteria. Check the label and product information to make sure that it is in fact dishwasher safe. Other methods of sterilizing involve using your microwave or simply boiling water as they did before microwaves and dishwashers existed.
Once properly cleaned, you must allow the bottle to dry thoroughly. Air drying is best since cloths and paper towels tend to leave a residue behind. Don't secure the lid in place if the interior has not yet dried or you could end up with a really bad smelling bottle.
Weighing up the pros and cons
Choosing the right reusable product to suit your needs will depend on your personal preferences as well as where and how often you intend on using it. If you plan on taking something to drink along with you to work or for a relaxing stroll in the park, you might not mind one that is a little bit more on the heavy side.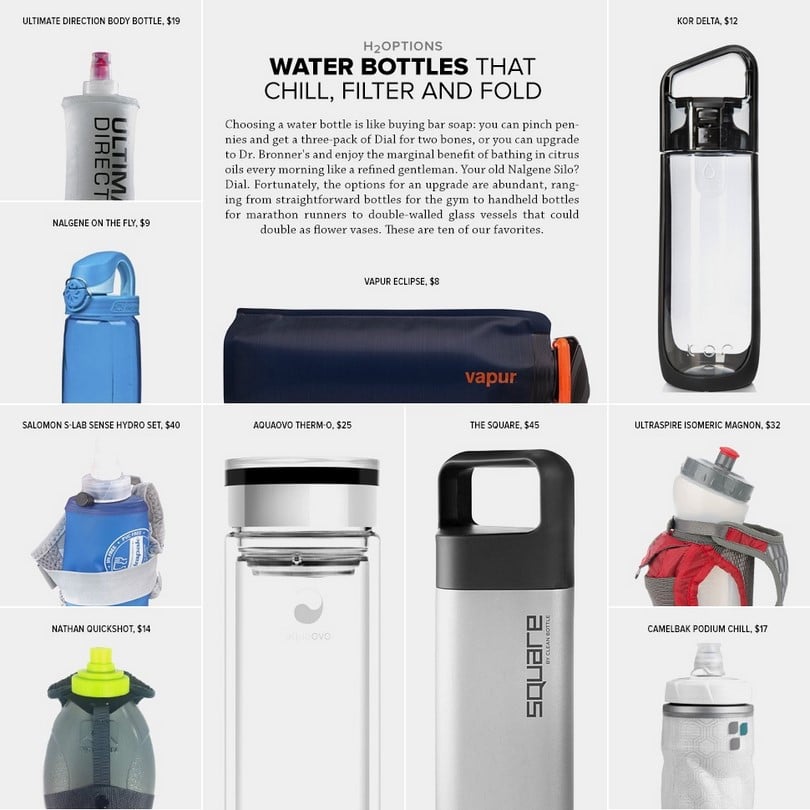 For athletes or simply enjoy going for a run every other day, then weight will most certainly be a concern. Cyclists and mountain bikers usually attach their water to a special holder on their bike which means that you need to find one that will fit properly. It should not be so fragile that a bump along the way will cause it to crack.
For longer trips, see our article on choosing the best survival water straw filter for your use.
Some of the links in this post are affiliate links. This means that if you click on one of these links and make a purchase, I earn a small commission at no extra cost to you. Also, as an Amazon Affiliate, I earn from qualifying purchases. If the information in this post has been helpful, please consider purchasing through one of the links in this article. Thank you.