There is something to be said about sleeping under the stars on a clear night, in a remote area, with no man-made light around. The number of stars is infinite; you can't begin to count even a small section without seeing even more.
[the_ad_placement id="in-text-1-type-a"]
It is actually quite breathtaking. However, there are going to be times when you will want a tent: bugs, precipitation, and temperature – you get the picture.
And, if you are backpacking, you will want something that is lightweight yet gives you the comfort and protection from the elements you are looking for. Bring in the best solo tent. As the name suggests, it is big enough for one person and a pack.
Why a solo tent? Well, first off you don't have to share your space with anyone else. More obvious, is they are lighter in weight.
If you have a group of hikers going together, each one can carry their own tent and the weight of a bigger tent does not fall on one person. In a way, it is equally sharing the load because each individual can decide on the tent they prefer. See our article on what to bring in your camping trips, it's a great reading piece for everyone.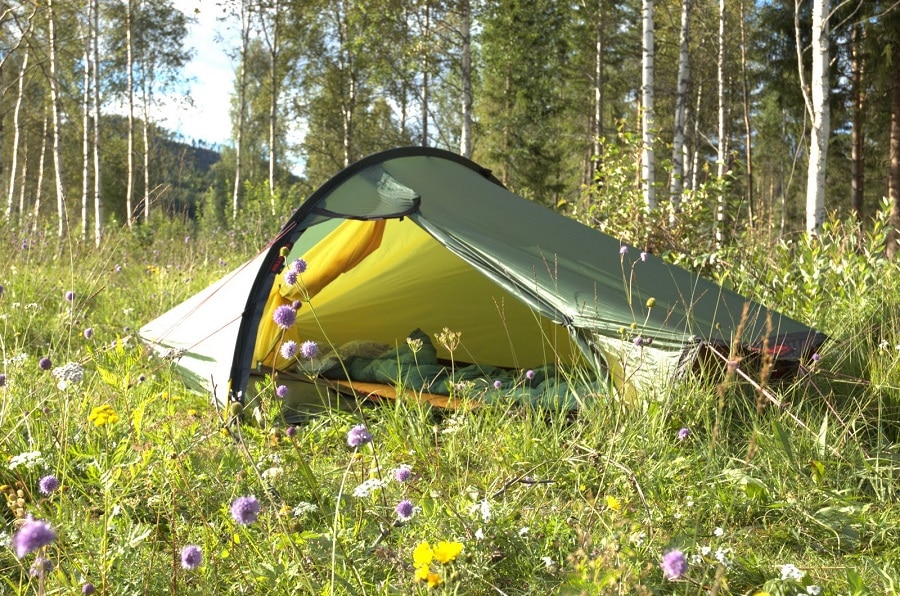 Is weight the only factor to consider? There are other factors such as seasonality, meaning what seasons a tent is good for. Three season tents (spring, summer, and fall) typically have a double wall construction.
Then, there is livability. This takes into consideration how comfortable the tent is and what extra features it might offer. If we were talking about larger tents, capacity would also be a consideration. Ease of setup is also something to think about.
Finally, there are the materials that the tent is made of. These are the issues we are going to look at in this article and then end with a great product review of the top eight solo tents. Read on!
The Weighty Matters
We have all heard the saying "it's all relative". In backpacking, the weight of your pack and gear is relative to your size, physical condition, and hiking terrain. There are suggestions that your pack should be between 16% and 18% of your body weight.
However, each person is different and so should spend some time with their pack perfecting the weight and determining what is the optimal weight.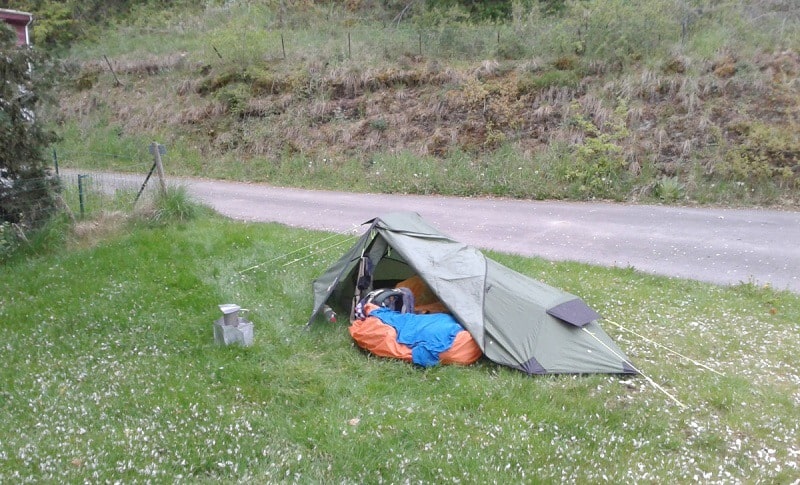 So when it comes down to your tent you need to determine what percentage of weight your tent should take up. The three heaviest gear items are going to be your pack, your sleeping bag and your tent. You need to get your tent under 40 ounces. By going solo and utilizing some newer, lighter fabrics this should be easy to accomplish.
Tent fabric is measured in deniers. A denier is based on a measurement of silk. One strand of silk that is 9,000 meters long weighs 1 gram. This is one denier. So when we mention 40 deniers it has filaments that are 40 times the size of a silk strand, thus 40D.
The higher the denier count is, the more robust the fabric. The lower the denier count is, the more lightweight the fabric.
The Four Seasons: Seasonality
The seasonality of your tent is going to depend on the seasons and regions you like to hike and camp. It refers to the weatherproofing and waterproofing of the tent to keep you warm and dry in varying seasons and climates.
High alpine climbing and winter climates are going to push you to a heavier tent. Summertime camping may allow you a lighter weight. If you hike in a rain forest, you are going to want a rain flap just in case it rains, right? You're in a rain forest.
2-season: light weight best used in all around good weather with a mild climate and little to no precipitation. Usually constructed of mesh and lightweight materials.
In the heat of summer you will want and need a good deal of ventilation; therefore the mesh. The rain fly on this tent will be high off the ground leaving the vent more open for greater cooling capability.
3-season: this tent is a little heavier and used in the spring, summer and fall months. This tent will have closeable ventilation flaps. It will be able to withstand stronger winds and rains. The fabric, guy lines, and poles may be a bit sturdier. Most likely there will be a rain fly that comes down closer to the ground to keep out heavier rains. Check out our reviews of the best cold weather tents to give you more options.
4-season: This 4-season tent is going to be designed in such a way that it can be used in all seasons. So, it will be light enough for summer, but heavy enough for winter.
Most of the time this is achieved by actually having two separate tents that are set up together, one inside the other, for those colder, winter climates with snow and driving winds. In summer, you would use just the inner tent when coolness and ventilation are key; in the spring or fall you would use just the outer tent when you may have more precipitation.
Live and Let Live: Livability
Everyone wants to be comfortable in their tent; to be able to stretch out and relax after a long, exhilarating hike.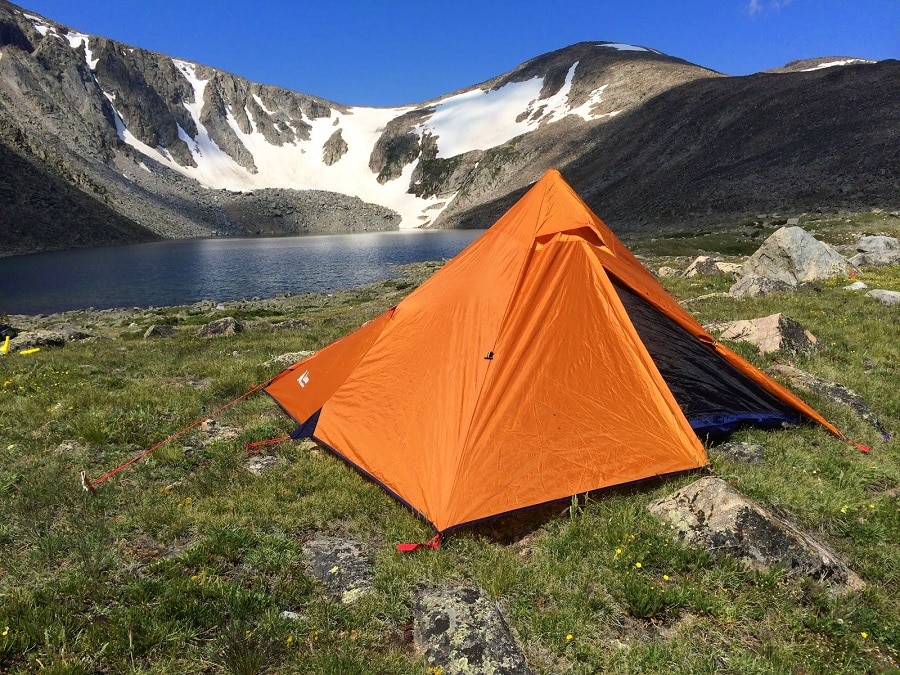 The interior space of you tent is going to be a ratio between weight and comfort. One characteristic to consider is the design of the tent. There are several to choose from:
Ridge tent: This tent has a vertical pole at each end and a horizontal pole running between the two end poles to for the ridge. This type of A-frame tent is not as roomy as some because the sides typically slope down at a steep angle. The footprint is typically large enough for 1 to 2 people but there is not enough headroom to stand and move around.
Modified ridge tent: This tent utilizes curved poles instead of straight vertical poles. This design adds stability and some headroom compared to the ridge tent. This design also comes in large sizes to accommodate families and bigger groups.
Dome tent: This tent is popular as it gives plenty of space and headroom. It is constructed with three flexible poles that cross in the middle and form a dome. There are models that have porches for gear. Small versions of this tent are very stable. They are also easy to set up.
Hoop tent: Just as the name implies, this tent uses curved poles that form a hoop at both end and in the center; this creates good headroom and footprint. The curved sides are great for water and snow to simply slide off. These tents are not stable and require guy lines and stakes.
Pod tent: this type of tent has a central living compartment and separate sleeping pods. Since we are talking about a solo tent, this design will not be an issue.
Other features that add to the livability factor are more than one door, sufficient ventilation flaps, footprint, headroom, ease of setting up and tear down, the ability to stay inside comfortably during bad weather, and internal storage pockets. Need more choices? See our review of the best backpacking tents for more information.
Come into The Big Top: Solo Tent Reviews
Tents nowadays come in all sizes and shapes. For the backpacker, there are probably a couple things that are more important than others: weight, roominess, and protection. It is obvious weight needs to be kept at a minimum without compromising the sheltering capabilities.
And, you need room to move and stretch out and be comfortable. Let us take a look at our top tents and see what features they offer.
ALPS Mountaineering Lynx 1-Person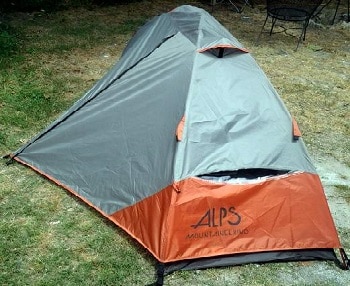 Design: Dome; Free standing
Season: 3-season
Best Use: Backpacking
Dimensions: 7'6" x 2'8" (head); 7'6" x 2'8" (foot); Center Height: 3′; Tent Area: 20 square feet;
Weight: 3 lbs 15 oz
Accessories: Floor saver footprint ($20)
Price: $120
Description: This ALPS Mountaineering Lynx 1-Person has a very stylish look; a narrow dome tent that is free standing. Constructed with a 75-denier poly taffeta floor, a 75-denier rain fly, and half mesh walls for increased ventilation. The seams are sealed and the floor is coated for added protection from the weather.
The rainfly buckles down in the corners and also has adjustable tension straps. If you have to set up in rainy weather, you can set up the rain fly first and then set up the tent to keep it dry. The extra large vestibule is perfect for all you gear and then some.
There are inside storage pockets, a gear loft, guy lines and aluminum stakes all included. Easy assembly with pole clips. The extra large zippers are very durable.
First Gear Cliff Hanger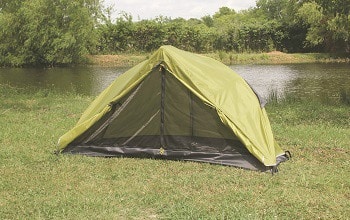 Design: Dome; Free standing
Season: 3-season
Best Use: Backpacking
Dimensions: 6'7" x 2'8"head; x 2'5" foot; Center Height: 43"; Tent Area: 16 square feet
Weight: 3 lbs 8 oz
Accessories: No accessories were offered or suggested.
Price: $45
Description: This First Gear Cliff Hanger boasts a 150-denier Oxford floor with a full no-see-um mesh tent body to keep out those pesky biting insects. The heavy duty rain fly has two vents for better ventilation while you sleep. The fly forms a nice vestibule for storing your gear at night.
It uses a quick-set system for easy setup. The center height is higher than most and is great for sitting up in the tent. The package includes fiberglass poles, aluminum stakes, and a stuff sack. This tent is spacious and has great ventilation. There is plenty of head room to sit up comfortably. This tent also includes a gear loft.
Catoma Adventure Shelters Badger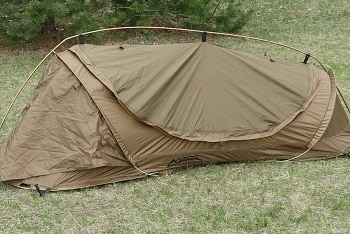 Design: Patented Rib Cage & Backbone
Season: 3-season
Best Use: Backpacking/hiking/biking
Dimensions: 7.5' x 33" (head); 25" (foot); Center Height: 27"; Tent Area: 20 square feet
Weight: 2 lbs 6 oz
Accessories: Recommended is the boot bag ($25) to store those dirty boots in. X-3 anchor stakes ($24)
Price: $300
Description: This little Catoma Adventure Shelters Badger uses 70-denier Ripstop nylon for the floor and for the rain fly. The body of the tent is made from 20-denier no-see-um mesh. The tent is considered a hybrid because it is a mix of a double-walled tent and a single-walled tent.
The rain fly can be used separately as a shelter to trim off some weight from your backpack and gear. There is not separate vestibule, so you may want to pack a small tarp to act as a vestibule if you need one. This tent has been used for military purposes and deploys in seconds. It can be set up on a cot if you want added comfort.
Extra Features: This tent features embedded Permethrin insect protection and is also flame retardant.
Big Agnes Bitter Springs UL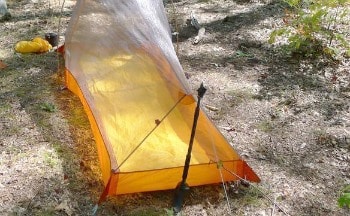 Design: Tunnel
Season: 3-season
Best Use: Backpacking
Dimensions: 7′ x 3' (head); 22" (foot); Center Height: 3′; Tent Area: 18 square feet
Weight: 1 lbs 13 oz
Accessories: Bitter Springs Footprint ($55); Gear loft ($22); Big Agnes entertainment loft ($50) and Power Case loft ($150).
Price: $350
Description: This ultra-light Big Agnes Bitter Springs UL is supported by two trekking poles; one at the foot and one at the head of the fly. The tent body is made of lightweight mesh. The rain fly and floor are Ripstop nylon that has been silicone treated.
There is one door and an extra large vestibule offering added space for gear. For minimalists, you can leave the tent portion at home a just use the fly as your shelter and the footprint for your floor. There are two mesh pockets for storage. There are gear loft loops.
The guy lines and corner webbings are reflective for you safety. There are storm flaps on the vestibule zipper for added protection against weather.
NEMO Equipment Blaze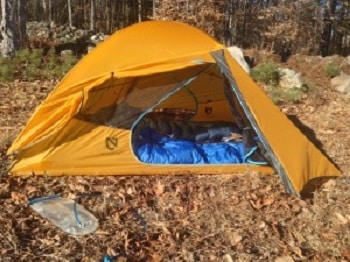 Design: Rectangular
Season: 3-season
Best Use: Backpacking
Dimensions: 7′ x 30"; 25" x 24"; enter Height: 3.33′; Tent Area: 18 square feet
Weight: 1 lbs 12 oz
Accessories: Astro Airlite® Sleeping Pad ($130)
Price: $370
Description: This NEMO Equipment Blaze is constructed of ultra-light fabrics that still offer a robust shelter. The tent boasts the most livable space compared to other tents in its class. These fabrics are optimized for waterproofing, durability, and tear resistance.
[the_ad_placement id="in-text-2-type-a"]
The fly is made of 7-denier PeU Nylon Ripstop. The canopy fabric is No-see-um mesh, while the floor fabric in 20-denier PeU Nylon Ripstop. The guy-out cords attach directly to the poles giving the tent more stability to harsh weather conditions.
Divvy sack dual-stage drawstring stuff sack, compression strap, guy-out cord, repair kit, and stakes all come with the package. There is also an interior storage pocket to help keep you organized.
Sea to Summit Specialist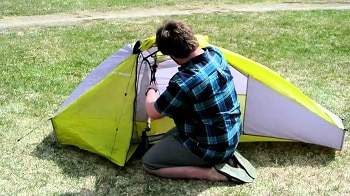 Design: Tunnel
Season: 3-season
Best Use: Mountaineering
Dimensions: 7′ x 2'8"; 2.1' (head) 11" (foot); Center Height: 3'1"; Tent Area: 14.5 square feet
Weight: 22 oz
Accessories: The Specialist Solo footprint is available at $24
Price: $499
Description: This Sea to Summit Specialist is considered ultra-lightweight, weighing just over a pound all told! It is considered the lightest tent that fully encloses in its class. The construction includes 15-denier waterproof nylon walls, vestibule, and floor.
The canopy is made from Perdex Endurance fabric weighing 20-denier. The door is made from ultra-fine mesh. The tent is fully seam sealed construction.
The tent has an interior storage pocket. It can be pitched with a pair of trekking poles and natural weights for those who want to scale down the carrying weight. There are reflective guy lines to keep you from tripping over them in the evening.
Eureka! Solitaire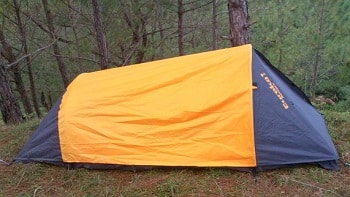 Design: 2-hoop Bivy
Season: 3-season
Best Use: Trekking and walkabouts
Dimensions: 8′ x 2.66′ (head); 2.66′ (foot); Center Height: 28″; Tent Area: 21.33 square feet
Weight: 2 lbs 9 oz
Accessories: Eureka! does not sell a separate footprint for the Solitaire tent. None of their other footprints are compatible.
Price: $77
Description:  This Eureka! Solitaire is constructed of 40-denier no-see-um mesh (walls); 70-denier floor and 70-denier nylon taffeta rain fly. There is a vestibule for your gear as well. This tent has a mesh roof for star gazing and the roof is zippered for an extra exit as well.
The rain fly is full coverage and attached for easier deployment. The poles are shock-corded and fit into sleeves for easy setup. Inside there are two storage pockets and a flashlight loop. For stormy weather, there are 3 guy outs on the fly. The tent is not free standing and needs guy lines and stakes to keep it upright.
REI Quarter Dome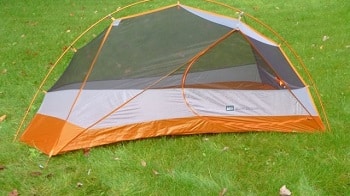 Design: Dome; Semi-free standing
Season: 3-season
Best Use: Backpacking
Dimensions: 7.5′ x 3.33′ (head); 2.75′ (foot); Center Height: 37.5″Tent Area: 21.4 square feet;;
Weight: 2 lbs 2 oz
Accessories: The footprint for this tent sells separately for $25. If you want to spruce up your camp site, you can get battery operated LED string lights for $20. Tent stake hammer, light and small, still packs a punch, $30. Seam Grip Seam Sealer may come in handy at $8.
Price: $165
Description: This tent is constructed of lightweight mesh and 15-denier ripstop nylon which gives it durability, yet minimizes the overall weight. The floor is made of 30-denier ripstop nylon. For the true minimalist, the hiker can use the poles, rain fly, and footprint alone and have a great shelter for mild weather situations.
The poles connect through a center hub which gives almost vertical walls and a lot more interior room. The fly creates a nice vestibule for your gear.  Some of the nice features that come with this tent are interior pockets and hang loops that will help you keep organized.
[the_ad_placement id="in-text-3-type-a"]
There is a large zippered roof vent to keep the air flowing and condensation to a minimum. The package includes an extra repair pole, guy lines, tighteners and stuff sacks.
The Big Finish
As you can see, there is quite a range in price of these tents; from under $50 to just over $400. But do not let price be your only determining factor. Make sure the dimensions are right for your height.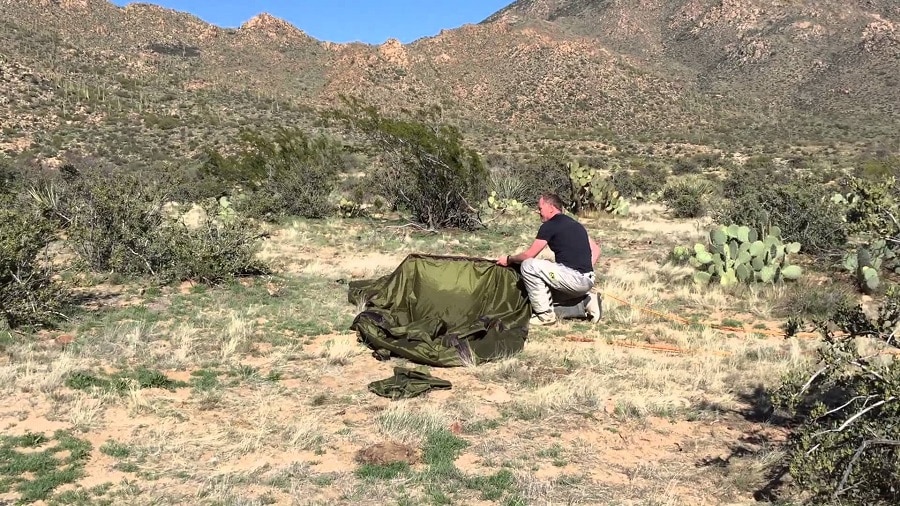 Make sure you will be able to sit up comfortable, have room for your gear in an adjacent vestibule and that it offers the protection you need out of a shelter. Several of these tents have versatility in that you can use the fly as a tent and save on weight.
Several have mesh construction so without the fly you could still count the stars and be free of bugs. Look for the little extras like gear lofts and storage pouches that will help you keep your tiny home organized and comfortable.
Any one of these tents could be a great choice for you. Stop by your local sporting goods store and have a look. Happy tenting!
For more tent camping tips from the experts, check out our article on this important topic.
Some of the links in this post are affiliate links. This means that if you click on one of these links and make a purchase, I earn a small commission at no extra cost to you. Also, as an Amazon Affiliate, I earn from qualifying purchases. If the information in this post has been helpful, please consider purchasing through one of the links in this article. Thank you.