When you are preparing for a camping trip, a quality tent is a clear necessity, but it does not mean you have to spend a fortune to get one. In fact, you will find quality among cheap camping tents as well. Bear in mind, some factors will determine the price range of the tents for sale, and such factors will be something you should consider before you buy. Things like tent features, size, optional accessories, and sometimes even the brand name play a role in the pricing of today's camping tents.
[the_ad_placement id="in-text-1-type-a"]
As you shop around and view some of the leading tents available, you can take note on the features you prefer and the features you think you can do without; this decisive action alone will help you in lowering the anticipated price for the camping tents in question. You can do some comparative shopping between tents with similar features to find the most affordable option to suit your personal budget. Further, consider buying tents when they are on sale or discounted by the seller as a way of saving additional funds on your tent investment.
Tents based on seasonal use
When it comes the time to shop for tents you will find you have a choice between 3 and 4 season camping tents. The 3 season tents are perfect for spring, summer, and autumn, but are not suited for winter weather. These are certainly lighter than the 4 season tents because you do not need the heavier protection from the elements during the warmer months of the year. These tents are typically equipped with airflow boosting features like convenient and large mesh panels.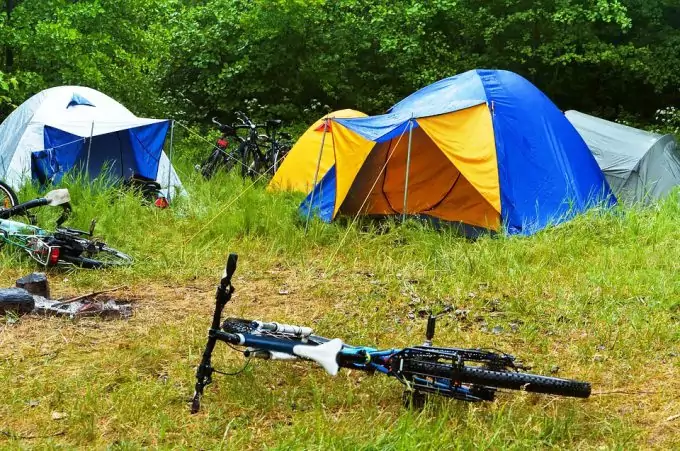 The panels are woven tight enough to keep bugs out of the tent, but it can let smaller particles in like dirt or sand. Ultimately, the three season tent is great for mild weather camping, but if there are many thunderstorms, high winds, or if you plan to go camping during the winter months, your needs demand a 4 season tent.
Three-Plus season camping tents are those that give you a bit of added protection, but they still are not as heavy duty as four season tents. These tents are capable of withstanding the colder weather of late autumn and the earliest stirrings of winter in the lightest snowfall. The tents are capable of retaining some warmth, are strong, and are well ventilated. The design of such a tent consists of mesh panels, two additional poles for withstanding some wind so they can prove a good choice of a tent if you plan to camp in destinations where the elevation is high.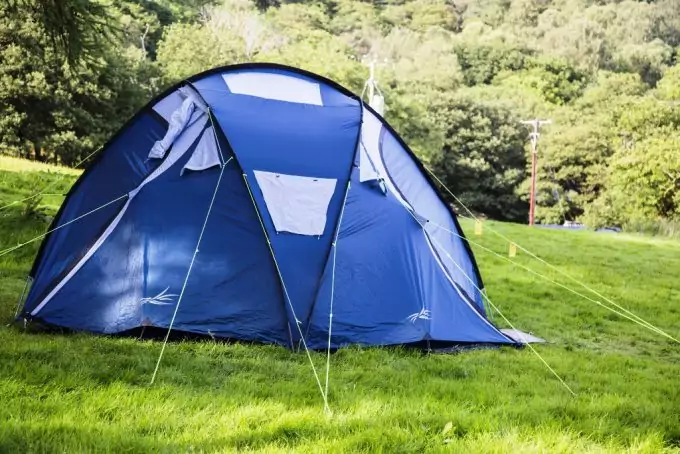 Four season tents are sometimes are best for the mid and late winter season. They are made to handle harsh, cold environments and they are also ideal when you are in a location that is above tree line. Additional poles are included so the tent can withstand fierce winter winds, and this type of tent has a rounded dome so that snow does not weigh the tent down.
Choosing the appropriate size tent
Finding out the size of a camping tent is extremely easy. When a manufacturer determines the name of a camping tent, the title for that tent will also include the maximum capacity of the tent in question.
For instance, if you were shopping, you might come across the Wenzel Klondike 8 or the Sundome 4, with the tents featuring a capacity for eight and 4 persons respectively. The most obvious choice for you when it comes time to choose a tent based on size is to do a head count of your group and base the capacity size on the recommended maximum capacity put forth by the tent maker.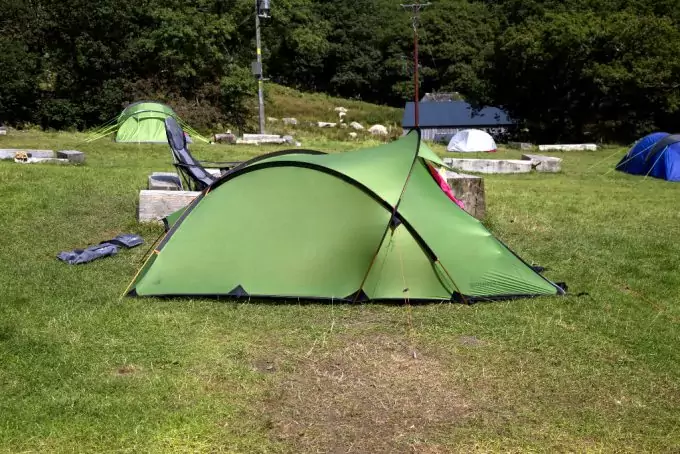 Once you know which tent will fit your group exactly, go with a tent a bit bigger than the size suited to the size of your group. While it may cost a bit more to get a tent that is slightly larger, you must remember that your investment in a tent must also allow for your comfort during your trip: this means you need some room to move around, to sleep comfortably, and to stash some of your camping gear without leaving you cramped.
See also: Best 6 Person Tent: Room for More
If you are bringing your pets along, you will want room for them as well. Moving up to the next size tent can ensure you have plenty of moving room and you maximize your comfort during your camping getaway. Of course, you also have the option of allowing fewer people in the tent you buy to ensure a greater degree of space for belongings and gear; thus, if you bought an 8-person tent for a group of five or six individuals your trip will prove quite comfortable.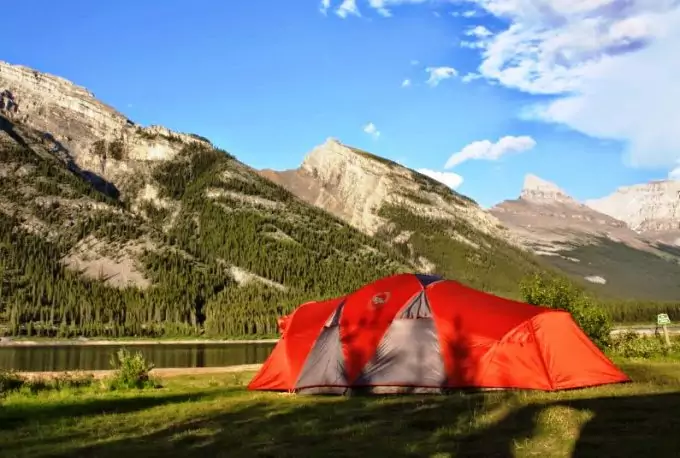 In addition to needing gear room or just room for those sleeping in the tent, a larger or more spacious tent size is best for:
People who feel confined in very tight spaces
People who need more room to move to avoid muscular cramping
Anyone who experiences restless leg syndrome
Anyone who tosses and turns a lot
Anyone who might act out while sleeping/sleep walking
Camping tent designs
Tent manufacturers offer inexpensive tents in an array of designs. Some design elements include:
Dome Style Tent
This design element ensures a stronger ceiling on the tent since rain and snow will run off the structure instead of remaining on it and weighing it down. With the sloping walls, one will find a bit of the headroom is compromised on each side of the tent, while the center of the tent retains plenty of headroom.
Cabin Style Tent
The walls of this type of tent are practically a full 90 degrees from the floor so there is a greater degree of headroom and a wider opening in the tent's interior. Definitely, the more spacious when compared to the dome tent. This type of tent is ideal for families as it is often fitted with features of convenience like wall/privacy dividers, special awnings, and stake-able vestibule doors.
Poles
Many camping tents today are freestanding so they do not require any poles to put up. This means the tent can be moved around intact from one location to another if desired. Of the tents that do feature poles, you will find the aluminum poles more durable than those crafted out of fiberglass.

Materials
Camping tents are made from an array of materials including:

·         Polyester

·         Felt

·         Nylon

·         Canvas

·         Cotton

The nylon and polyester materials, once coated, prove waterproof and older cotton tents were at one time paraffin-coated to minimize the amount of water the material absorbs.

Ventilation
Camping tents are equipped with mesh panels to keep bugs out while allowing air through for appropriate ventilation. Winter tents have fewer ventilation options whereas three season tents are likely to have several doors and windows. A mesh panel might be in the ceiling of the tent for great cross ventilation.
Best affordable tents to be looking out for
Winterial 2 Person Pop Up
The Winterial 2 Person Pop Up is an exceptional camping tent at a very affordable price. The cost ranges from $79.99 to $84.99, depending on where you buy it.
This tent is an easy to set up option suitable for camping, overnight trips, and festivals. The dimensions are 90 inches by 72 inches by 42 inches. When collapsed, it can be packed away in a small carry bag measuring about 25 inches in diameter and this makes for easy storage of the unit. Even with two people inside the tent there is plenty of room for one's camping gear.
Additional features include:
A large door
A spacious interior well-suited for two but even better for one
Two windows for a great view and good ventilation
Fiberglass poles are included for durability in the wind
Tent is made of polyester materials
Gear pouches beneath each window
Floor already sewn into the tent
Stakes for the tent are included
No ground tarp necessary
Folds up instantly
Bag for carrying the tent comes included
Floor measures 7.5 feet in length by 4 ft in width
Like this amazing product? Then you can buy it on Amazon.
Semoo 2-3 Person Tent
The 2-3 Person Tent by Semoo is an excellent light, portable tent with an amazing price. The unit costs $49.99 to $65.99, depending on where you get it. The tent is a three-season tent featuring one door opening and water resistant properties. This tent is dome shaped to allow for better rain runoff, and the hooped fly frame is removable to allow for greater protection from the rain. Large mesh windows and roof vents ensure plenty of ventilation inside the tent.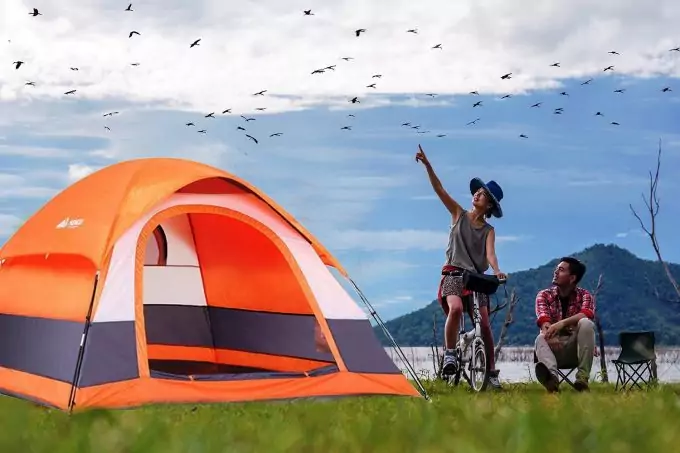 Additional features include:
Easy set up
A comfortable interior
Easy disassembly
Half Moon Shaped large door for ease of exiting and entering
Ideal for the hiker or camper in need of a lightweight tent
Measures 51.2 inches x 82.7 inches by 82.7 inches
Weighs 5.45 pounds
Comes with three poles
A white and orange exterior for ease of spotting at a distance
Tent made of polyester materials
Material is coated for added durability and ruggedness
If you think that this product could be useful for you, then you can buy it from Amazon.
The Sundome 4 Tent
The Sundome 4 Person Camping Tent is made by Coleman.
[the_ad_placement id="in-text-2-type-a"]
The tent is available in several colors including navy and green and the price on this unit is between $62.13 and $62.11. The tent measures 9 feet by 7 feet and is big enough to house a queen size airbed, if not four individuals with comfort.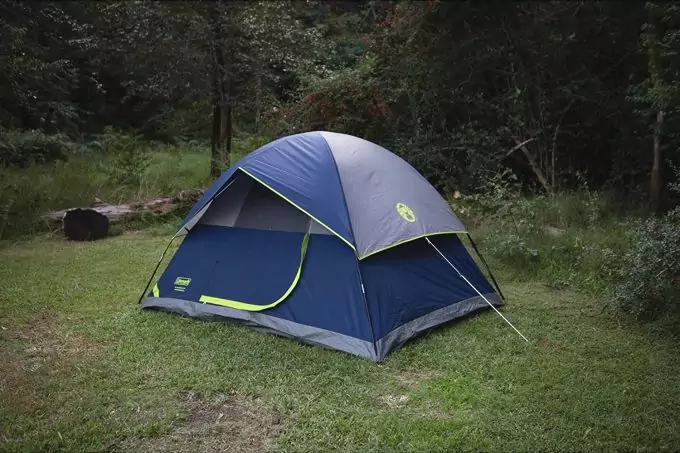 Additional features include:
An exterior manufactured out of polyester material
Coated fabric for weather protection
The tent is 59 inches tall
2 – 8mm poles made of fiberglass come with the tent for additional support
The floor of the tent is manufactured our of 1000D polyethylene
Interior of the tent is wide and spacious
Dome shaped to allow for rain run off
The tent has quick set up features – have it up in 15 minutes
The tent comes with big windows and a ground vent for adequate ventilation
Electric access port
Poles attach with Insta-Clip features
Weather-Tec™ features: The floor has inverted seams and it is welded to keep it dry
Keep gear organized and safe in storage pockets
Continuous pole sleeves that are snag free and easy to use
Get rain protection and shading from the Rainfly
Bag for carrying the tent is included
The manufacturer offers a one year limited warranty
Like this amazing product? Then you can buy it from Amazon.
The Ozark Trail 10 Tent
For a tent the size of The Ozark Trail 10 Tent, you can't beat the price. The unit is priced at around $138.00. This family tent features three big rooms. The camping tent features two side doors and a single center door so that family members can have their own separate entry ways: This allows for a considerable degree of privacy even when camping together closely!
Additional features include:
Measurements of 14 feet by 10 feet
The form factor of the tent is dome shaped
Along with two side doors the unit has side windows numbering six
Great views from the windows and a well-designed interior
Adequate ventilation
The ten is large enough to fit as many as three queen size air mattresses inside
The fly seam is taped to help in preventing leakage
Brown colored exterior
Comes with steel poles for durability
Weighs about 43 pounds
If you like this product you can find and check its price on Amazon.
Wenzel Klondike 8 Tent
The Wenzel Klondike Tent is an eight-person tent priced between $169.00 and $219.00: It is an eight-person tent and it comes with an attached screen room so you can enjoy the outdoor air in a shaded, bug-free zone. This gray and taupe tent is also available in blue and white. The tent weighs about 28 pounds and it measures 16 feet by 6.5 feet by 11 feet. You can allow the screened in sunroom double as an area for sleeping as well.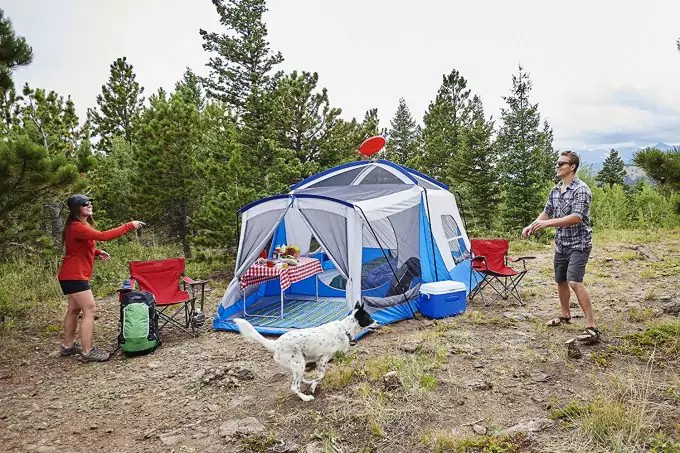 Additional features include:
Power corners that are double staked for added stability of the unit
A mesh roof option for adequate ventilation
An exterior material made of polyester
A polyurethane coating to weatherize the unit
Two doors for ease of entry
Two doors for ease of entry
Center height of this tent is a full 78 inches
The eaves in the tent measure about 61 inches
The screen room measures 60 square feet
Remainder of the tent measures 98 square feet
Three people can sleep in the sitting area/five in the sleeping room
Interior Flex Style Inverted T Door
Frame of the tent is made of fiberglass material
Stakes are made of plastic and steel
Comes complete with a 10 year warranty
Comes with a duffle bag for storage
Like this amazing product? Then you can check its price here.
OUTAD 3 Person Tent
The three-person OUTAD camping tent is nicely priced between $64.99 ad $54.88. The tent has a hexagonal shape so it is sizeable and spacious. It comes complete with a blue bag for transporting the unit to the campsite. The tent has polyester fabric and a ground sheet made of oxford fabric.
Additional features include:
Spacious three-person interior
A lamp hook inside the unit
A window
A door with zipper that is double sided for easy closure and opening
Six tent pegs made of metal
Screened in features to keep bugs out and fresh air flowing
Measures 94.49 x 82.68 x 51.18 inches
Weight: 4.75 pounds
Comes with carrying bag for ease of transport
Bottom-bathtub style with tight floor seams
The entire footprint of the unit is about 7 feet by 7 feet
Comes with three12 inch fiberglass poles
If you like this product you can find and purchase it on Amazon.
Conclusion
In conclusion, there are some fantastic options for campers seeking high-quality cheap camping tents for every purpose. You don't have to break the bank to ensure you and your family have adequate shelter on your next hunting excursion. In fact, there are some budget tents that have some pretty posh features and amenities. Read our article on how to choose the best luxury camping tents for more insight.
Whether you want a two or three-person tent or a larger tent suited to the whole family, there are excellent tents at budget prices. The considerations you face before buying will definitely define how much you will end up paying for the tent you buy. The more features and perks a tent has, the higher the overall price tag will be. Larger tents will always be more expensive as these units take more fabric, materials, stakes, and feature inclusions to ensure adequate ventilation and warmth/cooling.
[the_ad_placement id="in-text-3-type-a"]
Whatever tents you choose, the end price tag is, at least in part, defined by feature availability and your preferences. You can keep costs to a minimum by shopping around, comparing prices, minimizing desired features, and buying off-brand labels when possible.
Before you leave for your next camping sojourn, check out our piece on camping safety tips to guide you.
Some of the links in this post are affiliate links. This means that if you click on one of these links and make a purchase, I earn a small commission at no extra cost to you. Also, as an Amazon Affiliate, I earn from qualifying purchases. If the information in this post has been helpful, please consider purchasing through one of the links in this article. Thank you.