Weather is this part of our lives which is somewhat predictable, but nonetheless continues to bring destruction at its wake. Satellites and powerful computers calculate how the hurricane is moving and whether it will hit the coast or not, and yet, there's never a 100% certainty if it will or it won't. The software shows several possible scenarios and people nation-wide watch and hope that it will not reach the coast. Some people prefer to evacuate, others wait till the last moment.
[the_ad_placement id="in-text-1-type-a"]
Whichever category you are in, you will realize that bringing news to you wherever you are, in such situations, is critical. The most meaningful way to do so is to carry a weather radio with you. Some people give each of their family members one radio device to make sure all are aware of the weather situation.

Weather radio purchasing is on the rise due to the weather getting more and more unpredictable and much more powerful. Take a look at our article on the best weather radio to help you stay in the loop.
In this article we will share with you the top rated best weather radios you can find on the market. Purchasing one (or more) will definitely give you peace of mind.
List of the best weather radios
Midland WR300 Weather Radio
The reason why this radio is a really good choice for you is that it has the S.A.M.E. technology built-in. This means that it can be adjusted and programmed to pick up news and alerts related to your specific area. The abbreviation stands for Specific Area Message Encoding. While it is mostly made for the US market, you can still use it for other countries nearby.
Other than that, you can of course use the AM and FM adjustments and tuning. There is also a bunch of other functions like setting the time and date, and an alarm. It quickly can switch back and forth between the AM and FM frequencies depending on what alerts are sent and affect your area. Since the radio is digital, you can use either an AC cord to charge it, or simply pack several AA battery packs. The radio requires 4 AA batteries.
The screen is LCD and has a blue light, which makes it stand out in the dark if you receive alerts during the night. On top of all that, the radio has a memory of the last 10 alerts which you specifically save and program in it. You can keep that information, add or remove it at any time.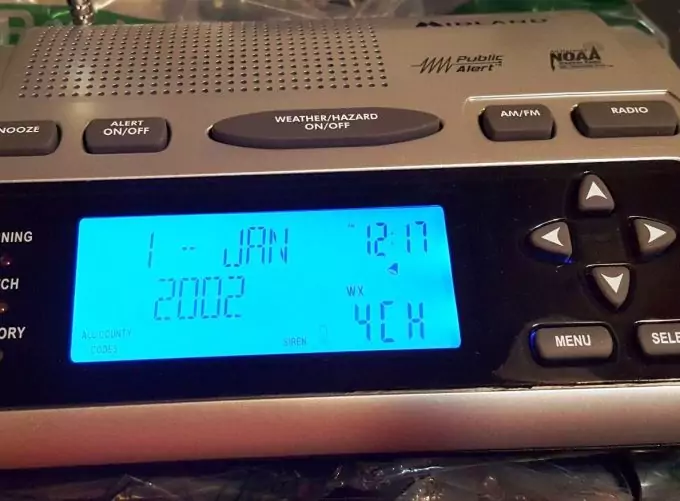 Finally, you'll also enjoy a calendar and backlight options, and all the 60 alerts for emergency situations. The alarm for an emergency is really loud, so we can promise you'll hear it. There's also an Event Expiration indicator built in the functionality list, which shows you when a certain alert has expired and is no longer valid.
The only thing which you may find a bit on the downside (but is also valid for all radios) is that if you live in the countryside and are far away from the sending centers, your signals may be a bit weak. A solution from some users is to put a stainless steel scrub pad (e.g. Chore Boy), to improve the signal.
If you like this product you can find and check its price on Amazon.
Midland WR120EZ NOAA Weather Alert, S.A.M.E. technology
Here's yet another Midland radio. It also features the S.A.M.E. technology, just like the above. All 7 NOAA's channels are linked and the radio can receive them. The radio has a pretty noisy alarm system – 90dB. Not only will you hear the siren, but you'll also be warned with the built-in LED system. The radio comes with three languages and one can be set as default. These are English, French and Spanish.
According to the manufacturer, the radio's signal covers 93% of the US territory, so even remote and isolated towns have the possibility of receiving signals and alerts. Thanks to the S.A.M.E. technology, only alerts related to your specific area will be sent to you. All the alerts far from your area/county will be eliminated.
We mentioned only vaguely the alarm system, but here's more detailed explanation. Apart from the loud siren system, there's also the LED system and a voice alert. You can choose from these three to set your default signaling method. Of course, if you have issues with hearing, set the LED. If you have troubles seeing, set the 90bD alarm or the voice alert. Also, the loud siren is suitable for very large houses (more than 1 floor). The other two options are ideal for smaller houses and homes.
Overall, it's a trusted brand and product. Yet on the con side, some customers find it difficult (even impossible) to turn off certain alerts, like whether there will be snow, or the winds are rising. While some customers had talked about a similar model (WR120B), others claim that the WR120EZ has the option to turn off certain unwanted alerts. Just go to the Push menu, go to 'Set Event' and select it. Press 'Edit events' and then choose the events you want to disable.
If you like this product you can find and purchase it on Amazon.
Ambient Weather WR-335 Adventurer2 Emergency weather radio
The Ambient Weather radios (and other products) are among the standard in the industry. This radio is a heavy-duty weather radio that you can take anywhere with you – from a camping trip to a longer hiking experience, or in the safe environment of your home. It will alert you of any significant change in the weather to give you a head start of what to expect.
It has AM and FM frequencies, plus shortwave, with all 7 NOAA stations. You can connect the radio to your smart device and receive alerts on those. You can connect it even to a Kindle reader, MP3 and MP4 players. And of course, as a standard it comes with an AC adapter.
Impressive enough, you can charge this durable radio in 6 different ways. You can use a hand crank, use the AC or simply plug to a wall socket, use a DC charger, use 3 AAA batteries (keep in mind that these aren't included in your shipment), use a USB to plug in a computer, and finally, the radio has built-in solar panels. They may not be as powerful as you hope, but they still will work if you have access to sun light.
[the_ad_placement id="in-text-2-type-a"]
The battery inside the radio is a lithium-ion model, and provides long hours of life for the radio, after you charge it. You may have to replace it after several years, but it will serve you well.
The alert system is very loud (as a matter of fact, louder than the Midland radios) – 125dB. Of course, the radio has a LED indicator when an alert arrives. There's bright flashlight that indicates when the AC is gone out.
As a bonus option, if you like this radio model, you can purchase the radio together with a large solar panel. See our piece on the best solar panels to help you power-up your radio.
Some customers spent quite some time reviewing and testing this radio and offer extensive opinion and results, which are worth reading, but overall, they believe that 'the unit really shines' (comment by John K.). Most people are disappointed with the built-in solar charge, as it hardly does any work, but indeed it is too small to be able to charge an electronic device so quickly. Still, people who used it for camping are happy with the radio and its reception.
If you like this product you can find and check its price here.
La Crosse 810-805 NOAA/AM/FM Weather RED Alert radio
This is another digital radio in our list. Of course, it features all 7 NOAA channels. When it comes to alerts, at first the LED light is blue (default settings) but it turns red when it detects and receives an alert. The radio's design is rugged and rubberized (to prevent it from slipping easily). It's ergonomic and comfortable to carry. In the package you receive you'll also have a lanyard to attach to the radio and have it around your wrist, thus minimizing the risk of it falling off your grip. The radio needs 3 AA batteries to keep it up and running.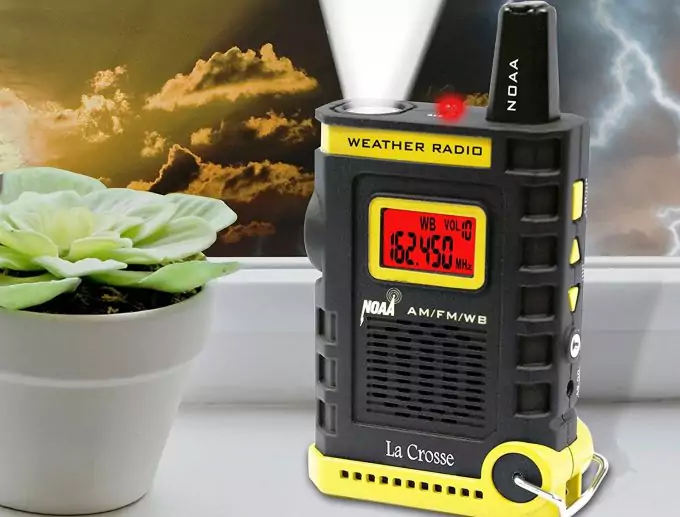 Customers report happily that the sound is very good and clear. Some users with knowledge of engineering and electronics even claim that they were totally impressed by the quality that comes with this little radio. The controls are easy and pleasant to use. When you want to turn up the volume you'll be surprised  how quiet or how loud the sound can be.
Some of the (minor) downsides, according to some users, is the lack of a belt clip, as most find it would have been useful. Also, still on the cons side, users think that the radio would have benefitted if it had memory presets, so the radio could remember channels, for quick access. Of course, reaching and finding NOAA is easy and quick. Even with these downsides, customers who reported them still gave 5-star reviews and really like the product.
If you like this product you can find and buy it here.
iRonsnow IS-088 Dynamo Emergency Weather radio
Again, a radio offering all NOAA channels, AM/FM reception with a LED flashlight (3 bulbs). You'll have a cell phone charger with it too. You can use the hand crank to charge it or use a solar panel plugged in it. There are other external ways to power this radio. According to the manufacturer, you need to hand-crank for 1 minute in order to have at least 20 minutes of radio reception time. For the same amount of hand-cranking you get 30 mins of flashlight or 10 minutes of phone talking.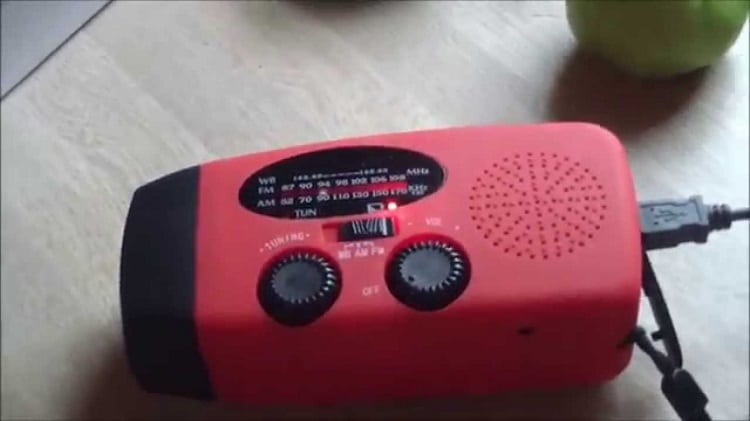 This radio can be considered a reliable, rugged waterproof survival product that can be taken in almost any conditions and trust that it will work. It weighs very little (less than a pound/230 gr). You'll also receive a wrist lanyard for easy carrying with you. As for the sound of the radio, most customers again report wonderful clear and crisp sound from NOAA and radio channels.
Most people like the fact that they could charge their Apple devices and the radio does that exceptionally well and quickly. A few customers claim that the radio couldn't charge their iPhones, but since these reviews were only a few, we couldn't say if it's a manufacturing fault, or real fault. After all, more than 80% of the users are happy with the radio's behaviour.
And finally, some customers don't like how small this radio is, and they see it as a negative, but again, the majority of the users absolutely like the fact that it's small and compact and can fit a day pack or even a jacket pocket.
If you like this product you can find and check its price on Amazon.
Sangean CL-100 Table-top Weather Hazard Alert radio
This slightly pricier radio receives all NOAA stations and can be tuned to AM and FM bands. The alert type gives you weather emergency evacuation details in case of extreme weather forecast. Since it has a table-top design is also has a suitable clock. This one also uses the S.A.M.E. technology. The LCD screen tends to dim dynamically as the outside light grows darker. It has a dynamic contrast control. You will also have the option to pre-program 5 radio channels for quick access.
If you are in quick need to find the best radio channel reception, the radio with automatically find it for you. It scans quickly through all available bands and picks the strongest reception. Since the radio is RBDS compatible this means that you can receive additional information in the form of text messages, date and time, and the program service name. The radio itself has loads of useful features, plus a dual alarm system which could be set to a AM or FM channel or use as a buzzer. There are adjustments which could be used to make the sound crisp and clear.
It comes as a surprise maybe that the radio can be connected to both CD and MP3 players. The external output alert jack could be used for people with impaired hearing or seeing capabilities, meaning you could receive the alerts as a flashlight, siren or alarm.
Another useful feature is that the radio listens to End of Message (EOM). This essentially means that when the radio sends an alert/warning, it also sends an EOM to indicate that no more will be sent for the time being. The radio interprets this message and mutes itself automatically. Most other weather radios (e.g. Midland) don't have this feature, and the message will be repeated over and over again until you manually mute it/disable it.
One of the overlooked things about the voice alert is that you can't set the volume up or down, it's fixed. If you set the alert on siren, you can set the volume, but not with the voice setting. To solve this issue one customer contacted Sangean and they offered to update the radio's firmware, which did fix the problem.
If you like this product you can find and buy it on Amazon.
Reecom 185 Hours Back-up Battery, S.A.M.E weather radio
And once more, a radio with the trusted S.A.M.E. technology! The alarm siren is rated at 90dB, but has 24 volume levels for better control. The radio also has the EOM reading (while you use the voice alert setting). You can set 25 alert events in the memory.
Something which few radios have is the countdown option upon receiving an event. The countdown can be 15 mins for up to 6 hours, until it expires. The countdown can go simultaneously for up to 25 events.
The radio automatically searches for available radio stations. The AM/FM are digital and could be scanned to pick the best reception. You can set up to 12 channels each for AM and for FM bands. Some customers claim that the manual is crucial, so if you decide to purchase the Reecom, you will need it to program and set-up the radio. They also suggest packing the manual in a zip bag and attaching it to the bottom of the radio for quick access.
[the_ad_placement id="in-text-3-type-a"]
Finally, according to customers who had to turn to the manufacturer for some help, they claim that they didn't receive good customer service. So, this may be seen as a significant downside to this product.
Of course, the radio itself works like a charm, but the lack of reliable support does sound an alarm (no pun intended). Of course, Reecom can be contacted via Amazon, since they sell only through it. They usually respond within 24 hours via the emailing system. Reecom warn customers not to purchase their radios from other websites, as these may be duplicates and unreliable.
Overall, the majority of the users like this radio and most have used it for several years without complaints.
If you like this product you can find and check its price here.
We hope the extensive reviews above have given you an overall idea of what other customers like to purchase, and which of these products are good for sending weather alerts. You may want to spend more time reading through other customers' reviews and also about the manufacturer, to make sure you make the right choice before you purchase a weather radio. For more options, see our list of the best solar radio to keep you posted on the latest weather bulletins.
Some of the links in this post are affiliate links. This means that if you click on one of these links and make a purchase, I earn a small commission at no extra cost to you. Also, as an Amazon Affiliate, I earn from qualifying purchases. If the information in this post has been helpful, please consider purchasing through one of the links in this article. Thank you.