If you are serious about hunting, you should know that not all backpacks are created equal. Hunting backpacks usually have (and should have) properties, which exceed the ordinary traditional hiking backpack. Hunting backpacks should, by all means, be water-proof, breathable, highly durable (you'll be in very unfavorable conditions) and most of all, quiet. As long as these qualities are met, you may have found the ideal backpack.
[the_ad_placement id="in-text-1-type-a"]
Of course, professional hunters will look for the best backpack that exists, but if you're a beginner in the hunting field, you can purchase an entry-level backpack, and your hunting skills won't suffer because of your backpack.
As you build up on experience, you can substitute your beginner's backpack with a more advanced one. If hunting isn't something you do once in a while, but regularly, you definitely need to rely on a good sturdy backpack.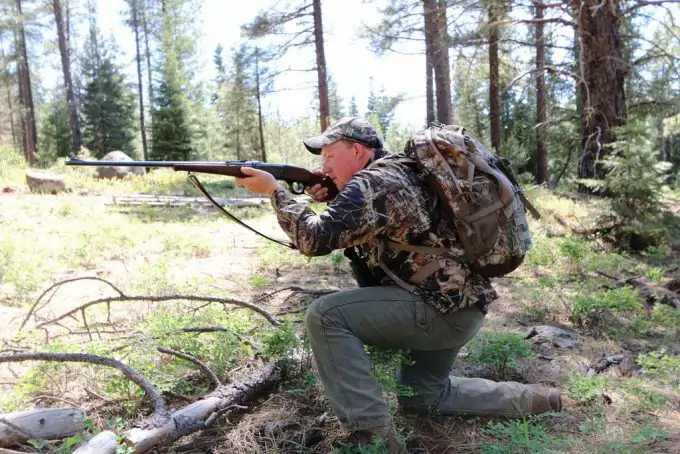 We will introduce you to some of the best backpack found on the market. You can spot the properties and qualities of these backpacks, and decide for yourself which suits your needs. In a nutshell, here's a fast-read on the types of backpacks you need for camping and trekking.
ALPS OutdoorZ Pursuit bow hunting day pack
As the title of this backpack suggests, this is primarily aimed at (no pun intended) bow hunters. And yet, it can still accommodate a rifle. Looking at the price one may believe that it's a cheap backpack, but the truth is that that it's made of high-quality material, like many other backpacks of much higher price.
This backpack weighs no more than 4 pounds and this makes it ideal for day hunting. Thanks to the various options of the pockets, you can hold your bows or rifles in many different places, however it suits you and makes it easy for you to pull out the bow or rifle. One of the side pockets can snuggly fit the butt of your rifle. You can then secure it with a strap, and you're done. This exact same pocket can even hold the hind quarter of a deer/antelope, in the same way it holds the rifle.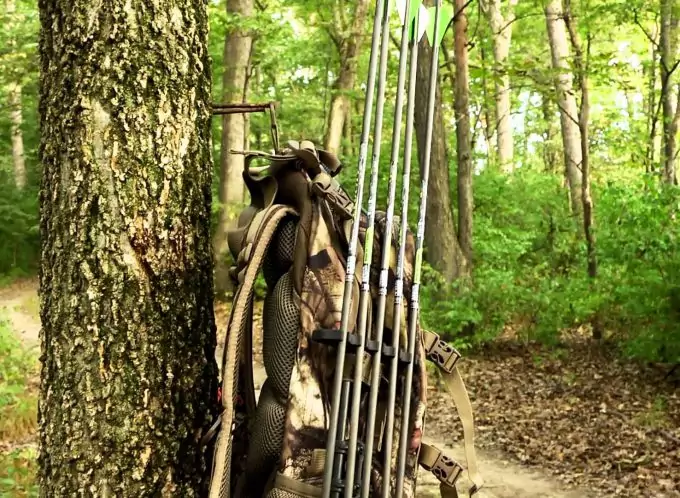 When it comes to the inside of the backpack, the front pocket opens to 90º angle, and contains a large amount of different pockets for your convenience. The space inside isn't divided, and thus it provides more space for various items you carry for the day. Thanks to the hydration pocket you can store water in the ALPS Pursuit.
You will also find Velcro straps to either side of the backpack, plus nice mesh pockets where you can store various items for quick access. There are also small pockets on the hip belt, where you can hold some mobile devices, like GPS, mobile phones, Windicator, etc. See also our article on the importance of paracord survival belt for you needs.
Finally, at the bottom of the backpack, you'll find an orange rain-cover, to protect against heavy rain. While the backpack isn't as large as some other hunting packs, it's a great value for this affordable price. It's ideal for beginners, but even advanced hunters will find it incredibly reliable and useful.
If you like this product you can find and buy it on Amazon.
Tenzing TZ 2220 day pack
This backpack is considered one of the best hunting backpacks made by Tenzing. What will impress you immediately when you open the front cover is that the zippers and teeth make virtually no noise when you pull the zipper. This is a highly appreciated feature among hunters. Also, the front opening will give you full access to the entire inside area of the backpack. And yet, there is an enormous amount of compartments all over the backpack, both inside and outside.
Thanks to the possibility to compress the backpack (including certain pockets that have compression straps) you can use the straps to hold your bow, arrows, rifle, etc. You can use your imagination on how to use this feature. You'll also find a sleeper pocket, where you can store long flat items, like for example maps. They can be accessed very easily and quickly.
The backpack itself has an aluminum frame, to keep it stable and vertical, without getting misshapen on your back. You can store various hydration bottles or containers. It's a relatively small daypack, but it's offer a great value. On the topic of hydration, you'll also find a hydration hose. It stays locked and stable, and won't flap around your face.
Another thing which is incredibly important for hunters is that even if the backpack is relatively small, it can be expanded quite a lot. On top of that, the presence of various straps all over the backpack, gives you the additional option to attach your game, or other items, without being bothered that there's no more room inside the backpack.
Another invaluable feature is the bow bucket. Many hunting backpacks lack this feature, so Tenzing are definitely offering quality. If you have the chance to try and attach your bows to the bucket, you'll immediately notice that all the cams and other valuable bows' parts are snuggly protected. If you use then the outside male and female straps for compression, the bows will remain safe and protected. It's a well-valued backpack and customers may happen to complain only if the backpack didn't fit them well enough. This is of course a matter of personal fit, and not a fault on Tenzing's side.
If you like this product you can find and check its price on Amazon.
Eberlestock Halftrack hunting pack
The benefits of this backpack are numerous but its size is definitely a plus. Relatively small backpacks are still more preferred than the large and bulky backpacks that you can find on the market. Eberlestock is suitable for 2-day hunting trip. Its capacity is about 35 liters or 2150 cubic inches. According to experiments, you can rely on a bit more than that – it can be optimized to up to 46 liters/2800 cubic inches.
Outside on the front of the backpack you'll find 6 rows of PALS webbing, including Velcro straps and identification patches. To the side you can fit two different hydration systems/bottles. You can fit other items too, like binoculars. These are the pockets for quick access. At the bottom of the backpack, not surprisingly, you'll find a rain cover.
It has a hook, which makes it really useful, because in case of strong winds, the rain cover wouldn't fly away and expose your backpack to heavy rain. In case you don't want to keep the rain cover, you can remove it and thus make more room inside the backpack itself.
Another important thing to talk about is the suspension system. The aluminum frame (they can be removed) keeps the backpack straight, and also the hip belt is created so that the weight will easily transfer to your hips and won't burden your shoulders in the long run. The outside of the back is strongly padded, thus making sure your back won't be sweating too much and provides good ventilation. The pads also make it very comfortable to wear in the first place. The pad where the back props against your bottom back, is very thick and will protect it.
Finally, inside the backpack you won't find that many compartments as with Tenzing, but there are a total of 8 rows with PALS webbing, so if you have hooks or carabiners, you can use those to separate your items. Almost all customers are incredibly happy with this backpack and tested it in real combat conditions, and can swear by it. It's absolutely worth the price.
If you like this product you can find and buy it here.
Badlands clutch backpack
To begin with the review, we have to say that this backpack weighs 1 pound and 4 ounces and its capacity is 2800 cubic inches. It has the typical for Badlands' products 'bat' wings at each side of the backpack. The use of these flaps is that you can compress the backpack and thus meet your specific needs. You can also, if you want, attach meat to the flaps.
Inside, you'll find the option to have a mini-backpack which can be fixed using some of the straps. It's basically a removable backpack, and could give more space inside the main backpack. By giving it that much extra space, you can fit in a 2-liter hydration pack or bottle.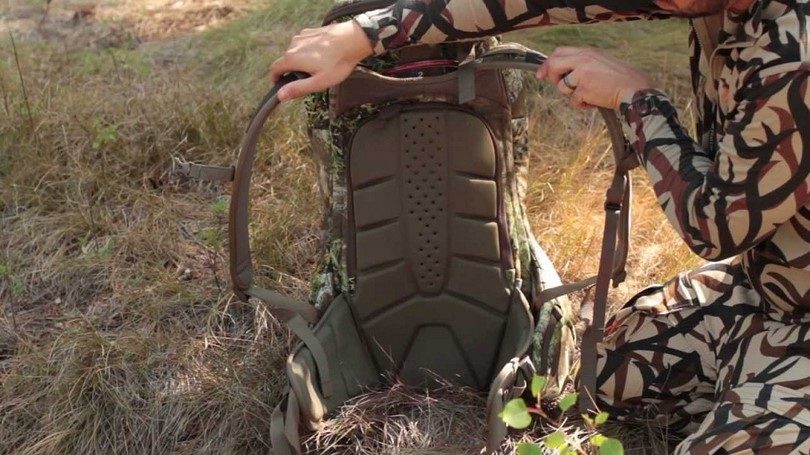 Thanks to the lash gear straps which can be found right at the bottom, you can attach various other items, including a sleeping bag, tent and a pad too. There's also a removable rain cover as well. If you need to compress the backpack, you will have a total of three horizontal straps.
The main opening is made on a dual access basis. The zipper is made with a three-quarters system, and the main access on top, are the two ways you can access the inside inventory of the bag. Thanks to that zipper system, you'll have a front and top loader access.
[the_ad_placement id="in-text-2-type-a"]
Finally, the inside of the backpack; it has two mesh pockets, plus two pockets with a zipper. You'll also have a hydration pouch, which is a typical to the Badlands' series addition. The hip belt and back pads are made of a very comfortable foam, to give better support and comfort. You can also use the pull-away hip pockets to store smaller items, and even a firearm.
Overall, this backpack is ideal for hunting and even for a few days of outdoor hiking. Thanks to its flexibility it can be used in various situations. All customers are fully satisfied and happy to own this product.
If you like this product you can find and check its price here.
Badlands Diablo day pack
This backpack is suitable for a day or two of day hunting. It's much smaller and weighs much less than the Clutch backpack. Its capacity is also smaller – 1900 cubic inches, and thus, is considered an ultra-light bag.
Yet, it's considered an upgrade to the Badlands Pursuit model. Even though the Diablo has the aluminum frame and the hip belt, it weighs a little more than 2 pounds. According to Badlands, the bag can accommodate up to 40 pounds of weight which is more than enough if you are planning a single-day hunt. If you just want to go out for a deer or an elk, this backpack is the perfect fit for you.
The back of the backpack is made with a 'Hypervent' mesh and if we add the aluminum frame (which adds to the suspension) you can be sure that the backpack will stay off your back. This will eliminate any unpleasant sweating. It seems that for most customers this is the most appreciated feature, which makes Diablo so competitive on the market.
At the two sides of Diablo, there are holders for water bottles, but not exactly pockets. As for compartments, there is one at the backside and one right below the main compartment. Otherwise, at the side, there are various small and larger pockets and pouches for items like binoculars, mobile phones, GPS, and anything you may need for quick access.
Among the many customers of Badlands Diablo, almost none has serious complaints about this backpack. It's a durable and reliable backpack, that can be used for different purposes.
If you like this product you can find and purchase it on Amazon.
ALPS Outdoorz Commander Freighter
Here is a backpack for those hunters who prefer to spend weeks outdoors. This huge backpack has a capacity of 5250 cubic inches and weighs the impressive for its size 2 pounds and 3 ounces. You'll have two side pouches on one side and a larger one on the other, a rifle compartment/holder, two front pouches, a total of ten zippers, a divider at the middle area. The big front pouch has a durable zipper and can hold almost anything you need for easy access.
The zippers are made to be water-resistant, so they won't let any moisture or water leaking inside. Even if the zipper is sturdy, it's actually very easy to pull – there's no straining or harsh pulling to make it move.
One thing which may be considered a drawback is that, right when you open the main compartment, you will notice that there is a metal frame, which is unfortunately limiting the total opening space. This means that if you want to push a larger object inside, the metal frame may render it very hard to do, or even impossible.
If we look at the positive side, though, you will realize that this makes sure that the backpack holds its shape nicely. Since it's a large backpack, this is crucial. This metal frame also makes sure that you will be able to transfer the load equally throughout the backpack, and discourage you from filling it with items which may top the balance off.
Otherwise, the shoulder straps have a sternum strap to add more balance and comfort. You'll also have comfortable pads at the back and hip belt straps. Thanks to a mesh back feature, your back won't touch the back of the backpack, thus keeping it ventilated at all times. This keeps at bay any possible overheating.
The bottom compartment is quite large at first glance but it's very comfortable and easy to reach even while the backpack is on your back. Finally, the very bottom has a shelf very useful for suspending a sleeping bag or pad. It can also be used to prop meat. You can use the straps to secure it in place.
As a whole, this backpack isn't visually appealing with anything or in any way fancy, but it serves exactly what ALPS advertise, and you won't be disappointed. For the price, this backpack comes almost for free.
If you like this product you can find and buy it on Amazon.
Tenzing TZ 5000 backpack
Here is a high-quality backpack offering nearly the same cubic inches capacity, but at a much higher price and value. Tenzing are among the top leading manufacturers of quality backpacks, and even if you commit yourself to one of their products, you will know you purchase very high quality.
This particular backpack has a minimum capacity of 4160 cu. in. and can be expanded to up to 5620 cu. in. The torso suspension system is entirely adjustable for your specific needs and body shape. The hip belt and back area has all the padding you need to keep it comfortable on your back and hip area. The back padding gives you enough space for ventilation and prevents overheating and excess sweating. Thanks to the large amount of compartments (20 total), you can also store a sleeping bag, pad and other slightly bulkier items.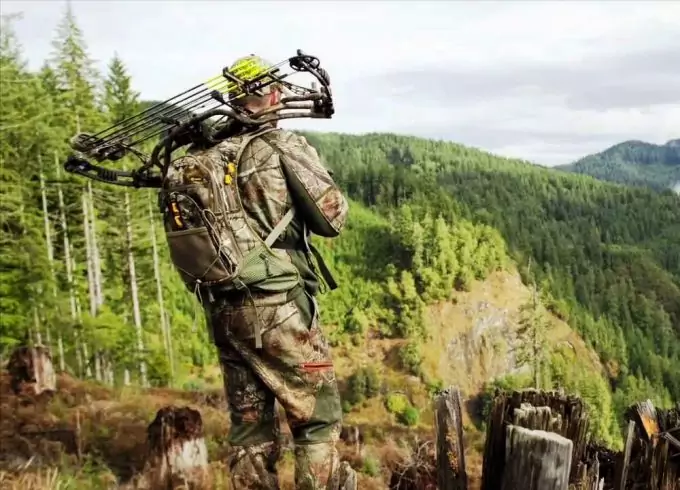 While the TZ 6000 model is created to fit a large (masculine) body, the TZ 5000 fits a slightly smaller torso. This is the main difference between the two models. TZ 5000 is ideal for people of shorter height.
If you need to store a sleeping bag, the ideal place, designated for it, is the bottom compartment. It has a total capacity of 2400 cu. in., and provides massive storage room. When it comes to storing water, you can do so, using the special hydration compartments, which can store a total of 3 liters. Because the backpack is quite large and spacious, there are organizational compartments, so that all your items and inventory can be stored without creating a mess inside.
[the_ad_placement id="in-text-3-type-a"]
Finally, 7 compartments and straps are specially designed for hunting gear. Right at the bottom of the TZ 5000, you have straps with a pocket for attaching and propping bows and rifles. At the bottom is also the rain cover compartment for protection against rain.
It's the most expensive backpack from our list, but if you plan on hiking for many days or need for military use, the Tenzing TZ 5000 is your ideal choice.
If you like this product you can find and buy it here.
The verdict
All the backpacks above have their strong sides, and we hope we helped you spot the one ideal for your needs. Smaller backpacks are definitely great for short hunting or one/two-day trips. The larger backpacks are perfect for much harsher conditions and even military and combat situations. For more information on camping essentials you need for backpacking, see our link to our article.
Some of the links in this post are affiliate links. This means that if you click on one of these links and make a purchase, I earn a small commission at no extra cost to you. Also, as an Amazon Affiliate, I earn from qualifying purchases. If the information in this post has been helpful, please consider purchasing through one of the links in this article. Thank you.