Many people are dedicated to hunting as a sport with a very long history that goes back to our very beginnings. Hunting wasn't always a sport – it was a matter of survival and can again happen to be viewed and necessary as such. You can find lots of perks in hunting when thinking about off-grid living and survival scenarios, but besides your great hunting skills, you need even better equipment to make sure you have got all the aspects of hunting all well covered – you need the best hunting gear. Likewise, in today's technology, check out our reviews of the best hunting GPS  for your mobile gadgets to help you more.
We have compiled a list of top picks, listing everything a hunter might need, choosing the best of the best, and reviewing different hunting gear to help you decide what you need. Take a look at our list and check our reviews!
Shooting vest – UTG Sportsman tactical scenario vest
The first thing that crosses your mind when thinking about hunting is of course good shooting equipment, but we are starting off with basic shooting gear, so we are first looking for a perfect shooting vest that will help you keep your equipment safe and easily accessible.
Now, our first choice for the best shooting vest was Beretta's vest as you can never go wrong with Beretta, one of the most reliable shooting gear manufacturers in the US and abroad, but then we saw this beauty. We were first drawn with its great looks as this vest gives out a feeling that you are buying a real 5 times more expensive professional shooting vest.
The truth is that this vest is made for commercial use and cannot be exactly called professional, but you will certainly get more than you pay for as there are many accessories that you would have to additionally buy for other vests, already included with UTG Sportsman vest. You can basically use this vest for any type of shooting scenario, including paintball and actual hunting.
What makes this vest great are numerous compartments that allow you to carry everything you need and have it easily accessible without the need of carrying extra belts for live ammo and recoil. You also have plenty of space to spear even if you have already packed your ammo, hunting knife, walkie talkie and other tools and gear you need.
To sweeten the deal UTG designers also added one large extra compartment on the back of the vest in form of a web on the backside where you can add more tools and hunting gear, making everything you need even more accessible. As an addition, the vest has sniper shoulders that ought to protect you.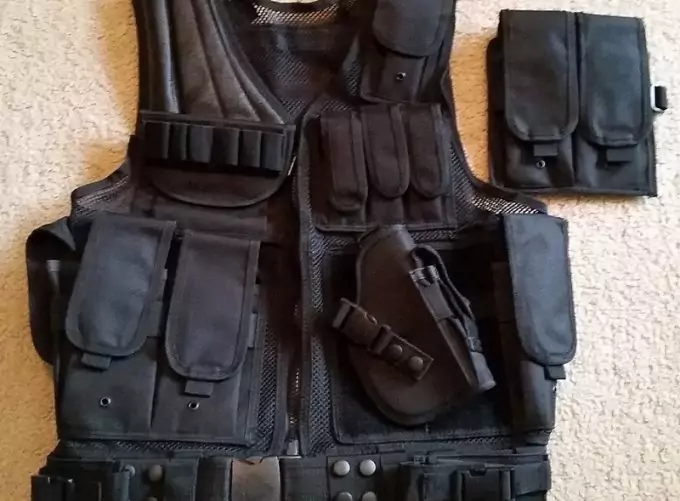 As prevention for snagging and potential slowdown, UTG is made of high-quality materials and is designed and made with high-quality stitching to make sure you are investing your money in one durable, resistant, and long-lasting hunting gear.
The vest is very comfortable as the material used is light-weighted, so you won't feel discomfort while wearing it. The vest comes with a pouch (double-mag) and a holster. Those two are adjustable and removable and any of the commonly used handguns available on the market can fit in the holster. This is a really nice offer as you will get to try out a fully comfortable vest that has extra storage compartments and accessories that usually have to be bought separately.
Pros: Very good investment and very low price for the quality you are3 investing in. Lots of additional compartments and accessories go along with the UTG vest. All in all, this is an excellent vest.
Cons: The holster is not fully adjustable as you can't use it functionally on both sides of the vest. Also, only 12 gauge shells can fit in the shotshell holder. In our opinion, this is hardly a deal-breaker for such well made shooting vest.
If you like this product you can find and buy it on Amazon.
Hunting knife – Tactical hunting survival knife
Every hunter knows a good hunting knife is his best friend on the field. There are tons of situations where you will certainly need to use a good and reliable hunting knife. We found an interesting and cost-effective knife that might be just the right knife for you.
This knife is one of the most cost-effective knives currently available on the market and yet the number of satisfied customers is high and rising. It has to be a good reason for that, right? There are a couple of good reasons actually.
This is a long knife made for heavy-duty action and it's great for hunting, fishing, camping, and survival requirements. This knife is made of solid stainless steel and is designed to have long durability and great resistance. As it is made of high-quality stainless steel, you won't be having any troubles with rust and having your knife damaged, although every knife enthusiast knows that any knife, even the most expensive one, has to be clean and maintained after usage. For basic tips on how to sharpen a knife, our article on this topic is a great read, so check it out.
The blade of this knife is designed to cut perfectly on both edges and it's made to be straight so you won't have any bad experiences as with some flimsy blades. The blade is then usable on both sides and it is perfect for chopping, slicing, cutting, and even skinning.
The blade is made of high-quality materials so it feels easy on the grip with additional texture to make operating even smoother. Another great addition to this super great knife is the sheath that is designed to protect your knife, at the same time protected inwards from being ripped by the knife, making sure your knife will be safe and in its place when you need it.
Pros: Nice blade for the price, works great for heavy and light-duty tasks. Great for hunting, fishing and camping. Comes with a few great accessories and it is very cost-effective (extremely for that type of knife, actually).
Cons: Some customers claim that the quality is great but the sharp part for cutting is too small. A deal-breaker? Hardly. For the money you are investing in it, you are getting more than you've paid for.
If you like this product you can find and check its price on Amazon.
Hunting boots – Timberland White Ledge
Comfort is one of the key factors for successful outdoor activities, such as hunting. To make sure no bad weather or fatigue will come in your way, you need to make sure you are well equipped, so one of the points to be also considered is getting a great pair of hunting boots. Here is our top pick.
Timberland is widely known for its quality and durability, using only the best materials for its clothing designs. These boots are another great product coming from this designer and a definite best seller in this category, so there is no need to say again how Timberland is always a good choice to make.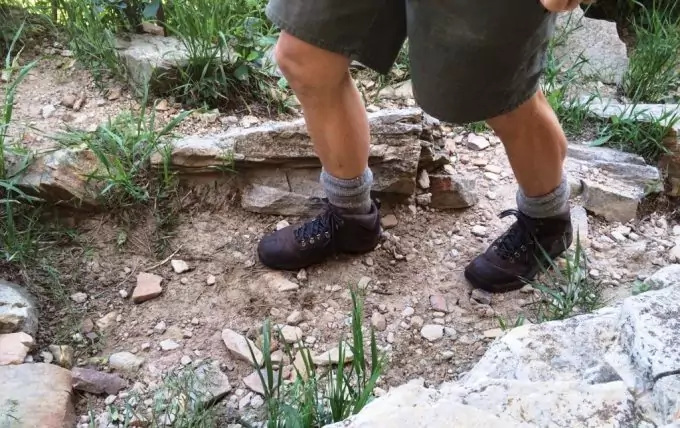 What Timberland seems to always take care of is making their boots durable and durable by having them seam-sealed. This also means that your feet will stay completely dry and safe even if the terrain is not as favorable and dry.
The entire design is constructed to be fully water-proof as it is made of full-grain leather that has water-proof properties. Just as the boots are constructed to be water-proof, the tongue and collar of the design are additionally padded for full comfort so despite wearing heavy-duty boots, you will feel like walking on clouds, which is a pretty great feeling.
For extra comfort, you are also getting an EVA foot pad that can be removed and washed, and to make your feet won't sweat and become wet despite the water-proof design, these boots are designed to be perforated for improved air circulation. That even sounds comfy enough to make you consider buying these boots. Finally, these boots respond to your natural stepping in the thumb area, so the traction is perfectly supported. You can easily climb and move with easiness even across rough terrains. Great boots for outdoor activities, hunting and survival.
Pros: Water-proof, made of high-quality leather. Air circulation enabled due to perforated design. Comfortable, durable, and long-lasting.
Cons: Some users claim that although very well made, these boots have weaknesses in certain terrains as the bottom is too flexible.
If you like this product you can find and buy it here.
Optics for hunting
For the best results in hunting, you will need fairly good optics as the prey is not as easy to be spotted. It would be useful to have a pair of binoculars with you once you are on the field, so here is our top choice for hunting optics.
Nikon 7245 Action Ex Extreme
If you are looking for a good pair of binoculars that will work for you regardless of the weather, you will probably decide to go for Nikon 745. Nikon 745 is fog-proof and water-proof, also having the perfect high-quality prisms that will allow you a perfect vision during dusk or dawn, fog or night – it doesn't matter what weather conditions are like and whether it is dark or bright.
All glass wearers will also be delighted knowing that this Nikon version has a long eye relief, which means that the fact you are wearing glasses won't stand in your way of enjoying the view through your binoculars.
These binoculars could make a great companion when hunting and searching for the target, but can also do a great job used instead of a telescope for watching the night sky and observing stars, also being more compact than a telescope. The outer layer of Nikon binoculars is rugged so that the binoculars could fit better and allow a more firm grasp without discomfort. The focus on Nikon 754 is great and solid even on the distance of 25 feet, also having a great focus on 500 feet up.
Along with vivid colors and bright view, except when exposed to direct light (if you are observing the moon or the sun – not recommended), you will also get a 25-year warranty which is a great offer by itself, guaranteeing that the product is safe to buy and can be trusted to. For the price of these Nikons, you are actually getting more than you are investing.
Pros: Having fog-proof and water-proof binoculars really is handy and useful as you can use them even in the roughest conditions. The rain won't get in your way, either. Long eye relief is also a handy feature to have.
Cons: Some users claim that a better job could be done with different optical coatings. Also, the binoculars are not as light-weighted. All in all, Nikon 754 is a great choice, especially for the money you are investing.
If you like this product you can find and purchase it on Amazon.
Guns
No one forgets the guns when it comes to preparations for hunting. Neither did we, so we are presenting you two riffles we thought could make a great choice for your hunting adventures. Take a look at our top picks.
Sako Finnlinght 85
When choosing Sako 85, you need to know that you can also choose between a couple of models of different caliber sizes, so that you can buy one that suits your needs. Whether you are just practicing shooting targets or going on an actual hunting trip, you can be sure that Sako 85 won't fail you, having many satisfied generations behind its brand.
As prevention to potential cartridge jams and double feeds, one of the features Sako offers is controlled feed, so you know this riffle is reliable and to assure that fast action could be processed, repeated firing is enabled by a bolt handle that Sako has among its features. The barrel is less likely to fail in any action as all the barrels are being individually made instead of fabricated in batches, all individually cold-forged and carefully inspected with special optics – that really does make you feel that your investment is well spent.
The design of Sako 85 barrels varies from one model to another, so there are blued and stainless while some models have a polished finish. Every barrel is carefully adjusted to the chosen caliber so that bullets could go through smoothly. The magazine is entirely made of stainless steel and has two rows. Patent-pending is designed to make sure that there will be no accidental firing.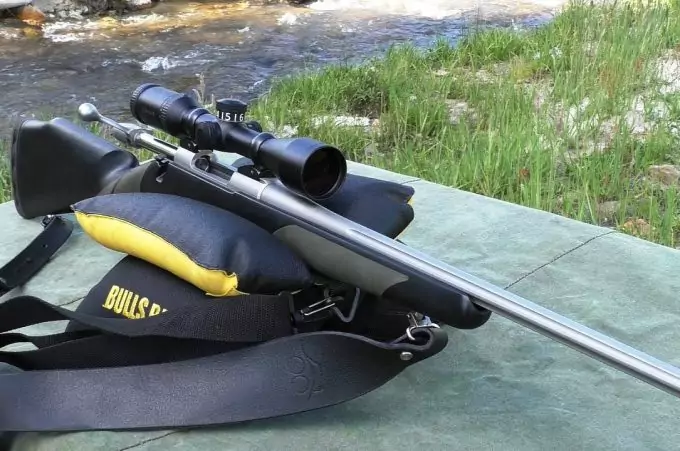 For improved safety, Sako 85 has two safety locks for the trigger and the bolt handle, although you can load the riffle while the safety is on. This riffle enables smooth operation as it is built to be ergonomic and easy and simple to carry and handle.
The trigger guard is light-weighted and made of hard-anodized aluminum.  This riffle is made for beginners as well as for experienced shooters as it is very easy to operate and manage all accessories. If nothing else, you would certainly love to try this riffle out as it has many interesting and handy features made to improve the overall action and performance.
Pros: Very easy to handle and operate. It has two safety locks for improved security and many interesting features for better performance. This riffle is reliable and justifies the good name of its designers.
Cons: There are no known problems visible. All in all, that could mean that Sako 85 is perfect for practicing and field hunting.
Weatherby Vanguard Series 2
Weatherby Vanguard series is made to meet the needs of shooters who are running on a low budget for their hunting gear, so they could also have the best hunting gear for their adventures. This is the second model that ought to redeem for all the flaws Vanguard Series 1 had. The problems were made in accordance with the price, which means that the first series of Vanguard could be called anything but great.
The first series of Vanguard had sacrificed everything that makes one riffle stand out as fairly good, but the second, although it's made of better more quality materials, also has some problems that could be spotted when operating the riffle. The problems with the stock of the riffle along with all the major problems series one had have been fixed: but free-floating still isn't possible.
That means that the stock is making unnecessary contact with the barrel, which is unacceptable as the free-floating is then disabled. That can affect precision, which can consequently affect your success. Also, you will need to get support for your cheek when aiming, so that your eye could be in line with the target. Sounds like a lot of problems? What is good about this riffle then?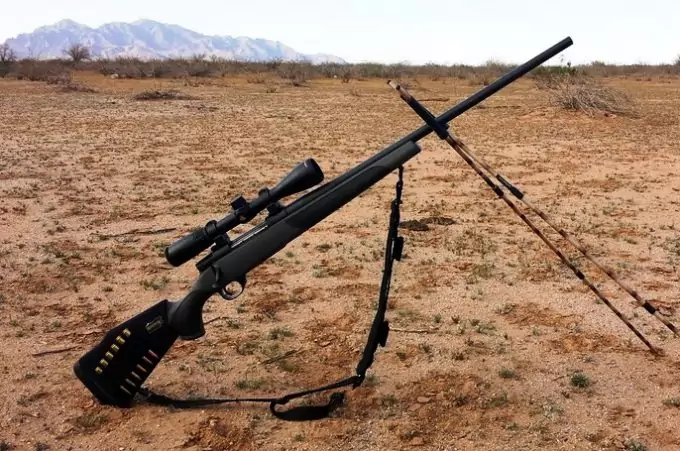 For starters, the price is pretty cost-effective and if you don't have enough money to buy another rifle, you can still be satisfied with this one as it had some great features. The riffle looks pretty good and you can feel that the materials used are of solid quality, not the best as it can always be better, but still enough good so your money is not wasted.
Now, the trigger is a different story as it has been approved from the last series and can now operate fairly well. The trigger is made to be two staged instead of having one stage trigger from the previous version that really knew how to mess up shooting. The range of the Vanguard 2 is 3 rounds on 100 yards and you can pretty much rely on that info once you get that cheek support. The gun has a matte-blued finish, which guarantees that the visibility of the gun from the distance is reduced, so you can be hidden without having the glow finish disturbing your moving target.
Really nice improvement for all the hunters running on a low budget for their hunting gear.  Safety is improved from the standard two-lock safety system to three locks. One lock is for fire, one is for fire with safety and the third one prevents firing. This might be a bit hard to get used to but is a nice addition to all the improvements implemented. The riffle is ergonomically built so it is very easy to handle and has a firm grip. All in all, nice-looking smooth riffle for the price you pay.
Pros: Very nicely designed, slick design, and ergonomically built for easy grip. Improved safety, although two locks are standard and pretty much enough for any riffle. It has improved trigger and action.
Cons: You can't actually say that precision has been improved in oppose to the previous Vanguard version as the free-floating is disabled.
The verdict
When choosing your hunting gear, naturally you want to have the best hunting gear there is.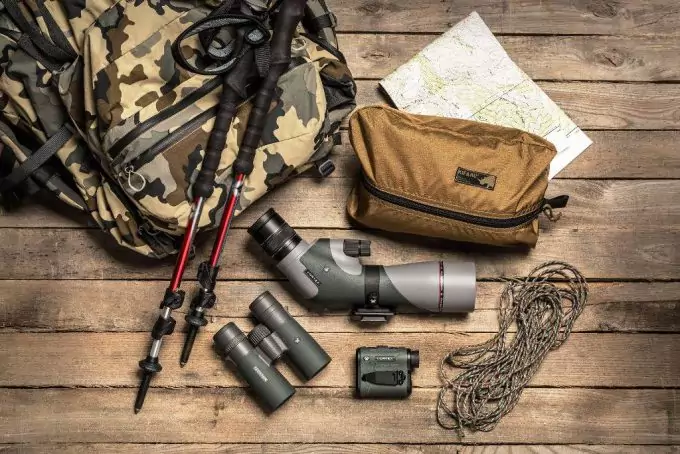 While reviewing optics, hunting vests, riffles, and other hunting accessories, we made sure that all the products chosen had a line of satisfied customers behind them along with being made of high-quality materials, being reliable, and of course, cost-effective. Don't forget to take a look at our reviews of the top-rated hunting air rifles for your particular need.
As you need many different things to bring along on your hunting trip, we wanted to make sure that all shooters and hunting enthusiasts would be able to afford to purchase everything needed for a complete and quality experience.
See our reviews of the best hunting gear to give you more options.
Some of the links in this post are affiliate links. This means that if you click on one of these links and make a purchase, I earn a small commission at no extra cost to you. Also, as an Amazon Affiliate, I earn from qualifying purchases. If the information in this post has been helpful, please consider purchasing through one of the links in this article. Thank you.