Choosing the best hunting clothes is important when you're looking to go out. After all, how are you going to get that deer, duck or anything else if you aren't wearing the right clothes that are going to help you stay unobtrusive to your prey but also warm and comfortable (since you might be sitting there for a while).
[the_ad_placement id="in-text-1-type-a"]
What this means is you need to be looking at all different brands, styles and materials for your hunting clothes before you pick the perfect ones (remember you're probably going to need more than one set of hunting clothes). The following three aspects are going to be the most important to consider when you're looking at all of your options.
What to consider
Staying hidden
One of the important things that your hunting clothes need to do is keep you hidden from the prey that you're seeking. After all, if the animals can see you they aren't going to stick around; instead, they'll turn around and keep walking (or flying) in the opposite direction. The key is finding a good camouflage that is going to make you blend in well with your surroundings.
This is going to help you be a better hunter. With all the different types of camouflage available however, it can be difficult to choose the right one. Some types of camo are more digital, which isn't always the better option. Others may include actual 'leaf' pieces attached so your clothes are not one-dimensional either.
Staying warm and dry
Warmth is extremely important when you're out for an entire day. You want to make sure that no matter what is going on outside you have the ability to stay right where you are. The right clothes are going to help you stay warm with layers and heavier fabrics.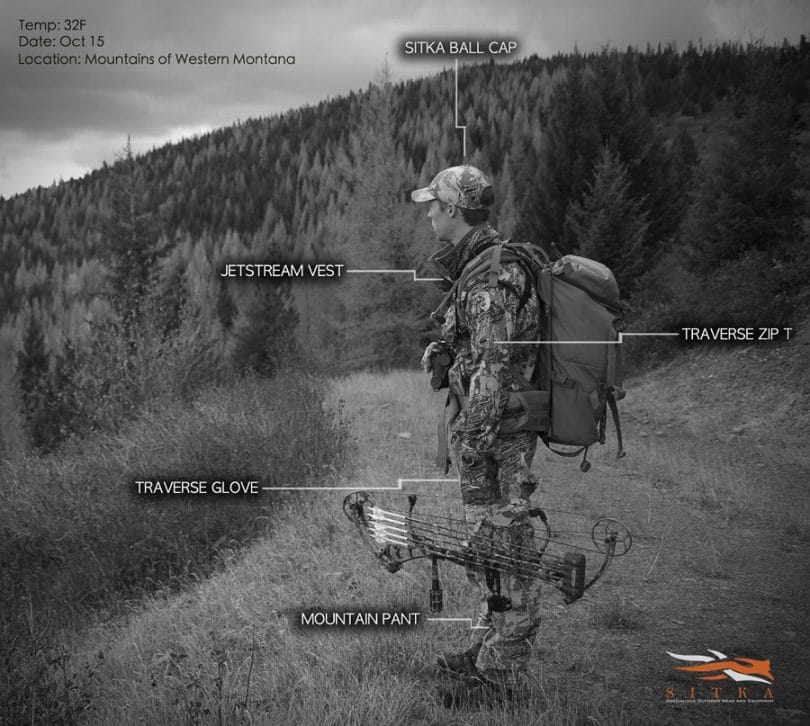 They are also going to keep you dry by allowing you to wick away all of that moisture right away. This means you're protected from sweating too much (it can sometimes be warm when you're hunting after all) and it can also keep the rain from getting in if the weather takes a turn for the worse.
Staying safe
Finally, it's crucial that you stay safe when you're hunting. The key to this is having a way for other hunters to recognize you as a fellow hunter rather than as one of the animals they're trying to hunt. So what can you do? Tie in a little bit of bright color with your camouflage. You don't want too much because it's going to make you easily recognizable by your prey.
On the other hand, you want it to be reasonably noticeable so that other hunters won't mistake you as you're moving through the woods, which could result in harm for you. Make sure you're balancing out your entire wardrobe to keep all three of these aspects, that's going to help you have the best experience with hunting (and the best chance at getting something for your hard work).
Quality face masks
Mossy Oak full spandex face mask
When it's cold outside it can be extremely important to protect your face. You don't want to suffer from frostbite and even just the cold wind on your face can cause chapping or discomfort (which makes it much harder to continue hunting).
This particular face mask is fully camouflage, which helps you blend in and is also made of Spandex, which allows the mask to fit a number of different people more comfortably. It is lightweight and allows for easy breathing, important because the mask will also cover your mouth when worn. Because of the thin material, it is easy to wear a hat over the top of the mask as well.
One important aspect to consider is that this mask is not intended to keep you completely warm. It is going to help you be a little more warm but if the weather gets too cold you may need another layer over the top.
Also, the mask can be a little too tight for some adults because of the strong spandex form. For some the opening that is created for the eyes can also be slightly too small, restricting your vision a little more than preferred.
If you like this product you can find and check its price on Amazon.
Under Armour UA camo mesh face mask
This face mask is made with a traditional camo look with mesh throughout the entire piece to ensure that you get a breathable material. It's also made with a special system to help keep the sweat off your body so you can be even more comfortable sitting in your blind or traveling through the woods.
The adjustable cord at the top will allow you to shrink the fit to make it fit better no matter who is wearing it. It also covers the entire face from your nose down to protect from wind and weather.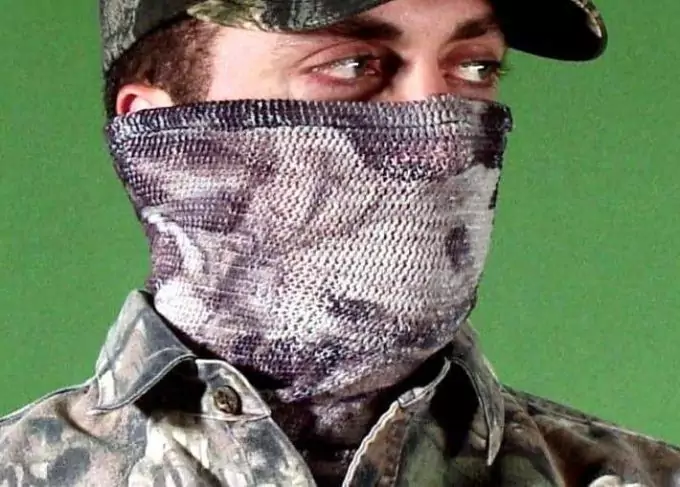 On the other hand, many have found that this particular face mask is a little bit thin. As a result, it's not intended to be used alone when the weather is too severe. Some have also found that the shape is a little awkward and doesn't seem to fit well to your face.
Instead, the fit is somewhat loose, which can cut down on the amount of protection you receive from the wind. Many also feel that the value for the cost is not quite the way it should be.
If you like this product you can find and check its price here.
Full suit outer layers
Ultra-Light Camouflage Jacket Pants Leafy Ghillie Suit by Mosers
This entire suit is made with a breathable and lightweight material in a traditional camouflage style. It has large 'leaves' attached to help you blend into the woods a little better and comes with its own bag to store it in.
The button up jacket and elastic pants allow for a better fit and there is also a hood that is attached to help cover your entire body when you're walking through the outdoors. This suit will also fit over normal hunting clothes for added warmth.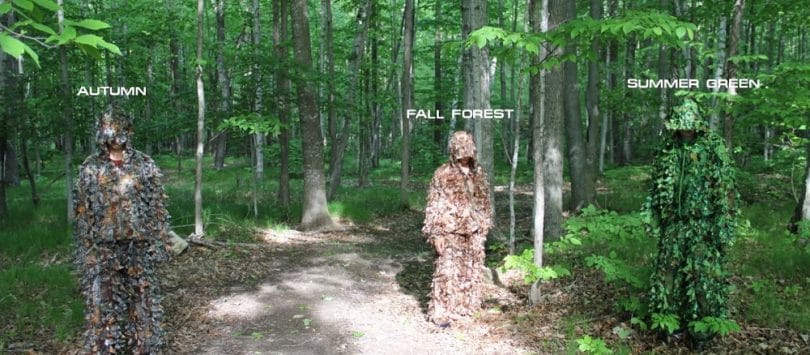 One aspect to consider is the inside of the suit, which is white in color. This can be a problem if you aren't careful to keep the entire suit closed as you're moving. This suit is also very light weight.
Because of this it is important to wear darker colors under the suit so that nothing shows through. You will also want to wear layers under the suit to ensure that you are getting enough warmth if you're anywhere that is cold or overly windy.
If you like this product you can find and buy it on Amazon.
Scent-Lok Savanna Quickstrike coveralls for men
This full suit is one piece and covers your entire body. It's a traditional camo style and covers not only your legs and upper body but your head and face as well. It features a full hood as well as a mesh cover for the face to protect you from the cold and wind as well as keeping you hidden. It features scent-lok as well as moisture wicking. The safety harness built in along with the buckle adjustment helps to make it fit well.
One of the drawbacks of this suit is the fact that the facemask doesn't protect against a lot of weather. It is rather thin and this means it's a little more difficult to stay out of the cold. You also might have some trouble with the full one-piece suit, which is more difficult to get off. This can be more complex if you need to get out of your suit more quickly.
[the_ad_placement id="in-text-2-type-a"]
You'll also want to note that this is not considered 100% protection from scent but is intended to help relieve the scent a little more. It's also made entirely of polyester.
If you like this product you can find and buy it here.
Shirts for warmth and protection
Scent-Lok Men's Attack ¼ zip shirt
Available in a variety of sizes, this shirt is made of 100% polyester. It is a lightweight material to ensure that you won't be carrying too much weight. It's also made in the form of a traditional camo pattern with a ¼ zip to help with more comfort and versatility as well.
Because of the moisture wicking and carbon alloy there is less concern about moisture, sweat and scent. Each aspect will help with improving warmth. The shirt fits true to size according to most buyers, which means you should be able to purchase your normal size.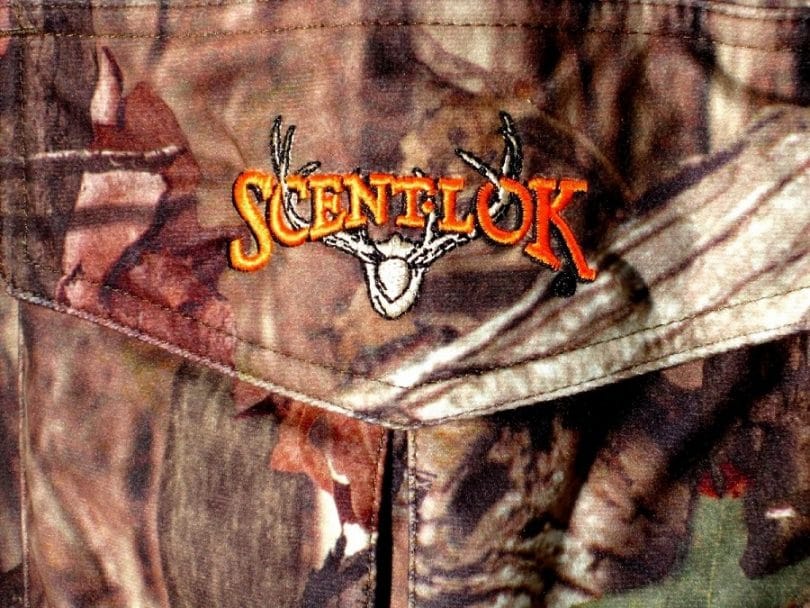 Some have found that the neck can be a little irritating because of the way it fits and the zipper can also be a little uncomfortable for some. Because it's lightweight there is a little less protection from the cold and the wind.
You may want to wear something under this shirt or over it to help with warmth and this could require a little different sizing. In order to wear anything under the shirt and if you are at the higher end of your size it's recommended that you purchase the next size up to ensure a good fit.
If you like this product you can find and purchase it on Amazon.
Under Armour Men's UA Scent Control Heatgear long sleeve shirt
Made of 100% recycled polyester this shirt is decorated with more traditional camo decorations. It's a loose fit which allows for a decent range of motion. It also contains scent control technology, which means that it will help protect you from betraying yourself to your prey. Because it is thin this is a great layer for warmer areas and climates.
It will help you stay cooler even when the weather seems a little too warm for a long-sleeve shirt you can use it because of this. It is also long sleeve, which will also allow you to protect yourself from bugs or even from getting hit with branches.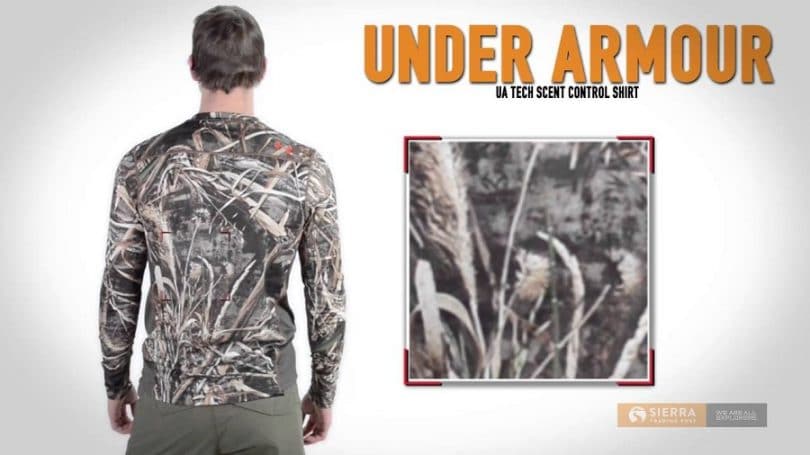 You won't want to wear it when you're in cold climates unless you have other layers to wear over it. It will not protect against a lot of wind or cold air. Though the images that advertise this particular shirt make it look as though it's a fitted shirt it's actually a rather loose fitting shirt.
This means it will be worn differently than you might have thought. You'll want to consider this when you're purchasing. Make sure that you know how you're going to wear it and especially if you're in a colder climate.
If you like this product you can find and check its price on Amazon.
The best pants
Yukon Gear Lightweight 6-pocket pants
Made with 100% cotton, these pants have 6 different pockets to help you carry all of your equipment and tools. It also has a traditional Mossy Oak pattern to help you blend in easily with the woods you likely find yourself traipsing through.
Because the waist is adjustable these pants will fit a wider range (though they do come in several different sizes to fit you best. Another key factor of these pants is that they are lightweight, making it much better to wear them throughout the day.
Now it's important to get the right measurement to get the right size. Many buyers have found that the sizing of these pants is a little bit big so make sure you're checking the right size for your needs. Another thing to look at is the weight of the pants. They are very light, which means you won't want to use them in the middle of the winter.
They will likely be a little bit too light and won't keep you warm enough. The pockets are also a little shallower than some hunters would have preferred though you should be able to carry everything you need.
If you like this product you can find and check its price here.
TRU-SPEC Tactical Response pants
These pants have a more digital camo look which is a little more modern rather than the traditional look. They are specially formatted to retain their color so you don't have to purchase a new pair quite as frequently.
They are also made in the USA, which is a big factor for a number of people. Made with 50% nylon and 50% cotton, these pants are shrink resistant and will fit much better than a number of other versions because they won't change when washed frequently.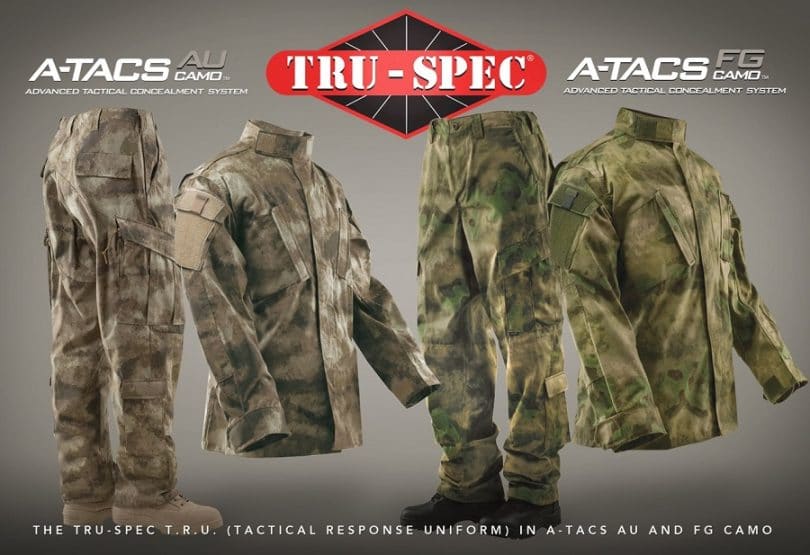 A few aspects that should be watched are the sizing which tends to run a little bigger than average. Because these pants are not adjustable it's important to size them properly. After washing frequently they have been found to lose their color a little, which can be annoying for many who wear them more often than just hunting (or those who go hunting more often).
They also can be a little loose (even when you purchase the right size). For some this is a benefit but it can be somewhat of a nuisance for some who prefer a closer fit to their clothes.
If you like this product you can find and buy it on Amazon.
The right boots
LaCrosse Men's Quick Shot 8 Realtree Xt Green hunting boot
These boots are made of leather with a rubber sole. This helps them to stand up well over a long period of time and they are also tall enough to protect the ankles as you're walking through the woods.
The style is a traditional brown with camouflage and helps you blend in while also feeling much more comfortable. Because they're lightweight you'll be able to walk comfortably. They tend to fit very true to size which will allow you to find the right ones for you much easier.
With excellent reviews the only drawbacks for these boots are that it can take a little time to break them in as they are intended to be stiff and sturdy. For many people this is not a problem however and most have no trouble wearing these boots out to their next hunting or fishing excursion without any problems.
The key is to make sure that you purchase the right size so that you can be sure that they are going to fit a lot better and will have fewer problems getting them into a comfortable and less stiff state.
If you like this product you can find and buy it here.
LaCrosse Men's 8" Silencer HD hunting boot
These boots are available in two different patterns, both a traditional style camouflage. They are made with fabric and leather with a rubber sole which helps them to stay in better shape when you're working your way through the woods.
The lace-up hardware is easy to use and the waterproof casing is good when you find yourself in not so great weather. When you order you will also want to stick to your normal size because these are very true to size.
[the_ad_placement id="in-text-3-type-a"]
These boots can be slightly tight across the top of the foot, which is uncomfortable for some. If you typically wear wider shoes you may want to consider this when ordering. Some have found that these boots will have a little squeaking when used and some have found that they are not as supportive as they would prefer.
Because of this they can be a little bit of a problem for those that are trying to spend the entire day hunting or fishing outdoors.
You'll want to make sure that they are supportive enough for you when you get them and before you go out. Make sure that you are also looking at the size when you order to make sure you will get the right fit.
If you like this product you can find and purchase it on Amazon.
Some of the links in this post are affiliate links. This means that if you click on one of these links and make a purchase, I earn a small commission at no extra cost to you. Also, as an Amazon Affiliate, I earn from qualifying purchases. If the information in this post has been helpful, please consider purchasing through one of the links in this article. Thank you.