Like it or not, hurricanes and natural disasters are part of our lives. We all know that hurricanes can make a pretty strong impression on everyone and everything they find in their way, and that's why finding a hurricane shelter, getting all the necessary supplies and learning how to protect your family in case of disaster is a very important topic that shouldn't be ignored. When the storm strikes it's best to be informed and ready for action! This way, you'll be able to keep your calm and get your family and loved ones to safety.
Before proceeding further, you should take a look at our cover on the Emergency Kit for hurricanes and check it off your list.
[the_ad_placement id="in-text-1-type-r"]
If you live in an area frequented by hurricanes you know that hurricanes are unforeseeable. They don't strike the same way twice, but they all have something in common: the disaster they leave behind. That's why, the first rule when it comes to surviving a hurricane, is to stay informed. Contact the authorities and find out more information about the situation in your area. Also watch the media and try to stay informed online. Since we are on the subject of being informed, a good information article about disaster preparedness can be found here.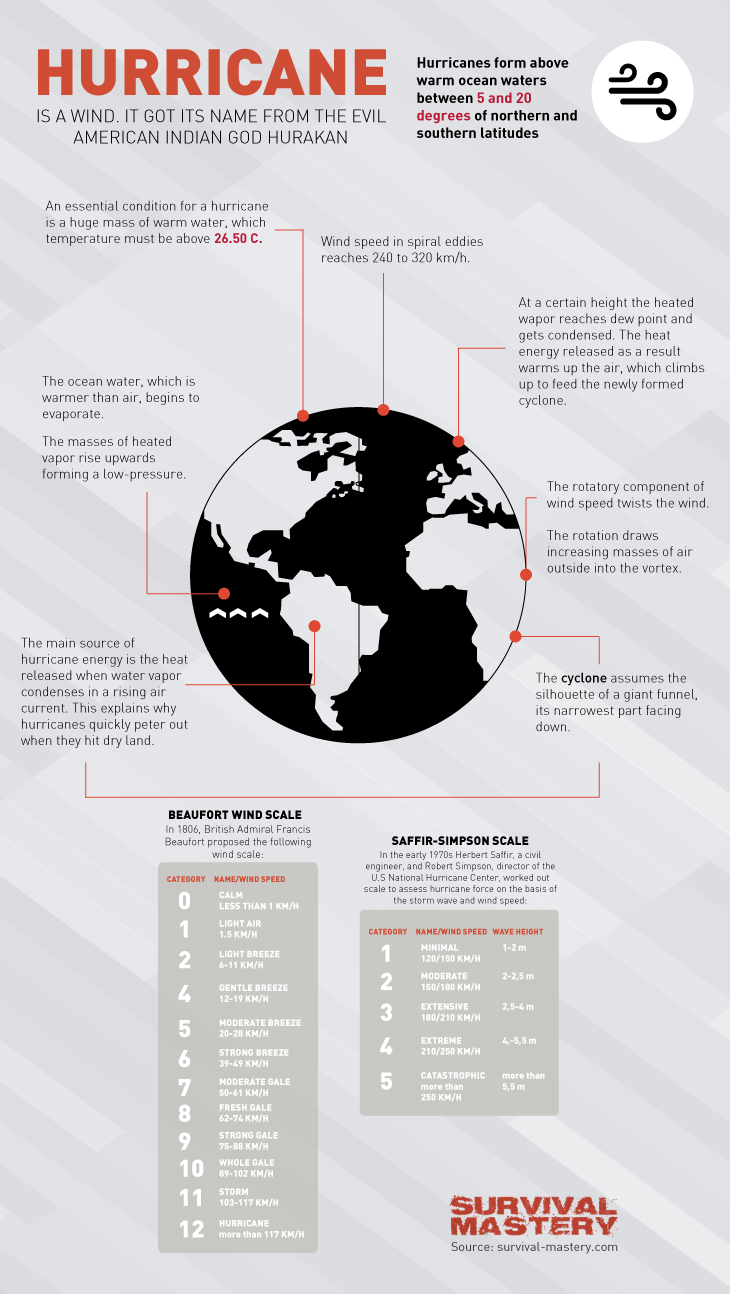 As soon as there is a hurricane alert, you must make one very important decision: stay or go. This decision must be made fast (hurricanes are not known for their patience) and only after you talked with the local authorities. If you live in an area with low chances of flooding and you haven't been ordered to evacuate, you can stay in your home, in the closest to ground room of your house. If you have a basement, that's the best choice for you.
What you need to have with you in case of emergency
According to the owner, there are two types of shelters for violent storms:
public shelters, usually located in solid, public institutions like schools where there is space for more people;
your own personal shelter built in a safe area for you and your family. By the way, we also have another article about how to build a storm shelter, which may come in handy if you live in an area where storms are frequent.
Due to lack of space and conditions in public shelters, authorities recommend people to think about this as a last resort. If you have any friends or family that can offer you housing outside the endangered area, you should chose this option over the shelter. This way, you make space for other people who don't have another place to go, and you and your family get to be comfortable and out of harm's way.
Public shelters are usually roomy but they might get pretty crowded, given the fact that so many people have to run away from the hurricane's fury. Also, there are no pillows, bedding, showers or food so you have to come prepared. Authorities always recommend people to put together an emergency kit based on the emergency type they are most likely to experience: hurricane, fire, earthquakes and so on. As a pre-built one, Ready America 70280 would be a great choice and you can read all about it and about more other in our best survival kit overview.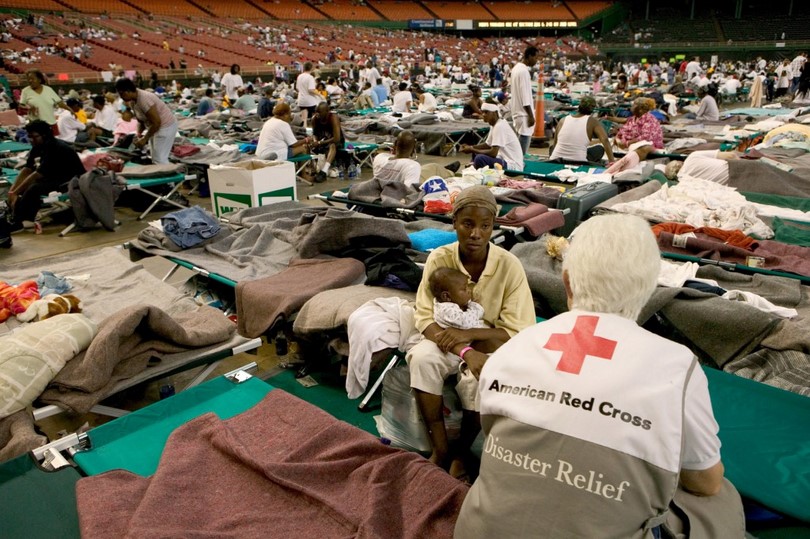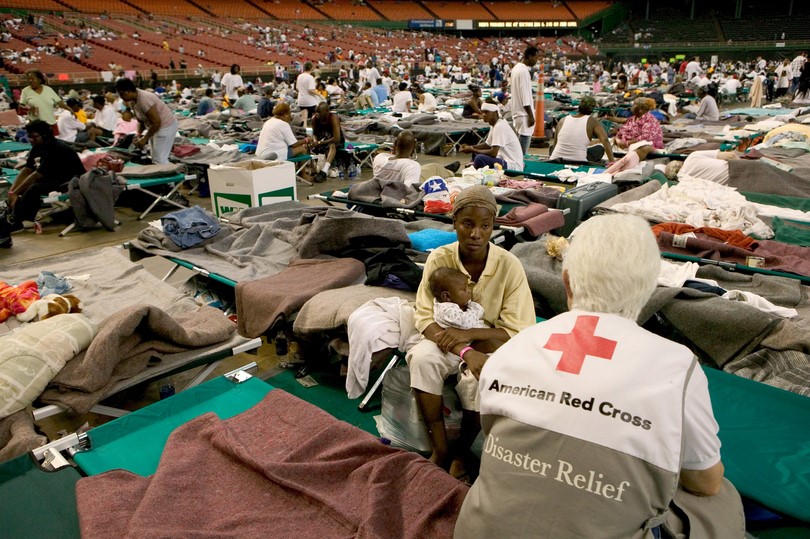 Of course that it's best if you prepare the emergency kit when there are no threats or alerts because hurricane emergencies only give you a few good minutes to think about what you and your family needs to survive. In that short period of time, you'll be thankful that you have an emergency kit to grab on and go.
Just to give you an idea on a few hurricane shelter essentials that every member of your family should have in his or her emergency kit, we made a list with the basics:
Food – you should have a three day supply of non-perishable food that will help you stay energized during the storm. Pack some energy bars, crackers, peanut butter, nuts, cookies and dried fruits;
Clothes – make sure that you have everything you need from underwear to clothes that will keep you warm. After the storm is gone you may have to work on your house for a few days and you'll need comfortable clothes.
Bedding – just the basic: pillows, blankets and sheets;
Personal items (hygiene and anything else important);
Medication – if you have a member of your family on a certain type of medication don't forget to pack it in the emergency kit;
First aid supplies – bandages, band-aids, antibacterial ointment, hand sanitizer, pain reliever; A list of best first aid kits can be found here, easy to pick and use when needed.
Water – always have fresh water packed in your emergency kit. It's very important to have a three day supply with you;
Other things you should take from the house:
Important papers that you don't want to get destroyed;
If you have small children, bring some of their favorite toys or games. This will help them keep calm in the shelter;
Supplies for your baby: extra diapers, ointments, wipes and so on;
Extra cash;
Battery powered flash lights;
Radio – to keep yourself informed on the storm's stage and to find out when it's safe to come out; A good choice would be a radio that covers NOAA channels such as Midland WR120EZ which we reviewed, along with other great emergency radio choices in a best emergency radio article that should read.
A fully charged phone battery – in case you need to call for help.
Remember that, if you have to go to a public hurricane shelter, you will have to share an enclosed space with a lot of people you don't know. That's why it's very important to be prepared with medication and first aid supplies: to protect yourself and your family and to help others in need (if the situation arrives).
How to find the best shelter for your family
If your only choice is a shelter, and you don't have one built in your back yard, then you must know how to find the best shelter for your entire family. That's why we put together a list with a few very important steps that may help you speed up the process:
Find out where the closest hurricane shelter is and how to get there in the shortest time possible. This way, if you have to evacuate you'll be able to get there in time.
Make sure you are up to date with active shelters' locations because locations can change from one year to another. You don't want to get to a former hurricane shelter location with a hurricane after you.
Leave as soon as possible! If your area is being evacuated don't waste any time. The space in a public hurricane shelter is limited.
Make sure you and your family are fit for the shelter you are headed to and that you can respect its rules. During difficult times people tend to get nervous and rules are created especially for these types of situations.
If you have pets, don't leave them behind! They are part of your family and deserve to be saved as well. Check for a pet-friendly shelter or make arrangements for them to stay at a friend's house outside the danger zone. Also remember to take food and water for your pets.
Now that we've talked about how to find a hurricane shelter and hurricane shelter essentials, it's time to discuss the second option you have when leaving in an area frequented by violent storms: building your own shelter.
[the_ad_placement id="in-text-2-type-r"]
According to the way shelters are built, there are two main types of them:
Above ground – usually built in areas that get flooded fast;
Inside ground (or bunker) – usually found in areas where the water table is low and there is no danger of the area being flooded. These types of shelters are most frequent in the area called "Tornado Alley" and in Southeastern USA.
If you decide that it's time to build your own storm shelter you can get all the necessary information on construction standards for storm shelters from The Federal Emergency Management Association.
How to build a good hurricane shelter
Most people who have been through more than one disastrous storm, decided to build a hurricane shelter of their own. This way they don't have to leave the house when the hurricane strikes. It's easier for the entire family to simply get inside the shelter and wait for the storm to pass.
If you think about building your own shelter too, there are a few very important things that need to be taken into consideration:
The shelter's type – as we previously discussed, there are two types of shelters. The most convenient one is the bunker but if you live in an area that floods often and the water table is high, you can't build an inside ground shelter. In this situation your hurricane shelter must be built above ground.
Distance from the house – you must build your hurricane shelter at a safe distance from the house. This way, in case the house comes down, it won't trap you and your family inside.
Standard safety measures – you must discuss your plans with a specialist (even if you plan to build the shelter alone) and find out about safety measures and quality standards that are required for your area.
Quality construction materials – here you can't cu any corners. You must use the materials recommended for this type of construction if you want your shelter to withhold even the strongest storm.
Dimension – your hurricane shelter must be big enough for your entire family. So, if you plan to expand your family you may want to take this into consideration when you plan the storm bunker.
Supply room – every shelter must have a supply room that is easy to reach from inside. Here you can store food supplies, water, clothes and any other items that you consider to be necessary during a hurricane.
A word to the wise: the hurricane shelter that goes underground can be a fun DIY project for the entire family but don't apply the same thinking when it comes to a stand-alone shelter. This one requires more than a hole in the ground and it's best to call a specialized team.
What do you need for a shelter above the ground
These types of shelters are usually made of steel panels bolted to a concrete foundation or concrete fortified with reinforcing bars so they can withhold a powerful storm. They must stand tall in front of the hurricane's fury and protect the people inside. That's why you must make sure that everything is built correctly and according to safety regulations.
If you're not in the mood for blue prints, discussions and constructions in your back yard, you can order a pre-fabricated unit from one of the companies that sell storm shelters designed for violent winds such as hurricanes and tornado.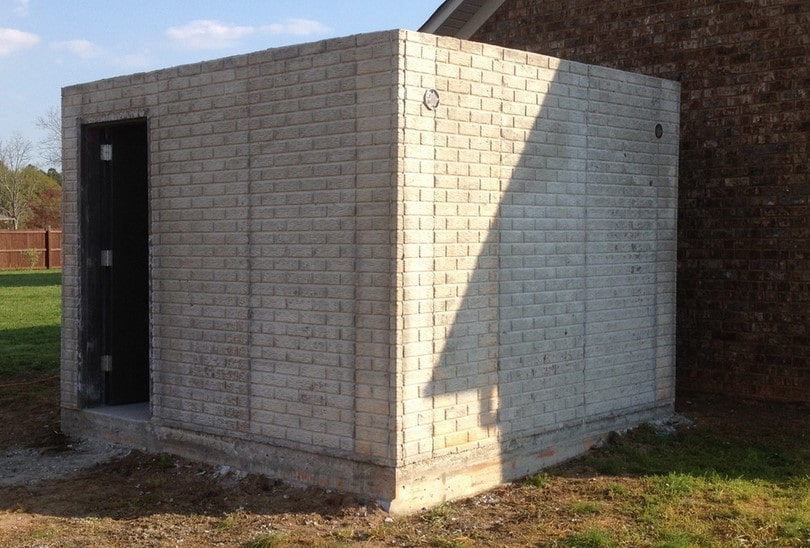 In conclusion, if you want to build an above the ground hurricane shelter, you have two main options: start a new construction and deal with every aspect of this action, or order a unit and have it assembled on site.
What do you need for a bunker
This type of shelter is easier to build, as it doesn't have to stand in front of the hurricane's full fury. The bunker or the underground hurricane shelter is (in simple terms) a hole in the ground, with a door that communicates with the outside world.
First you have to decide the positioning. Don't build it too close to your house or other buildings. If the house is destroyed during the hurricane you might be blocked inside the hurricane shelter. After you find the ideal location, make sure that every person who will use the shelter has at least 10 square feet of space available (don't forget about the supply room which needs extra space).
The door must be built in a 45 degrees angle in order to be easy to open after the storm passes. This way any debris, trees, sand or rocks that may fall on your hurricane shelter door during the storm will be easier to remove once everything is over.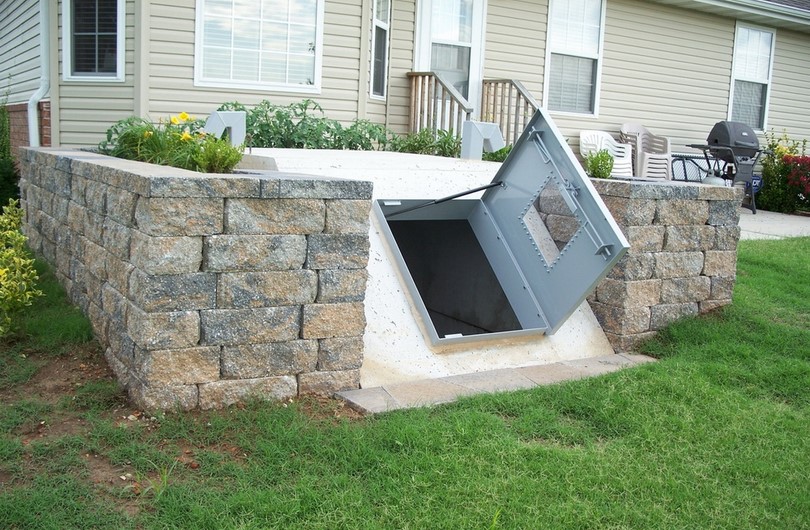 You will need to pour a concrete foundation and use water proof materials for the walls and ceiling but besides the technical aspects, you can make your underground hurricane shelter as comfortable as you like given the fact that your entire family is going to use it at some point.
In conclusion, an underground hurricane shelter is much more fun to build and it may be a lot less expensive than a standalone shelter.
Why should I build my own hurricane shelter?
Having your own shelter presents a few strong advantages that we want to point out as follows:
You don't have to leave your home; you just go in the shelter and wait for the storm to pass.
No hurricane will ever catch you off guard. When you have everything you need in the shelter it's easier to make sure your entire family is safe and taken care of.
The only "complicated" decision you'll have to make in case of a hurricane is going to be how fast to get in the shelter.
You won't run out of supplies. If you make sure your supply room is properly equipped you won't have to worry about a thing.
You and your family will be comfortable in a room build especially for you. You won't have to share it with hundreds of other people
You can store more useful items in your own shelter. You can have ropes, chainsaws, more clothes and other useful tools that may be very helpful on such a time.
It's true that building your own hurricane shelter may represent an important investment of your time and money, but in the end it's all worth it. If you live in an area with high risk of violent winds and frequent flooding you must think at your family's safety first. More than that, considering that no bad luck comes alone, consider building a fallout shelter. If you don't know how, read the instructions step by step in our comprehensive guide about how to build a fallout shelter here.
As a final conclusion, having the correct information at the right time can make the difference between life and death. Even though a hurricane is a violent storm that destroys everything in its way, people found ways to survive and rebuild their lives. If you know when and where to go, you may be able to protect your family in any situation.
Some of the links in this post are affiliate links. This means that if you click on one of these links and make a purchase, I earn a small commission at no extra cost to you. Also, as an Amazon Affiliate, I earn from qualifying purchases. If the information in this post has been helpful, please consider purchasing through one of the links in this article. Thank you.