Your camping trip doesn't have to be boring and you absolutely don't have to rely only on home-made sandwiches. This is especially true if you're driving to your camping place. In this case you can pack along some cooking gear and give more color and taste to your outdoors experience by preparing some delicious camping breakfast.
[the_ad_placement id="in-text-1-type-a"]
In this article we're going to talk about a few easy, tasty and nutritional camping breakfast recipes. It will be a pleasure to spend several minutes preparing these breakfasts, and then enjoying them with your friends or family.
We understand it can be frustrating to prepare a nice meal, and this is especially true when you're outdoors, which is why we gathered the following breakfast recipes so you won't experience any frustration. After all, camping should be fun and relaxing, not a burden.
Some easy camping breakfast ideas
There are hundreds of camping breakfast recipes that can be found in cookbooks, online, blogs, etc. It can be literally overwhelming for a person to actually make a list of the best that are out there. That's why here we'll give you some of the best and easiest recipes we found.
Orange muffins – a very easy camping breakfast and it only takes a total of 20 minutes to prepare and cook all together. Here are the ingredients:
oranges
muffin mix
blueberries
Now take the oranges and cut them in half. Remove all the flesh of the oranges so they are empty cups. Then take the muffin mix and follow the directions for preparation on the box. When this is ready, add blueberries to the muffin mix. Mix the blueberries and you're done with that one.
Then fill each half of the orange cups with the muffin mix. Leave one half empty for each orange – it will be added to the filled half, so it completes a full orange. This will also give space for the muffin mix to grow while cooking it.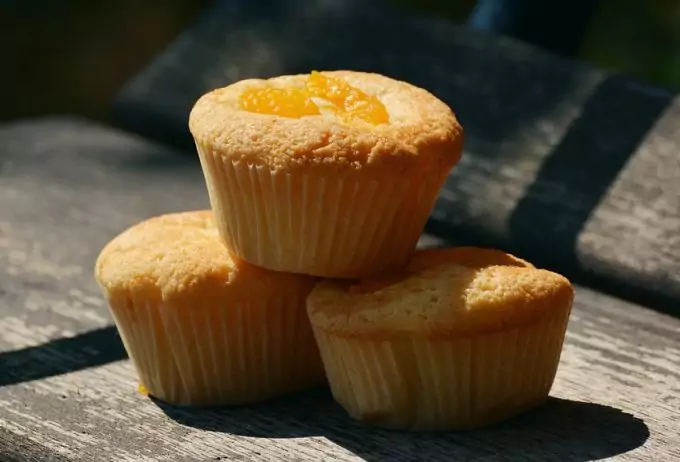 When you've closed each muffin half with its empty counterpart, wrap each orange with aluminum foil and place them on hot coals. Cooking them shouldn't take more than 10 minutes. Make sure to turn them now and then so the muffins are evenly cooked.
And don't worry about the orange peel. It won't burn, since it's a good insulator. It may turn dark in some places, but it won't burn, so your breakfast is safe.
French toast – another super easy camping breakfast and it takes no more than 15 minutes to prepare and cook. Here's what you'll need:
bread slices (2 per person)
1 egg
1 tablespoon of cinnamon
sugar (powdered)
maple sugar
Cooking oil
The above ingredients make one portion per person. Take the egg and break it in a bowl. Beat it until it's evenly mixed. Soak the bread slices in the egg mixture and place the slices in a frying pan. Make sure to put some oil in the frying pan before you place the bread slices in, and heat it. Fry them until brown. Take them out of the frying pan and sprinkle the powdered sugar and some maple syrup. You're done. Enjoy!
And since you don't really want to be looking for a bowl replacement while in the middle of nowhere, we recommend you consider packing a camping cookware set. These sets are light, compact, and very handy. We even reviewed a few and you can learn more about the best products from our article, here.
Pancakes – a must for campers. It's very easy to prepare as long as you have a frying pan and the necessary ingredients. Here they are:
pancake mixture
water
cooking oil
Take the pancake mixture and mix it with water (according to the instructions on the package) – usually about 1/4 cup. Heat the oil in the skillet and then poor the pancake mixture. Turn each side until both sides are nicely brown. You can top the pancake with your favorite flavor – maple syrup, cinnamon, sugar, honey, etc.
Breakfast burger – this one is surprisingly easy to make and tastes and looks really good. This camping breakfast recipe is for 6 small burgers. It takes no more than 20 minutes to cook and 15 to prepare.
The ingredients:
1 cup flour
1,5 tbsp baking soda
1/2 tbsp sugar
1/2 tbsp salt
3 tbsp dry milk powder
2 tbsp canola oil (or any other oil you prefer)
1/4 cup shredded cheese
1/2 cup water
6 sausage patties
6 eggs
In a large enough bowl, mix all the dry ingredients, meaning – the flour, baking soda, salt and sugar. When they are well mixed, add the oil. Continue mixing until you have an evenly mixed consistency.
When you're done with that, start adding little by little the water. Preferably, add a tablespoon of water at a time. Add the shredded cheese (preferably cheddar). Use a frying pan with small cup beds. Place evenly the mixture in each cup bed. Make sure you've coated the pan with oil before that.
Cook each side of the burger biscuit until brown. Then place sausage in a cast iron frying pan with the same size of cup beds (so they fit the burger biscuit). Cook on medium heat. Make sure to flip them at least once.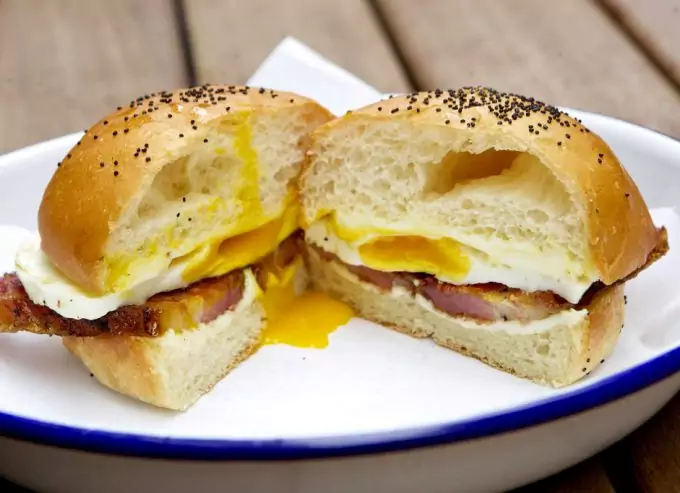 Finally, cook the eggs the same way – spill the contents of one egg into one cup bed. Cook until the eggs are done.
When all of these three steps are done, you can cut the burger biscuits in half (like a real burger), place between the two halves the sausage and egg, and you're done. Enjoy a mini burger.
Cinnamon biscuit on a stick – this one is as quick as saying it. It requires very few ingredients and tastes great. What you need:
Refrigerated biscuits (1 whole package)
butter
sugar
cinnamon
Take the biscuits and spread them a little. Take a clean stick and roll each biscuit around the stick. Don't worry if it overlaps. The tricky part is to cook them perfectly. Make sure they are nicely browned and yet, not overcooked.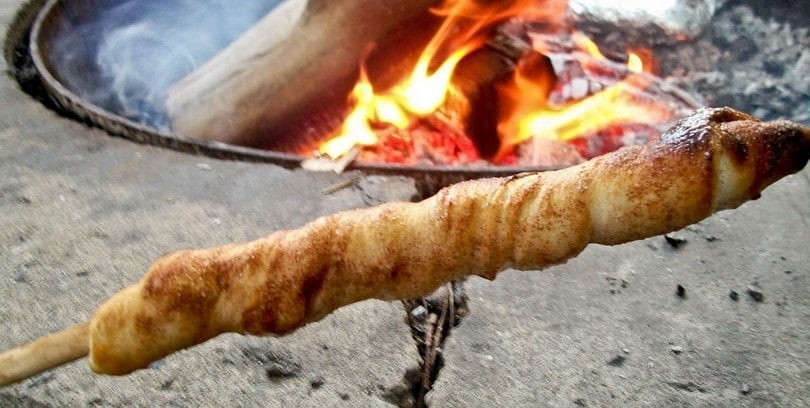 Keep them to a safe distance from the fire, so they don't cook too quickly on the outside, but stay undercooked on the inside. When you're ready, remove the biscuit from the stick and sprinkle with the sugar and cinnamon. Spread some butter for taste.
Omelets in orange – this easy camping breakfast recipe is quite quick and can take no more than 15 minute to both prepare and cook. The ingredients are very simple
Take the orange and cut the top part. Then with a spoon, scoop out the meat of the orange so you make room for the eggs later on. When you're done with that, break two eggs (or one in case there's not enough room for two), and place the top on the opening of the orange and wrap it tightly in aluminum foil.
Place the orange near the hot coals and wait for no more than 10 minutes. If you prefer it, before cooking you can place some favorite spices in the eggs, or just sprinkle with salt. Otherwise, you can add whatever comes to your mind later, when the omelet is done.
More easy camping breakfast ideas
These camping breakfast recipes may require more ingredients, but are just as easy and quick to make as the ones before. Also, if you're interested in lunch and dinner camping recipes, take a look at our article on delicious camping meals.
Scrambled eggs and biscuits – a delicious and nutritional meal for your next camping trip! It will take about 25 to 30 minutes to prepare and cook. Here is what you'll need:
medium-sized onion
red bell pepper
2 eggs (for each person)
salt (according to your taste)
garlic powder
tube of biscuits (whole package)
shredded cheddar cheese
cooking oil
To begin with, chop the onion and bell pepper in small cubes. Take all the eggs you've prepared (count how many people are in your group) and batter them in a large bowl. When you're done, add the onion and pepper cubes to the battered eggs. Add salt and garlic powder (and any other spice you would like).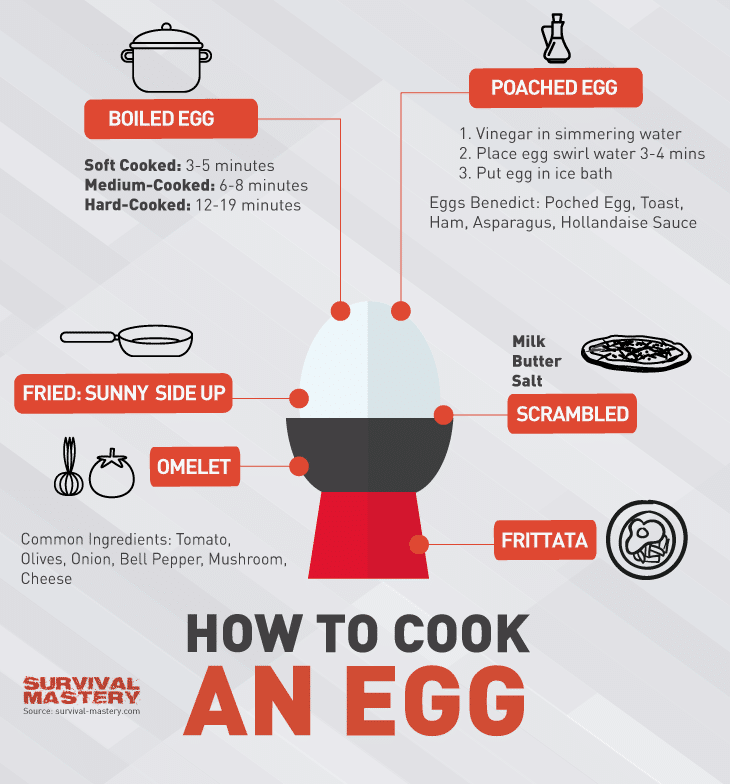 Now take a cast iron Dutch oven (or deep frying pan) and place it on the hot coals. Then poor the oil and spread it with a tissue so it covers the entire bottom and sides well enough (to avoid sticking), then poor the contents of the bowl over the oven/skillet. Put a lid over the oven.
Make sure the lid is clean and cover it with oil too. Roll the biscuits and cover them with oil too. Place each biscuit roll on top of the lid and cover them with aluminum foil. Check them regularly and turn them when one side is already brown enough.
Check regularly the omelet inside the Dutch oven. If it's still in a liquid form, stir it now and then. When it's already hard on top then you're ready to eat it. Use a spatula to un-stick the bottom if it got stuck to the oven.
Basically, you'll have an omelet and biscuits ready almost simultaneously. Of course, there's a chance that the biscuits may be ready a bit sooner, so keep that in mind.
[the_ad_placement id="in-text-2-type-a"]
Monkey bread – this one is so easy that even kids can prepare it. Actually, it's kids that love this camping breakfast recipe so much. The ingredients are:
refrigerated biscuit dough
white or brown sugar
cinnamon powder
butter
Take the biscuit dough and roll it into form. Mix the sugar and cinnamon together in a small cup.
Then roll the biscuits in the sugar and cinnamon mixture and place them immediately in a Dutch oven. It should take no more than 20 minutes to cook all of the biscuits. It's indeed surprisingly easy to make and kids love these biscuits.
Banana pancakes – these are so delicious that we bet you'll keep this recipe and make it always when you go camping. In fact, it produces such good results that you may want to make it even at home from time to time. The ingredients:
6 tbsp whole wheet flour
1 1/4 baking powder
3/4 baking soda
2 tbsp sugar
1/4 tbsp salt
1 egg (or 2 small)
1 1/2 buttermilk (could be replaced with soy milk)
3 tbsp butter
2 bananas (cut in slices)
In a large bowl mix all dry ingredients – the flour, baking powder and soda, sugar and salt. In another bowl, mix the egg(s), buttermilk (soy milk) and melted butter. Now mix the contents of the two bowls – add the contents of the second bowl to the contents in the first. Stir until you have a consistent mixture.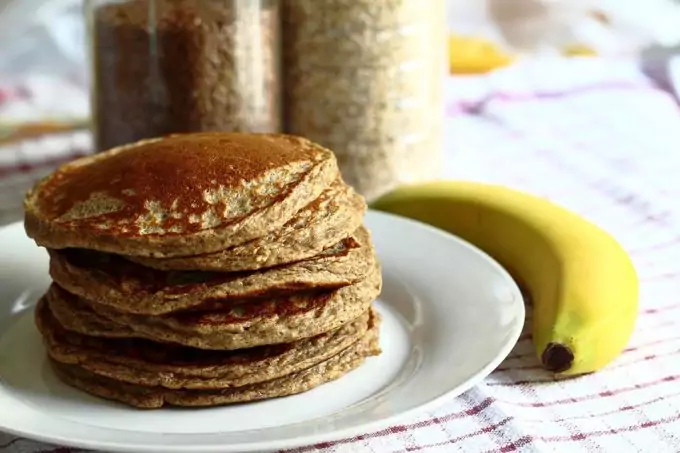 Then prepare a frying pan (skillet) by placing butter in it, so it covers the pan, and heat it. Poor about 1/4 cup of the mixture into the skillet and immediately after that put several banana slices on top of the pancake and turn when the edges are dry (takes about 3-4 minutes). Use spatula to turn the pancake and bake 3-4 more minutes. They are ready to serve. Sprinkle with maple syrup or powdered sugar if you like.
Sausage, egg and cheese casserole – this one takes a bit more than the above breakfast camping recipes, but it's surprisingly easy. It just takes more time to cook. Otherwise, neither the ingredients are many, nor is the preparation a big hassle.
1 package crescent rolls
breakfast sausage
6 eggs
half cup milk
salt
shredded cheddar and mozzarella cheese (1 cup of each)
Get a pan and sprinkle it with non-stick spray. Then unroll the crescent on the bottom of the pan. Bake it for about 6 minutes so it's nicely brown. Remove it from the heat and place it aside. Now to the sausage – bake it until it's nicely brown (no more than 8 minutes). Cut the sausage to small cubes and sprinkle on top of the crescent. Add the cheese on top of that.
In a bowl, mix the eggs, milk and salt together. When the mixture is ready, pour it over the crust with sausage and cheese. This whole thing can be baked either in the pan or can be placed on a heavy-duty foil; whichever you prefer.
Cheese potato – another easy recipe that can be cooked even at home, when you are in a hurry. Here are the ingredients:
3 potatoes (cut into cubes)
one chopped onion
1/2 cup Parmesan cheese (shredded)
1/2 cup mozzarella cheese (shredded)
1/2 cup cheddar cheese (shredded)
1/2 tbsp salt
2 tbsp butter
cooked bacon
In a bowl, mix the potato cubes, onion, Parmesan cheese, salt, and, if you want, add some pepper. Take some heavy-duty aluminum foil and sprinkle it with non-stick cooking spray. Transfer the bowl mixture into the foil. Put some of the butter on top of it.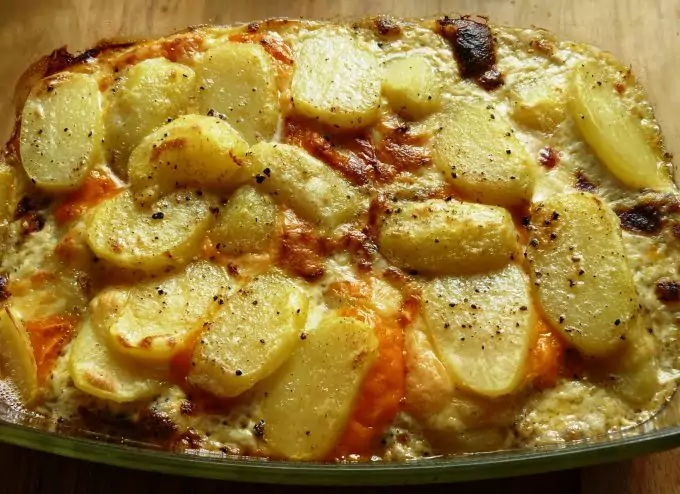 Wrap the foil tightly and place the wrap in the hot coals. Cook for about 15-18 minutes, making sure to turn it around now and then. Then remove from the fire and carefully unwrap the foil. Sprinkle the rest of the ingredients (the other two cheeses and the rest of the butter) and wrap again. Place on the coals one more time, for no more than 5 minutes. You're ready to eat or serve to your friends or family.
[the_ad_placement id="in-text-3-type-a"]
Breakfast soup – this is the kind of camping breakfast that gives some freshness and hydration in the morning. Within 30 minutes you will be ready with a warm satisfying soup. The ingredients are:
8 packs of cheese-flavored Quaker Instants Grits
1/2 lb bacon
8 eggs
4 cups of water
salt (and other spices/herbs to taste)
Prepare 4 bowls, and pour 2 envelopes of the instants grits in each bowl. The water needs to be heated so pour it in a pot and boil it. Cut the bacon in bite-sized bits and fry it in a skillet.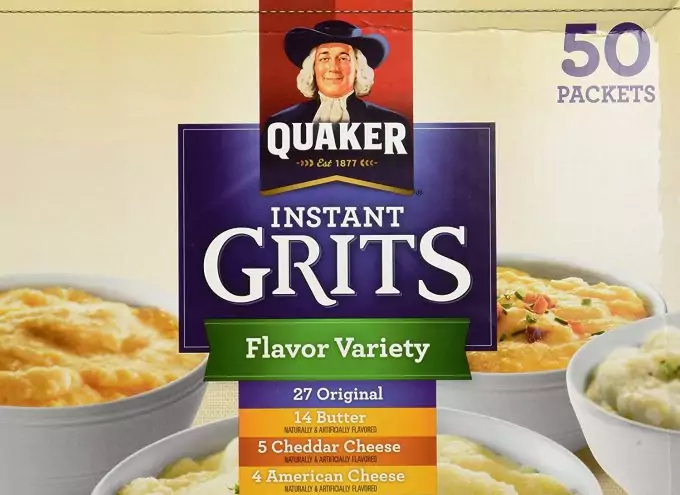 Let them brown nicely and remove the pan from the fire. Then add all the eggs in another bowl and batter them until they are a consistent mixture. Then add the egg mixture to the frying pan mixing them with the bacon bits. Fry for a few more minutes so the eggs get cooked too.
Now you're ready to pour the pre-boiled water to each of the instant grit bowls we set in the beginning. Stir the mixture until it's an even consistency. Finally pour the egg and bacon mixture on top of each bowl. Each bowl is one soup portion per person.
We hope you have written down in your own notebook most of the above recipes. They are gathered carefully and all of them are tried on the campsite with amazing results.
Of course, to achieve the best results we advise you to first try these camping breakfast recipes at home and see how they work. You may set a grill in your backyard and try that too. Always use tools and foil whenever you can. Try even both, one at a time, and see how the products behave and how things get cooked easier or quicker, and which gives the best results. There are many variations of the above recipes and you can even use your imagination.
Some of the links in this post are affiliate links. This means that if you click on one of these links and make a purchase, I earn a small commission at no extra cost to you. Also, as an Amazon Affiliate, I earn from qualifying purchases. If the information in this post has been helpful, please consider purchasing through one of the links in this article. Thank you.